As part of Singapore's National AI Strategy which aims to place the country at the forefront of developing, deploying and scaling AI solutions, the Institute of Technical Education (ITE) and global technology firm NVIDIA have entered a three-year partnership to enhance AI training for ITE students through the AI Workforce Readiness Programme.
With the AI Workforce Readiness Programme, a new AI training facility will be established at ITE College Central. The new facility will also feature and host the latest NVIDIA's supercomputing platform. The new training facility, known as AiTE, will serve as a collaborative lab where students can work with industry partners and private companies to co-develop AI solutions to address business needs.
Singapore's Minister for Education, Mr Chan Chun Sing witnessed the signing of the MOU between ITE and NVIDIA for the establishment of the AI Workforce Readiness Programme today.
Preparing students for a world enabled by AI technologies
The new AI Workforce Readiness Programme can allow companies to use AiTE to explore and co-develop AI solutions with ITE for their digitalization needs. Students from ITE's AI-related courses will also have the opportunity to have hands-on experience in the development of these AI solutions and projects. For example, they will be trained for the development of AI applications with data pre-processing and annotation methods for AI model training.
Moreover, NVIDIA will also be training ITE lecturers as its certified instructors under Deep Learning Institute's certification programmes. NVIDIA's Deep Learning Institute's AI curriculum will then be taught to students at ITE. Each year, close to 400 students from AI-related courses will be able to benefit from the newly formed partnership.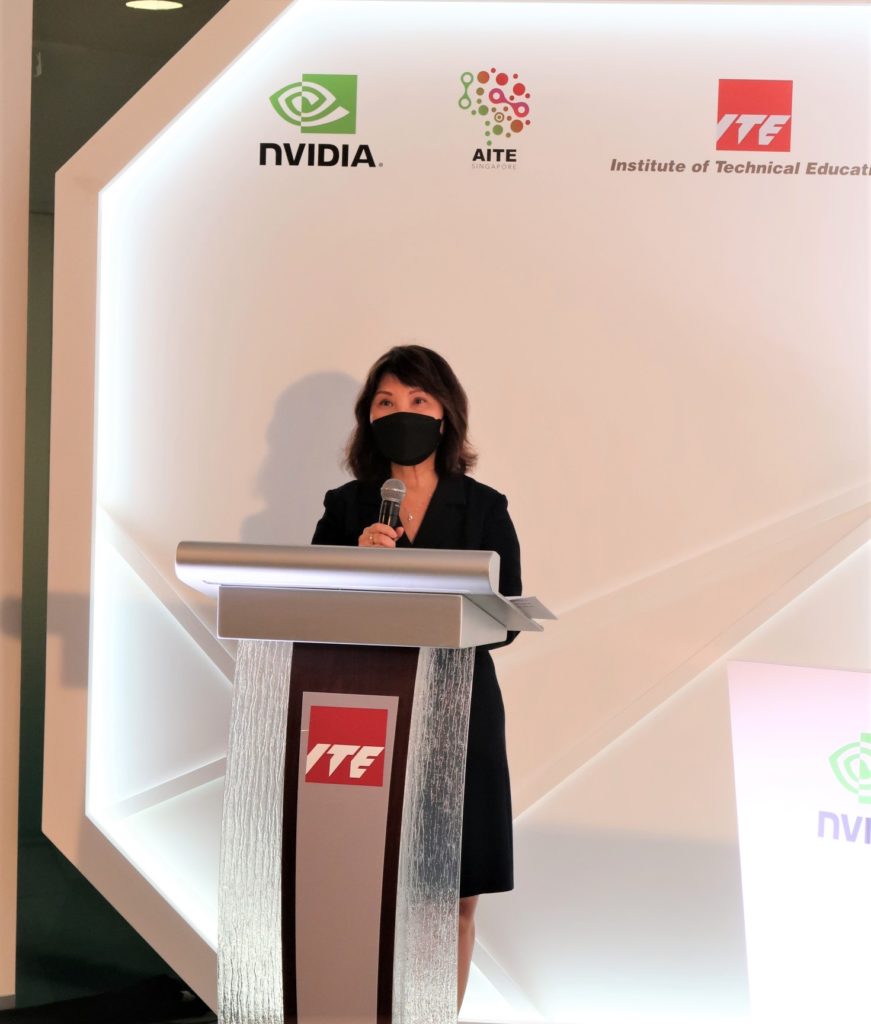 Ms Low Khah Gek, Chief Executive Officer of ITE, said, "AI is a key driver of Singapore's digital economy and Smart Nation vision. More companies are also seeking to reap gains in productivity through AI. With the strong push towards AI, there is a strong demand for skilled AI talents. What is special about this partnership is that it allows our students to hone their skills through real-world AI projects, while supporting businesses in the adoption of AI. This reinforces our efforts to equip students with skills that are relevant to industry needs."
Mr Dennis Ang, Senior Director, Enterprise Business, SEA and ANZ Region, NVIDIA Worldwide Field Operations, said, "AI is a once-in-a-generation technology that is transforming industries around the world. As a leader in this space through GPU accelerated computing, NVIDIA will work closely with ITE to share and transfer knowledge, advance AI curriculum, and prepare the  workforce of tomorrow for Singapore."
ITE showcases how students utilize AI Applications for their professional and technical training
Automated Student Interview Training System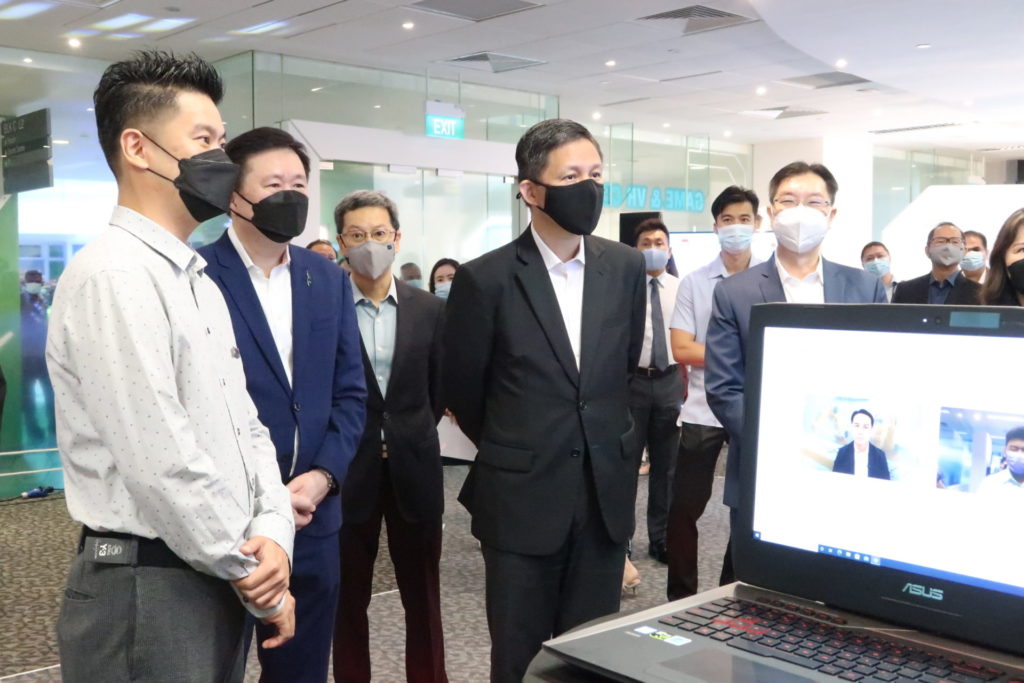 In this showcase, students go through a practice interview, which is captured by a webcam.
Based on the video and audio feed, the system uses natural language processing and video analytics to analyze students':
Verbal responses to the interview questions
Facial expressions when responding to the interview questions
It then provides feedback to the students on how they could improve the delivery of their responses, demonstrating how AI is used to help students perform more confidently at interviews.
Automatic Video Analytics Training System

In this showcase, students perform tasks, such as the assembly and disassembly of a desktop computer. Head-mounted cameras capture all the actions performed by the students.
Video analytics would then detect if the students adopted the correct procedures in completing the task, and score the students' performance based on a set of marking rubrics.
With this system, lecturers will not need to manually assess every student's work during a training session. Lecturers can also use video playback to provide more detailed feedback to their students on areas for improvement.
This demonstrates how AI is used to improve marking efficiency, as well as reinforce learning for students.
Hands-On Gate Valve Maintenance
In this showcase, students perform a task and their actions are recorded and analysed. The example used is the maintenance of a gate valve, which controls or reroutes water flow through a pipeline.
The actions performed by students will be captured by surrounding cameras and video analytics then detect if the students have adopted the right procedures and tools in identifying and rectifying issues in the gate valve.
This demonstrates another example of how AI is used to enhance training and assessment of students in the practical application of skills.