You've probably heard of the industrial revolution. You also probably think that it's an archaic term that describes an event that occurred so long ago in history that it doesn't quite matter to us today. The truth is, the world is undergoing a Fourth Industrial Revolution – or Industrial 4.0.
Industrial 4.0 represents the transition towards automation and data exchange in manufacturing technologies and processes. As manufacturing has been a key engine for the Singapore's economy, accounting for about a fifth of its gross domestic product, the new chapter of Industrial 4.0 will fundamentally change the way we live, work and relate to one another. 
Ready to ride this trend is Singapore Polytechnic (SP), a tertiary education institution in Singapore. Among various state-of-the-art facilities, the school has put in place an Advanced Manufacturing Learning Journey that is made up of 3 distinct zones – Digitalisation, Integrated, and Smart – to support all SMEs at different stage of Industrial 4.0.
SP Advanced Manufacturing Integrated Zone: AI | 5G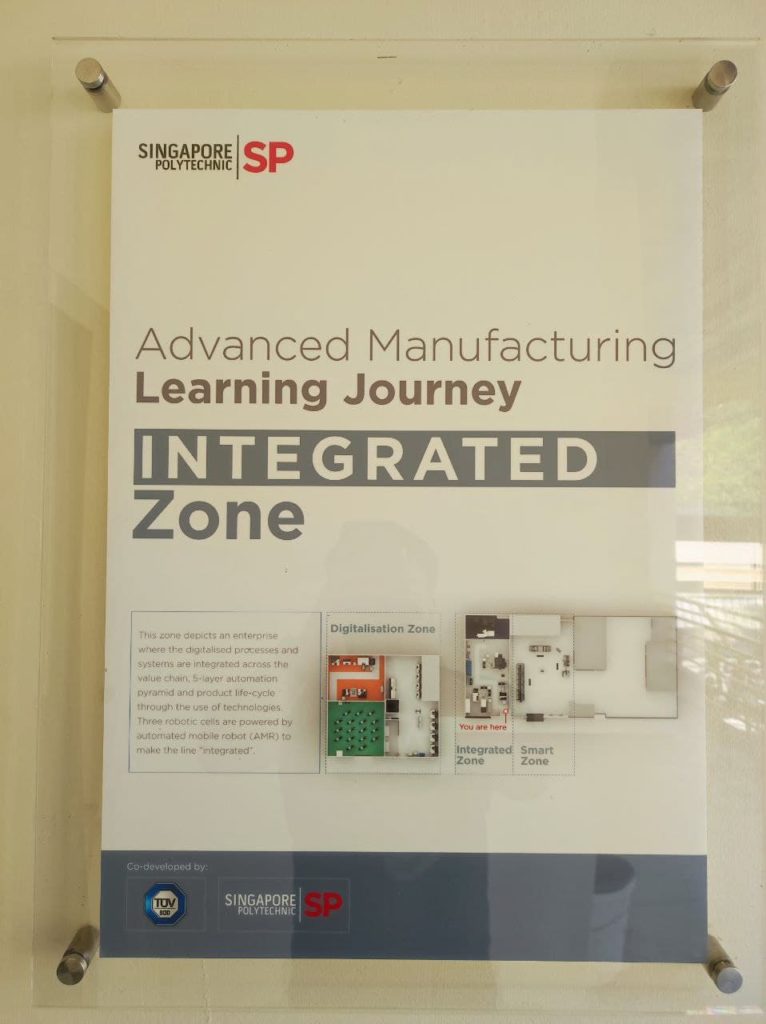 Specifically, the Advanced Manufacturing Integrated Zone allows students and industry partners to catch a glimpse into the future of advanced manufacturing by showcasing advanced technologies and solutions related to the industry. It is both a testbed and collaboration zone between the school and partners. 
Here are some of the solutions found at the Integrated Zone, all of which have been made possible with Artificial Intelligence (AI) and 5G technologies.
*Photos below are modified for privacy, security and personal data protection reasons. 
Manpower Monitoring
In the area of advanced manufacturing, the ability to identify, assess, and react to schedule issues in the field is critical.
With smart cameras placed within the Advanced Manufacturing Integrated Zone, employers and managers can validate the movements of employees as they come and go. Managers can also view the activity log of each employee to understand the list of events pertaining to specified personnel.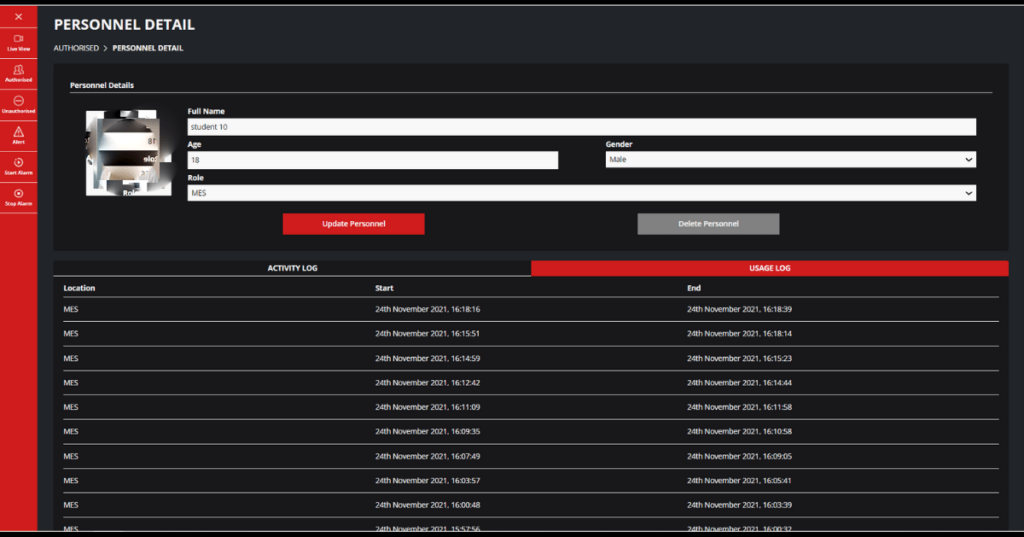 This includes information such as where they were last seen and how long they were performing a given task for. This allows managers to proactively and productively anticipate manpower issues and intervene in real-time.
Controlled Access Management
Where large machines that are often dangerous to operate are involved, safety is an essential facet that managers should never overlook. In addition to managing productivity, solutions presented at the SP Advanced Manufacturing Integrated Zone ensure safety and control.
Each piece of machinery at the Integrated Zone is tagged to an AI-powered personnel identification system using smart cameras. The system will be able to distinguish between operators who are authorized to use a machine and an operator who isn't.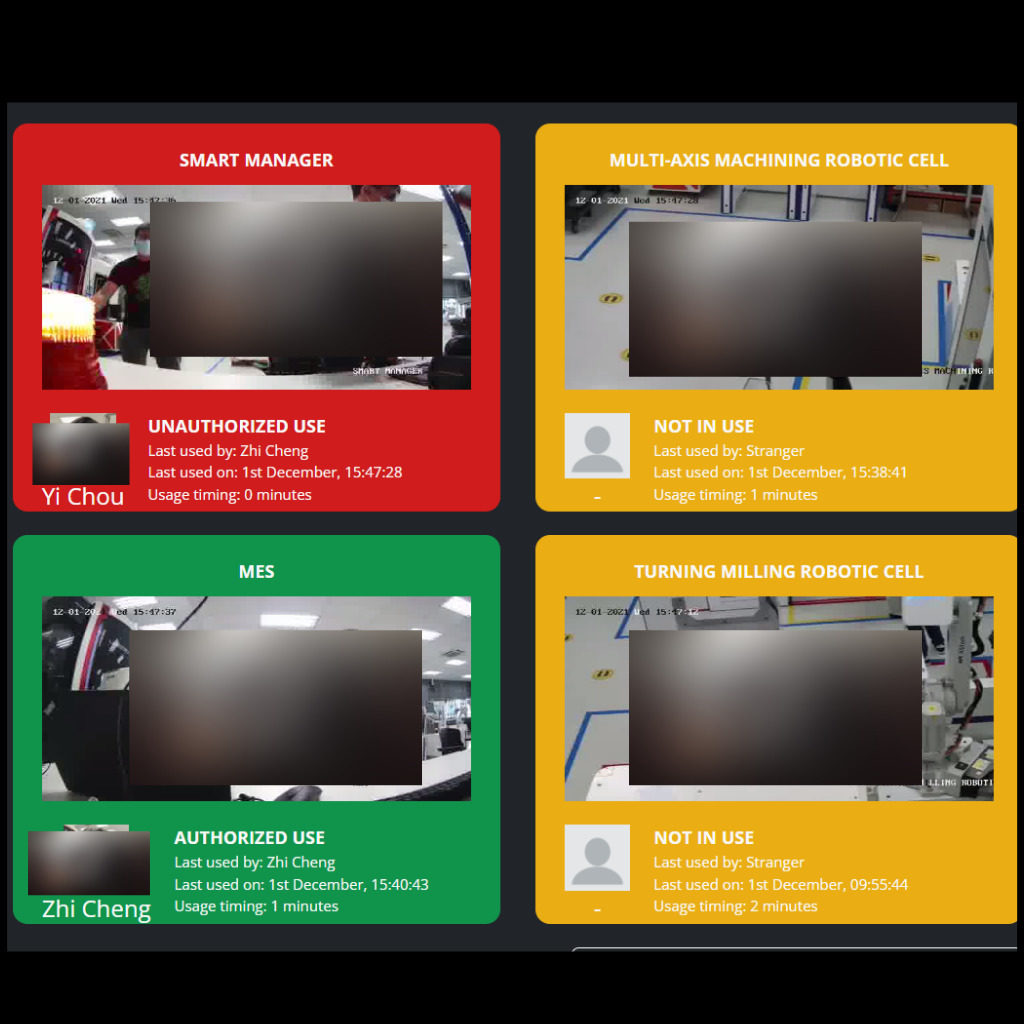 When an unauthorized personnel is trying to operate a machine, a message will be sent to the manager via Telegram to notify them of this occurrence so that necessary action could be taken.
Proper Mask Wear Management
As the threats of COVID-19 continue to change the way we live, work, and play, the solutions at the SP Advanced Manufacturing Integrated Zone are created and tailored to meet the unique challenges that the pandemic poses to the current workplace.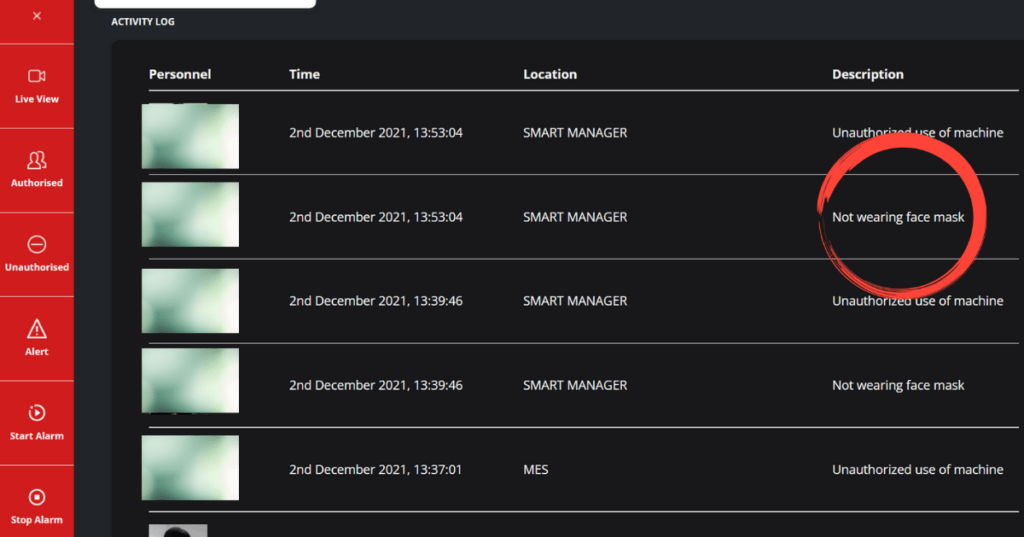 The same AI-powered smart system is able to identify whether or not an individual is wearing their face mask appropriately. For example, if an operator is not wearing a mask, the manager will be alerted so that the situation can be rectified to ensure that the proper safety measures are in place.
Backend Dashboard with Live View
In addition to showcasing AI-enabled solutions, the Advanced Manufacturing Integrated Zone represents the possibilities of 5G technologies. Capitalizing on 5G's improved speed and latency, camera feeds from the Integrated Zone can be live-streamed onto the internet, or configured to a remote network. As compared to the current 4G networks, 5G offers transmissions that are smoother and speedier.
Managers can therefore monitor employees, manage controlled access, and ensure proper mask wear in real-time. All they need is an access to an Internet-connected device.
Upon logging into a secure system, managers can access an intuitive backend dashboard with various features to toggle among. On Live View, users can have a bird's eye view of the jobsite. At a glance, managers can see who is operating each machine, whether or not the operator is an authorised personnel, or whether the individual is wearing a mask properly. Should there be any discrepancies – for example, if an unauthorized personnel is operating a machine – an alert will appear on the screen.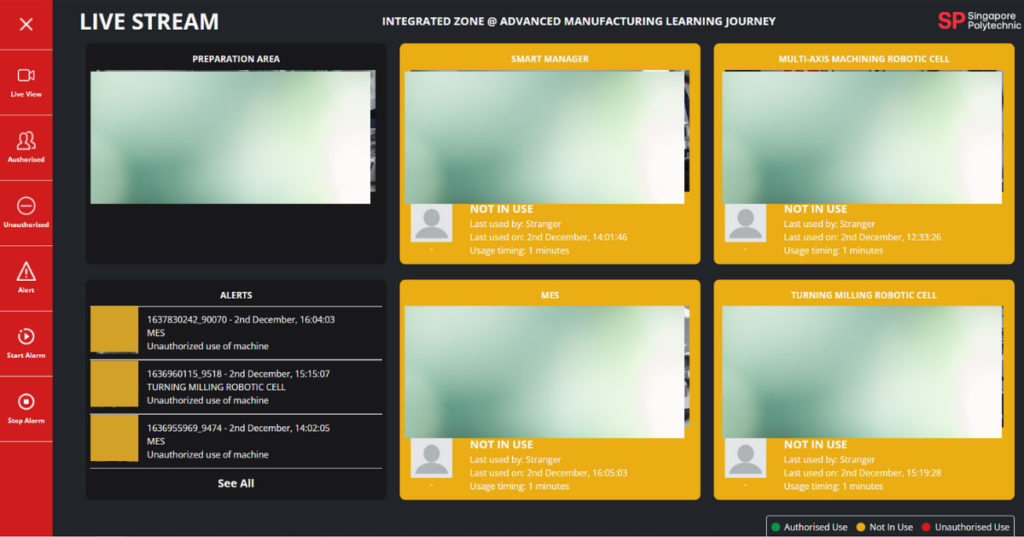 On the same dashboard, managers can grant differential access to employees based on their job scopes. A detailed activity log with information such as time, location, and description will also be accessible through the dashboard.
Finally, users who are logged onto the dashboard have control over a rotating light alarm system that can be used to alert those on the jobsite. From any location, managers can trigger the alarm in real-time when they observe something that requires immediate attention. Managers can also turn the alarm off from wherever they are.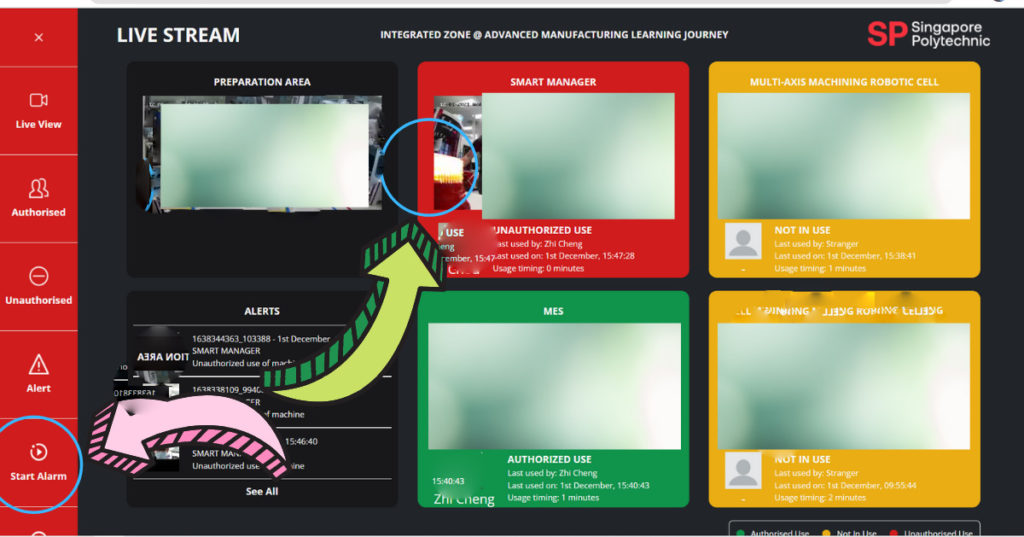 SP @ Industrial Transformation Asia Pacific Event 2021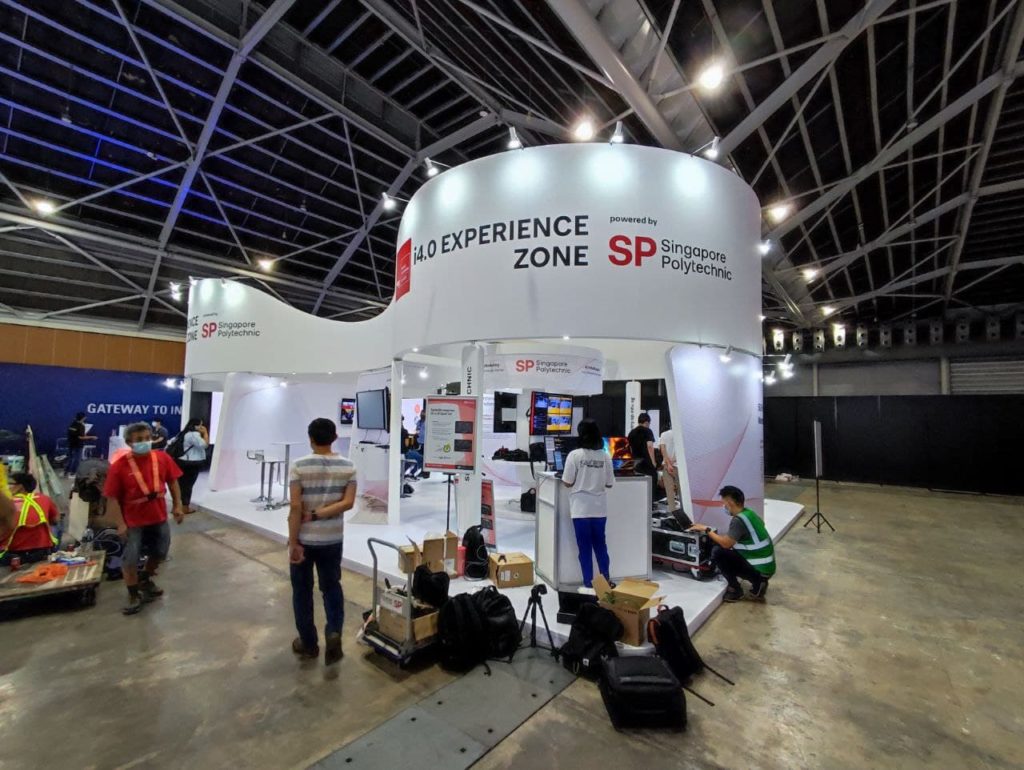 Organised by Constellar with international partner Deutsche Messe, Industrial Transformation ASIA-PACIFIC –a HANNOVER MESSE event (ITAP) is Asia Pacific's go-to platform for companies and governments looking to start, scale and sustain their adoption of Industry 4.0 (I4.0) processes and solutions across industries and sectors. ITAP offers comprehensive content-rich learning avenues and themed activity zones for companies at various stages of business transformation to explore, collaborate and co-create solutions to future-proof their businesses.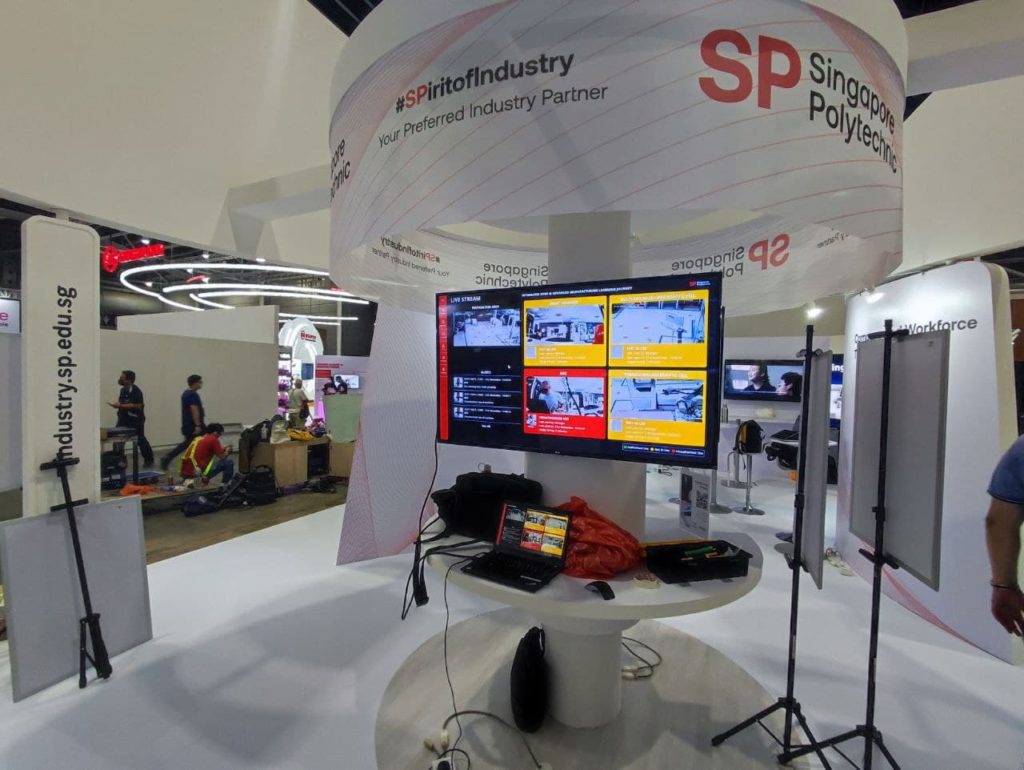 As part of ITAP, SP powered the I4.0 Experience Zone that allowed visitors to enter the Experience Room and observe the vast and diverse possibilities that 5G and Artificial Intelligence of Things (AIoT) technologies will bring to Advanced Manufacturing and Industry 4.0 through Augmented Reality technology.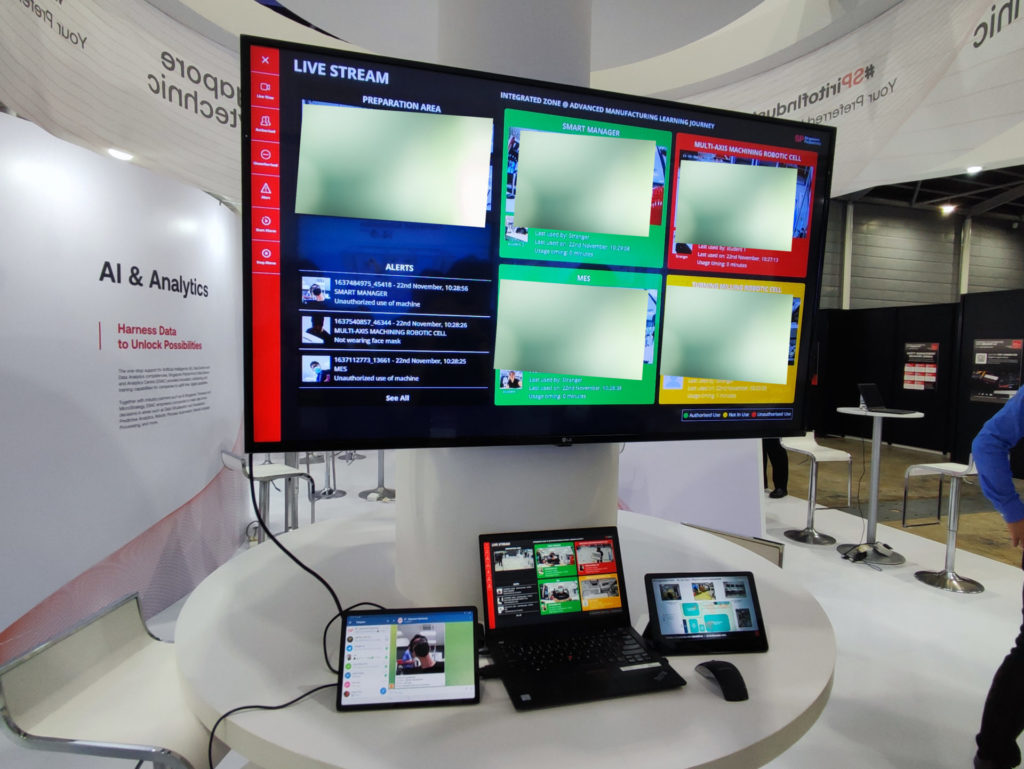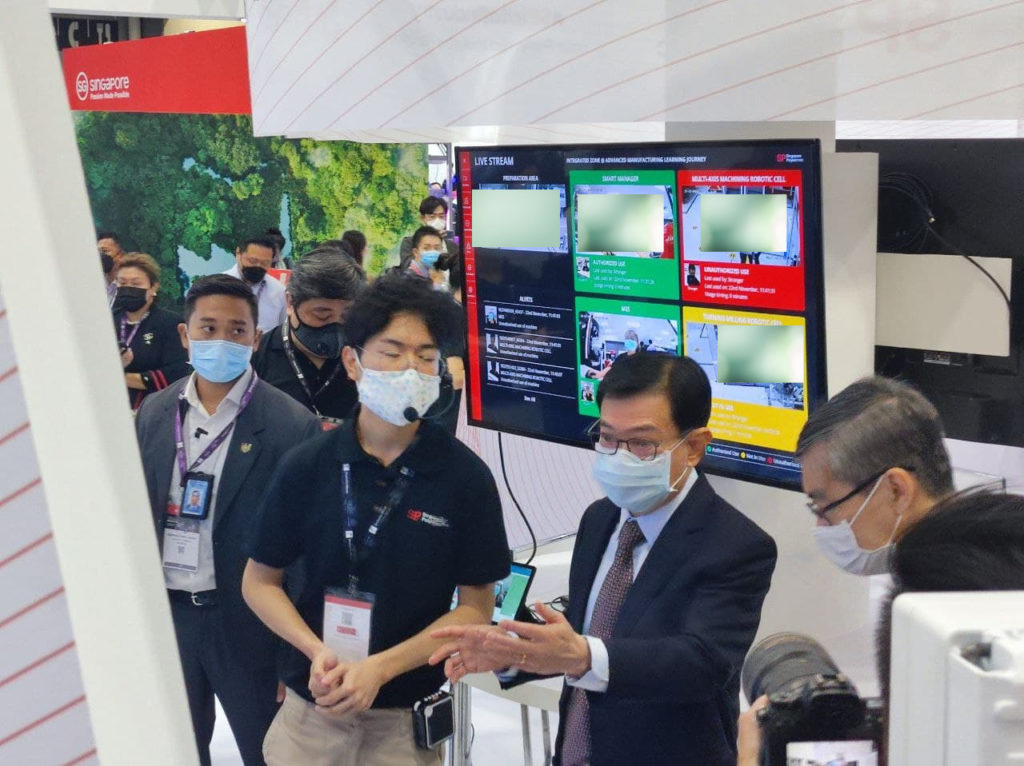 As part of the zone, visitors got to live out the full 5G experience with industry use cases and observe live demos of the solutions mentioned above in addition to remote field assistance and robotic arms.
SP Advanced Manufacturing Integrated Zone: Enabling the industries of tomorrow, today
Riding on the advancements in 5G and AI technologies, the SP Advanced Manufacturing Integrated Zone enables the industries of tomorrow. With the solutions right at their fingertips, students and industry partners alike can catch a glimpse of the future of advanced manufacturing and in turn shape the future of the industry.
The projects within the SP Advanced Manufacturing Integrated Zone are integrated by T05 Technologies Pte. Ltd.
About T05 Technologies Pte. Ltd.
T05 Technologies Pte. Ltd. is a global technology solutions provider based in Singapore. T05 Technologies solves the most important challenges facing today's businesses. With a portfolio of over 100 successfully completed projects, T05 Technologies dwells into different industries such as finance, healthcare, manufacturing, education, defense and F&B. T05 Technologies also owns T05 Pay, a payment integration provider, The Tech Revolutionist, a technology media site and HouseTrac, a HR Tool for the service industry.