Not too long ago, getting your hands on a high-performing 144Hz gaming monitor almost always meant having to break the bank. But fast forward to today, you'll see a completely different picture. Thanks to exciting and forward-moving technological advancements, the gamers of today can pick from a myriad of top-notch displays and are often left spoilt for choice.
One giant contender in the 'powerful yet affordable' segment of the gaming monitor market is the BenQ MOBIUZ EX2710. With 1ms MPRT, 144Hz refresh rate, AMD FreeSync Premium technology, HDRi, treVolo built-in speakers, and a gorgeous three-sided thin-bezel design, the EX2710 ticks all the right boxes when it comes to delivering a truly immersive gaming experience.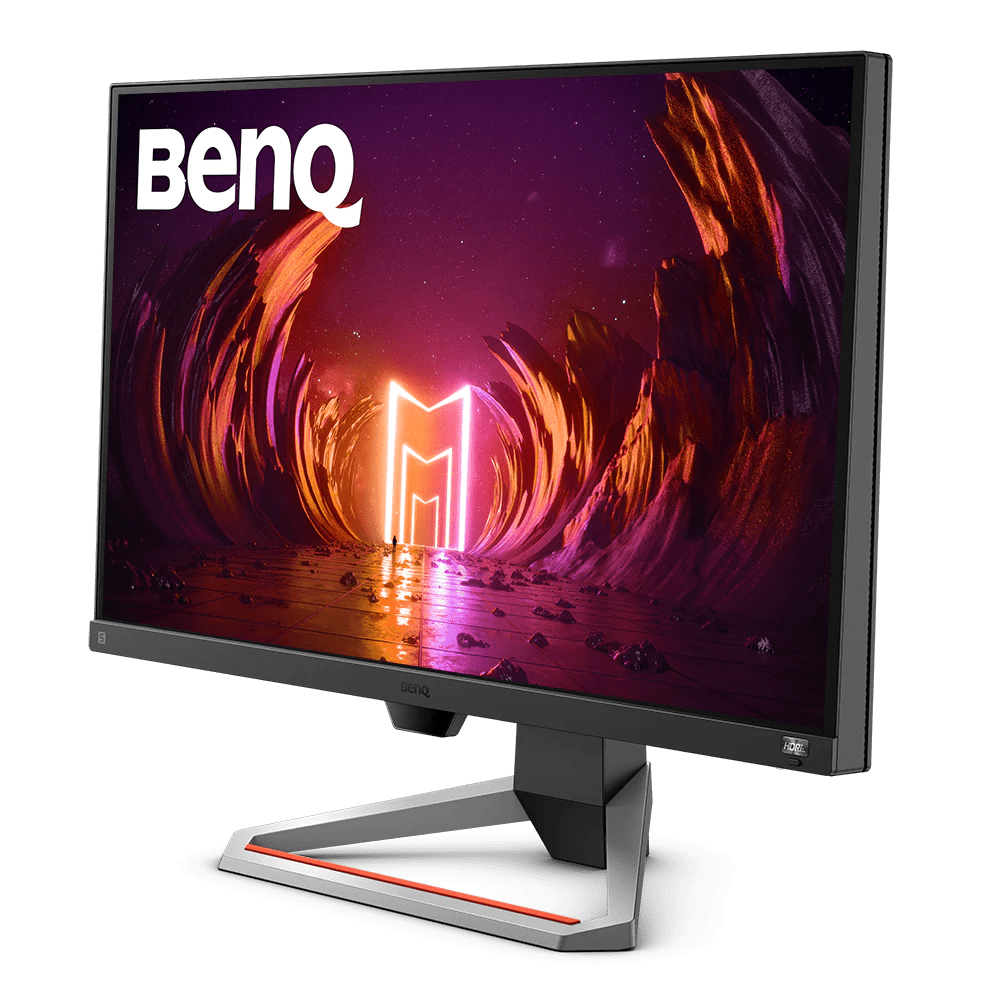 Yet, BenQ understands that serious gamers are always looking to be ahead of the game. That's why they've introduced the BenQ MOBIUZ EX2710S. Building on the EX2710, the EX2710S sees significant upgrades from a 144Hz to a 165Hz refresh rate. Even better still, the EX2710S extends the use of BenQ's image optimizer, Light Tuner, to HDRi mode – a nifty feature that could not be achieved on the EX2710.
Essentially, the EX2710S represents a step up from the EX2710 to fully elevate your gaming experience.
If you're ready to step up your game with the BenQ MOBIUZ EX2710S, here's what the monitor can bring to the (gaming) table.
Excellent Visuals
The BenQ EX2710S features a 1080P FHD 27-inch screen with a peak brightness of 400 nits, a 1,000:1 contrast ratio, a 99 percent sRGB color gamut, and 178-degree viewing angles.
For gaming, watching films, and regular use, color reproduction and image quality are excellent, and brightness is more than adequate for most situations.
BenQ didn't just stop there—the monitor comes packed with the brand's proprietary HDRi technology for truly stunning and immersive visuals.
Building on HDR, HDRi offers intelligent on-screen adjustments for clearer and more realistic details. Besides intensifying dark scenes, the monitor works to preserve vivid details on bright regions too. SDR content will also be enhanced on the EX2710S, thanks to an HDR feature that closely resembles native HDR. It also brings HDR quality content to your eyes even on systems that do not support HDR.
With an understanding that an enjoyable viewing experience has to be a comfortable one, BenQ equipped the EX2710S with the brand's very own Eye-Care Technology for optimal viewing comfort.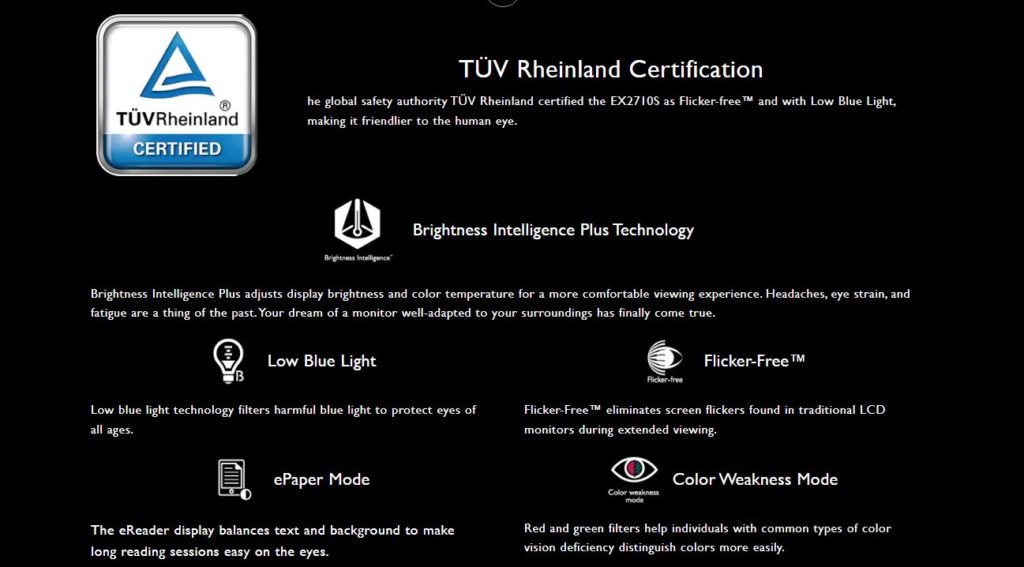 With flicker-free technology, low blue light settings, and Brightness Intelligence Plus (B.I.+) that tackle blue light, flicker, and dark light, the EX2710S offers immersive visuals without the headaches, eye strains, dry eyes, or blurred vision that you may be all-too-familiar with. This is why the BenQ EX2710S also managed to attain the TÜV Rheinland certification as a Flicker-free™ and Low Blue Light monitor, making it friendlier to the human eye.
Immersive visuals isn't the only type of visual the EX2710S offers—the monitor scores high in the looks department too. With a simple, modern and minimalistic design language, the EX2710S sits perfectly into any gaming ecosystem.
Speakers tuned for gaming perfection
We've established that you'd get to enjoy visual immersion with the EX2710S. That's not all, though—to complete that package for an upgraded audiovisual immersive experience, the monitor comes with built-in 2.5W speakers, intricately designed and well calibrated by treVolo.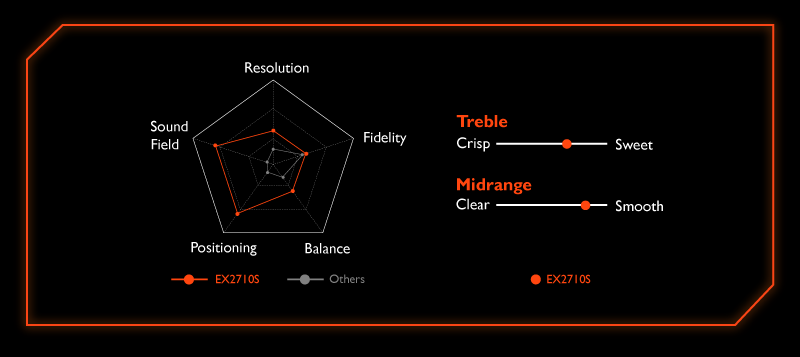 The speakers are tuned to focus on gaming immersion. They are particularly focused on Sound Field and Position, allowing you to know where your enemies are at in FPS games. Furthermore, you can also customize the tunes from the speakers with your own software to enable precise treble, rich mid-range, and resounding bass, showing the capabilities of the treVolo speakers. The EX2710S grants you full acoustic enjoyment for you to enjoy true tone sounds whether you're into gaming, movies, or music.
Avid gamers will love the monitor's preset gaming sound modes too. With Gaming for immersive audio intensity, Cinema for clarity in voices and sound effects, and Pop/Live for highlights in music, the EX2710S clearly is suited for many uses. Of course, because of how the monitor is tuned, the Gaming profile can really accentuate the whole gaming experience.
Designed For Your Gaming Pleasure
Speaking of taking gaming seriously, you've got to hear of these features of the EX2710S, all of which were designed for your gaming pleasure.
AMD FreeSync Premium Technology

In addition to ultrafast 1ms response time and a maximum refresh rate of 165 Hz, the EX2710S uses the AMD FreeSync Premium Technology to eliminate screen tearing, flickering and low latency. The result? Buttery-smooth gameplay that you've always dreamed of.
Light Tuner: MOBIUZ's newest image optimizer

With the EX2710S, you'll get MOBIUZ'S latest image optimizer—Light Tuner. This feature allows you to choose from 20 different settings to find the contrast level for your games.
Be it an FPS or RPG, no one else but you gets to decide how your game looks for you to enjoy the best experience possible.
Furthermore, unlike its predecessor, the EX2710S allows the use of Light Tuner in HDRi mode. Therefore, you get to enjoy the best of both worlds – immersive graphics with tuned brightness for that extra competitive edge.
OSD: Plenty of configuration options
The monitor's 5-way joystick and analog button help you navigate through an on-screen display (OSD) menu with plenty of configuration options.
EX2710S' quick OSD allows you to set up and switch to your frequently used game settings hassle-free.
Scenario Mapping: Quick and convenient self-adjustment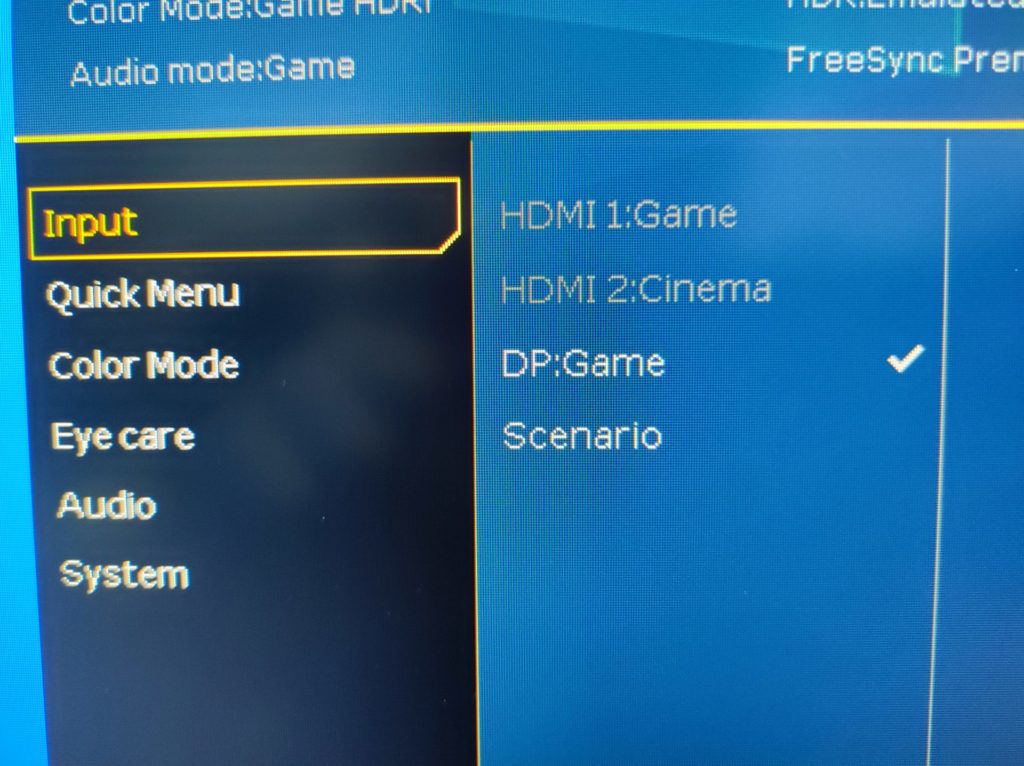 With the user's convenience at heart, BenQ packed the EX2710S with Scenario Mapping, an intuitive feature that auto-selects your preferred settings when the input source is switched.
In other words, when you connect the monitor to your game console or computer, Scenario Mapping self-adjusts to the current video input signal and loads your personalized game settings. Without wasting any time adjusting the settings on your own, you can dive right into your game and access different game scenarios simply by switching inputs.
Maximum Compatibility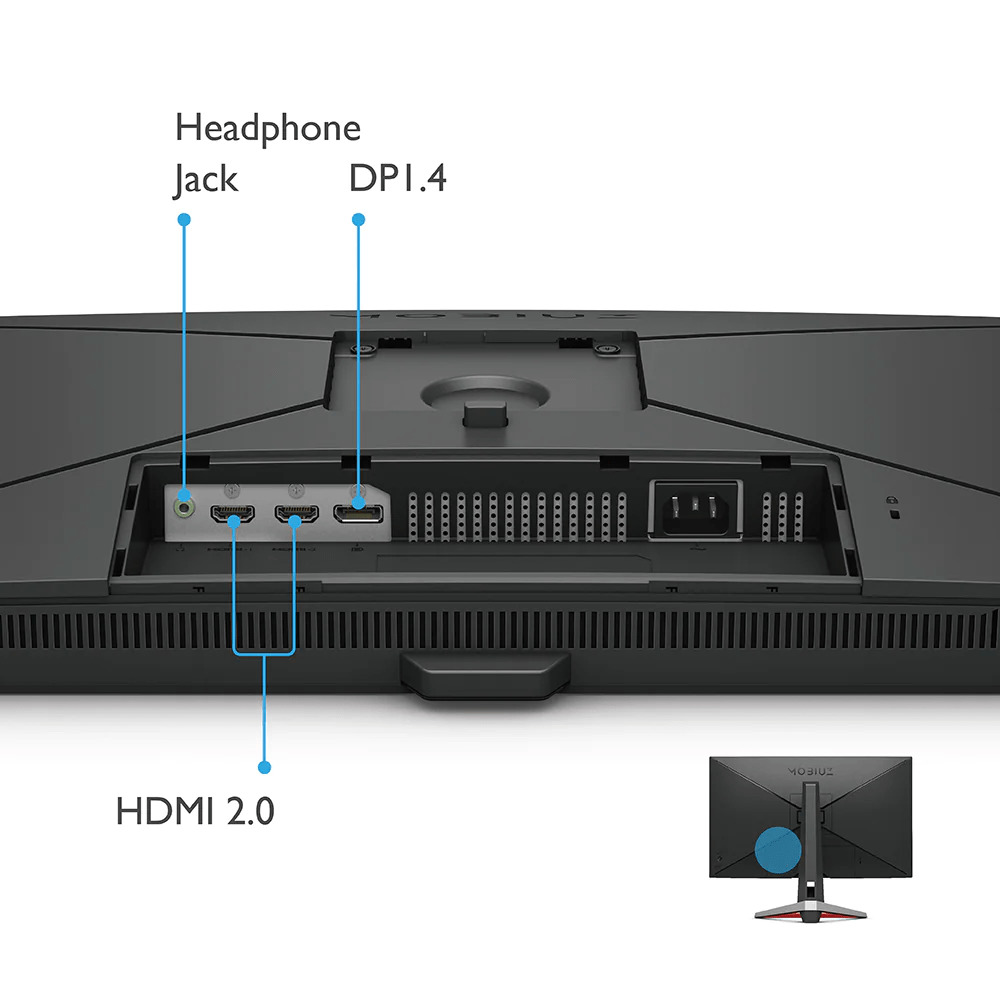 For maximum connectivity and compatibility, the EX2710S features multiple ports for access to all your devices. Whether you're a PC or console gamer, this monitor has got you covered.
BenQ MOBIUZ EX2710S: Setting the Benchmark for Gaming Monitors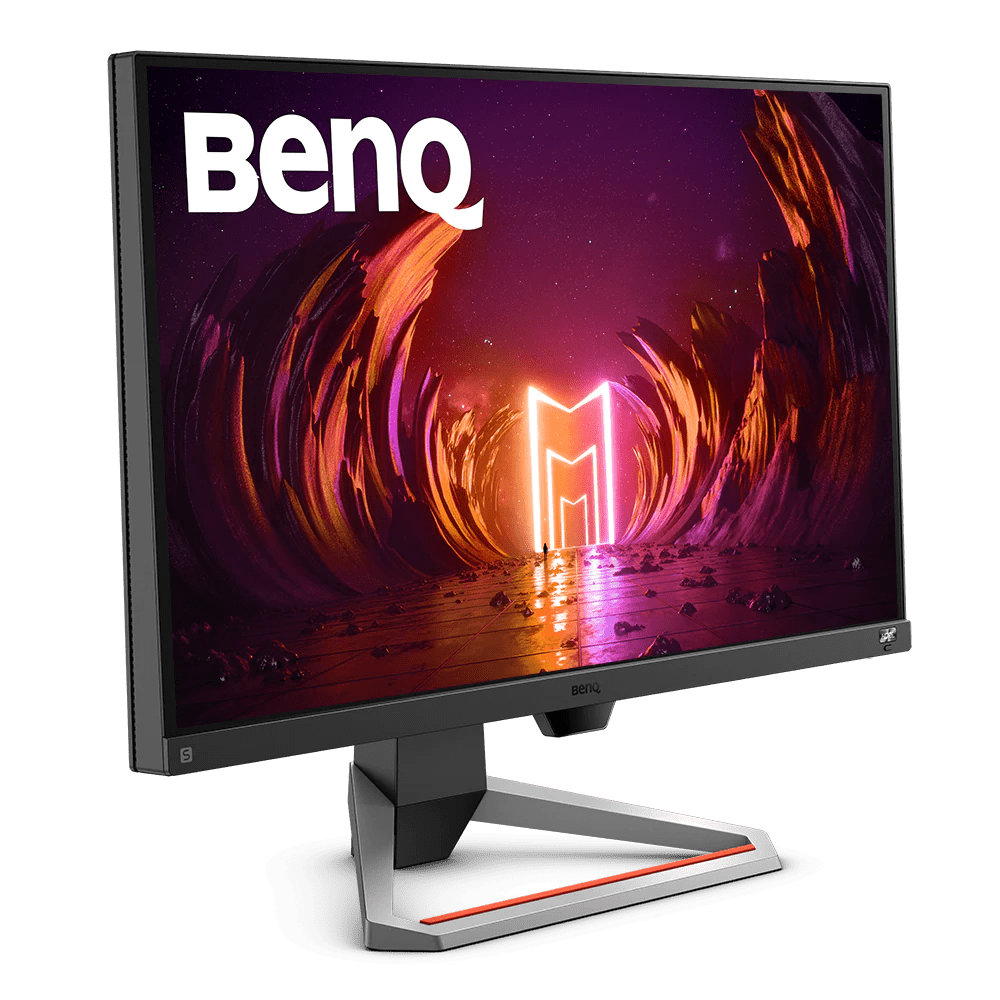 For the discerning gamer who is particular about visual performance and audio quality, the EX2710S is easy to recommend. With a slew of the latest gaming features and configuration options, the monitor optimizes your gaming experience from the very moment you plug your device into it.
A 1080P FHD 1ms MPRT 165Hz gaming monitor with HDRi for S$459? The BenQ MOBIUZ EX2710S is truly setting the benchmark for gaming monitors everywhere.
Find out more about the BenQ MOBIUZ Gaming Monitor EX2710S: 
You can purchase the BenQ MOBIUZ EX2710S on or .
This post is brought to you by BenQ.