In this article, we'll take a look at the various features of the new ASUS ROG Maximus Z690 Hero motherboard. We could also find out how the different methods which ASUS incorporated in this motherboard tackle the unique requirements of the Intel Z690 chipset and the new Alder Lake processors. We'll see what makes the ASUS ROG Maximus Z690 Hero motherboard stand out from other Z690 motherboards on the market.
Whenever Intel launches a new CPU, we'll be pampered with new features and technologies in their accompanying motherboards. Different motherboard manufacturers may design their products differently to cater to varying needs. However, key features still rely on what new CPUs and chipsets have to offer.
With the launch of the 12th Generation Intel Core Desktop, or Alder Lake processors, Intel has leaped ahead of competition. It features the latest standards in technology in their CPU and chipset. Particularly, the Alder Lake processors and Z690 chipset now come with the latest DDR5 memory and PCIe Gen 5 support. While motherboard manufacturers grasped new technologies, the market had to meet the potential demands of new desktop PC components.
One of the most popular motherboards in the market among gamers, the ASUS ROG Maximus lineup portrays itself as a motherboard that's got everything you'd want in a motherboard. Its comprehensive features sets it apart from other premium and high-end solutions.
ASUS ROG Maximus Z690 Hero Motherboard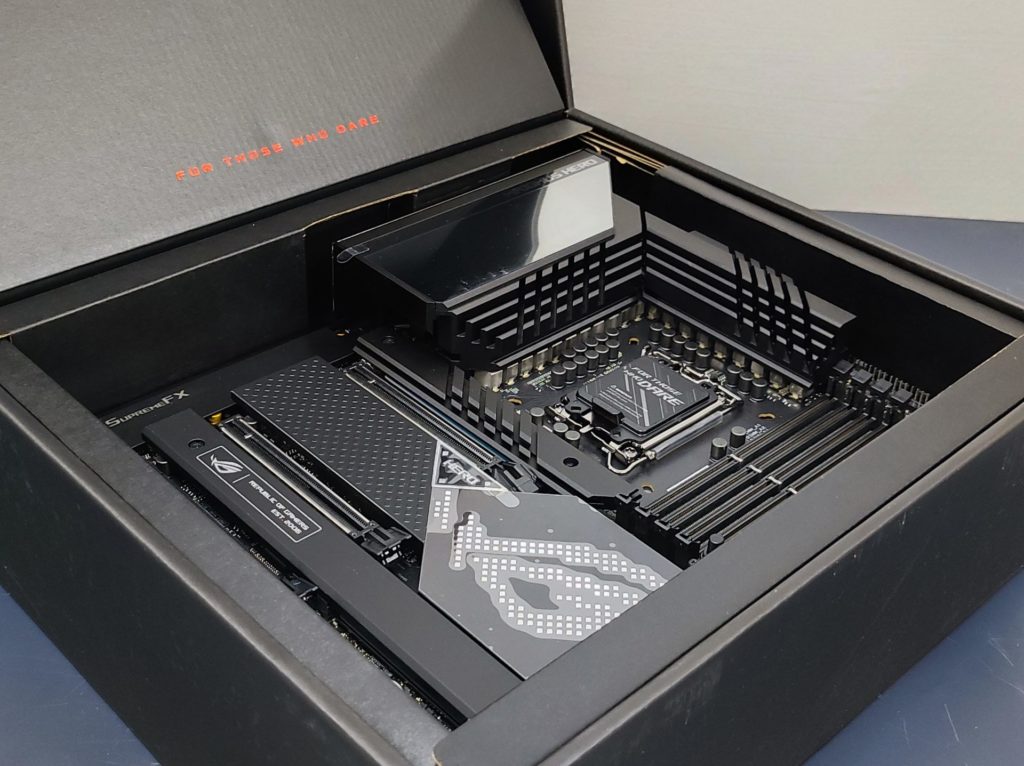 This time, there are 4 new motherboard in the ROG Maximus Z690 lineup. The most extravagant features are found on the ROG Maximus Z690 Extreme. The ROG Maximus Z690 Hero focuses a lot more on practicality and sensibility. Putting away the fluff in language, the ROG Maximus Z690 Hero is essentially designed for those who seek advanced features that are usable in today's context.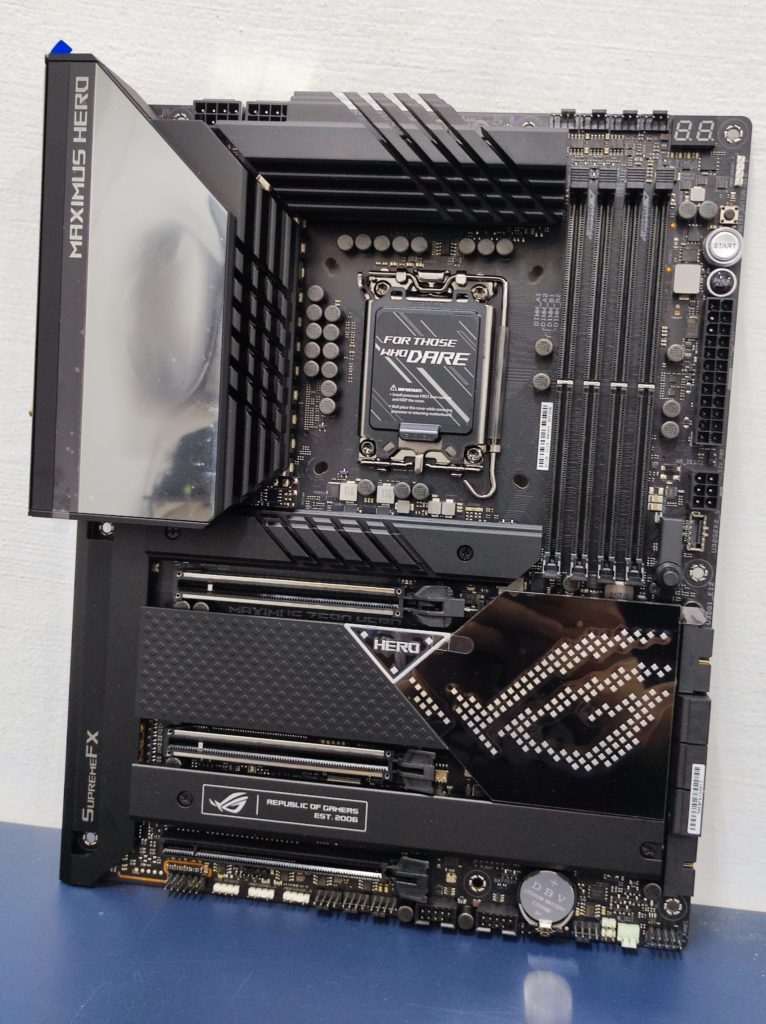 The ASUS ROG Maximus Z690 Hero comes in a typical ATX form factor. Similar to its predecessors, its base colour theme is black. Its overall design is accented with RGB lighting effects across the motherboard to bring out its uniqueness. Taking design cues from its counterpart – the ASUS ROG Zephyrus G14 laptop – it shows off a new "dot matrix" design. You'll also find the ROG logo on the chipset heatsink and the VRM heatsink.
The ASUS ROG Maximus Z690 Hero comes with a unique RGB Dot Matrix design on its VRM heatsink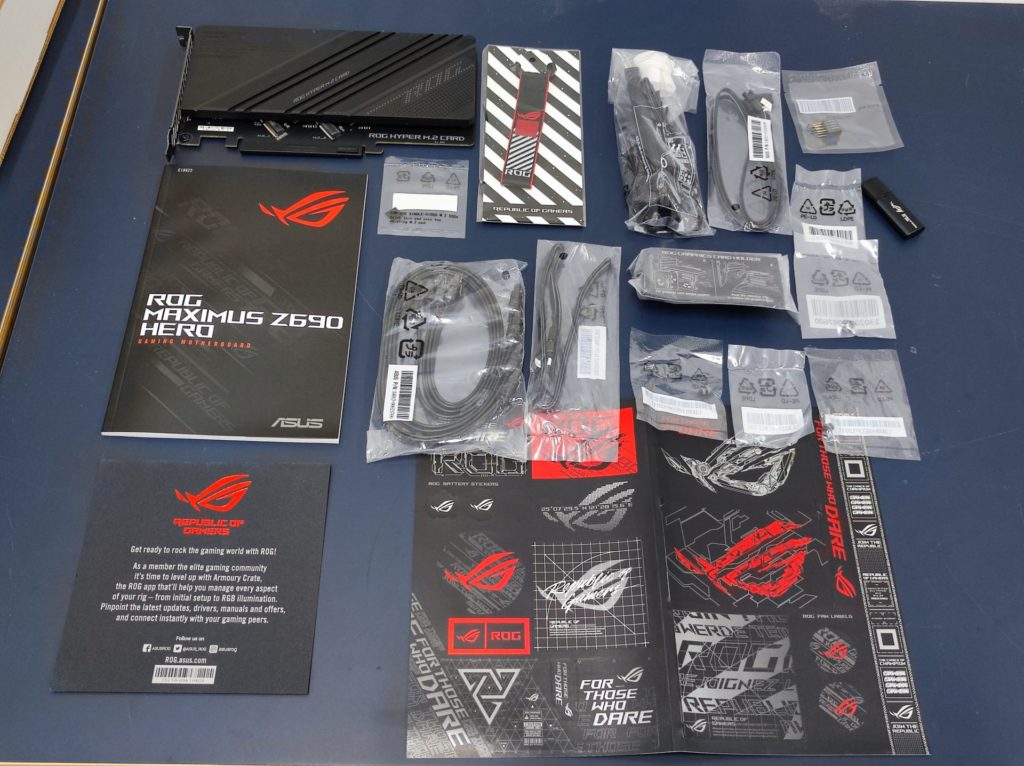 Inside the box, there are also a bunch of accessories and swags from ASUS ROG. Other than ROG stickers and keychain, other useful items include the GPU holder and a USB Storage drive.
Your purchase of the ASUS ROG Maximus Z690 Hero also comes bundled with a ROG Hyper M.2 add-in card (AIC). This AIC features two more M.2 slots for even more M.2 SSDs on your system. An interest thing to note is that one of the M.2 (left) slot is compatible with PCIe 5.0 standard. This allows for twice the speed of a PCIe 4.0 slot.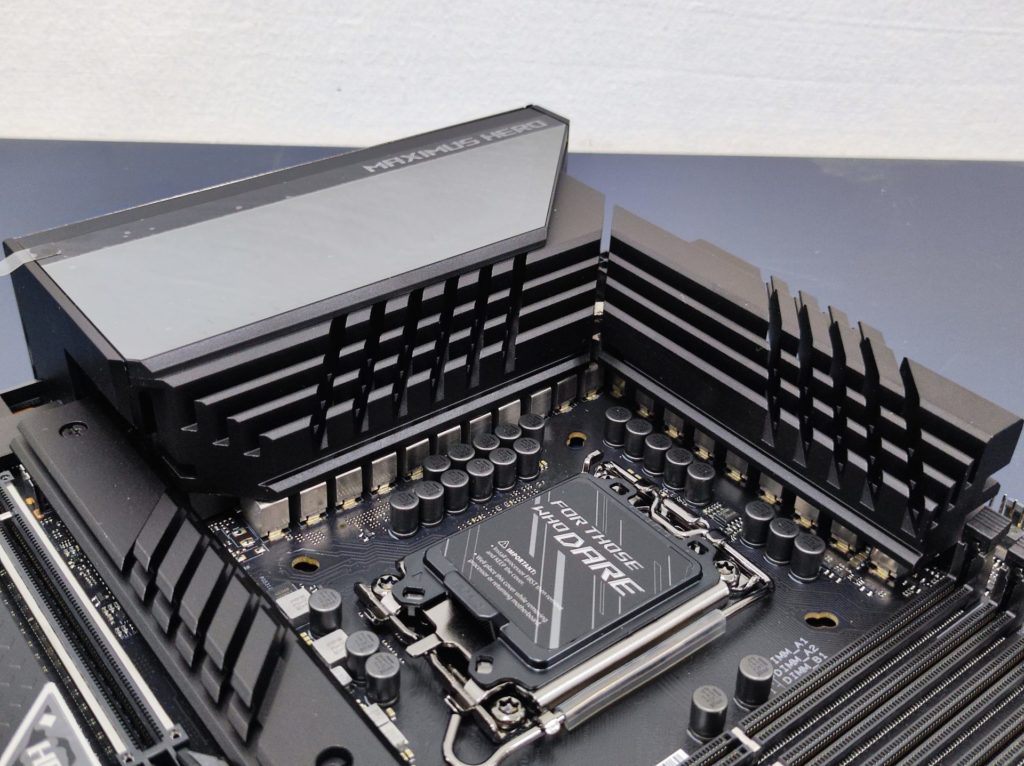 The ASUS ROG Maximus Z690 Hero has been tailored with an impressive power delivery system. The system supports the new Alder Lake processors and also the latest high-performance memory. It features an intelligent VRM design that's rated for up to 90 amps. The optimized memory layout also enables enthusiasts to push the performance limits of their system.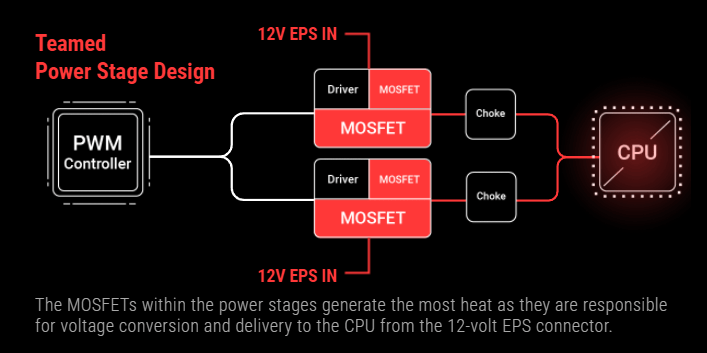 The Teamed Power Stage design on the ASUS ROG Maximus Z690 Hero allows two power stages to work in tandem. Doing so provides more power to the CPU and offers stability and thermal advantage as compared to traditional phase-doubled designs.
Want to best enable the full performance of your Alder Lake processor and the motherboard? It's recommended that two EPS 8-pins power connectors are used together with another PCIe 6-pin plugged onto the motherboard.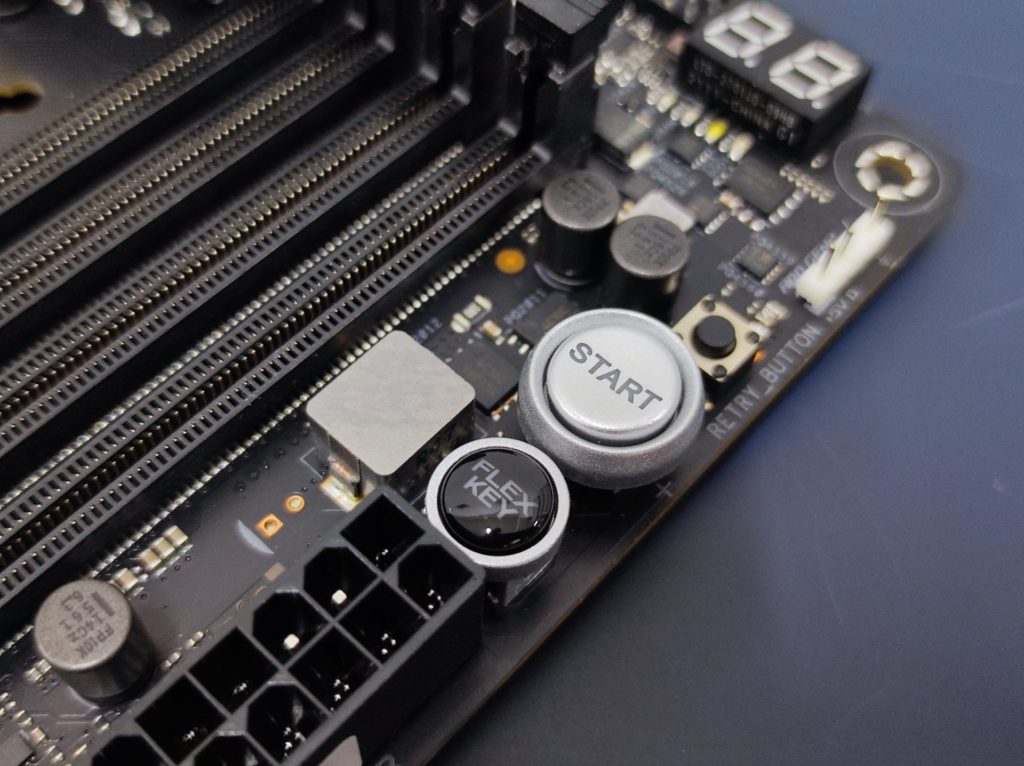 Like other ASUS ROG motherboard, Maximus Z690 hero comes with onboard reset and power button and a POST Code LED. It allows enthusiasts to quickly operate and troubleshoot the motherboard without any peripherals. While these features may be irrelevant for most gamers, they're extremely useful for a system tester like myself.
Input/Output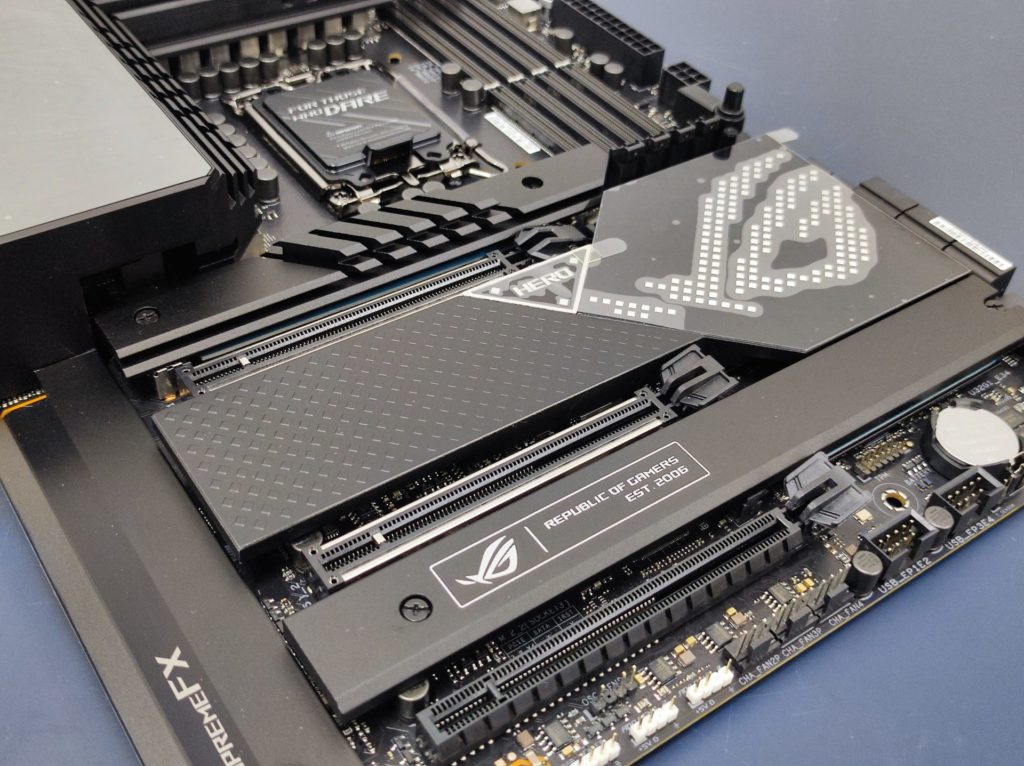 One key feature of the new Alder Lake processors is the introduction of the new PCIe 5.0 interface. This brings twice as much bandwidth as PCIe 4.0. On this motherboard, there are 2 x PICe5.0 x16 slots. It runs either in a single x16 configuration, or a x8/x8 mode when they are both population.
Other than that, the last PCIe slot runs at PCIe 4.0 standard, supporting x4, x4/x4 modes.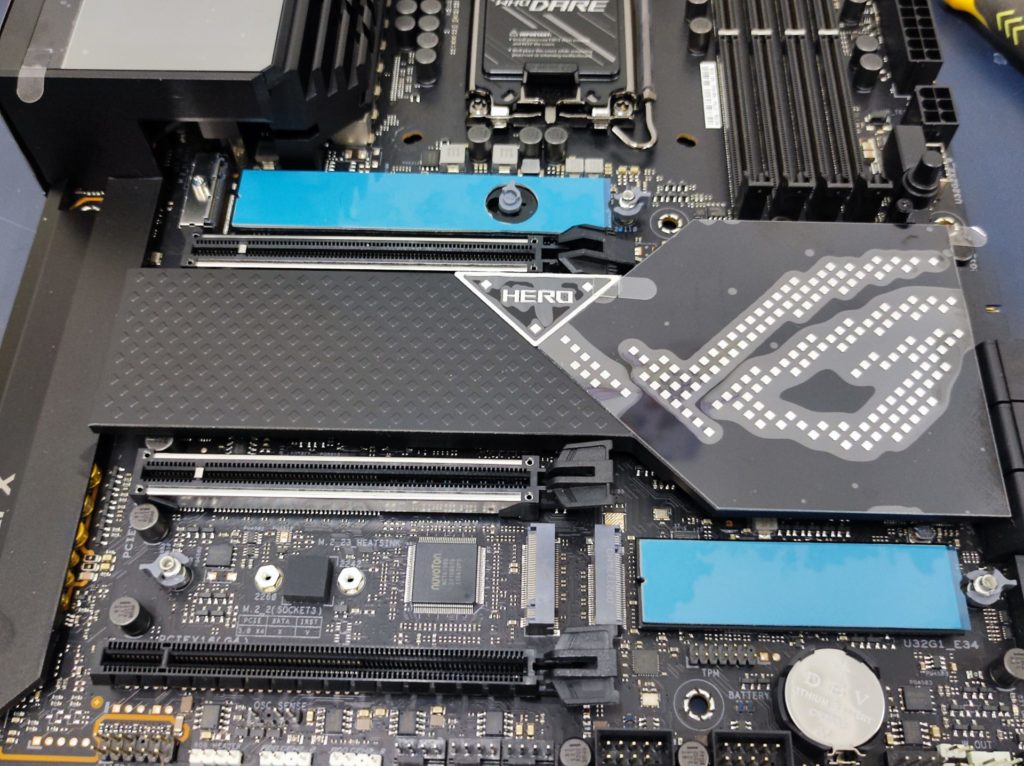 Once the two heatsinks on the motherboard are removed, we can also see 3 x M.2 slots. Two of the slots support PCIe 4.0 x4, while the other works in PCIe 3.0 x4 mode.
It was also very interesting to see how ASUS' innovations allow the easy installation of a M.2 SSD drive. This new tool-less design (M.2 Q-Latch) makes it extremely straightforward to install my M.2 SSD. Small features like this allows us to appreciate the design details that the motherboard engineers have put into the motherboard.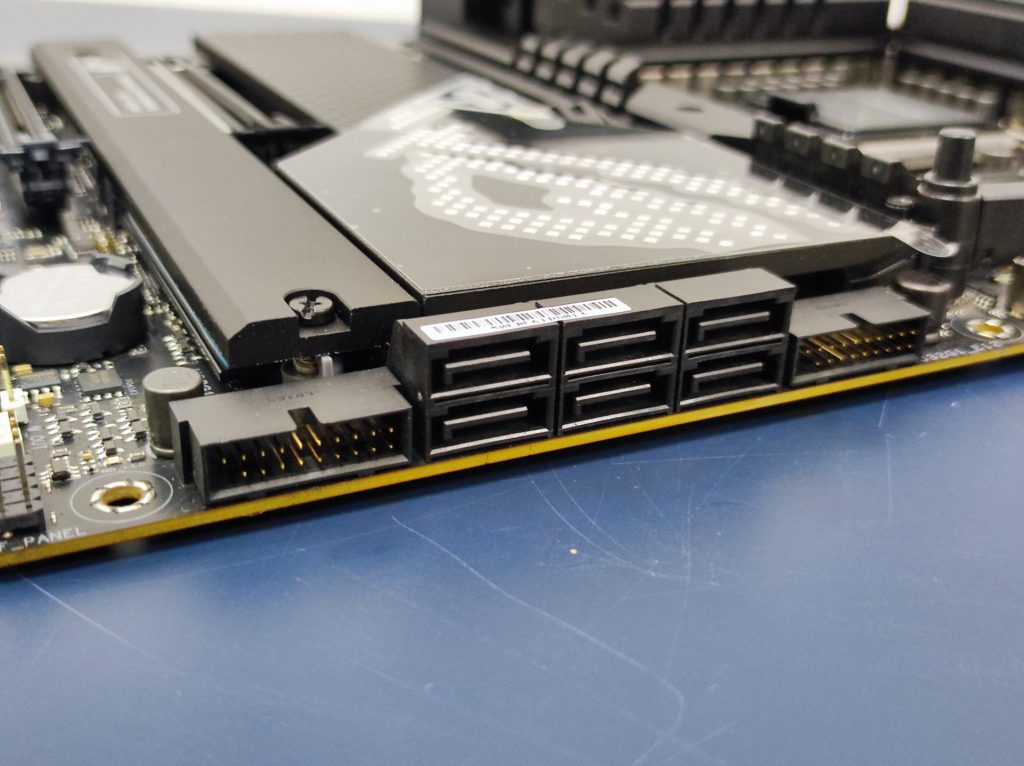 The motherboard still comes with 6 x SATA 6Gbps ports for your traditional hard drives or 2.5inch SSDs.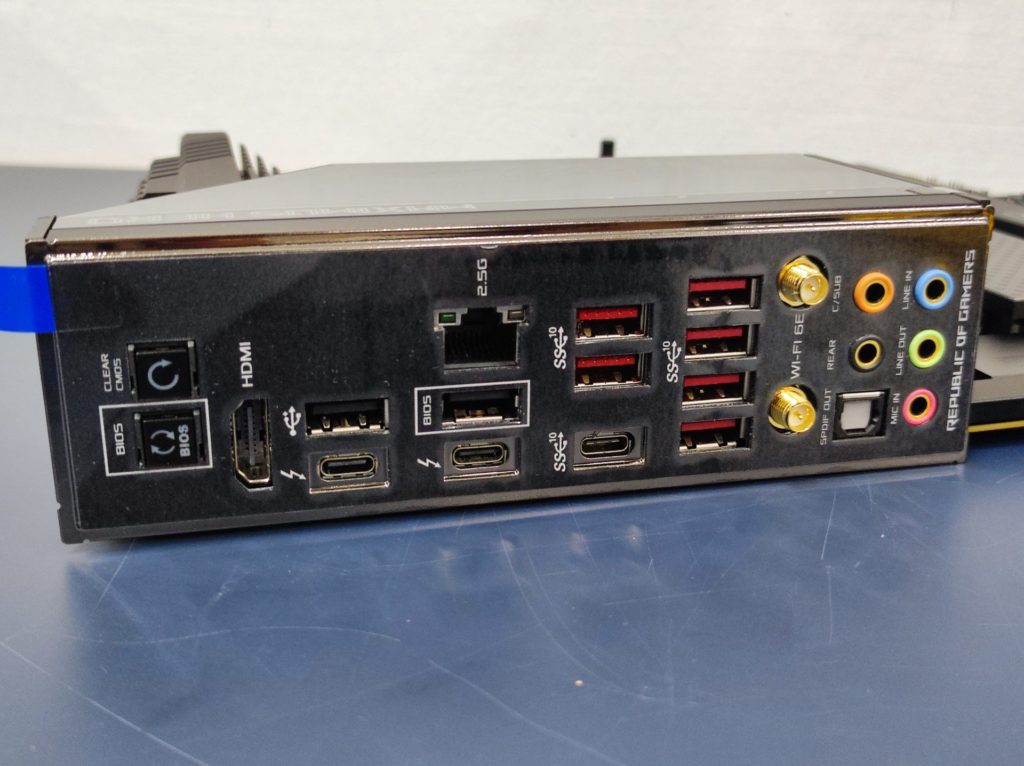 The ASUS ROG Maximus Z690 Hero has a very comprehensive set of I/O at its rear panel. There's a quick access CLEAR CMOS button that makes it easy for a reset of BIOS settings to default. The convenient feature is typically useful for enthusiasts and system testers. The motherboard also supports BIOS FlashBack for easy flashing of the motherboard BIOS without any CPUs or DRAM installed.
The motherboard also comes with a single HDMI port that utilizes the Intel Xe Gen12.2 GPUs found on the CPU.
There's an abundance of high speed USB ports at the rear panel. There are 2 Thunderbolt 4 ports (USB Type-C), 7 USB 3.2 Gen2 10Gbps ports ( 6 Type-A and 1 Type-C). For the less bandwidth heavy peripherals, you can still connect them to the 2 x USB 2.0 ports.
On top of that, the ASUS ROG Maximus Z690 Hero is also well endowed with great network capabilities. It comes with both a 2.5Gbps Intel Ethernet port, as well as Intel Wi-Fi 6E support.
Lastly, the motherboard is also equipped with an excellent audio setup. It features the ROG SupremeFX 7.1 ALC402 codec which promises high quality 120dB SNR stereo playback and 113dB SNR recording. It also supports up to 32-bit/384kHz playback. The audio circuitry also comes with an ESS SABRE9018Q2C DAC/AMP for excellent compatibility and audio performance with external headphones.
PCIe Slot Q-Release
My favourite physical feature of the ASUS ROG Maximus Z690 Hero has got to be the PCIe Slot Q-Release button. As a system tester, there is always a need for me to switch between graphics cards between tests. It's a pain in the as* to remove the graphics card from the motherboard as it takes effort to release the latch from the PCIe slot. Usually I'd need to use a screwdriver or ruler to reach the slot's latch in order to unlatch it.
ASUS has created the Q-Release button that has made my life so much easier. With a simple push of a button, the PCIe slot will get unlatched. I can simply take the graphics card out with close to no effort. This new design deserves a GIF to show how the magic works.

Conclusion
I think it's apparent that the ASUS ROG Maximus Z690 Hero has got a character of its own that allows it to stand out from competition. ASUS and the ROG's team relentless efforts to continuously enhance their designs make unique features like Q-Release or M.2 Q-Latch possible. It's simply not something you will get to see commonly in motherboards of other brands.
Generally, the ASUS ROG Maximus Z690 Hero is well designed both aesthetically and in terms of features. It's got everything we want in a new desktop computer for 2021, and has formed the basis of what's required as a motherboard from here on.
In our next article, we will put the ASUS ROG Maximus Z690 Hero to the test to see how well it performs. Do keep a look out for that!
In the meantime, check out more of our reviews here!