Standing desks have been around for a long time, but they are becoming increasingly popular as people discover the health benefits they bring. These health benefits would translate to improved productivity too. If you'd like to reap the benefits of a standing desk without giving up on sitting altogether, an adjustable desk like the Martiangear Apollo II is worth considering. For weeks, we've tried the Martiangear Apollo II – here's our honest review of the recent release from Martiangear.
Psst! By the way, if you're unaware of the benefits, here's a crash course:
Participants in the "Take-a-Stand Project"1 in 2011 reported a 54% reduction in upper back and neck discomfort after spending an average of 66 minutes of their work day standing.
In the same study, participants self-reported improved mood states.
In a study of bus conductors conducted in 1953, it was shown that those who stood all day had half the risk of heart disease-related fatalities as those who sat.
You can minimize your risk of weight gain by burning around 50 more calories each hour by standing instead of sitting.
In a short study of ten office workers conducted in 2013, it was shown that standing for 185 minutes after lunch lowered blood sugar levels by 43% when compared to sitting for the same amount of time.
Putting the Martiangear Apollo II together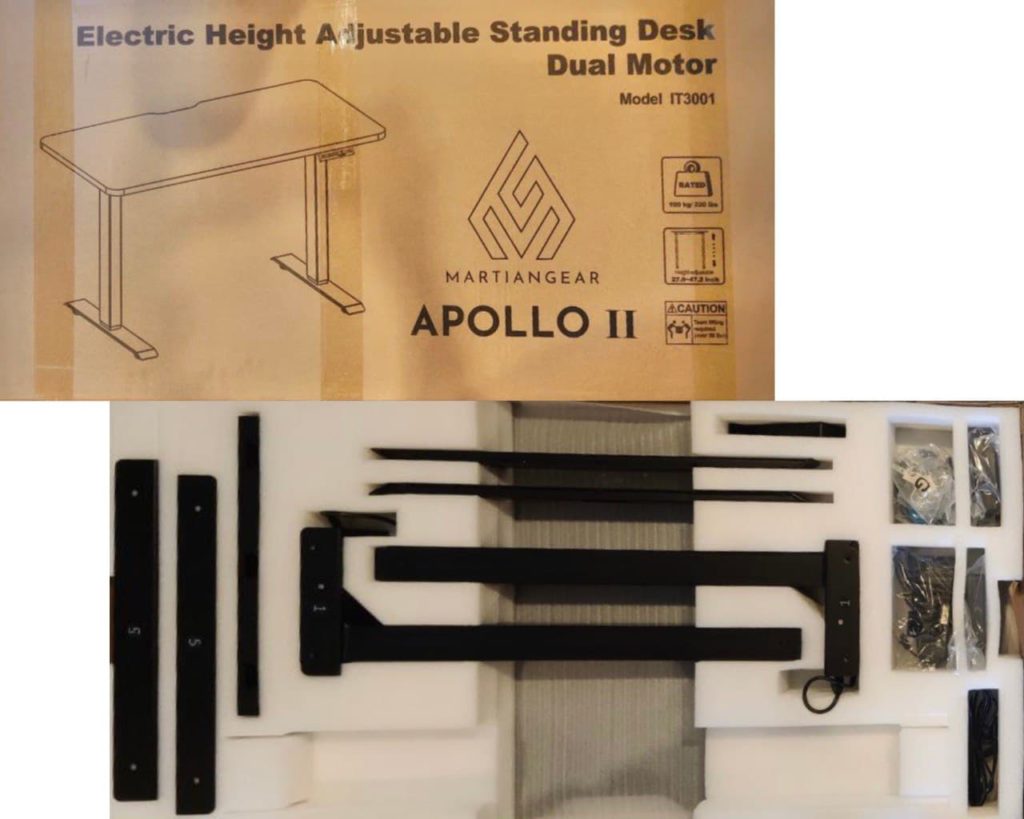 Delivered in a convenient flat pack, the Martiangear Apollo II is designed to make self-installation a breeze. Everything – from screws to Allen keys and random parts of the table – is labelled and arranged alphabetically and numerically so that you won't have to spend time matching illustrations on the instruction manual to parts in real life.
Speaking of instructions, your purchase will come with a gigantic poster with clear and step-by-step instructions for you to piece your desk together.
After you're done with the instructions, you can keep the poster for the beautiful photo of a man on the moon and an inspirational quote.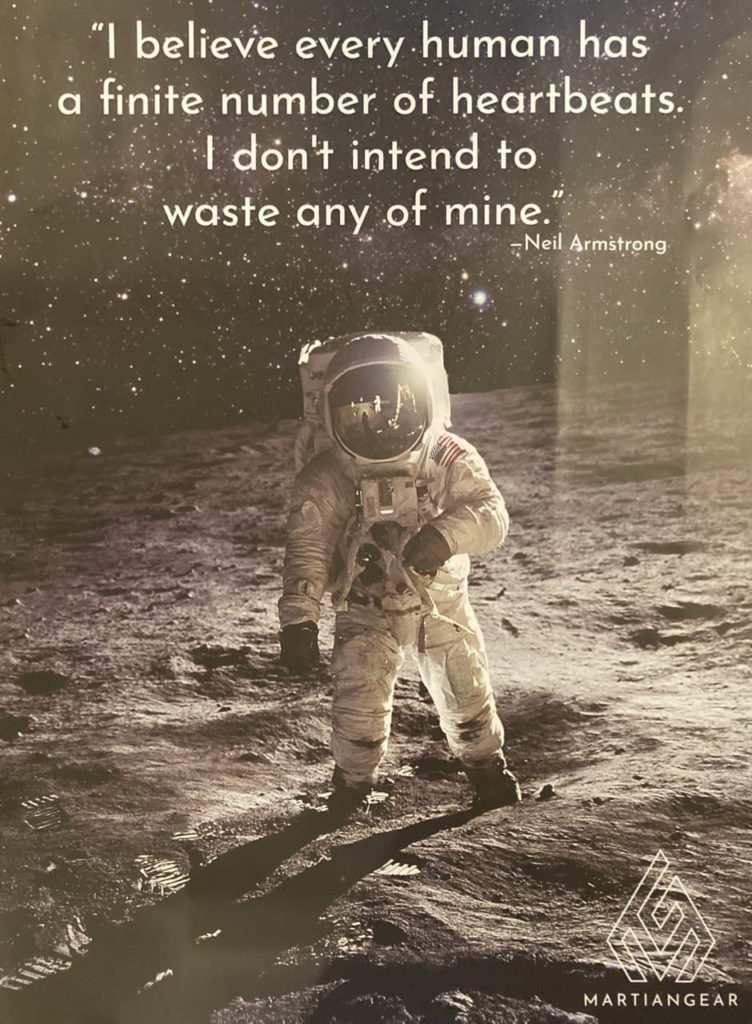 The quote is pretty apt – Martiangear makes sure that users waste no time during self-installation. Overall, installation was quick and straightforward. We recommend you do it with your friend, though, because some parts can get pretty heavy.
Martiangear Apollo II: Design & Build Quality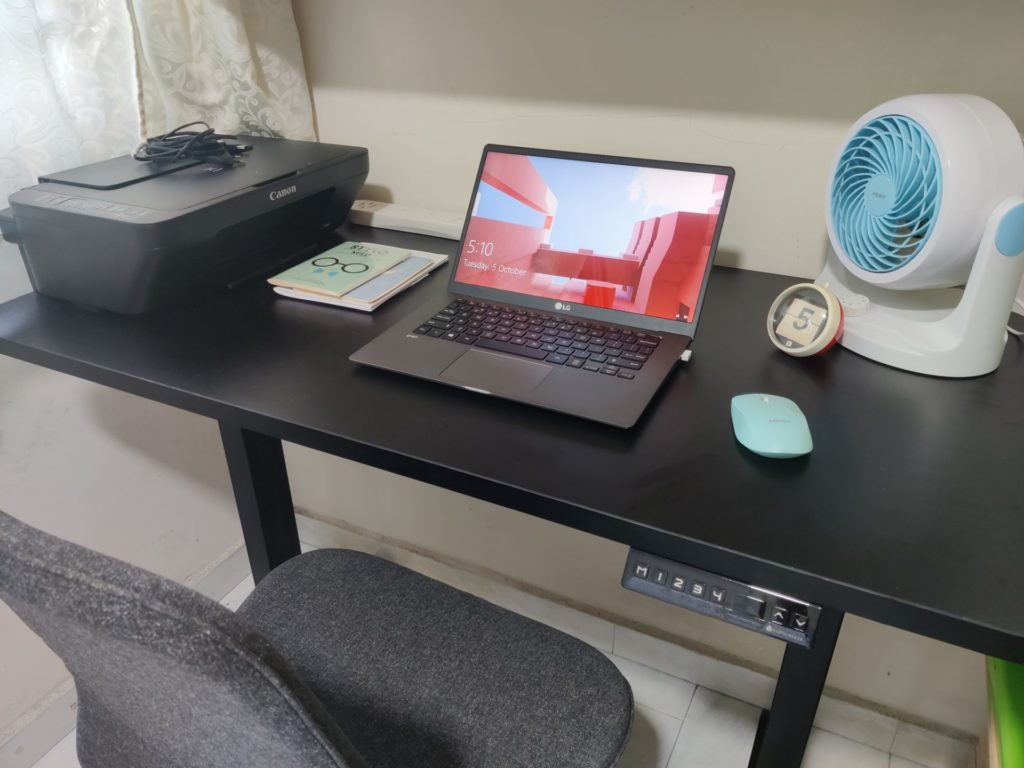 The Martiangear Apollo II comes in two different colours: Space Black, or Walnut. The former comes with a black frame and the latter, with a white frame. Currently, the Apollo II is only available in one size (120cm by 60cm). We hope to see Martiangear expand the available range soon!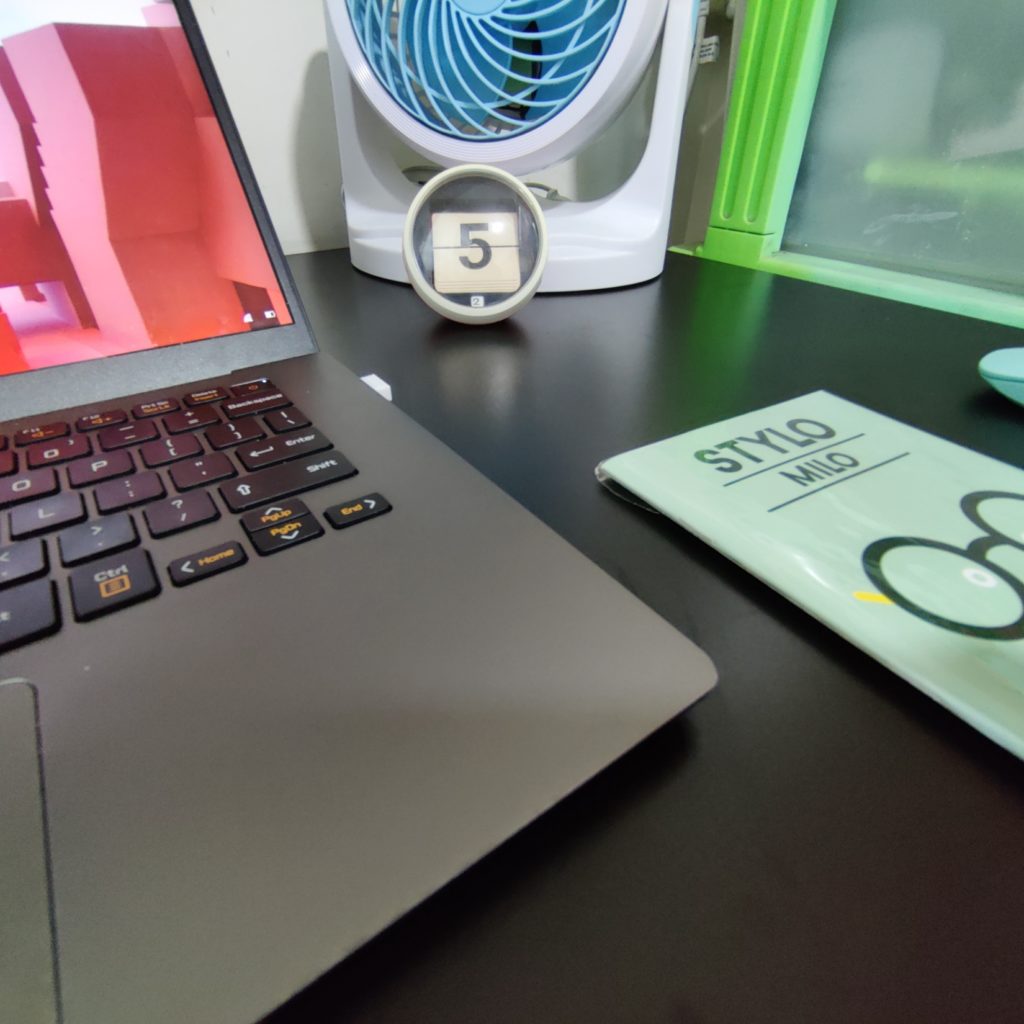 We went for Space Black and were pleasantly surprised by the classic and elegant look of the table. The only gripe we had was that fingerprints formed pretty easily on the tabletop. But that's not something a paper towel and a few wipes can't solve.
We particularly loved that the table comes with rounded edges, which is great for those who have young children at home, or are just plain clumsy.
The tabletop is made of Medium Density Fibreboard. Despite the fact that it is not pure wood, the tabletop is thick (2.5cm) and feels sturdy.
We set the desk to its maximum height and shook it from its sides. There was barely any wobble and everything on the desk remained in their initial position.
Martiangear Apollo II: Features & Functionalities
The Martiangear Apollo II comes packed with some great features and functionalities. Let's take a look at them here.
Height Adjustment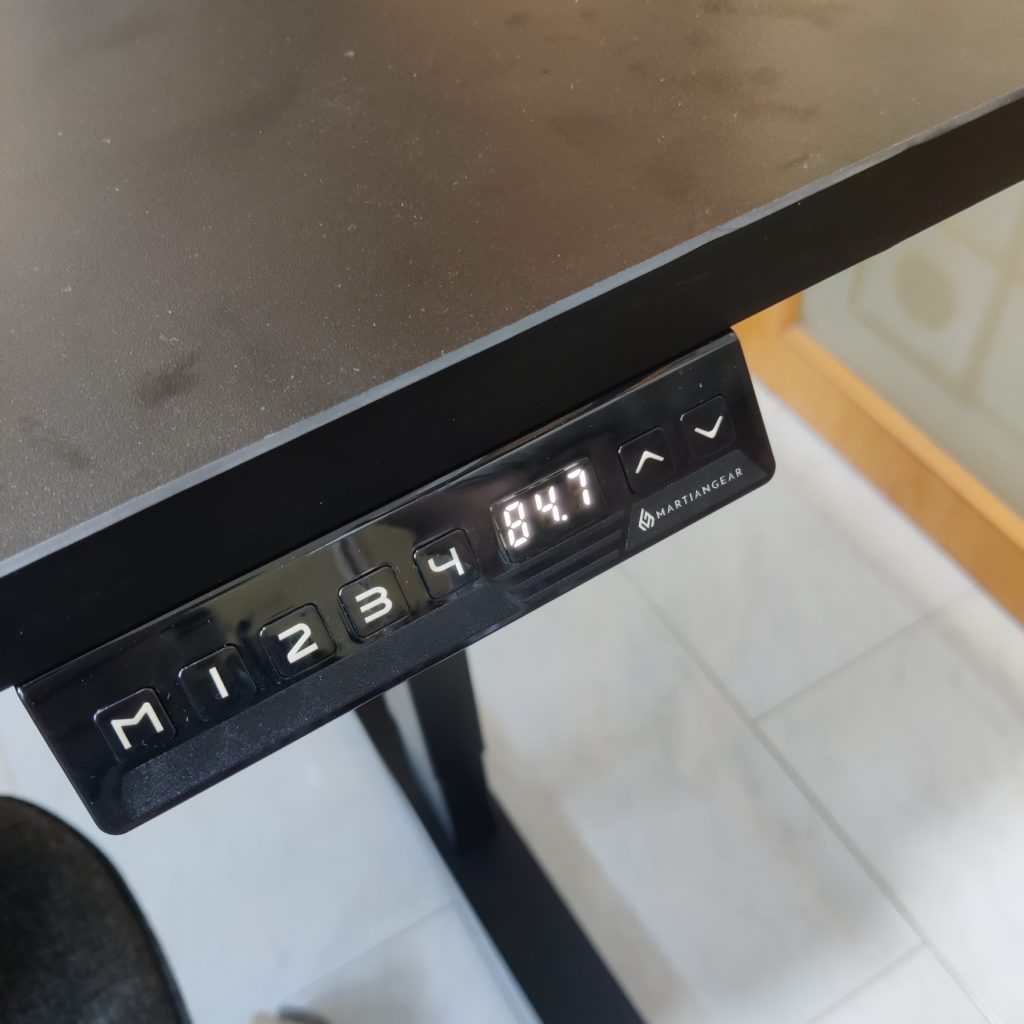 The height adjustment mechanism is powered by a dual motor system that moves the table at a speed of 35mm per second. The desk may be adjusted from a minimum height of 70cm to a maximum height of 120cm, which is a pretty adequate range that covers most people's heights.
To adjust the height of the desk, you'll have to make use of the up and down buttons on a control handset. This handset features a an LED panel that displays the current height of the desk. The displayed height is precise to 1 decimal point.
The stability of the desk is extended to its height adjustment feature. When we moved the table up and down repeatedly, everything remained in its place.
We tested this out with a glass full of water – full to the brim, mind you – and the table remained dry throughout.
Custom Height Memory Presets
You might have been curious when you saw the numbered buttons on the control handset. Well, that's for you to to set height presets so that you don't always have to toggle the up and down buttons.
You can set up to four height presets (you'll have to eliminate one family member if you have a family of five). With a single tap of a button, the desk will move to your desired height. This is a super convenient feature, because the thought of having to manually adjust the desk can be off-putting for some.
Anti-collision Technology
The Martiangear Apollo II comes fitted with sensors that stops the movement of the table when it comes into contact with an object. For the feature to work, some contact has to be made first, but that's fine, because it is meant to prevent further and bigger damages. It also doesn't work with a soft and squishy soft toy.
Cable Management System & Headphone Hook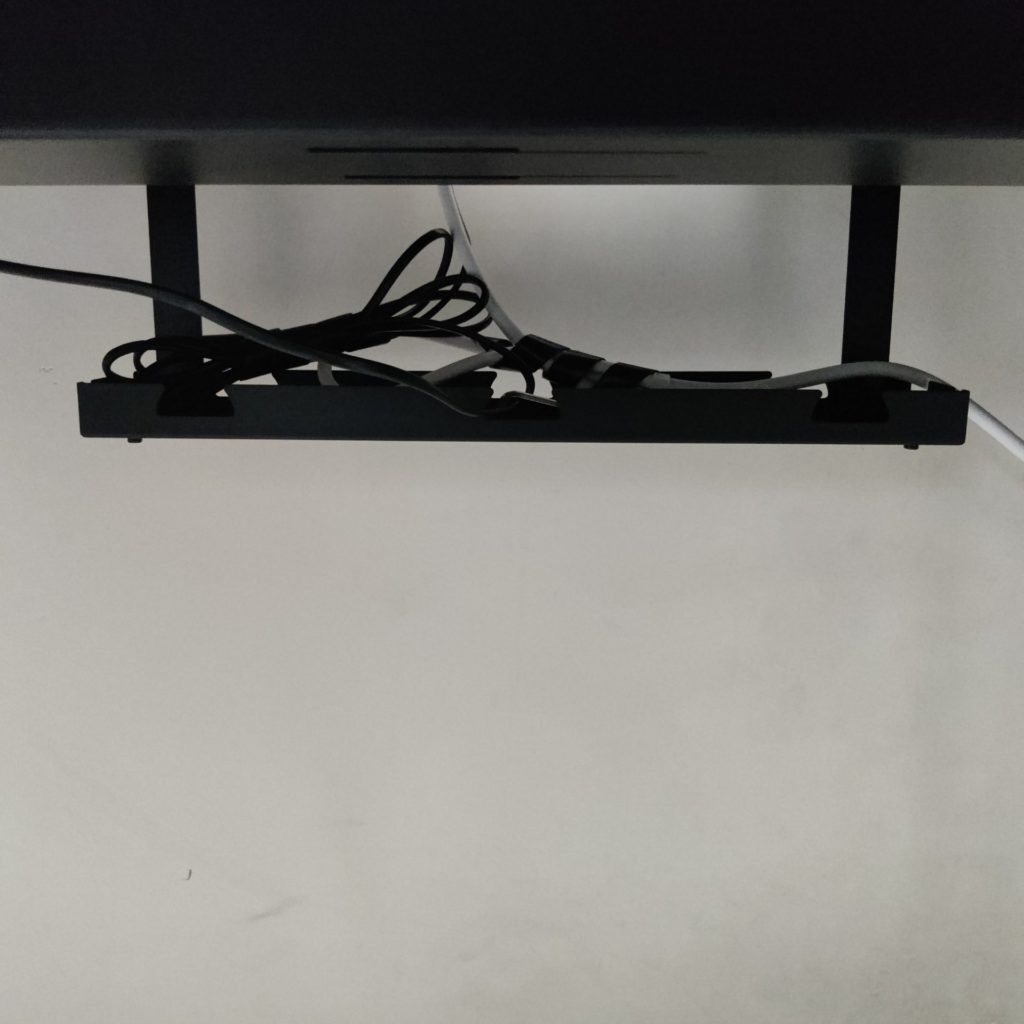 Apollo II comes with a cable management tray under the tabletop for you to store excess cables and hide your mess. While most brands feature this system, we love that Martiangear threw the feature in at no charge. It would have been ideal if the tray was a little longer, though!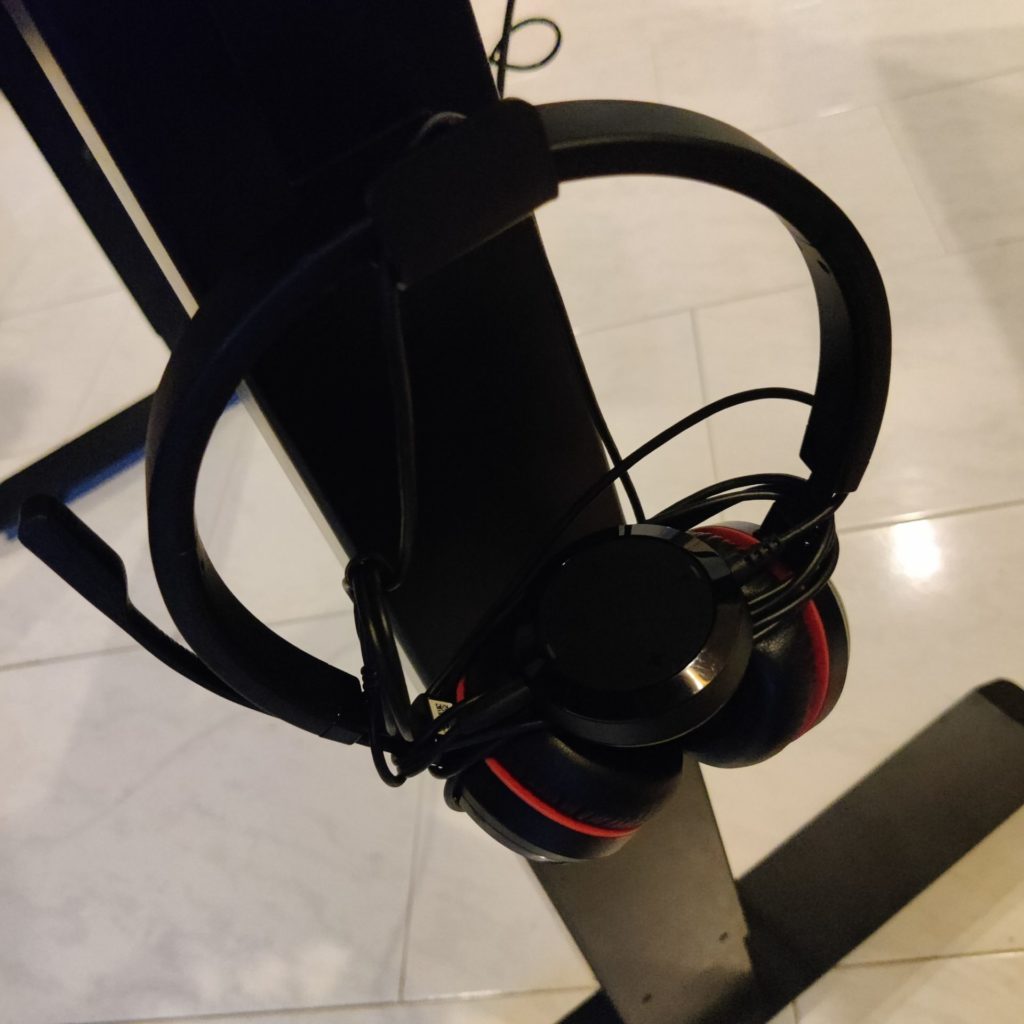 Additionally, with this desk, your headphones will now have a home. The Martiangear Apollo II comes with a headphone hook that you can install at either side of the table.
Martiangear Apollo II: Add-ons
In addition to the features and functionalities mentioned above, Martiangear offers a bunch of add-on accessories:
Castor wheels
CPU holder
Anti-fatigue mat
Desktop organizer
Monitor arm
Cable spine
Martiangear Apollo II: Pricing & Availability
The Martiangear Apollo II is available here and retails at $588.
$588 for a desk may sound excessive, but that's already one of the cheaper adjustable desks you'll be able to find on the market. Most desks would set you back at least $700. Furthermore, Martiangear's desks come with up to 12 years of warranty to give users a peace of mind.
Here's a reward for reading till the end. Our readers get an additional $70 discount code that can be used storewide. That makes the desk only a little over $500.
Simply apply the promo code TTR70 at checkout to enjoy the discount.
The bottom-line
If you're after a table with a wide variety of color and size options, you may have to look elsewhere for now. Alternatively, you could wait for Martiangear to release more options to its users.
That said, the Apollo II, with its classic appearance, quick assembly, outstanding build quality, and a slew of features, functions, and add-ons, is a wonderful adjustable desk to consider.