In the annual Tech World 2021, Lenovo unveiled a whole series of premium laptops that provides fast and responsive computing—a must-have feature for power users as we transition into a new normal of hybrid working arrangements.
Among this eco-system of premium laptops sits the Lenovo Yoga Slim 7 Pro OLED, which Lenovo touts the high-performance notebook for content creators that promises immersive visuals, great connectivity, and long-lasting battery.
We're fortunate to have had the chance to try our hands on the device. Here's our honest review of the Lenovo Yoga Slim 7 Pro. Read all about the good and the bad of the laptop and tell us if you'd be adding it to your cart after this!
Tech specs at a glance
Processor
Up to AMD Ryzen™ 9 5900HX Mobile Processor
Operating system
Windows 10 Home or Pro
Display
14″ 2.8K (2880 x 1800) OLED display with glass,16:10, 90Hz refresh rate, 100% DCI-P3, 125% sRGB, 400 nits, VESA Certified DisplayHDR™ 500 True Black, Dolby Vision®,
243 PPI, 91% AAR
Memory
AMD Radeon™: Up to 16GB DDR4-3200; Dual Channel
NVIDIA® GeForce MX450: Up to 16GB LPDDR4-4266; Dual Channel
Battery
61Whr Lithium-ion Polymer
Storage
SSD PCIe M.2: Up to 1TB
Graphics
AMD Radeon™ graphics
and/or NVIDIA® GeForce® MX450
Audio
2 x 2W s Dolby Atmos® certified speakers
Camera
IR Camera
Dimensions (H x W x D)
312.4 x 221.4 x 14.9-17.9mm

Hinge
175+/-5°
Weight
1.39 kg
Colour
Slate Grey (reviewed)
Light Silver
Connectivity
WLAN
2×2 WiFi 6 (802.11 ax)

Bluetooth
Bluetooth® 5.0
Ports/Slots
2 x USB-C (USB 3.2 Gen 2, Power Delivery 3.0, DisplayPort™ 1.4)
1 x USB-A (USB 3.2 Gen 1)
1 x Audio Combo Jack
Preloaded Software
Lenovo Vantage
Microsoft Office 2019
McAfee LiveSafe™
Dolby Vision®
Glance by Mirametrix®
What's in the box?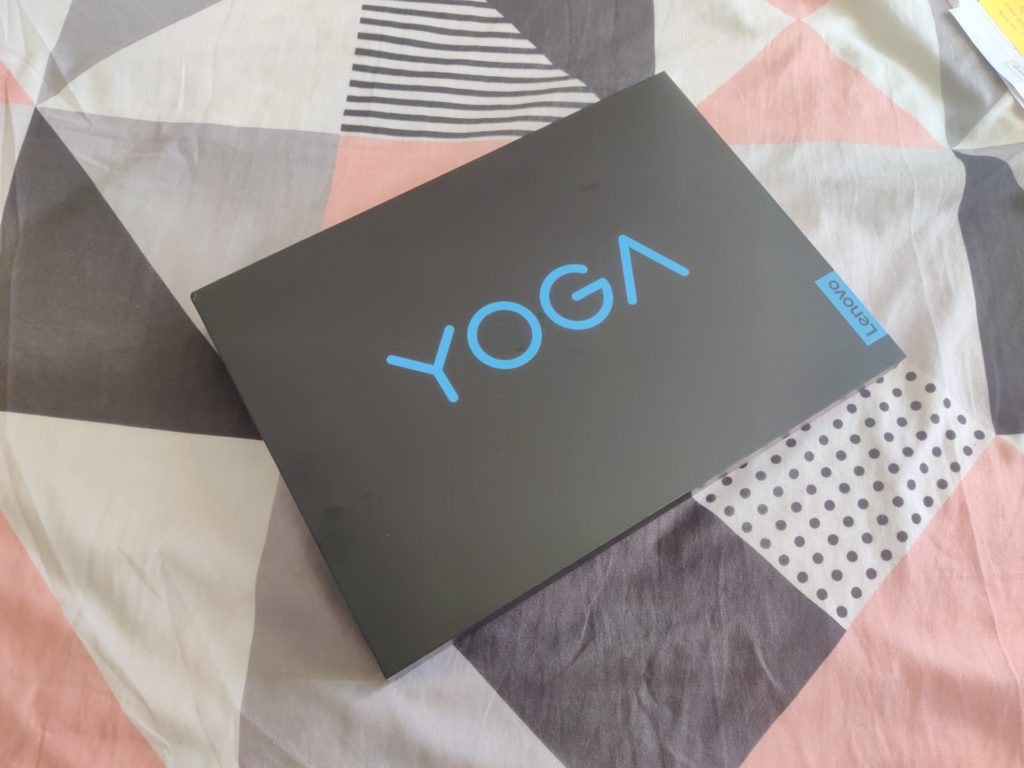 Your Lenovo Yoga Slim 7 Pro comes packed in a stylish black box with neon blue words printed on the front. Open it up and you'll find your new notebook, along with some instructional manuals to help you get started quickly.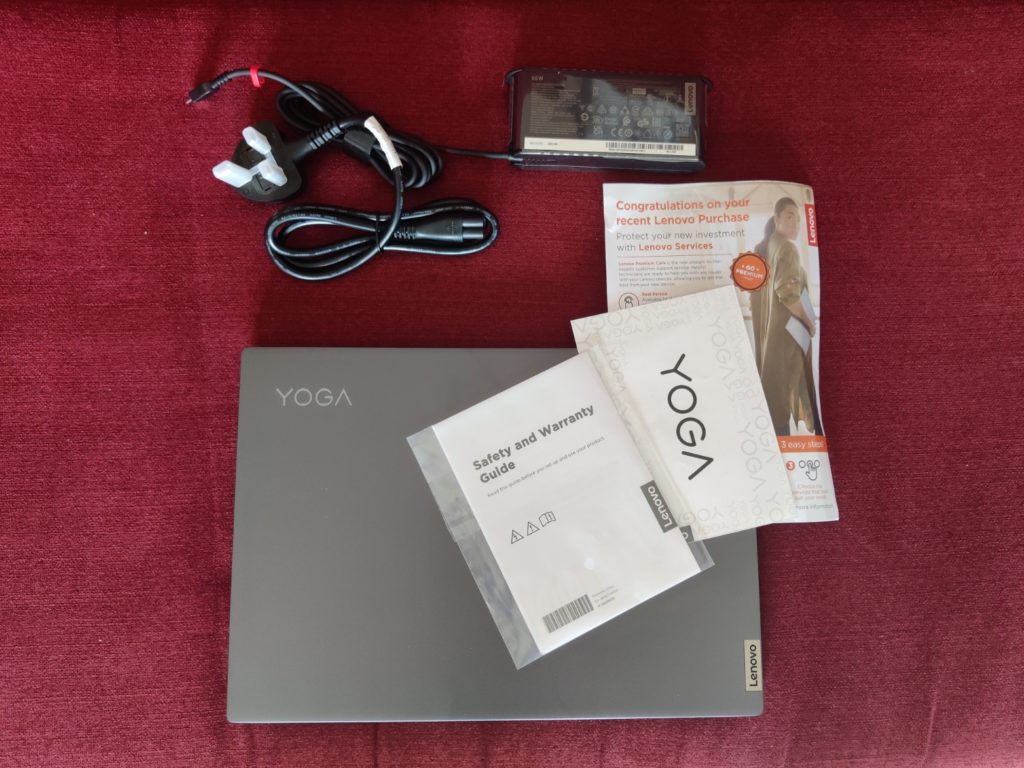 The power brick that comes along with the laptop is fairly average in size. It's a 95W unit that's quite uniquely rounded at the edges.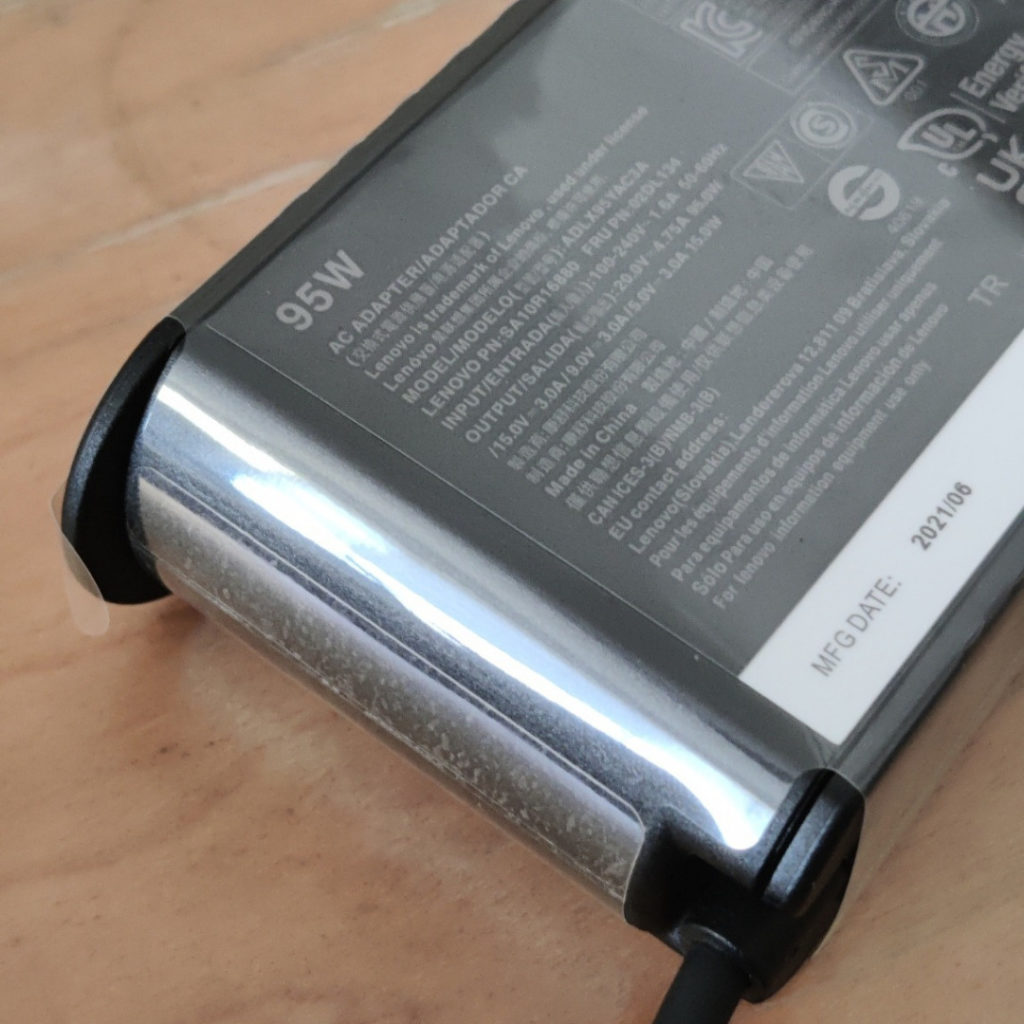 Let's start with the good
Now that we're done with the nitty gritty, let's get down to actually reviewing the Lenovo Yoga Slim 7 Pro. Lenovo has much to boast about this laptop, and here are some things in particular that we loved.
We loved that it's slim, sleek, and thoughtfully designed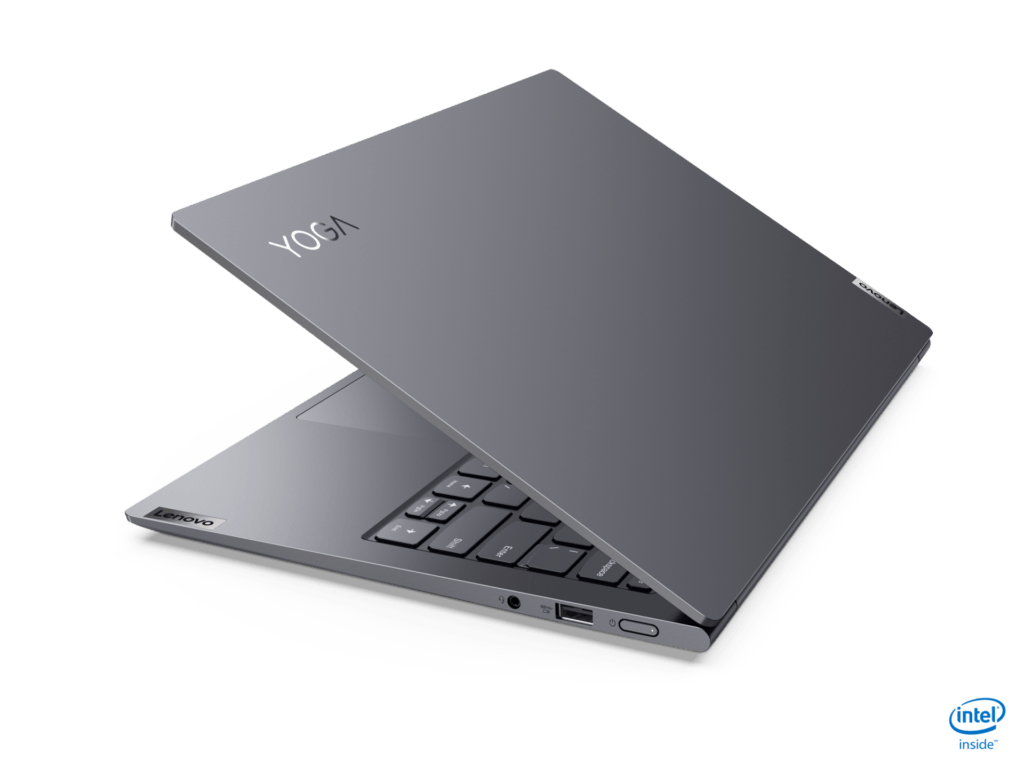 With a thickness of just 14.9mm and a mere weight of 1.39kg, the Lenovo Yoga Slim 7 Pro is easy to bring around. To achieve this weight and thickness, Lenovo did not compromise on the build quality of the machine. Instead, it is crafted from premium sandblasted anodised metal for a refined finish that tapers towards the front. The all-aluminum device feels solid in the hands.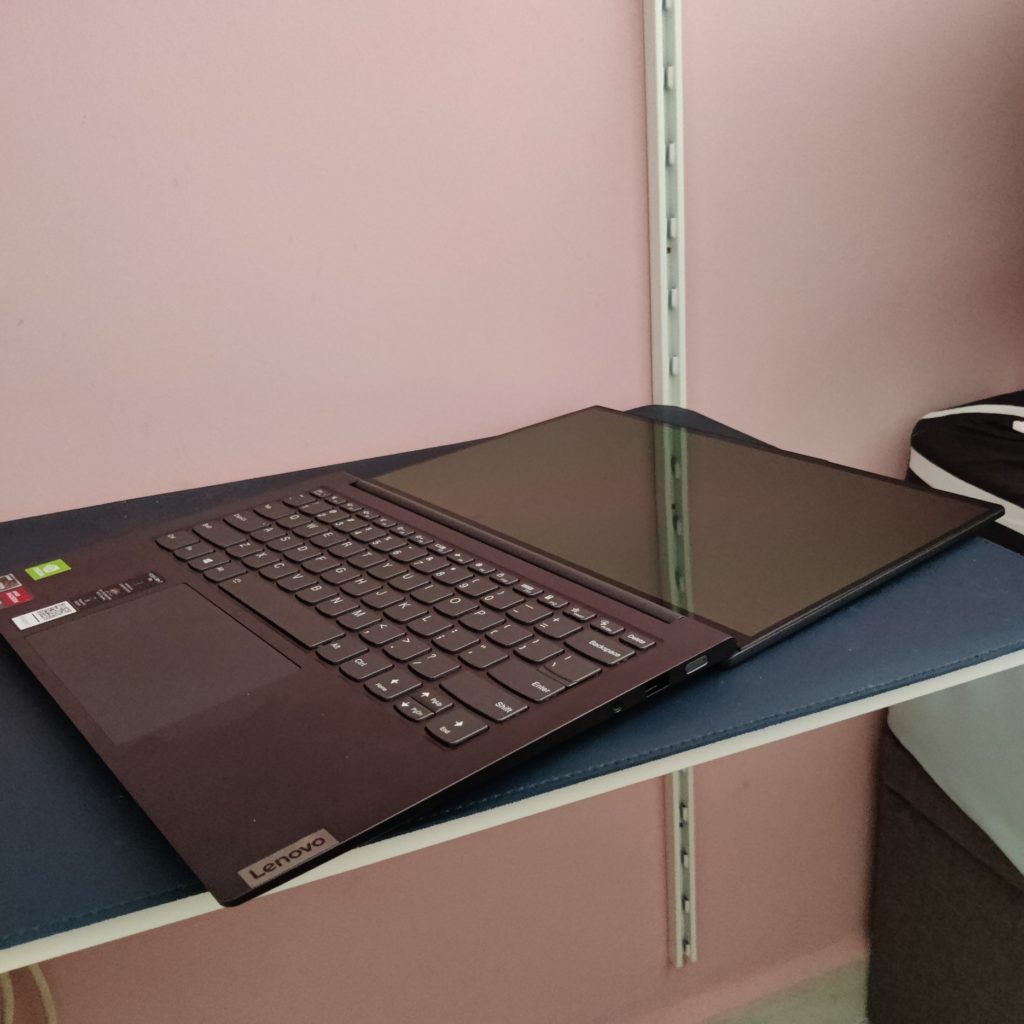 In a world where we're increasingly working off our laptops, finding a machine that looks good isn't quite enough. To that end, Lenovo thoughtfully fitted an ergonomically-designed TrueStrike keyboard which offers 1.3mm key travel enhanced with unique caterpillar domes that mimics typing experience typical of a 1.5mm key travel keyboard. Our typing experience was smooth, comfortable, responsive and bouncy. The only complain that we have is that the "up" and "down" keys are a tad small for our fat fingers.
Along with the enjoyable typing experience, you'll find a generously large touchpad that offers a great user experience.
We loved that the OLED display is on point
The Lenovo Yoga Slim 7 Pro features a dazzling 14-inch display with minimal bezels and a 91% active area ratio in 16:10 proportions. This translates to more vertical content when browsing the web or working with text documents, which also means that you can scroll less to view more content (great news for lazy beans).
The display is powered by the latest Samsung E4 OLED technology designed for superior image reproduction. Designed for professional content creators, the incredible wide colour gamut display covers 100% of DCI-P3 color space and 125% SRGB colour space with 1 billion colours at 10-bit depth for perfectly accurate colour reproduction down to the very last pixel.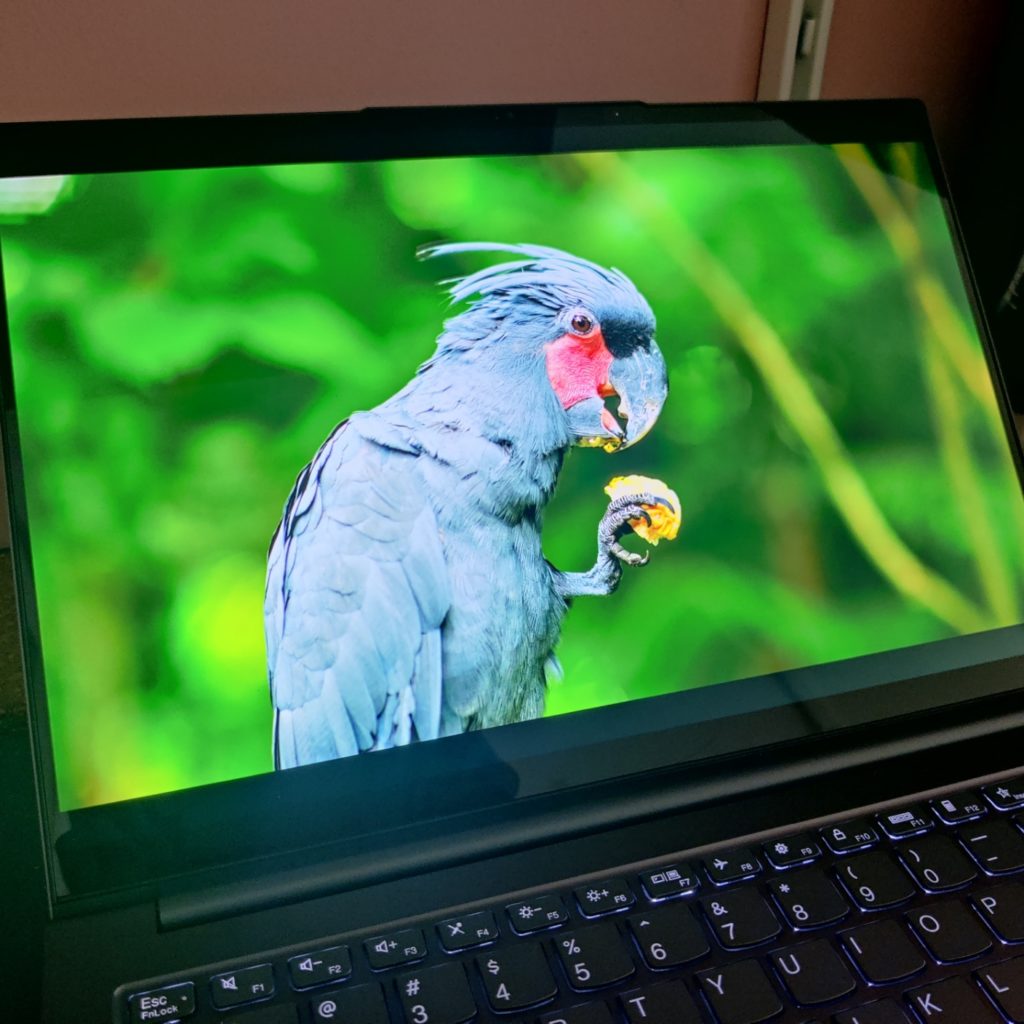 With a full-screen brightness of up to 400 nits and 600 nits of peak brightness, the OLED display lets you enjoy HDR content in all of its glory. Transitions and animations are snappy and smooth too, with the machine's 90 Hz refresh rate and 1 ms response time.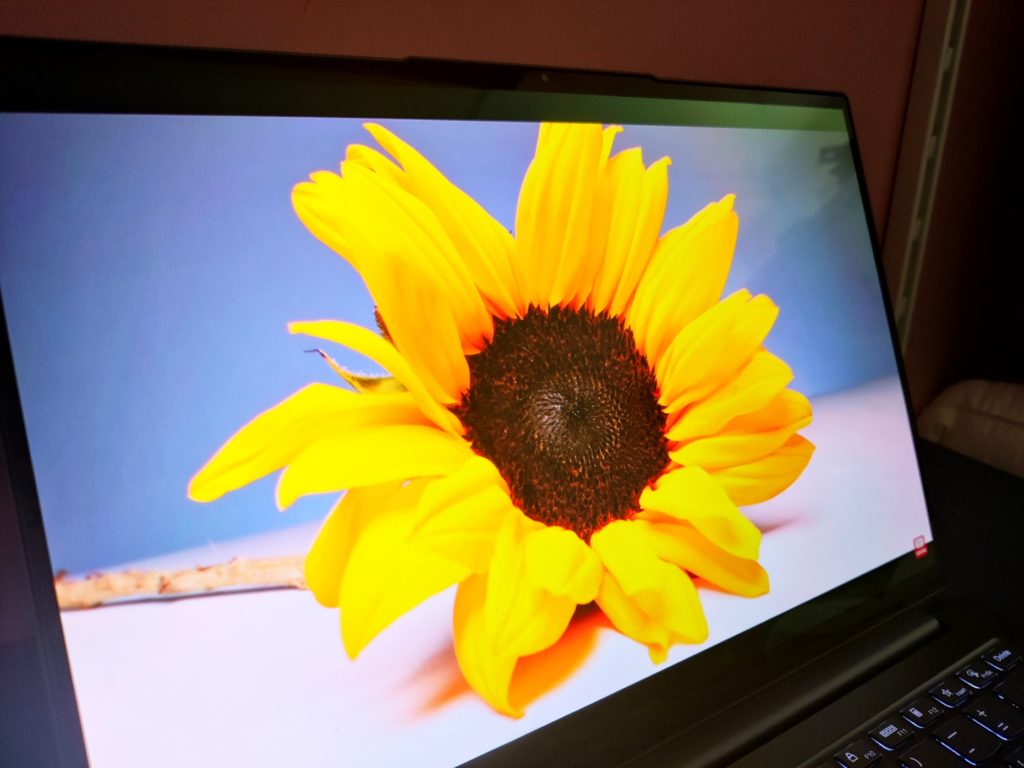 The laptop's OLED technology also allows for ultra-wide viewing angles with minimal loss in brightness and contrast and colour shifts when viewed from an angle. That means you don't have to shove your way to make sure you get the perfect spot to view and catch up on the latest episode of Money Heist with your family. You can all enjoy the episode together.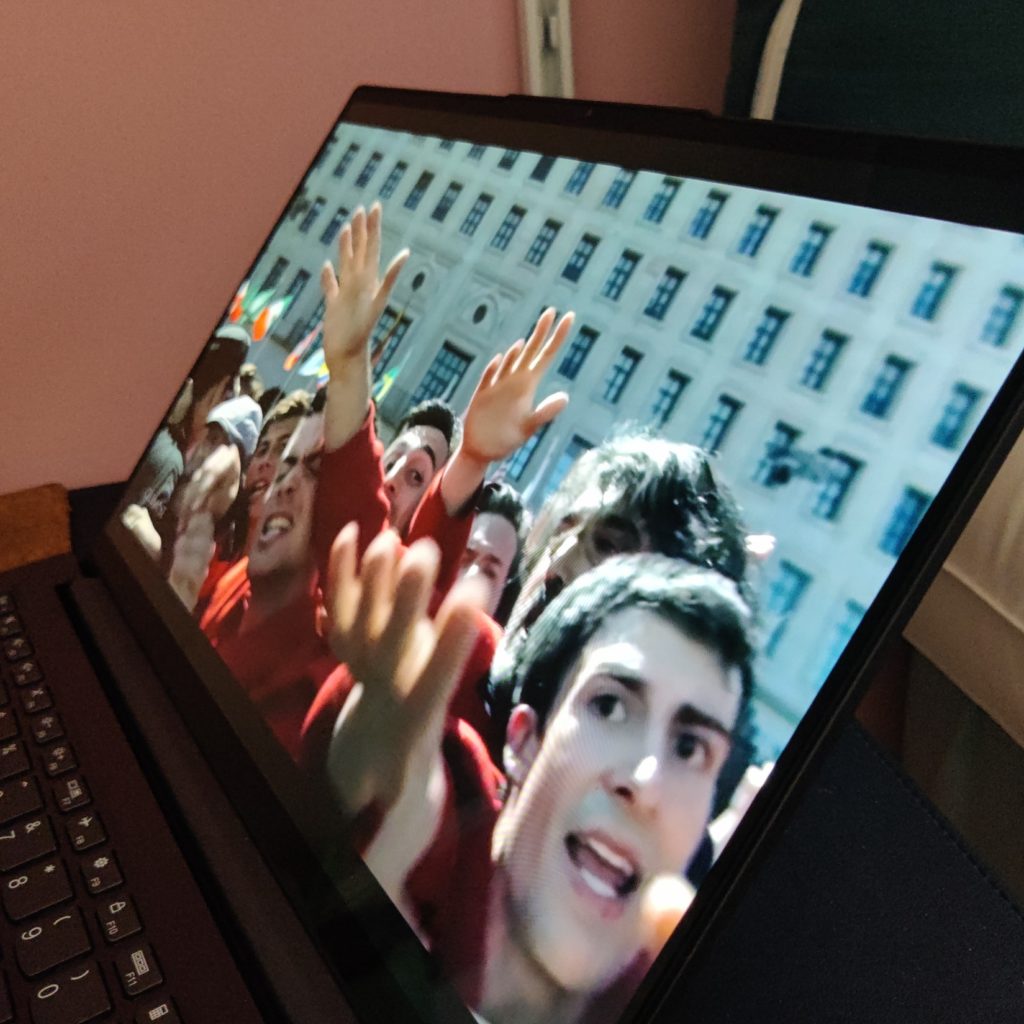 Lenovo also claims that the OLED display emits less than 6.5% blue light and is designed to prevent unnecessary strains and damage to your sight. That means more movie marathons!
Graphics wise, you get to choose from:
(reviewer's version) AMD Radeon™ graphics based on the Vega GPU architecture for crisp and vibrant visuals wherever you go
OR
NVIDIA® GeForce® MX450 graphics based on "Turing" architecture for supercharged performance that is up to 2.5x faster than competitive integrated graphics
We were able to multiple apps and run heavy tasks seamlessly.
We loved that it's cool and quiet
Thanks to a redesigned cooling solution that ensures excellent thermal dissipation, the Lenovo Yoga Slim 7 Pro is cool and quiet, like the popular kid in school. It is capable of up to 50W thermal design power when paired with NVIDIA® GeForce® MX450 (or up to 45W with onboard AMD Radeon™ graphics).
The laptop's low-profile 0.1mm fans are the industry's thinnest and provide up to 15% better air flow. 3rd generation graphite thermal conductors are also placed strategically between the fan and the bottom cover for heat dissipation over a larger surface, providing up to 47.9% better heat conduction.
In our experience, we were able to hear the fans, but it wasn't loud enough for us to be at all annoyed. When we turned on the Battery Saving mode, the machine becomes even quieter. The shell of the laptop also doesn't get uncomfortably hot, even after hours of continuous use.
We loved that it's not just a pretty face: it's smart too!
The Lenovo Yoga Slim 7 Pro comes packed with several smart features that utilises AI to streamline your user experience. These features are designed to perform better over time and can be managed through the Lenovo Vantage app. Here are some we enjoyed:
Flip-to-boot
The laptop boots to Windows instantly by simply lifting the display lid. Combined with AI-powered IR Camera, it enables hands-free facial recognition login for a seamless transition to your virtual workspace.
Time-of-flight sensor
The time-of-flight sensor captures user presence and adjusts the laptop's behaviour for greater security and ease-of-use. The display quickly dims and goes to the lock screen while video is paused when the user walks away. The laptop is also able to sense the user's return and intelligently light up the display or resume playback.
Background blur
Smart AI blurs your background when you use the camera for any video calls or taking photos. This will save you the hassle of having to pack that pile of mess in your room right before a video call.
Glance by Mirametrix®
This AI-powered attention-sensing software. recognises when the user is looking away and automatically blurs on-screen content, as well as sending posture notifications when users are too close to the screen. Relatedly, the laptop features an anti-shoulder-surfing function that allows you to set a Privacy Alert when someone's trying to snoop at what's on your screen.
For enhanced usability, it also allows content from the laptop display to be shifted to a connected monitor with just a turn of your head!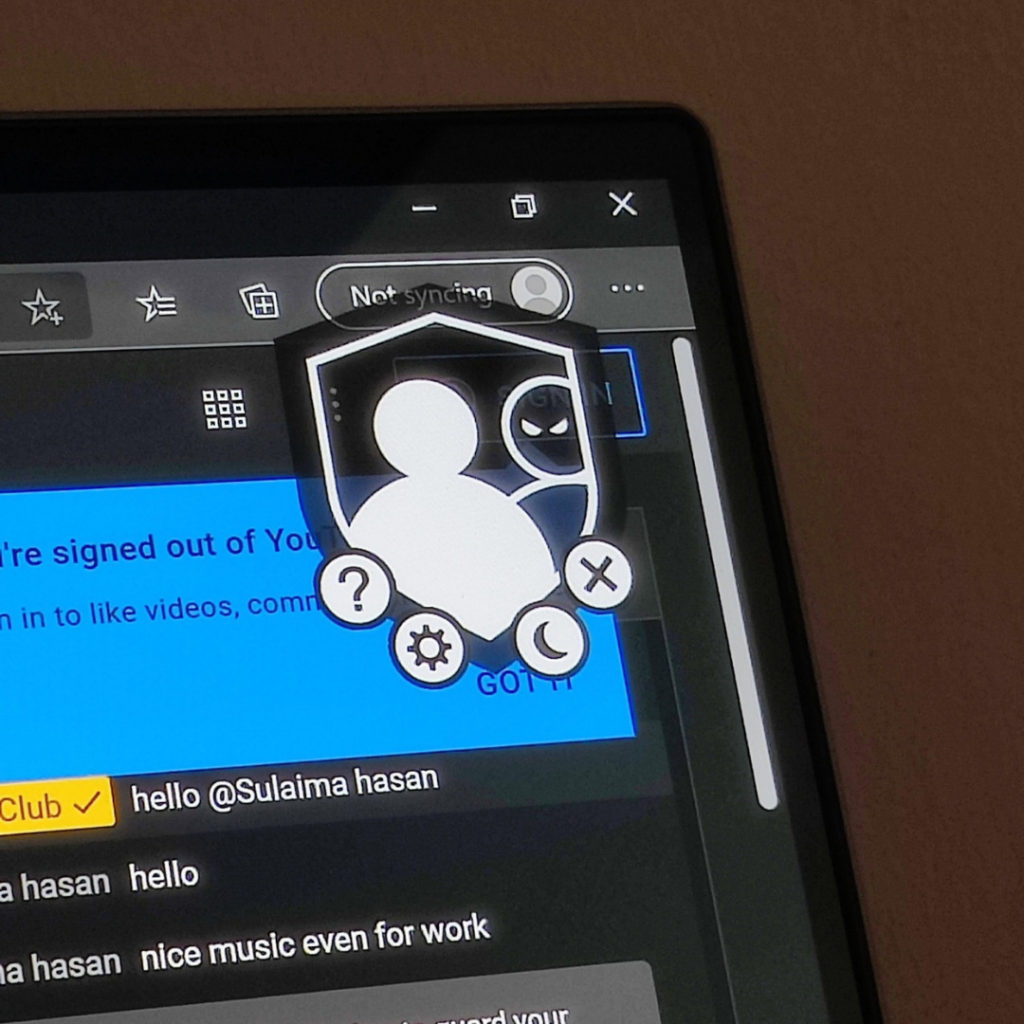 We loved that it's got a great battery life
The Lenovo Yoga Slim 7 Pro's 61WHr lithium-ion polymer battery was able to last us a good 10 hours of web-surfing and some video playback. The long-lasting battery is great for those who do not wish to be anchored to an outlet all the time.
When we eventually needed to juice up the machine, a Rapid Charge Boost feature got us up to two hours of battery life in just under 15 minutes of charge time (when the laptops is on standby mode).
Things we didn't quite like
Like most devices, there are certain things that we didn't quite like about the Lenovo Yoga Slim 7 Pro. Read on to find out if any of these are deal breakers for you.
We didn't like its port placements
The Lenovo Yoga Slim 7 Pro features:
2 x USB-C (USB 3.2 Gen 2, Power Delivery 3.0, DisplayPort™ 1.4)
1 x USB-A (USB 3.2 Gen 1)
1 x Audio Combo Jack
While that's adequate, we do wish that Lenovo included a memory card reader. We also found it strange that both USB-C ports are on the left side of the machine. It would have been ideal if they were placed on both sides of the laptop.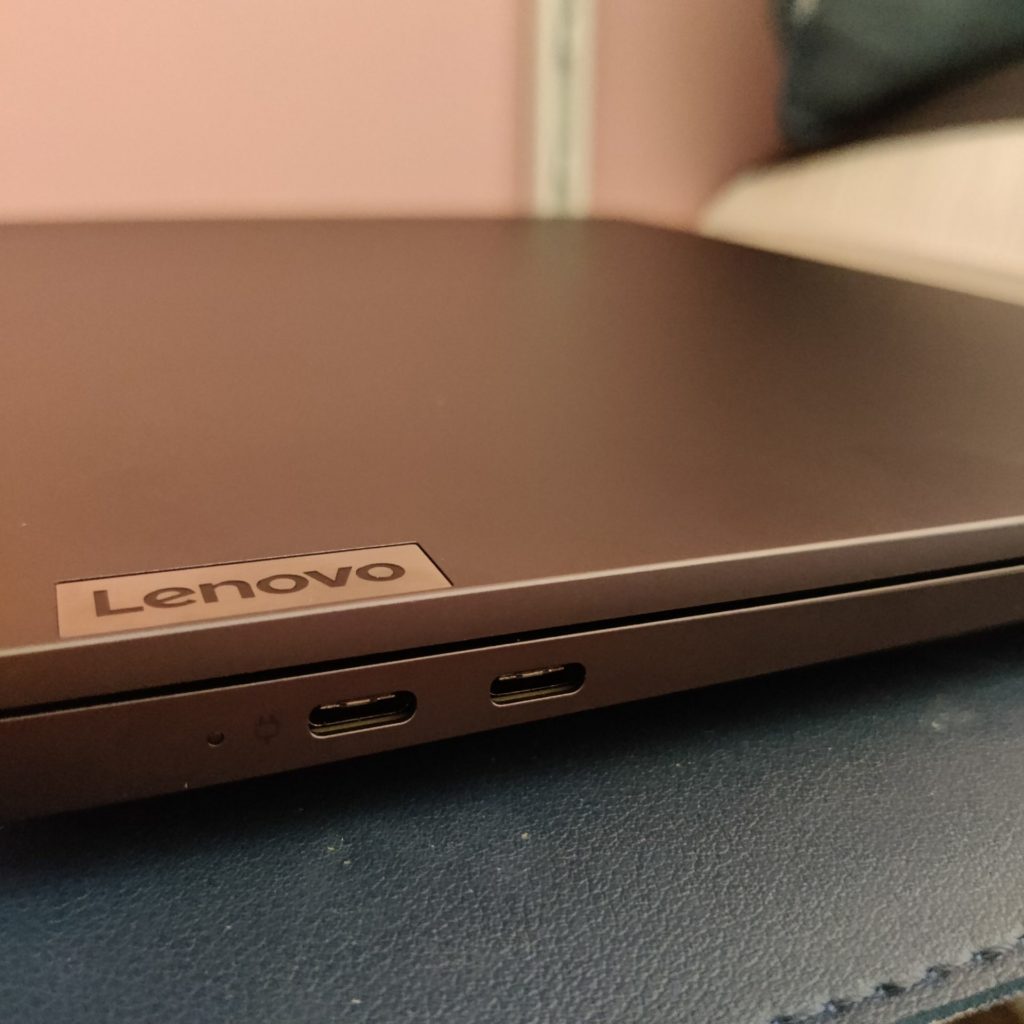 You can't upgrade the RAM configuration
If you need more memory on your device, you'll be left disappointed that the Lenovo Yoga Slim 7 Pro's RAM is firmly soldered. In other words, you will not be able to upgrade the RAM configuration if you need more after some time.
It's easy to stain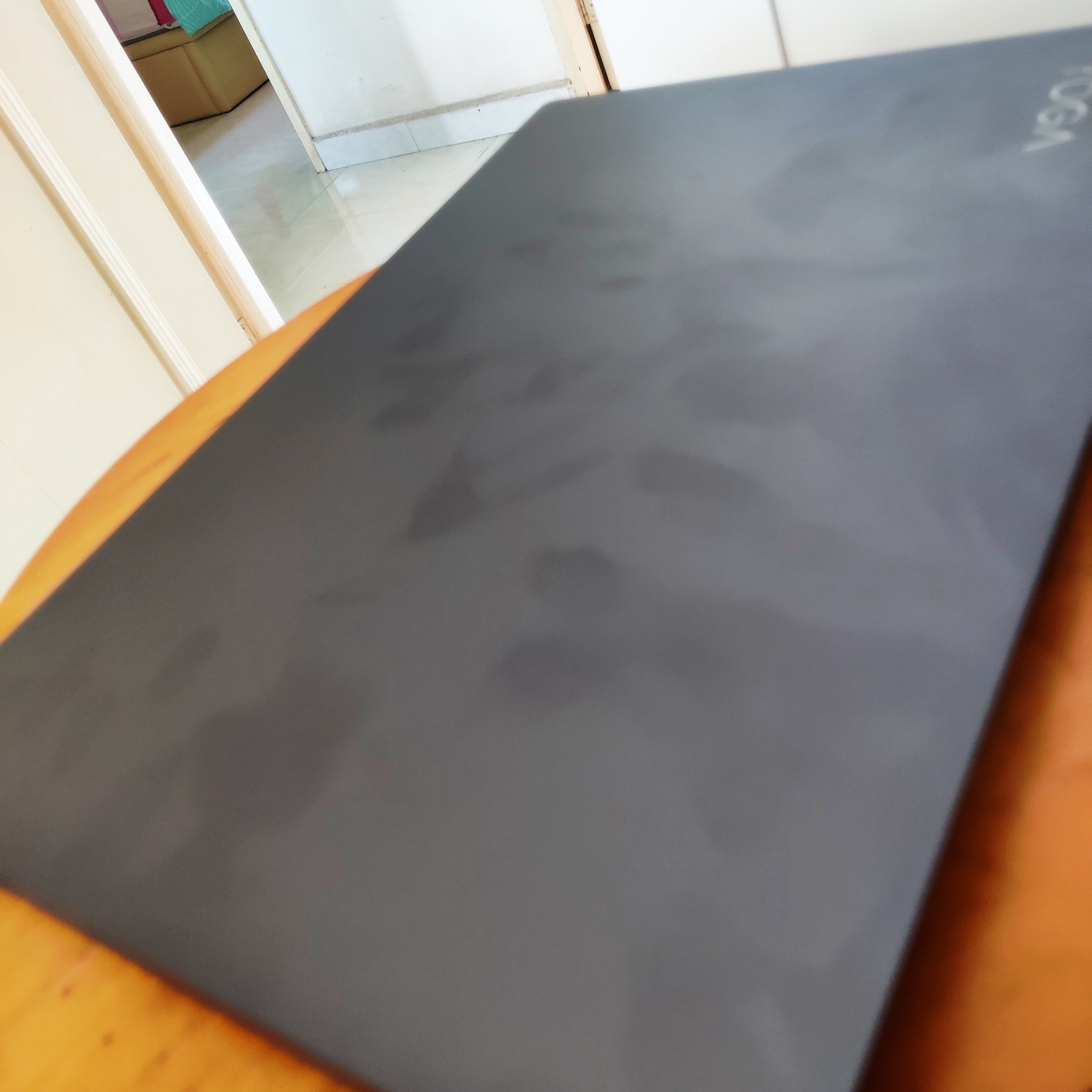 Compared to glossy laptops like the ASUS Zenbook Pro 15, the Lenovo Yoga Slim 7 Pro isn't a fingerprint magnet. That said, however, sweat and grease stains appear obvious on the laptop, as seen from the before and after comparison above.
Those with sweaty palms will find that the sides of the laptop's trackpad will be filled with oil stains that seem to spread the more you try to wipe it off with your hands.
TLDR: The verdict
With a sleek professional design, a dazzling OLED display, smart AI-powered features, and a great battery life, the Lenovo Yoga Slim 7 Pro makes for a great on-the-go laptop for most users. But if you're particular about having the greatest speakers or upgradeable RAM, this laptop isn't for you.
For information about price and availability, click here.
To read more about Tech World 2021, check out our post here.