September 8, 2021 – Today, at its annual Tech World event, Lenovo announced the launch of a bunch of new products including Yoga Slim laptops, IdeaPad Chromebooks, ThinkVision Monitors and Lenovo Tablets. Lenovo has also launched its ThinkEdge S370, Smart Wireless Earbuds and its global Everything-as-a-Service strategy.
Lenovo Leads in Launching Windows 11 on New Yoga Laptops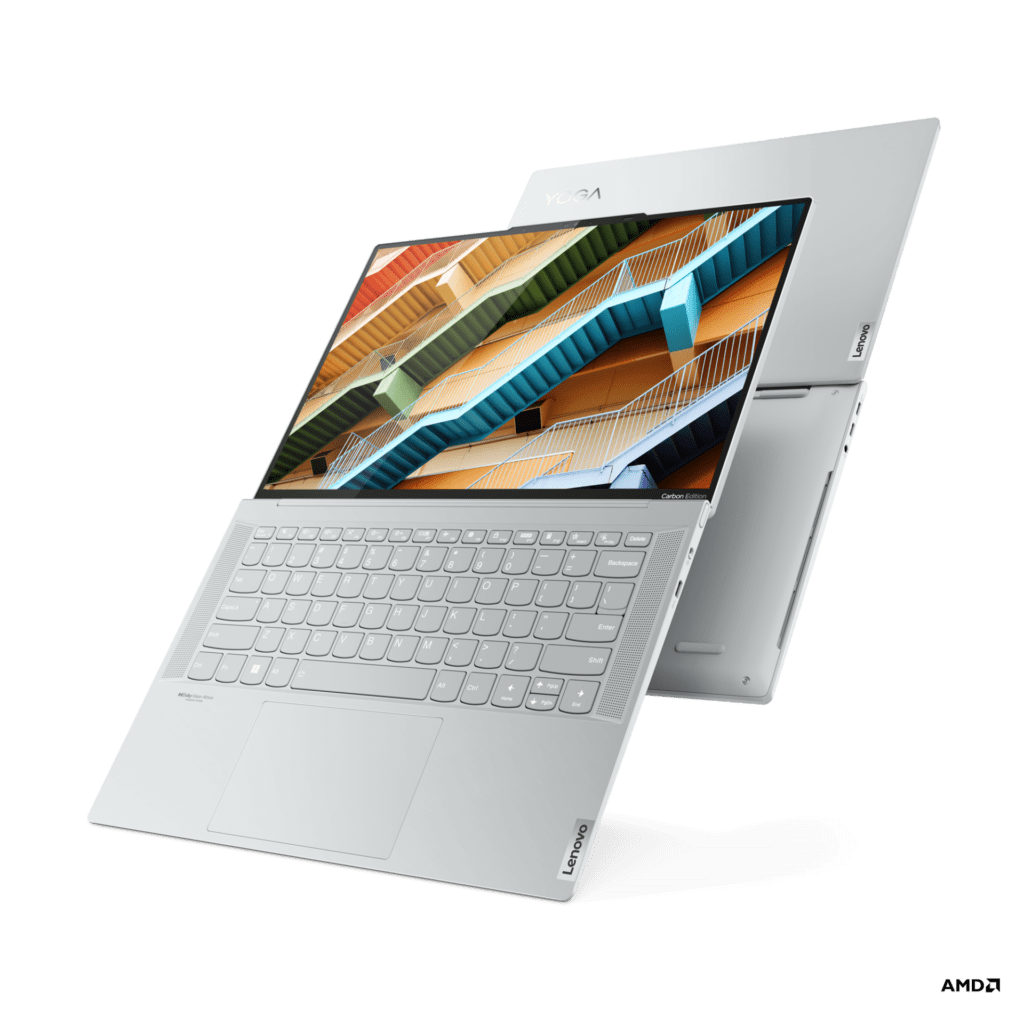 Lenovo unveiled new premium laptops providing fast and responsive computing ideal for the next normal. Introducing the world's lightest 14-inch OLED laptop for exceptional portability, the Lenovo Yoga Slim 7 Carbon and the new 16-inch ultra-slim Lenovo Yoga Slim 7 Pro—amongst the first laptops bringing you the powerful next-gen Windows 11 operating system (OS) with greater convenience and seamless experiences. For versatility on-the-go, the sleek IdeaPad Duet 5 Chromebook (13", 6) 2-in-1 detachable laptop is always-ready and all about mobility, and features Google's Chrome OS to power creative and productivity tasks via your favorite apps while fueling incredible entertainment experiences.
Lenovo Unveils a Brighter Future for Hybrid with Premium Tablets with 5G and next-gen Add-ons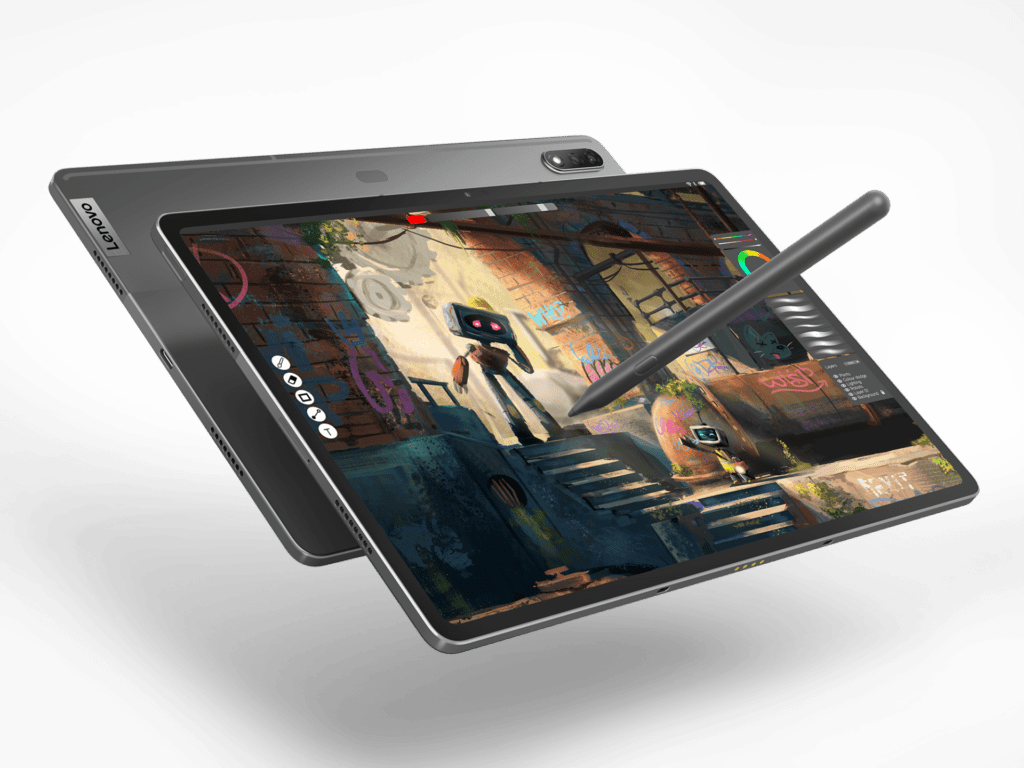 Tablets are indispensable for both work and play delivering endless ways to enjoy entertainment and get more done at home and on the go. The world needs a healthy escape now more than ever ergo consumers are spending more time streaming everything from shows and movies to games. According to research, Millennial parents are more likely to provide their kids with their own tablet than their own TVs, continuing the pattern of young digital natives learning and engaging through streaming on YouTube and other social platforms over cable.
The new normal has also led to an uptick in consumers creating their own digital content, and as any rambling creative who's ever tried to write lyrics, post to their blog or submit an online review from their tablet's touchscreen will attest – a physical keyboard and integrated trackpad comes in very handy when typing anything longer than a quick email to friends. Incredibly versatile, the tablets unveiled today can double as a smart display for managing your smart home devices, and one can even serve as a second screen for your PC via wireless connection.
This is all possible with Lenovo's new smarter line of powerful, premium P-Series tablets, including the Lenovo Tab P12 Pro that's revolutionizing personal 'me-time' along with the debut of our new wireless connectivity framework software, Project Unity, as well as our first Android tablet with dedicated 5G connectivity, the Lenovo Tab P11 5G. And for the ideal in-ear audio experience for either of these tablets, PC or smartphone, turn to our new Lenovo Smart Wireless Earbuds that pair instantly with up to two devices simultaneously via Bluetooth to enable great sound plus smart noise cancelling.
Work, Play and Game with Unyielding Display Performance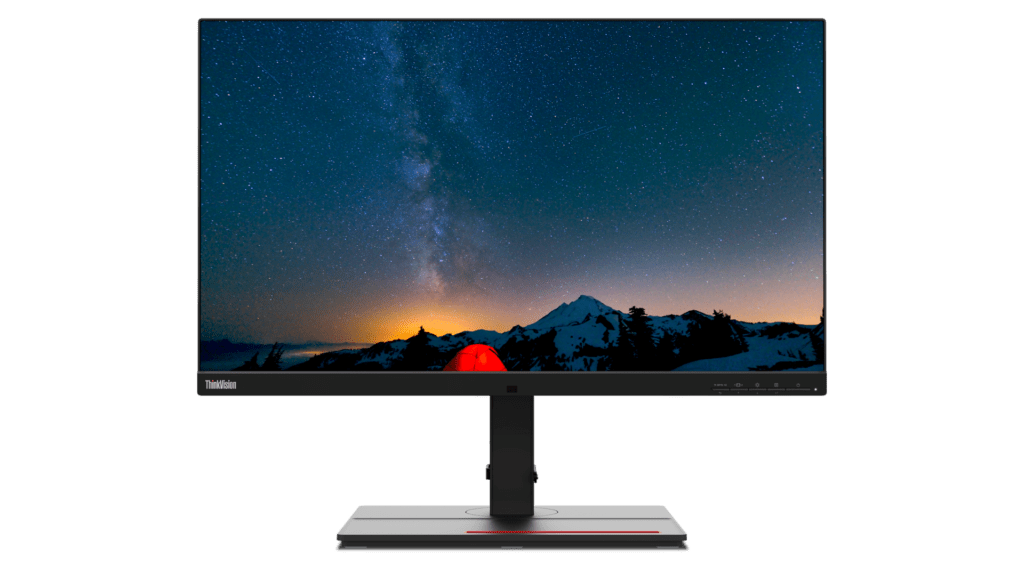 Lenovo announced the latest additions to its broad monitors portfolio, including an all new ThinkVision™ P27u-20 professional display and two new gaming monitors, Lenovo G27e-20 and Lenovo G24e-20.
Expand your professional workspace with the new premium ThinkVision P27u-20 monitor offering dual wide color gamut (99.1% DCI-P3, 99.5% Adobe RGB) with factory calibrated color accuracy. Designed for photography, video and graphics content creators seeking a high-performance display to extend screen space for effective application multitasking, the monitor also adds the convenience of Intel® Thunderbolt™ 4 docking display capability. The Energy Star 8.0 compliant ThinkVision P27u-20 delivers detailed clarity on a 27-inch Ultra High Definition (3840×2160) IPS screen with VESA® Certified DisplayHDR™ 400 support for realistic brightness and darkness.
Functioning as a productive hub, the P27u-20 also acts as your workspaces' one-cable docking solution with multiple USB 3.2 ports including Thunderbolt 4 input and output that carries display and data up to 40Gbps and powers your laptop up to 100W1. A downstream USB-C port delivering up to 27W2 can charge your smartphone or other compatible accessory. The monitor gives more than just USB ports. An integrated RJ45 Ethernet port facilitates fast network connection with Intel® vPro® support for enhanced network manageability and additional security. In addition to the single cable docking experience, the P27u-20 includes integrated speakers for easier video collaboration when combined with a webcam such as the recently announced ThinkVision MC50.
ThinkVision has also focused on an easier, more intuitive user experience. ThinkColour software provides a simple graphical interface to manage the monitor's settings and KVM function offers easy switching between dual PC inputs, for example between your high-performance workstation and your laptop with a single keyboard and mouse combination. Furthermore, ergonomics is fully catered for with lift, tilt, pivot and swivel4 capability to achieve the most comfortable position and ThinkVision supports Lenovo's sustainability goals with 100% recyclable packaging.
Maximize your at-home movie entertainment and enjoy the visual experience of smooth gaming while being kinder to your eyes via low blue light technology. Introducing a new line of consumer G-Series gaming monitors designed for immersive PC gaming and working or learning from your home office, the Lenovo G27e-20 Monitor and the Lenovo G24e-20 Monitor. Ideal for college students, gamers and young professionals who still want high performance from quality PC devices at a competitive price.
With AMD FreeSync™ Premium technology5 for a fluid, tear-free and low-latency experience, both displays are capable of achieving a 1ms Moving Picture Response Time (MPRT)6 for excellent perceived blur reduction, making the moving objects on your display screen appear clearer and sharper. When it comes to playing fast-moving games or watching action movies, you can't beat the 100Hz high refresh rate for the price with up to 120Hz overclock on both monitors to help eliminate streaking and ghosting leading to smoother-looking motion.
Lenovo Introduces the Powerful and Flexible ThinkEdge SE70 Edge AI Platform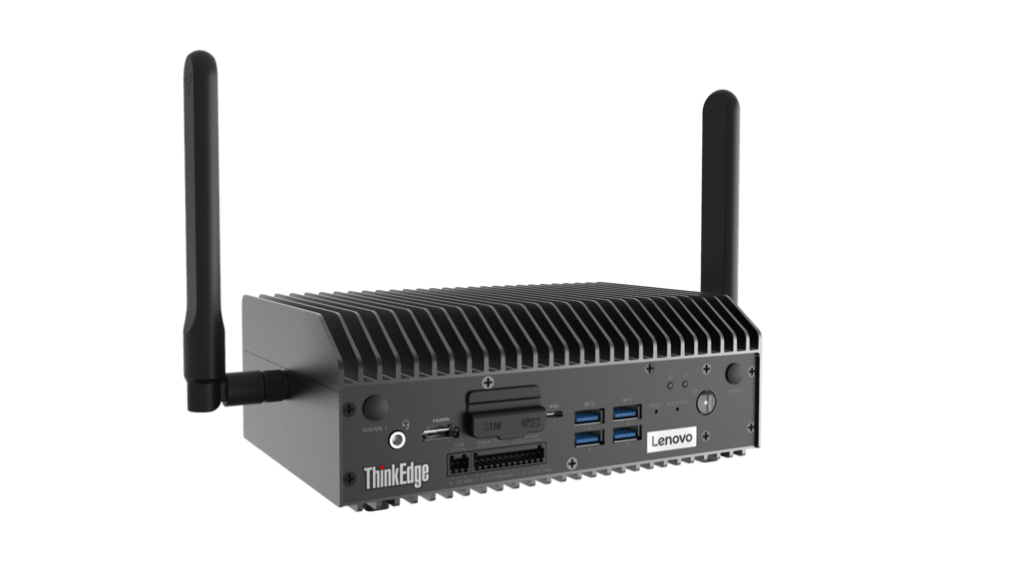 The ThinkEdge SE70 is purpose-built to unlock the power of CV applications for enterprise. A  version of the ThinkEdge SE70 will be offered with AWS Panorama Device SDK pre-installed,  allowing enterprise customers to transform every-day IP cameras into 'smart' cameras that run  CV apps at the edge. AWS Panorama enables tasks to be automated that have traditionally  required human inspection to improve visibility into potential issues. For example, AWS  Panorama can be used to track assets for optimizing operations in facilities and monitoring  inventory levels on retail shelves–even in environments with limited internet bandwidth. 
The new ThinkEdge AI-capable edge appliance is powered by NVIDIA Jetson Xavier NX, a  production ready, high-performance, small form factor, power-efficient system on module that is cloud-managed for enhanced security and ease of training and deploying a variety of AI and  machine learning models to the edge. It delivers up to 21 trillion operations/second (TOPS) of accelerated compute, runs modern neural networks in parallel and processes data from multiple  high-resolution sensors. Jetson Xavier NX leverages NVIDIA CUDA-X™, a comprehensive AI  software stack with highly optimized, domain-specific libraries that reduces complexity and  speeds time to market. 
The rugged design of the ThinkEdge SE70 combined with powerful processing power and  flexible configurations position the solution as critical infrastructure for smart networks  supporting real-time decision making in new hybrid business models with advanced automation.  
Lenovo Launches Global Everything-as-a-Service Strategy
Lenovo announced an evolution in its  consumption-based business model, introducing Lenovo TruScale, a new portfolio-spanning everything as-a-service offering. This announcement is part of Lenovo's continuing transformation for the next  reality – a new era where consumers and business leaders need new solutions and technologies to face  unprecedented change in business, education, living and beyond. 
Expanding its TruScale brand beyond infrastructure services, Lenovo is bringing all of its as-a-Service  offerings under one umbrella to provide a truly global solution that makes everything from the pocket to  the cloud via a single contract framework. Lenovo TruScale embodies the company's vision and  transformation for the next reality – meeting the growing global demand for smarter technology amid a new era of hybrid working and learning. 
Lenovo TruScale offers businesses of all sizes an everything-as-a-service platform with the flexibility they  need to stay competitive with a scalable, cloud-like consumption model and predictable payment  options for hardware and service inclusions. This transition to a fully integrated as-a-service strategy  brings to life the company's "One Lenovo" vision – addressing common business challenges and  providing IT leaders with the performance and flexibility to pay-as-you-grow. With Lenovo TruScale, IT  leaders' infrastructure solutions are fully managed, giving customers the advantages of an on-premise  cloud environment along with the peace of mind around data management in a hybrid environment.  
As the world shifts to a flexible "work, learn and connect-from-anywhere" model, organizations that  embrace smarter technology designed for a hybrid reality will benefit from this transition. This requires  flexibility in devices and work platforms, on-demand support when and where needed, and  customizable solutions across the organization, benefits that many will recognize from Lenovo's existing  Device-as-a-Service solution. Now moving under the new TruScale umbrella, Lenovo DaaS will continue  to help customers move to a Modern IT environment by combining the best end-to-end technology  from across Lenovo with lifecycle services and support and convenient financing to deliver lower total  cost of ownership. 
Lenovo is building a new way to deliver as-a-service to the market and offer organizations ultimate  flexibility in how they leverage their IT infrastructure, services and software. By forming strategic alliances with other market leaders, customers can get the public cloud experience with the security and  control of an on-premises solution. As part of this new platform, Lenovo has joined with leading  infrastructure partners Deloitte, VMWare and Intel, and DaaS security partners Absolute Software and  SentinelOne to provide organizations with various dynamic offerings such as hybrid cloud solutions for  Edge to Cloud environments, best-in-class managed security solutionsand access to the most current  storage infrastructure innovation, for the life of their data, with the ability to scale storage capacity on  demand. 
Visit Lenovo's Tech World homepage for full specs, images and more information.