I believe that many people have experienced some kind of data loss from their computing devices before. It could be caused by malware infection, ransomware, or perhaps hardware related faults such as hard drive failures.
No doubt, our data can be very precious in today's digital world. As a contingency, it makes sense to always backup your important data into a reliable external drive for safekeeping.
This is also one of the reasons why Seagate has recently launched the One Touch SSD.
Seagate One Touch SSD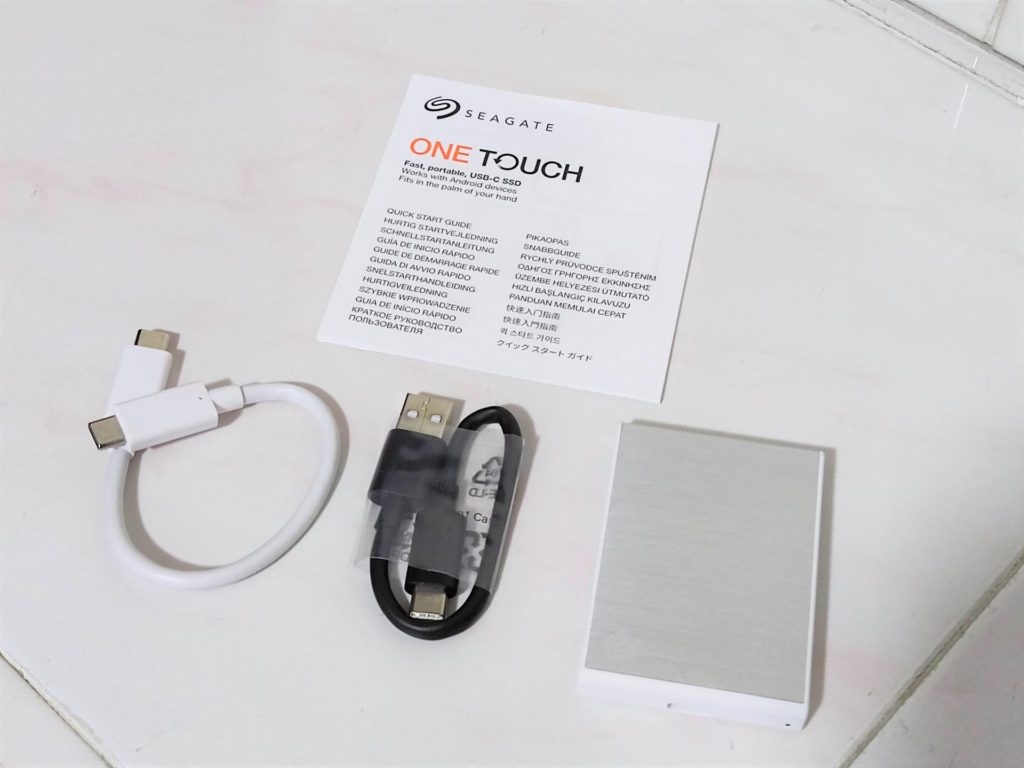 The Seagate One Touch SSD is designed for portability and interoperability. This is why it has been created with a USB Type-C interface to ensure that it can work with your PCs and even your smartphones.
The Seagate One Touch SSD is preformatted with the exFAT file system, which maximized its compatibility with Android smartphones. Since exFAT is also compatible on Windows and Mac computers, the Seagate One Touch SSD also makes it easy to transfer files between devices of different operating systems.
As compared to usual portable thumb drives, an SSD usually performs a lot faster. This is why it is also very suitable for backing up large files. In fact, the Seagate One Touch SSD comes in a range of capacities, starting from 500GB all the way to 2TB.
Aesthetically, the Seagate One Touch SSD looks quite interesting. The brushed aluminum top cover gives the storage drive its strength and form, making sure that its internal components are well protected.
The fabric sides provide another level of sophistication to the overall design of the drive, making it quite unique as compared to what's in the market. We can see how some people can be attracted to such a combination of two materials on a consumer product.
Test Setup
| | |
| --- | --- |
| Specs | Main System |
| CPU | AMD Ryzen 9 5900X |
| RAM | GSkill Trident Z Royal 3600MHz 16GB Kit @3600MHz |
| Main Storage | Transcend MTE110S (OS) |
| GPU | AMD Radeon RX 6800 (Reference) |
| Motherboard | ASUS ROG Crosshair VIII Hero WiFi (2311 BIOS) |
| CPU Cooler | AMD Wraith Prism (Stock) |
| OS | Windows 10 Pro 64 bit |
As the drives are tested on the Windows platform, they have all been formatted to NFTS for our test. This is different from what the Seagate One Touch SSD came with (exFAT).
The Seagate One Touch SSD is compared with the GIGABYTE Vision Drive and Transcend ESD350C SSD.
Performance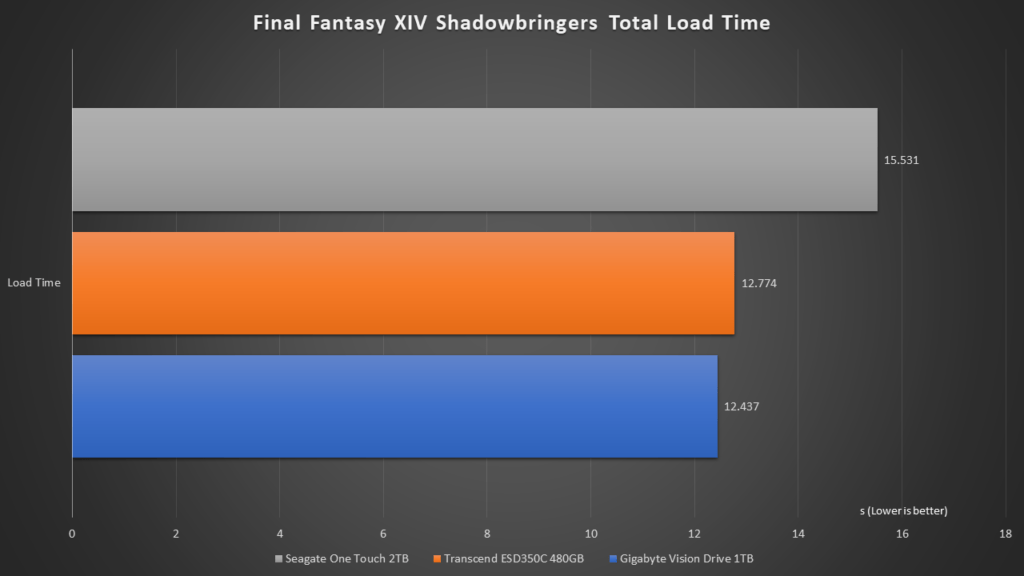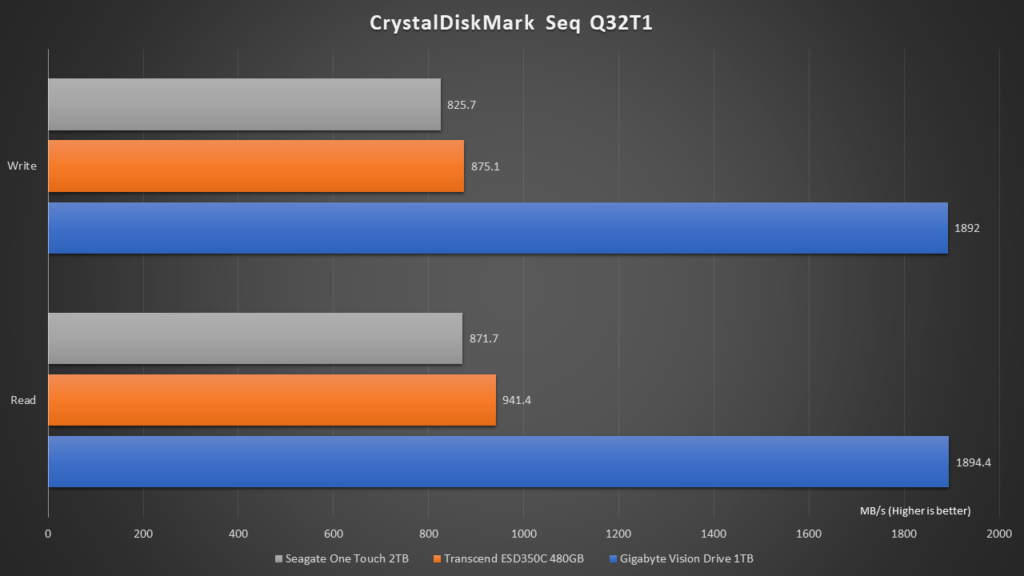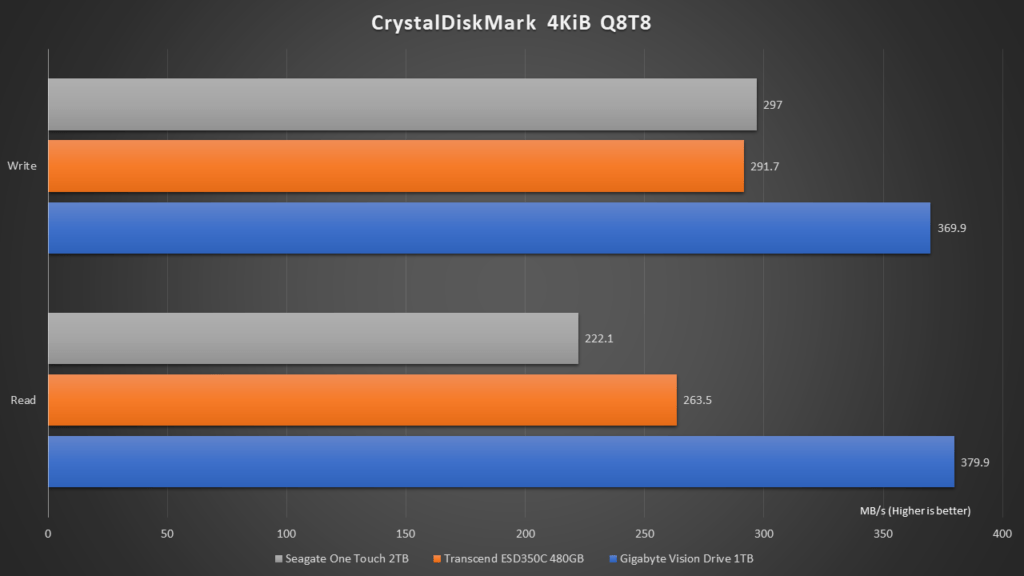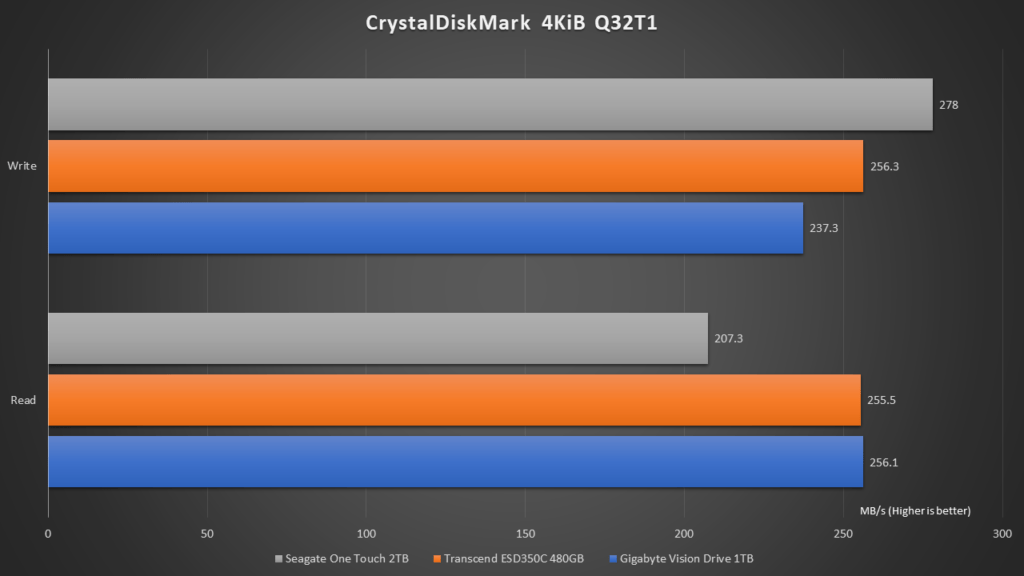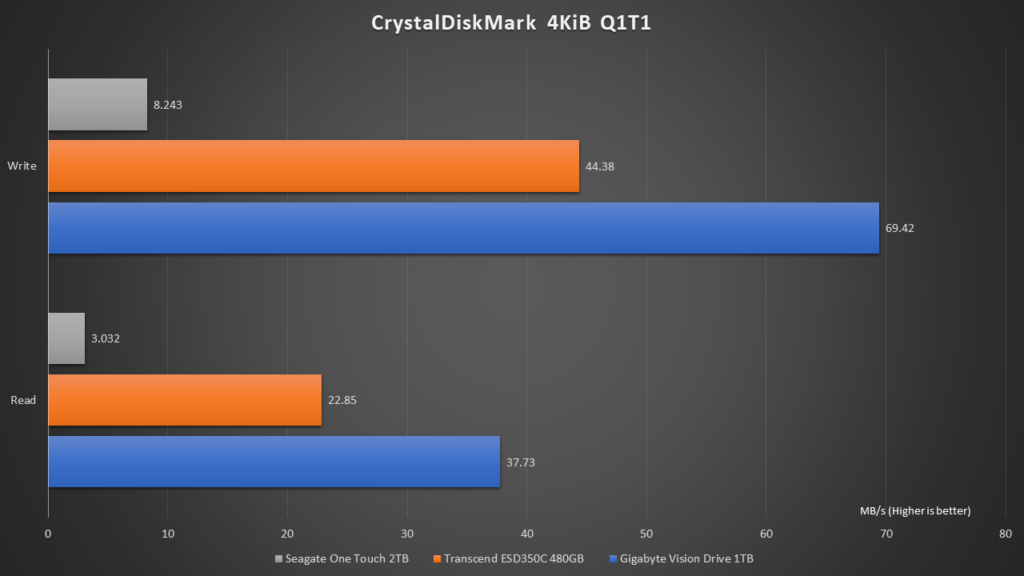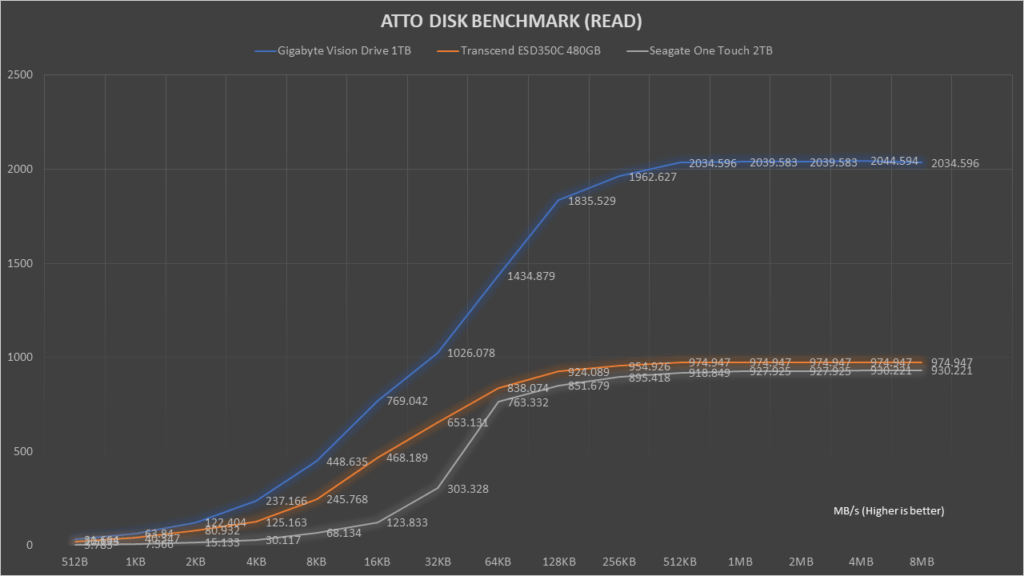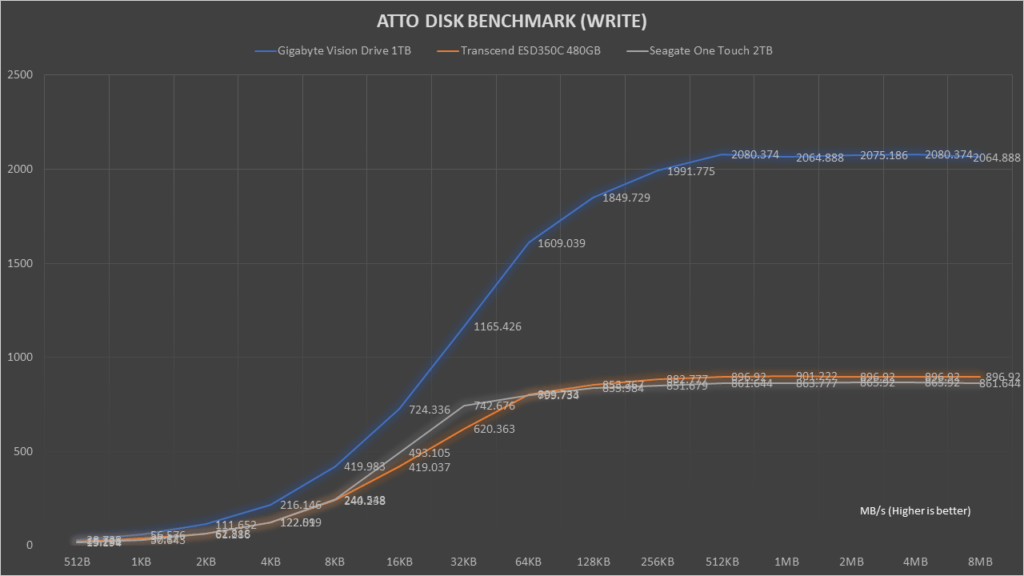 Generally speaking, the Seagate One Touch SSD's performance is similar to the Transcend ESD350C, while being slightly slower in terms of its read performance.
The drive also suffers quite badly in performance when it comes to smaller reads and writes, where it was seen to be behind competition quite significantly.
While performance may not be its strength when we are comparing it to similar products in the market, there is still no doubt that it is a very capable drive that surpasses the performance of usual thumb drives. Thus, its benefits in this area definitely holds.
Conclusion
The Seagate One Touch SSD is a great addition as a backup storage device, posing many advantages over typical external hard drives or thumb drives. Its portable size and compatibility with various devices also make it versatile. Plug and play – it's just that simple.
Even though it's slightly lacking in terms of performance to similar products, such as the Transcend ESD350C, but if you put things into perspective, such small differences could be insignificant in real world usage.
Ultimately, it's the benefits of the SSD that gives the Seagate One Touch SSD its benefits. Also, being available in a 2TB capacity could also be a reason for someone to decide to purchase this drive.
It boils down to the price of the Seagate One Touch SSD while it is sold in the market. If the Seagate One Touch SSD is affordable, and if you like the design and attributes of the SSD as discussed above, then perhaps this drive could be a good choice for you. If not, there's always alternatives out there.
Availability
Seagate One Touch SSD will be available for S$149 (500GB), S$279 (1TB) and S$489 (2TB) in Singapore. Moreover, from 28 to 29 May 2021 only, customers can enjoy exclusive launch prices of the new SSD drive on Seagate's official Shopee store for S$139 (500GB), S$239 (1TB) and S$449 (2TB). The One Touch SSD will also be available on Seagate's official store on Lazada from June onwards.