The GIGABYTE Vision lineup of products are specially dedicated for the use cases of content creators. While we've seen a Vision motherboard from GIGABYTE, it is the first time that the brand is releasing a Vision branded external SSD drive.
Understanding that content creators frequently transfer large files between different devices, GIGABYTE saw how a high speed external SSD drive can be useful for their daily work. The new Vision Drive from GIGABYTE aims to improve the productivity of content creators by enabling extra fast transfer speeds between their computer and an external drive, allowing them to finish their work in a shorter period of time.
However, an ultra fast external SSD may not be fully supported by most desktop systems in the market. Therefore, instead of just providing the SSD, GIGAYTE has also included a whole upgrade kit, which includes both the external SSD and an USB interface card. This USB 3.1 Gen2x2 add-on interface card can then allow the Vision Drive to perform at its maximum speed.
Just how fast can the new GIGABYTE Vision Drive 1TB perform? How comprehensive is the upgrade kit? Read on to learn more.
GIGABYTE Vision Drive 1TB Upgrade Kit
The GIGABYTE Vision 1TB External SSD looks fairly minimal and simple. It comes in the VISION branding's signature white colour and a simple VISION logo. The drive only has a single USB Type-C port, which is used for both data transfer and powering up the drive. At the bottom side of the SSD, we spotted rubber feet which lifts the whole SSD up slightly. This is so that there could be proper air circulation to the vent holes which are also found at the bottom.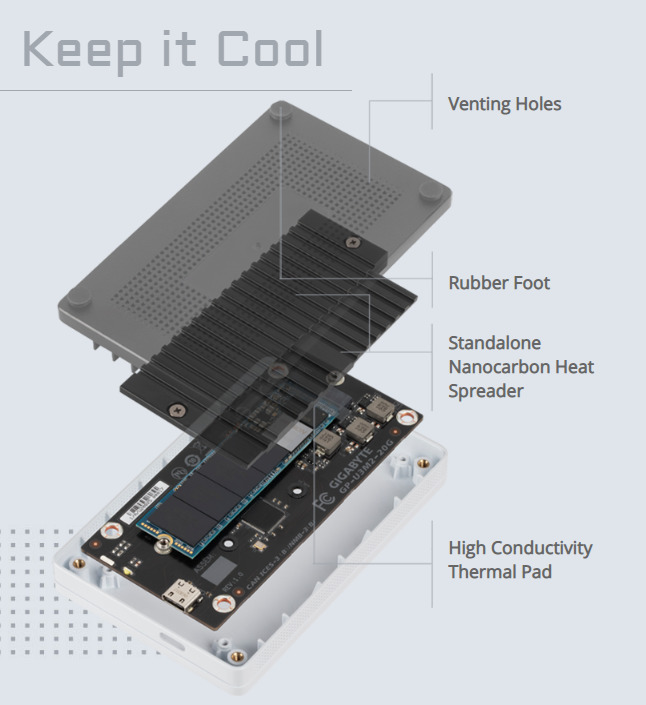 As the Vision Drive is meant to be portable and carried around, GIGABYTE has also included a carrying case for the Vision Drive. We appreciate the inclusion of the carrying case, as it just completes the whole product offering. We simply had to carry the case which contains both the cables and the Vision Drive around, making it a lot more convenient and accessible.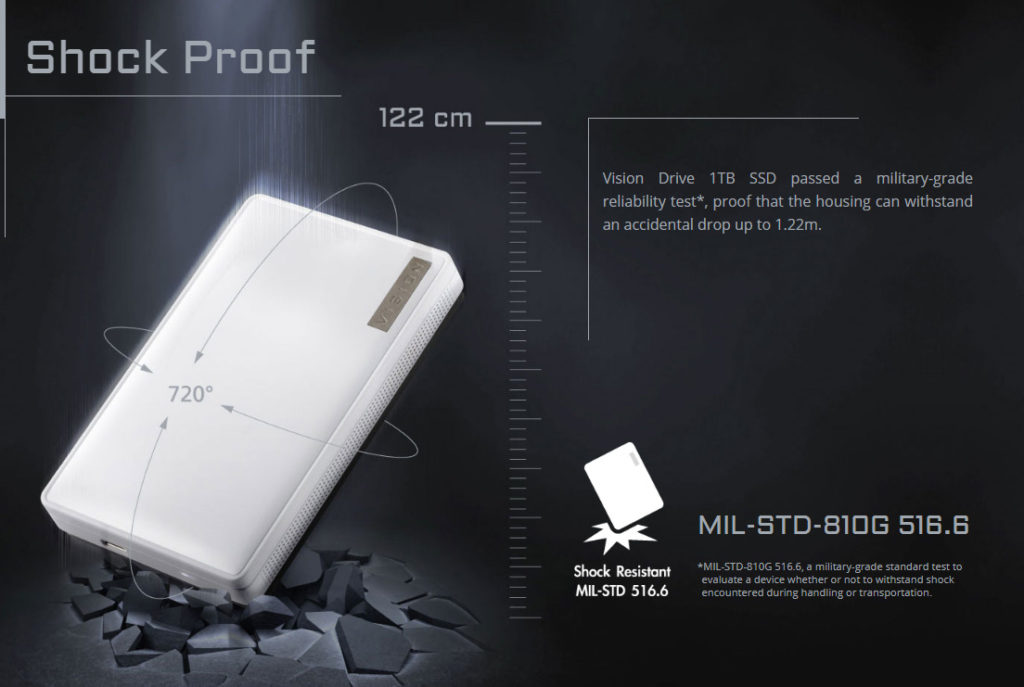 The Vision Drive is also tested to be shock proof. It passed the MIL-STD-810G 516.6 test, certifying it to withstand an accidental drop of up to 1.22m.
The Vision 1TB External SSD supports the USB 3.2 Gen2x2 standard. While most computer systems only come with USB 3.2 Gen2, which supports a maximum bandwidth of 10Gbps, USB 3.2 Gen2x2 doubles that bandwidth to support 20Gbps. This is also why GIGABYTE decided to include an additional add-on card that supports USB 3.2 Gen2x2 inside the box. This way, you can ensure that the SSD will run at its full speed, rather than getting bottlenecked by a slower USB interface.
Do take note that since the USB 3.2 Gen2x2 controller interface card runs on a PCIe x4 interface. Do make sure that you placed the card into the right slot to ensure that it can run at its full speed.
The USB 3.2 Gen2x2 interface card only has a single USB Type-C port (only USB Type-C interface is supported to run devices at 20Gbps). It is also powered by a ASMedia ASM3242 controller.
System Setup and Performance
| | |
| --- | --- |
| Specs | Main System |
| CPU | AMD Ryzen 9 5900X |
| RAM | G.Skill Trident Z Royal 3600MHz, 2 x 8GB DDR4 Kit |
| Main Storage | Transcend MTE110S 512GB |
| GPU | AMD Radeon RX 6800 (Reference) |
| Motherboard | ASRock X570 Steel Legend |
| CPU Cooler | AMD Wraith Prism |
| PSU | Cooler Master V1000 |
| OS | Windows 10 Pro 64 bit |








Conclusion
Thanks to the use of the USB 3.2 Gen2x2 interface, the Vision Drive 1TB is able to unleash its full potential. As compared to other NVMe based external SSD, such as the Transcend ESD350C, we can see how this difference results in. The Vision Drive 1TB excels in almost all the tests, thanks to its untethered communication interface, as well as fast SSD drive that's found within.
No doubt, if you are looking for a new blazingly fast external SSD, the Vision Drive is certainly one to consider.