When Intel released their new Z490 chipset two months ago in May 2020, they also silently released a slew of other chipsets that supports the new LGA1200 socket. Ranging from different configurations and features, these are the H410, B460, H470, Q470 and also the W480 chipset. Of course, motherboard manufacturers also designed various motherboards to cater to the needs of the market. You would have thought that the Z490 chipset would be the one with the most features. That's because you've yet to hear about the W480 chipset.
An Introduction to the W480 Chipset
Targeted at professionals, the W480 chipset is designed for workstation computers. Primarily, they are to be used with the new Intel Xeon W processors, as the chipset also supports ECC memory. However, any motherboard equipped with the W480 chipset will also work with any of the new 10th Generation Intel Core Desktop processors.
 
H410
B460
H470
Q470
Z490
W480
Overclocking
Thermal limits CPU overclocking is offered by ASRock, ASUS and MSI[8][9]
No
Yes
No
CPU support
Comet Lake S
Comet Lake Workstation Xeon W
Memory support
Dual channel DDR4-2666 or DDR4-2933, up to 128GiB using 32GiB memory modules. Only Z490 supports memory speed beyond DDR4-2933MHz
Maximum DIMM slots
2
4
Maximum USB 2.0 ports
10
12
14
USB 3.2 ports configuration
Up to 4 Gen 1×1 (5Gb/s)
Up to 8 Gen 1×1 (5Gb/s)
Up to 4 Gen 2×1 (10Gb/s)
Up to 8 Gen 1×1 (5Gb/s)
Up to 6 Gen 2×1 (10Gb/s)
Up to 10 Gen 1×1 (5Gb/s)
Up to 8 Gen 2×1 (10Gb/s)
Up to 10 Gen 1×1 (5Gb/s)
Maximum SATA 3.0 ports
4
6
8
Processor PCI Express v3.0 configuration
1 x 16
1×16 or 2×8 or 1×8+2×4
PCH PCI Express configuration
6
16
20
24
Independent Display Support (digital ports/pipes)
2
3
Integrated Wireless (802.11ax)
No
Intel® Wi-Fi 6 AX201*
SATA RAID 0/1/5/10 support
No
Yes
Intel Optane Memory Support
Intel Smart Sound Technology
Intel Active Management, Trusted Execution and vPro Technology
No
Yes
No
Yes
Chipset TDP
6W
Chipset lithography
Release date
Q2 2020
*Table compiled by the community. Retrieved from Wikipedia
Just comparing the Z490 chipset and the W480 chipset, we can see that both chipsets are very similar in features. Other than the W480's two additional maximum configurable USB ports and SATA 6Gbps ports, it's identical to the Z490. Moreover, unlike the Z490, the W480 does not support overclocking. Since the W480 is made for workstations, it also supports workstation environment features, such as Intel Active Management, Trusted Execution and vPro Technology for Trusted Computing.
Now that we have a good understanding of the W480 chipset, let's take a look at the star of the show in the review today – GIGABYTE W480 VISION D motherboard.
GIGABYTE W480 VISION D
The GIGABYTE W480 VISION D is a motherboard designed for professional computing work. Just based on a glance at its features, you will immediately notice where this motherboard stands out. The GIGABYTE W480 VISION D is equipped with two Thunderbolt 3.0 ports. This feature is extremely important for professionals with multiple Thunderbolt peripherals, such as high-performance external storage drives.
While featuring Thunderbolt 3.0 ports is one of the GIGABYTE W480 VISION D key features, there are many more things about this motherboard to talk about. Let's take a deeper dive.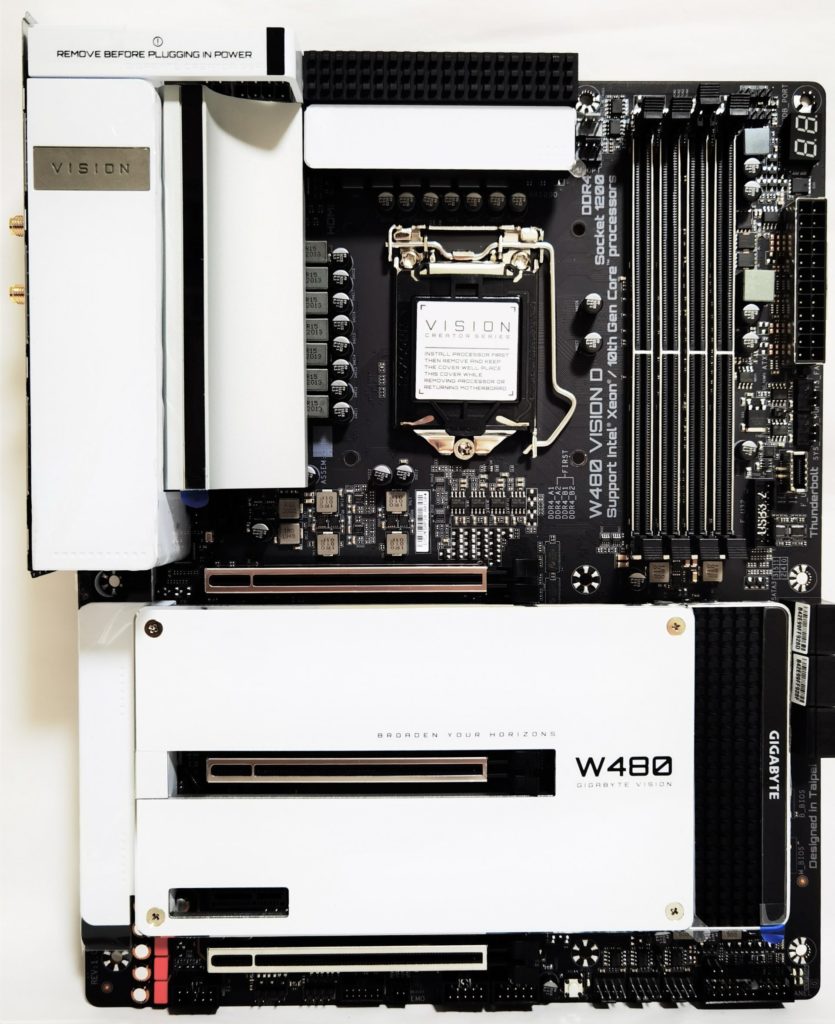 The design of the GIGABYTE W480 VISION D Motherboard looks rather unique. GIGABYTE went with a black and white scheme, which should look well in any case with a black or white interior. In its entirety, the design of the motherboard differs from what we see in most motherboards today, making it really stand out in the crowd.
Inside the Box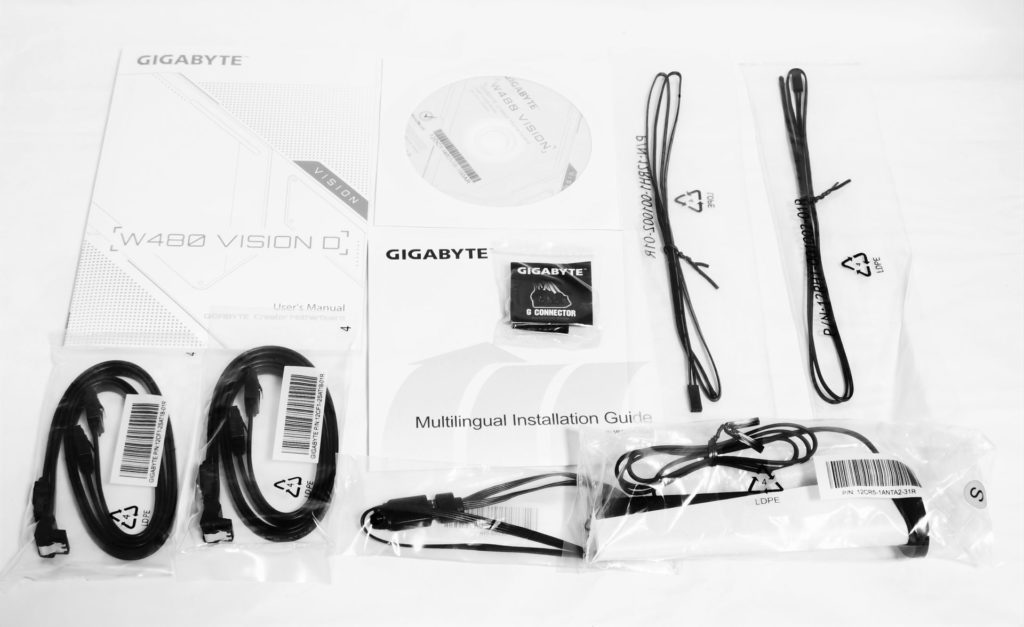 Found within the box are the User's Manual, Drivers and Utilities CD, Installation Guide, G Connector, 2 x Thermal Probe, 4 x SATA cables, 1 x RGB extension Cable and 1 x Wireless Antenna.
Features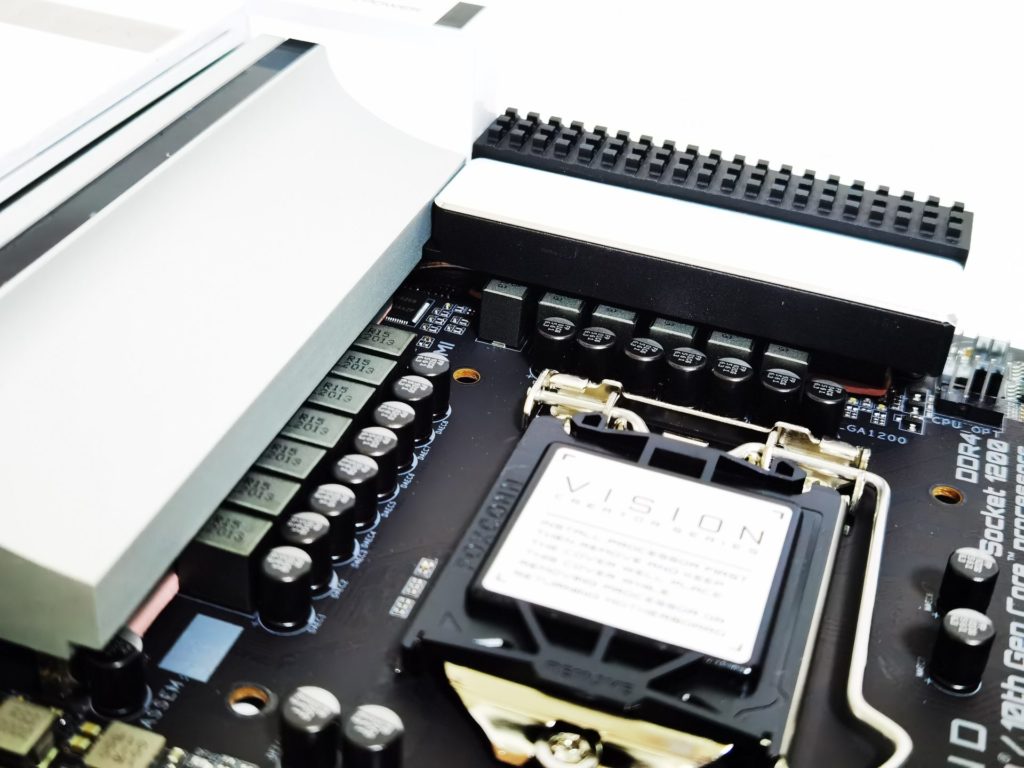 The GIGABYTE W480 VISION D Motherboard features a 12-phase VRM setup which will be more than sufficient for any supported CPUs. Moreover, since overclocking is officially not supported on this chipset, there isn't a need for an over the top VRM to provide additional power to the CPU to run in an overclocked state. On top of the power module is a rather unconventional heatsink. A heat pipe connects the giant heatsink found on the left of the CPU to the micro cube heatsink on the upper side of the CPU. This ensures that the motherboard remains thermally stable and can effectively dissipate heat away from the VRM area even under heavy load.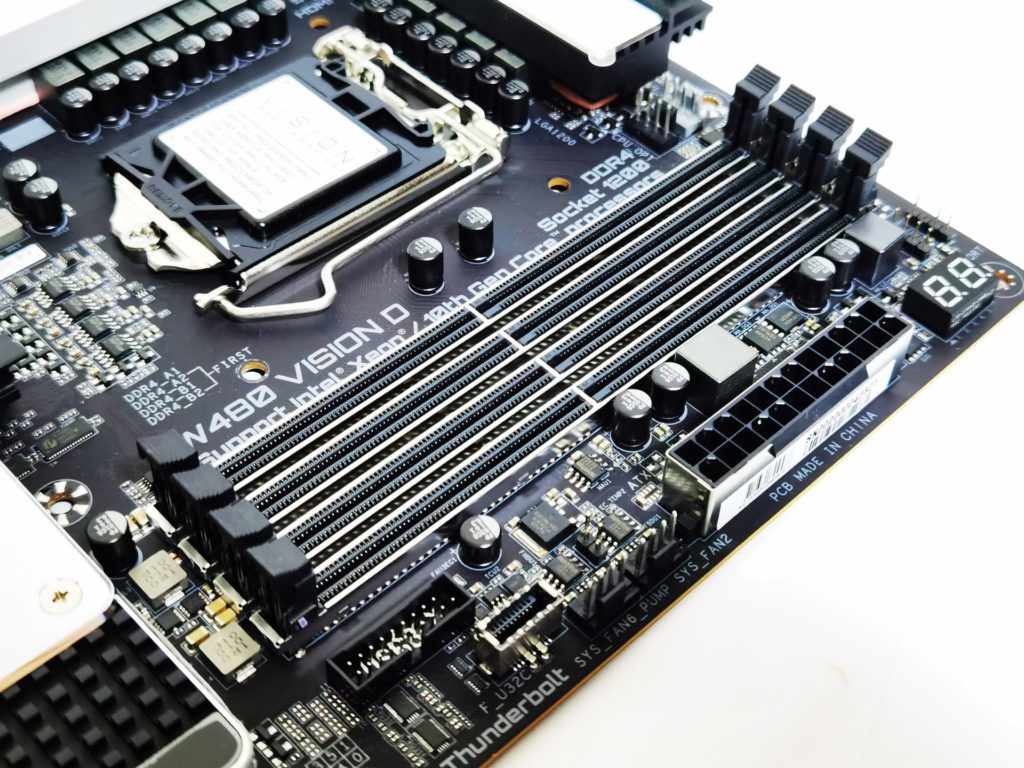 The W480 chipset supports the latest Intel Xeon processors. Also, Intel Xeon processors is compatible with Error Correction Code (ECC) RAM, which tests for errors in the system memory. This ensures the reliability of data processing in critical applications. This feature would not be found in most consumer-based products.
As for the memory slots, we can also see that all sides of the DIMM slot are equipped with the DIMM retainer. This shows that GIGABYTE has prioritized ensuring that the memory sticks are held securely and firmly in place, over convenience with alternative design. Moreover, each DIMM slot is also strengthened with GIGABYTE's memory armour feature. A one-piece stainless steel shielding design prevents against PCB distortion/twisting and plate bending, in addition to preventing any possible ESD interference.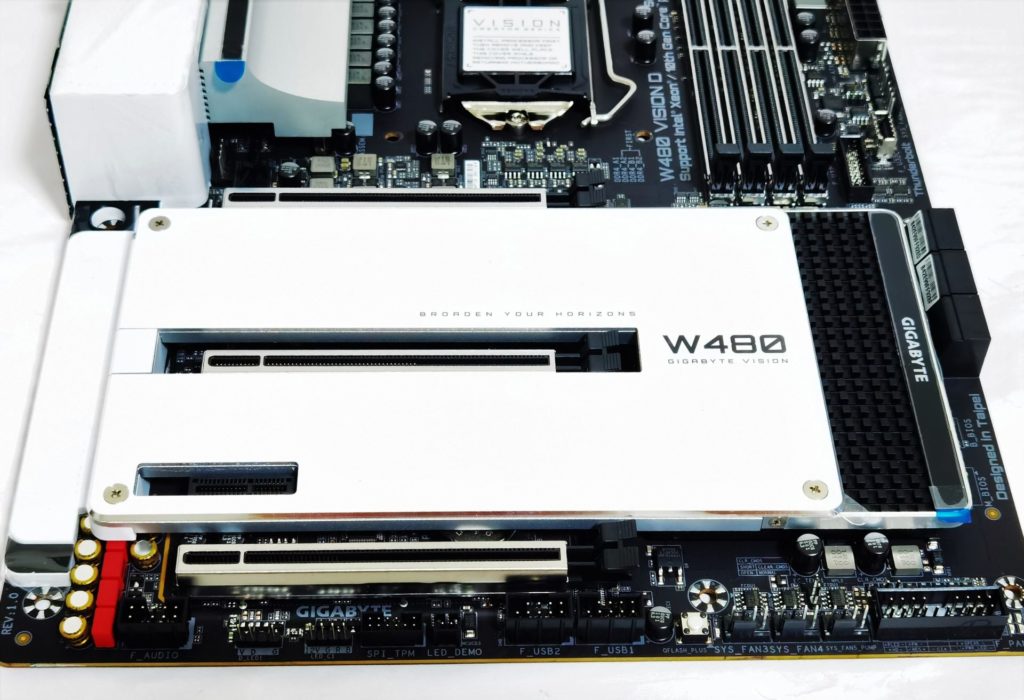 The GIGABYTE W480 VISION D comes with 4 PCIe expansion slots. From the top to the bottom, they are running at PCIe 3.0 x16, x8, x1 and x4 respectively. GIGABYTE also mentions that these slots will support the new PCIe 4.0 bandwidth, with future Intel CPUs supporting PCIe 4.0 as well.
Do take note that if multiple expansion cards are used, the first slot will only run in x8 mode together with the second slot. Also, the last x4 slot shares bandwidth with one of the M.2 slots. If that slot is used for a M.2 SSD, the last PCIe x4 slot will not work.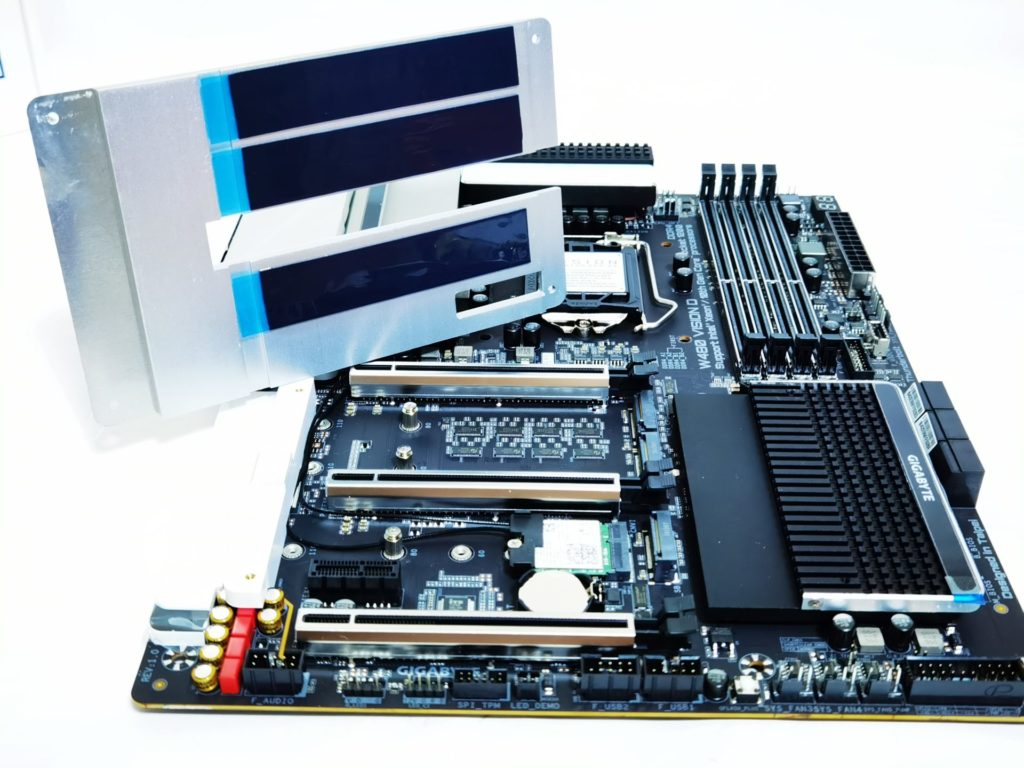 The GIGABYTE W480 VISION D also comes with three NVMe PCIe x4 M.2 slots. Each of the M.2 SSD will also be cooled by the large single block heatsink found on the top of the motherboard. Heat is transferred over the thermal pads which are already pre-installed on the heatsink. These SSD slots also supports RAID 0,1,5,10.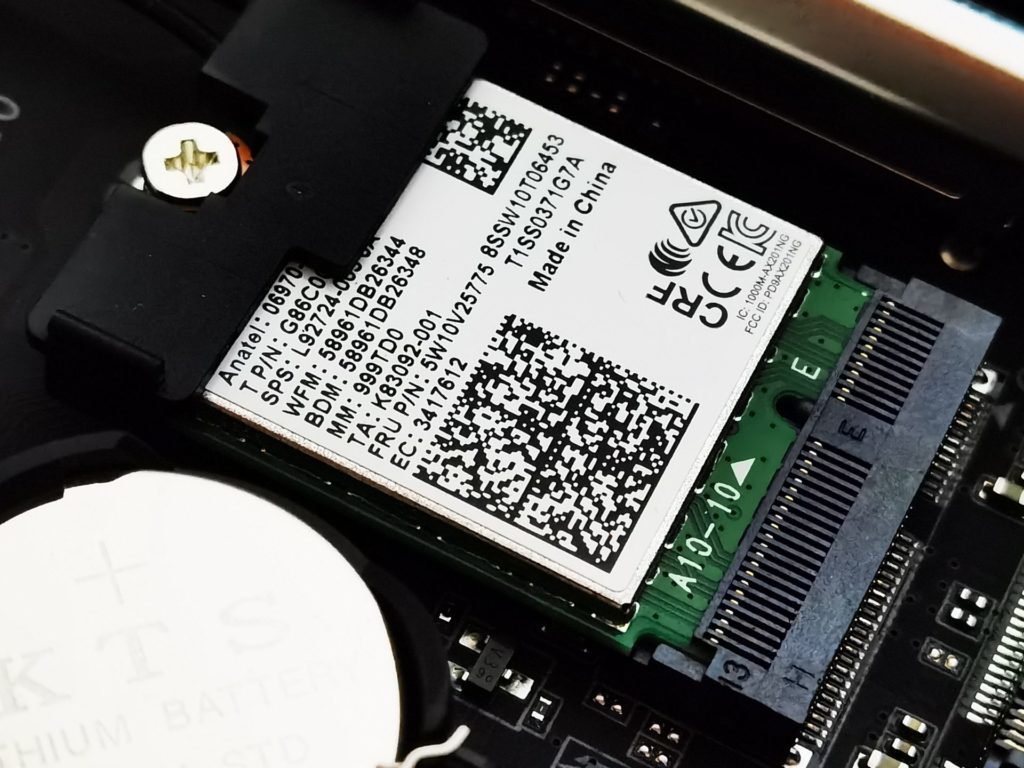 As the new 10th Generation Intel processors comes with the Intel Integrated Connectivity(CNVi) capabilities, which is an integrated Wireless IP found on the CPU, it also requires an RF module for it to work. The motherboard has preinstalled the CRF (Companion RF) module on the GIGABYTE W480 VISION D for Wi-Fi and Bluetooth to work out of the box. The Intel Wi-Fi 6 AX201 provides 802.11abgn/ac/ax with wave 2 features, supporting 2.4 and 5GHz bands. This Intel wireless chip also enabled Bluetooth 5.0.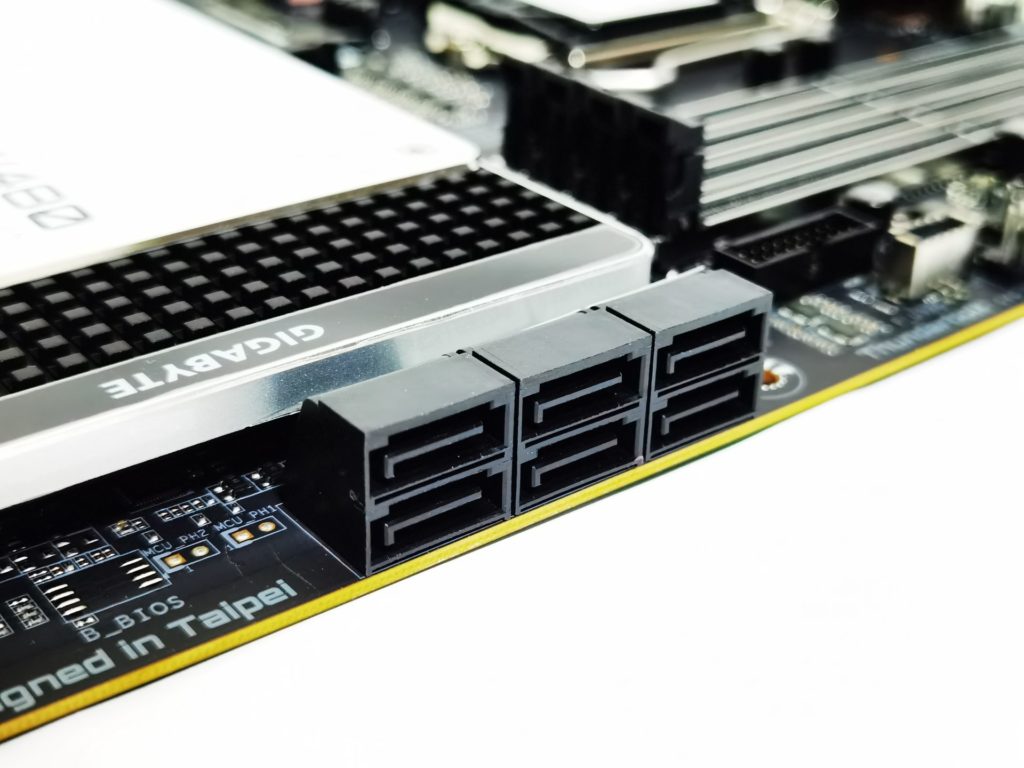 There are 6 x SATA 6Gbps ports found on the motherboard, allowing you to connect to your hard drives or other SSDs.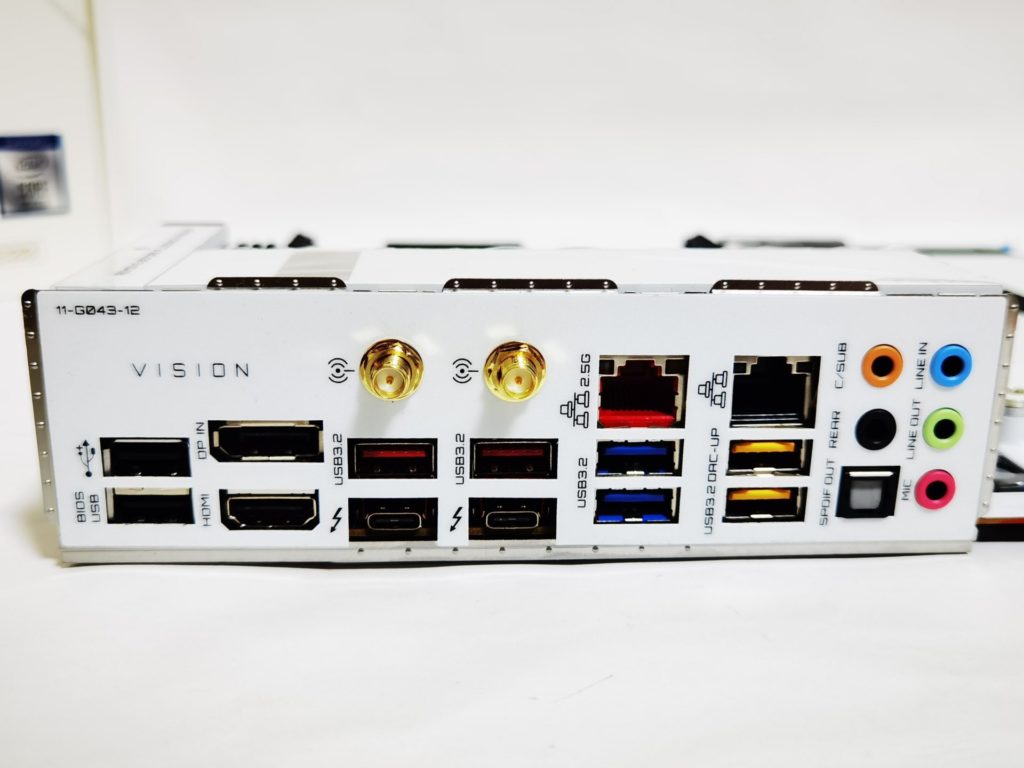 From the left to the right, there are 2 x USB 2.0 ports, a Display Port Input (allows you to pass the graphics's card display port output to the Thunderbolt port), HDMI output, 2 x USB 3.2 Gen 2 ports, 2 x Thunderbolt ports, 4 x USB 3.2 Gen 1 ports, 1 x 2.5 Gigabit Ethernet Port, 1 x Gigabit Ethernet Port and 7.1 Audio input/output. Also, the antenna connectors are also found on the I/O area.
Summary
The features on the GIGABYTE W480 VISION D makes it a great motherboard for professionals looking to build a new workstation PC. If you need dual Thunderbolt 3.0 ports, 3 x M.2 SSD slots, 2.5Gbps Ethernet and also built-in Wi-Fi, this motherboard has already got you all covered.
Gallery