Unlike conventional USB flash drives, external portable SSDs usually come in larger storage capacities and can perform much faster. With the increasing popularity of external portable SSDs, consumers also have a wide variety of products to choose from. Usually, they will look for a product that suits their need, and hits the sweet spot between price, performance and capacity.
In today's review, we will take a look at the Transcend ESD350C 480GB Portable SSD, and determine the kinds of value it brings to consumers.
About the Transcend ESD350C 480GB Portable SSD
The Transcend ESD350C Portable SSD is like no other. To cut to the chase, the ESD350C prides itself in two main areas – (1) Rugged and Shock-Absorbing designs and (2) Support for UASP (USB Attached SCSI Protocol)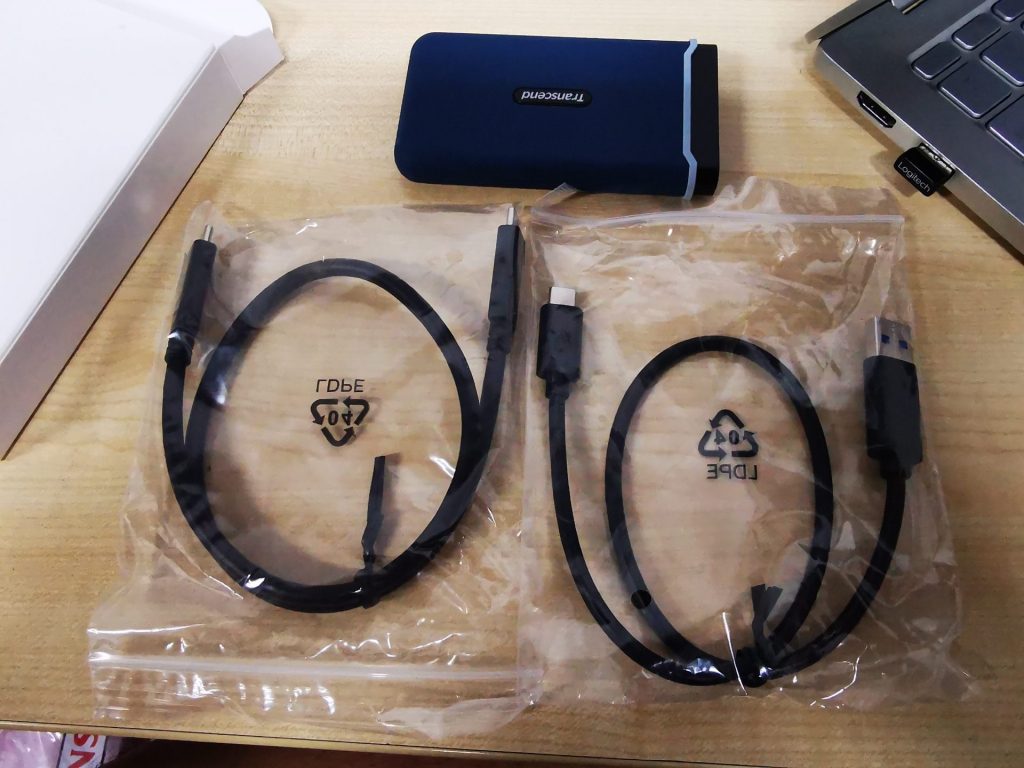 Rugged and Shock-Absorbing Designs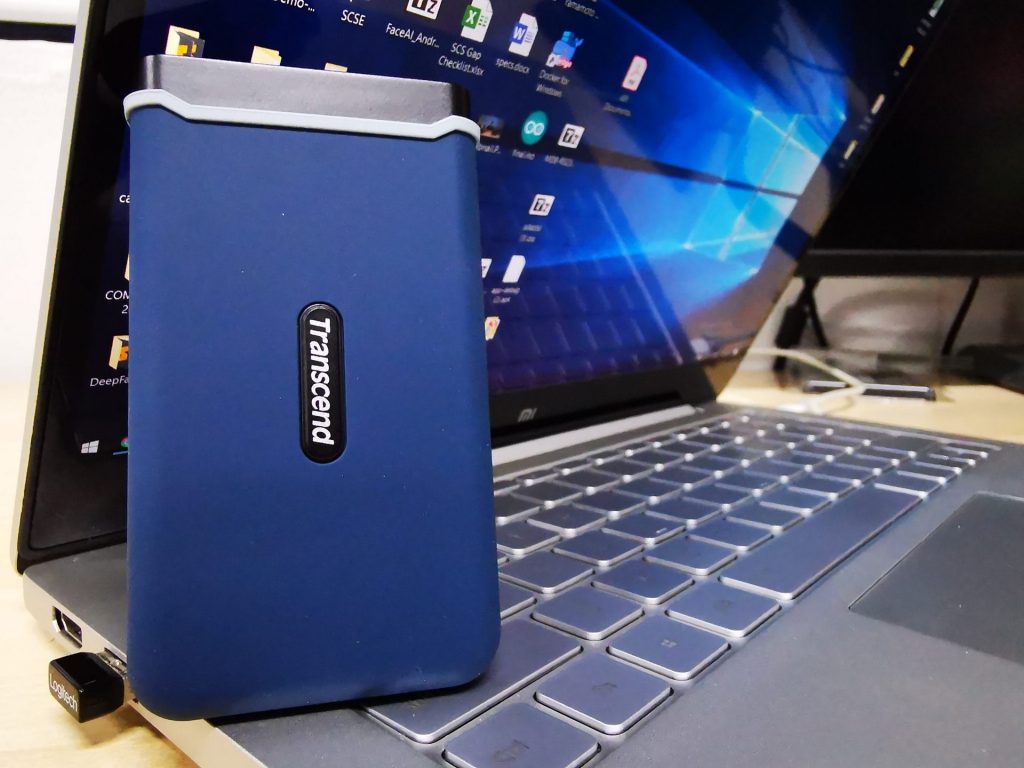 On the first look, the Transcend ESD350C looks stylish, but retains a simple and professional outfit. It comes in a navy-blue silicone rubber case that also helps with the ruggedness. As such, the shock protection system on the ESD350C even allows the SSD to meet US military grade drop-test standards!
Measuring at just 96.5mm x 53.6mm, the Transcend ESD350C is just about the size of your standard credit card. Indeed, this portable SSD is really compact.
Support for UASP
For most standard flash drives, the mainstay protocol used for transfer over the USB interface is known as Bulk-Only Transport (BOT) standard. Even though this standard is already considered mature and reliable, speed and performance are not its priority.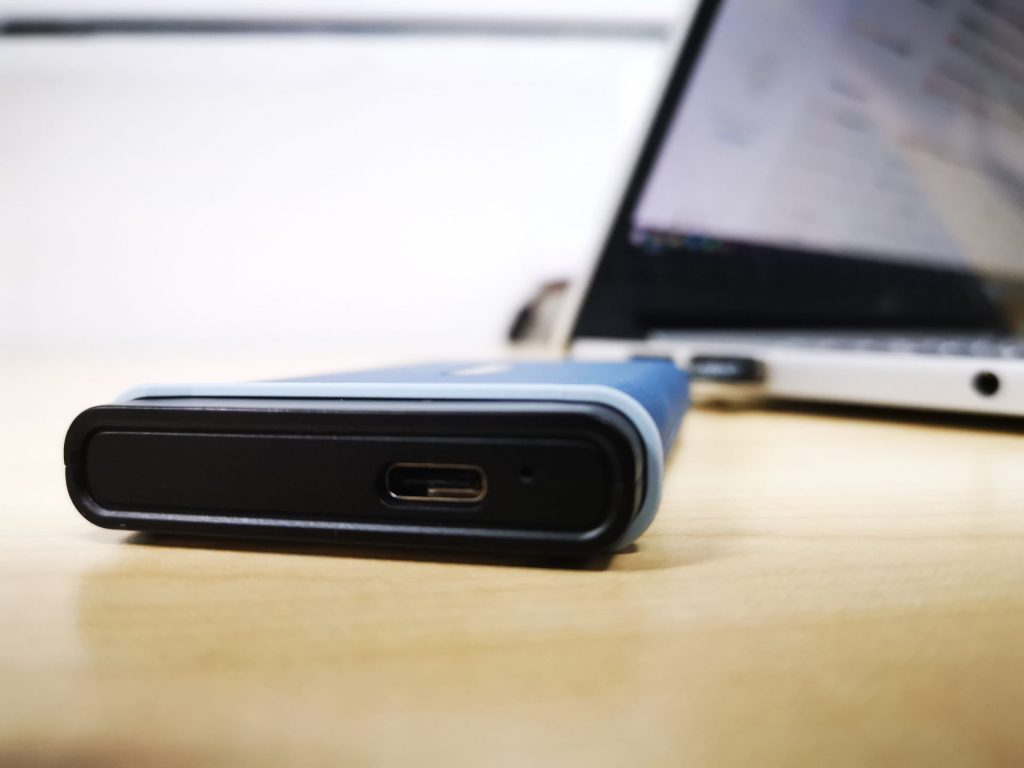 With UASP support the Transcend ESD350C allows a much faster read/write data speed. This is achieved by parallel processes happening at the same time on the SSD, as compared to a serial process handling on BOT.
Moreover, the Transcend ESD350C comes installed with a PCIe NVMe SSD. The performance of this SSD should be much higher than usual SATA based external SSDs.
Test Setup and Performance
Specs
Main System
CPU
AMD Ryzen 9 3900X
RAM
G.Skill 3600MHz, 2 x 8GB DDR4 Kit
Main Storage
Transcend SSD230S 2TB (OS)
GPU
Gigabyte AMD Radeon RX5500 XT 8GB
Motherboard
Gigabyte X570 AORUS Master
CPU Cooler
AMD Wraith Spire Cooler
OS
Windows 10 Pro 64 bit
Test Drive
Transcend ESD350C 480GB
Seagate IronWolf 110 SSD 1.92TB
In our comparisons, we want to find out the difference in performance the Transcend ESD350C and a usual internal SATA based SSD. We've chosen the Seagate IronWolf 110 SSD for our comparison tests. Could it be possible that an external SSD transferring data over USB could perform better than a conventional SATA SSD?
ATTO Disk Benchmark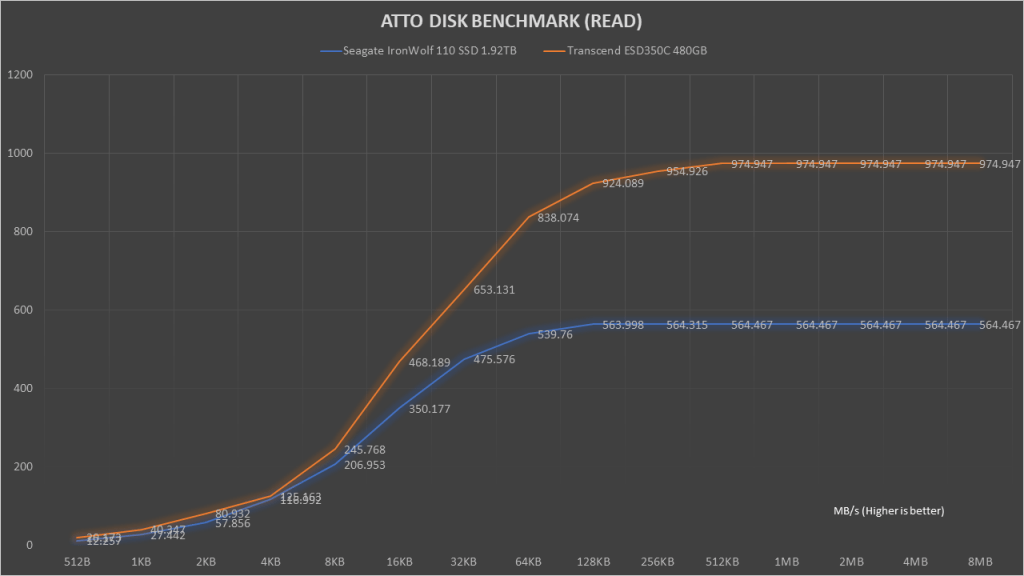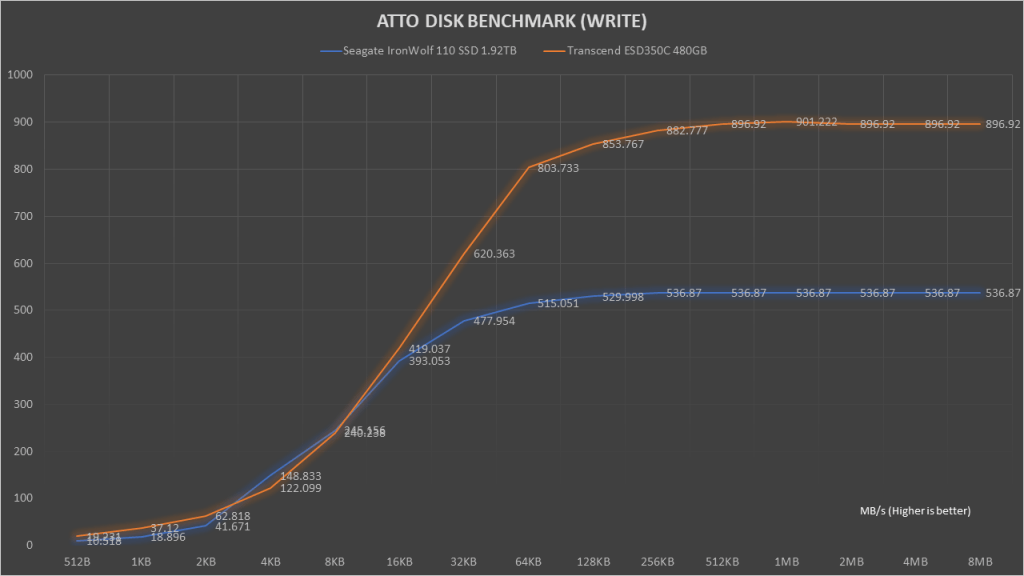 CrystalDiskMark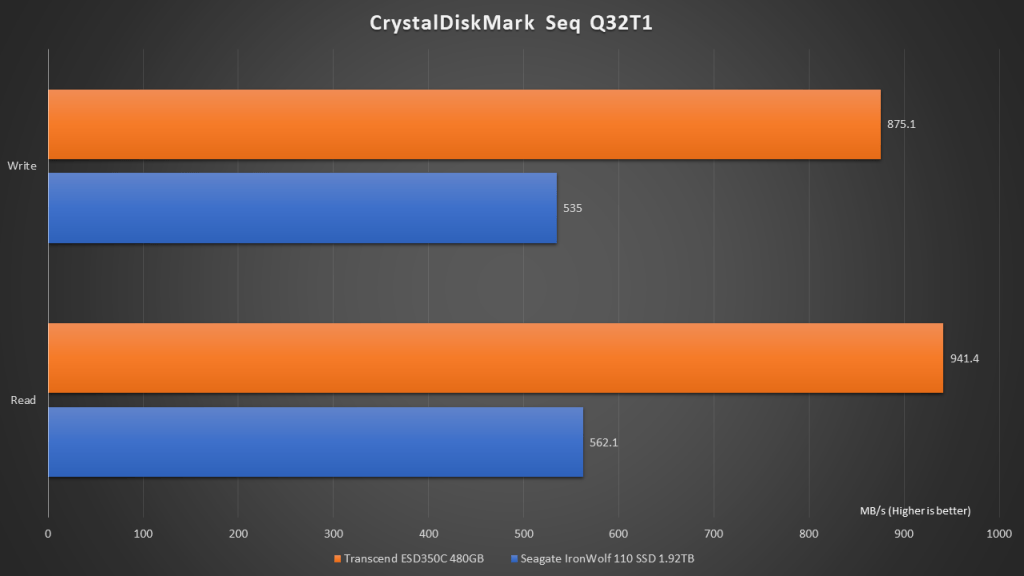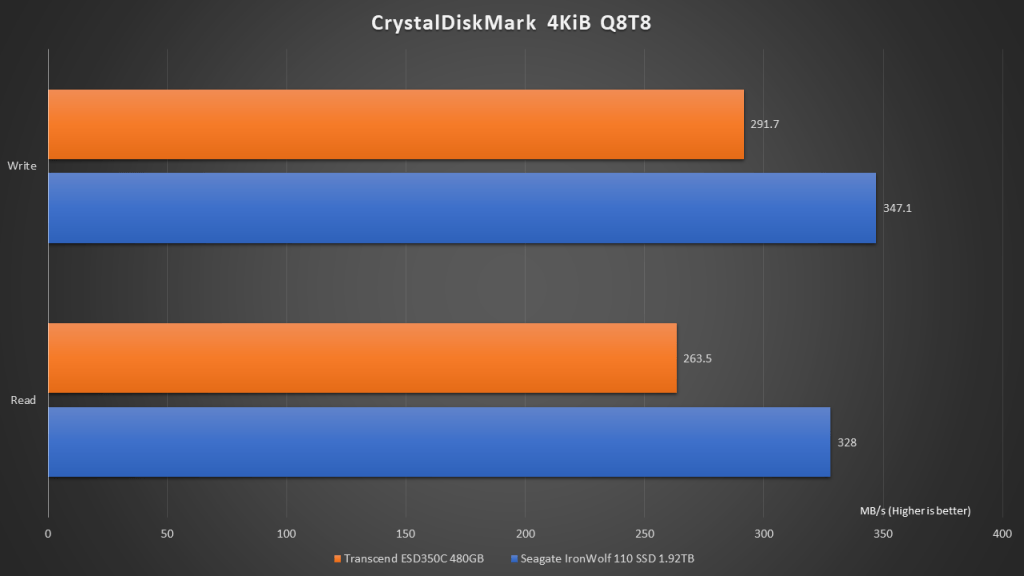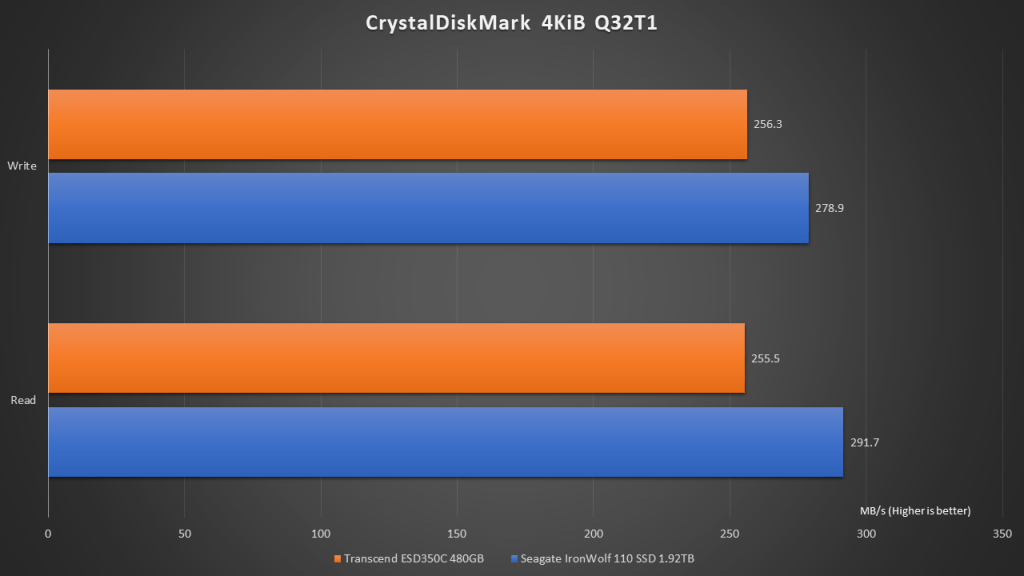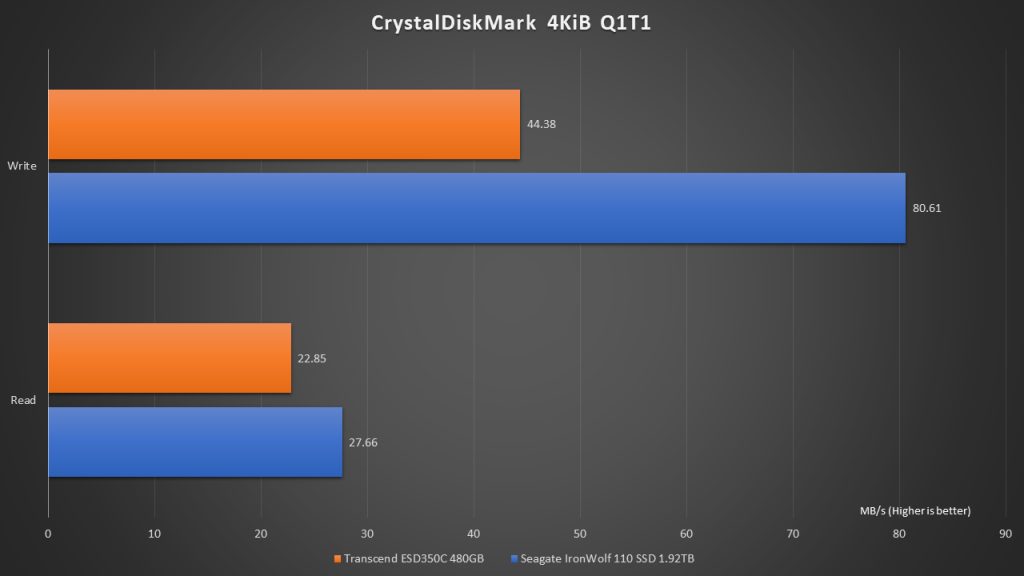 Final Fantasy XIV Shadowbringers Total Load Time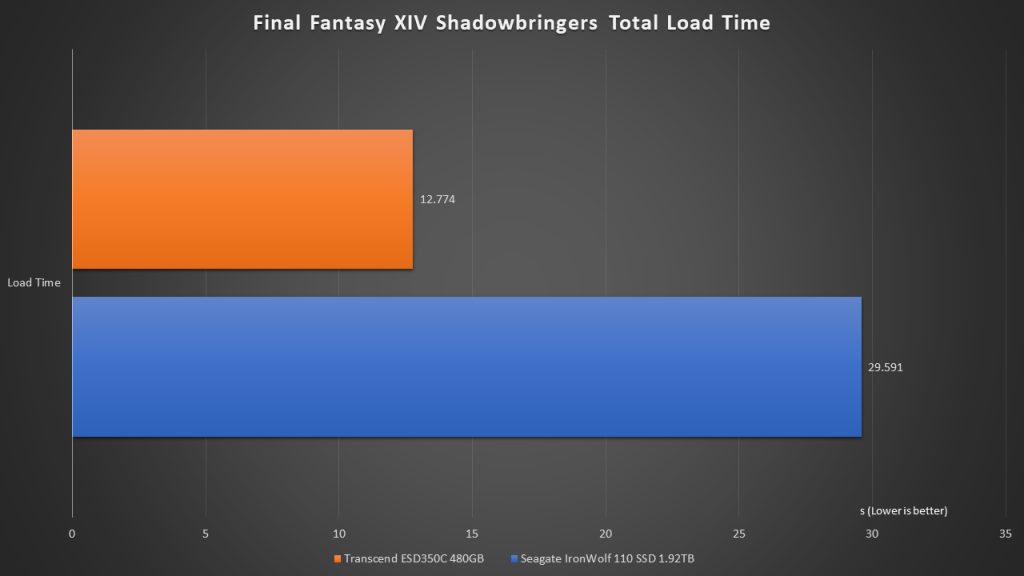 PCMark 8 Storage – Bandwidth
Conclusion
There is no doubt the Transcend ESD350C is one of the fastest portable SSD we've tested in our labs. Thanks to a great pairing of a PCIe NVMe SSD to a UASP controller, the ESD350C was able to fully show off its true performance. Even when compared to an internal 2.5inch SATA SSD, the ESD350C showed significant advantage despite it being an external drive. In fact, we're surprised that the ESD350C was almost always better than the Seagate IronWolf SSD on the ATTO Disk Benchmark test. However, the ESD350C had a disadvantage in handling small and simultaneous data streams, as shown in our CrystalDiskMark results.
Generally, the external Transcend ESD350C was even snappier than the internal Seagate IronWolf SSD. The former was able to complete loading of game files much faster than the latter, which is a true sign of real-world usage experience.
High performance portable SSDs are here to stay. If you have been around looking for a high performance portable SSD with a simple and professional design, the Transcend ESD350C is one to consider.