HUAWEI FreeBuds 4i, the latest true wireless earphones with up to 10 hours playback on a single charge, will be retailing at S$108.
HUAWEI Watch Fit Elegant Edition, an everyday smartwatch that offers style and functionality, will be retailing at S$168.
SINGAPORE, 23 MARCH 2021 – Huawei today announced that it will be launching two of its latest smart audio and wearable devices in Singapore from 27 March 2021: the HUAWEI FreeBuds 4i and HUAWEI Watch FIT Elegant Edition. These new smart accessories are designed in a simple yet sleek compact build with long battery life that offer greater convenience for users to enjoy anytime and anywhere.
HUAWEI FreeBuds 4i: A True Wireless Earphones for Everyone Featuring Active Noise Cancellation and Powerful Battery Life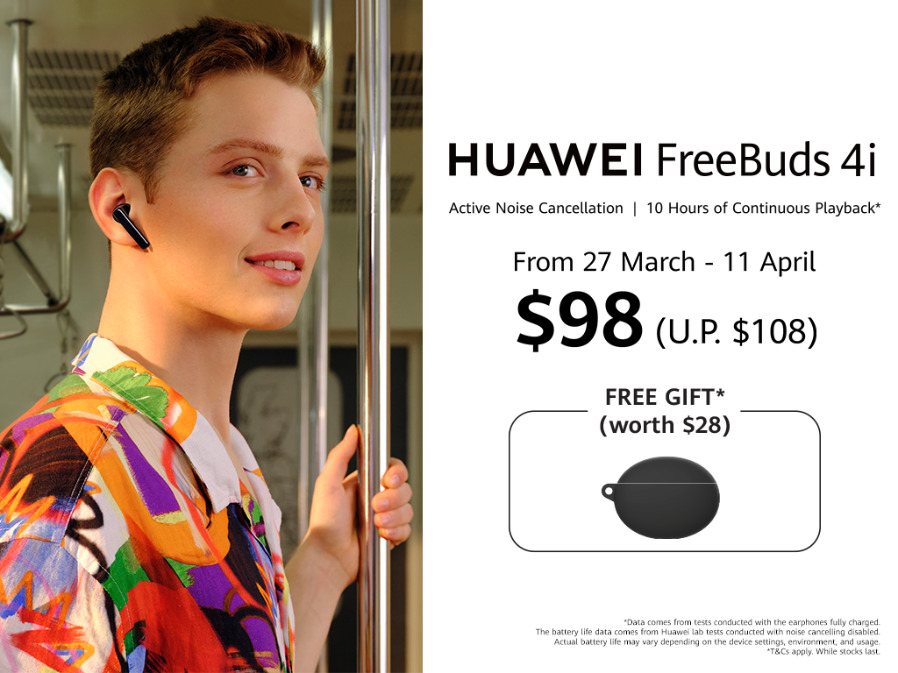 The all-new true wireless earphones HUAWEI FreeBuds 4i offers powerful battery life, active noise cancellation (ANC), fashionable design and crystal clear audio.
Balanced Audio Output Designed for Pop Music
HUAWEI FreeBuds 4i features customised components including 10 mm large dynamic drivers to offer larger amplitude for a powerful bass performance. The earphones also adopt the "PEEK+PU" polymer composite diaphragm which is flexible and powerful, providing high sensitivity and rich dynamic response, allowing users to hear more details in their music. At the same time, the wind noise reduction structure ensures the consistency of the sound effects to make them comfortable to listen. HUAWEI FreeBuds 4i has been finely tuned for pop music, subtly balancing instrumental and vocal audio frequencies to make this a great companion for pop fans.
Powerful Battery Life with Fast Charging
HUAWEI FreeBuds 4i sports a large and high density battery that can sustain cc or 5.5 hours of voice call even when Active Noise Cancellation mode is switched on[1]. On top of this, the HUAWEI FreeBuds 4i also supports fast charging. Within just 10 minutes of charging, users can enjoy 4 hours of audio entertainment[2].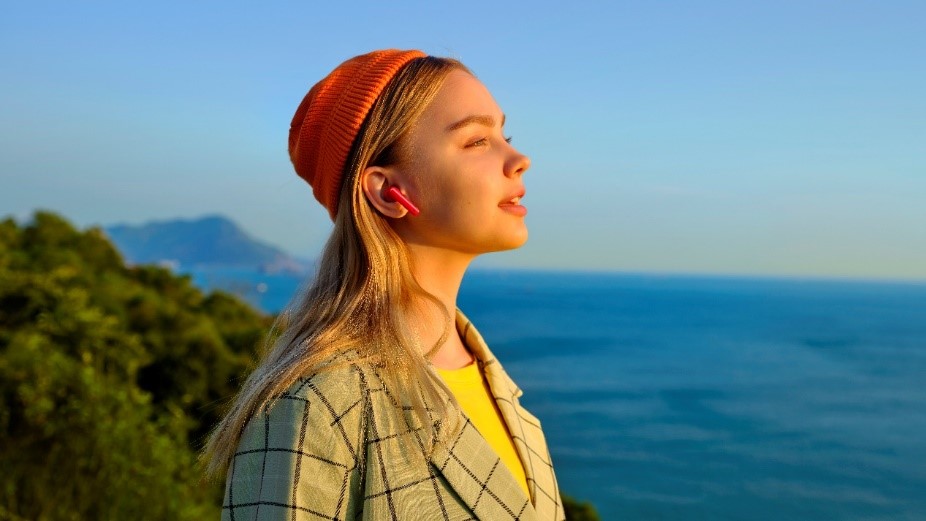 Advanced Active Noise Cancellation
HUAWEI FreeBuds 4i is equipped with built-in acoustic components and algorithms to generate inverted soundwaves. This technology allows HUAWEI FreeBuds 4i to actively cancel out noise and achieve a more immersive audio experience for the user. Whether they're in a busy shopping centre, out on the street or on noisy public transport, their music will not be interrupted. HUAWEI FreeBuds 4i also features the Awareness Mode allowing users to hear the surroundings without taking off the earbuds. By simply pressing and holding the earbud, HUAWEI FreeBuds 4i will switch between Awareness Mode and Active Noise Cancellation Mode automatically.
To reduce the interference of environmental noise during calls, HUAWEI FreeBuds 4i adopts three anti-interference technologies to improve the call quality. The exclusive beamforming technology allows the microphones to pick up user's voice accurately, the dual-mic system comes with a slit-duct design to effectively reduce outdoor wind noise, and the AI noise reduction technology filters out extra noise.
Compact Size with Modern Look
HUAWEI FreeBuds 4i's oval shaped and compact design is inspired by the world-famous black sand beach in Iceland. It is available in three fresh colourways: Ceramic White, Carbon Crystal Black and Honey Red.
HUAWEI Watch FIT Elegant Edition: a newly-refined addition to the HUAWEI Watch Fit Series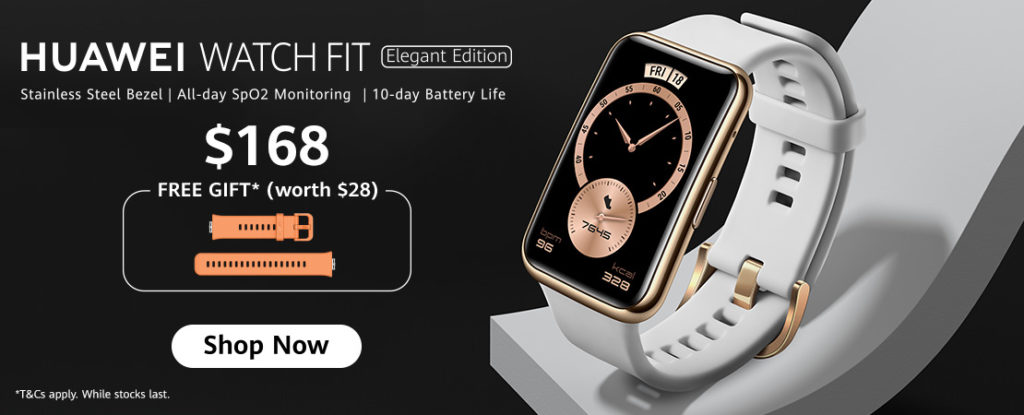 Set to redefine traditional fitness trackers by exuding style and functionality, HUAWEI Watch Fit Elegant Edition has all the outstanding features of its predecessor and more. To meet the needs of users with different personalities and lifestyles, the HUAWEI WATCH FIT Elegant Edition features a new classic colour in Frosty White and a brand-new watch body and strap. The new soft fluoroelastomer strap is ergonomically designed for all day comfortable wear and durability. It is suitable for both business and casual occasions and serves as a fashion accessory on top of its functionality.
Same as the HUAWEI WATCH FIT Active Edition, HUAWEI WATCH FIT Elegant Edition comes with 12 animated fitness courses, 96 workout modes, and scientific health tracking features including SpO2, heart rate, sleep quality, menstrual cycle, and stress level to allow users to improve the quality of life.
All-day SpO2 Monitoring for Proactive Health Management
A new upgrade featuring a smart power saving algorithm now enables an all-day continuous SpO2 monitoring on HUAWEI WATCH FIT Series (Active Edition and Elegant Edition).  This feature keeps users in the know about their health and alerts them when their SpO2 level is too low. Users can also check the changes in SpO2 levels throughout the day with the HUAWEI Health App, a great feature to help those interested in keeping closer tabs on their health.
Weather Information
In addition to the standard weather features, the HUAWEI WATCH FIT Active and Elegant Edition displays the sunrise and sunset time of each day. The eight phases of the moon, including the crescent and full moon, are also displayed clearly to allow users to understand more about their environment.
Local Availability and Pricing
From 27 March 2021, HUAWEI FreeBuds 4i* and HUAWEI Watch FIT Elegant Edition will be available at all Huawei Experience Stores, selected consumer electronic stores including Harvey Norman, Best Denki, Challenger & Hachi.tech, COURTS, Sprint-Cass Online, and official online stores with Lazada and Shopee.
Product
Colour(s) available
Retail Price
HUAWEI FreeBuds 4i
·         Ceramic White

·         Carbon Crystal Black – available from 30 March 

·         Honey Red – available in late April

Launch Offer:

$98 (U.P. $108)

+ receive a free protective casing, while stocks last.

Offer valid till 11 April 2021.

HUAWEI Watch FIT Elegant Edition
·         Frosty White
S$168

Enjoy free watch strap worth $28 with every purchase, while stocks last.
*HUAWEI FreeBuds 4i in Carbon Crystal Black will be available from 30 March while Honey Red will arrive in stores in late April. Customers are advised to check in-stores or online for availability.
[1] When HUAWEI FreeBuds 4i is fully charged, it can play music for up to 10 hours continuously. The data comes from Huawei labs with conditions by default: volume at 50%, ANC turned off, and AAC mode enabled. The actual condition may vary due to the volume, audio source, environment and user habits.
[2] This charging data and battery life only applies to wired charging, or wireless charging when the charging case has no less than 80% battery left. The data comes from Huawei labs with conditions by default: volume at 50%, ANC turned off, and AAC mode enabled. The actual condition may vary due to the volume, audio source, environment and user habits.