The Dell XPS series has been known as one of the best designed notebooks for professionals. By focusing a lot of simplicity and usability, the Dell XPS notebook computers have gotten waves of praises and recommendations from media. Of course, we needed to give this product a try to find out if it lives up to the hype. We've got our hands on the Dell XPS 13 (9300) for review today – Can it meet our expectations?
The Dell XPS 13 (9300)
The latest version of the Dell XPS 13 (9300) is powered by Intel's 10th Generation Core Processors which promises to deliver high-performance to thin and light notebooks, while retaining a long battery life. While specifications look rather similar to other competing products in the market, the notebook's design sets it apart.
The Dell XPS 13 is designed to take up a much smaller physical space than a typical 13-inch laptop. Based on our first impression, we thought that this is either a 11 or 12-inch notebook, until we got amazed by how small the display bezels are. Dell calls this the InfinityEdge display.
Another thing to take note is that this notebook supports a 4K resolution display, which makes everything on it sharper and clearer. This feature will likely be useful for professionals who deal with 4K content and footages, as it allows them view their media in its intended state.
Interestingly, the display on the monitor comes in a 16:10 aspect ratio. This also means that there will be additional space on the monitor vertically, as compared to standard 16:9 displays. It will be useful for your daily work, as you can now see more content within the same screen. It is also a touch display (optional), which creates new ways for you to interact with your computer.
The Dell XPS 13 (9300) also comes with a full-size chicklet style keyboard. While competing products have reduced the size of the individual keys to fit within the width of the notebook, Dell decided to spare no compromises and went ahead with a full-sized keyboard. I must say that it was very easy to get use to this keyboard layout, and I got used to it in no time at all. Typing on this notebook was a breeze as the keys are well spaced and are of standard size. The keys are also LED backlit, making it very easy for users to continue their work in dimly lit environments.
One key aspects of the Dell XPS 13 is its portability. This notebook has a very thin and sleek profile, weighing only 1.27 Kg. Even though it's not the lightest notebook you can find on the market, Dell made it a point to ensure the notebook's sturdiness and durability. The XPS enclosure is sculpted by CNC machining process on a block of aluminum, providing users a flawless exterior design. The sides are then diamond cut and double-anodized to make it more scratch resistant.
The display panel is also covered in Corning Gorilla Glass 6 that is bonded to the aluminum body. This keeps the screen tough, damage resistant, and elegant.
While everything may seem good, the only gripe we have with the design of the Dell XPS 13 (9300) is its lack of I/O ports. It only features 2 x USB Type-C port and a single 3.5mm combo audio jack. This means that you will likely need to make use of dongles if you wish to connect external peripherals to this notebook. This will be extremely troublesome for users who enjoyed full-sized ports from their previous PCs.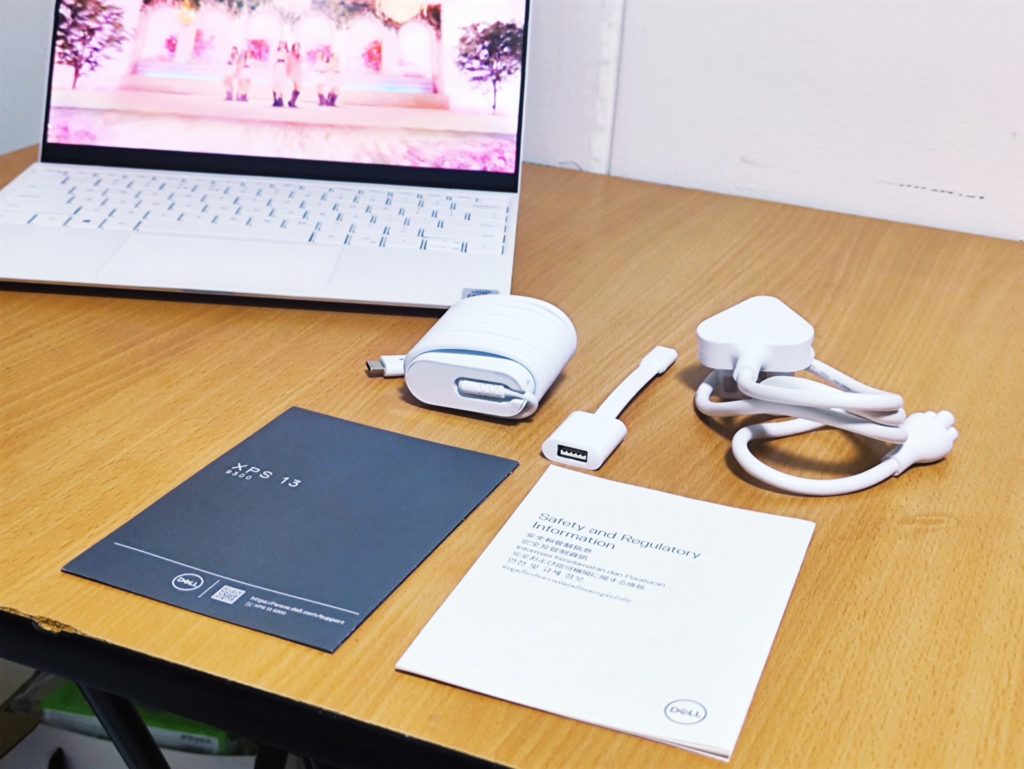 Thankfully, Dell has included a single USB Type-C to Type-A converter within the box if you wish to connect to any USB Type-A devices. Also, within the box is the power adapter, which charges the Dell XPS 13 (9300) over a USB Type-C port over USB PD (Power Delivery).
Usage Experience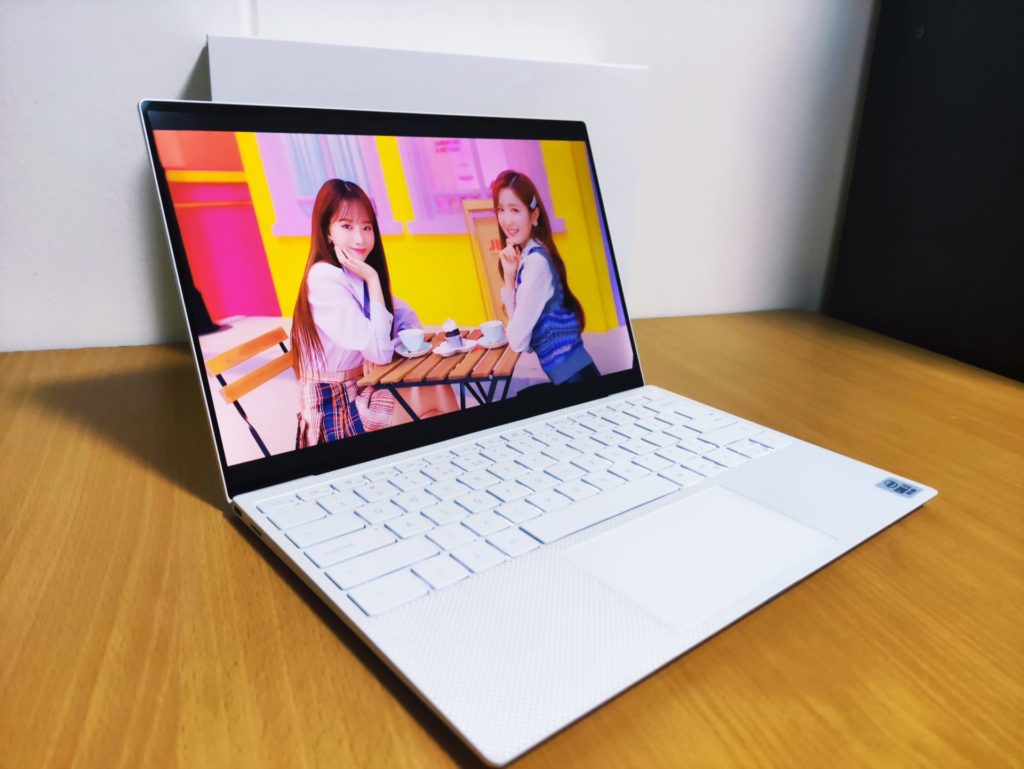 The 4K resolution display on the Dell XPS 13 (9300) makes it a perfect notebook computer for media consumption. Images look sharp and the default color profile applied makes the images look a lot more vibrant than a non-calibrated display. However, do take note that as most media comes in a 16:9 aspect ratio, there will be black bars at the top and bottom of the screen when viewing content in full-screen. Regardless, we don't find that it affects us in any way.
On the other hand, the built-in speakers sound good as well. It has a focus on the mids and highs, which allows music to sound clear. However, there's only a hint of bass which could affect the whole listening experience, depending on your preference of music genre. Overall, these stereo speakers on the Dell XPS 13 (9300) are still above average, and somewhat impressive given the fact that Dell had to work with the limited space within the chassis.
Test Setup and Performance
| | | |
| --- | --- | --- |
| | Dell XPS 13 (9300) | ASUS ZenBook 14 (UX425) |
| CPU | Intel Core i7-1065G7 | Intel Core i7-1065G7 |
| RAM | 16GB LPDDR4x | 8GB LPDDR4x |
| RAM Speed | 3733MHz | 3200 MHz |
| Primary Disk Model | Western Digital SN730 | Intel 660p NVMe PCIe M.2 |
| Primary Disk Size | 1TB | 1TB |
| Display Size | 13.3″ | 14.0″ |
| Display Resolution | 3840 x 2400 | 1920 X 1080 |
| Display Panel | IPS | TFT LCD "IPS Level" |
| Display Refresh Rate | 60Hz | 60Hz |
| Graphics Card | Intel® Iris® Plus Graphics G7 | Intel® Iris® Plus Graphics G7 |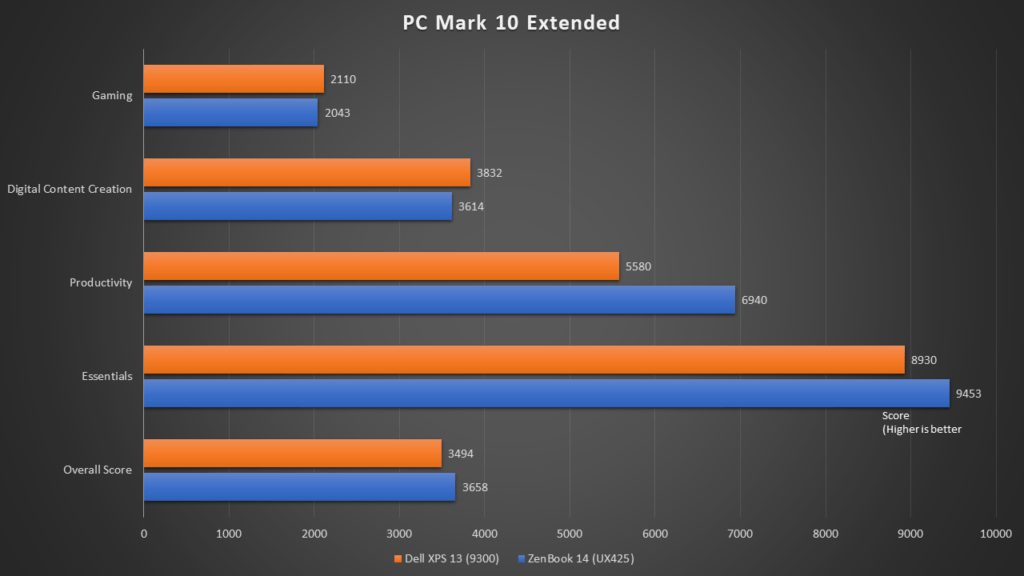 Comparing between the performance test results in the PC Mark 10 Extended suite, we can see that the Dell XPS 13 did not fare as well as the ZenBook 14, despite both systems having very similar specifications.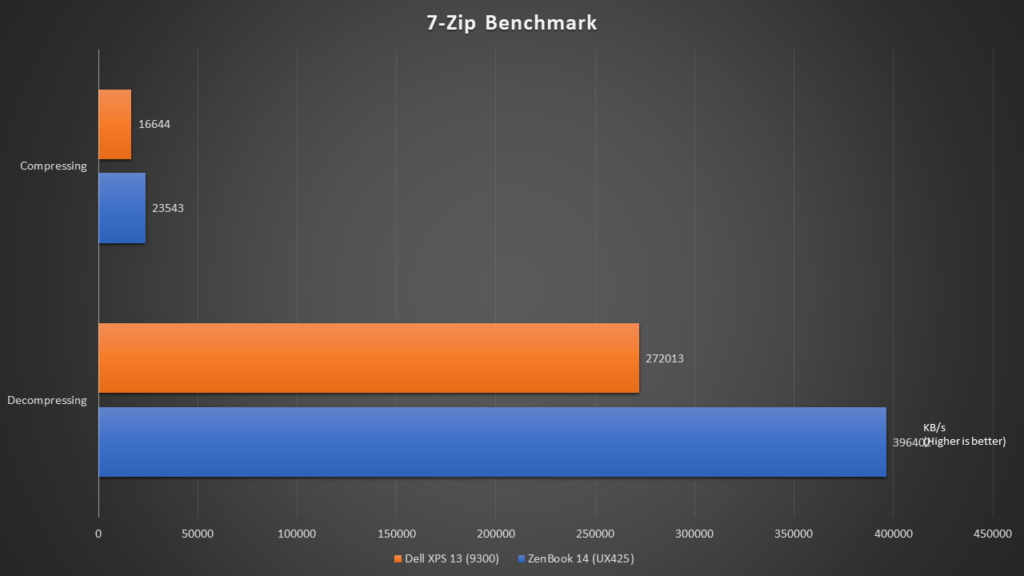 Even so for the 7-zip benchmark, the Dell XPS 13 falls short of performance expectations.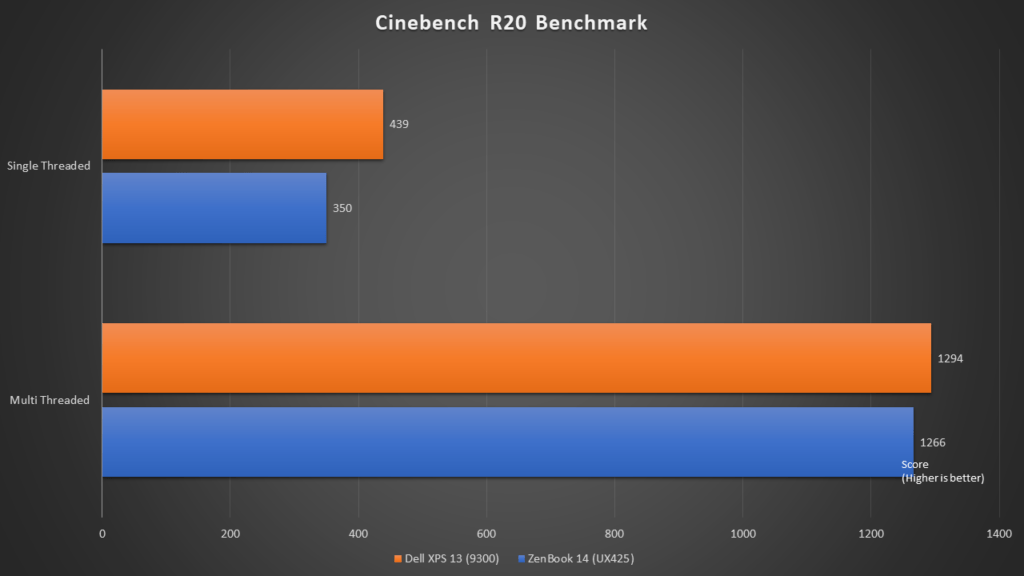 However, when it comes to the Cinebench R20 test, the Dell XPS 13 seems to perform slightly better than the ZenBook 14.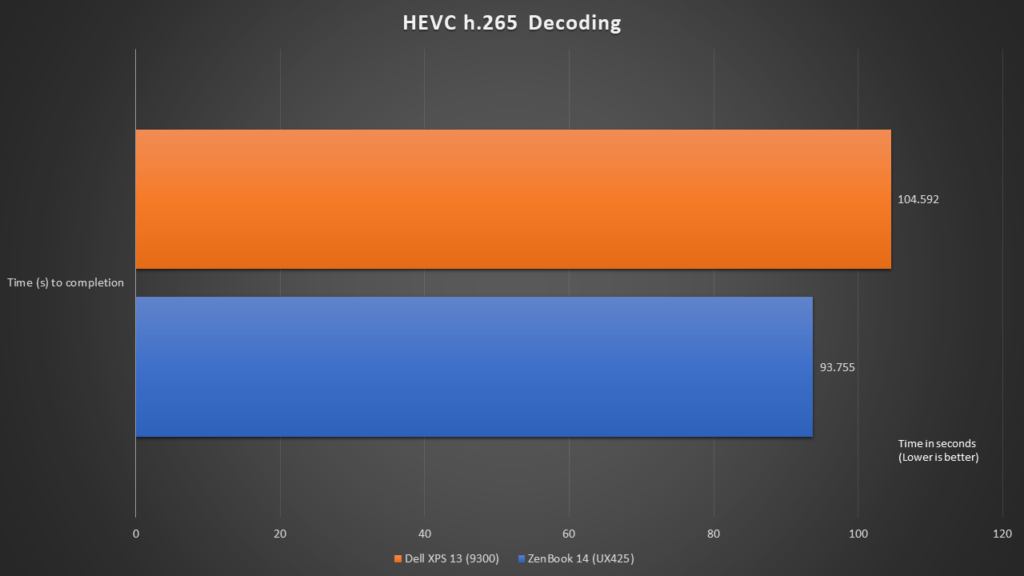 As for the HEVC h.265 decoding test, the Dell XPS 13 was also more than 10 seconds slower than the ZenBook 14.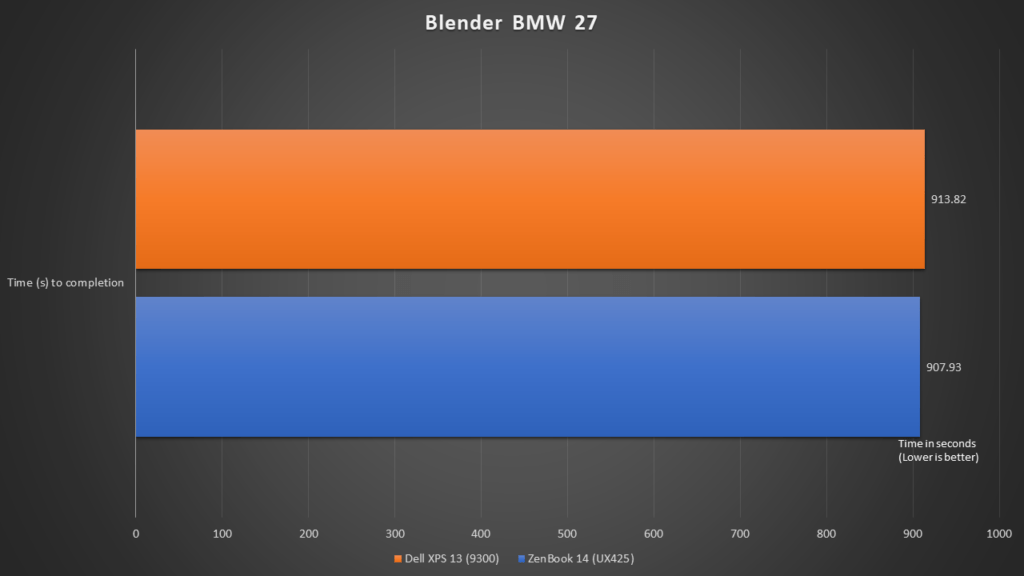 Similarly, the Blender BMW 27 test also showed that the Dell XPS 13 (9300) was slightly slower. However, the gaps are much smaller this time.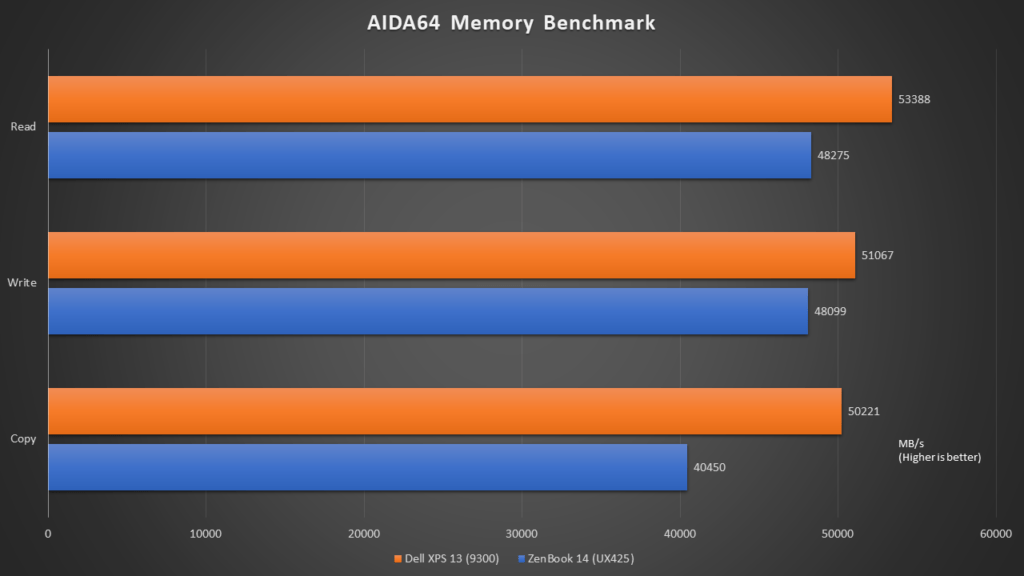 Having a LPDDR4X memory clocked at 3733MHz, the Dell XPS 13 (9300) notebook had an advantage when it comes to memory performance when compared to the ZenBook 14, which only have its memory clocked at 3200MHz.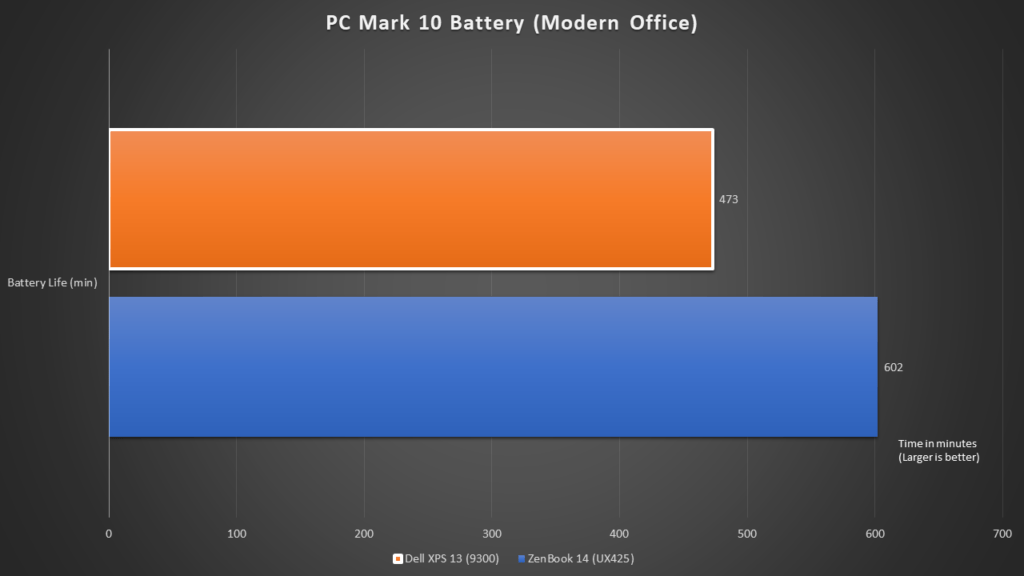 As for battery test, the Dell XPS 13, having only a 52Wh battery, lasted 7H 53min. This is much lower than the ZenBook 14's 10 hours, with its 67Wh battery.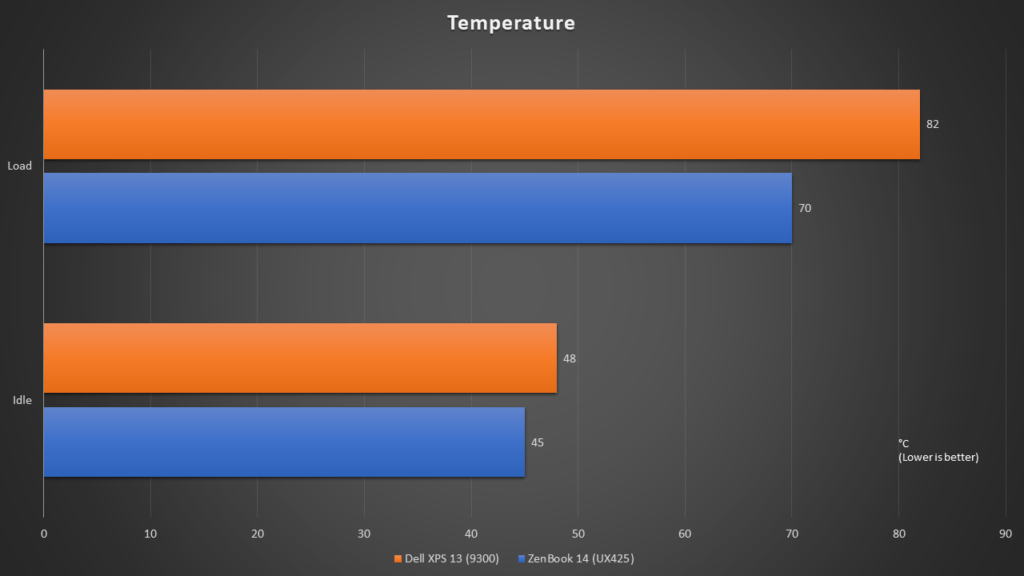 One of the possible reasons for the poorer performance of the Dell XPS 13 is that its thermal dissipation capabilities aren't as good as competition. It had both a higher idle and load temperature, which caused CPU frequency to be clocked lower when it reaches a temperature threshold.
Conclusion
The Dell XPS 13 (9300) is a beautiful notebook device that is sure to attract the attention of passersby. Its high-resolution display, and above average sounding speakers, also makes it an excellent all-rounder for both work and play. However, it seems like that is just all to the Dell XPS (9300). The tradeoffs made to the Dell XPS 13 (9300) to achieve such an industrial design were somewhat painful, affecting its performance. The truth is that the Dell XPS 13 just does not perform as well as competition. The thin and light design also forces the XPS 13 to have a very limited number of IO ports as well, affecting the notebook's practicality and usability.
There is no doubt that the Dell XPS 13 (9300) is one of the best designed laptops we've seen thus far. But while delving deeper, we do see the very obvious flaws of this premium device. Especially when you will be paying a premium for such a notebook computer, you will probably need to think twice to see if you can accept this kind of limited performance.