The ASUS ZenBook Flip 13 is known to be a versatile convertible notebook computer that can function either as a typical laptop or a tablet PC. With the release of the all new 11th Gen Intel Core processors, the ASUS ZenBook Flip 13 became the first product from the full ASUS notebook lineup to get the upgrade.
With the new 11th Gen Intel Core processor, which is also known to many as "Tiger Lake", the ASUS ZenBook Flip 13 is poised to provide even more performance with better efficiency. This is thanks to the use of a 10nm process node and an Optimization step in Intel's "Process-Architecture-Optimization" model. Moreover, it is the first time that a notebook product will feature the new Intel Iris Xe graphics, which is said to provide even more graphics performance without the need for a dedicated graphics chip.
In this article, we will take a close look at the new ASUS ZenBook Flip 13 UX363E to understand how it performs in our usage tests. Furthermore, we will also discover more about the new 11th Gen Intel Core Tiger Lake processors and its new Iris Xe graphics solution to see if it really brings justice to the ZenBook Flip.
The ASUS ZenBook Flip 13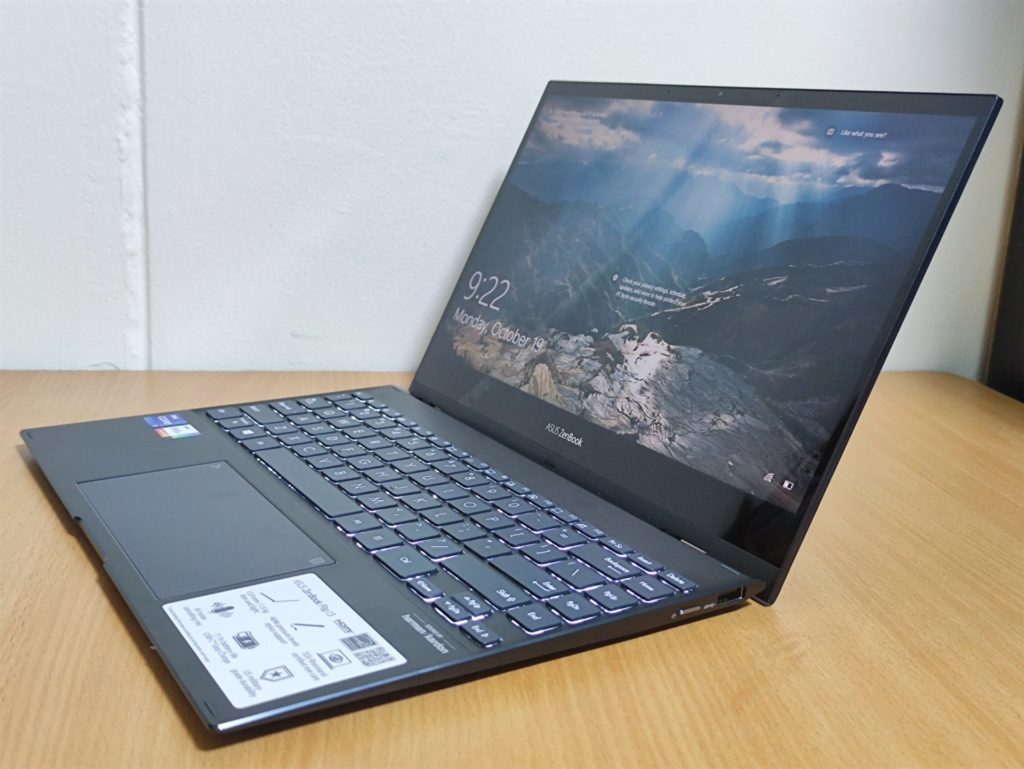 For a start, the ASUS ZenBook Flip 13 looks like any other contemporary thin and light notebook in the market today. Weighing at only 1.3Kg, this notebook would be suitable for anyone who's always on the go.
As its name suggests, "Flip" essentially means that this notebook is a convertible. Its screen is foldable in 360 degrees, allowing it to operate in different modes for different use case. This multi-mode design gives users the option to adapt the ZenBook Flip accordingly to what they are working on.
As the ASUS ZenBook Flip 13 also comes with a stylus in the box, the notebook is also perfect for students whom wishes to take notes directly on the notebook. As for artists and designers, they can also quickly crystalize their ideas onto a digital screen easily.
Since, we are at the topic on what's included in the box, here's what you get when your purchase a brand-new ASUS ZenBook Flip 13.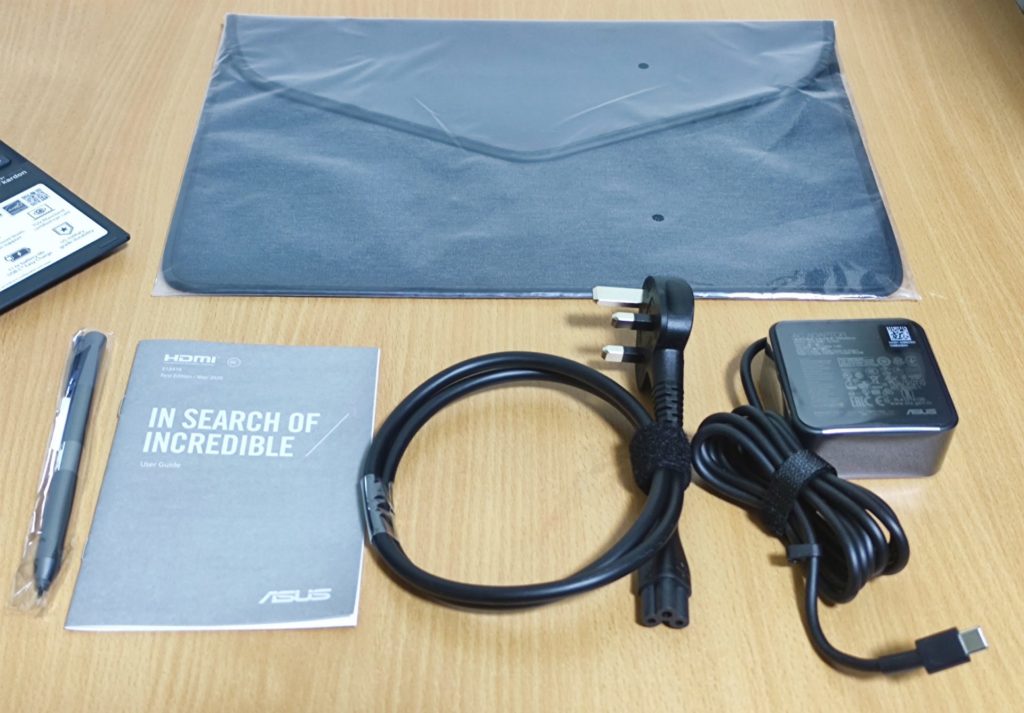 General Design and Features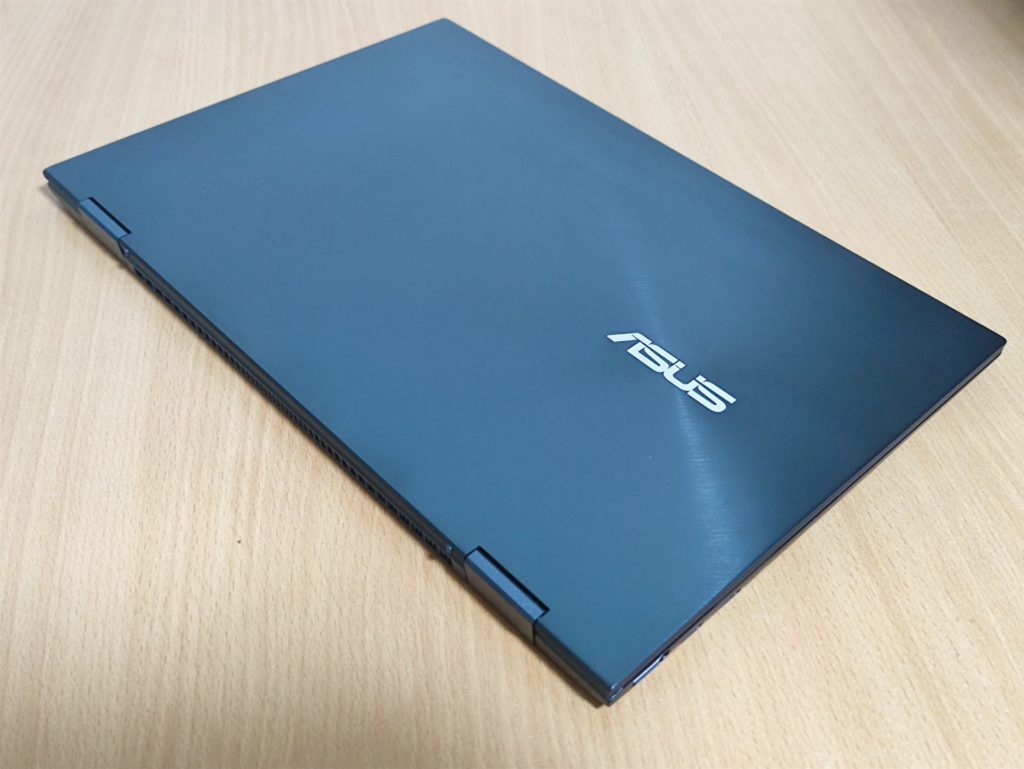 The ASUS ZenBook Flip 13 retains the signature brushed metallic finish on its main chassis. This design has been well liked by many over the years for its minimal, yet stylish looks.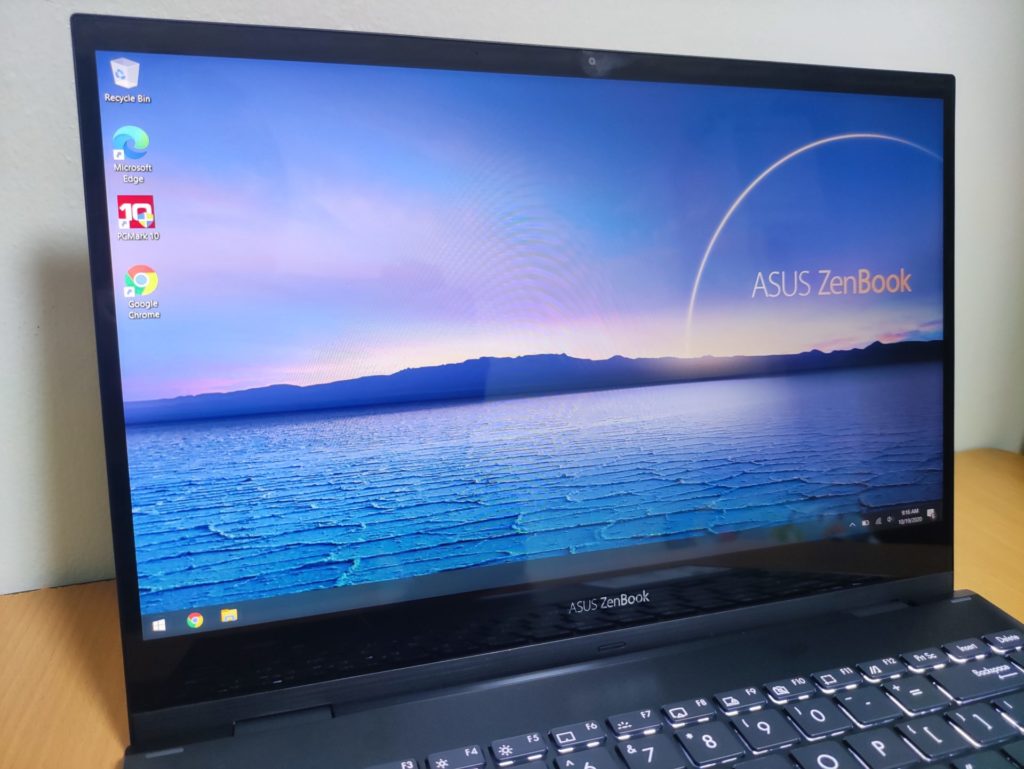 However, we did realize that the new ASUS ZenBook Flip 13's design was slightly different as compared to its predecessor. The bezels on the displays, both on the top and the bottom are significantly larger. This gives the whole notebook a rather awkward design, especially when competing products are pushing the bars to achieve even narrower bezels.
We aren't certain, but this is definitely a few steps backwards for ASUS. Personally, we believe that the extra space was required to accommodate a better cooling solution in the notebook. We've placed a sample photo of the ZenBook Flip 13 UX362 for comparison below.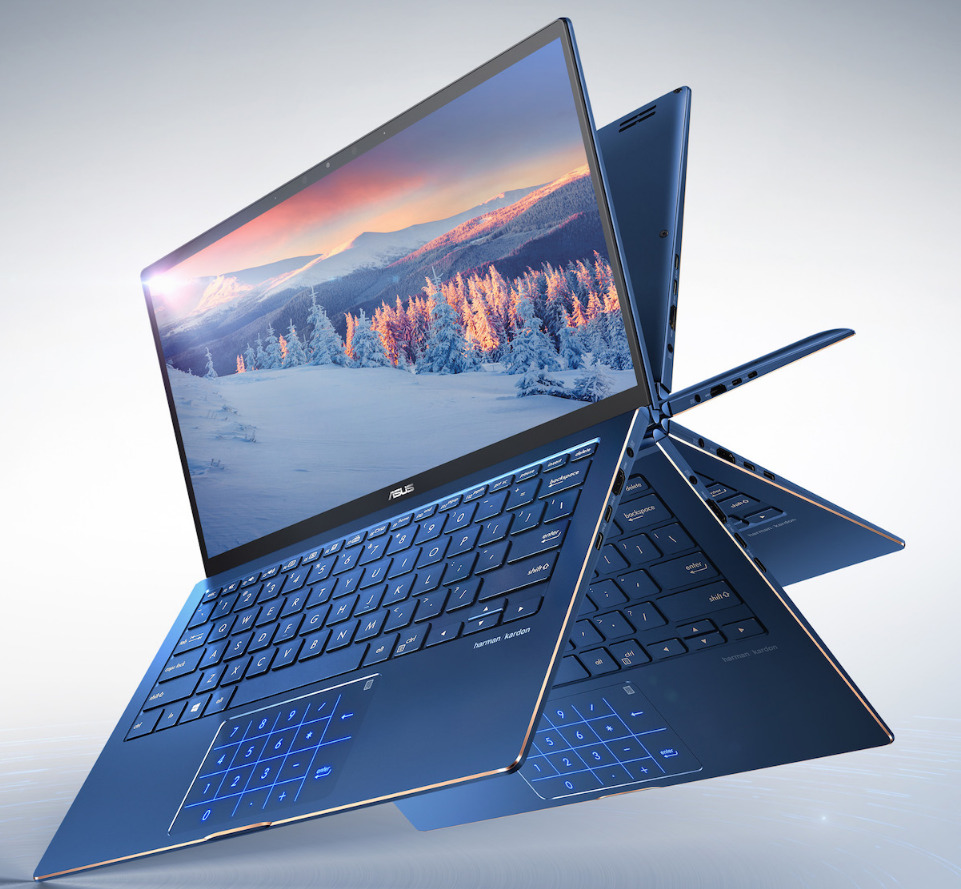 On top of that, instead of the well-spaced out keyboard like its predecessor, the new ASUS ZenBook Flip 13 UX363 (2020)'s keyboard was also designed in a non-conventional manner.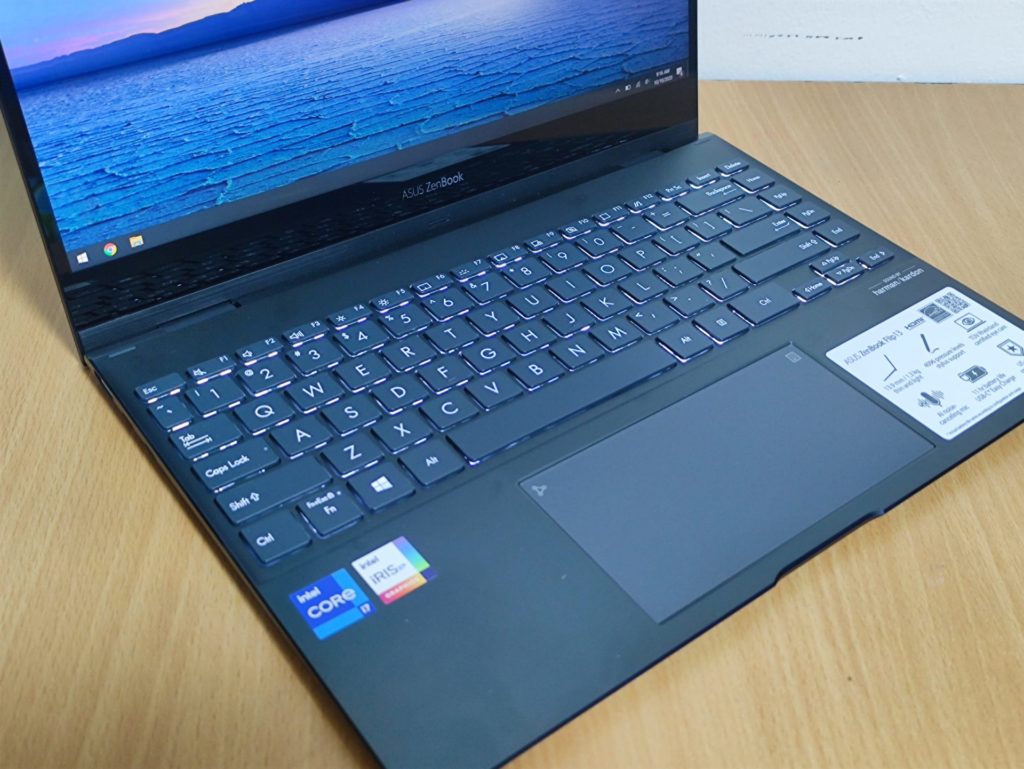 Yet again, we have to question the considerations made by the ASUS industrial designers. I really do not understand why they had to place the Home, Page Up, Page Down and End buttons at the most right of the keyboard. Typically, users are already used to having the backspace at the end of the keyboard. Such an unconventional design resulted in many mistakes when typing, where natural reaching out to the end of the keyboard for the backspace will cause the Home button to be pressed instead.
Moreover, to accommodate this extra column of keys on the right, the keys had to be smaller than usual. This really affected the overall typing experience on the notebook, which certainly will cause a degree of annoyance to anyone who hasn't gotten used to it. Again, when you look at its predecessor, it didn't have these issues.
I really don't understand what went wrong here.
As for I/O, we spotted a full-sized HDMI port and 2 x Thunderbolt ports on the left side of the notebook. Both ports also function as a USB Type-C charging port for the notebook. As for the right side, there is another USB Type-A port for your standard peripherals. The power button is also found here.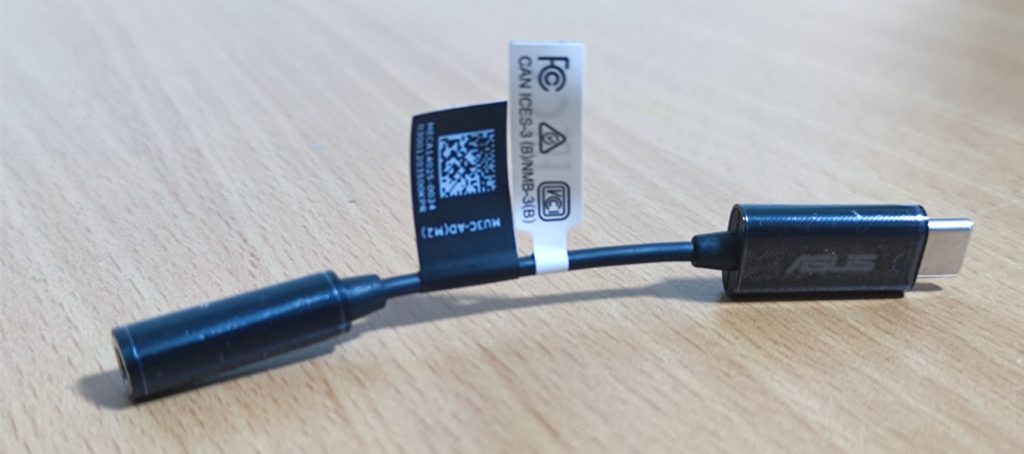 Like all the modern ZenBook models, ASUS has excluded a 3.5mm audio jack on the notebook itself in order for it to retain a thin profile. This comes at the expense of usability, as users will have to use a dongle/converter in order to plug in their headsets onto this computer. Thankfully, ASUS has also included this dongle within the package, and users will not have to purchase them separately.
We still liked the large trackpad that's found on the ASUS ZenBook Flip 13 which made operating Windows 10 easy. Moreover, the trackpad can also act as a number pad, which we also found it useful while working with calculators and spreadsheets.
Despite it being a convertible notebook, the ASUS ZenBook Flip 13 still comes with the unique ErgoLift hinge design. When the lid of the notebook is opened, it supports and raises up the keyboard section for between ergonomics. Furthermore, there will be better airflow towards the bottom of the notebook, promoting heat dissipation to ensure improved system stability and reliability.
Usage Experience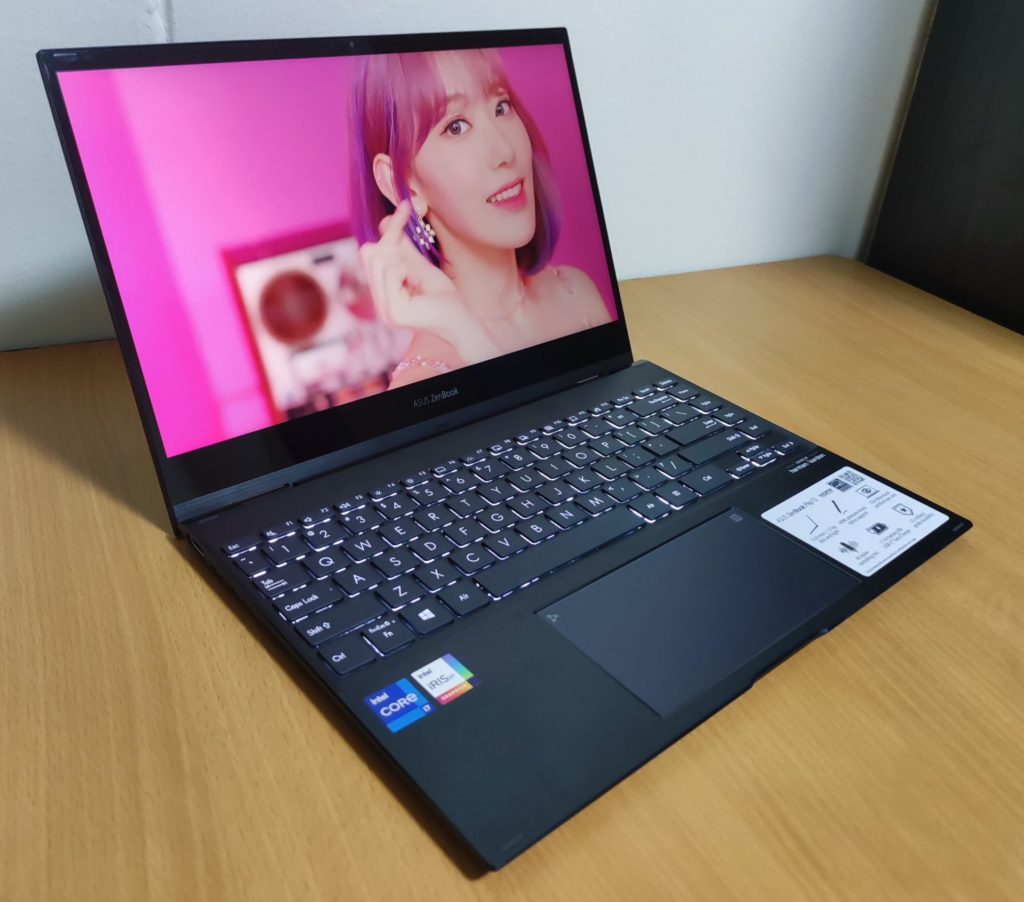 It's quite enjoyable to consume media content on the ASUS ZenBook Flip 13, as its FullHD display was able to produce colors that were vibrant. Typically, displays with stylus support will look dull, but this was not the case for the ZenBook Flip 13. However, we got to say that the bezels are quite an eyesore for a newly launched notebook in 2020.
Completing the whole experience is the notebook's speakers, which were able to produce a good sound profile. Sounds were clear with a focus of mids and highs. It would be better if ASUS could bring more bass to the speakers, so as to allow more depth to the notebook.
Performance Benchmarks
For our test, we will be comparing the ASUS ZenBook Flip 13 UX363 with the ASUS ZenBook 14 UX425 which we've reviewed earlier this year. We would be able to find out the advantages (or maybe disadvantages) of the new 11th Gen Intel Core processors when put up against its predecessor from the 10th Gen.
On top of that, we also understand that the new 11th Gen Intel Core processors also comes with the new Intel Xe graphics solution. We can also have an idea of how well this can perform on the ASUS ZenBook Flip 13 in some of the gaming benchmark tests.
| | | |
| --- | --- | --- |
| | ASUS ZenBook Flip 13 (UX363E) | ASUS ZenBook 14 (UX425) |
| CPU | Intel Core i7-1165G7 | Intel Core i7-1065G7 |
| RAM | 16GB LPDDR4x | 8GB LPDDR4x |
| RAM Speed | 3733MHz | 3200 MHz |
| Primary Disk Model | Kingston OM8PCP3512F-AB | Intel 660p NVMe PCIe M.2 |
| Primary Disk Size | 512GB | 1TB |
| Display Size | 13.3″ | 14.0″ |
| Display Resolution | 1920 x 1080 | 1920 X 1080 |
| Display Panel | IPS | TFT LCD "IPS Level" |
| Display Refresh Rate | 60Hz | 60Hz |
| Graphics Card | Intel Iris Xe Graphics G7 | Intel® Iris® Plus Graphics G7 |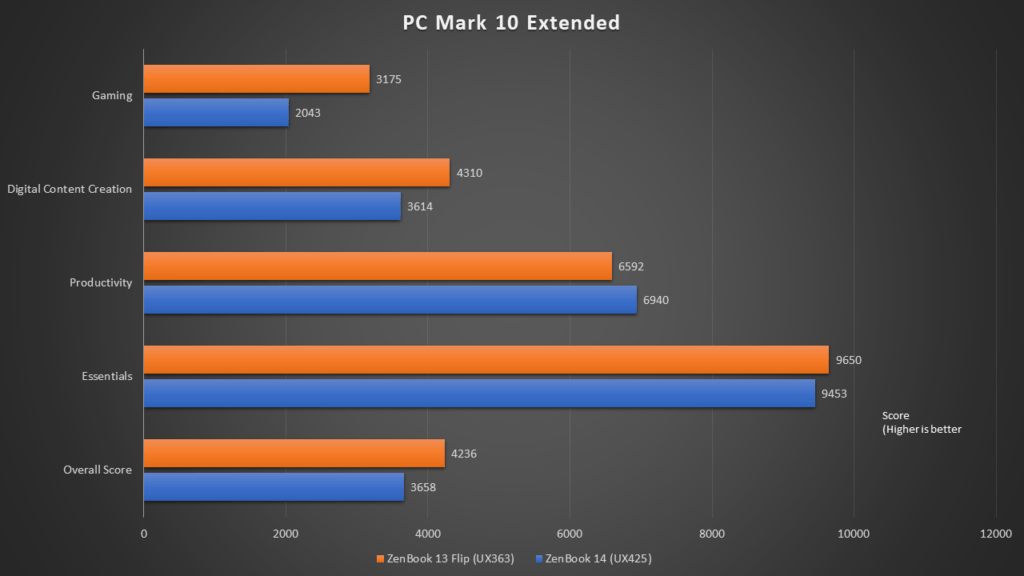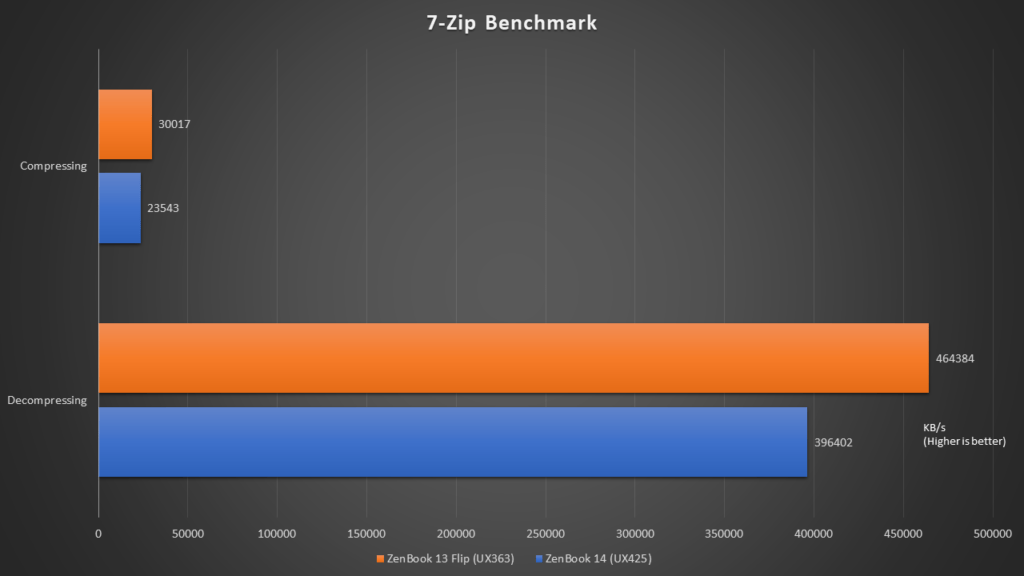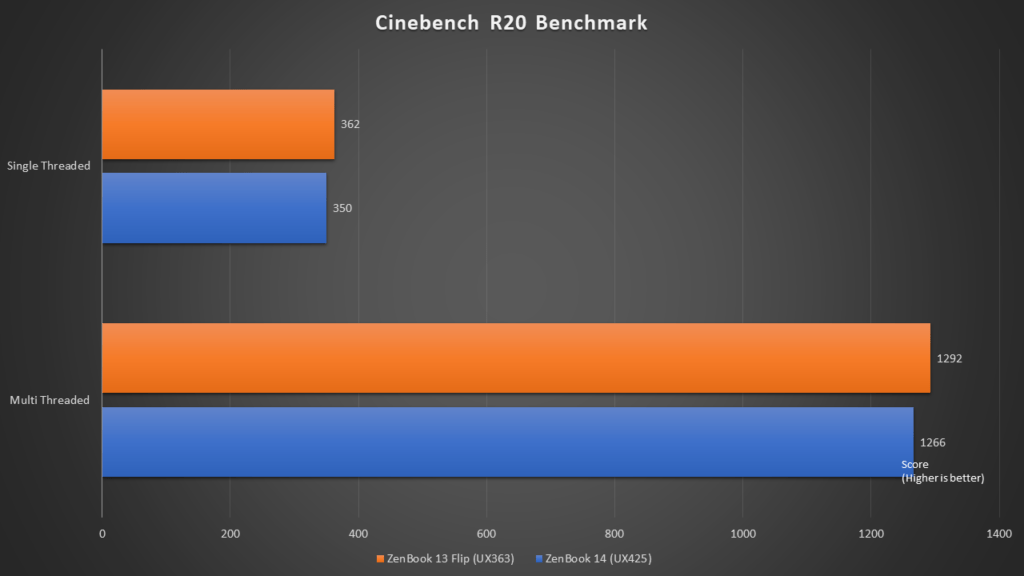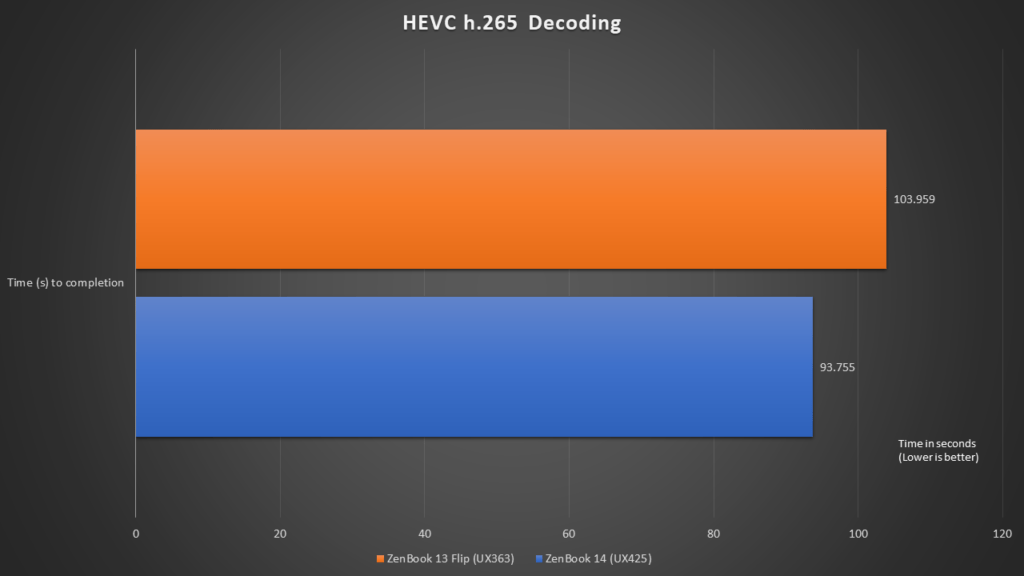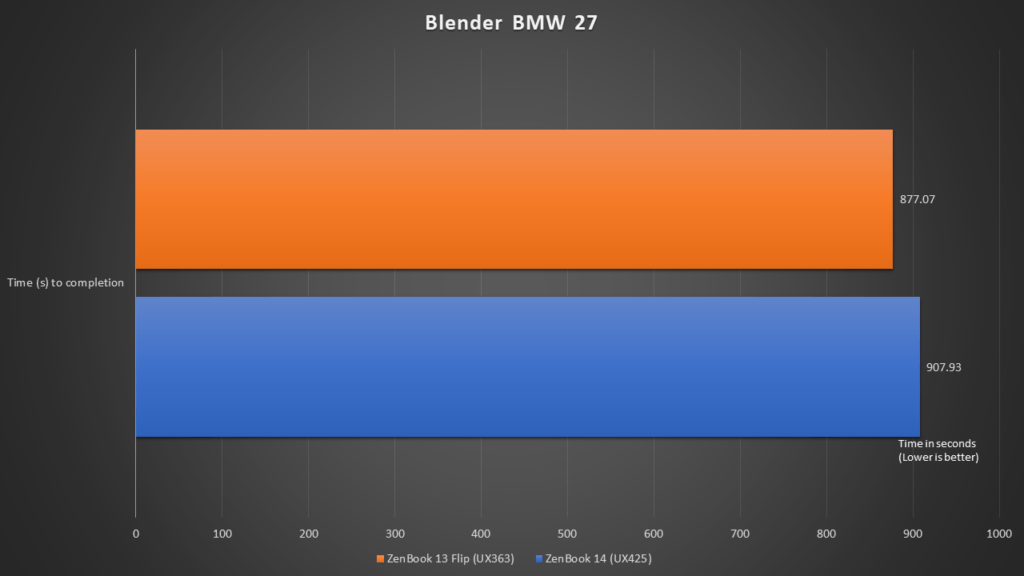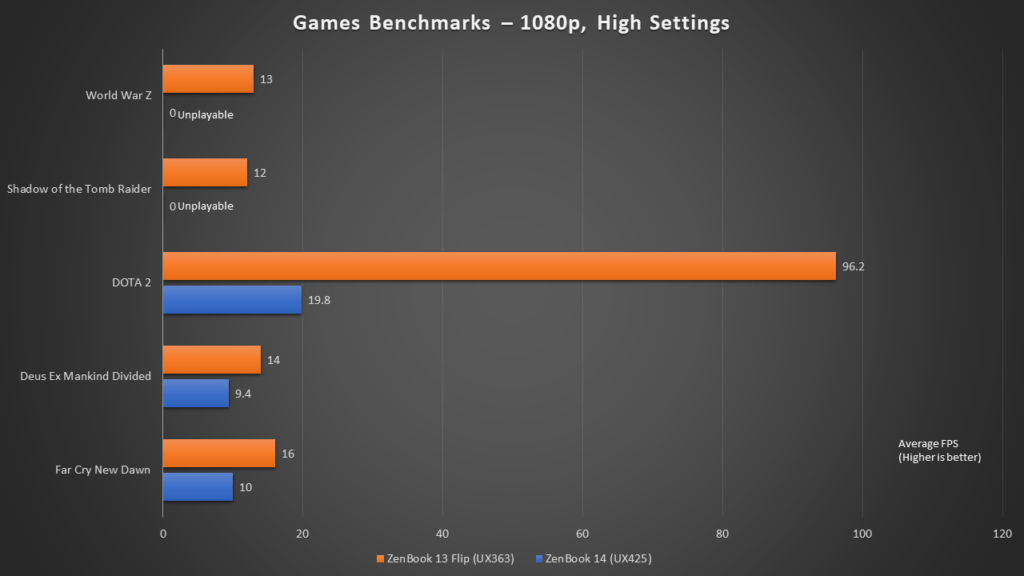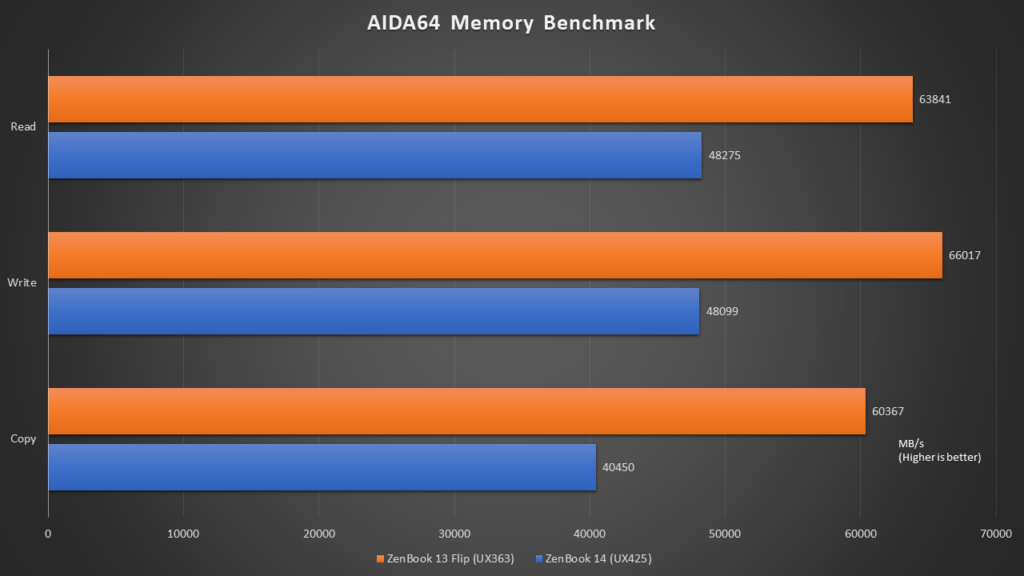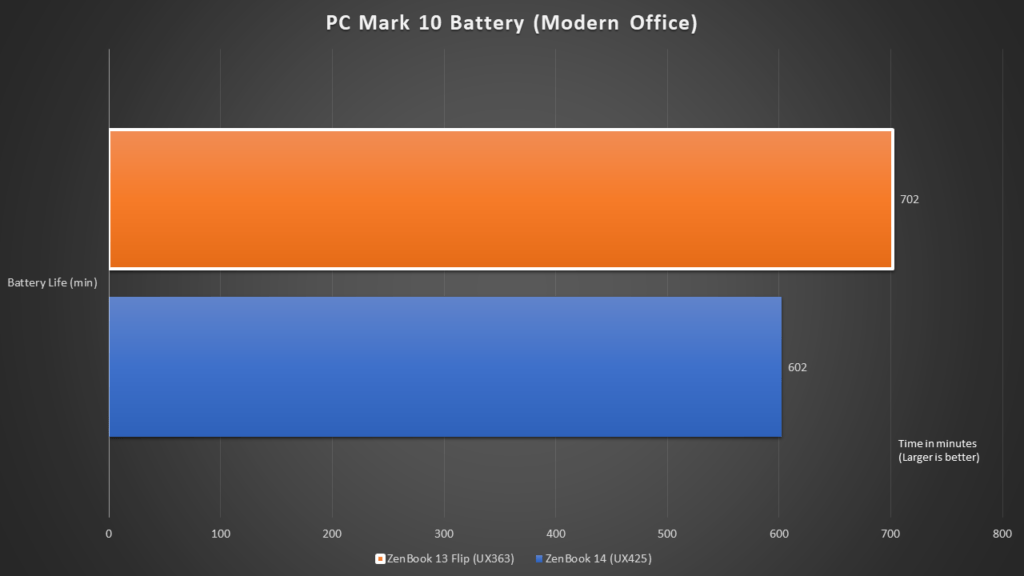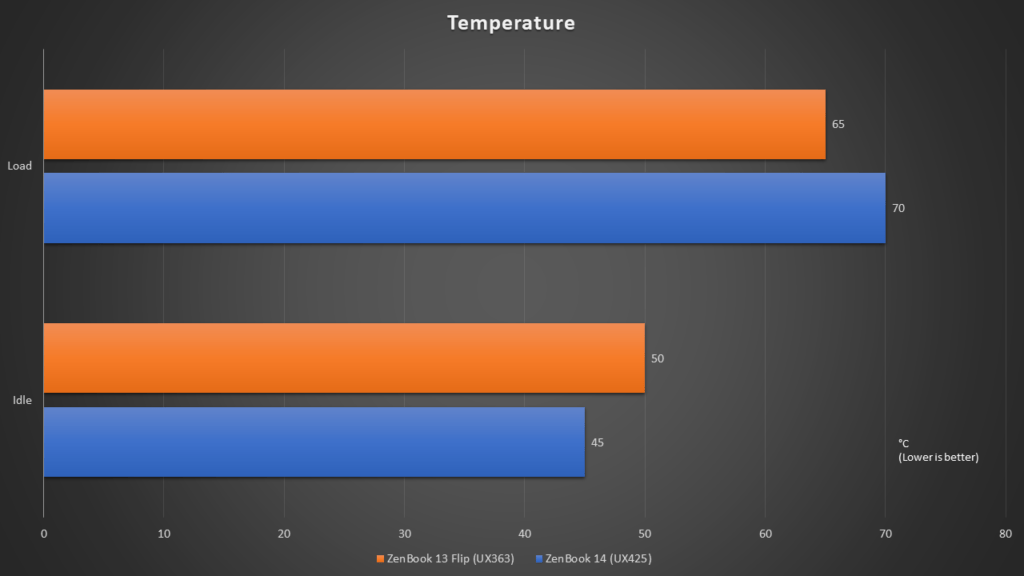 Conclusion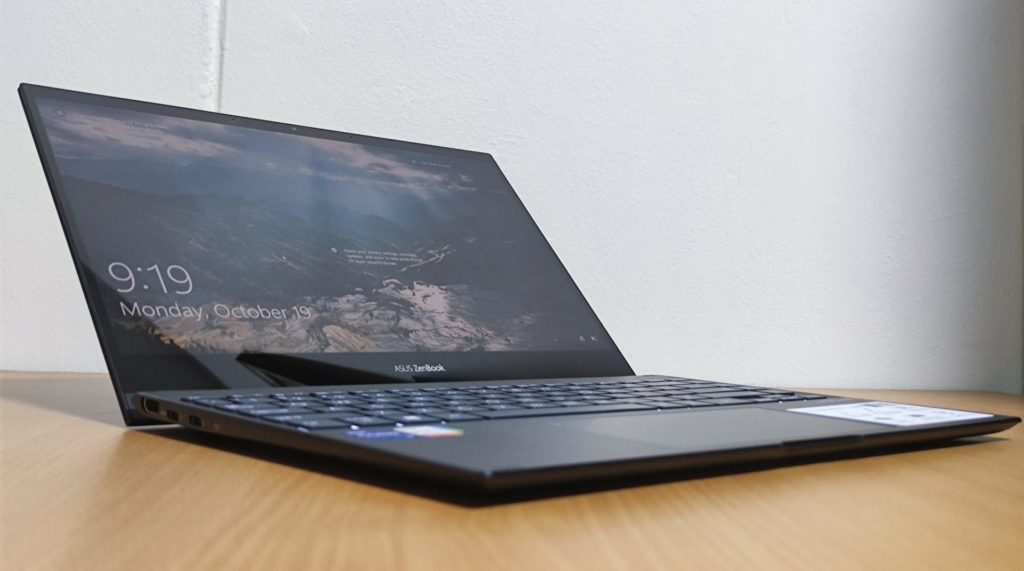 There is no doubt that the new 11th Gen Intel Core processors bring about improvements to almost every aspect of the system. This allows the ASUS ZenBook Flip 13 UX363 to perform better in the benchmark tests as compared to the ASUS ZenBook UX425. Particularly, we saw that there was also a very big improvement in terms of memory performance, as the ZenBook Flip UX363 is now equipped with a faster LPDDR4X 3733MHz RAM.
On top of all the benefits, the best advantage that the ZenBook Flip 13 UX363 holds is its long battery life. Despite having a smaller battery capacity than the ZenBook 14 UX425, it was able to last longer on PCMark 10's Battery test. There is no doubt that you can fully utilize the ZenBook Flip 13 for the whole day on a single charge.
While there are improvements in gaming performance, the new Intel Irix Xe Graphics G7 is still not up to par. You will now be able to run simple games such as DOTA 2 on the ZenBook Flip 13 UX363, but its performance is still a far cry from what is adequate for 3D games.
In the end, it all boils down to if you can accept the imperfections which we've mentioned – (1) larger screen bezels than its predecessor and (2) awkward keyboard layout. If compute performance and all-day battery life is all what you care about, there's no doubt that the ASUS ZenBook Flip 13 UX363 will be adequate.