Taipei, Taiwan, September 10th, 2020 – GIGABYTE TECHNOLOGY Co. Ltd, a leading manufacturer of motherboards, graphics cards, and hardware solutions, today announced the whole new BRIX PRO compact commercial PC which adopts the latest AMD Ryzen™ Embedded V1000/ R1000 processors. Benefiting from AMD pioneering "Zen" CPU and "Vega" GPU architectures, the new BRIX PRO features the performance boost of processors and graphics cores. GIGABYTE's exclusive new chassis design integrates 4 independent HDMI outputs, dual Gigabit Ethernet, 802.11ac / BT4.2 wireless configuration, security encryption TPM IC, and 2x M.2 slots that allow the user to increase storage capacity, satisfying commercial or consumer multitasking purposes in a compact size.
AMD Ryzen™ embedded V1000 processors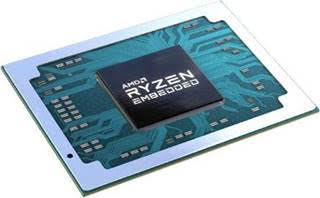 The latest AMD Ryzen™ embedded V1000 processors combine pioneering AMD "Zen" CPU and "Vega" GPU architectures which provide seamlessly integrated SoC (System on a Chip) solutions and a new standard for upcoming embedded design.
AMD Ryzen embedded V1000 SoC features discrete GPU level graphics card and multimedia processing ability up to 3.61 TFLOPS of computing, with 15W TDP design, bringing the effectiveness and the multi-functions of design to the next level for system designers.
Compact Size, Full Functionality


GIGABYTE introduces two new compact BRIX PRO with AMD Ryzen™ embedded V1605 / R1505 processors. The two-way design of portrait and landscape allows users a more flexible space allocation. With a VESA bracket, the system can easily hide behind the monitor to fit in stores or in the home. This special effort from the GIGABYTE R&D team allows the new BRIX to integrate comprehensive functions within its compact size. The dual GbE design paired 802.11ac wireless configuration reduces the risk of disconnection while increasing the flexibility of the network. The integrated TPM IC can provide hardware-level information security and system protection by avoiding data leak from decryption.
Up to 4 HDMI Outputs

Enhanced by the latest Vega graphics core, the new BRIX PRO compact PC offers 2x faster graphics transfer speed and clock speed compared to the previous generation, as well as 3x better graphics performance than other competitors. It not only improves the performance level of the discrete card, but supports up to 4 HDMI outputs with four 4K displays for the best monitor compatibility, which ensures users can display their outputs perfectly for more flexible monitor allocation and more fluent operation. Users can allocate monitors for multitasking according to their different usage without preparing multiple machines; even can further assemble monitors for ultra-wide screens of digital signage which makes BRIX PRO the supreme choice for high-performance PC and multimedia systems. Bundled with a VESA bracket, the GIGABYTE BRIX™ PRO can easily be mounted behind a monitor, fulfilling various applications in different fields of industry, commerce, or education.
GIGABYTE BRIX PRO compact PC also inherits GIGABYTE exclusive Ultra Durable technology, and passed strict verifications, providing users the best integration of ultimate performance, quality, and multi-function. GB-BSRE-1605 and GB-BSRE-1505 are now ready for shipment, and will soon be available in the market and online stores.
For more details, please visit the official GIGABYTE motherboard website: https://www.gigabyte.com/tw/Mini-PcBarebone/BRIX
For more information and news on GIGABYTE products, please visit: http://www.gigabyte.com
* GB-BSRE-1605 features four outputs, GB-BSRE-1505 features three outputs