A Google's Pixel smartphone is the epitome of the Android mobile operating system experience. This encompasses all the latest features of Android, and is delivered in its true form to users. However, flagship Google Pixel smartphones don't usually come cheap.
Currently, the flagship Google Pixel 4 and Google Pixel 4 XL smartphones retails in Singapore at a price of S$1,119 and S$1,319 respectively. This price tag may be too high for some consumers to even consider this phone, let alone wanting to enjoy a full Android experience that it's meant to be.
Thankfully, Google just announced their latest Google Pixel 4a smartphone earlier this month, which is a more affordable option to the Pixel 4 series. The Google Pixel 4A is priced at S$499, which is probably a price which many consumers can now swallow. Moreover, as most of the features are retained in the Google Pixel 4a, it is seen as one of the smartphones which provides the most value to its customers at this price point. The Google Pixel 4a does stands out in the crowd of sub S$500 smartphones.
In this review, we are going to take a closer look at the Google Pixel 4a, and see if it's any good and it's worth your hard-earned S$500.
Google Pixel 4a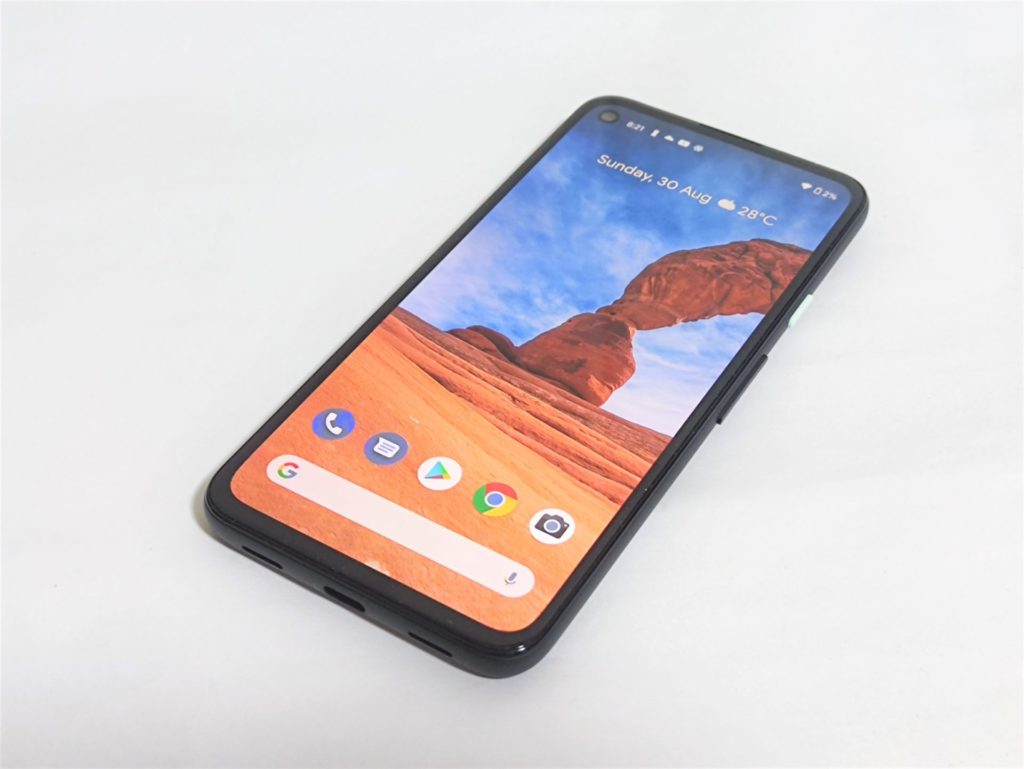 The Google Pixel 4a is equipped with the latest Android 10 and all of its latest features. If you would like to find out the key area of Android 10, here's 10 things to know about Android 10.
Comparing between the Google Pixel 4a and Google Pixel 4, you would also realize that both smartphones are are almost of the same size. The latter is only slightly larger than the former, but we won't be expecting too much of a difference when actually using them.
Other than that, the Google Pixel 4a is just performance stripped down version of the Pixel 4. It uses a mainstream Qualcomm Snapdragon 730G and Adreno 618 GPU chipset, rather than the high-end Qualcomm Snapdragon 855 and Adreno 640 GPU chipset. We can expect that the Pixel 4a will perform worse than the Pixel 4 in compute and graphics intensive applications, but day-to-day simple applications will still remain to be very smooth. Therefore, there's really no worries that your Pixel 4a will lag while you are browsing the web, using social media applications or using communications apps. It will function smoothly just like its higher-end models.
Also, with a cheaper price-tag, Google had to also remove the premium 90Hz refresh rate display, the 16MP telephoto lens, wireless charging and official IP rating. The advantage is that the Pixel 4a has an even higher battery capacity than its big brother, coming in at 3,140mAh, as opposed to 2,800mAh.
The full difference in specifications are shown below:
 
Google Pixel 4a
Google Pixel 4
Display
5.81-inch OLED
2,340 x 1,080 resolution
19.5:9 aspect ratio
Gorilla Glass 3
5.7-inch P-OLED
2,280 x 1,080 resolution
19.9:9 aspect ratio
Gorilla Glass 5
90Hz refresh rate
Processor
Qualcomm Snapdragon 730G
Adreno 618 GPU
Qualcomm Snapdragon 855
Adreno 640 GPU
RAM
6GB RAM
6GB RAM
Storage
128GB
No microSD slot
64GB/128GB
No microSD slot
Cameras
Rear:
12.2MP, f/1.7
OIS + EIS
Front:
8MP, f/2.0
Rear:
12.2MP, f/1.7 + 16MP telephoto f/2.4
OIS
Front:
8MP, f/2.0
Battery
3,140mAh
18W fast charging
No wireless charging
2,800mAh
18W fast charging
Qi wireless
IP Rating
No IP rating
IP68
Software
Android 10
Android 10
Colors
Just Black
Just Black, Clearly White, Oh So Orange
Dimensions and weight
144 x 69.4 x 8.2mm
143g
147.1 x 68.8 x 8.2mm
162g
Sample Camera shots
We will be comparing the photos captured by the Pixel 4a and Pixel 3.
Both smartphones were able to provide similar photo quality, despite some difference they performed when reacting to different types of scenes. Nonetheless, if you thought that the Pixel 4a, being a mid-tier smartphone, will perform worse when capturing photos, you are wrong. The photos taken from the Pixel 4a are more than decent, and definitely performing on par, if not better than the Pixel 3.
Usage Experience
The Google Pixel 4a relies on Android 10's gesture-based interaction for operation. While it could take some time for users to get used to the new mode of operation, especially if they are already used to the more traditional button-based iteration. However, once you get a hang of it, you will enjoy the smoothness and responsiveness of using the Google Pixel 4a. We were already used to the same navigation style from the Google Pixel 3 which we've tested previously, so using the Pixel 4a wasn't too much of an issue.
Honestly speaking, the Google Pixel 4a blew me away with its high-quality OLED display and superb sounding speakers. Watching movies and YouTube videos off this device was simply pleasurable – something which no other smartphones in the market that I've tested to date can come in. I attribute this to the dual stereo speakers, which gave movies an extra depth in its presentation. The speakers performed extremely well with very good range – There was discern clarity and impact in the bass, while ensuring that mid-range vocals remained in the foreground. I'm just surprised at the quality of speakers you can fit into such a small device.
Other smartphones manufacturers should be ashamed of themselves. The speakers on the Google Pixel 4a should set the new standard for flagship smartphones. (I haven't tested the Pixel 4, and am unable to comment if it had the same speakers).
Performance and Benchmarks

No doubt, the Pixel 4a isn't the fastest performing smartphone in the market. It comes nothing to close to flagships, but is still able to achieve a decent score on the 3DMark Slingshot Extreme test, showing its capability to play some simple games.

As for the PCMark Work 2.0 Performance test, we can see that the gaps between the three smartphones are far closer than what we would expect. This means that while you are using the smartphone for usual work, such as social media browsing, web browsing, creating emails or using instant messaging, you would probably notice any much difference.

Interestingly, the Google Pixel 4a's Snapdragon 730G single core capability is even better than the Pixel 3's Snapdragon 845. As the former is manufactured based on an 8nm process and 10nm on the latter, we can expect that the Snapdragon 730G perform more efficiently and faster. Even though both CPUs have 8 cores each, the Snapdragon 845 has 4 efficient cores + 4 high performance cores, as compared to 6 efficient cores + 2 higher performance cores on the Snapdragon 730G. This results in the Pixel 3 to perform better in the Multi-Core test.

Even though both Pixel phones uses the UFS 2.1 standard storage, we can see that the Pixel 4a performs better in most of the storage test.

Moreover, being a new processor in the market, the newer Snapdragon 730G found on the Google Pixel 4a also houses improved AI processing capabilities. AI processing is only becoming more relevant in recent years, and there is no wonder that the Pixel 4a has an advantage in this area.

One of the best improvements made to the Pixel 4a and Pixel 4 series is battery life. By running the Pixel 4a on the PCMark Work 2.0 battery life test, we managed to achieve a good battery life of 12hours 49 minutes. This means that this phone is more than capable to last you for the whole day.
Conclusion
The Google Pixel 4a checks many of the boxes when you are choosing a new smartphone. It performs fairly well, has decent battery life and its camera performance is above average. What I really loved about this phone is excellent stereo speakers, which really made a huge difference when it comes to consuming media content on it.
There is no doubt that the Google Pixel 4a is a serious contender in the mainstream smartphone segment. Being a smartphone that only comes in at S$499 from Google, the Pixel 4a is definitely the smartphone of choice for those who wants the Pixel 4, but cannot afford it.
While everything may seem good, there will be certainly some areas which could break the deal. For example, as I require the Dual-SIM feature (a personal line and a work line), the Pixel 4a simply can't fit my needs (unless you work with a telco who is able to provision eSIM). Furthermore, if you are looking playing power-hungry 3D games, the Snapdragon 730G probably wouldn't run them as smoothly as expected.
But at this price point, there's really nothing much else we can complain. Regardless, we will definitely recommend this phone to anyone who wants a new smartphone as their day to day driver.