4th November 2019 -AFTERSHOCK PC announces, "Powered By Asus" Collaboration with ASUS, a partnership that will result in wind range collaborative custom pc products powered by the ASUS ROG and TUF ecosystem of products.
"At AFTERSHOCK, we're big fans of the quality and sheer attention to detail that comes with ASUS's high end motherboard and graphics card range, and we feel that a deeper collaboration can allow for more premium custom pc configurations to further benefit our customers with irresistible packages" – CEO AFTERSHOCK PC, Marcus Wee
"Powered by ASUS is about perfection, that includes our premium partners that are able to create dream PCs for their clients. We believe this is what makes the Powered by ASUS systems unique. Our pursue for perfection is proven by the 3000+ awards we receive worldwide annually. Together with AFTERSHOCK, we will create the most incredible systems in the market, using award-winning quality components."– ASUS Country Manager, Desmond Soh
The collaboration will result in a range of "powered by ASUS" custom pcs where clients will be able to configure full pcs built on the ASUS ecosystem of motherboards, graphics cards and more. These systems will be designed from the ground up premium prebuild pcs, and customers will be able to get full ecosystem packages at attractive price points.
We're kicking off this partnership with the launch two Unique Desktop custom pcs, the AFTERSHOCK FLOW and SHADOW our first custom pcs featuring the ASUS ecosystem of components.
INTRODUCING OUR FIRST POWERED BY ASUS Custom PC
The AFTERSHOCK FLOW – Powered By ASUS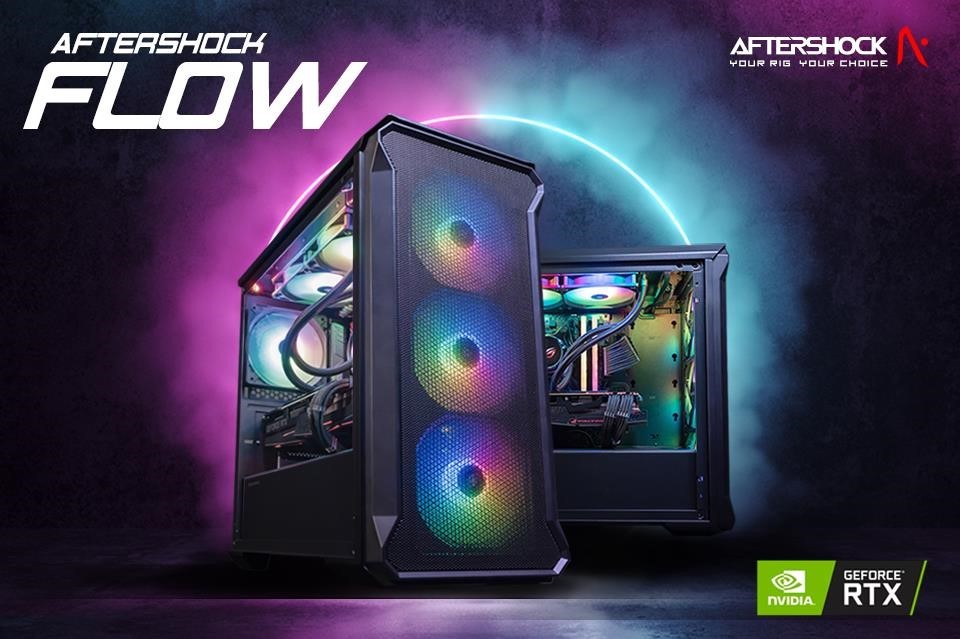 Introducing the AFTERSHOCK FLOW custom PC, the newest edition to our high-performance system range, powered by ASUS. Featuring our stealth black micro mesh chassis and our Zero Frame tempered glass design, the flow delivers supreme performance with potent thermal performance.
We've worked hand in hand with ASUS to bring you the full might of the ASUS ROG ecosystem in conjunction with the FLOW, from STRIX ROG graphics cards to Water-cooling and even ASUS ROG displays at unbeatable price-points when configured with the FLOW. Even base spec FLOW custom builds come with ASUS gaming grade motherboards for performance and quality in even the most intense gaming scenarios.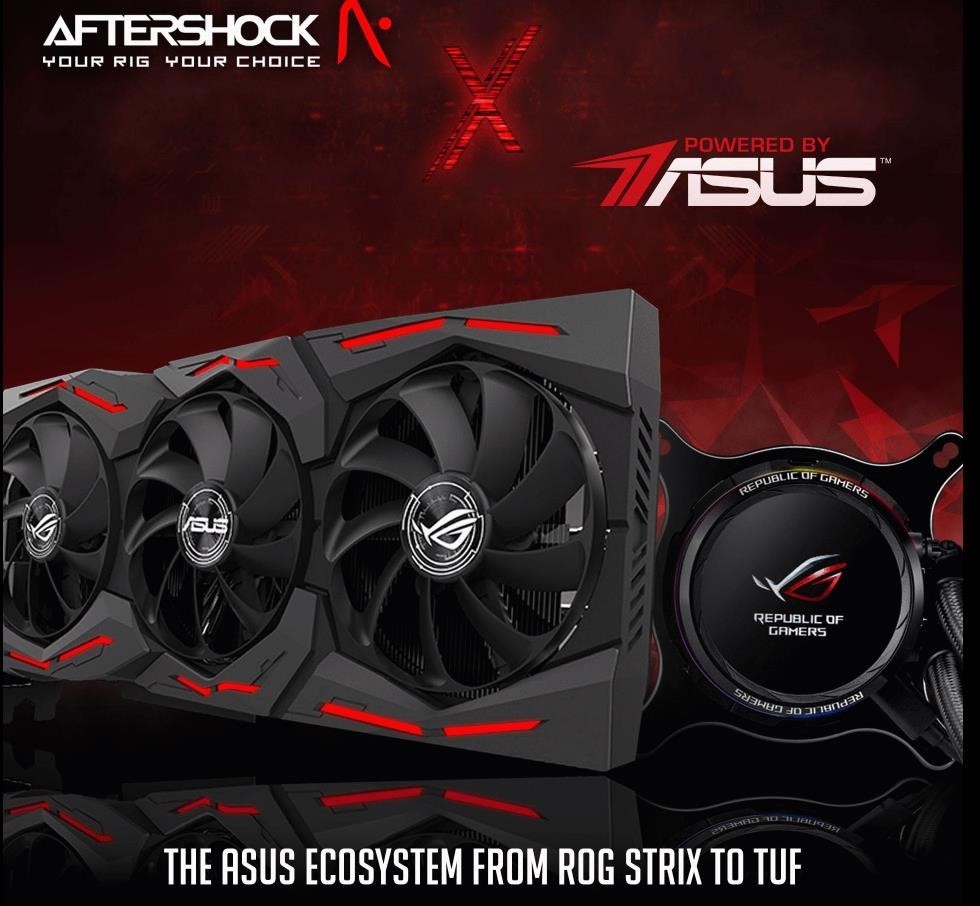 Enjoy Award-winning Asus Premium performance with ASUS's range of motherboards, graphics cards, water-coolers and even monitors. This collaboration will bring you a carefully curated range of award winning components from ASUS in an unbeatable package!


The AFTERSHOCK SHADOW – OUR FIRST LOW NOISE SILENT GAMING PC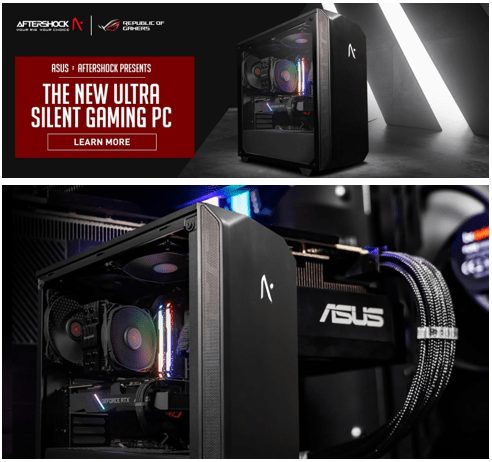 Introducing the AFTERSHOCK SHADOW. Our first custom PC with an emphasis on low noise output, even under heavy loads. The Shadow features a German designed chassis from Bequiet, with noise insulation features and ultrasilent fan technology for a high performance system that remains silent while looking and feeling premium. The Shadow will be our first premium tier ATX desktop range to feature ASUS motherboards as it's main configuration options, and we're looking forward to delivering a complete high end PC experience with the SHADOW in partnership with ASUS
About AFTERSHOCK PC
AFTERSHOCK PC is a team of hardware junkies, avid gamers and IT professionals with the sole goal of providing customized high-performance systems. From assembling to testing, AFTERSHOCK PC will be there to ensure that you get the system you love.
Every system built is tweaked, tested, benchmarked to ensure top performance and we aim to deliver the best custom notebook solutions experience in Singapore. AFTERSHOCK PC knows that seeing IS believing, that is why users are encouraged to come down to the AFTERSHOCK PC Gaming Hub, a unique gaming showroom at 996 Bendemeer road Singapore. Visitor will be able to test their custom build's performance with the latest applications at AFTERSHOCK PC's unique hybrid showroom.
More information about AFTERSHOCK PC and its products is available at http://www.aftershockpc.com.