SINGAPORE, OCTOBER 23, 2019 – HUAWEI Mobile Services (HMS) held its first Developer Day in Singapore today to showcase its wide range of open technical capabilities and intelligence services that support the HMS Ecosystem. Over 110 top mobile app developers in Singapore have participated in this event to learn about integrating into HMS Core services.
HMS is available globally with a variety of services such as the HUAWEI ID, Mobile Cloud, AppGallery, Themes, and HUAWEI Assistant. As of September 2019, HMS has recorded more than 570 million users across 170 countries.
"The growth of the HMS ecosystem is attributed to the valued participation by mobile app developers in the market. To date, HMS has successfully attracted 1.07 million registered developers around the globe. We see the significance of app developers, and are looking forward to forming global collaborations in building a fully-connected mobile ecosystem that benefits HUAWEI device users," said Shan Xuefeng, Director of HUAWEI Mobile Services Asia Pacific.
HMS has opened additional developer resources to facilitate the growth of its ecosystem, which includes full access to 24 HMS Core services. This will help developers ease the app integration process, and speed up the pace of innovation.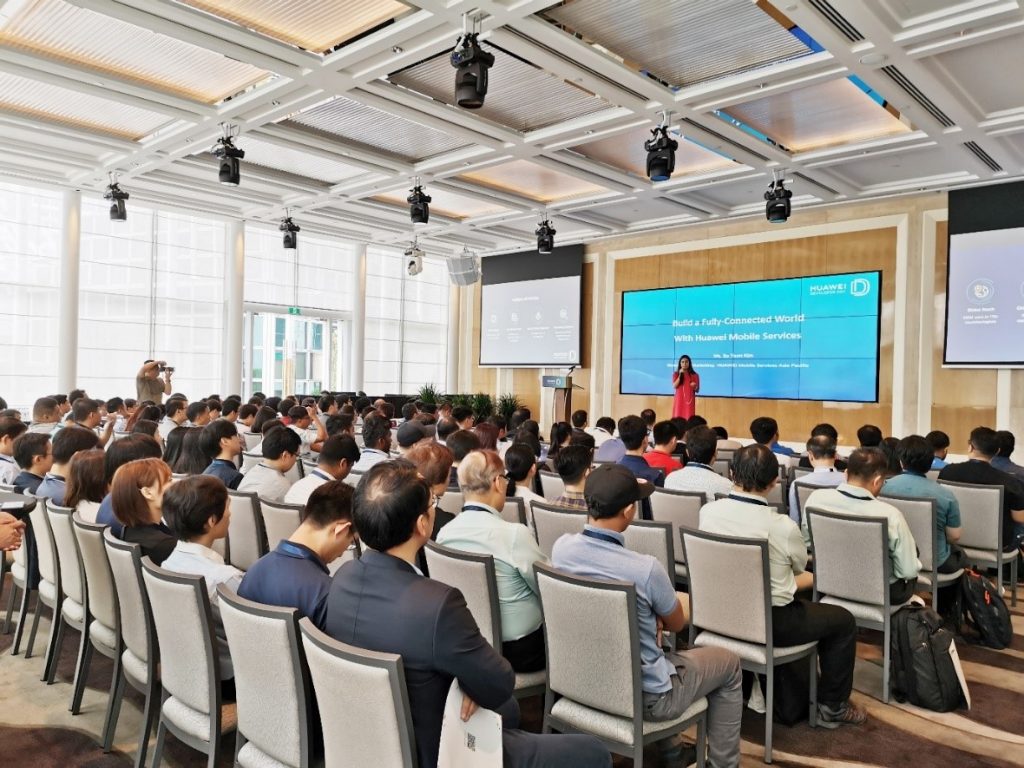 HMS Core Provides a Full-Scenario Intelligent Assistance
At the event, the company introduced the HMS Core kits – a collection of software development frameworks that help create a version of the app that is compatible with HUAWEI devices. These kits enable developers to accelerate the app development process at a lower cost, yet provides an improved user experience.
Among the HMS Core kits that highlighted in the event are:
Account Kit: The Account Kit allows device users access to multiple HUAWEI devices and terminals with a single HUAWEI ID. The HMS Account Kit complies with data security requirements with data encryption and verification mechanisms. The developers can bind their apps with a HUAWEI ID and effectively connect to more than 500 million users globally.
The In-app-purchase (IAP) Kit: The IAP Kit integrates both local and global payment methods such as PayPal, Visa, Master and local third-party payments. It is now available in over 140 countries and supports 60 languages to boost for app monetisation
Push Kit:This system notification service helps developers to reach out to millions of users at a time. It notifies targeted users with the latest products and events, and helps increase daily active users by reminding them about specific apps.
Map Kit: The Map Kit is newly opened to global developers starting this month. Covering 150 countries and more than 40 languages, it helps app developers integrate mapping and navigation functionality into their apps.
Location Kit: The Location Kit uses a hybrid positioning mode that combines GPS, WiFi, Bluetooth and base station. It enables the app to obtain user locations quickly and accurately.
Other HMS Core services available for developers are Ads Kit, Analytics Kit, Awareness Kit, Drive Kit, Game Services, Message Kit, Scan Kit, Wallet Kit and more.
Future Plans for HMS
HMS will continue to strengthen its engagement with mobile app developers to bring in high-quality apps for HUAWEI device users. As a continuous effort, HMS is planning to carry out more HUAWEI Developer Day events to connect passionate mobile app developers with the latest intelligent services.
Huawei will also invest a total of USD 1 billion in the Shining-Star Program 2.0 to support mobile app developers around the world. Developers who are eligible for the programme will be given priority to access HUAWEI's new open capabilities and receive support in marketing their services and products.
Additionally, the DigiX Lab in Singapore is scheduled to be launched in 2020. This laboratory will be equipped with HMS Core, AR, VR, AI, Camera Kit, Ability Gallery and other open technological capabilities for mobile app developers to test their services remotely.