Last year, ASUS first introduced the idea of their ScreenPad display design for the Zenbook notebooks. The ScreenPad is a touch screen display that replaces the standard trackpad, while still functioning as a trackpad. With an interactive display, of course, there are a lot more things you can do with it. You can use it for music controls, have quick access keys, etc. Riding on the innovative ScreenPad design, ASUS also announced the new ScreenPad 2.0 at COMPUTEX this year. Together with the announcement, they launched the new ZenBook Pro Duo, a new notebook computer with a full-width 4K ScreenPad.
While it may look outrageous on first look, the new ScreenPad on the ZenBook Pro Duo actually functions more like an additional display than just a trackpad, which it was initially meant to replace. This is also why the trackpad is still available on the new laptop. Not to mention, it might be unconventional and odd to have another display on a notebook computer just above the keyboard. While we have many concerns regarding this new design, ASUS was confident that this new innovative product will be very useful for professionals.
In this review, we are going to take a closer look at the ASUS ZenBook Pro Duo, and find out if it's more of a innovation or backwards in usability.
Specifications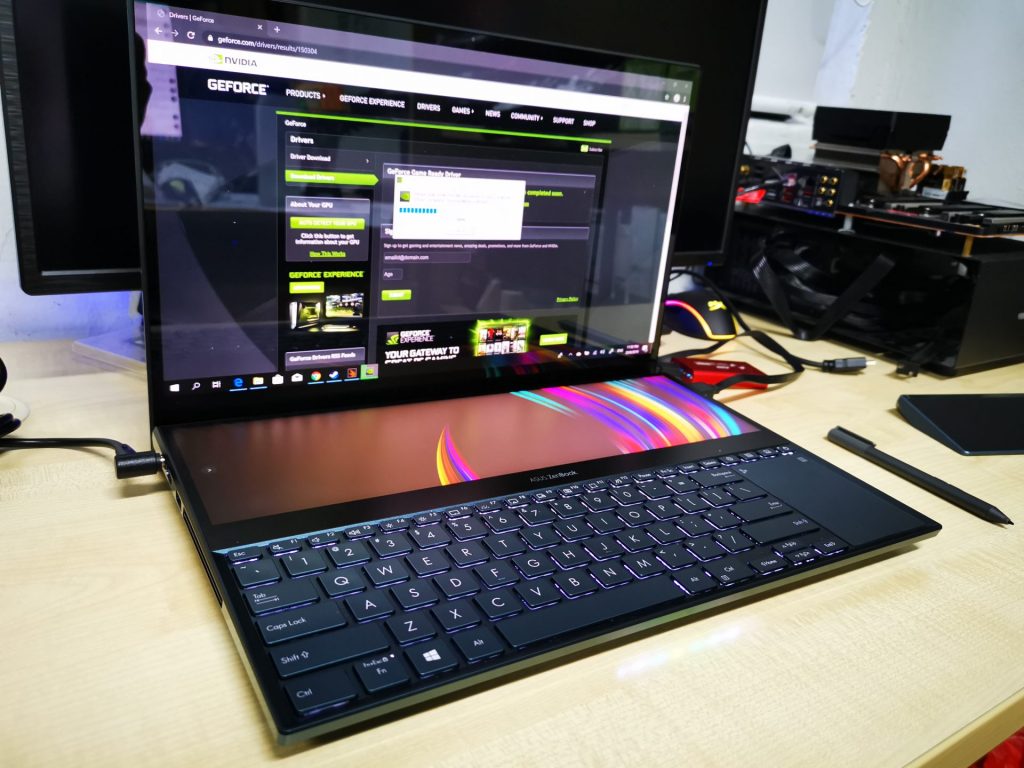 ASUS specifically mentioned that the ASUS Zenbook Pro Duo is developed with content creators in mind. As such, the hardware components are selected based on those needs as well. Unlike usual gaming computers which requires a top of the line graphics card, ASUS went ahead with the RTX 2060 instead.
This is decent enough for most productivity and content creation workloads. The RTX 2060 supports accelerated ray tracing libraries that are supported in some software in the market. Moreover, this dedicated graphics card also brings about CUDA support, which software developers and data analysts will love – taking advantage of CUDA for deep learning and other applications.
Trading off a high end GeForce RTX graphics card with a RTX 2060, ASUS was able to include a top of the line Intel Core i9-9980HK into the ASUS Zenbook Pro Duo. This octa-core processor will be suitable for productivity applications which are multi-threaded, providing much needed parallelism from the processor.
The rest of the specifications of the ASUS Zenbook Pro Duo are as below:
Specifications
Details
Model
ASUS Zenbook Pro Duo UX581
CPU
Intel Core i9-9980HK
GPU
NVIDIA GeForce RTX 2060 GDDR6 6GB
OS
Windows 10 Pro
Display
Main – 15.6" OLED UHD display ( 3840 x 2160)
ScreenPad Plus – OLED UHD display (1920 x 2160)
System Memory
32GB DDR4 2666MHz
Storage
1TB PCIe SSD
Network
Intel Wi-Fi 6 (802.11ax), Bluetooth 5.0
Dimensions
35.9 x 24.6 x 2.4cm; W x D x H
Weight
~2.5KG

On the left of the device, we spot the power jack, a full-sized HDMI port and a USB 3.0 port.

On the right, there is a USB Type-C thunderbolt port, followed by an Audio combo jack and another USB 3.0 port.
It seems that ASUS had to do away with more input output ports because of the technological complexity if the new ScreenPad design. Because of the need to also keep the display and the rest of the components cool, they had to include a better cooling system into the Zenbook Pro Duo, taking up precious real estate for a more comprehensive set of I/O ports. Additionally, one of the largest mistakes they have made was that they excluded a SD card slot. For creative professionals, omissions like this could really kill the deal, despite the innovation that comes with an additional secondary display.
In our opinion, ASUS must still get the basics right. Else, regardless of whatever kind of innovation you create, these flaws will deter people from getting their hands on the product.
Design
The ASUS Zenbook Pro Duo has a typical Zenbook premium look and feel to it. However, unlike usual Zenbook devices, the Zenbook Pro Duo is much heavier than expected. It comes at a weight of about 2.5KG, which in today's standard, is heavier than notebooks in the same class. For example, the Gigabyte AERO 15 OLED XA only weighs 2.1KG with similar specifications (just that it doesn't come with an additional screen).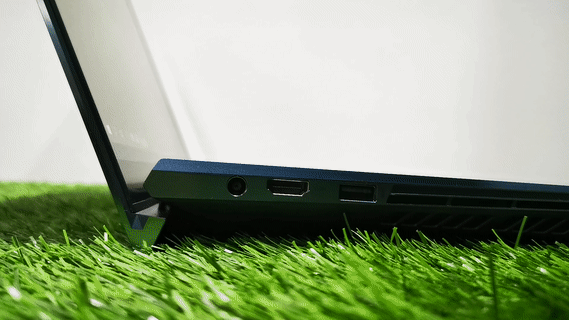 Inherited from the first generation ASUS ROG Zephyrus design, the Zenbook Pro Duo also comes with an ErgoLift hinge design. When opening up the notebook, the keyboard will be slightly lifted and tilted at an angle for better ergonomics. Furthermore, the extra empty space created below the notebook also provides it with better airflow from the better for more efficient cooling.
Speaking about unconventional design, ASUS had to push the keyboard of the unit down to the bottom of the lower half of the notebook in order to fit the ScreenPad Plus. However odd it might seem, I felt that having the keyboard flushed to the bottom of the device was not that bad of a design. It felt a lot more natural, as if typing on an external keyboard. Moreover, the keys are also spaced evenly, and it was convenient for me to get used to the keyboard quickly.
If you prefer to rest your palm on the palm rest like most conventional laptop designs, ASUS has sweetened the deal by including a separate palm rest. This makes the typing experience even better, as your palms won't feel as strained and feel fatigue over a period of time.
The ASUS Zenbook Pro Duo also comes with an ASUS Stylus in the box. Both the main OLED 4K display and secondary ScreenPad Plus are touch screens and they also support the ASUS stylus.
User Experience – ScreenPad Plus : Does it really work?
After our time testing the ASUS Zenbook Pro Duo, we felt that the pros do not outweigh the cons in this new design. Here's our experience.
Pros
1) An extra screen increases productivity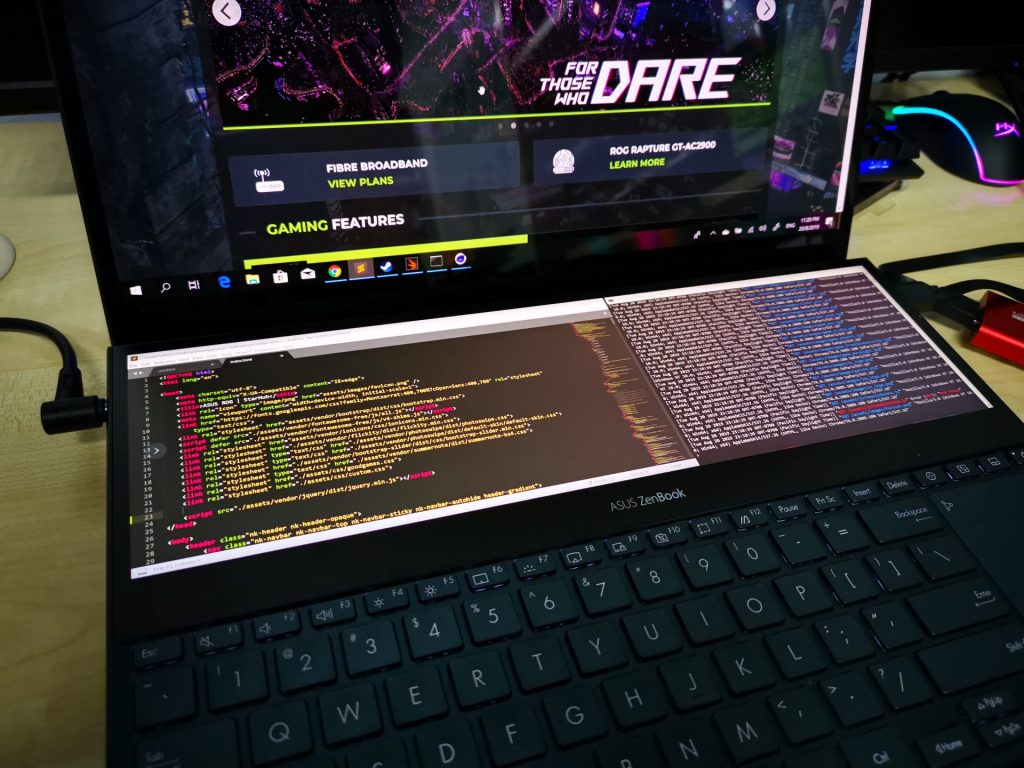 Having an extra display brings a lot of convenience to productivity work. As software developers, we can make use of ScreenPad Plus to show our codes and terminal window while using the main screen to show previews. The whole device makes software development a lot more convenient. To achieve the same result, we usually have to use an external monitor to extend our display. I have also seem friends who are content creators make good use of such a new design. They were able to put either their assets or timeline on the ScreenPad plus, and then have the whole of the main 4K display for previews and edits. It's really quite useful for different kinds of professional work.
2) Quick Access buttons are convenient
The ScreenPad Plus also comes with a built in quick-access page. This allows users to quick launch recently used apps, or change settings on the ScreenPad Plus. It makes working with the ScreenPad Plus more convenient.
Cons
Despite the advantages that comes with this design, there are many quirks that we faced.
1) Unnatural to view screens at a different angle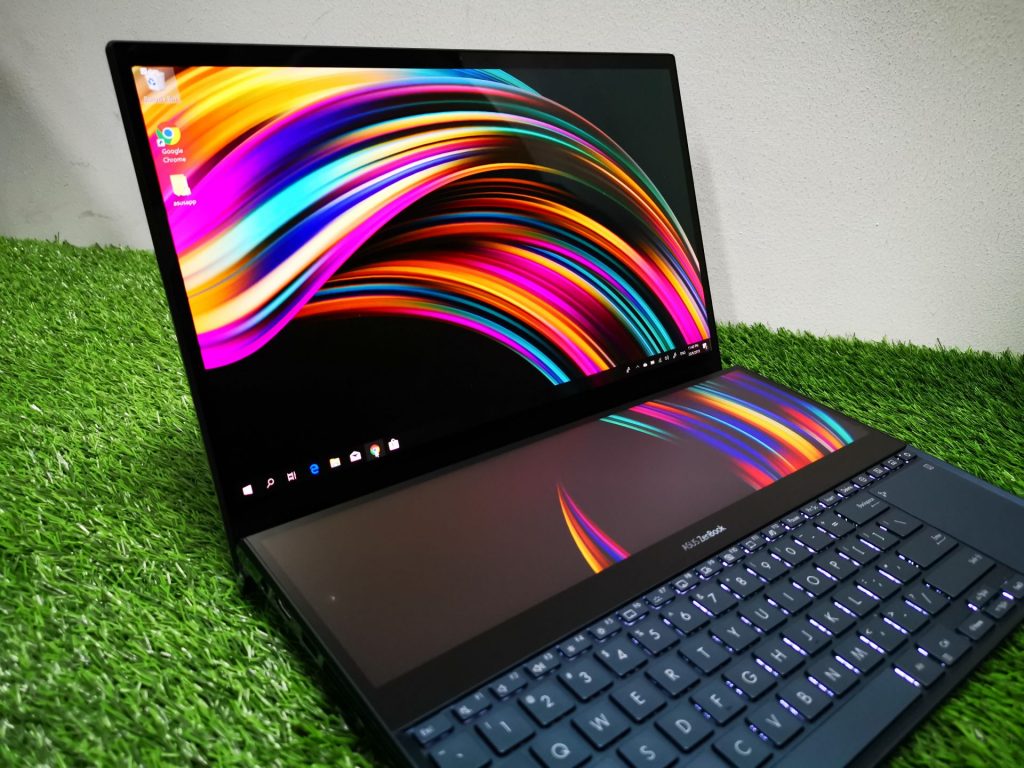 Usually, when having a multi-screen setup, we will place the screens side by side. It's a lot easier to look at various displays and focus on content just by turning your head left and right.The inclusion of the ScreenPad Plus at the bottom of the main screen also means that users will have to move their head up and down to view different content from their project. It felt a lot more unnatural, especially when the displays are placed at a different angle, each about 90 degrees away from other. It has also caused additional strain and slowdowns when trying to focus on the content between the two screens.
Moreover, as the ScreenPad Plus is placed above the keyboard, we had to shift our heads directly above the screen in order to have a clearer view of what is going on. In terms of usability, it's definitely not as great as it seems to be.
2) Support for Stylus input is half baked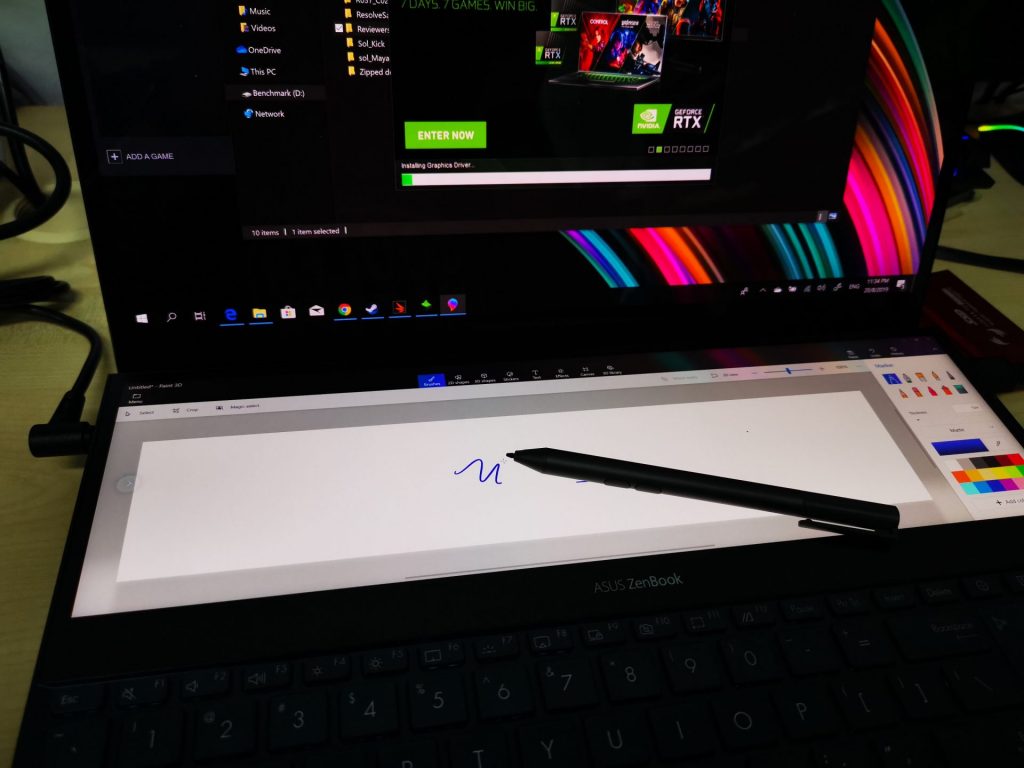 ASUS included the support for Stylus input on the Zenbook Pro Duo device. Even though this added on feature is welcomed, it's not a good experience. For example, when trying to write on the ScreenPad Plus, our arms will definitely be pressed against the keyboard, causing unintended pressing of keys. ASUS included the disabling of the keyboard using the ScreenPad Plus quick access buttons, but they forgot that most of the times, creative professionals need both the keyboard and the stylus input at the same time.Now, instead of quickly undoing what I have just wrote with the stylus with Ctrl-Z shortcut, I have to literally move my whole arm to the undo button found usually on the top left side of the screen.
Perhaps it's just me, but I have never thought that stylus support on a main display (other than a tablet device) is a good idea. The placement of the screen, which is perpendicular to a table top, is simply not a comfortable angle to write on.
3) Extra display consumes extra power – lowers battery life per charge.
Based on our tests, the ASUS Zenbook Pro Duo lasted about 4 hours while working on it. As a mobile workstation, we hoped that this machine could lasted longer. Most definitely, the additional ScreenPad Plus has to consume quite a bit more power than with conventional laptops. Perhaps, users will prefer a longer battery life than having an additional display.
4) Contributes to the notebook's weight and bulk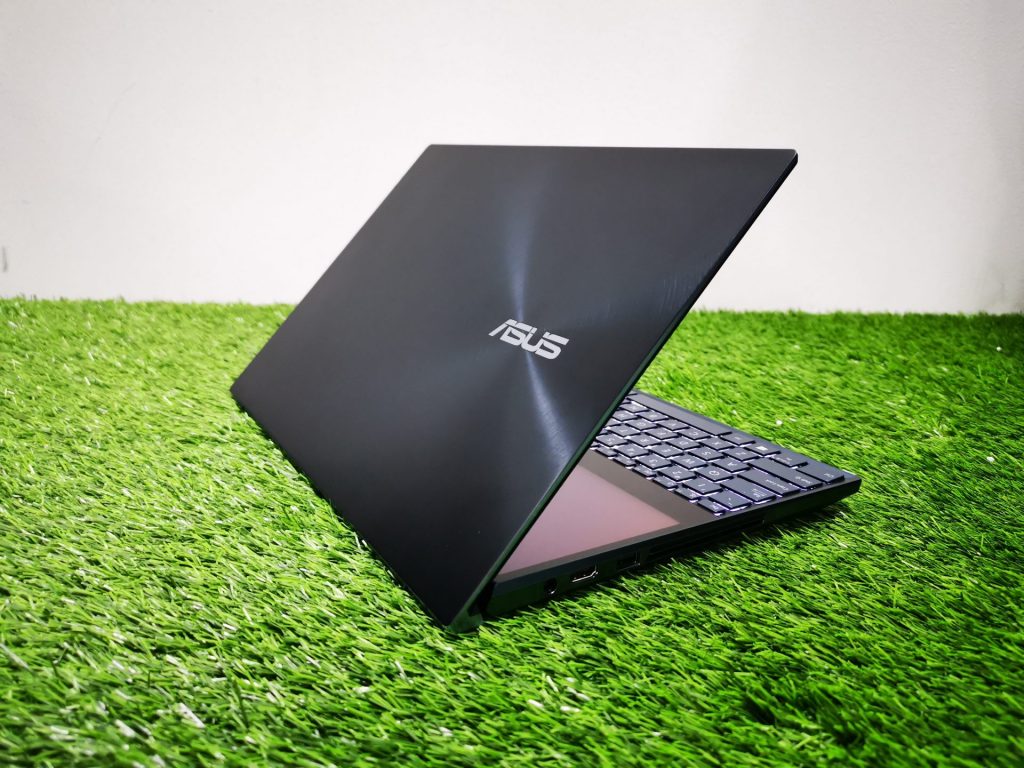 As mentioned, the inclusion of the ScreenPad Plus has added quite a bit of weight bulk to the whole device. This notebook weighs heavier than most notebooks in the same class, and just doesn't seem as portable as it should be.
Conclusion
ASUS was bold to integrate a second display to a notebook computer to change the way we look at what notebook computers are today. However, the design and execution of the ASUS Zenbook Pro Duo have a lot to improve. It's a great innovative step forward, but several small steps back. It would have been better if they focused more on the basics of what a notebook computer should be.
Allow me to be blatantly honest, I just can't recommend this notebook to anyone but collectors. If I was someone who wants productivity on the go, I would have just purchased an USB external monitor. The ASUS Zenbook Pro Duo wants to be a jack of all trades, but this move does come at a cost. Perhaps, this might be the most pretentious laptops of 2019.
Retailing at a price of S$4998, I'm pretty sure that you can find a better notebook computer out there… Or perhaps even two.