KEY POINTS
Power, cooling and connectivity: Engineered with 8+2 teamed power stages, and an active VRM and chipset heatsink, plus both Wi-Fi 6 and PCIe 4.0
ROG Crosshair VIII Impact: Impact joins Crosshair range, a mini motherboard with mighty ATX-grade overclocking design elements and features
ROG Strix X570-I Gaming: Mini-ITX board packed with cooling and DIY-friendly features, including AIO pump header alongside and easy-access M.2 slots 
Singapore, September 16, 2019 — ASUS Republic of Gamers (ROG) today announced the arrival of the much-anticipated ROG small-form-factor (SFF) motherboards: ROG Crosshair VIII Impact and ROG Strix X570-I Gaming. These all-new ROG SFF boards have been meticulously tuned to create no-compromise X570 motherboards that treat users to the full-on ROG experience in a small package.
Crosshair VIII Impact and Strix X570-I Gaming are aimed at two distinctly different types of user. The Crosshair VIII series heralds the arrival of Impact, the compact motherboard with colossal potential — and a tantalizing prospect for those who want to push the limit of the latest Ryzen 3000 CPUs and memory. ROG Strix X570-I Gaming, by contrast, is for gamers looking to build an exceptional Mini-ITX gaming system, replete with all the essential ROG features, performance and overclocking prowess.
Both new motherboards are engineered to maximize performance from high-core-count (HCC) Ryzen 3000-series CPUs, while staying cool with an active voltage-regulator module (VRM) and chipset heatsink — enabling performance junkies and gamers to embrace serious power in a small form.
Power design that bucks the trend
HCC processors need reliable power delivery, minimal latency and accurate timing. Crosshair VIII Impact and Strix X570-I Gaming feature the latest VRM architecture with teamed Infineon TDA21472 power stages that rapidly swing current, while maintaining exemplary thermal performance. Sitting at the top of their lineup, the Infineon TDA21472 power stage features a low RDSON to reduce switching and conduction losses, improving overall thermal headroom. Both motherboards feature an 8+2 power-stage design, able to handle up to 70 amps.
Active VRM and chipset combo heatsink
In an SFF build with an HCC processor at its heart, reliable, high-efficiency cooling is essential to prevent performance-sapping throttling. Both Crosshair VIII Impact and Strix X570-I Gaming feature beefy heatsinks, plus two custom Delta Superflo fans rated to last more than 60,000 hours — amounting to very many years of continuous real-world use. Though featuring different designs to reflect and accommodate the different layouts of the two motherboards, both are specifically configured to cool the VRM and chipset efficiently and consistently.
Dual PCIe 4.0 M.2 and Wi-Fi 6, built right in
The new Ryzen 3000-series processors are designed to pair with the X570 chipset — the first desktop chipset to put next-generation PCI Express 4.0 connectivity at consumers' disposal. Crosshair VIII Impact and Strix X570-I Gaming both have PCIe x16 and M.2 slots that are wired with PCIe 4.0, opening a whole new world of high-performance graphics card and NVMe drive without the worry of bandwidth constraints. Both boards also support the latest Wi-Fi 6 (802.11ax) protocol and can broadcast blazing-fast wireless signals at up to 2402Mbps (2.4Gbps).
ROG Crosshair VIII Impact: Mini powerhouse packing mighty ATX-size payloads
As the first Impact in the longstanding ROG Crosshair series, Crosshair VIII Impact is a compact powerhouse based on the Mini-DTX form factor that maintains compatibility with most Mini-ITX cases. Being marginally taller than Mini-ITX allows Impact to exploit this extra headroom, allowing ROG engineers to dedicate more space to the VRM and cooling design.
Crosshair VIII Impact features an array of 8+2 strategically paired TDA21472 power stages, each rated to handle 70 amps. To keep it cool, the motherboard includes a unique, single-body, actively cooled VRM and chipset-heatsink combo, with dual custom Delta Superflo fans. A high-efficiency copper heatpipe channels heat away from the VRM to a full-size aluminum backplate, spreading heat quickly and evenly, compensating for limited airflow in smaller chassis. Impact also includes two dedicated headers for radiator fans, along with headers for monitoring coolant flow and temperature.
While the large VRM and cooling array eat up a lot of real estate, Impact stacks up storage, audio and control features onto innovative vertical daughter boards, leaving us spare room onboard to add more connectivity and engineer features normally found on ATX boards into a small-form-factor (SFF) footprint.
For superior storage speed, Crosshair VIII Impact comes with a bundled expansion card with heatsink that allows two M.2 drives to be connected via a SO-DIMM interface and helps control SSD thermals for maximum performance.
Crosshair VIII Impact also benefits from OptiMem III, with proprietary memory-trace layout tweaks that improve signal integrity and mitigate noise — allowing memory kits to run at lower latencies, reduced voltages, and operate at higher frequencies.
For high-quality audio, Crosshair VII Impact comes with SupremeFX and an ESS® ES9023P DAC on an interference-reducing dedicated card, plus ROG Sonic Studio III for immersive surround sound. The motherboard also offers many DIY-friendly features, including a pre-mounted I/O shield, BIOS Flashback and angled SATA connectors.
As a final flourish, Crosshair VIII Impact even includes a dedicated header for a USB 3.2 Gen 2 front-panel connectors — offering users easy access to future-proof USB Type-C™ (USB-C™) connectivity and the joy of up to 10Gbps transfer speeds.
ROG Strix X570-I Gaming: Cooling design
Like Crosshair VIII Impact, Strix X570-I Gaming's SFF design does not comprise on the cooling design, so it's ready for users to fully exploit the latest-generation HCC processors in a small package. The board includes chipset-heatsink heat pipe to conduct toward the fans, where it can be actively cooled. The VRM hosts a beefy heatsink that absorbs virtually all the heat, paired with a downward-force fan to rapidly dissipate the heat.
Tiny systems do not usually offer a ton of cooling, but Strix X570-I Gaming manages to squeeze in an AIO pump header alongside the chassis-fan header.
ROG Strix X570-I Gaming: DIY-friendly features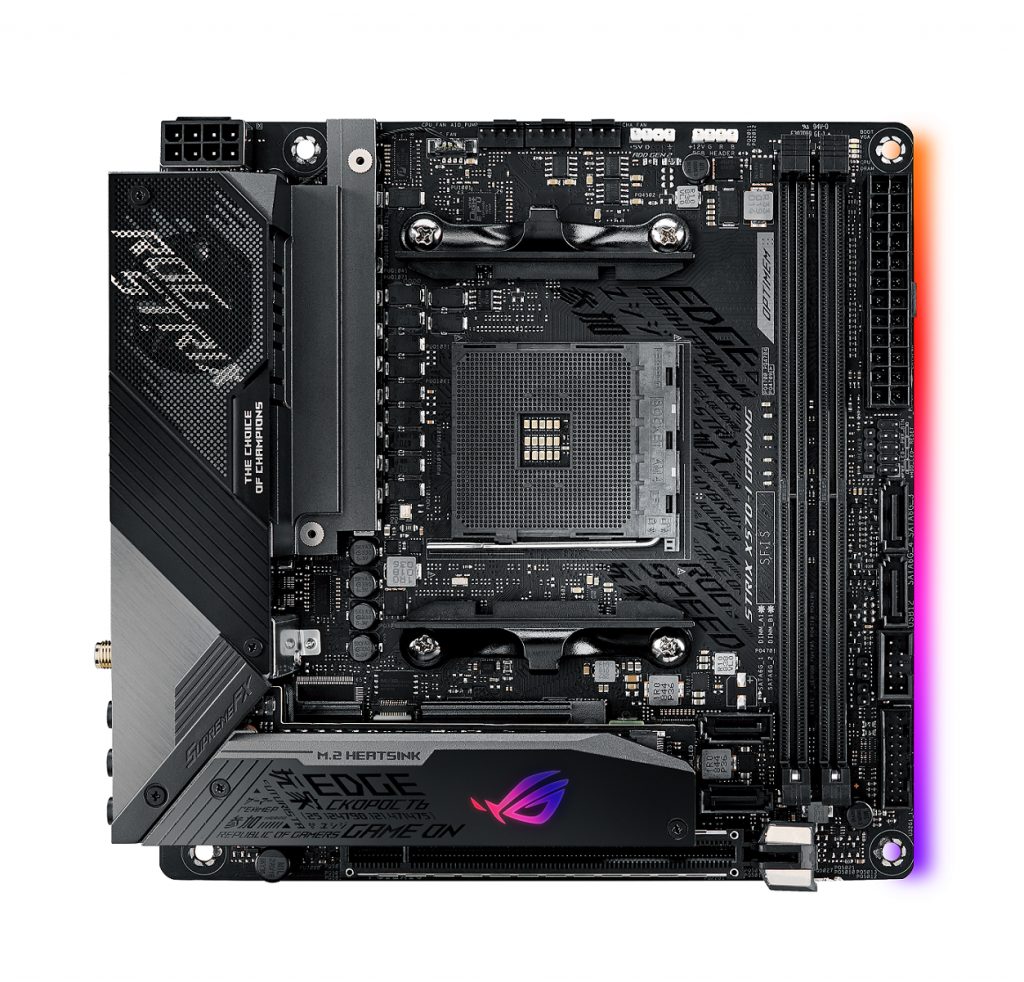 Compact system are usually the most challenging to build, as real estate is limit and space inside the case is tight. Strix X570-I Gaming aids the process with a bunch of DIY-friendly design aspects and features. Clipping off the heatsink, for instance, provides instant access to M.2 storage. As well, the VRM's heatsink is designed in a way that allows the use of AMD Wraith CPU coolers — a benefit denied to users of some competitor boards.
Strix X570-I Gaming has built-in HDMI 2.0 and DisplayPort 1.4 outputs for home-theater setups and couch-gaming fun, along with the same Intel® Wi-Fi 6 adapter with Bluetooth 5.0 support as the bigger members of the ROG family.
The new motherboard also includes two convenient extension cables: one for the front-panel audio, and another for the power and reset buttons. This allows users to connect these cables without cramping their hands and minimizes the risk of nicks and cuts inside the tiny case.
AVAILABILITY & PRICINGˇ
Pricing and availability will be announced at a later date.