Meural Canvas smart art frame, the first and largest full-service digital platform for exploring and displaying art

Orbi Voice Smart Speaker, the first and only smart speaker that combines incredible sound with award-winning Wi-Fi technology

NETGEAR introduces Wi-Fi 6 with the launch of the widest range of Nighthawk AX routers in the market

Nighthawk Pro Gaming router, optimised to minimise lag for gamers
SINGAPORE, 6 May 2019 —  NETGEAR®, Inc. (NASDAQ: NTGR), the leading provider of networking devices that power today's smart home and small business connectivity, announced the Singaporean availability and pricing of new Wi-Fi 6 routers and connected home products that will shape the future of the Smart Home across the country with a product showcase.
Key product highlights, outlined below, include the Meural Canvas with the largest full-service digital platform for displaying art; the first mesh Wi-Fi system with built-in Alexa smart speaker; the next generation of wireless routers based on Wi-Fi 6 technology that offer enhanced performance and multitasking; and finally, the new revolutionary Pro Gaming router, specially designed to minimise lag for gamers.
"We are excited to bring our latest products to Singapore market, as the concept of a Smart Home is becoming a reality in the country", said Patrick Lo, Charmain and CEO at NETGEAR. "By using technology that brings thousands of artworks to Singaporean walls or that connects a smart speaker with the first mesh Wi-Fi system, we aim to meet the lifestyle demands of customers in the country. With our Wi-Fi 6 routers we want to make sure that each device gets the Wi-Fi bandwidth it needs as Singaporeans continue to add more Wi-Fi-enabled devices to their homes."
Meural Canvas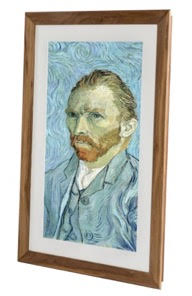 In an effort to bring art from iconic museums and artists to walls across Singapore, NETGEAR launches today the Meural Canvas the first and largest full-service digital platform for exploring and displaying art. Meural grants users access to an unrivalled art library stocked with over 40,000 of the world's most iconic pieces of art, worth more than 5 billion SGD. The library includes the best of classics from Rembrandt and van Gogh, to NASA satellite imagery, to boundary-pushing digital works by contemporary creators, and copyrighted works from the estates of artists like Georgia O'Keeffe, Marc Chagall, and Jackson Pollock.
Singaporean audiences will find artworks from local artists, such as the Marina Bay Skyline by Larry Teo. Users can also upload their own artwork and photography to the Meural Canvas to display it instantly in a gallery-worthy format.
Orbi Mesh Wi-Fi System with Orbi Voice Smart Speaker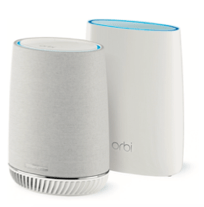 NETGEAR Orbi Mesh Wi-Fi System, the world's first mesh Wi-Fi system with award-winning technology, can be paired now with the new Orbi Voice Smart Speaker built-in Amazon Alexa voice assistant capability. The two devices together deliver whole home Wi-Fi with a superior smart speaker experience, allowing users to voice control music and their Smart Home.
With premium audio by Harman Kardon®, Orbi Voice can play music from the most popular music streaming providers, such as Spotify®, Amazon® Music, iHeartRadio®, TuneIn, Deezer and other services. Orbi Voice is also capable of playback of audiobooks from Audible, podcasts, radio stations or news briefs. Additionally, users can set alarms, control IoT devices, check traffic, weather, sports scores, and so much more, without needing a separate Amazon Echo device.
Nighthawk AX Wi-Fi 6 family of routers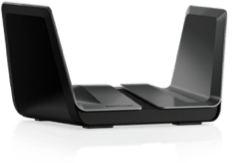 NETGEAR introduces Wi-Fi 6 with the launch of the widest range of Nighthawk AX routers in the market – a major technology shift from the previous model, the wireless 802.11ac standard, that was around for the last 14 years. New models include AX12, AX8 and AX4.
Designed to meet the needs of a typical Smart Home, the next-generation AX Wi-Fi is now poised to radically improve the Wi-Fi experience at home by improving the ability to serve multiple users and devices at the same time, providing better and faster wireless connectivity. From simultaneous video streaming, online gaming and multiple IoT devices that are now common in many Singaporean homes, the Nighthawk AX8 based on the evolutionary OFDMA technology, serves as a reliable networking hub.
Nighthawk® Pro Gaming XR300 Wi-Fi Router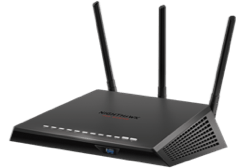 Designed to optimize the gaming experience and drastically reduce lag and latency spikes, the Nighthawk® Pro Gaming XR300 Wi-Fi Router joins NETGEAR's Nighthawk Pro Gaming product family in Singapore today.
The new router compatible with several gaming systems, such as Xbox®, PlayStation®, Nintendo® Switch, PCs and mobile devices, for a wide audience. The XR300 leverages a purpose-built gaming dashboard powered by DumaOS, critical for an enhanced online gaming experience.
With the explosion in popularity of online games such as Fortnite, Apex Legendsand PubG, the Nighthawk Pro Gaming Dashboard, used across NETGEAR's entire Nighthawk Pro Gaming line, prioritises internet speeds for faster online gaming and smoother streaming, minimising lag with ultra-low ping rates, and giving gamers a fully personalised experience on the customisable dashboard.
Pricing and Availability
All products are available through authorised NETGEAR partners and other reseller channels, e-commerce sites (Lazada), and major retailers.
PRODUCT
PRICE
Meural Canvas Leonora

Colours available: white/black
It includes a three-year Meural Art Library content subscription.

SRP of SGD 1,499.00
Meural Canvas Winslow

Colours available: Walnut
It includes a three-year Meural Art Library content subscription.

SRP of SGD 1,699.00
Orbi Mesh Wi–Fi System with Orbi Voice Smart Speaker
SRP of SGD 799.00
AX12 – Nighthawk AX12 12-Stream Wi-Fi 6 Router
SRP of SGD 799.00
AX6000 – Nighthawk AX8 8-Stream Wi-Fi 6 Router
SRP of SGD 659.00
AX3000 – Nighthawk AX4 4-Stream Wi-Fi 6 Router               
SRP of SGD 399.00
Nighthawk Pro Gaming XR300 Wi–Fi Router
SRP of SGD 399.00