Ubisoft announced that Anno 1800, the latest installment from the successful city-building and strategic franchise, is launching worldwide on Windows PC. In addition, Ubisoft revealed the Anno 1800 post launch plan including a Season Pass with three major DLCs. Moreover, all Anno 1800 players will have access to free content including the upcoming Co-Op Mode, Community Challenges and Statistics Building.
Rich with technological innovations, conspiracies, and constantly fluctuating allegiances, the 19th century is the perfect setting for classic Anno gameplay. Developed by Ubisoft Blue Byte, Anno 1800 provides players with countless opportunities to prove their skills as a ruler. Players can create huge metropolises, plan efficient logistics networks, settle an exotic new continent, send out global expeditions, and dominate their opponents by diplomacy, trade, or warfare.
Anno 1800 combines beloved features from 20 years of Anno history, delivering a rich city-building experience, including a story-based campaign, a highly customizable sandbox mode, and the classic Anno multiplayer experience. Anno 1800 will see the return of highly requested features such as individual AI opponents, shippable trade goods, randomly generated maps, multi-session gameplay, items and more.
To bring this pivotal historical era to life, Anno 1800 introduces many all-new features to the franchise. Expeditions allow players to send crews of specialists across the globe as they seek fame and fortune, while the new workforce feature makes managing your factories more demanding and realistic than ever. Finally, players will settle South America as they lay claim to the black gold powering this new age of industry.
Season Pass adventures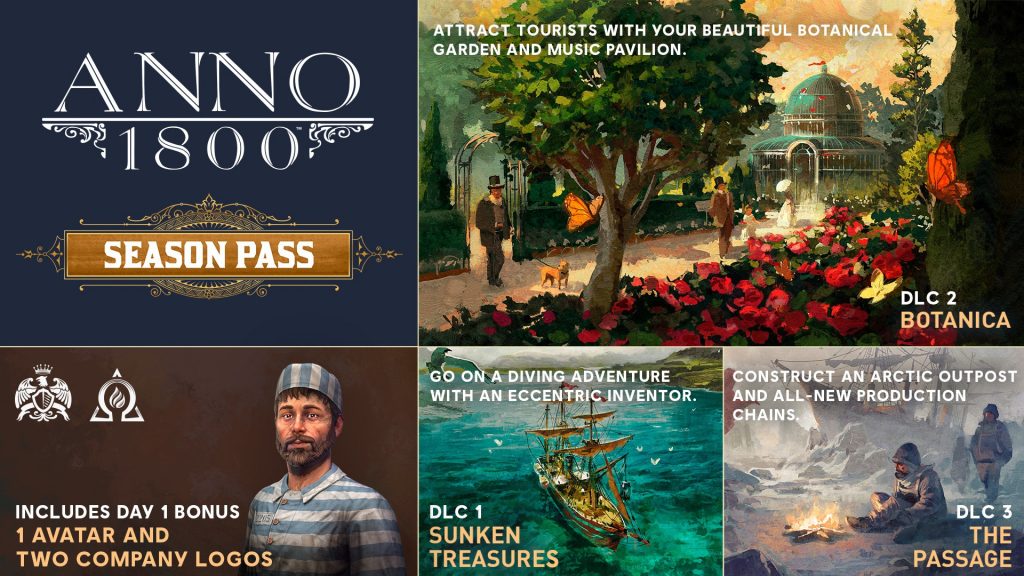 With the Anno Season Pass players will have access to new adventures, challenges and tools as they shape their very own Industrial Revolution. The Season Pass includes the three following DLCs to be released throughout 2019:
The Sunken Treasure: Players will be able to expand their empire with a new European "Old World" session and large continental island, as they join an eccentric inventor and his diving bell on a treasure hunt.
Botanica: In this DLC, players will have the opportunity to grow their city's attractiveness to new heights with a modular Botanical Garden, allowing them to earn new items and rewards as they draw the tourist masses to their floral masterpiece.
The Passage: Players will have to master all-new production chains and goods as they build an Arctic outpost in the Northwest Passage.
Cosmetic Content (available today): Season Pass owners will also receive immediately three cosmetic customization items that they can use to customize their game profile for multiplayer: the prisoner portrait, and two exclusive company logos.
Additional free content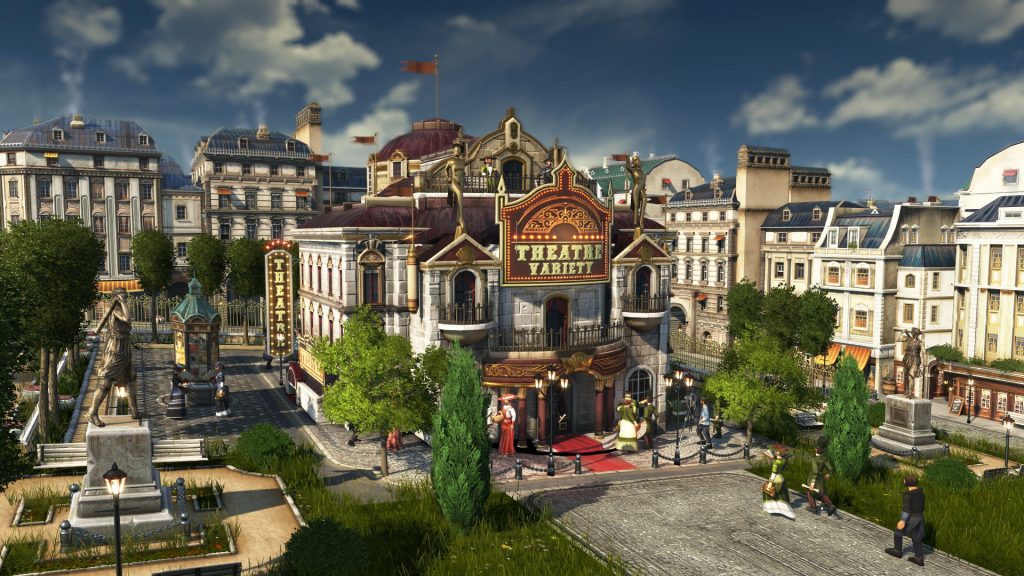 In addition, regular game updates will bring new free content available for all players after launch including:
Co-Op Mode: This highly requested community feature will be added to the game in a future update, allowing players to team up with their friends to take shared control of a single empire as it evolves throughout the industrial revolution.
Community Challenges: The Anno Community will received regular challenges that will require all of them to come together to reach a shared goal. Doing so will unlock new cosmetic customization options like company icons or even skins for all participants.
Statistics Building: The most experiences players who love to go all in on the min-maxing will enjoy this new feature. Indeed, this statistics building will enable players to get more information about their production chains and their output available.
Anno 1800 and the Season Pass are available digitally on the Ubisoft Store and the Epic Games store for Windows PC. The Season pass can be purchased at the price of 25euros. Players who pre-ordered Anno 1800 will receive the Imperial Pack containing extra content for the game. Digital Deluxe and Pioneers Editions owners will have access to exclusive content including the Anarchist character.