The Division 2 launches on March 15, but prospective Agents will have a chance to try it early starting March 1, when the Open Beta hits Xbox One, PS4, and PC. The Open Beta will be a chance to start exploring the post-pandemic streets of Washington, DC, and test your mettle against the violent factions terrorizing the city's civilians. The Division 2 Open Beta ends March 5 at 5PM (UTC+8). For the latest details on the Open Beta, visit the official site at http://www.thedivisiongame.com/beta.
Open Beta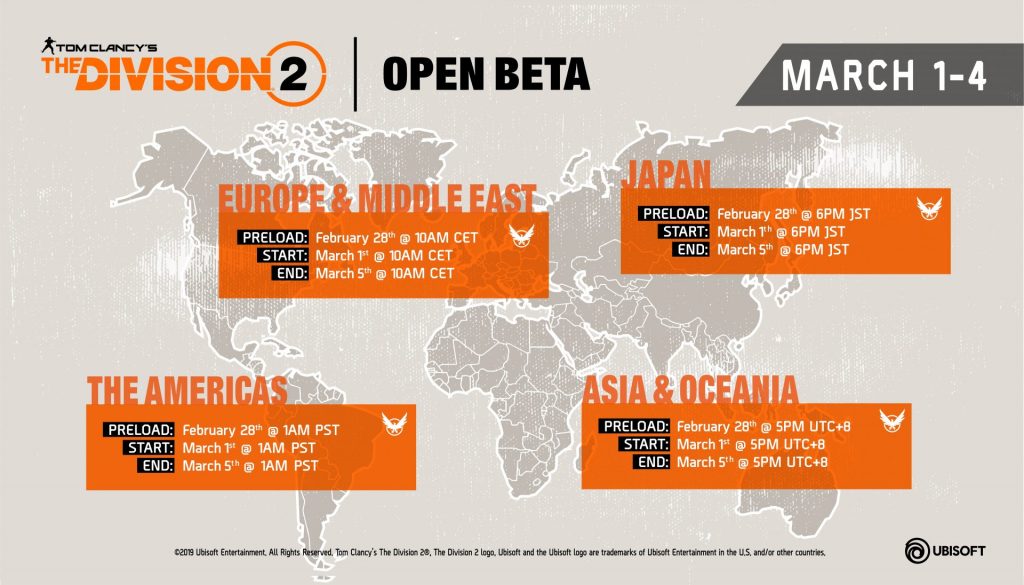 On March 15, players on Xbox One, PC, and PS4 will dive into The Division 2 and fight to reclaim the conflict-ravaged streets of Washington, DC. In the months following launch, the game will be updated regularly with free new missions, challenges, specializations, rewards, and more. While this content will be free for all players, players who want to secure access to it can get the Year 1 Pass, available as a standalone purchase or as part of the Gold and Digital Ultimate Editions of the game.
Tidal Basin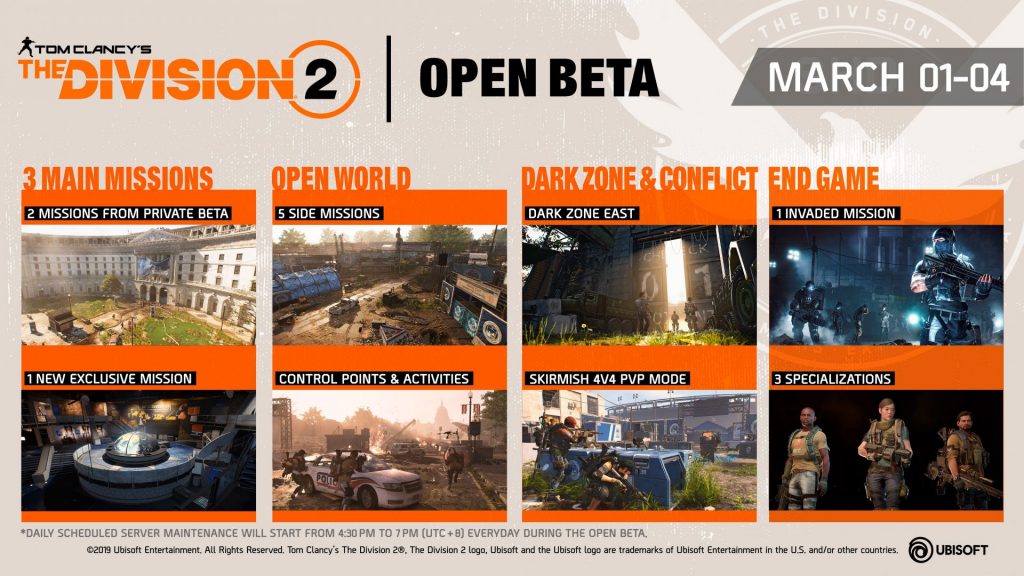 The free content kicks off with the addition of Tidal Basin, a challenging faction stronghold where the Black Tusks have dug in, and it will be up to you and up to three other players to dig them out. Then, your team size will expand when you take on the franchise's first eight-player raid: Operation Dark Hours. And starting this summer, free major content updates called Episodes will give you and your fellow Agents new ways to test your skills and flex your loadouts. Read on to learn more about Episodes, and to see details on the Year 1 Pass.
For further details about the Open Beta, please visit: www.thedivisiongame.com/faq/beta