Ubisoft announced that For Honor® players will enter the world of Assassin's Creed with their first-ever cross over event – For The Creed, running from today, December 20 to January 10 on all platforms. This three-week in-game event will fully transform the For Honor experience using the power of the Animus as players relive the lives of fearsome Knight, Viking, Samurai or Wu Lin Heroes.
Abstergo has created a new gaming experience, called For The Creed, that utilizes the Animus to transport players to an age where the Knights, Vikings, Samurai and Wu Lin wage war on each other. For the duration of the event, players can enter a special variation of the 4v4 Dominion mode – Assassini e Templari, in which they must capture zones in order to lure commanders Ezio Auditore da Firenze and Cesare Borgia out to battle. Defeating commanders will give a team 300 points. The first team that reaches 1000 points and defeats the opposing team during the breaking period wins. Select game modes will be narrated by Warren Vidic, the director of the Animus Project at Abstergo Industries.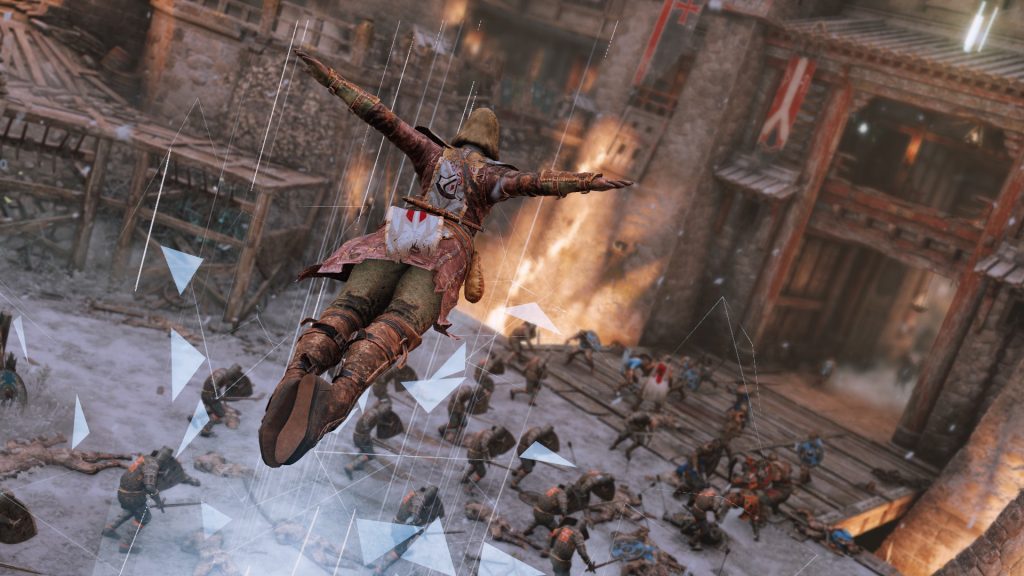 In addition to the special mode, the For Honor world will receive a slew of Assassin's Creed themed changes. Maps featured in the Assassini e Templari mode will include iconography and Animus glitches around the map while the soldiers will be themed around unique factions tied to Assassin's Creed games. In-game features will also receive updates as all drop attacks will include a Leap of Faith and air assassination animation. The game menus will be displayed through the Animus.
Additionally, For The Creed  brings a variety of Assassin's Creed themed customization items. Players can customize each of their heroes with the Odyssey of the Misthios Mask Outfits based on Assassin's Creed Odyssey, new Haystack Emote, Hidden Blade Execution, Animus Effects, Animus Battle Outfits, Assassin- and Templar-themed Elite Outfits and weapons from the Assassin's Creed franchise Each Assassin's Creed game logo will also be lootable by playing during the event. From December 20th until January 14th, players can pick up the For The Creed  bundles at 35,000 Steel per Hero. This price may differ based on what players have already unlocked from the bundle.
For The Creed joins the recently released Marching Fire expansion, which added a new faction of Heroes, 4v4 Breach Mode and unlimited PvE Arcade Mode to nearly two years of continuous post-launch support and improvements since February 2017. For Honor will continue to receive new content and in-game events in 2019 with Year of the Harbinger. The Year 3 Pass is now available for pre-order for those looking to receive seven days of exclusive access to new Year 3 Heroes at the time of their launch.
For more information about For Honor, please visit forhonorgame.com and follow us on Facebook at facebook.com/forhonorgame and on Twitter at twitter.com/forhonorgame.
Please follow us on Facebook at facebook.com/UbisoftSEA and on YouTube at youtube.com/UbisoftSEA for more Ubisoft excitements and updates.