Ultimate design for performance and appearance
Taipei, Taiwan, October 5th, 2018 – GIGABYTE, the world's leading premium gaming hardware manufacturer, today announced the highest level of AORUS GeForce® RTX 20 series graphics cards powered by NVIDIA TuringTM architecture. GIGABYTE launched 4 AORUS graphics cards – AORUS Geforce® RTX 2080 Ti XTREME 11G, AORUS Geforce® RTX 2080 Ti 11G, AORUS Geforce® RTX 2080 XTREME 8G, and the AORUS Geforce® RTX 2080 8G. The 4 graphics cards are all equipped with top-of-the-line overclocked GPU that certified by GIGABYTE GPU Gauntlet™ sorting technology. The main features of the graphics card include AORUS's 3 patents – industry leading innovative RGB three-ring light effect, WINDFORCE 3x 100mm Stack Fan, and 7 video outputs. Consumers will not only enjoy top-level computing performance, but also have the best visual enjoyment and user experience.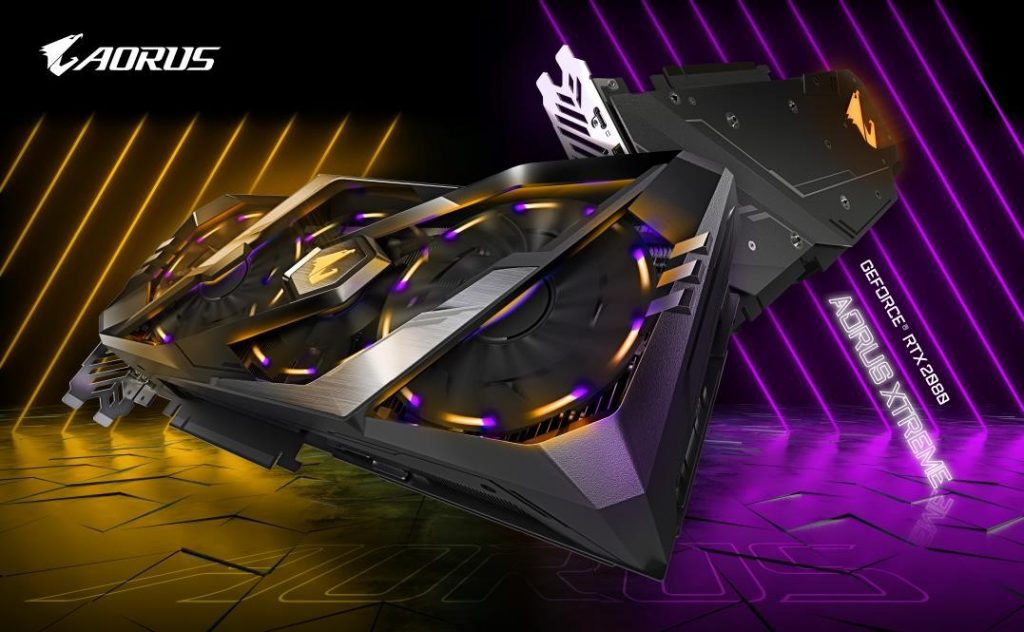 AORUS leads the industry in creating a new RGB three-ring light effect that takes advantage of the persistence of human vision. A single fan uses LED lighting to illuminate with the fan's speed to create an ever-changing surprise. Any lighting mode can be perfectly represented by setting the LED lighting timing. So far, AORUS is the only one who can provide this amazing lighting effect. In addition, AORUS is the only leading brand that can continuously innovate in heat dissipation. WINDFORCE 3x 100mm Stack Fan not only reduces the length of the graphics card, but most importantly, generates more wind pressure to cover all the fins and improve heat dissipation. The Alternate Spinning Fan not only helps avoid the problem of three-fan turbulence but also enhances wind pressure and improves heat dissipation. AORUS is also the only graphics card on the market that offers 7 video outputs in the Geforce® RTX20 series. It offers 3 HDMI, 3 DP and one USB-C output. With two more HDMI than the reference card, allowing consumers to connect 3 HDMI screens or 3 DP screens without any adapters.
AORUS requires the highest level of quality control and uses ULTRA DURABLE certified components, aerospace-grade PCB coating designed to prevent moisture, dust and corrosion, and fully automated production processes. Due to these quality settings, AORUS provides consumers with a 4-year warranty (requires online registration within 30 days of the purchase date) so that consumers can enjoy the product for a long time without any worry. AORUS hopes to provide the best experience for consumers, so in the XTREME version, in addition to the highest level of overclocking GPUs, the package is also equipped with a metal VGA holder. Whether the chassis has a power cover or not, the high-quality VGA holder is ideal for graphics card installation.
After the launch of the AORUS air-cooled graphics card, the AORUS water-cooled design graphics card is coming soon, allowing consumers to build the most suitable AORUS gaming PC according to their needs.
For more details, please visit the official GIGABYTE website: https://www.gigabyte.com/Graphics-Card/
To learn more about GIGABYTE:
About GIGABYTE
GIGABYTE, headquartered in Taipei, Taiwan, is known as a global leading brand in the IT industry, with employees and business channels in almost every country. Founded in 1986, GIGABYTE started as a research and development team and has since taken the lead in the world's motherboard and graphics card markets. On top of Motherboards and Graphics cards, GIGABYTE further expanded its product portfolio to include PC Components, PC Peripherals, Laptops, Desktop PCs, Network Communications, Servers and Mobile Phones to serve each facet of the digital life in the home and office. Everyday GIGABYTE aims to "Upgrade Your Life" with innovative technology, exceptional quality, and unmatched customer service. Visit www.gigabyte.com for more information.