With the launch of the new NVIDIA GeForce RTX graphics cards, manufacturers are trying hard to differentiate themselves and stand out in the market to win the likes of PC gamers. While most of the offerings are fairly similar with their design and cooling capabilities, the Gaming OC series from Gigabyte caught our eye. By focusing on premium cooling capabilities, innovative features and enhanced design, this series stands for itself.
Today, we will take quick look at the GeForce RTX 2080 Gaming OC 8G Graphics Card from Gigabyte to find out what really sets it apart from any other RTX Series graphics card in the market.
Technically, if the manufacturers decided to stick with the reference design of the graphics cards, we can expect similar performance out from the card. However, by slapping on a more efficient heat dissipation system for the Gaming OC version, Gigabyte was confident to set an overclock to the graphics card right out of the box. Instead of its stock clock on 1710MHz, the GeForce RTX 2080 Gaming OC runs at 1815MHz. If an additional OC mode is enabled, this clock speed will be increased to 1830MHz. Putting actual performance aside, which will be the focus of our next article, we want to find out what are the engineering efforts placed onto this graphics card that enabled it to run this fast.
Unique Design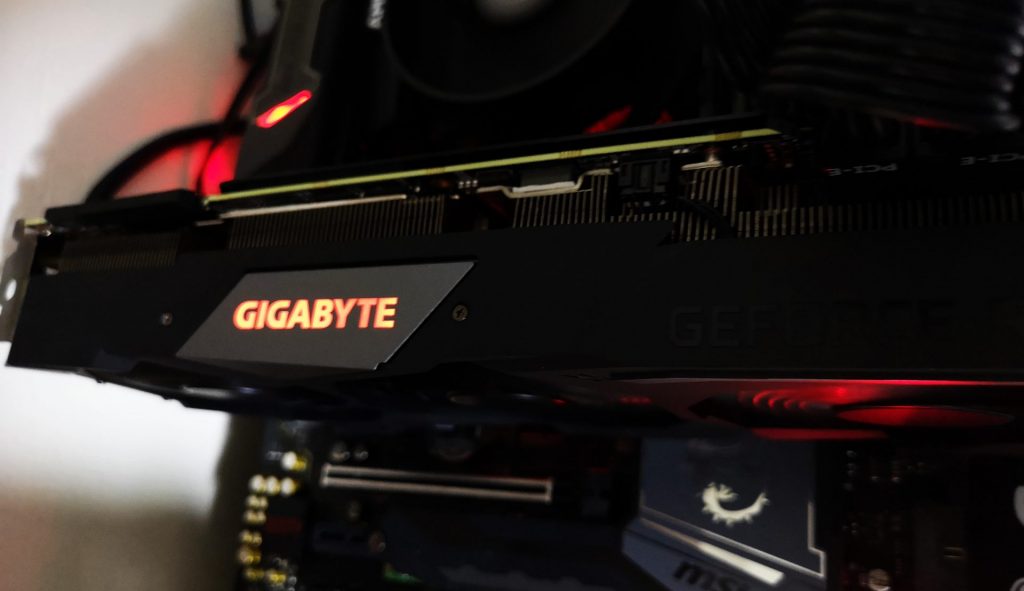 Unlike some graphics card manufacturer who likes to cover their graphics card with excessive number of RGB lighting, Gigabyte has gone ahead with a more conservative approach. Their only area with RGB lighting is its logo, which is found at the top of the graphics card. The colour of the RGB lighting on the card can be manually configured, and it is supported by the RGB Fusion software.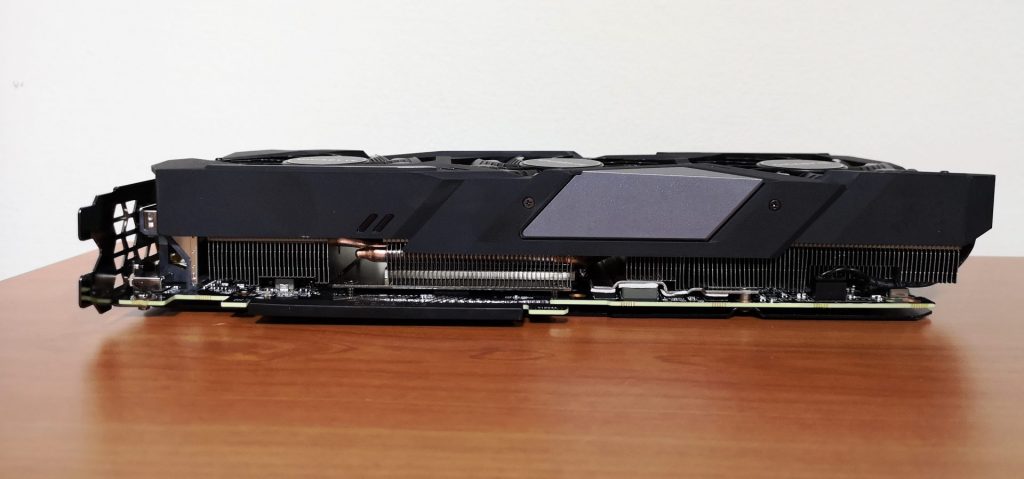 On the size side of things, the card takes up 2.5 slots in your system. This can affect your build by building any additional add-on cards that you might want to equip onto your motherboard. This rather large GPU shroud has to be taken into consideration when you are planning to get this graphics card.
Enhanced Cooling System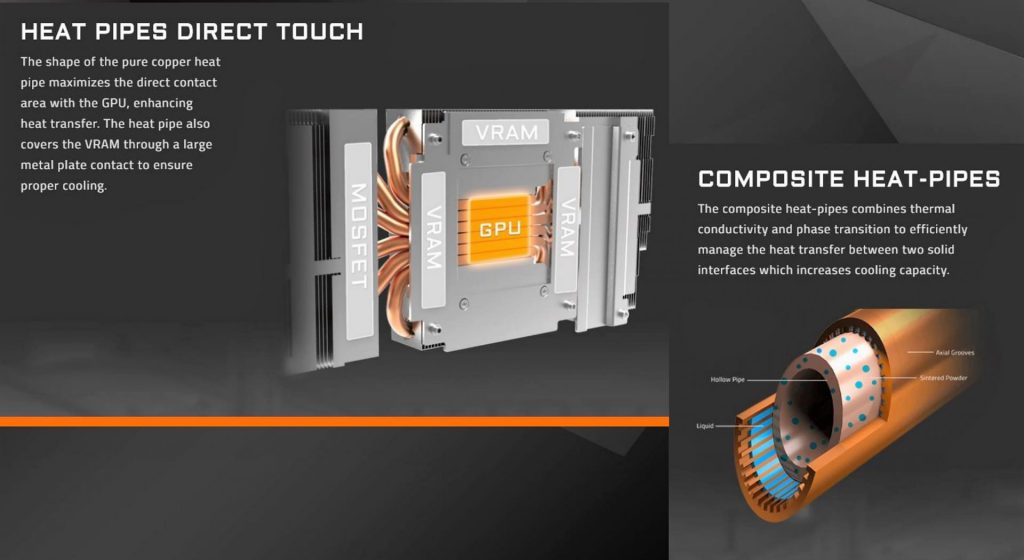 It seems that Gigabyte has really taken a lot of effort into designing the heat dissipation system for this card. To prolong the lifespan of the graphics card and to increase performance, Gigabyte has decided to cool almost every core component on the graphics card. On top of the main GPU heatsink block, which can extensively conduct heat away to its different compartments via heatpipes, Gigabyte also included a dedicated heatsink for the card's VRAM & MOSFET. It is no wonder that Gigabyte will be daring enough to overclock this graphics card right out of the box!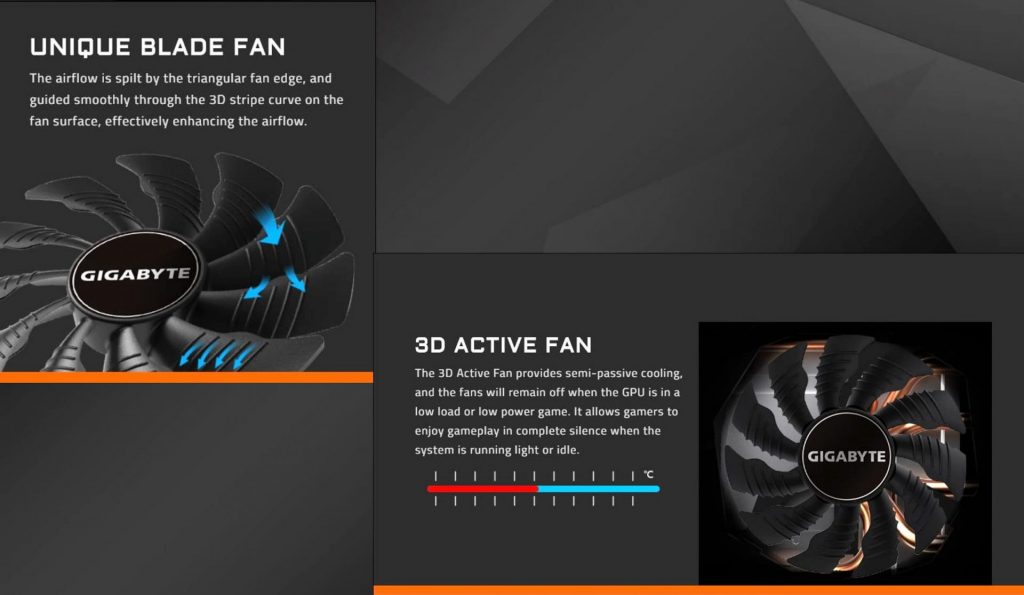 To enhance the airflow throughout the whole graphics card, 3 x 82mm fans were employed. These fans are designed uniquely, as they have a triangular fan edge, and 3D stripe curves on the fan surface. Such a design is said to better guide the air to the heatsinks.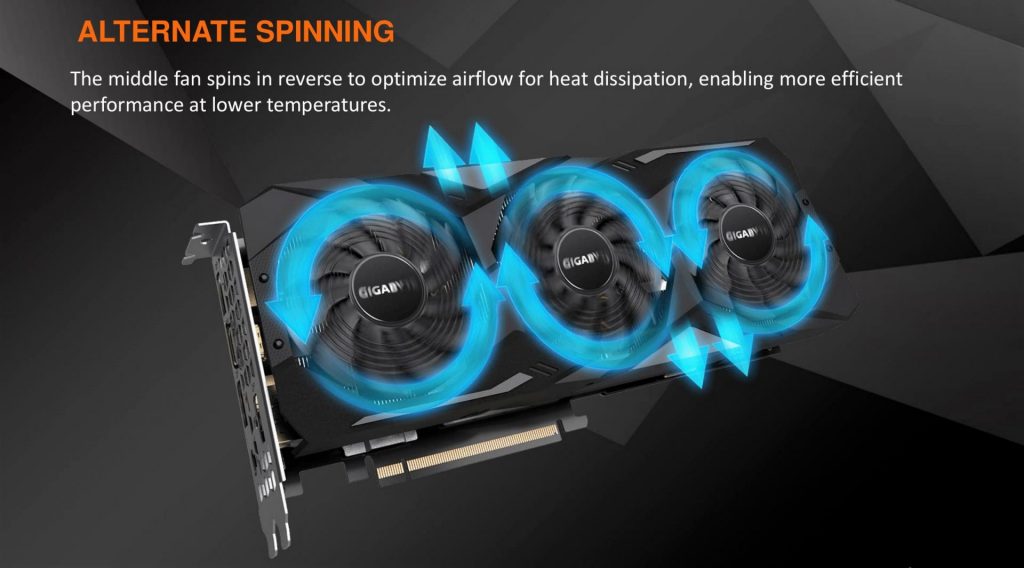 Interestingly, Gigabyte has configured the fan in the middle to spin in the opposite direction as compared to the fan on the left and right. Gigabyte claims that by doing so, they can reduce turbulent airflow and increase the airflow pressure. Of course, for the lay man, it essentially means that the fans can better bring heat away.
Persistence for enhanced durability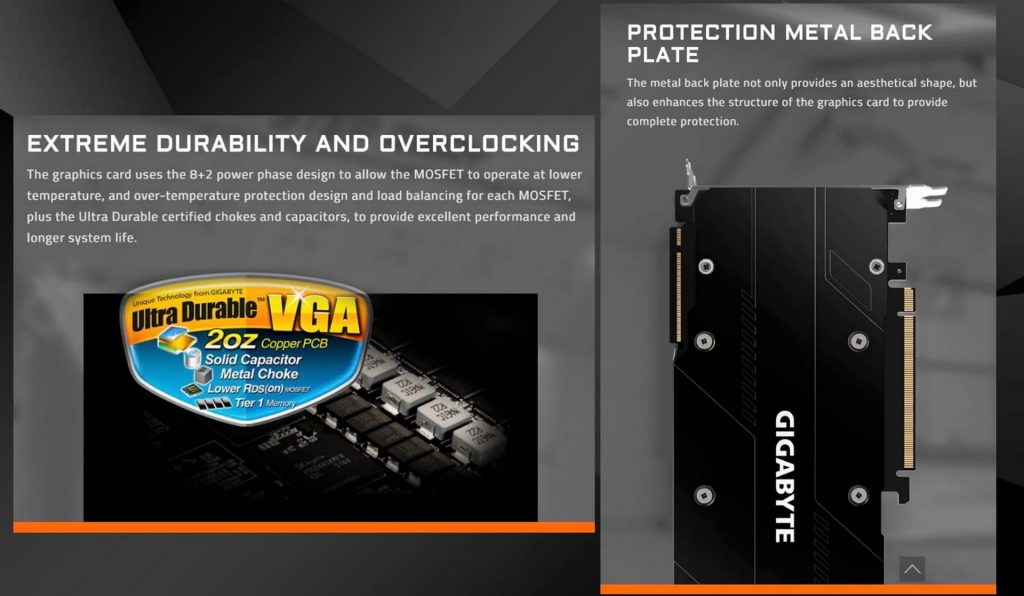 As expected of Gigabyte, they will always anticipate performance requirements by the user. Overclockers can rejoice, as the RTX 2080 Gaming OC graphics card is actually powered by a 8+2 power phase design. This ensures that an adequate and stable flow of current is available for enhanced performance and higher ceiling for overclocks. Gigabyte also used Ultra Durable certified chokes and capacitors which can last for a longer system life.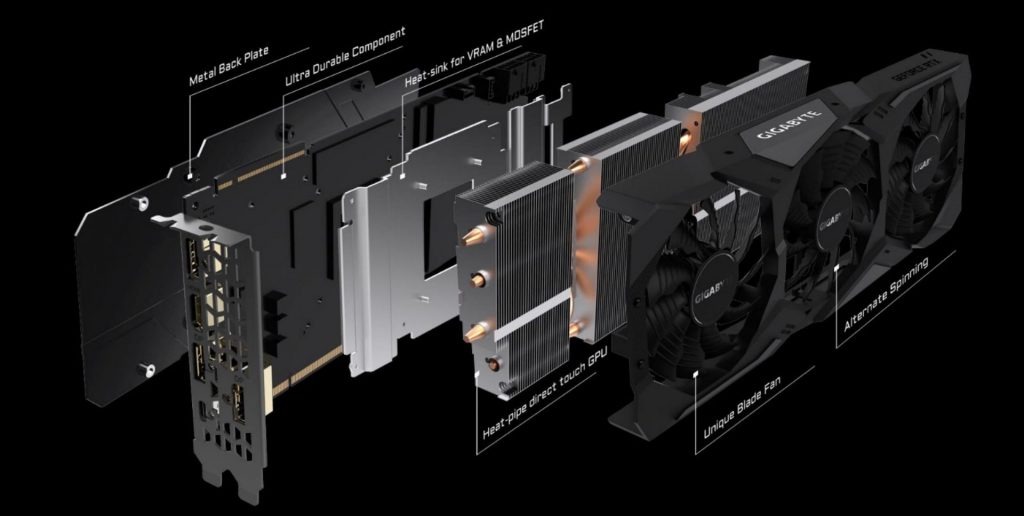 At the back of the card, you can also spot a metal back plate that seamlessly integrates with the overall design of the card. However, this was only a secondary consideration from Gigabyte. Primarily, the metal back plate can better support and protect the whole graphics card from physical damage.
Looks great so far!
We've taken a look at the core features of the Gigabyte GeForce RTX 2080 Gaming OC 8G Graphics Card. While you may be skeptical towards the implementation of the above-mentioned features, we are interested to find out how well this graphics card performs. How cool does it run? Is the card noisy? We will find them out in our next article, where we put this graphics card to the test.
The Gigabyte GeForce RTX 2080 Gaming OC 8G Graphics Card poses great value for the features that it inherited. If you are eagerly looking for a new RTX 2080 for your new games, this model is definitely worth considering. Moreover, to sweeten the deal, Gigabyte has even included 4 Year Warranty for all of their RTX graphics cards, as opposed to 3 Years Warranty which most manufacturers offer.
The Gigabyte GeForce RTX 2080 Gaming OC 8G is a well-rounded graphics card that is equipped to excel in all areas of our test. We are looking forward to finally putting our hands on and testing out the capabilities of this new monster that we have been waiting for years. Do look out for that upcoming piece!