Sept 11, 2018 – Black Ops comes to life like never before in the Call of Duty®: Black Ops 4 Blackout Private Beta, beginning now, first on the PlayStation 4. The Call of Duty community will get their first experience with Black Ops 4's all-new mode, Blackout, which drops players into a last-player-standing Battle Royale experience that is uniquely Call of Duty: Black Ops. A celebration of the Black Ops series, Blackout features fan-favorite characters, weapons and iconic parts of classic maps, all in the biggest map in franchise history complete with land, sea and air vehicles. The Private Beta will provide valuable user feedback and data as Activision and developer Treyarch prepare to release the deepest, most engaging Call of Duty game ever on October 12th.
Blackout Private Beta* schedule
PlayStation 4:

Tuesday, September 11 at 1am HKT / Monday, September 10th at 10 am PT
Tuesday, September 18 at 1am HKT /Monday, September 17th at 10 am PT

Xbox One and PC:

Saturday, September 15 at 1am HKT/ Friday, September 14th at 10 am PT
Tuesday, September 18 at 1am/ Monday, September 17th at 10 am PT
Sunday, September 16 at 1am HKT/ Saturday, September 15th, 10 am PT
Tuesday, September 18 at 1am/ Monday, September 17th at 10 am PT (PC Open Beta only)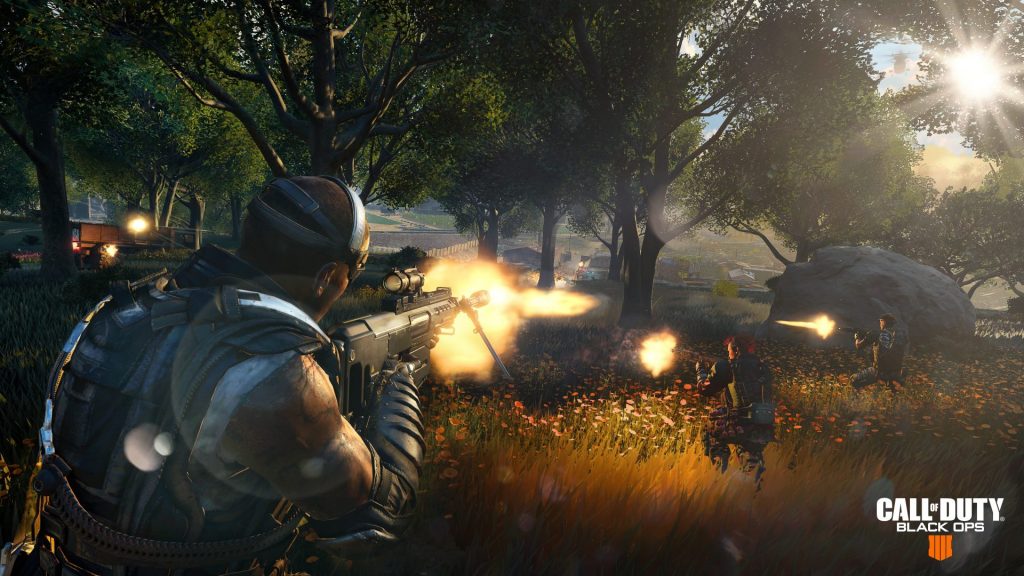 "The development effort behind Blackout has been an extraordinary undertaking and we couldn't be more proud for what the team has accomplished," said Mark Gordon, CoStudio Head of Treyarch. "It's awesome to watch how making Blackout has engaged the whole team in ways that we have never seen before. We couldn't be more excited to bring the vast heritage of Black Ops heritage to life in Blackout, and can't wait for the community to share their feedback as we head to launch."
Deeply rooted in the Black Ops series, which has surpassed more than 200 million players and 15 billion hours played over its lifetime, Blackout spans some of the greatest characters and iconic map locales from Black Ops, Black Ops II, Black Ops III and Black Ops 4. The Private Beta includes a variety of new and classic playable characters, including campaign characters like Mason, Reznov and Woods; Zombies characters like Richtofen and Takeo; and Specialists like Crash, Battery and Seraph, to name a few. Across the sprawling Blackout map, players will fight in locations inspired by fan-favorite Black Ops maps like Nuketown, Firing Range, Raid, Cargo and more.
Fans who have already downloaded the recently completed Multiplayer Beta, or who have since pre-ordered Call of Duty: Black Ops 4 at participating retailers, will receive access to the Blackout Private Beta. Code redemption and other Beta access information can be found at the Activision Beta support site.
The Blackout Private Beta is just the beginning, as the development teams will be actively gathering community feedback throughout the Beta test and will use the player data to fine-tune gameplay balance, stress-test servers and optimize the online experience ahead of the game's launch on October 12th. Beta participants will have the opportunity to share their feedback and join in an active dialogue with the development team across a variety of outlets, including player surveys and online forums, with frequent Beta update posts planned from Treyarch:
Twitter (@Treyarch): Treyarch's Community and Live Ops teams will be watching their social channels throughout the Beta to get player feedback on everything regarding gameplay and any issues or bugs that may arise. Please tag your feedback with #BO4Beta to make it easier to find. Particularly for the PC crowd, players should follow @TreyarchPC.
Twitter (@ATVI Assist): For specific technical issues, players should tweet @ATVIAssist, with the tag #BO4Beta.
Reddit: Treyarch's Community and Live Ops teams will also be watching Reddit, so players should add their comments to the r/BlackOps4 subreddit: https://www.reddit.com/r/Blackops4/
Console: Depending on the technical issue, players may also be given the opportunity to "report a problem" directly on their console. If that happens, please do so, as it helps Treyarch track down the source of issue.
Survey: After you've played the Beta, players will be given the opportunity to provide the team with direct feedback through a detailed survey.
Call of Duty: Black Ops 4 is published by Activision and developed by Treyarch with additional development support from Raven Software and PC development with Beenox. The title is scheduled for release on PlayStation 4, Xbox One and PC on October 12th. Black Ops 4 for the PC delivers a fully-optimized experience, which for the first time in Call of Duty's history will be available exclusively on Battle.net, Blizzard Entertainment's online gaming service.  For more information and the latest intel check out: www.callofduty.com, www.youtube.com/callofduty and follow @CallofDuty and @Treyarch on Twitter, Instagram and Facebook. Call of Duty: Black Ops 4 is scheduled for release on PlayStation®4 system, Xbox One, and PC. The game is rated M for Mature (Blood and Gore, Drug Reference, Intense Violence, Strong Language).