Hong Kong — August 10, 2018 — Today, Ubisoft® announced that fans will be able to witness a worldwide selection of sixteen of the best Tom Clancy's Rainbow Six® teams compete at the Six Major Paris, taking place from August 13th to 19th in Paris, France – the largest event ever organized in Europe for Tom Clancy's Rainbow Six esports.
All sixteen teams are now confirmed, representing all four regions of the Tom Clancy's Rainbow Six Pro League that will compete for a prize pool of $350,000, and have been broken down into four groups. After this intense group stage from August 13th to 15th, the eight qualifying teams will face off during the Major's final phase, open to the public and held at the Paris Expo – Porte de Versailles, Hall 4 from August 17th to 19th. Quarter Finals will be held August 17th, Semi Finals on the 18th and Grand Final on Sunday August 19th. Find all details on the competition at this address: https://rainbow6.ubisoft.com/siege/en-us/esports/six-major.aspx
In addition to the intense main competition, the Six Major Paris will also host two unique showdowns, with a Showmatch welcoming surprise guests on Saturday August 18th, as well as an All-Star Match with a selection of the best Tom Clancy's Rainbow Six pro players ahead of the Grand Final on Sunday August 19th.
The Six Major Paris will also premiere "Another Mindset", a documentary that explores the stories of eight of the community's most famous and dedicated figures, including Niclas 'Pengu' Mouritzen (player for PENTA Sports) and Nicolle "Cherrygumms" Merhy (owner of Black Dragons) and how Rainbow Six Siege has impacted their lives. The final piece will be unveiled ahead of the Grand Final on Sunday August 19th.
Finally, the Six Major Paris will be the occasion for exclusive announcements, with dedicated panels. Saturday's Esports Panel will unveil more details on the Tom Clancy's Rainbow Six esports scene itself, including on the Pro League Season 8's Finals in Rio de Janeiro, Brazil and the Six Invitational 2019. Sunday's Game Panel will fully reveal Tom Clancy's Rainbow Six: Siege upcoming update, 'Operation Grim Sky'.
Make sure to follow the competition on our broadcast channels to watch all matches live and have all details on our major announcements and reveals: https://twitch.tv/Rainbow6.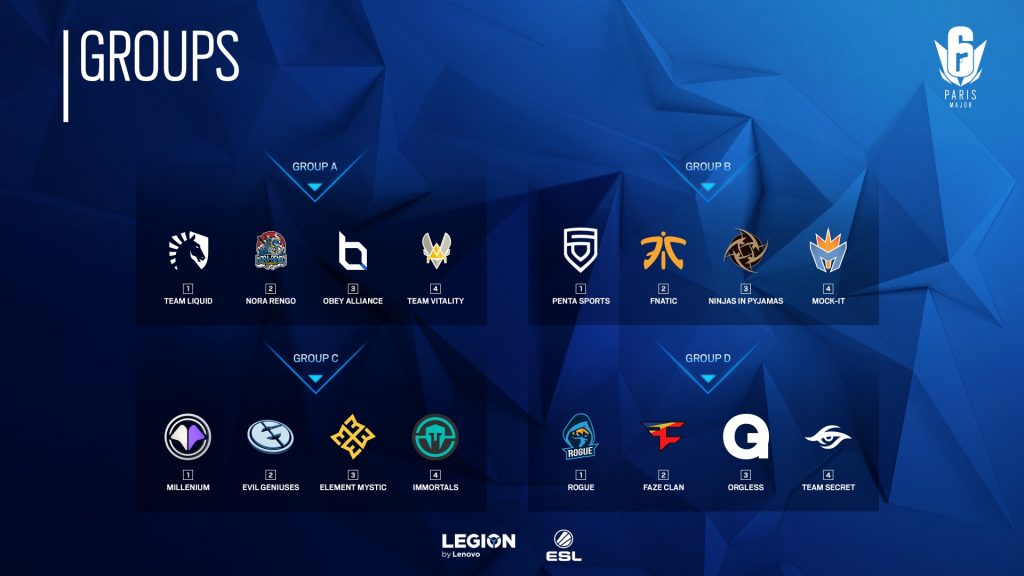 Here is the complete list of teams qualified for the Six Major Paris:
ELEMENT MYSTIC (APAC): The South Korean organization acquired its roster back in April but its players have been in Pro League since Asia-Pacific region first days – they are not here for the fun.
EVIL GENIUSES (NA): As winners at the Six Invitational 2017 (under the name "Continuum"), they are one of the most seasoned team on the scene, constantly performing on the international stage.
FAZE CLAN (LATAM): consisting of seasoned players, known for their skills and aggressive plays, they will be one of the 4 Brazilian teams in the Six Major Paris, the most represented country.
FNATIC (APAC): Fnatic will be proudly representing the Australia-New Zealand portion of the Asia-Pacific region, a region they have been dominating for the last seasons, seating in group B as seed 2.
IMMORTALS (LATAM): Facing Millenium, Evil Geniuses and Element Mystic in a tough group, the Brazilian side finally gets a chance to show off big during an international LAN event.
MILLENIUM (EU): Earning their slot for the Major thanks to their strong performances at the Season 7 Finals, they will benefit from local support in Paris, as one of the 3 French teams qualified.
MOCK-IT ESPORTS (EU): Surprise "Coupe de France" champion, Mock-It indeed earned its spot via a local French competition as this first edition of the Six Major takes place in Paris.
NINJAS IN PYJAMAS (LATAM): Ninjas in Pyjamas is done with teasing, Julio and his mates are on this scene to earn trophies and glory, qualifying via the Latin-American online qualifiers.
NORA-RENGO (APAC): Based in Japan and known for their spectacular playstyle, things should get even more exciting as they now welcome ex-eINs' ShiN in their line-up.
OBEY ALLIANCE (NA): Beating Mousesport in the North America Online Qualifiers, Skys, Bosco and their mates are surprise attendees but seasoned enough to surprise even further!
ORGLESS (EU): They may be "orgless" but they do not lack talent. After competing under the "Charity Nerds" name at Dreamhack Valencia, they qualified through their victory in the EU qualifiers.
PENTA SPORTS (EU): The most awarded team in Tom Clancy's Rainbow Six history. As Six Invitational 2018 World Champions, they automatically secured their spot at the Six Major Paris.
ROGUE (NA): While not as prestigious as Evil Geniuses, Rogue always manage to perform impressively and attend all major Tom Clancy's Rainbow Six events. Will they finally reach a Grand Final?
TEAM LIQUID (LATAM): As Pro League Season 7 Champions, Team Liquid took the seed 1 of group A and will put on stage the most successful players from the Latin America region.
TEAM SECRET (EU): The European organization just acquired a roster, but its players (3 British, 2 French) are no newbies. As Dreamhack Valencia winners, they are currently one of the hottest teams.
TEAM VITALITY (EU): After failing during Season 7, the online qualifiers or at the Coupe de France, the French side earned the 16th and last ticket for the Major during an epic DreamHack Valence!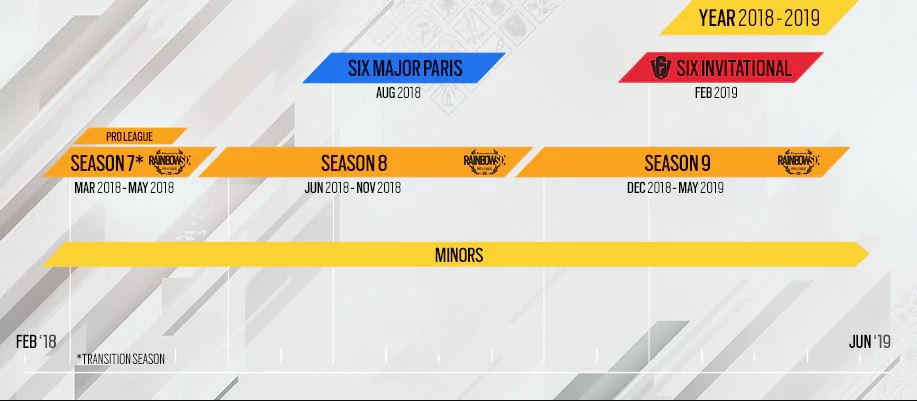 The Six Major Paris is part of the new Tom Clancy's Rainbow Six Pro League format announced back in January, that kicked off last June with the launch of Pro League Season 8. Each Year will now be comprised of two six-month long Pro League Seasons (June-November and December-May), punctuated by two Majors: the traditional Six Invitational in February, and a new summer rendezvous, the Six Major, the first edition of which will take place in Paris. Additional details on Years 2018-2020 Pro League format can be found here.
For more information about the Six Major Paris please visit rainbow6.com/sixmajor and follow us at https://twitter.com/R6ProLeague.
Please follow us on Facebook at facebook.com/UbisoftSEA and on YouTube at youtube.com/UbisoftSEA for more Ubisoft excitements and updates.