SINGAPORE — Aug 7, 2018 — AMD (NASDAQ: AMD) today announced immediate worldwide pre-order availability from over 80 global etailers and system integrators for the highly anticipated flagship 2nd Gen AMD Ryzen Threadripper desktop processor. Breaking the world-record Cinebench R15 multi-threaded CPU test with the highest benchmark scores in the single-socket desktop processor category, the 32-core, 64-thread 2nd Gen AMD Ryzen Threadripper 2990WX is designed for professional content creators, developers, and PC enthusiasts. The 2nd Gen line-up features four total processor models coming to market in 2018, all of which are built on the 12nm "Zen+" core architecture, include the unique 2nd Gen AMD Ryzen processor feature set, and are compatible with existing and new X399 motherboards. With the 2nd Gen AMD Ryzen Threadripper 2990WX and 2970WX processors, AMD adds the new Ryzen Threadripper WX Series above the existing Ryzen Threadripper X Series processors, meeting creators' demands for the ultimate desktop computing power for the most intense workloads.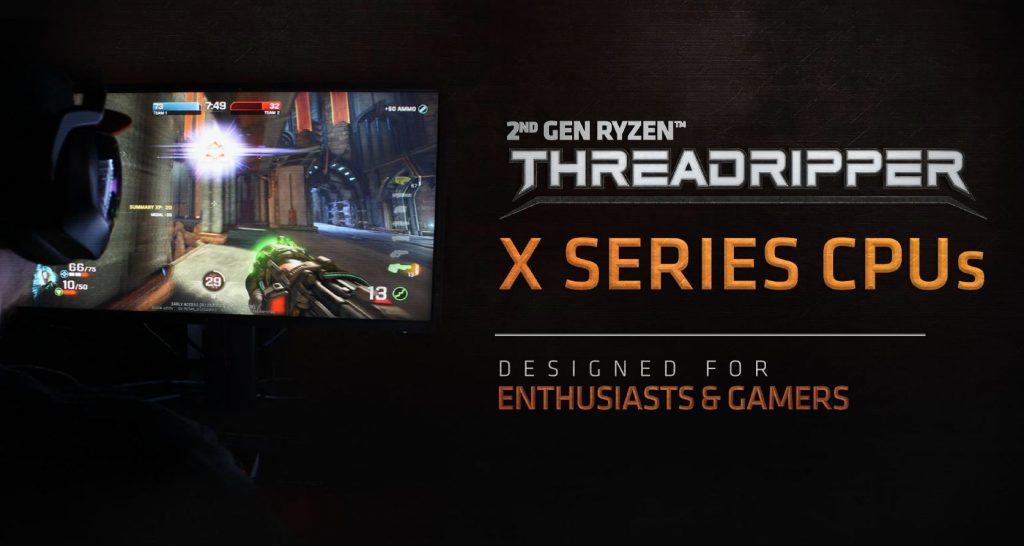 "We created a new standard for the HEDT market when we launched our first Ryzen Threadripper processors a year ago, delivering a ground-breaking level of computing power for the world's most demanding PC users," said Jim Anderson, senior vice president and general manager, Computing and Graphics Business Group, AMD. "Our goal with 2nd Gen Ryzen Threadripper processors was to push the performance boundaries even further and continue innovating at the bleeding edge. Beginning on August 13, creators, enthusiasts, and gamers everywhere will get to experience the benefits of these new products."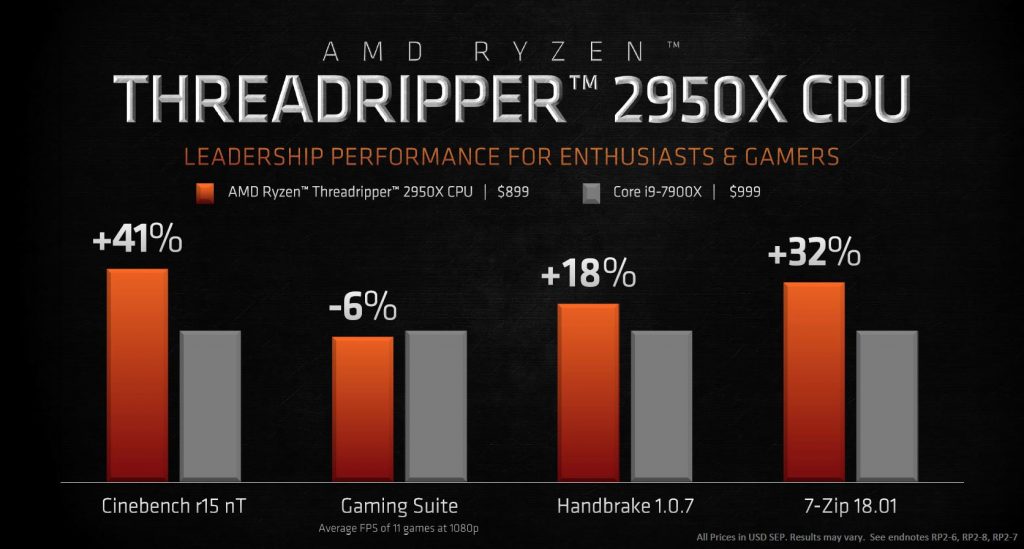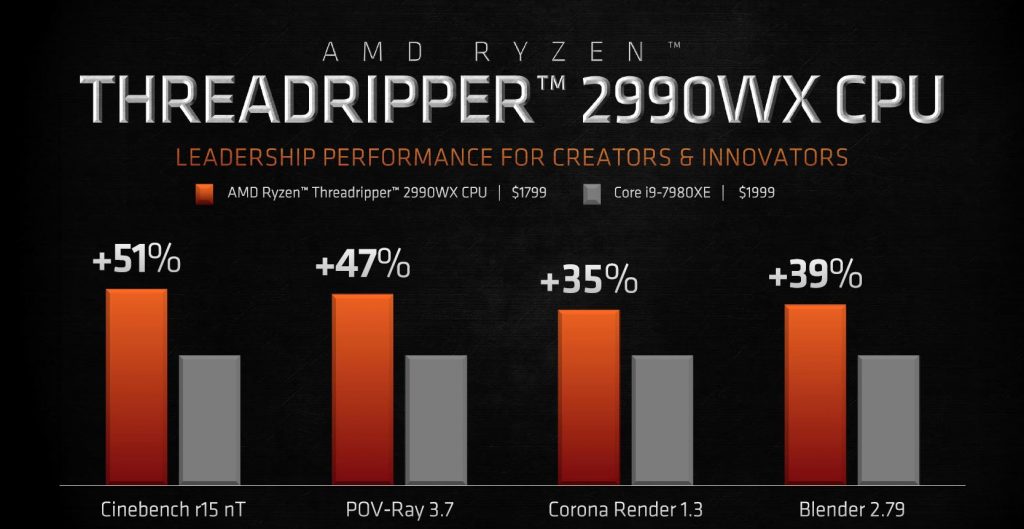 During an event in front of global press, industry analysts, and partners last month, 2nd Gen Ryzen Threadripper 2990WX processors were put through their paces and have already broken world records in the Cinebench R15 multi-threaded CPU test. The AMD Ryzen Overclocking Team managed to push the 2nd Gen AMD Ryzen Threadripper 2990WX CPU to over 5.1GHz on liquid nitrogen, achieving record breaking performance with a score of 7,618, beating the current single socket record set by the competition's Core i9-7980XE CPU at 5,828 points. The freely available Ryzen Master Software utility gives broad control of CPU settings allowing users to squeeze every drop of performance from their CPU.
2nd Generation AMD Ryzen Threadripper Desktop Processors Line-up
Following an aggressive 2018 roll out of global award-winning Ryzen mainstream desktop processors, the 2nd Gen AMD Ryzen Threadripper processor line-up is tailored to the needs of creators and gamers.
MODEL
CORES/
THREADS
BOOST/ BASE FREQUENCY (GHZ)
L3$ (MB)
TDP (WATTS)
PCIe Gen 3.0 LANES
SEP
EXPECTED AVAILABILITY
AMD Ryzen™ Threadripper™ 2990WX
32/64
4.2/3.0
64
250W
64
$2,738 SGD
Aug. 13, 2018
AMD Ryzen™ Threadripper™ 2970WX
24/48
4.2/3.0
64
250W
64
$1,299 USD*
October 2018
AMD Ryzen™ Threadripper™ 2950X
16/32
4.4/3.5
32
180W
64
$1,328 SGD
Aug. 31, 2018
AMD Ryzen™ Threadripper™ 2920X
12/24
4.3/3.5
32
180W
64
$649 USD*
October 2018
*Local prices available closer to launch date
Ecosystem Readiness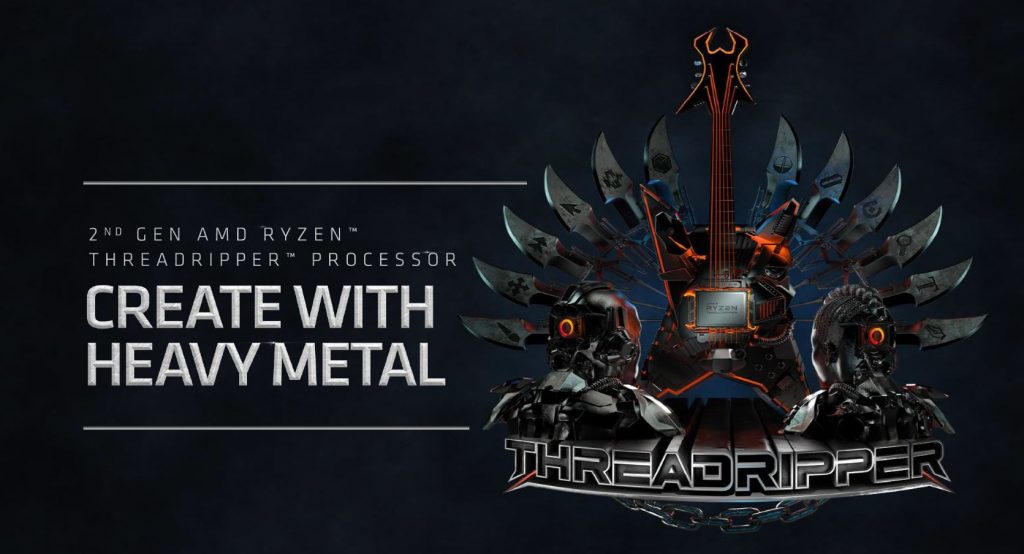 All 2nd Gen AMD Ryzen Threadripper processors support the SocketTR4 platform, sporting sixty-four PCIe Gen 3.0 lanes, and quad channel DDR4 memory with ECC support[iii]. All 2ndGen AMD Ryzen Threadripper CPUs are supported by a full ecosystem of new and existing X399 platforms at launch, with designs already available from top motherboard manufacturers including ASRock, ASUS, Gigabyte, and MSI. Along with the broad selection of motherboards, the SocketTR4 platform supports a wide range of new and existing cooling solutions, including the new Wraith Ripper air-cooler showcased at Computex 2018. This cooler is now available from CoolerMaster and features compatibility with the SocketTR4 platform and all 1stGen and 2nd Gen Ryzen Threadripper processors.
Availability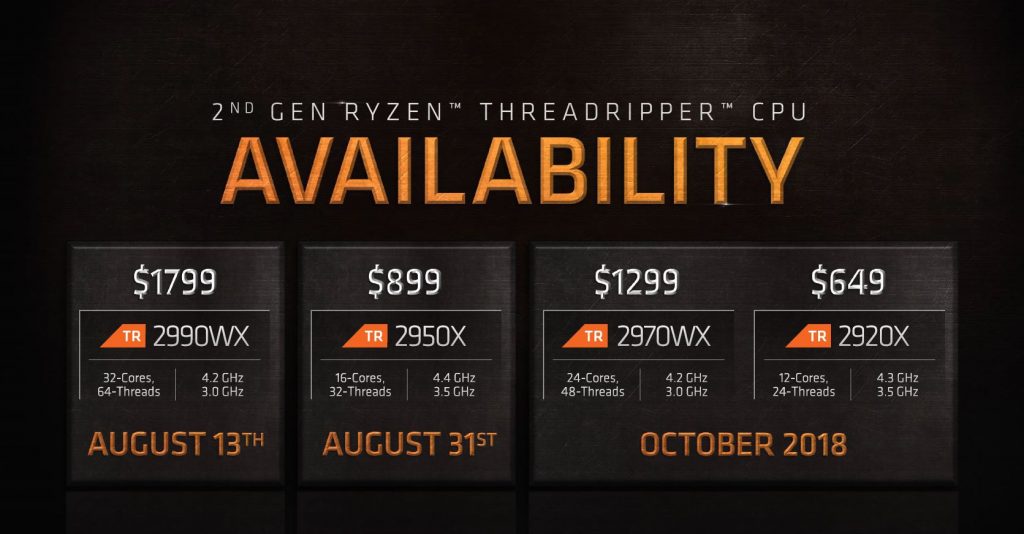 For customers eagerly waiting for 2nd Gen Ryzen Threadripper desktop processors, etailers around the world are primed to begin taking pre-orders beginning today, Monday, Aug. 6, 2018, for the 32-core, 64-thread AMD Ryzen Threadripper 2990WX. A complete list of participating retailers and launch information can be found on www.AMD.com. The 16-core, 32-thread AMD Ryzen Threadripper 2950X CPU is expected to launch on Aug.31, 2018 and the AMD Ryzen Threadripper 2970WX and 2920X models are slated for launch in October 2018.
At Siggraph 2018 in Vancouver, British Columbia, the globally acclaimed annual conference for creators kicking off on Aug. 12, AMD will host compelling demonstrations highlighting the possibilities enabled by the 2nd Gen Ryzen Threadripper processors for computer professionals – Booth 1101.
Customer & Partner Support
"At Fox VFX Lab we use AMD technology extensively. Our workstations are custom built, based on water cooled Ryzen Threadripper processors. Unreal engine artists easily peg every core at 100% during lightmass calculations," said Ron Fischer, Director of Information Technology, Fox VFX Lab. "We work in real-time at the front of the production pipeline, and things move very quickly here, at the speed of imagination. AMD helps keep the pace as we define the future of virtual filmmaking."
"From film, TV, animation and motion graphics to art design & visual development, Jellyfish Pictures' focus is delivering uncompromised creative artwork to the world" said Jeremy Smith, CTO at Jellyfish Pictures. "Our goal is to empower creative professionals to freely imagine, design, build and create without limitations, and with AMD's Ryzen Threadripper we know we are offering unrivaled high-performance computing technology."