Finally, the Surface Book 2 landed on the shores of Singapore! With the predecessor only available outside of Singapore, Microsoft finally decided that our market is ready for this 2-in-1 device. We managed to get our hands on the 13.5″ model that is said to be:
Perfect for editing photos, watching videos and creating reports and presentations.
Let us see if the Surface Book 2 13.5″ model stands up to these rather simple tasks and more.
2-in-1 Form Factor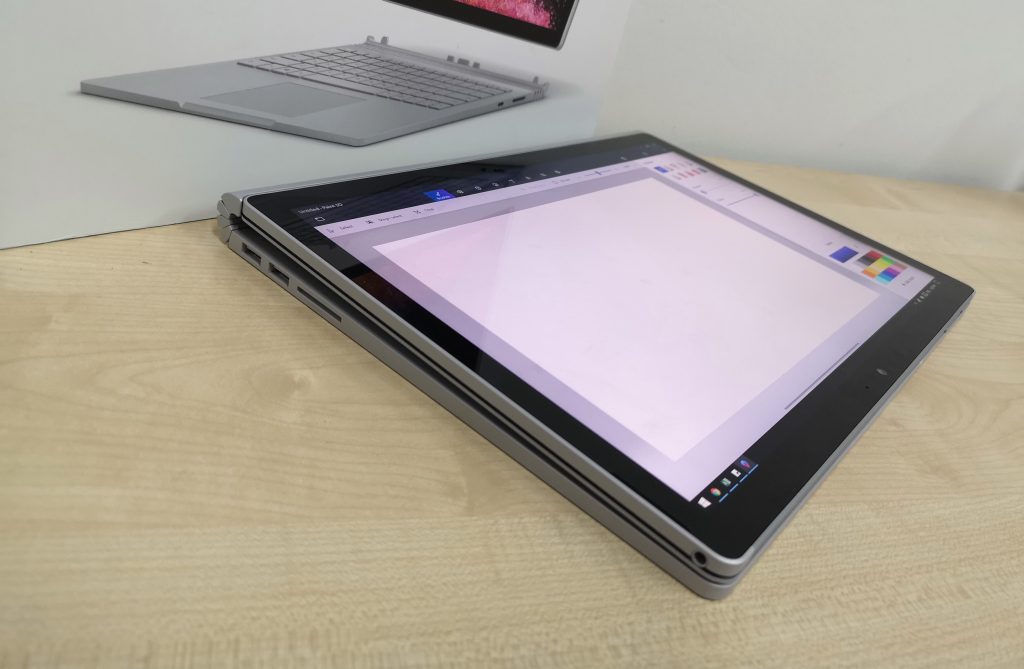 Let us jump straight to what makes the Surface Book 2 unique in this day and age of where the laptop formula have not changed for a long time. The Surface Book 2 is a laptop/tablet hybrid, and is capable of detaching from its keyboard/base. This flexibility allows for a wider array of use cases, be it as a traditional laptop, a tablet itself, or even in Studio Mode for creatives.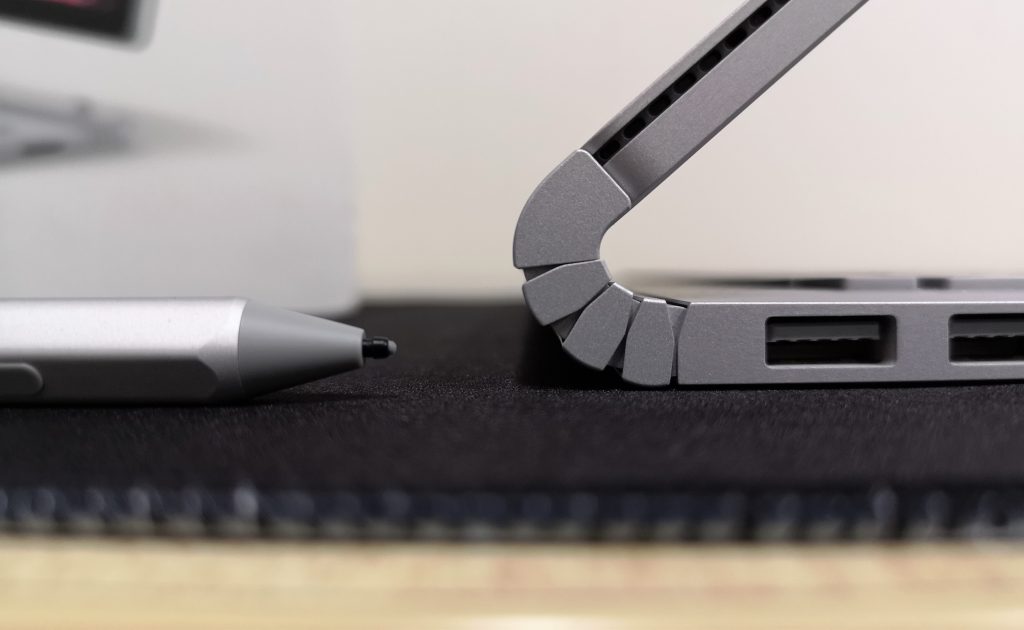 All of these is possible thanks to Microsoft's "Dynamic Fulcrum Hinge" mechanism. It allows the tablet to attach/detach in various angles, while providing a eye-catching aesthetic for others to gawk at. As a firm believer of all laptops needing to have curves, the Surface Book 2 one of the sexiest laptop in the market. Speaking of looks, the Surface Book 2 body is covered by a brushed aluminum finish that is both pleasing to the eye and touch.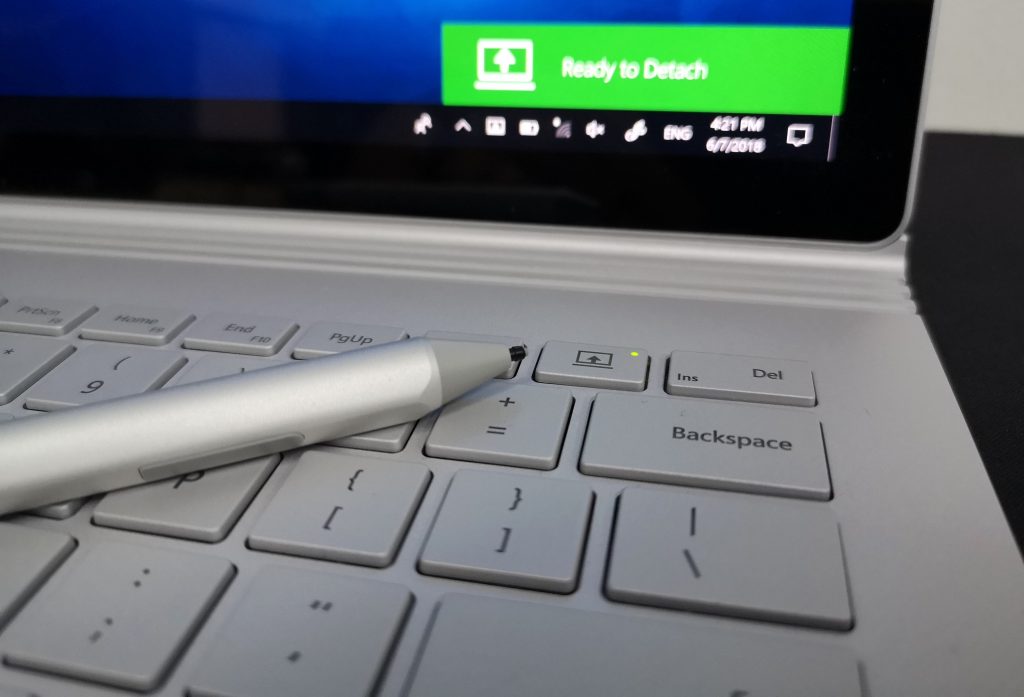 In terms of using it as an occasional doodler, or creating concept art on the go, the Surface Book 2 is surprisingly good! The Surface Pen's tip is largely frictionless, and is also sensitive to touch with its advertised 4,096 pressure points. It was also able to detect and ignore our palm while drawing, letting us rest on the screen like an actual sheet of paper. These makes for a smooth drawing experience, and simulates drawing on an actual physical medium well.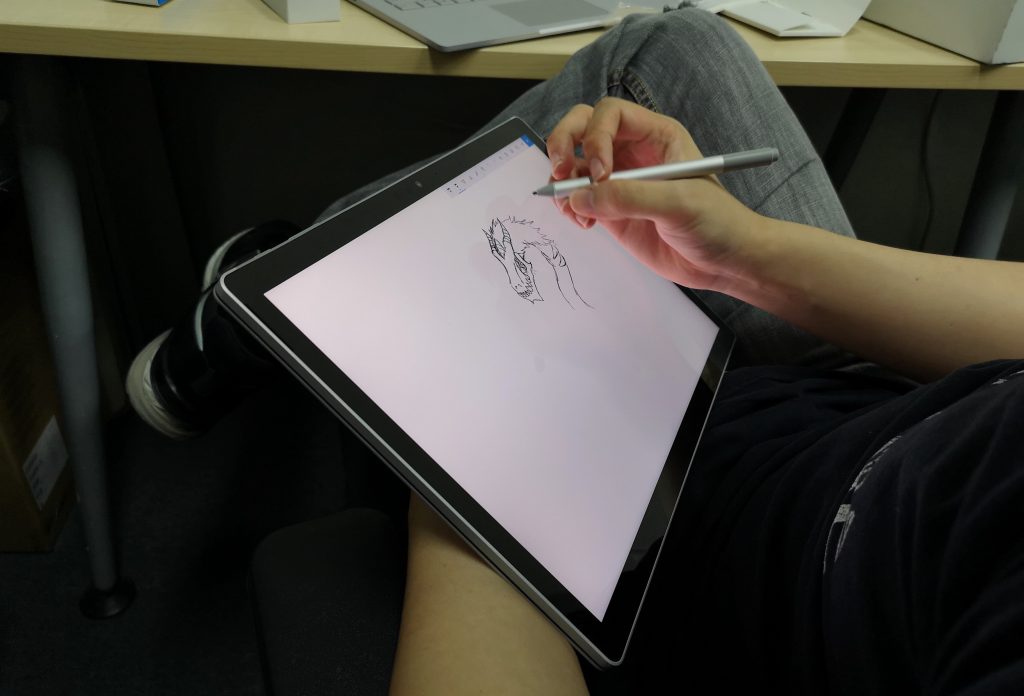 Not to mention, the tablet itself is surprisingly light and easy to hold and it weighs significantly lighter than its base, with the total weight being 1.53kg (excluding the charger). Carrying it around is definitely not a chore!
Traditional Laptop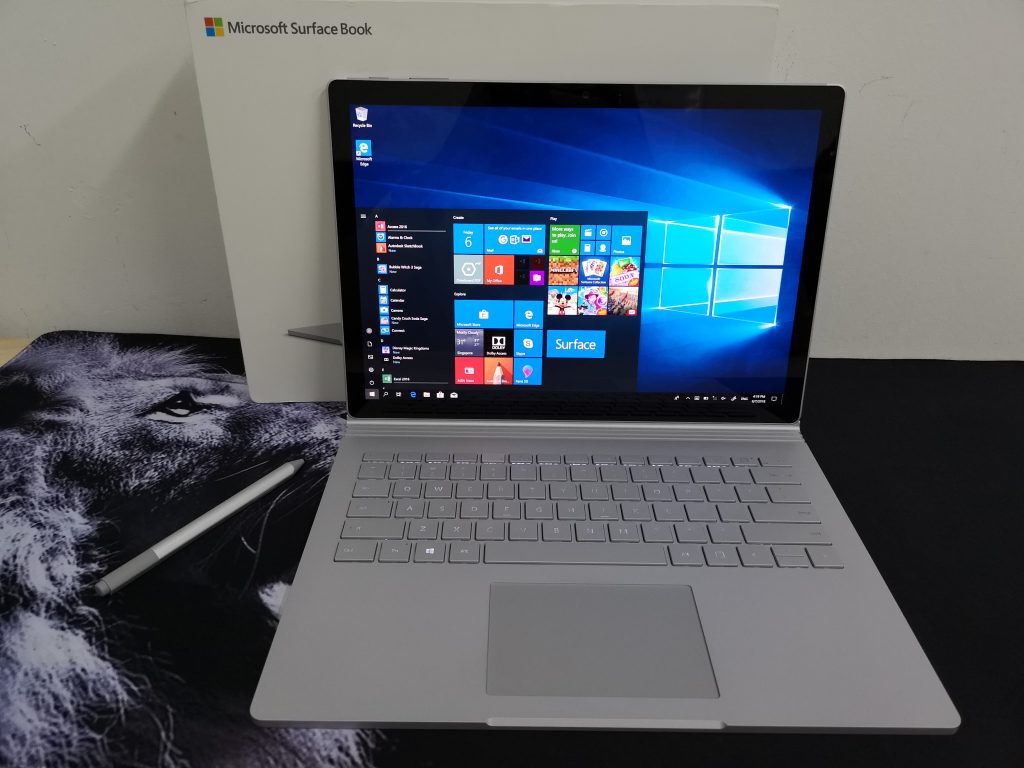 As a normal laptop, the Surface Book 2 does its job decently well. Having used it for weeks, here are several aspects that make this device exceptional.
Top-notch Touchpad
For starters, the touchpad is one of the best I have ever tried. It is surprisingly sensitive! The trackpad is able to capture most slight movements, while being capable of edge-to-edge "reachability" of the entire screen with a single swipe. It is also pretty flexible in terms of customizability with the capability to change what the three/four-finger gestures (swipes and taps) can do.
Satisfactory I/Os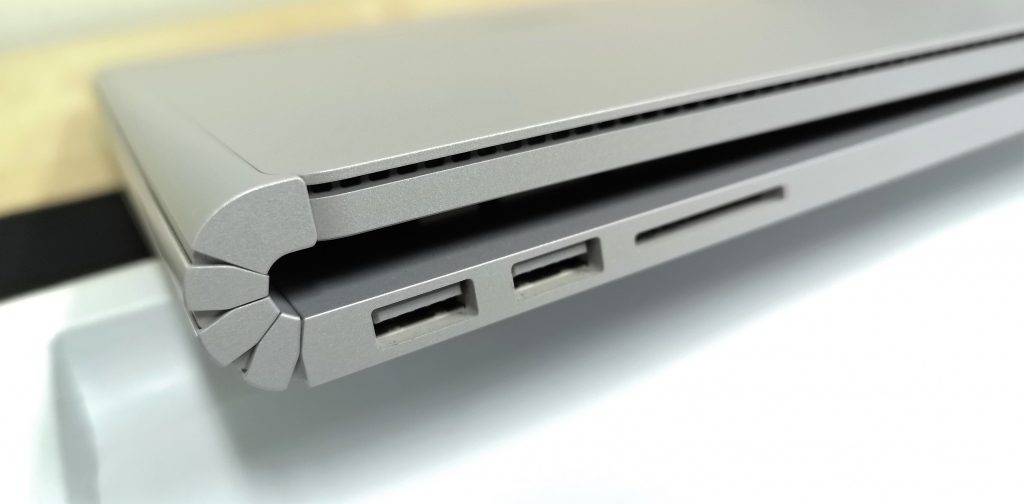 For its I/Os, it is sufficient for most. There are 2 x USB 3.0 Type As and a full sized (UHS-II SDXC) card reader on its left. While on the right, there is a single USB Type-C. There is also a 3.5mm headphone jack all the way to the top-right of the display. However, if you require a display output or an Ethernet port, a dongle is required.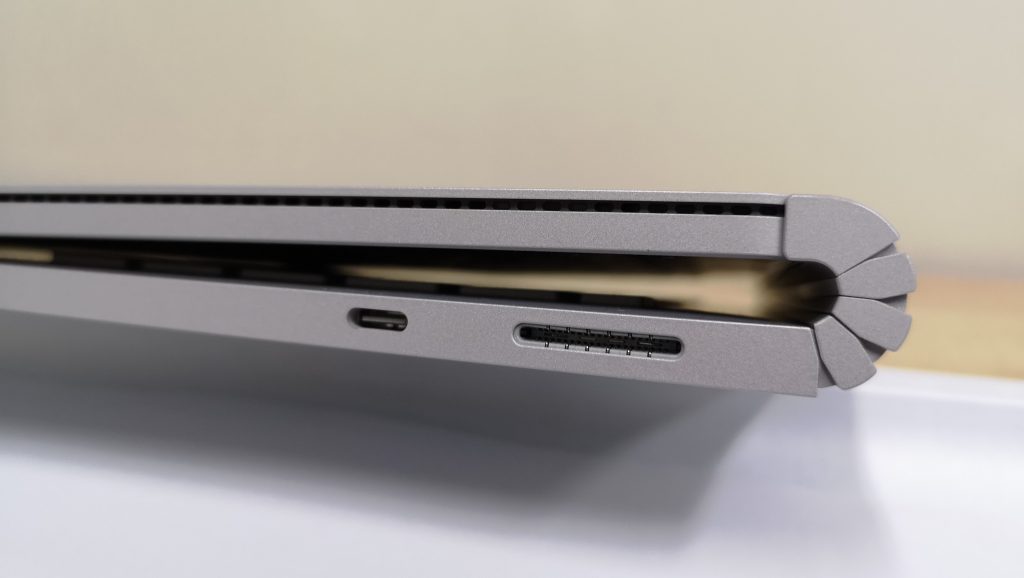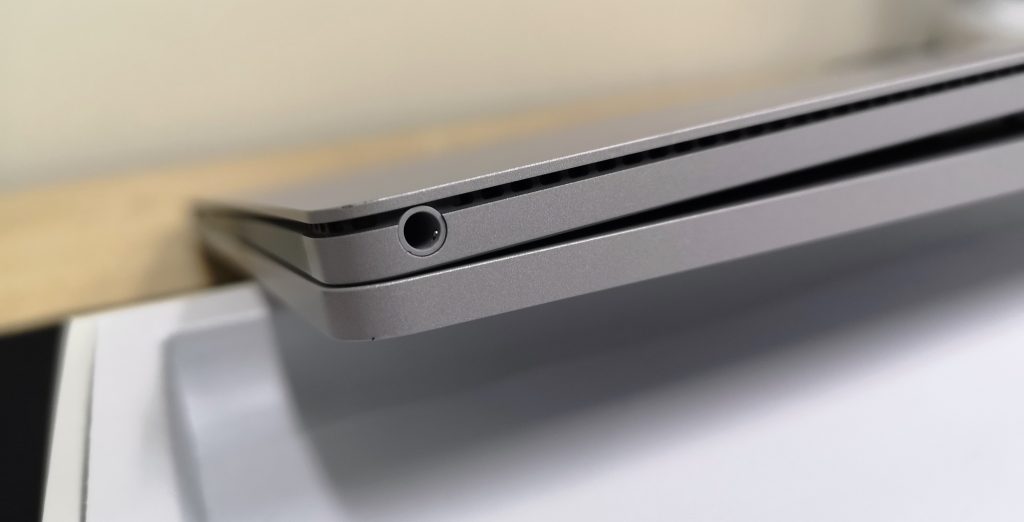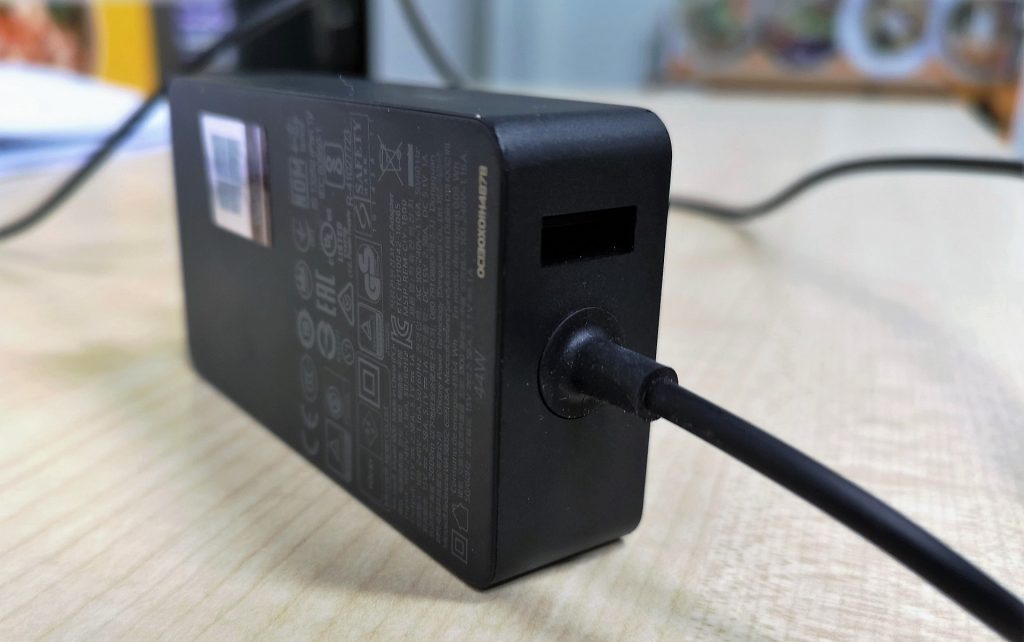 Could be betters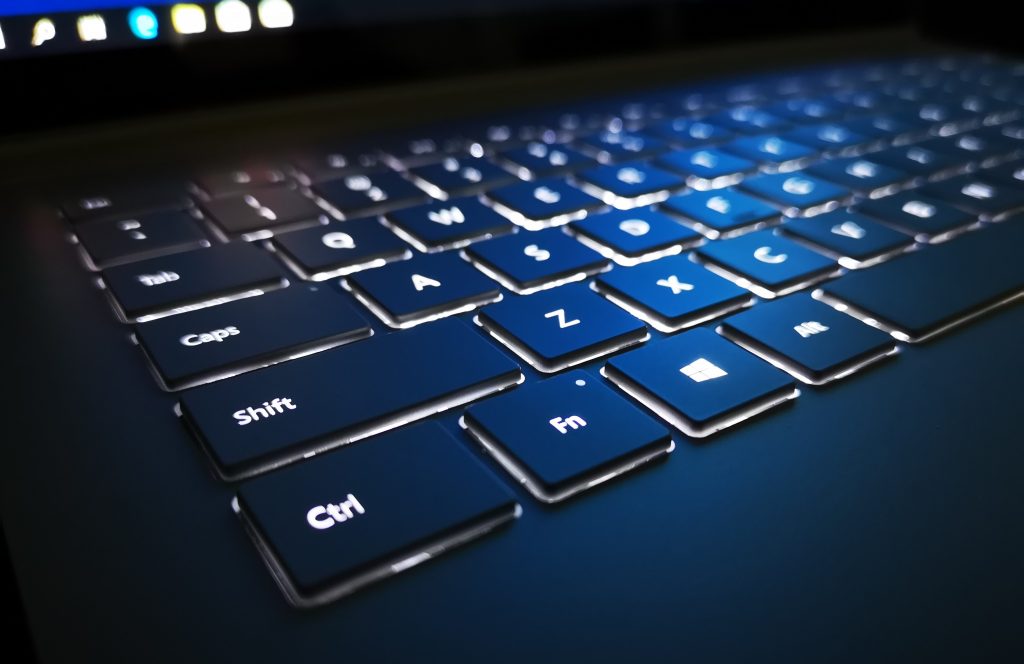 With all things said, there are a few minor flaws. Its keyboard is slightly mushy, and do not have perfectly even actuation points. The keys requires varying levels of pressure in order to register. There is also a noticeable, albeit slight, delay in button presses. This becomes apparent when typing quickly, but it is just a minor issue that many would not notice. Thankfully its backlit keyboard allows for use in a dark room.
Its hinge mechanism is not perfect either. The connection between the tablet and its base is not extremely stable. Shifting the screen/tablet forward or backwards can cause a short disconnection to occur, resulting in the keyboard and touchpad losing its functionality for a few seconds. To fix this, you can simply apply pressure down on the tablet towards its base and the connection problem should fix itself.
When it comes to weight distribution it does trumps that of the Surface Pro family. Its keyboard, being the heavier of the two, does allow the device to not topple over when used on a lap or an uneven surface.
Media consumption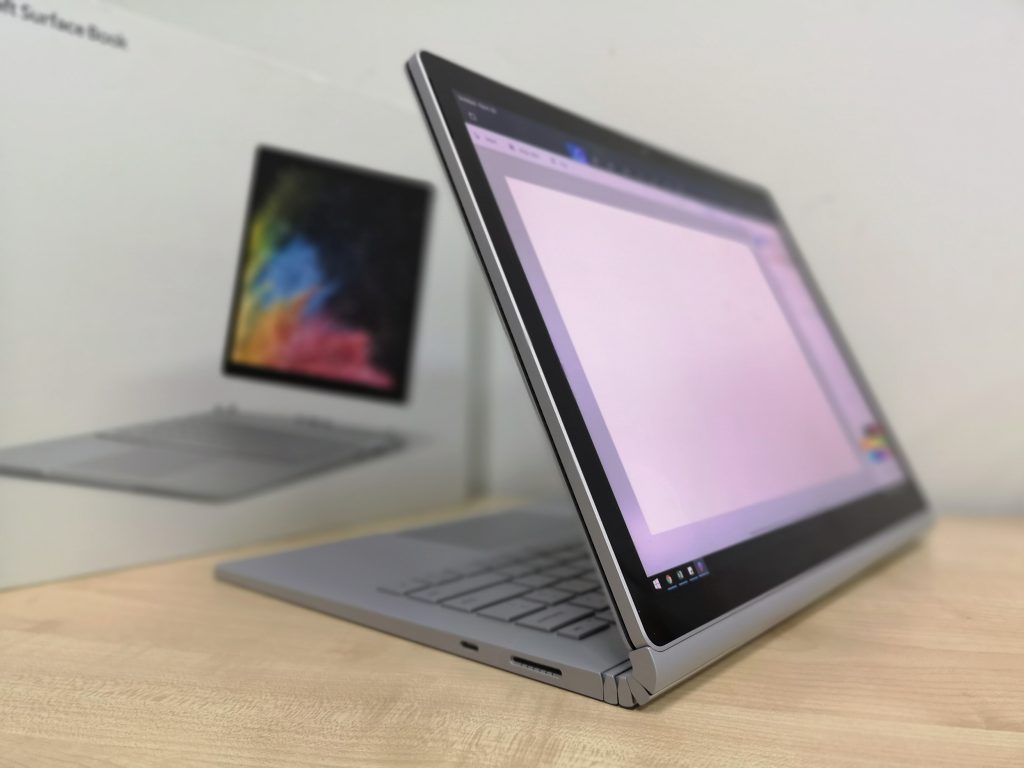 Due to the nature of having a 2-in-1 form factor, there are some design decisions that have to be made. One of such is its speaker locations. They are typically located right above the keyboard, but now they are at the top-edges of the display. This gives the impression of the audio playing directly to your face, instead of coming from the bottom. However, this does mean that the speakers have lesser room, and sound quality does take a hit. They are by no means exceptional, but they are surprisingly average.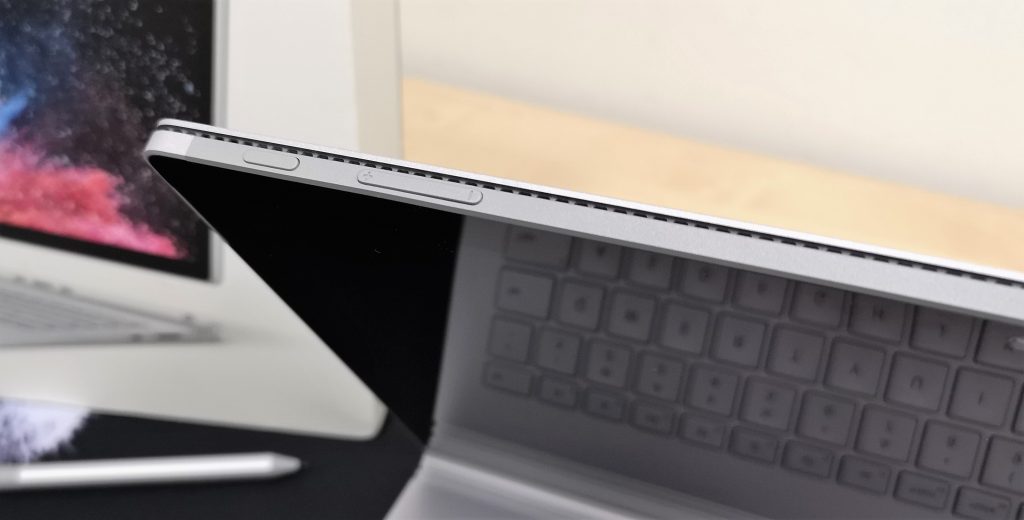 The second key decision was to move most of its processing components to the rear of the display. This keeps the discomfort away from the user as the heat would be located at the screen, keeping the keyboard base extremely cool. There are also vents located at its sides to help keep it cool passively. Using the laptop on the bed is not a problem anymore!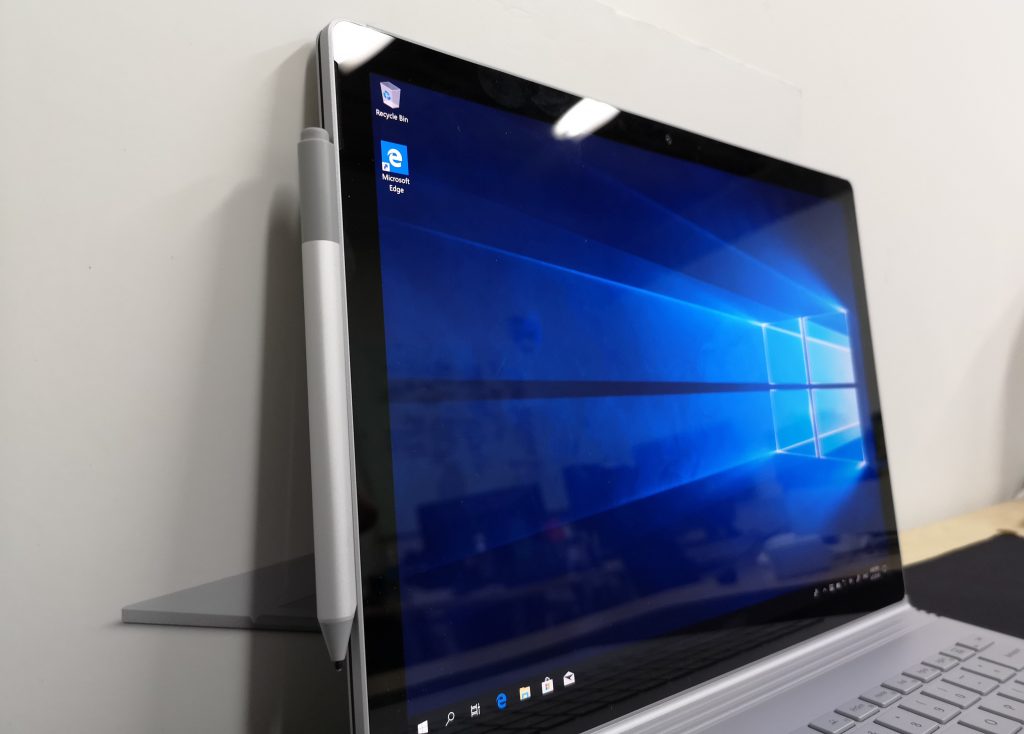 Another consideration is about screen bezels. These days, everyone and their fathers are screaming about bezel-less displays. This trend is not just applying to mobile phones, but also latching itself onto laptops. However, because the Surface Book 2 is made to be used as a tablet itself, space for thumbs have to be taken into consideration. That is why there is about an inch of bezel on all sides of its 13.5″ 267 PPI PixelSense display. To help soften the blow, the screen has a 3:2 aspect ratio (3000 x 2000 in resolution) to make full use of whatever space it has available.
What about performance?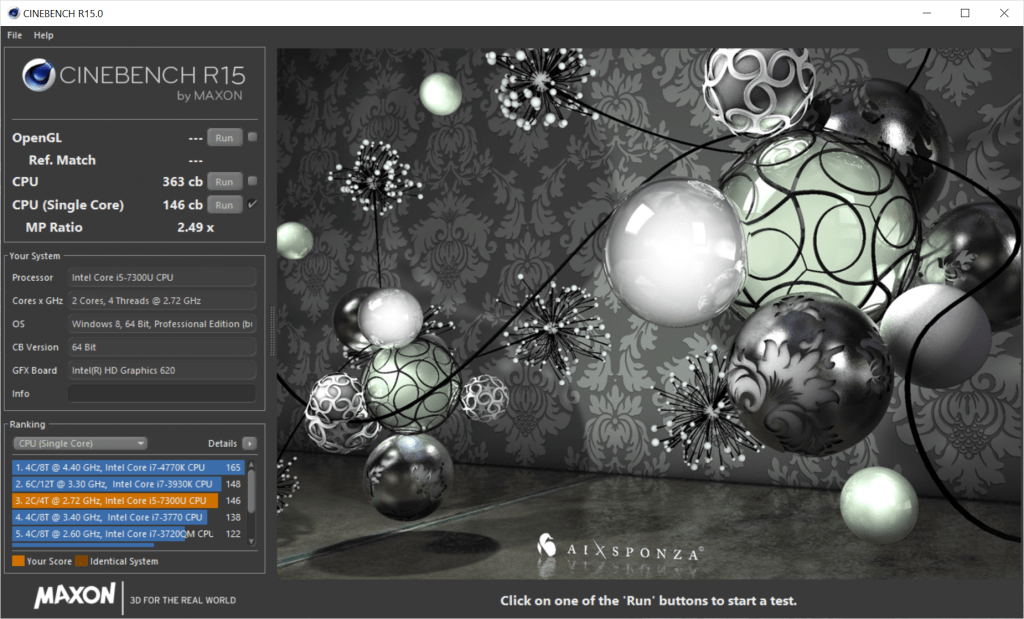 In terms of actual responsiveness, there are several key factors that work hand in hand to keep it fast and zippy. To begin with, the processor has to be powerful enough to handle the load. The base model comes with an Intel Core i5-7300U that has dual cores and Hyper-Threading, which is decent for most workloads and some multitasking. Speaking of multitasking, it starts with 8GB of RAM, which should be the minimum amount if you want a ton of programs running in the background without much issue. However, the holy grail of responsiveness that many overlook would actually be its PCIe SSD (up to 1TB). Not to mention, it can shorten the loading times of your games to a fraction of its original. You can view the ridiculously fast read speeds in the benchmark below.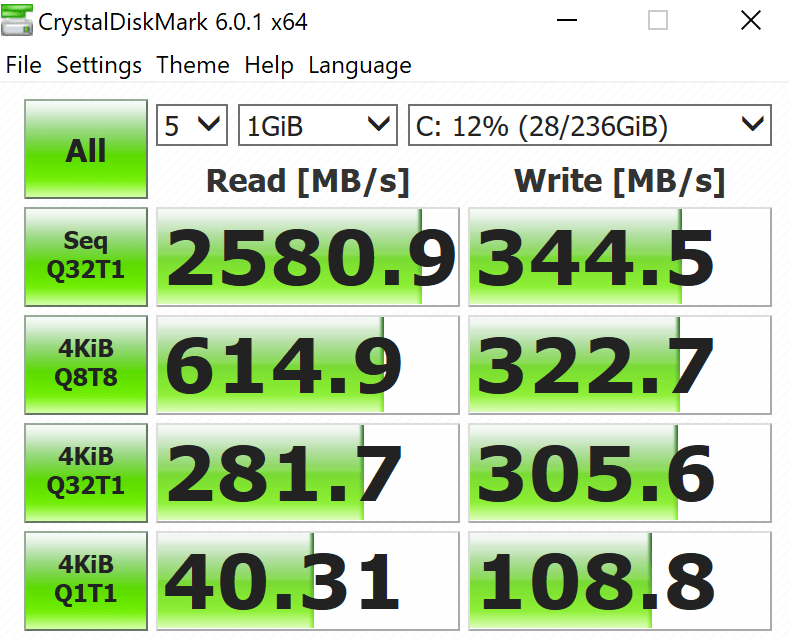 For our 13.5″ model, it only has an integrated graphics and lacks any discrete graphics capabilities. If you are planning to run any graphically demanding games, definitely select the model with Intel's Core i7 as they will come with either NVIDIA's GeForce GTX 1050 (2GB) or 1060 (6GB). Those will allow the Surface Book 2 to be also great for video editing.
With all that said, gaming is still possible with the weakest model. It does feature a pretty decent 7th-gen Intel Core i5-7300U (3.5GHz Turbo) with a not so great Intel HD Graphics 620. Lesser intensive games like MOBAs (e.g. Dota 2 or LoL) and arcade games (Cuphead) do run perfectly fine.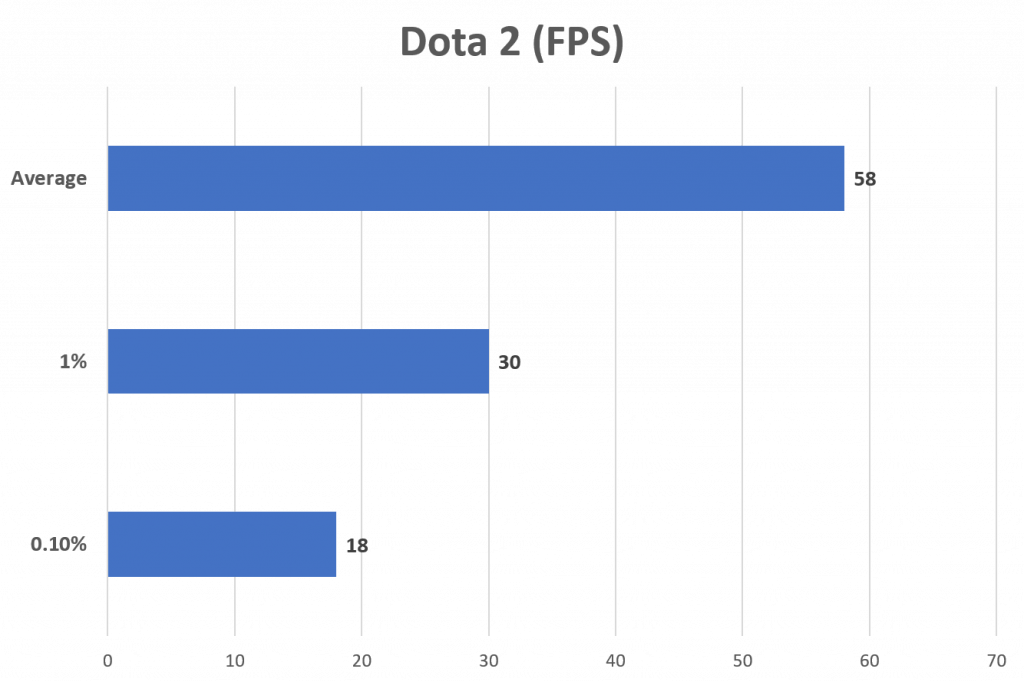 The Surface Book 2 manages to keep cool throughout our benchmarks, and does stabilize at 60°C in most games. It is still recommended to lower the resolution (perhaps to 1920×1200 and below) and graphical settings in order to hit the sweet 60 FPS spot, as the integrated GPU struggles to run the game in the default resolution.
How does it fare overall?
Apart from its slightly wonky screen-to-keyboard connection, the Surface Book 2 definitely checks the boxes for someone who needs a fully functional PC while on the move. Its touchpad is pretty great, and does make the mouse obsolete in many scenarios. Most importantly, its hinge mechanism allows for use in a ton of different use cases too!
However, many would feel the S$2,188 base price tag is pretty hefty. On the other hand, even though you are paying the same price range as a Macbook Pro, you will be getting a ton of features like a touchscreen and the 2-in-1 form factor. Microsoft is offering a lot more value for its price.