AMD's released their flagship Vega based graphics card for the market in late August last year. However, it was rather odd to see them only releasing their new Vega based graphics card for the high performance segment, while leaving the mainstream and entry portions to their Polaris 11 and 12 models (RX500 series). Why did they not replace the whole series of graphics card with a new and improved architecture across different market segments?
It seems to us that they were saving hype of their entry/mainstream Vega chips for their Ryzen based "Raven Ridge" APUs. Definitely, these APUs did not disappoint in terms of their performance. Meanwhile, they can also focus on the design and engineering of the new next generation 7nm Vega graphics card to compete with their fierce competitors in the other camp.
With the movements of the GPU market in the past year, and the impending release of the next generation graphics card, will the lower end Polaris based graphics card still make sense for consumers? Would system builders just go ahead with a Ryzen "Raven Ridge" APU instead, rather than spending more on a dedicated graphics card? We have the Sapphire Radeon RX550 Pulse 2GB Graphics Card with us today to help us with the questions we have today.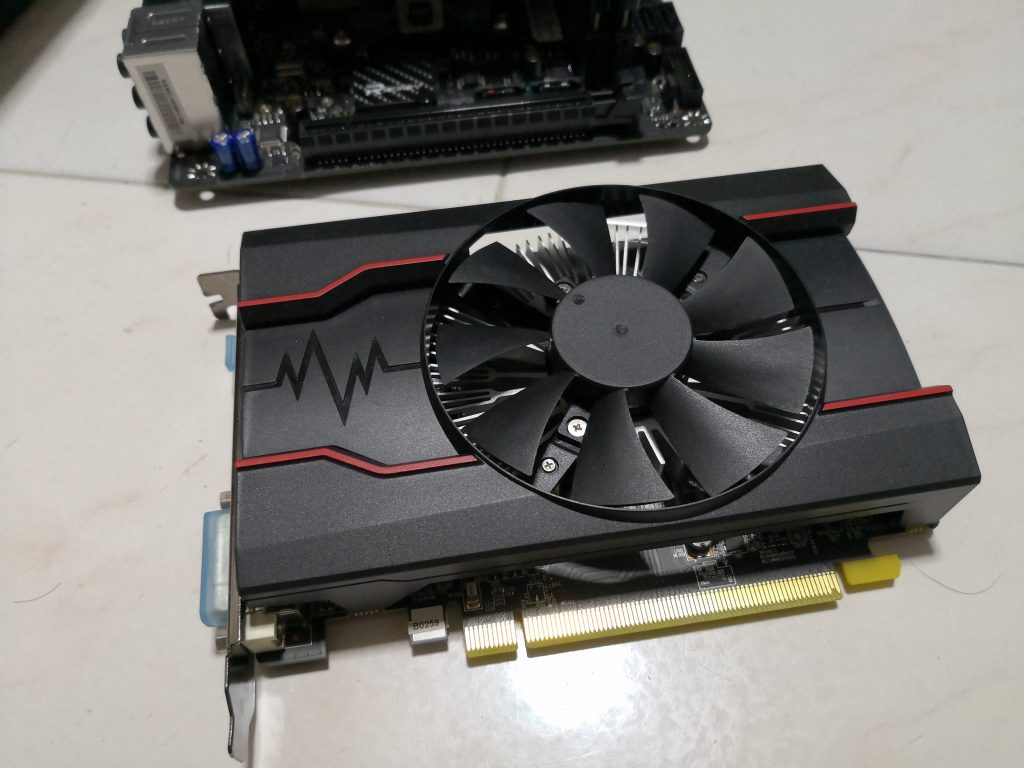 The Radeon RX550 GPU from AMD is developed based on AMD's Polaris 12 architecture. It is positioned as an entry level graphics card that promises graphics compute efficiency. Unlike the higher end Polaris 11 cards, such as the RX570 and RX580, the Polaris 12 also consumes much less power than the Polaris 11 and its predecessors. In fact, its typical board power is only rated at 50W.
GPU
512 Stream Processors
14 nm
4th Graphics Core Next (GCN)
1206 MHz Boost Engine Clock
Memory
128 bit Memory Bus
GDDR5 Memory Type
1500 MHz, 6000 MHz Effective
2 GB Size
BIOS Support
UEFI BIOS
Displays
Maximum 3 Outputs
Output
1 x DVI-D
1 x HDMI
1 x DisplayPort 1.4
Resolution
5120×2880 (60Hz) Pixel DisplayPort Resolution
2560×1600 (60Hz) Pixel Dual Link DVI Resolution
4096×2160 (60 Hz) HDMI Resolution
API
OpenGL® 4.5
OpenCL 2.0
DirectX® 12
Shader Model 5.0
Feature
FreeSync Technology
AMD Eyefinity
AMD Xconnect ready
DirectX™ 12 Optimized
HDR Ready
Frame Rate Target Control
Intelligent Fan Control III
Radeon Chill
Radeon Relive
Cooling
Single fan
Form Factor
1.5 Part Slot Occupied
158(L)X 112(W)X 28 (H) Dimension /mm
Power Consumption
<65W
OS
Windows 10 Windows 7
System Requirement
400 Watt Power Supply (Suggestion)
Blue-ray™ / HD DVD playback requires Blu-ray / HD DVD drive.
PCI Express® 2.0 or higher version based PC is required with one X16 lane graphics slot available on the motherboard in order for the card to be compatible with.
Sapphire Radeon RX550 Pulse 2GB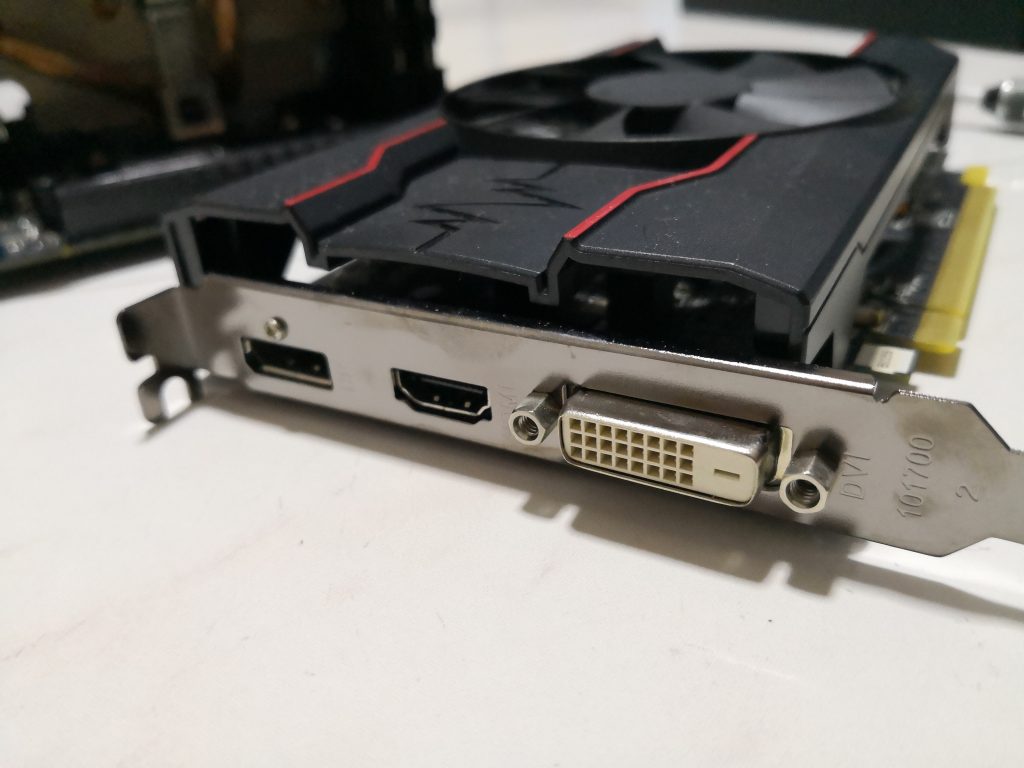 The Sapphire Radeon RX550 2GB looks fairly simple. It has a single fan that cools the whole graphics card unit. Interestingly, the fan doesn't even spin most of the times, unless you are actually in a game. This is possible because the AMD Radeon RX550 is really that power efficient and cool. Such a setting makes this graphics card a great choice for small form factor computers. This is also great for those who are really sensitive to fan noise, as it's literally silent while idle.
Test Setup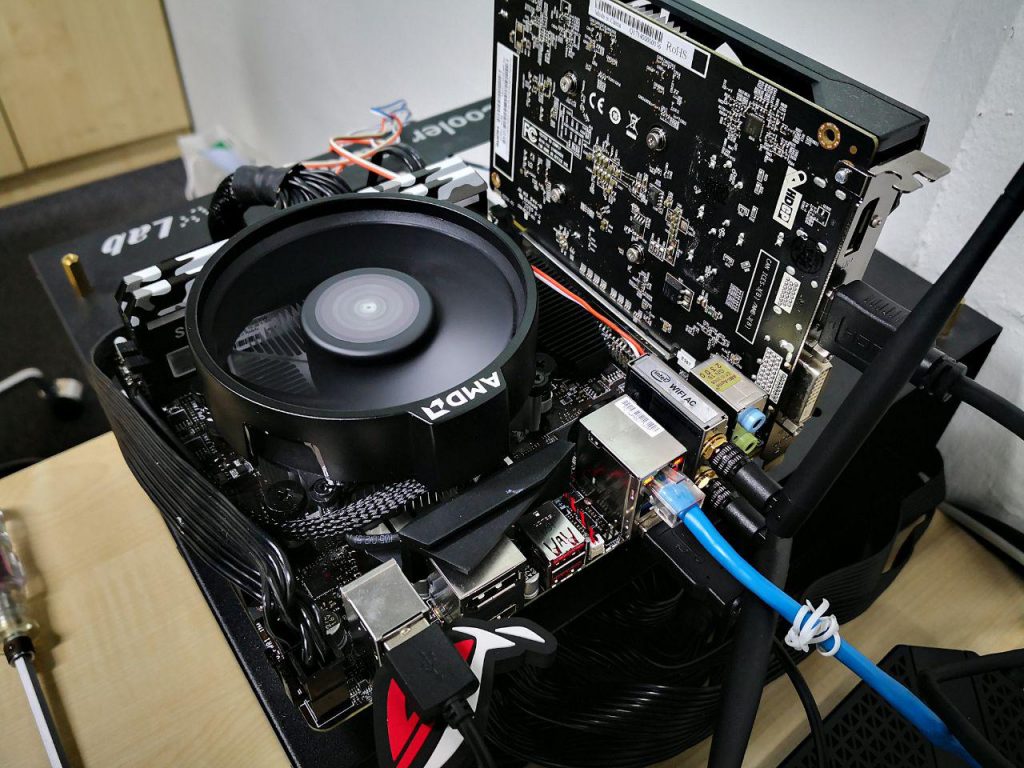 | | |
| --- | --- |
| Specifications | Hardware |
| CPU | Ryzen 5 2400G, Ryzen 3 2200G |
| RAM | G.Skill Sniper X DDR4 3400 CL16-16-16-36 2 x 8GB DDR4 Kit |
| Storage | Samsung 850 Evo M.2 SATA 250GB SSD |
| GPU | Vega 11, Vega 8, Sapphire Pulse RX550 2GB |
| Motherboard | MSI B350I PRO AC |
| CPU Cooler | AMD Wraith Stealth Cooler (Stock) |
| OS | Windows 10 Pro 64 bit |
| Drivers | Radeon Software Adrenaline Edition 18.5.1 |
We've placed the Sapphire Radeon RX550 within an AMD Ryzen "Raven Ridge" APU system in order to do a direct comparison with the performance of the Vega 11 and Vega 8 systems. This way, we can also compare between the performance difference between the Vega and Polaris architecture with the RX550 and Vega 8, as they have the same number of stream processors. However, do take note that the test may not be as accurate as it should be, due to the fact that the Vega 8 on the Ryzen APU does not have dedicated Video Memory, and has to rely on slower DDR4 system memory. The RX550 on the other hand is dedicated with 2GB of fast GDDR5 video memory.
Benchmark Results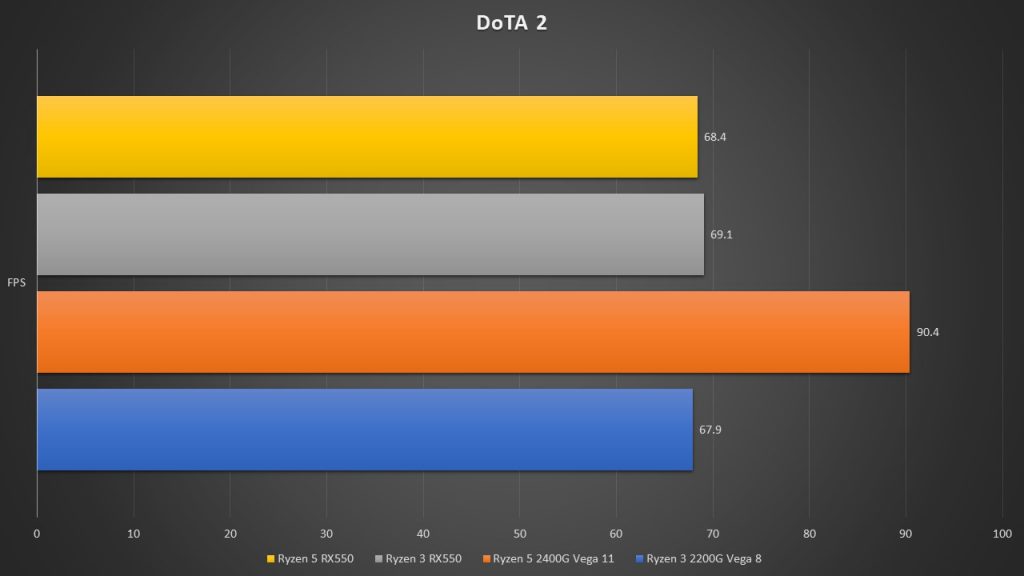 Dota 2 results for the RX550 was somewhat expected. As the Radeon RX550 has 512 stream processors as compared to 704 stream processors in the Vega 11, the results should be worse than what the Ryzen 5 2400G with Vega 11 provide. We can also see that there isn't much difference in performance between the Polaris based RX550 graphics card and the Vega 8 GPU found on the Ryzen 3, as they both have 512 stream processors.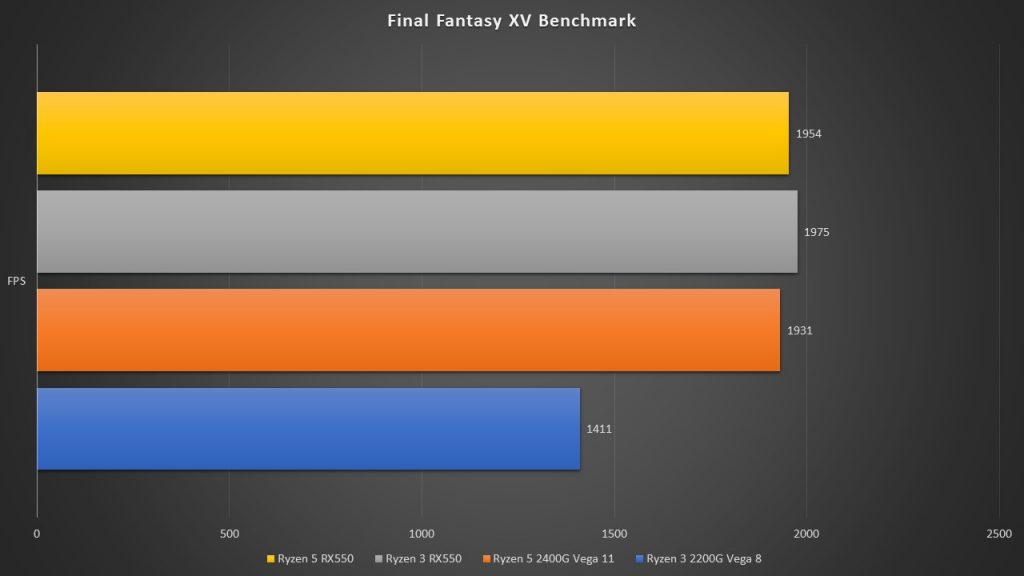 Interestingly, the benchmark results for Final Fantasy XV was very much different when compared to those from Dota 2. The Ryzen 5 2400G with Vega 11 was expected to perform the best, but both setups equipped with the Radeon RX550 were actually on par, despite having lesser stream processors.
It could be likely that memory performance became a bottleneck for this game with the Vega 11 on the Ryzen 5 APU. Therefore, it was unable to perform to its fullest.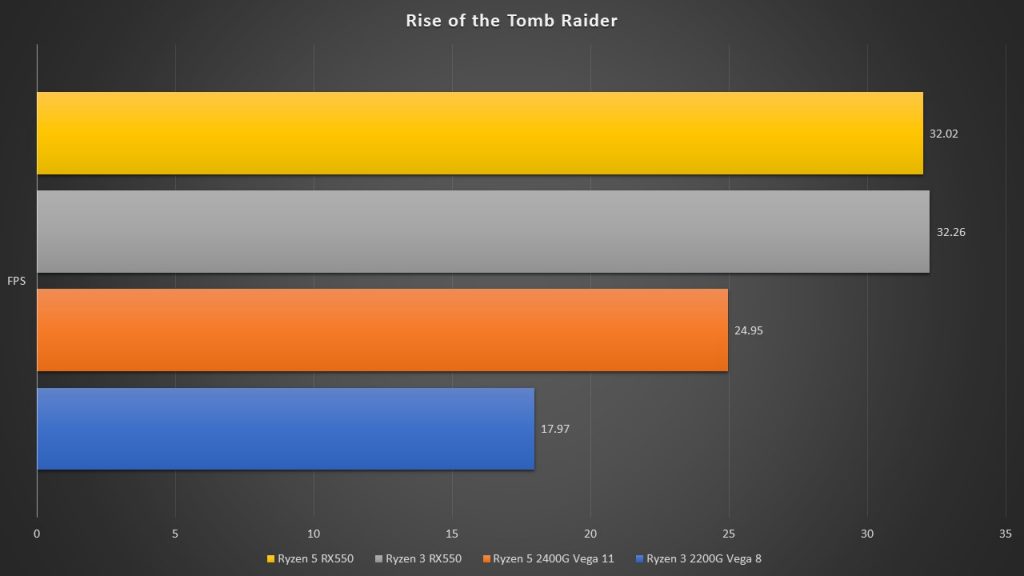 The Rise of the Tomb Raider benchmark made the difference in performance even more apparent. It seems like video memory place a huge part to the performance of graphics card in today's games.
Conclusion
The benchmark results speak for themselves. It is obvious that the Radeon RX550 Graphics Card has somewhat been made obsolete by the new Ryzen "Raven Ridge" APUs, especially the Vega 11. The GPU within the Ryzen 5 2400G was able to perform better than the RX550 in Dota 2, providing more FPS. It is simply just amazing to see all that performance just coming from an integrated APU SoC.
However, we have also taken note that the type of game mattered a lot as well, as the Radeon RX550 seems to perform better in both Final Fantasy XV and Rise of the Tomb Raider benchmarks. There are definitely still good reasons for the adoption of this card.
Firstly, since APUs do not have dedicated video memory for their Vega graphics processors, they have to rely on the slower system memory. The results also have shown that the Radeon RX550 still performed better than the Ryzen APUs in games where more video memory is required, such as Final Fantasy XV. This could highly likely be caused by the bottleneck by the speed of the system memory. Despite having more stream processors based on an improved architecture, the Radeon RX550 still manages to hold its ground.
Speaking from a more practical point of view, if you are purchasing a new budget gaming system, you will be better off purchasing a new Ryzen APU, as it is of a great deal of value for the performance that comes with it.
However, if you have pre-built desktop without a graphics card and would like to upgrade your system in order to play some games, the Radeon RX550 is still a great choice. Without the need for an additional 6-pin power cable plugged in, it should be easily compatible with most systems out there. The Radeon RX550 is still one of the cheapest graphics card capable of gaming that's available in the market anyway, and it could take some time before the next generation of graphics card will be released. Therefore, perhaps the purchase of a new Radeon RX550 graphics card, such as the Sapphire Radeon RX550 Pulse 2GB wouldn't be such a bad choice after all.