The Studio SB 36 is Jamo's First-Ever Sound Bar that Combines European Design and Immersive Acoustic Experiences – Now Available in Singapore!
This custom furniture look-alike provides a decorative alternative to the standard black plastic sound bars in the market.
Designed to be setup within minutes of unboxing
Seamlessly enhances any TV sound without any hassle
SINGAPORE, 16 July 2018 – Jamo®, a high-tech audio collaborative founded on Danish design principles and a Klipsch Group, Inc. brand, proudly unveils its first-ever sound bar that combines elegant solutions and better TV sound in Singapore – the Studio SB 36. With an integrated subwoofer built in, the Studio SB 36 sound bar is designed to setup within just minutes of unboxing. It seamlessly enhances any TV sound into a select home theatre system with great sound that fills the room.
Featuring furniture-grade design aesthetics, organic materials, and professionally designed drivers for superior sound clarity, the Jamo Studio SB 36 delivers home entertainment with performance and style. The All-In-One sound bar with a built-in subwoofer is 36" long and features Bluetooth® wireless technology, as well as optical and analog inputs. It is available in black and comes wrapped in soft textured grille cloth.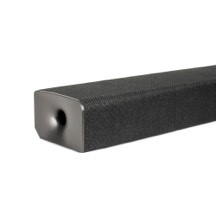 EASY PLUG & PLAY SET UP
The Jamo STUDIO SB 36 sound bar is des
igned to quickly connect to your TV. Simply plug in the optical cable to seriously upgrade your TV sound with no hassle.
ELEGANT, SLIM PROFILE DESIGN
The stunning design of the STUDIO SB 36 measures only 2.6" inches tall, allowing it to fit below your TV regardless of wall mounting or table top use.
DOLBY AUDIO DECODING BUILT IN
The built-in Dolby Audio® Decoder formats all your Dolby content to provide a detailed, powerful cinema experience.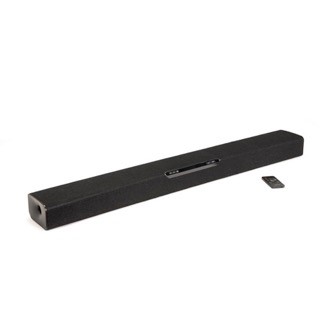 TRUE 2-WAY BI-AMPLIFIED SOUND
Dual 3/4" horn loaded soft dome tweeters deliver crisp highs. Dual 2.5" oval woofers round out the enhanced sound with clear vocals and dynamic soundtracks. Includes DSP controlled crossover via separate amplifier channels for tweeter and woofer.
INTEGRATED SUBWOOFER
Powerful 2.5" oval woofers reproduce impressive bass for their size so you can experience the rumble in a small form factor.
BLUETOOTH® WIRELESS TECHNOLOGY
Works great with all Bluetooth-enabled smartphones, tablets and computers allowing you to play music direct from your device.
VIRTUAL SURROUND MODE
Jamo enhanced virtual surround gives you an engulfing surround sound effect without all the additional speakers and wires.
EASY CONTROL
An easy-to-use wireless remote control included.
RUBBER FEET & KEYHOLE MOUNTS
Easily place the sound bar on a tabletop or mount it to the wall.
"The Jamo Studio sound bars are a decorative alternative to the standard black plastic sound bars on the market. They are uniquely tailored to reflect the sophisticated fine lines and textured finishes in traditional and modern homes," said Andre LaRouche, director of product development, integrated systems for Klipsch Group, Inc.
The Jamo Studio SB 36 sound bar is available in black colour and retailing at S$399.00 each. It can be purchased at Audio House, Courts, Harvey Norman, Hwee Seng online store (www.hweeseng.com) and Mustafa.
More about Jamo
Celebrating 50 years of advanced acoustic design, Jamo, a high-tech collaborative, has utilized resources from around the globe while honoring its Scandinavian roots. Innovative Jamo loudspeakers seamlessly blend into any living environment. Operating in more than 80 counties is designed for life, delivering contemporary style and integrating high-value audio that reflects the different ways the world listens. Jamo is owned by Indianapolis, Indiana-based Klipsch Group, Inc. Klipsch Group, Inc. is a wholly-owned subsidiary of VOXX International Corporation (NASDAQ: VOXX). Jamo is a trademark of Klipsch Group, Inc., registered in the U.S. and other countries.