Are you tired of lackluster sound from your TV's built-in speakers? The PRISM+ Ripple Soundbar is here to help. This sleek and affordable soundbar promises to deliver high-quality audio that will transform your viewing experience.
In this review, we'll take a closer look at the features and performance of the PRISM+ Ripple Soundbar to see if it lives up to its promises. Whether you're a movie buff, a gamer, or just someone who wants to enjoy their music with richer and clearer sound, keep reading to find out if the PRISM+ Ripple Soundbar is the right choice for you.
Specifications
| | |
| --- | --- |
| Price | $499 (usual $999) |
| Speaker Output – No, of Channels  | 3.1.2ch |
| Speaker Output – Peak Power  | 580W |
| Dolby Digital, Digital Plus, TrueHD and Atmos | Yes |
| Wireless Music Streaming  | Yes |
| Wireless Subwoofer | Yes |
| Bluetooth | Bluetooth 5.0 |
| Warranty | 1 Year Onsite |
| Dimensions (Height x Depth x Length) | 73 x 110 x 1050 mm |
| Subwoofer Dimensions (Height x Depth x Length) | 420 x 240 x 240 mm |
| Weight | 9kg |
Design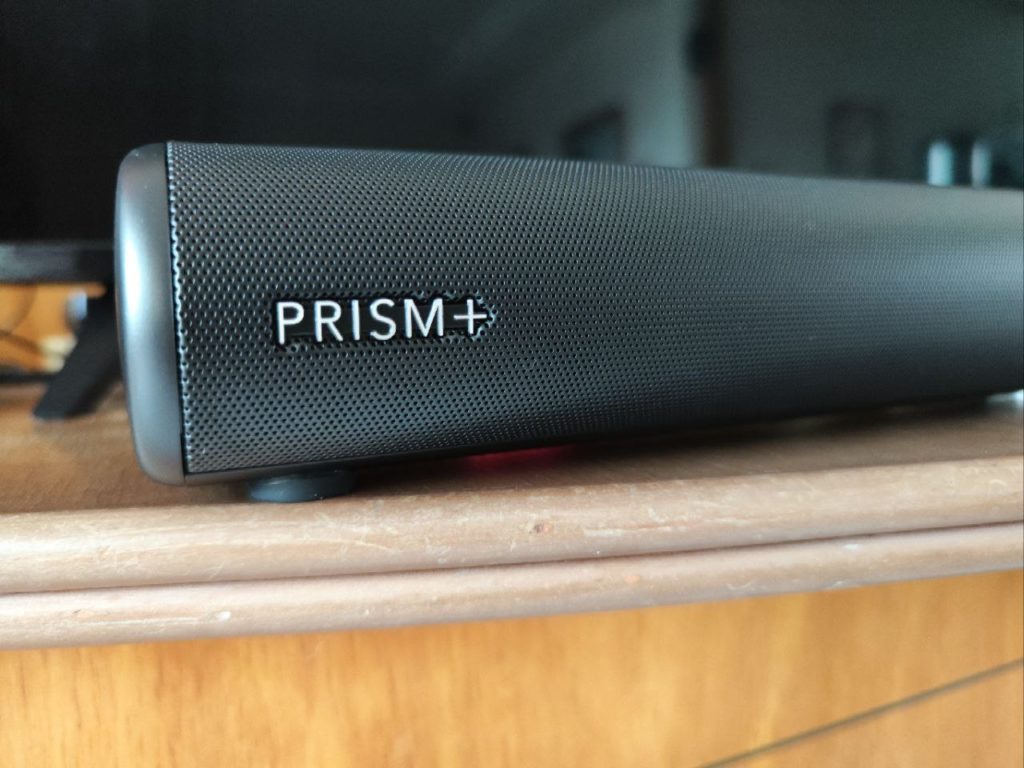 PRISM+ has opted for a simple and minimalist design with the Ripple soundbar, making it a versatile choice for any home setup. The 1.05 metres soundbar features a meshed grill design not only adds to the aesthetic appeal but also helps to safeguard the internal speakers from external damage, ensuring optimal performance.
Designed to provide an immersive cinematic audio experience, the Ripple soundbar boasts eight speakers crafted from top-quality materials.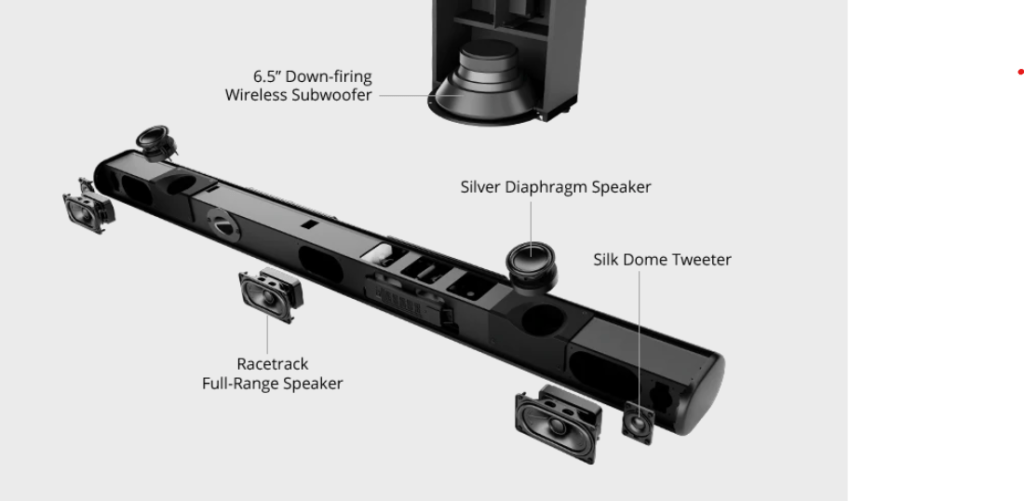 Each speaker has been carefully selected and integrated to create a harmonious combination that delivers entertainment in its purest and most authentic form.
The soundbar is accompanied by a powerful wireless subwoofer. Standing at 6.5 inches, the subwoofer is pretty huge. But because it is wireless, you can freely move it to any optimal position without the hassles of wires.
Setting it up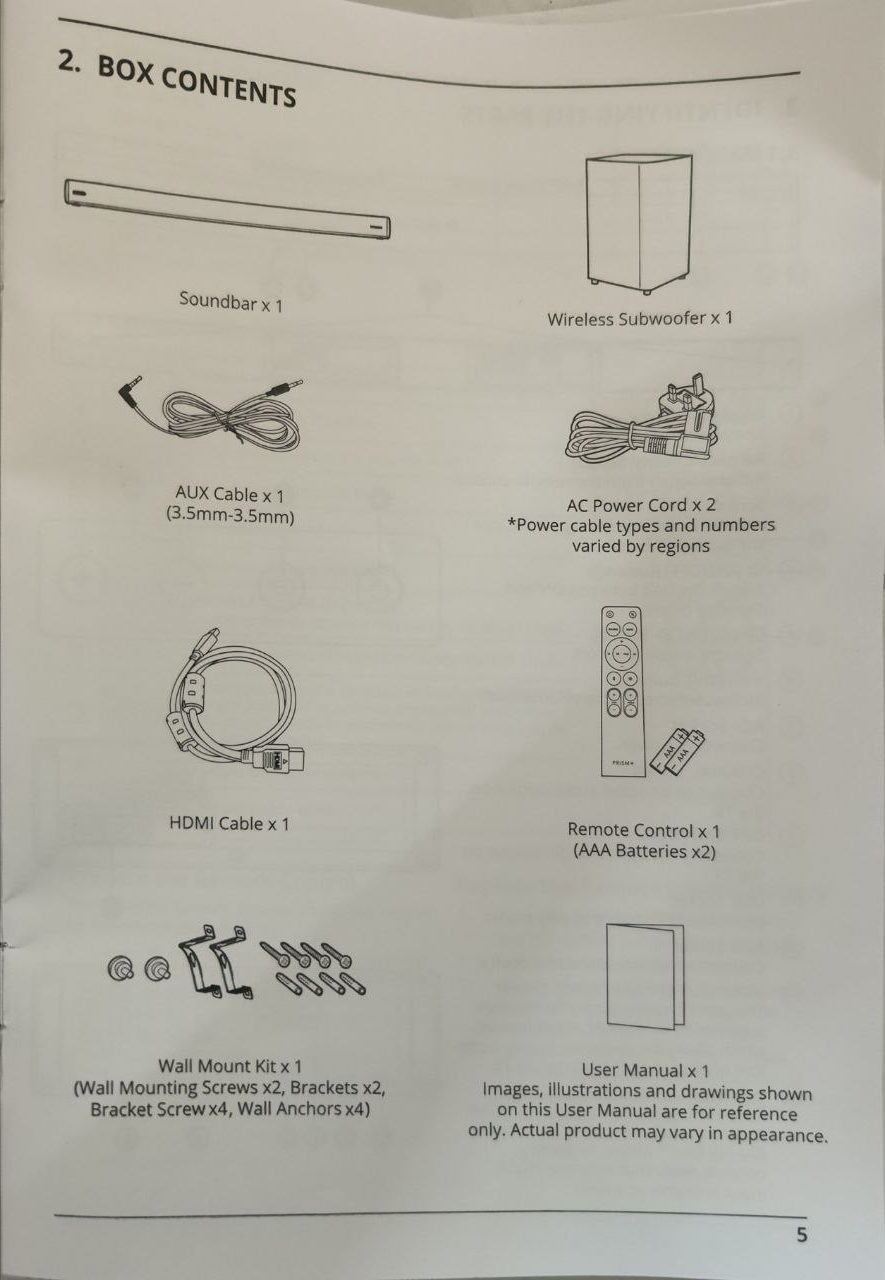 Setting up the PRISM+ Symphony Soundbar is a breeze. All you need to do is plug in the power cable for the soundbar, the power cable for the wireless subwoofer, and connect it to your television, and you're ready to go! This straightforward setup process means you can start enjoying high-quality audio in no time, without the hassle of complicated installation procedures.
Key features
Now that we've learned how to set up the sound bar and how it looks, let's just right in to the key features of the PRISM+ Ripple soundbar.
Home theatre sound immersion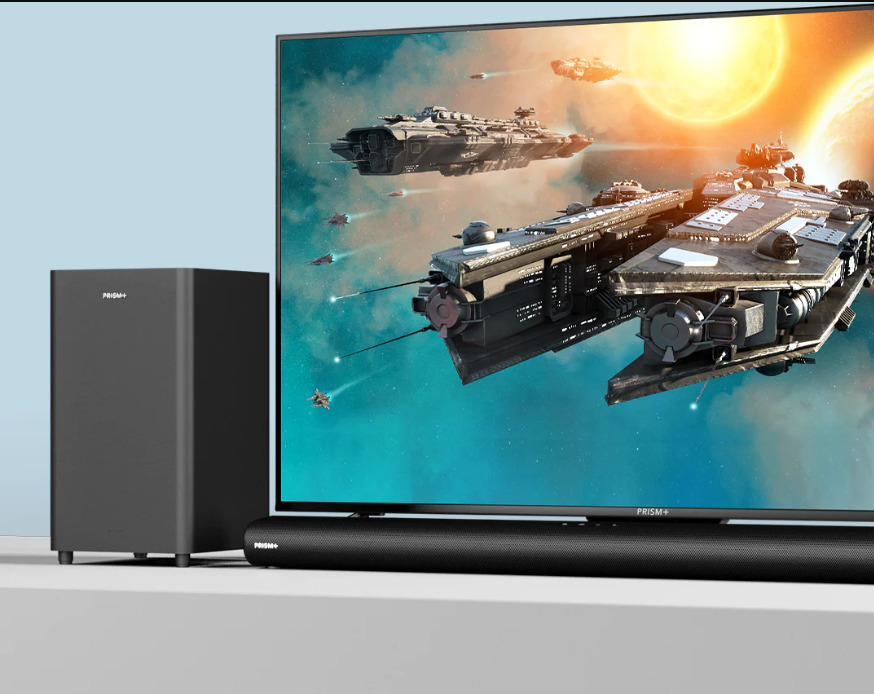 The PRISM+ Ripple soundbar boasts an impressive 3.1.2 channel surround sound system and a 580W output, for an immersive audio experience. The captivating 3D Dolby Atmos technology adds depth and dimension to the sound, making it feel like you're right in the middle of the action. Whether you're watching a blockbuster movie or playing your favorite game, the PRISM+ Ripple soundbar ensures that you won't miss a beat.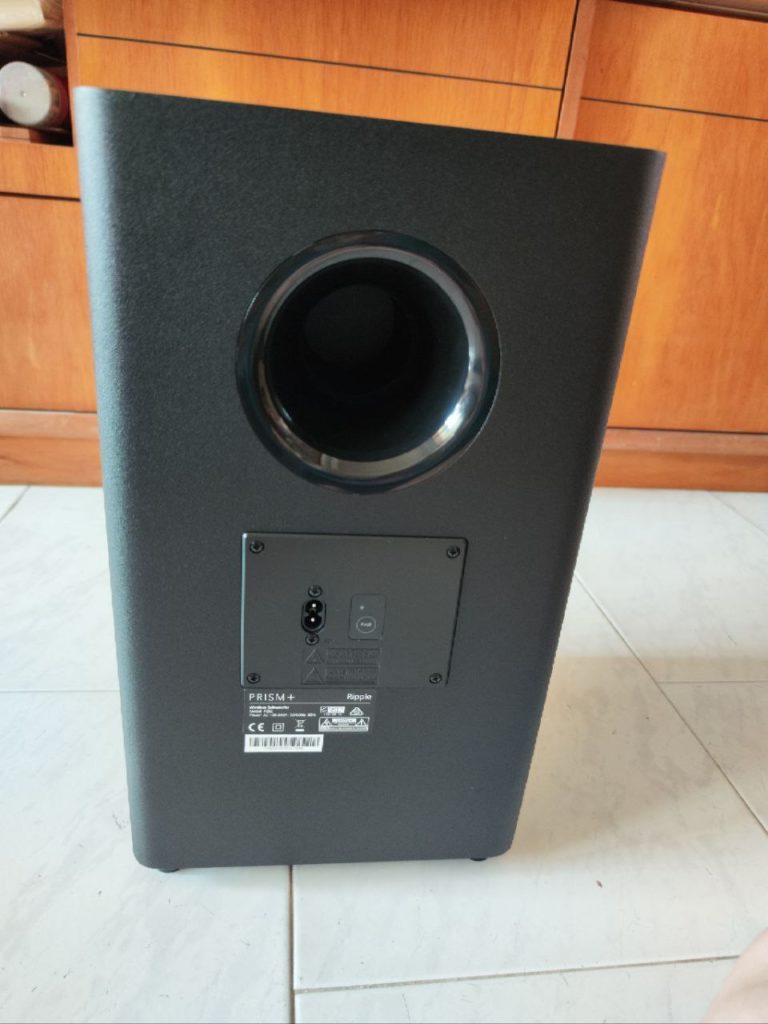 To further enhance the audio quality, the soundbar comes with a powerful wireless subwoofer that adds rich and powerful bass to your sound. This combination of a 3.1.2 channel surround sound system and a wireless subwoofer creates a cinematic audio experience that is sure to impress even the most discerning audiophiles.
On our test, the soundbar positively altered the experience of watching movies on Disney+ at home. It was truly an immersive experience that shaped the way we enjoyed a Marvel movie. We were able to experience spatial soundscapes with more depth, clarity, and details as intended by content creators.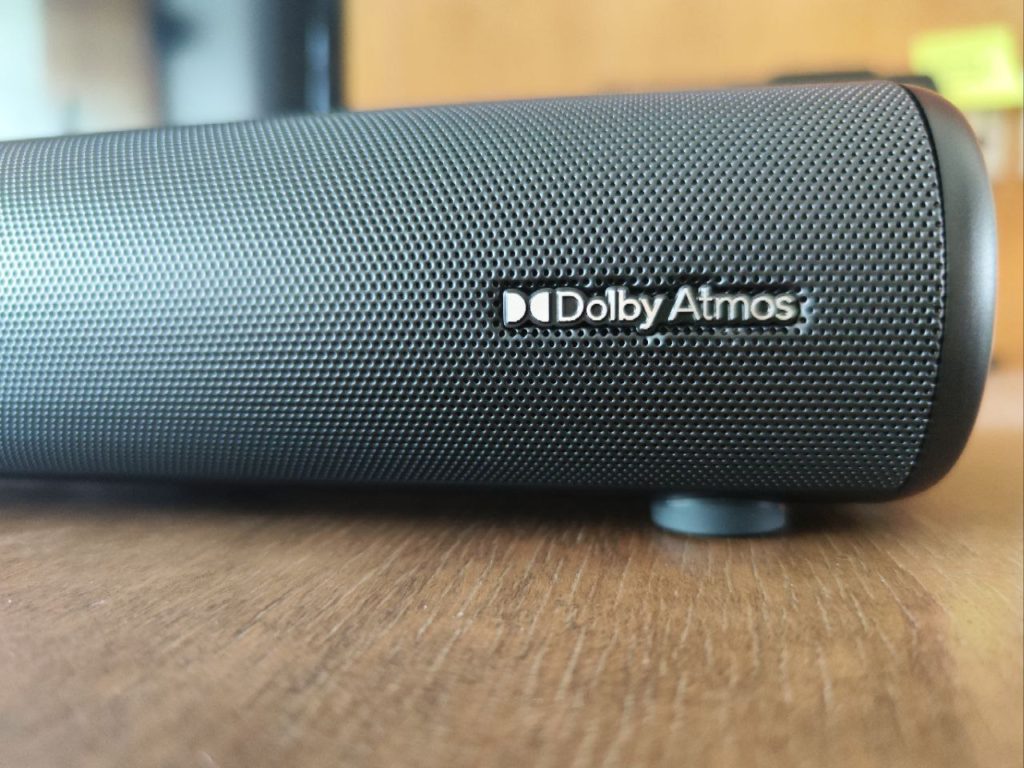 Furthermore, with the soundbar's HDMI eARC, lossless 3D sound formats like Dolby Atmos can be passed so you can enjoy content more thoroughly.
Multiple connectivity options
The PRISM+ Ripple soundbar offers a versatile range of ports and connectivity options that allow you to seamlessly connect and enjoy your favorite content from a variety of devices. With Bluetooth 5.1, you can easily connect your smartphone, tablet, or other Bluetooth-enabled devices to the soundbar for wireless audio streaming. This means you can enjoy your favorite music or podcasts without having to connect any wires.
Additionally, the soundbar comes equipped with an HDMI IN port, which enables you to feed Dolby Vision and HDR10+ from external devices through the soundbar to your TV. This feature is especially beneficial for movie lovers who want to experience the best possible picture and sound quality. By connecting your media player or gaming console to the soundbar via HDMI, you can ensure that both the audio and video signals are of the highest quality.
The PRISM+ Ripple soundbar also features other connectivity options such as AUX and USB ports. These additional ports provide more flexibility and convenience when it comes to connecting your devices to the soundbar. Whether you prefer wired or wireless connections, the PRISM+ Ripple soundbar offers a wide range of options to suit your needs.
Various audio profiles
The PRISM+ Ripple soundbar allows you to customize your audio experience with its 5 curated audio profiles, each optimized for different content formats. You can easily switch between Movie, Music, News, Sport, and Gaming presets to enjoy the best audio experience in each category. This feature ensures that you get the most out of your content by tailoring the audio to suit the specific genre you are watching or listening to.
We found that the Movie preset emphasizes the dialogue and sound effects, creating an immersive audio experience that complements the visuals. The Music preset, on the other hand, accentuates the bass and treble frequencies to produce a more dynamic and vibrant sound that enhances the music listening experience. The News preset, meanwhile, prioritizes clarity and vocal intelligibility to ensure that every word is clear and easy to understand.
Similarly, the Sport preset emphasizes crowd noise and commentary, while the Gaming preset emphasizes positional audio, allowing you to hear even the slightest sound cues in games for a competitive edge. With these 5 curated audio profiles, you can switch between presets to suit your content, ensuring that you get the best possible audio experience every time.
Easy to control
The PRISM+ Ripple soundbar offers convenient control options with its HDMI eARC connection. So, if you're worried about adding another remote control to your already cluttered coffee table, you don't have to worry with this soundbar.
You can easily control the soundbar with your TV remote, eliminating the need for two separate remote controls. By using the HDMI eARC connection, you can turn the soundbar on and off, adjust the volume, and switch between audio profiles, all with the press of a button on your TV remote.
This feature is especially beneficial for those who value simplicity and convenience when it comes to controlling their home entertainment system. With just one remote control, you can easily navigate through your content and adjust the audio settings to your liking. Whether you're watching a movie, playing a game, or listening to music, the HDMI eARC connection allows you to control the PRISM+ Ripple soundbar seamlessly and effortlessly.
Pricing and Availability
In line with PRISM+'s heritage of making premium technology accessible to the mass market, this first-rate soundbar launched at an affordable price of just SGD $499 here.
Verdict
We've previously reviewed the PRISM+ Symphony soundbar. The PRISM+ Ripple soundbar is pretty similar to the PRISM+ Symphony in many ways. But at just $499, it offers all that the Symphony offers at a much lower price point. With a bunch of features and sound profiles, the Ripple is great for movie and game buffs alike.