Huawei just announced their latest mid-tier smartphone – the HUAWEI nova 3i at S$398. It features the dreamy-looking gradient that Huawei's P20 and P20 Pro brought to the market just a few months back. This textured gradient is only available in its Iris Purple variant, with a glossy Black being the other.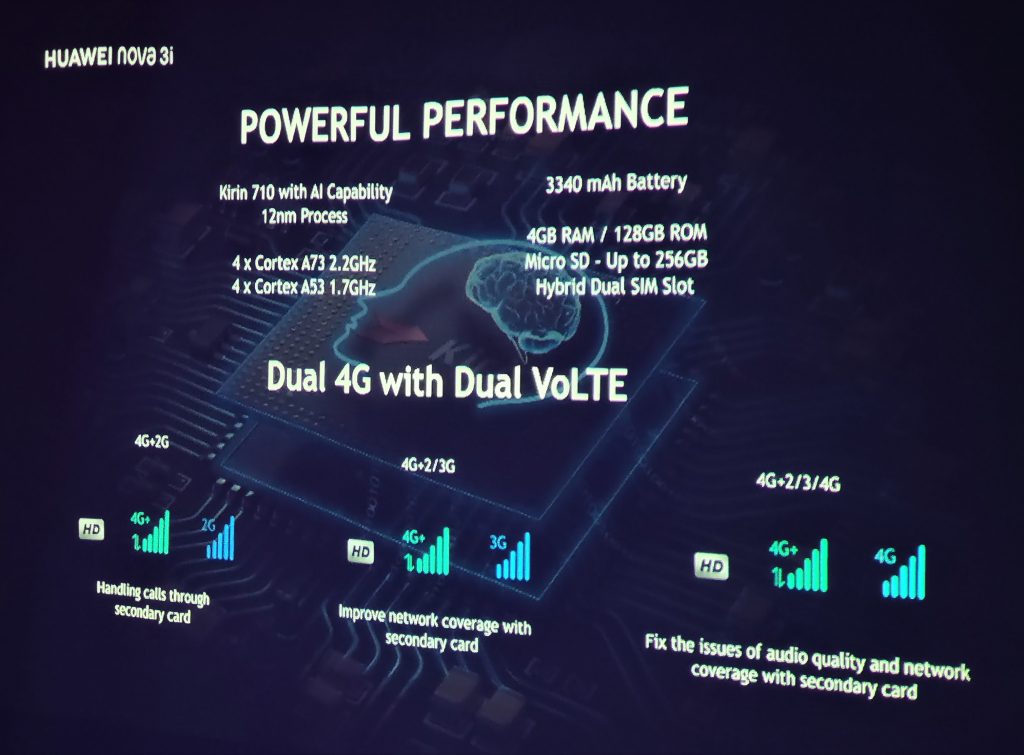 When it comes to recording moments, it has four cameras powered by AI, with two on the front (24MP f/2.0 + 2MP) and two on the rear (16MP f/2.2 + 2MP). Powering these cameras is the Kirin 710 and its decent 3340mAh battery. The former is a step down when compared to its bigger brother – Kirin 970, but it should perform as well as Qualcomm's Snapdragon 6** series. It also comes with 4GB RAM and 128GB internal storage.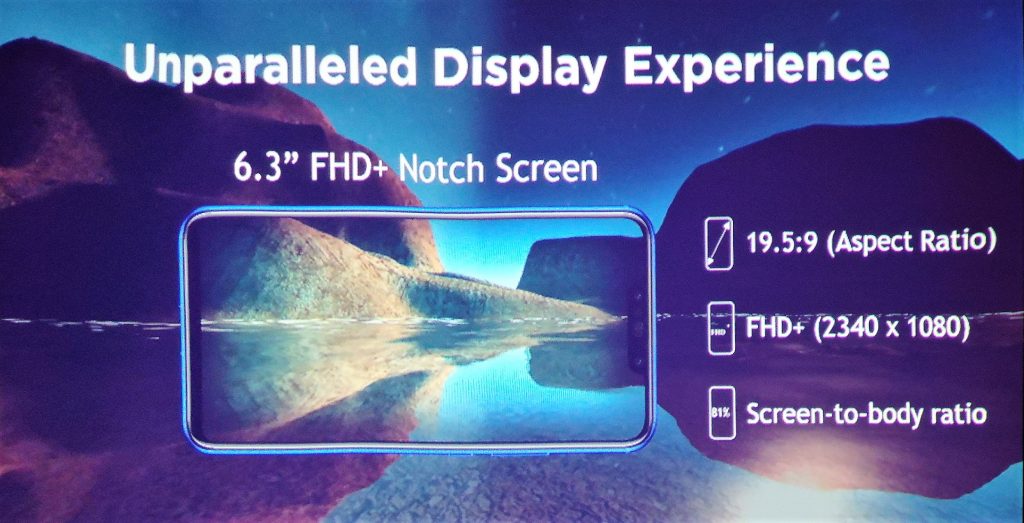 Displaying its brand-new EMUI 8.2 is its 6.3-inch FullView display (409 PPI). This 19.5:9 (2340 x 1080) LCD screen covers 85% of the color gamut, allowing colors to look pretty vibrant for a mid-tier smartphone. Although, its EMUI 8.2 should not to be confused with Android 8.2, as it still runs the latest Android Oreo 8.1.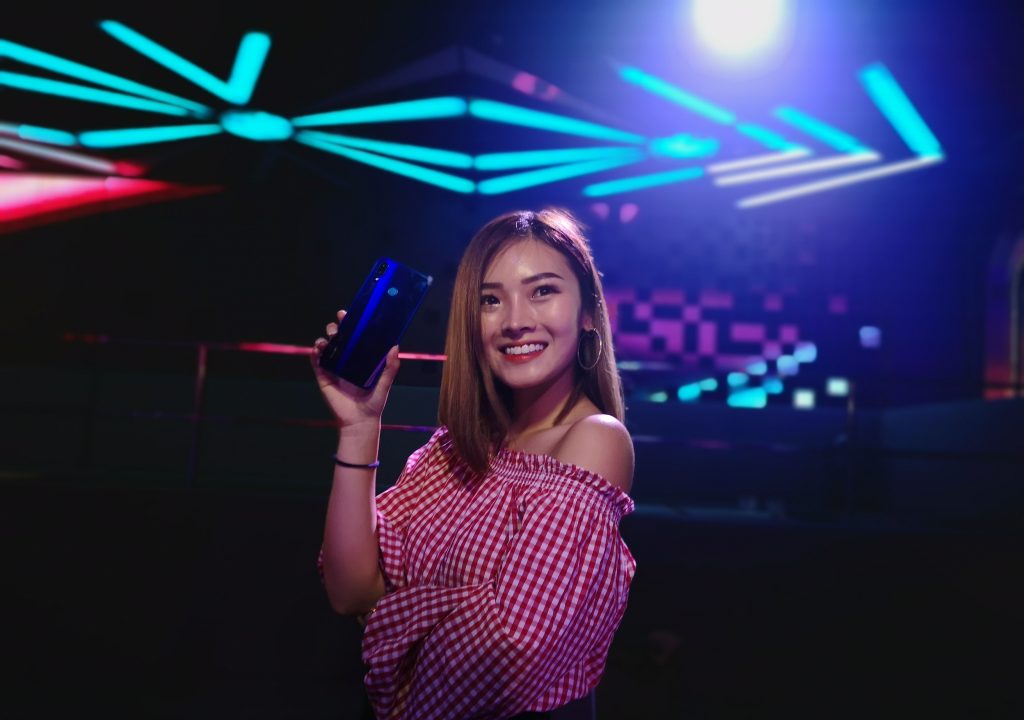 You can get your hands on the nova 3i next Saturday (28 July). Definitely checkout the sale at Waterway Point Shopping Mall – East Wing Atrium this 28 July, as you might get Casio G-SHOCK watch freebies (worth S$199?) together with your nova 3i.
You can also get it at all Huawei Concept Stores, local telecommunication operators, selected consumer electronic stores, authorized mobile retailers and selected online marketplaces.
Do look out for our full review of the nova 3i that is coming shortly.
Full press release can be seen below.
Huawei Launches the All-new HUAWEI nova 3i that Raises the Bar for Mid-range Smartphones
Singapore amongst the first in the world to launch HUAWEI nova 3i
Featuring the all-new Kirin 710 chip, the nova 3i offers stellar performance at an exceptional value of S$398
The HUAWEI nova 3i is the world's first smartphone to feature front-facing dual cameras with AI support
SINGAPORE – 18 July, 2018: Huawei Singapore Consumer Business Group was amongst the first in the world to unveil the new HUAWEI nova 3i smartphone at a media launch held earlier today at AVRY Singapore. The HUAWEI nova 3i is currently the only mid-range device that offers front facing dual cameras with AI support, offering a photography experience that rivals what traditional smartphones can offer.
"We want to empower our customers with access to high-end technologies and create value for the budget-conscious," said Cheng Jiangfei, Managing Director, Huawei Singapore Consumer Business Group. "By integrating the finest of modern design and AI capabilities, the HUAWEI nova 3i boasts a range of new exciting features that pushes the boundaries of innovation. We believe that such fundamentals of smartphone technology should be made accessible for everyone to enjoy. With the HUAWEI nova 3i, our customers can enjoy exceptional quality and premium functionalities at a fraction of the price."
The HUAWEI nova 3i will be available in both Iris Purple and Black at the recommended retail price of S$398 and will be making its public debut on 28 July 2018 at Waterway Point Shopping Mall, East Wing Atrium, Basement 2. From 11am to 9pm, customers will receive a Casio G-SHOCK Analog-Digital Watch (worth $199) with every purchase of the nova 3i, while stocks last. As part of the debut on 28 July, visitors will also be treated to a day of entertainment with celebrity appearances by local sweethearts Joanna Dong and Boon Hui Lu.
Key features of the HUAWEI nova 3i include:
Masterfully created with a mesmerising gradient that features a special textured film underneath the glass back that produces a dreamy unique appearance on the rear;
Four AI cameras to put a premium, intelligent photography experience into the hands of customers (Front: 24MP and 2MP, Rear: 16MP and 2MP);
Unparalleled display experience; the HUAWEI nova 3i is equipped with the newest generation of FullView display. Measuring at 6.3-inch and supporting FHD+ (2340×1080). The vibrant 19.5:9 display covers 85 percent of the color gamut;
Flagship-class performance; the HUAWEI nova 3i brings users an extraordinary experience through the perfect integration of software and hardware. In addition to the latest EMUI 8.2, it features Huawei's first quad-core Kirin 710 chip, specifically designed for the nova series.
Four AI-powered cameras with infinite possibilities
Powered by AI, the HUAWEI nova 3i can recognise over 200 scenarios across eight categories including Blue Sky, Plant and Beach. The AI function can optimise photos by scene to create a true-to-life effect.
First of its kind AI powered 24MP + 2MP front cameras
The HUAWEI nova 3i is the world's first smartphone to feature a 24MP primary sensor and a 2MP sensor powered by AI photography. The 24MP primary sensor is designed to capture details with its f/2.0 wide aperture lens, while the 2MP secondary sensor captures depth data with dedicated depth detection hardware. Working in synergy, the dual cameras can produce stunning, authentic bokeh effects, minimizing the time and effort required for editing the perfect photo.
Master AI Photography with 16MP + 2MP rear cameras
The rear-facing camera combines a 16MP primary sensor and a 2MP secondary sensor. The former captures vivid images and videos, while the latter records depth data to create a professional bokeh effect, resulting in more natural-looking images. When taking a photo, the handset also assists the user with intelligent composition, helping amateurs take gorgeous photos with ease.
Expression made different with 3D Qmoji
With AI machine learning, the HUAWEI nova 3i also supports 3D Qmoji, which is a social media-friendly feature that digitally transposes the face of a user onto a digital avatar.
An Extraordinary Viewing Experience
The HUAWEI nova 3i features a trendy design and meticulous craftsmanship that place the device at the forefront of fashion.
The HUAWEI nova 3i uses the newest generation 6.3-inch FHD+ (2340×1080) 19.5:9 FullView display. These specifications enable the display to push out bigger and sharper images while looking slimmer than its predecessor. Another upgrade is on colour reproduction: The new generation of the device covers 85 percent of the colour gamut, up 10 percent from the previous generation, offering an unparalleled display experience.
The front of the HUAWEI nova 3i features a symmetric design—the earpiece speaker is beautifully nestled between two sensors. Behind the notched front view is a beautiful glass back, secured firmly to a sturdy aluminum-magnesium alloy mid-frame. The glass transitions seamlessly to the mid-frame, allowing this 6.3-inch-screen boasting device to retain a slim outer appearance and exceptional feel in the palm.
Designed to mesmerise
The Iris Purple gradient colour is perfectly realised on the textured film underneath the curved glass. Purple and blue blend harmoniously with the neon-like contrasts, melding together to create a futuristic looking hue. Besides the trendy Iris Purple variant, HUAWEI nova 3i is available in Black. Whether it is on the runway or a car, the colour black has never been out of fashion.
Flagship Performance with Support for AI Features
Today's market is populated with devices all claiming to support AI. The HUAWEI nova 3i is the ideal device for the bold to explore the future of AI. Huawei ensures a high-quality AI user experience with the power Kirin 710 SoC that delivers an outstanding and balanced performance. Huawei has also cultivated a complete ecosystem on the EMUI, one that encompasses a comprehensive suite of AI-related services that enables an AI-enhanced lifestyle for the convenience of users including AI shopping, AI gallery and more.
Smooth gaming experience
The HUAWEI nova 3i also supports an AI gaming mode that pushes the performance of the SoC to the maximum while blocking non-critical notifications and calls that could hamper the gaming experience.
In addition to the Kirin 710 SoC and 4GB RAM, the HUAWEI nova 3i also uses GPU Turbo to optimize its graphics processing capability. GPU Turbo is a graphics processing accelerator technology that re-architects how graphics are processed on a system level; it greatly improves software-hardware integration, pushing past the traditional bottlenecks that held the CPU and GPU back. GPU Turbo enables devices to run even the most graphically intensive games as it boosts both performance and efficiency, an achievement that defies conventional technology.[1]