It seems that HyperX got hooked onto the RGB craze at COMPUTEX 2018 as well. While there are some small upgrades to their peripherals and hardware, the main additions to the products for this year are most notably the addition of "bling bling" RGB lights.
HyperX Pulsefire Surge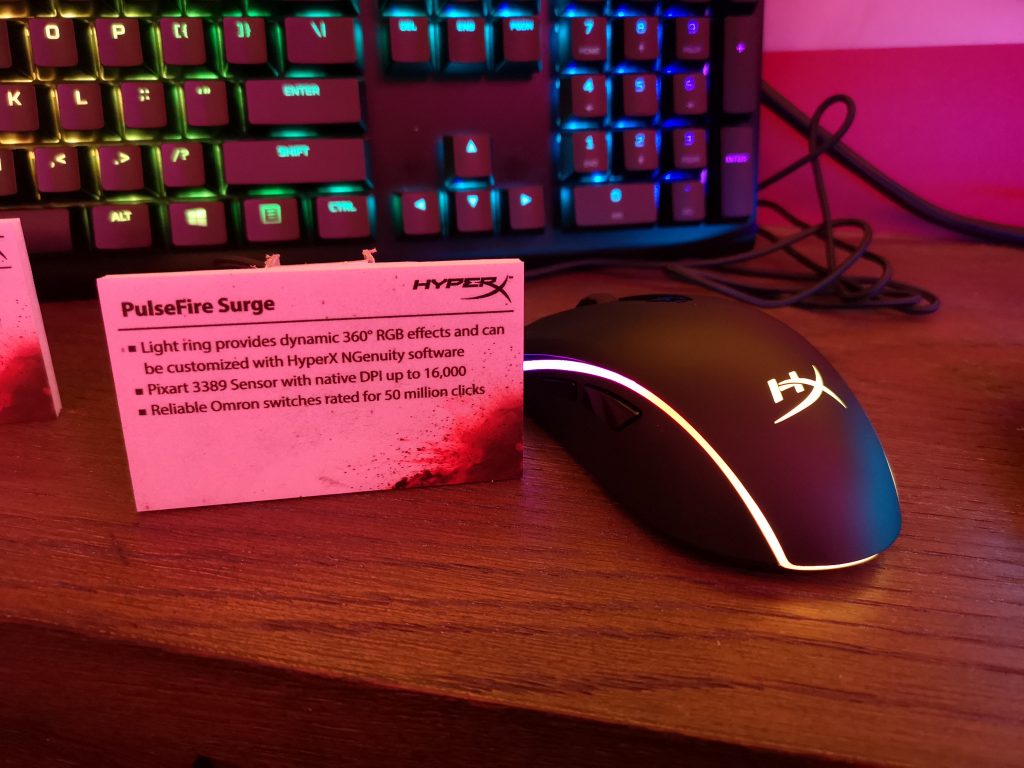 The HyperX Pulsefire Surge is an ambidextrous gaming mouse that is created for gamers who are seeking for something simple that works decently well in general. The addition of RGB lightings was also considered to be quite mild, as it's not all over the place. Moreover, the NGenuity software by HyperX can also control the lighting effects and colours on this mouse, making it one of the most customizable RGB mouse in the market right now.
The HyperX Pulsefire Surge has also been refreshed with a new PixArt 3389 optical sensor that can achieve a mouse accuracy of up of 16,000dpi.
HyperX Fury RGB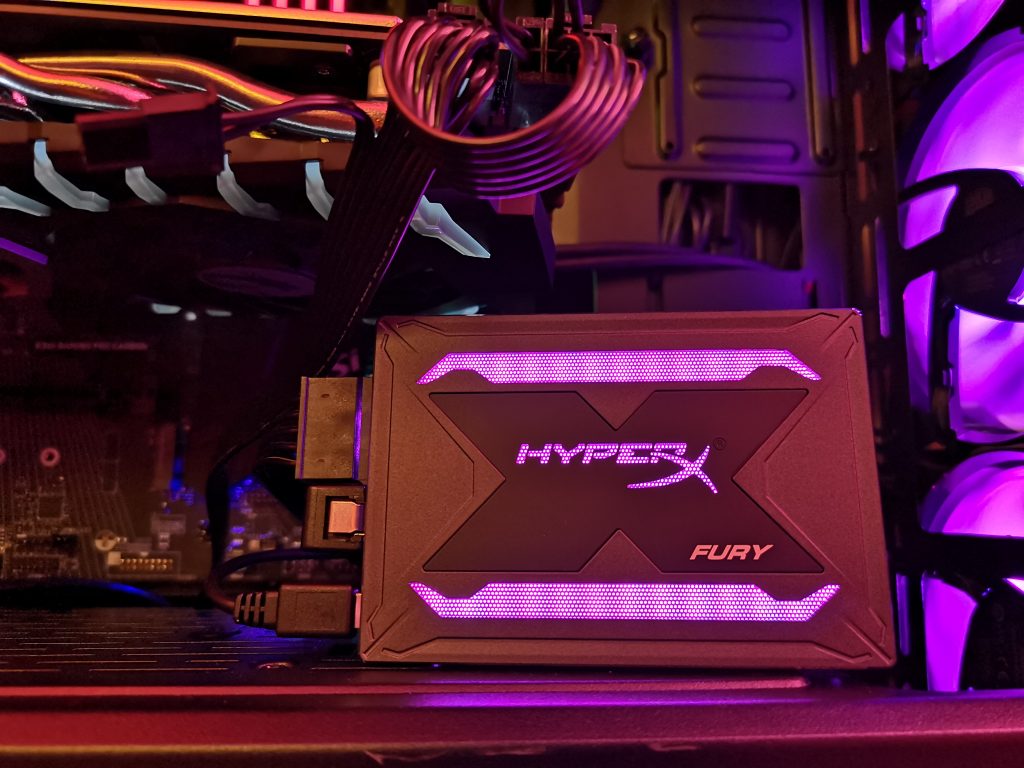 The HyperX Fury SSD has been in the market for quite a while. So why not just slap some RGB goodness in it? The HyperX Fury RGB shown at the showroom at COMPUTEX 2018 is not a final product, as the representative mentioned that they are still finding out if such a bold new design can be accepted by end-users. Nonetheless, the HyperX Fury RGB sure allows the SSD to stand out from the case with it brightly lit RGB LEDs.
HyperX Predator DDR4 RGB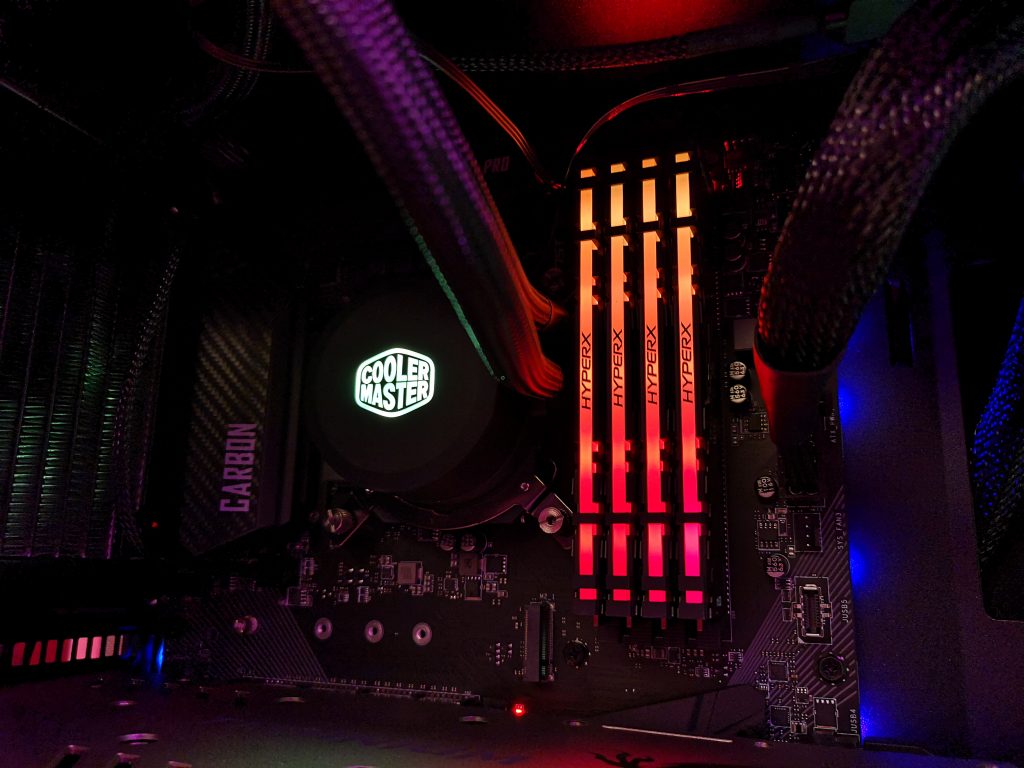 The HyperX Predator DDR4 RGB has already been out in the market for quite a while. These DIMMs are uniquely designed to have their+ RGB lighting synchronized with HyperX's own Infrared Sync technology, thus removing the need for additional cables. The Predator DDR4 RGB are available with speeds of up to 3600MHz and low CL12 – CL17 latencies.
HyperX Alloy FPS RGB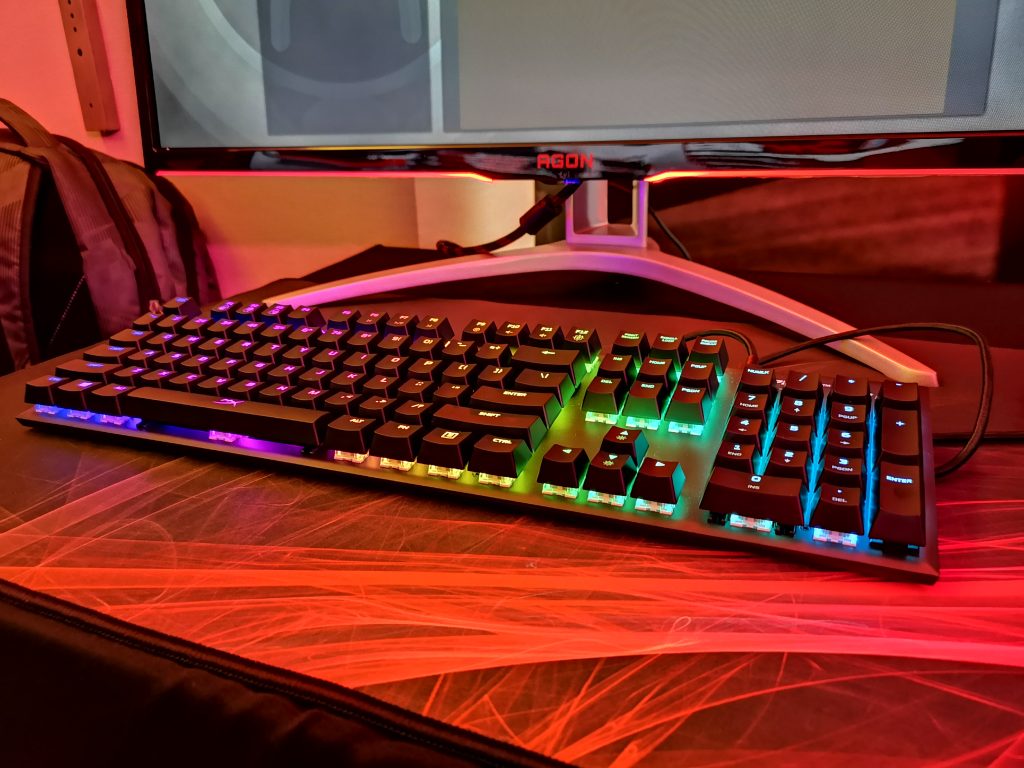 If you remembered our review of the HyperX Alloy FPS a year back, the HyperX Alloy FPS RGB should be familiar to you. In fact, both keyboards are identical in design. HyperX made 2 main changes to this model – they've included RGB lighting, and added the availability of Kailh Silver Speed switches. It is expected that the inclusion of Kailh switches could bring down the cost of the keyboard for better mass adoption of gamers.
Unlike traditional RGB Gaming keyboards, the HyperX Alloy FPS RGB has their RGB LEDs placed directly into the switch area of the keys. This allows the RGB lighting to be reflected directly onto the base of the keyboard, showing off the differences for a floating key design.
While RGB products are getting mainstream, with many brands and manufacturers simply adding RGB to new products, we were glad that HyperX still continued to make sure that these additions do not come at the expense of performance. However, we do hope to see more innovation coming from HyperX for gaming products, especially with the blooming e-sports and gaming population around the world.
Computex 2018: HyperX Power up Gamers with RGB Gaming Gear
Five Million Gaming Headsets Shipped Worldwide
With the popularity of video games Fortnite and PlayerUnknown's Battlegrounds (PUBG), the gaming peripheral market continues to grow at a rapid pace. Gamers also seek to further personalize their gaming visual experience and customize their PCs and the whole gaming environment. HyperX, a division of Kingston Technology, is now ready to offer gamers both RGB peripherals and components for the best gaming setup as Alloy Elite RGB keyboard, Pulsefire Surge Gaming Mouse and Predator DDR4 RGB launched this year. Since the first Cloud Gaming Headset launched in April 2014, HyperX surpassed 5-million award-winning gaming headset sales mark in 2018 and continues to gain new fans globally.
HyperX RGB gaming peripherals are exclusively made for all gamers. Alloy Elite RGB Gaming Keyboard is available in red, brown or blue CHERRY® MX key switches. The gamers can set up their own unique keyboard by complete color customization with NGenuity software, along with up to three custom lighting profiles that can be saved directly to the keyboard's on-board memory for on-the-go lighting; Predator DDR4 RGB features industry-leading, patent-pending HyperX Infrared Sync technology, providing an enhanced visual experience by keeping the module lighting in sync; The Pulsefire Surge RGB features a design improvement that allows both palm and claw grip users to enjoy using the Pulsefire Surge while playing any game style or genre. It not only provides pinpoint accuracy with its Pixart 3389 sensor and 16,000 DPI resolutions, gamers can customize RGB colors on the 360o light ring, DPI button and HX logo all through the HyperX NGenuity software.
As HyperX has been supplying hardcore gamers with gear for over 10 years, HyperX continues to expand its product lines to meet the needs of the mass casual console gamers. During Computex, HyperX will demonstrate its first wireless headset Cloud Flight and external SSD Savage EXO. With the tagline "We're All Gamers", HyperX looks forward to spreading the fun of game to fans across fields.
About HyperX
HyperX was born from Kingston Technology, the world's largest independent memory manufacturer, with the goal of providing gamers, PC builders, and power users with high-performance components. For 15 years, the HyperX mission has been to develop gaming products for gamers – high-speed memory, solid state drives, headsets, keyboards, mice, USB flash drives, and mouse pads – to the gaming community and beyond. The award-winning HyperX brand has carved its name atop the leaderboard by consistently delivering products that deliver superior comfort, aesthetics, performance, and reliability. HyperX gear is the choice of pro gamers, tech enthusiasts, and overclockers worldwide because it meets the most stringent product specifications and is built with best-in-class components. HyperX has shipped over 5 million headsets worldwide.
Join the global #HyperXFamily at facebook.com/hyperxapac, and learn how HyperX products can enhance your console experience and boost performance for both you and your PC at hyperxgaming.com. Whatever your skill level, whatever genres you play, we embrace all gaming enthusiasts everywhere with our core belief — We're All Gamers.
YouTube: http://www.youtube.com/hyperx
Facebook: https://www.facebook.com/hyperxapac