Early Access for Season Pass Owners Starts June 25
Hong Kong— June 12, 2018 — Today, during the Electronic Entertainment Expo (E3), Ubisoft® announced the release date of  Donkey Kong Adventure, the  upcoming downloadable content for Mario + Rabbids® Kingdom Battle.
In Mario + Rabbids® Kingdom Battle Donkey Kong Adventure, players will discover a new playable hero, Donkey Kong, showcased in a brand new story full of reinvented tactical gameplay, new enemies, and secrets to uncover.
Separated from her friends, Rabbid Peach will team up with two new heroes to save the day, the banana-loving hero Donkey Kong and the stubborn Rabbid Cranky. Together, they will embark on a journey across four brand-new environments and fight in a new epic battle against a vengeful Rabbid Kong who uses his new powers to take over a mysterious island.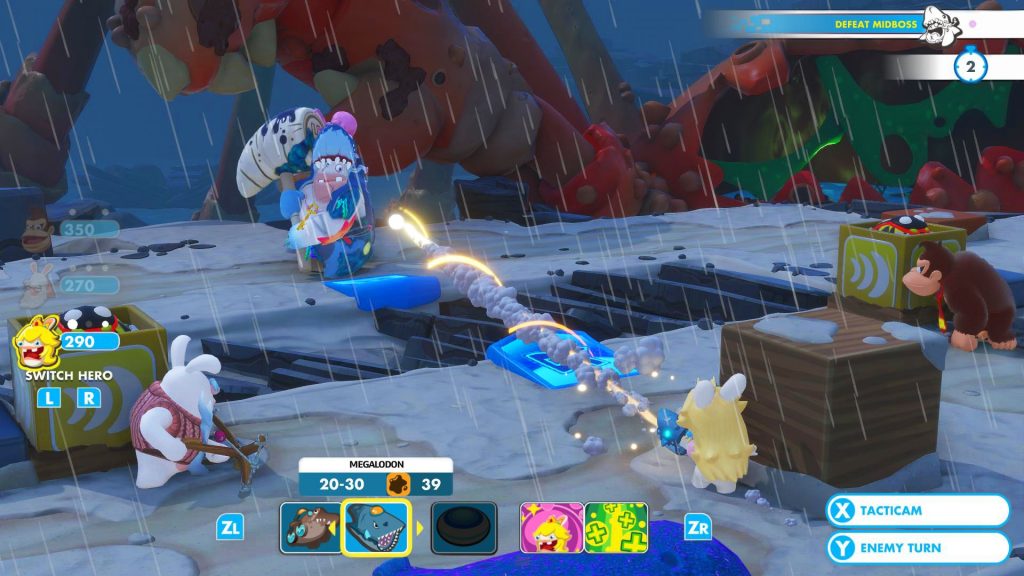 Among the new gameplay to discover, players will turn the tide of battle with an arsenal of fresh abilities including Donkey Kong's grab-and-throw skill that propels friends, foes, and cover stones, and Rabbid Cranky's gift of shooting enemies mid-air.
The new team of heroes will confront powerful enemies and face off against massive and unpredictable bosses, including two Shark-Rabbid lieutenants who will do anything to achieve their Machiavellian goal.
Donkey Kong Adventure will release worldwide on the Nintendo Switch™ on June 26 and will be available for Season Pass owners starting June 25.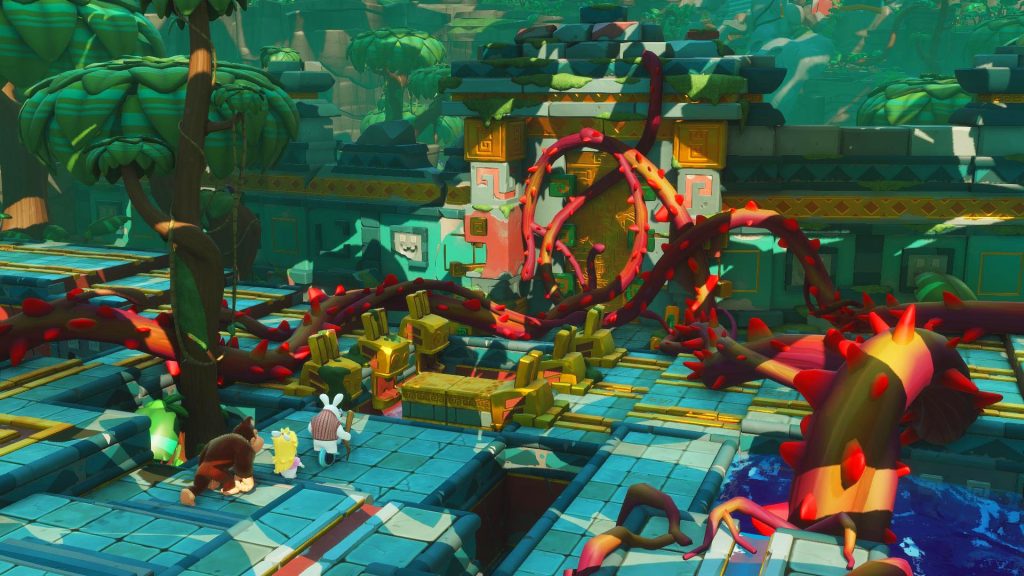 For more information about Mario + Rabbids® Kingdom Battle, please visit https://rabbids.ubisoft.com/portal/en-us/games/mario-rabbids-kingdom-battle.aspx and please follow us on Facebook at https://www.facebook.com/MarioRabbids and on Twitter at https://twitter.com/rabbidsofficial. Please follow us on Facebook at facebook.com/UbisoftSEA and on YouTube at youtube.com/UbisoftSEA for more Ubisoft excitements and updates.
About Mario + Rabbids Kingdom Battle:
Developed by Ubisoft Milan*, Mario + Rabbids Kingdom Battle sees Mario and his friends engage in a turn-based combat adventure across four iconic worlds. The Mushroom Kingdom's heroes will have access to a collection of more than 250 unique weapons with distinct statistics to take down enemies. Players will form a team of three heroes from a roster of eight diverse characters, each with their own unique personalities and skill sets ensuring that matches play out differently with each team combination.
*In collaboration with Ubisoft Paris, Ubisoft Bucharest, Ubisoft Montpellier.
About Ubisoft
Ubisoft is a leading creator, publisher and distributor of interactive entertainment and services, with a rich portfolio of world-renowned brands, including Assassin's Creed, Just Dance, Tom Clancy's video game series, Rayman, Far Cry and Watch Dogs. The teams throughout Ubisoft's worldwide network of studios and business offices are committed to delivering original and memorable gaming experiences across all popular platforms, including consoles, mobile phones, tablets and PCs. For the 2017-18 fiscal year Ubisoft generated sales of €1,732 million. To learn more, please visit www.ubisoft.com.
MARIO + RABBIDS KINGDOM BATTLE © 2017 Ubisoft Entertainment. All Rights Reserved. Rabbids, Ubisoft, and the Ubisoft logo are trademarks of Ubisoft Entertainment in the US and/or other countries. Nintendo properties are licensed to Ubisoft Entertainment by Nintendo. SUPER MARIO characters © Nintendo. Trademarks are property of their respective owners.