A NEW CHAMPION SHALL RISE AT THE TEKKEN™ WORLD TOUR FINALS IN SAN FRANCISCO, CALIFORNIA
BANDAI NAMCO Entertainment Inc. in Conjunction with Nissin Cup Noodles® Assembles the Best of the Best TEKKEN™ 7 Players from Around the Globe to Crown a New Champion
SINGAPORE — 5th October, 2017 — Leading interactive entertainment media publisher and developer BANDAI NAMCO Entertainment Asia today announced details for its upcoming TEKKEN World Tour Finals tournament, presented by Nissin Cup Noodles®. In an unprecedented break from tradition, for the first time in its 20+ year franchise history, the TEKKEN World Finals will be held outside of Japan. TEKKEN fans will bear witness to the crowning of a new TEKKEN World Champion on 12th November, 2017 as 16 of the best fighters from around the globe converge upon the City View at Metreon in San Francisco, California for an all-day battle royale to determine a new TEKKEN champion. The event will also be livestreamed exclusively on social video service Twitch.
The hard-hitting action kicks off at 12:00pm PST / 03:00am GMT+8 (Singapore) as the first double elimination rounds of the TEKKEN World Tour Finals begin. The 16 top seeded players representing the Americas, Europe, and Asia-Pacific regions will attempt to mercilessly destroy their opponents, and from the pile of vanquished foes, two finalists will emerge for the final match. TEKKEN franchise Director, Katsuhiro Harada, and Senior Designer, Michael Murray, will both be in attendance to meet fans and be on-hand to crown the new TEKKEN champion at the end of the night who will take home a $50,000 prize purse, secure a place in TEKKEN history, and earn eternal bragging rights.
"TEKKEN 7 has brought many new experiences to our fans and having the TEKKENWorld Finals take place outside of Japan is the latest experience we want to give them." says Katsuhiro Harada, TEKKEN Franchise Director at BANDAI NAMCO Entertainment Inc. "To see TEKKEN 7 met with such enthusiasm and have so many skilled competitors emerge around the globe makes the long hours and hard work the TEKKEN team put into the game well worth our blood, sweat, and tears."
"We partnered with BANDAI NAMCO in order to build the community and infrastructure to sustain long-term growth of this historic fighting game franchise," said Richard Thiher, Program Manager, Twitch. "Based on the momentum of the TEKKEN World Tour, including its high level of online engagement on Twitch, it has proven to be a successful brand collaboration with no sign of slowing down."
TEKKEN
 fans who are looking to join the tournament action in-person can purchase tickets to the 
TEKKEN
 World Tour Finals at: 
https://twt2017-finals.eventbrite.com
. 
TEKKEN 
fans who are not able to attend the tournament in-person in San Francisco, California can watch the action on Twitch, the exclusive broadcasting platform for the 
TEKKEN
 World Tour Finals at
Twitch.tv/Tekken
.
In addition to being the exclusive broadcasting service for this competitive gaming league, Twitch manages TEKKEN 7 league operations, circuit events, and content on a global scale.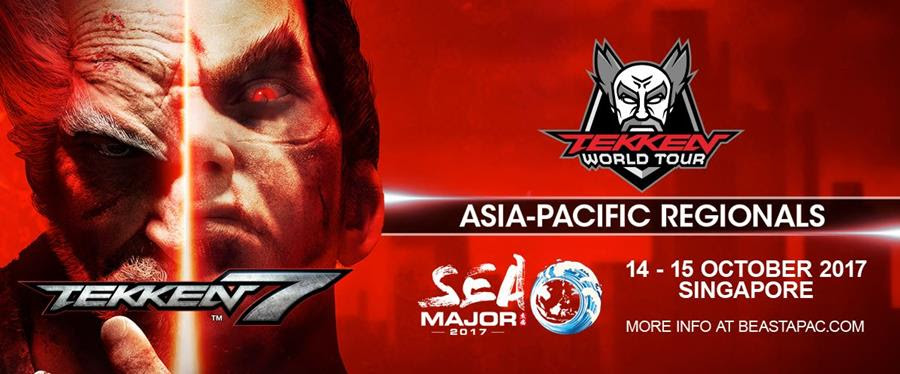 Before the global finals in San Francisco, California, the last Asia-Pacific schedule for the 
TEKKEN
 World Tour will be 
Southeast Asia Major 
taking place at 
GameStart
 event in Singapore, Southeast Asia's Premier Game Convention. During 
Saturday 14th and Sunday 15th October
 the battle will begin. More details can be found here: 
https://beastapac.com/seamt7
. Full program will be shared later.
In 
TEKKEN 7,
 all fights are personal! Prepare to enter the ring as 
TEKKEN 7
is now available for the PlayStation®4 computer entertainment system, Xbox One, and STEAM® for PC. To find out more about 
TEKKEN 7
, please head over to the official website: 
www.
Tekken.com
.
Enter the Mishima feud on:
Title: TEKKEN 7
Platform: PlayStation®4, Xbox One, STEAM® for PC
Genre: Fighting
Release Date: 2 June 2017
For the LATEST tech updates,
FOLLOW us on our Twitter
LIKE us on our FaceBook
SUBSCRIBE to us on our YouTube Channel!