Looking for a new set of headphones for you WFH or WFO needs? Consider the Jabra Evolve2 65 Flex – one of Jabra's latest and greatest. The professional-grade portable wireless headset features personalized active noise cancellation and customizable sound profiles, catering to individual preferences.
Read on to find out why it's a great choice for both hybrid workers and virtual meeting enthusiasts.
Specifications
Type: on-ear
Weight: 136g/4.8oz
Driver size: 28 mm
Frequency range: 20Hz – 20000Hz
Microphone type: 2 Analog MEMS / 4 Digital MEMS (Stereo)
Mic sensitivity: -38 dBv/Pa (analogue microphone)/-26 dBFS/Pa (digital microphone)
Battery life: Music – Up to 32 hours (with ANC off) / up to 21 hours (with ANC on), Talk – Up to 20 hours (with ANC/busy light off)/Up to 15 hours (with ANC on/busy light on)
Charge time from 0-100%: 2 hours
Quick charge: yes (up to 45% in 30 mins)
Connectivity: Bluetooth 5.2
Bluetooth connection to up to 8 devices
2 simultaneous Bluetooth connections
Design and build
The Jabra Evolve2 65 Flex is pretty lightweight, weighing just 136g/4.8oz. These headphones are designed with your comfort in mind, featuring Jabra's Air Comfort technology. With layers of ultra-soft perforated foam inside the cushioned headband and flexible, rotating ergonomic earcups, they provide a gentle cushioning effect and alleviate pressure on your head.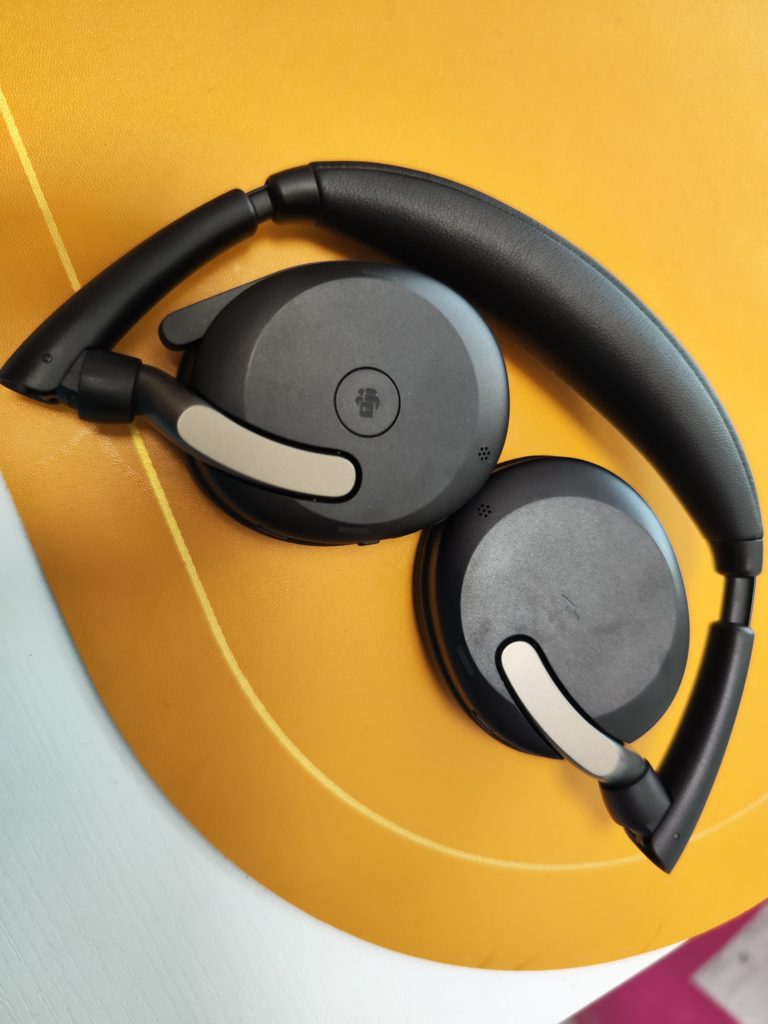 During my experience with the Jabra Evolve2 65 Flex, I found them incredibly comfortable to wear around my desk. Despite initial concerns that the headphones might slip off with the slightest head movement, I was pleasantly surprised that they stayed securely in place. The top of my head felt free of any pressure.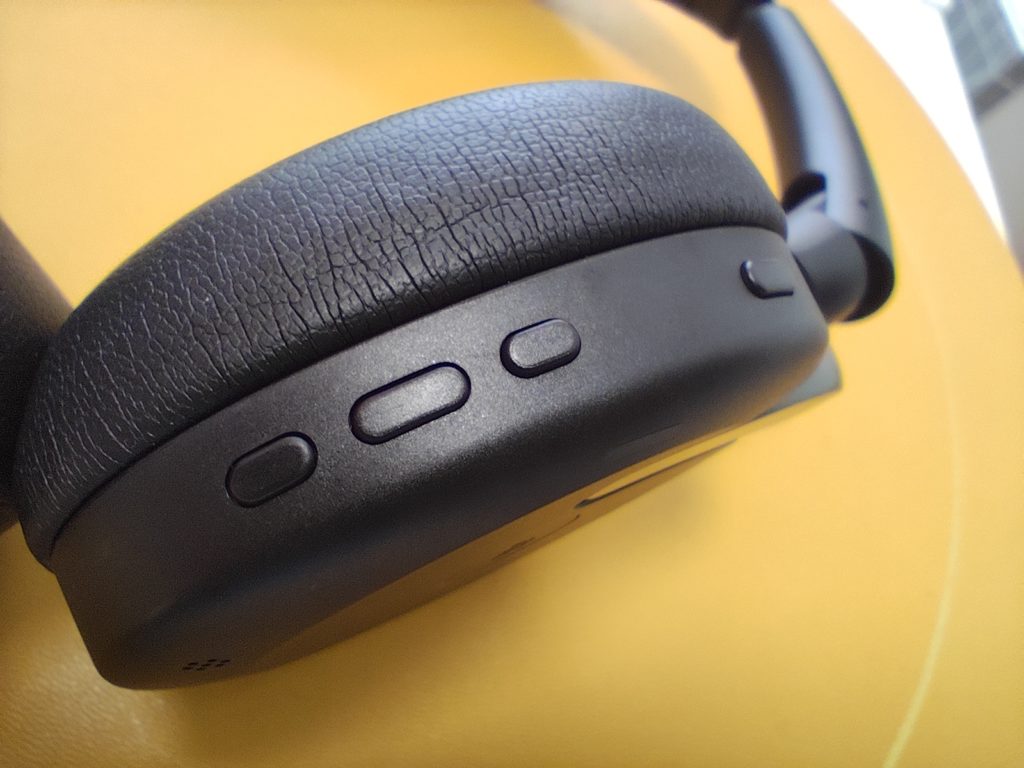 The earcups are equipped with buttons for easy control. On the left earcup, you'll find two buttons for powering the headset on/off and toggling between active noise cancellation (ANC) and HearThrough mode. The right earcup hosts four buttons, allowing you to adjust the volume, activate voice control, and control music playback. There's even a Teams button for you to starts and end meetings with a click of a button.
Notably, the Jabra Evolve2 65 Flex is equipped with a proximity sensor that automatically pauses music playback when you remove the earcups from your ears.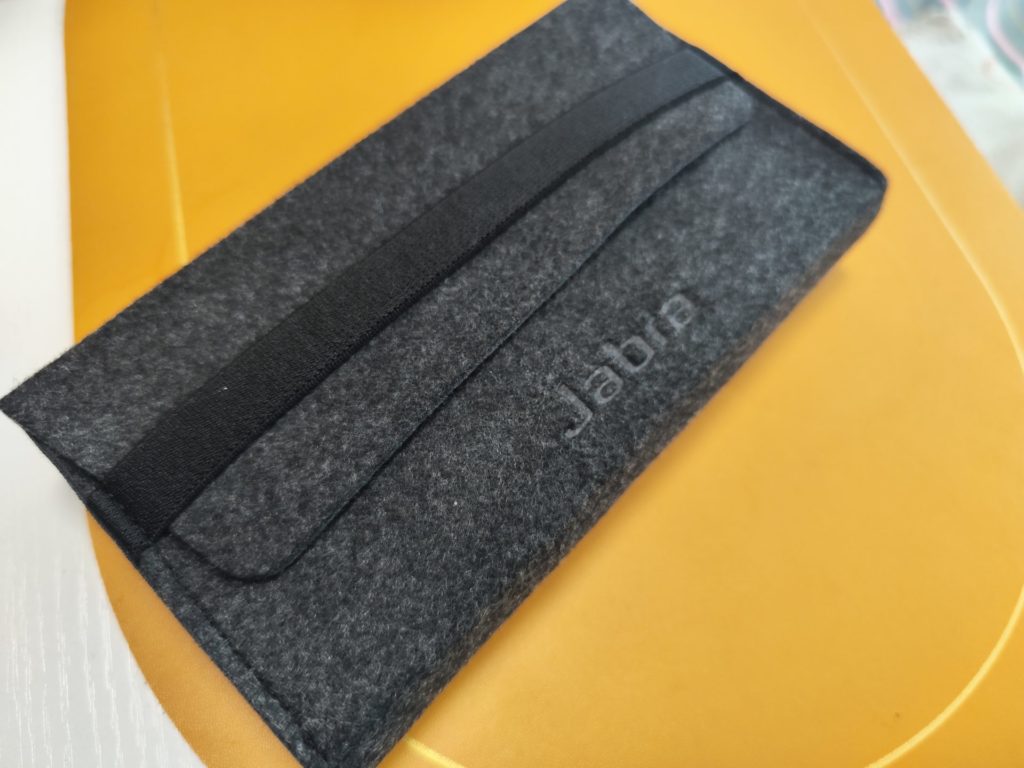 In terms of portability, the Evolve2 65 Flex scores high. Jabra even provided a sleek carrying case with your purchase. The folding mechanism of the Evolve2 65 Flex functions smoothly. Despite its all-plastic construction, I didn't encounter any creaking or bending issues with the headphones.
Audio performance
We were largely impressed with the sound quality of the Evolve2 65. It offers a variety of ways to personalize the sound according to your preferences through the Jabra Sound+ app. There's a MySound hearing test, which assesses the frequencies you can hear and automatically adjusts the speaker output accordingly.
In addition, the app allows you to customize the level of Active Noise Cancelling using a convenient slider. Personally, I prefer the strongest ANC setting, especially when I'm surrounded by people who talk incessantly.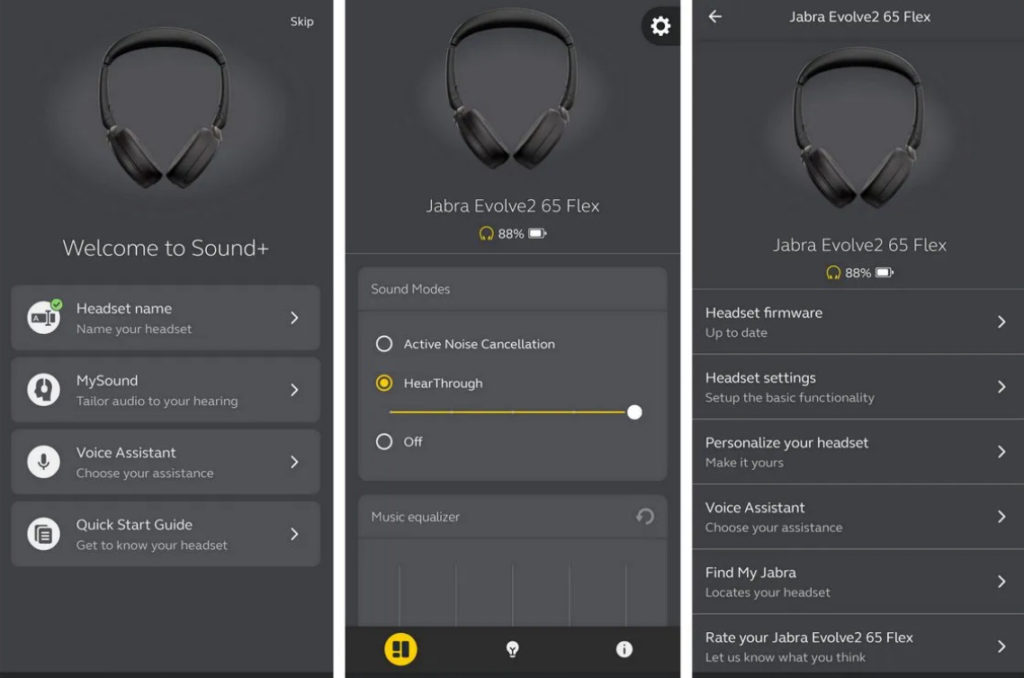 For those interested in eavesdropping on conversations in the office, the Jabra Evolve2 65 Flex also includes a HearThrough mode that uses external microphones to feed sounds back to you.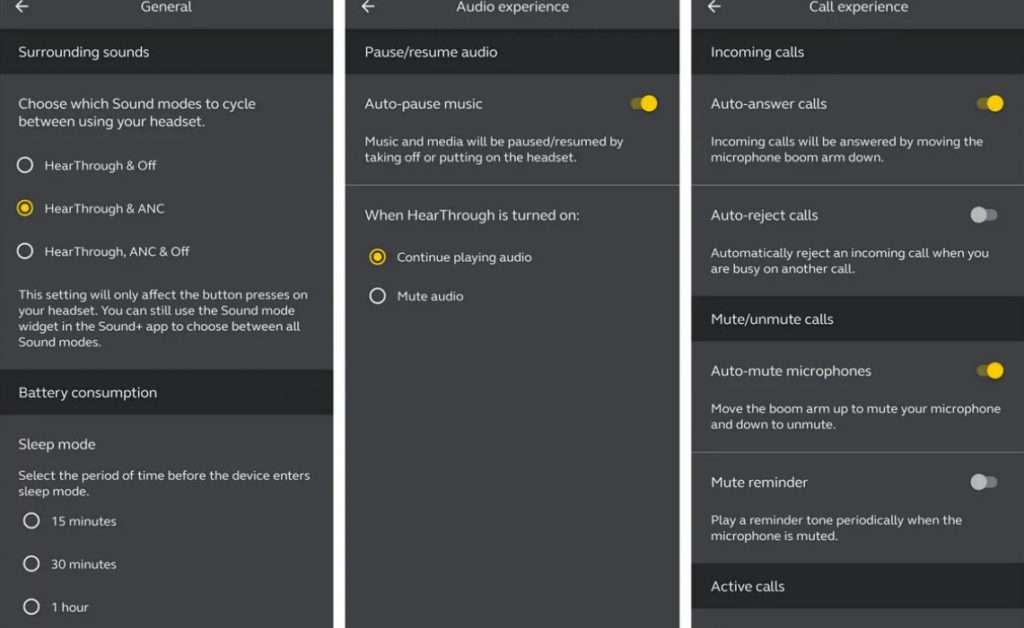 You can further customize your sound using music presets, too. The app provides six presets, but you can also create your own customized settings. Personally, I find the Smooth options to be the best fit, as they enhance the deep tones without sacrificing the treble. However, you have the freedom to adjust the sound to your liking within the app.
Call quality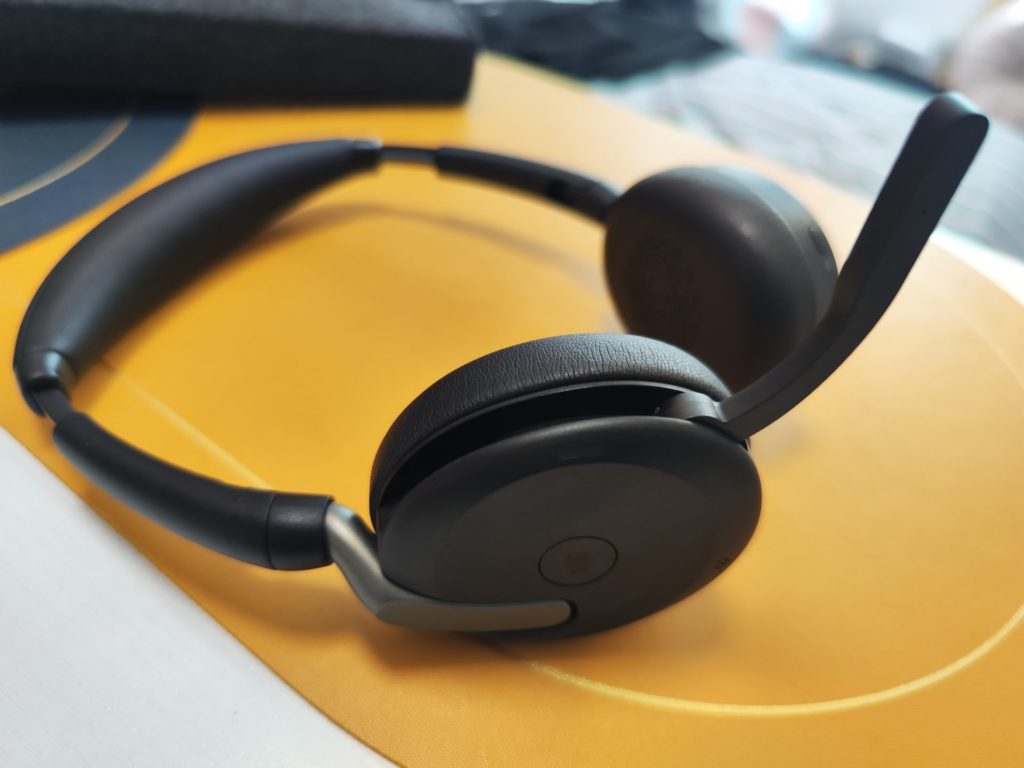 The Jabra Evolve2 65 Flex features a built-in microphone that can be conveniently tucked away in the right earcup when not in use. This design is similar to gaming headsets and allows for quick muting by folding the microphone, and just as easily unmuting by unfolding it.
The microphone's sound quality is great for video calls – using the Evolve2 65 Flex can significantly enhance the sound quality of your virtual meetings, particularly because the microphone is positioned close to your mouth, unlike when relying on your laptop's built-in microphone.
Overall, the speakers and microphone of the Jabra Evolve2 65 Flex perform admirably in their intended environment. The speaker sound surpasses that of typical on-ear headphones, and with the various sound customization options available, both music and speech sound clear and audible.
Battery life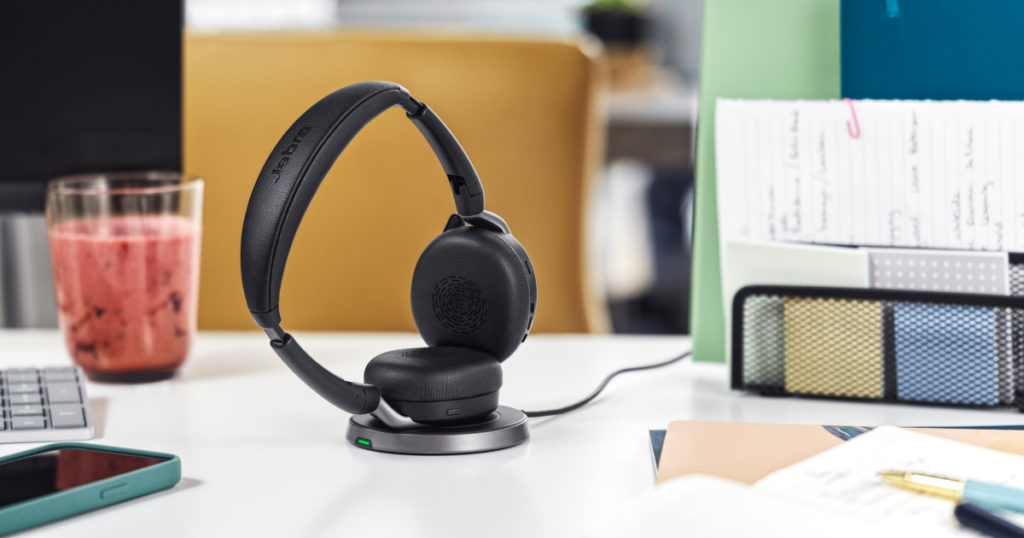 According to Jabra, the Evolve2 65 Flex boasts an impressive battery life of up to 21 hours with ANC enabled during music playback. In testing, this estimate appears to be accurate. The headset only dropped to 90% after two and a half days of occasional usage, involving music listening and phone calls.
Pricing and availability
The Evolve2 65 Flex is available here at S$518.
Verdict
While S$518 is a little pricey for a pair of headset, you've got to keep in mind that what you're getting is a stylish, professional-grade headset that ensures clear communication, allowing others to hear you with utmost clarity.
Additionally, with features like Active Noise Cancelling (ANC) and high-quality audio drivers, you can fully immerse yourself in discussions without being disrupted by background distractions.
For those with a budget that allows, the Evolve2 65 Flex is worth flexing about.