Whether you're driving to work, commuting to school, studying, relaxing, or exercising, listening to music can help to stimulate our brain, motivate us, and keep us focused on completing our activity. And this extends to workout sessions too.
Music keeps the fatigue away. But a terrible pair of earbuds can get in the way. What if it rains while you're running? Why risk ruining your earbuds when you're out exercising? Wouldn't it be better to just leave the earbuds at home when doing vigorous exercise?
What if we told you that you don't have to give up listening to music to do outdoor sports or vigorous exercise sessions?
All you need is a perfect pair of sweat-resistant, noise-cancelling wireless earbuds.
LG's TONE Free fit TF8 is the perfect pair of wireless earbuds that more than fulfils your sports and exercising needs.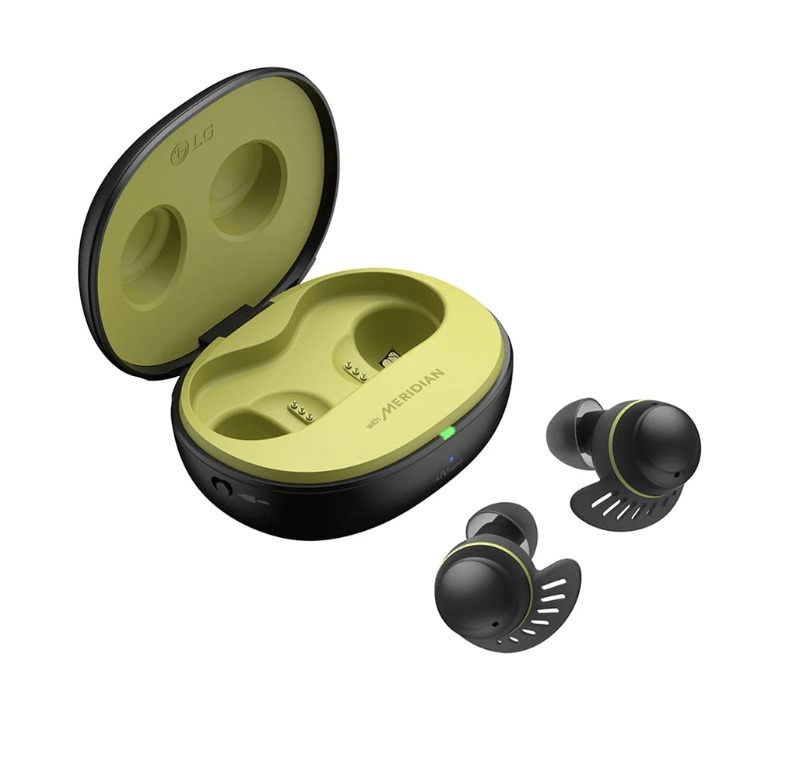 The latest addition to LG's TONE Free family, the TF8 is extremely lightweight and comes in a beautiful matte black with subtle yet refreshing lime-green accents.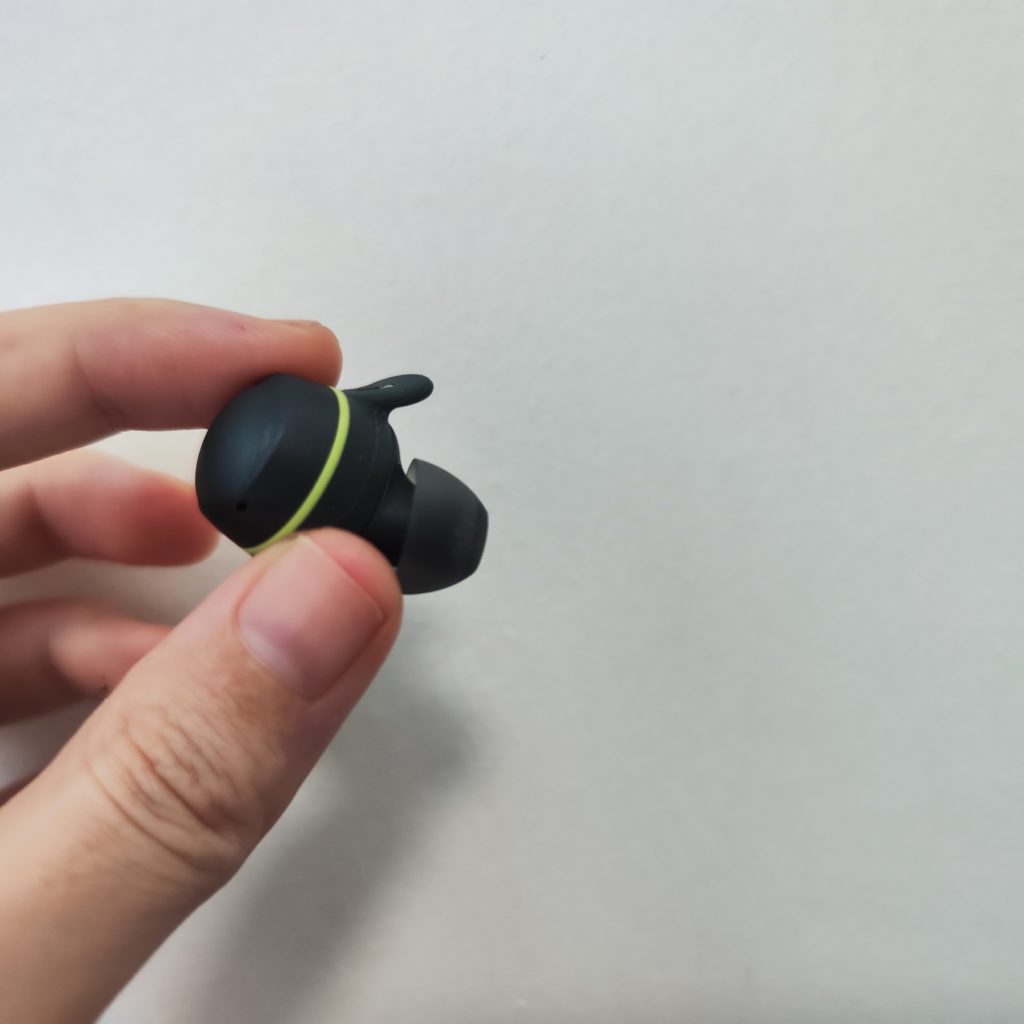 It has a plethora of ergonomic features that will enhance your audio call experience and workout sessions while delivering professional Hi-Fi sound quality.
Life's good with the LG TONE Free fit TF8 – here's why.
Secure and Comfortable Fit
An outstanding ergonomic feature of the LG TONE Free fit TF8 earbuds is its secure and comfortable fit.
For active users, the TF8 guarantees a secure workout session with SwivelGrip technology. With a simple swivel action, you can hook the wireless earbuds into your outer ear and adjust them until it locks themselves into a snug fit.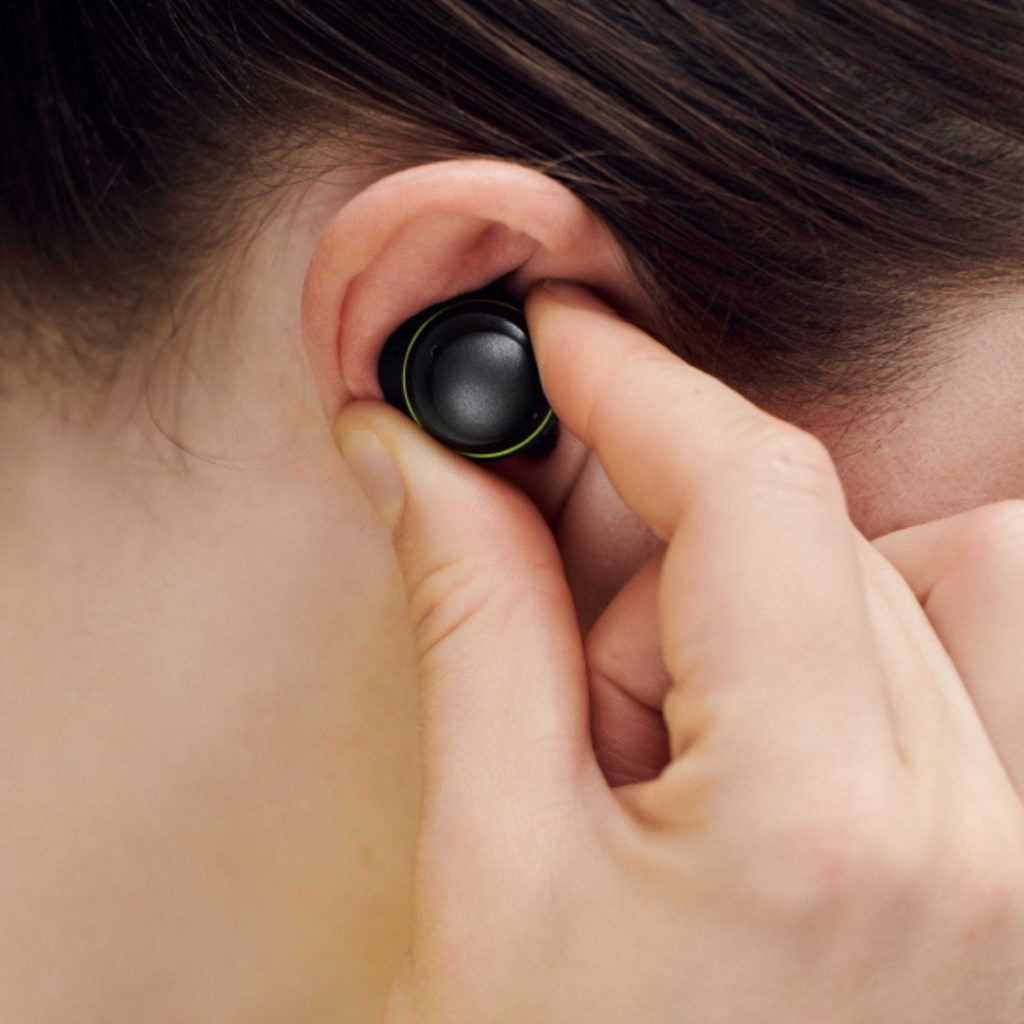 This means that regardless of your ear size, the earbuds can be adjusted accordingly with a quick swivel until you've found the sweet spot to lock it in place.
Beyond ensuring a secure fit, LG also collaborated with POSTECH Ergonomic Design Technology Lab to design the LG TONE Free fit TF8 with a unique, optimised shape that sustains comfort over extended use.
Complementing the SwivelGrip technology, this unique ergonomic design provides inclusive comfort to different ear sizes and types.
Thanks to the TF8, your uniquely shaped ears can feel pampered by how comfortable the fit is. And no matter how intense your activity is, or how different your ear is shaped, the TF8 is more than capable of meeting your needs.
So you don't have to spend extra money on getting custom earpieces! You also don't have to worry about your earbuds falling off even if you're doing vigorous training at the gym, or outdoor running and mountain biking.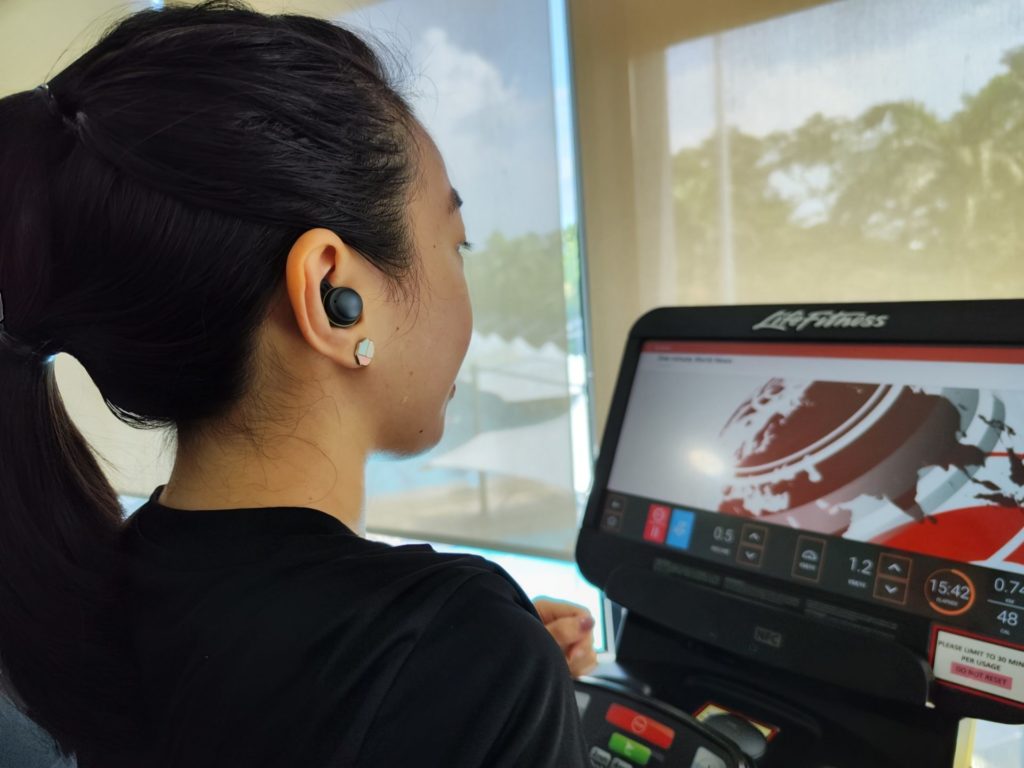 Not once did we have to readjust the earbuds while running on the treadmill.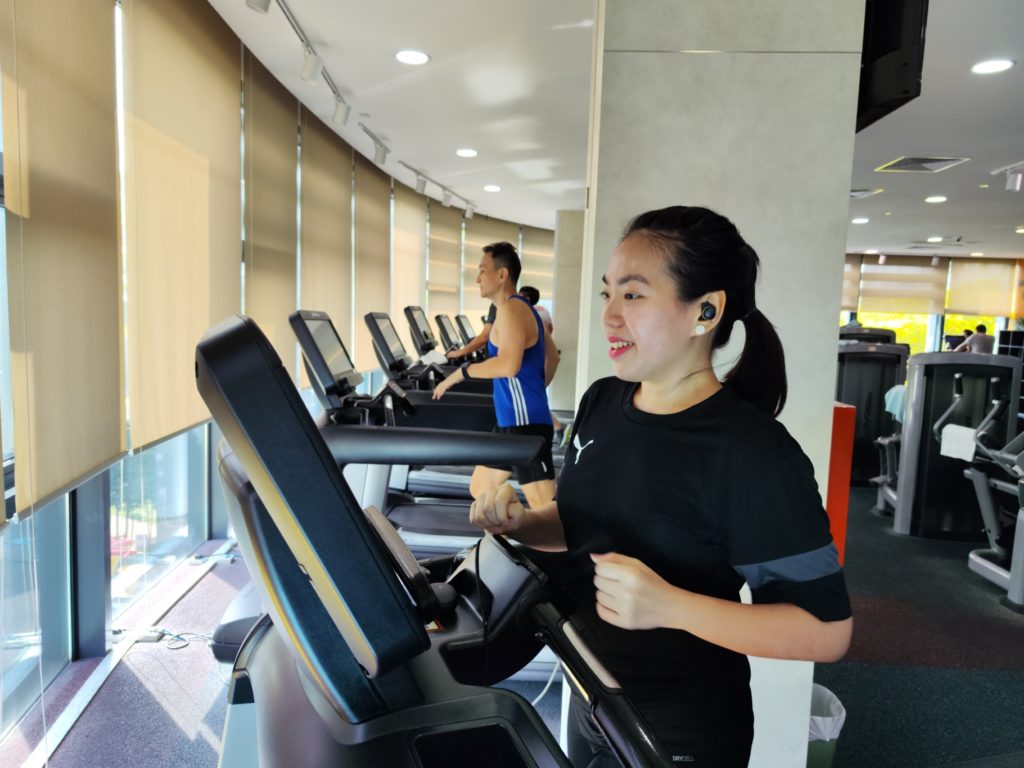 The earbuds also come with comfortable, medical-grade silicone ear gels. This hypo-allergenic material will not irritate your skin and you have three sizes to choose from.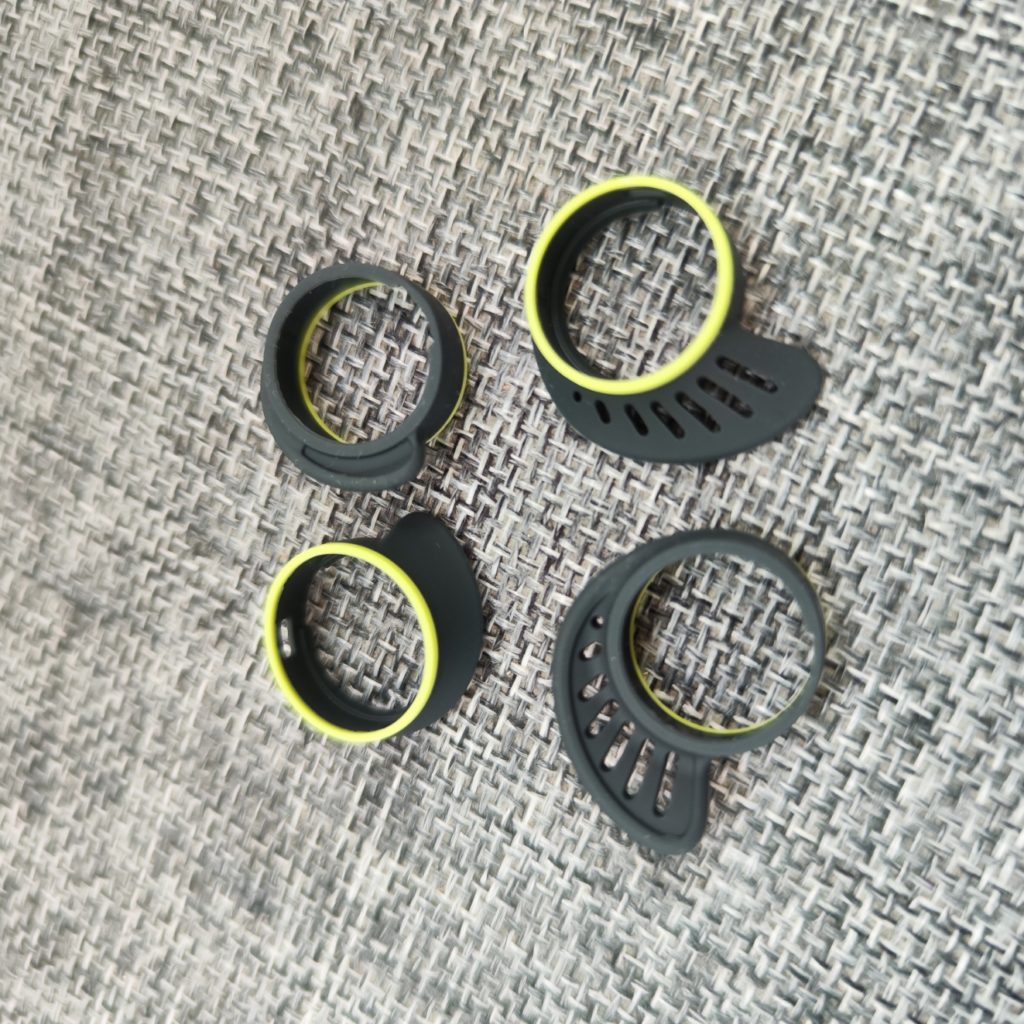 LG has also included another nice touch to the design of the earbuds by adding tiny pockets to promote air circulation.
This keeps your ears comfortable and cool during your workout or other similar activities.
IP67 Waterproof, Dustproof, and Sweatproof
The LG TONE Free fit TF8 has an excellent rating of IP67. In other words, the earbuds offer protection against dust.
Having an IP67 rating also means that they can be immersed in water while under pressure up to 1 metre for up to 30 minutes. In simple terms, not only is it sweatproof, the rain holds no candle against the TF8. So you won't have issues with the touch control after sweating from vigorous training.
You can even train outdoors without a care for the weather.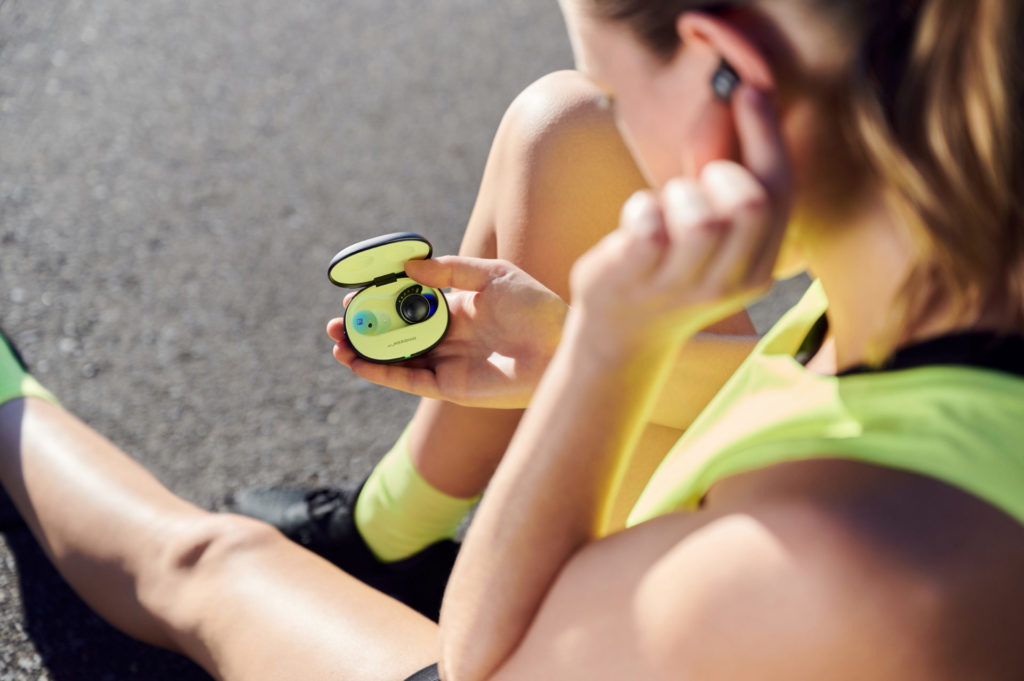 While wearing them at the gym, we loved that the capacitative touch panels on each earbud are seamless to operate. It is also easy to understand even in default settings: Tap once on an earbud to control playback or answer a call; twice to lower the volume (left) or increase the volume (right), and thrice to skip forward a track.
Rain or shine, sweaty or not, the capacitative touch panels work easily, literally with a touch of a button.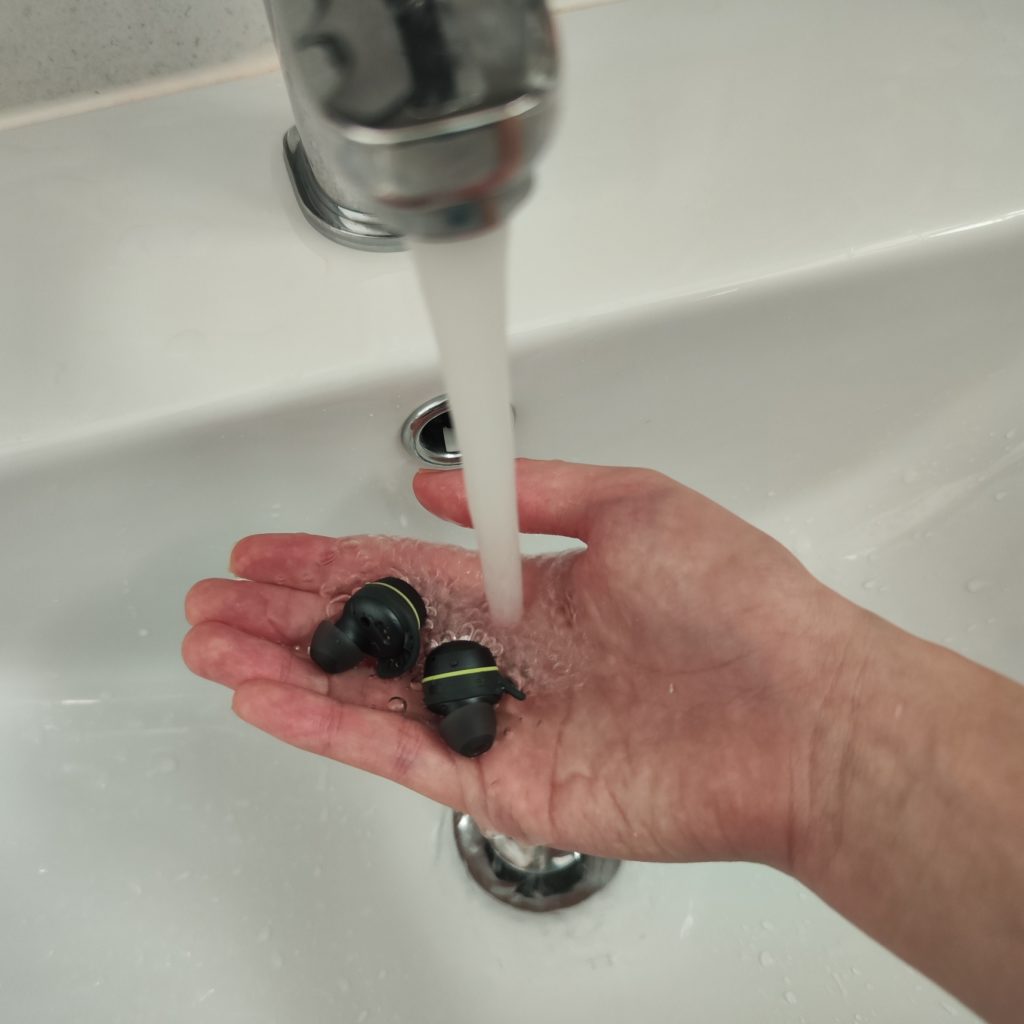 The most impressive part? You can even wash the earbuds under running water! We've tried that – and it feels amazing to know that your earbuds can be kept sparkling clean even after intense workouts.
Even better, the LG TONE Free earbuds come with an amazing self-cleaning feature thanks to the UVnano case.
Multi-purpose UVnano Charging Case
One of the biggest concerns when it comes to earbuds is hygiene and sanitation. With all the sweat accumulated, our ears are easy breeding grounds for bacteria when working out.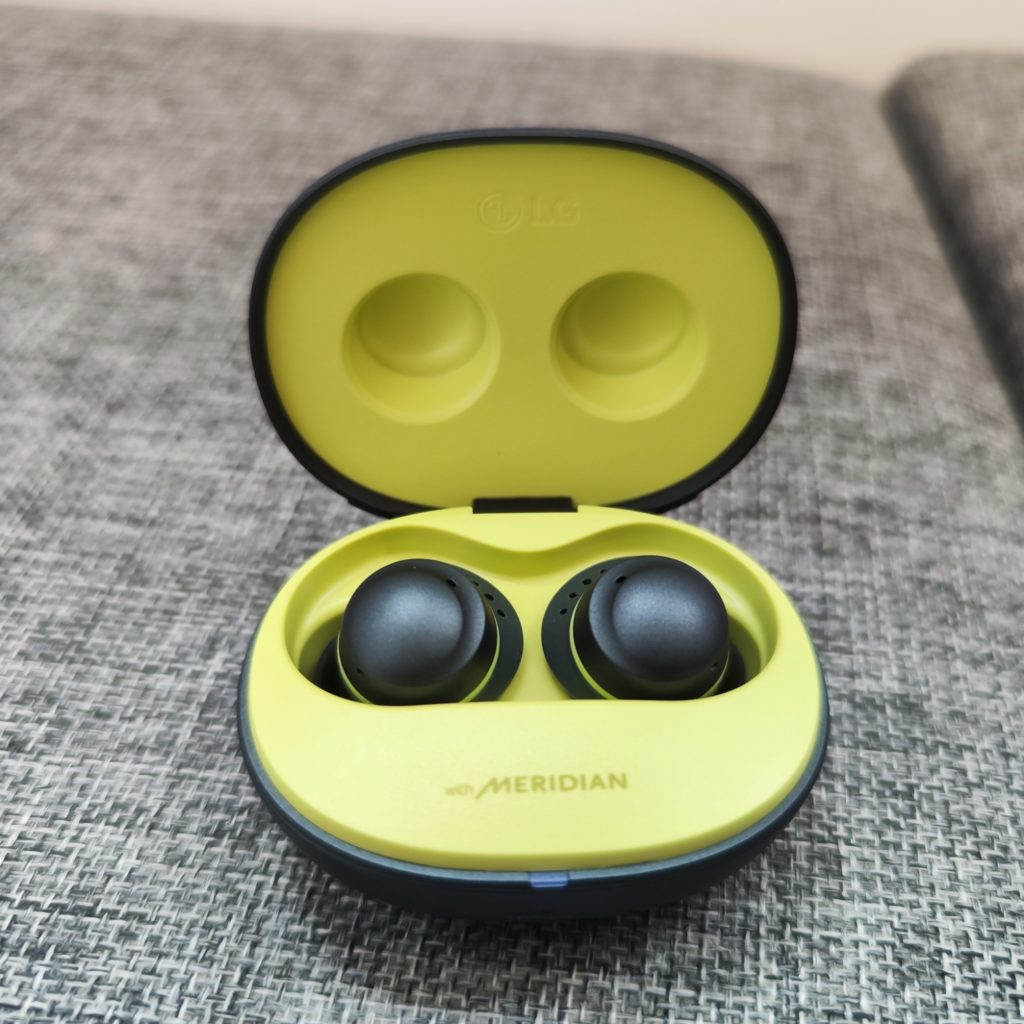 You'll be happy to know that the LG TONE Free fit TF8 case not only charges but has a built-in UV LED light that cleans your earbuds thoroughly on the ear tips from the gel tips right to the mesh inside.
As if being able to wash it isn't enough, the UVnano charging case has a built-in UV LED light that cleans your earbuds thoroughly from the gel tips right to the mesh inside.
Independent testing by LG has shown that it reduces bacteria in just five minutes. It is also proven to kill up to 99.9%* of bacteria.
The best part is that you don't have to wait for the earbuds to be charged before dedicating time to cleaning. Let the UV LED light work its cleaning magic simultaneously while your earbuds are charging in the cradle.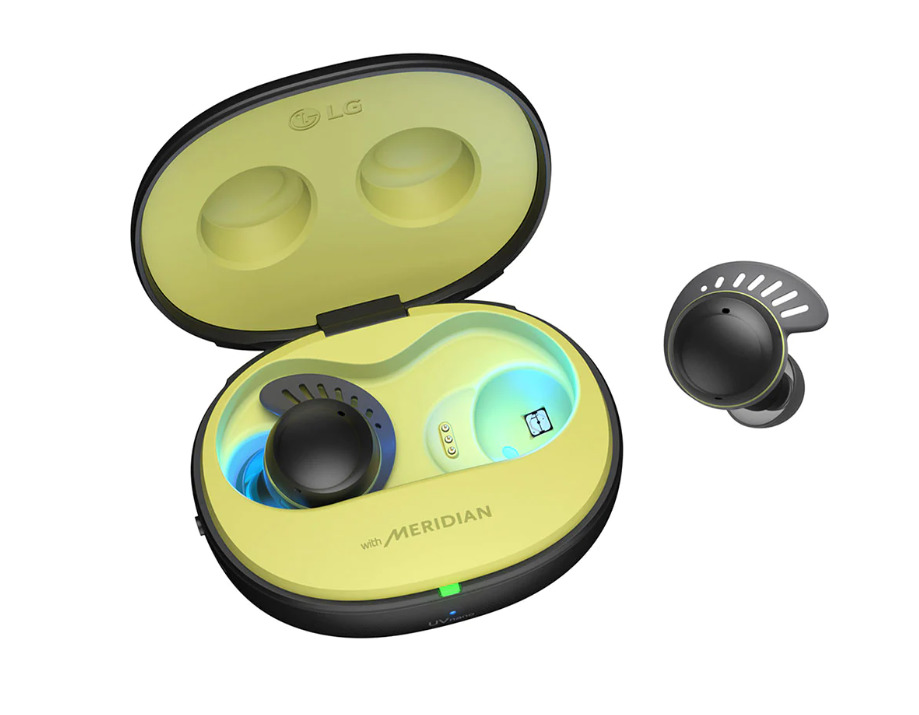 Not only do you save time, but you'll also always be ever ready with clean earbuds at any time!
Another fantastic and useful feature is the Plug & Wireless feature whereby the cradle also works as a Bluetooth transmitter.
All you have to do is plug in the cradle to say, an in-flight entertainment system, a gaming console, or even the treadmill at the gym via a USB-C cable converter to a 3.5mm connector.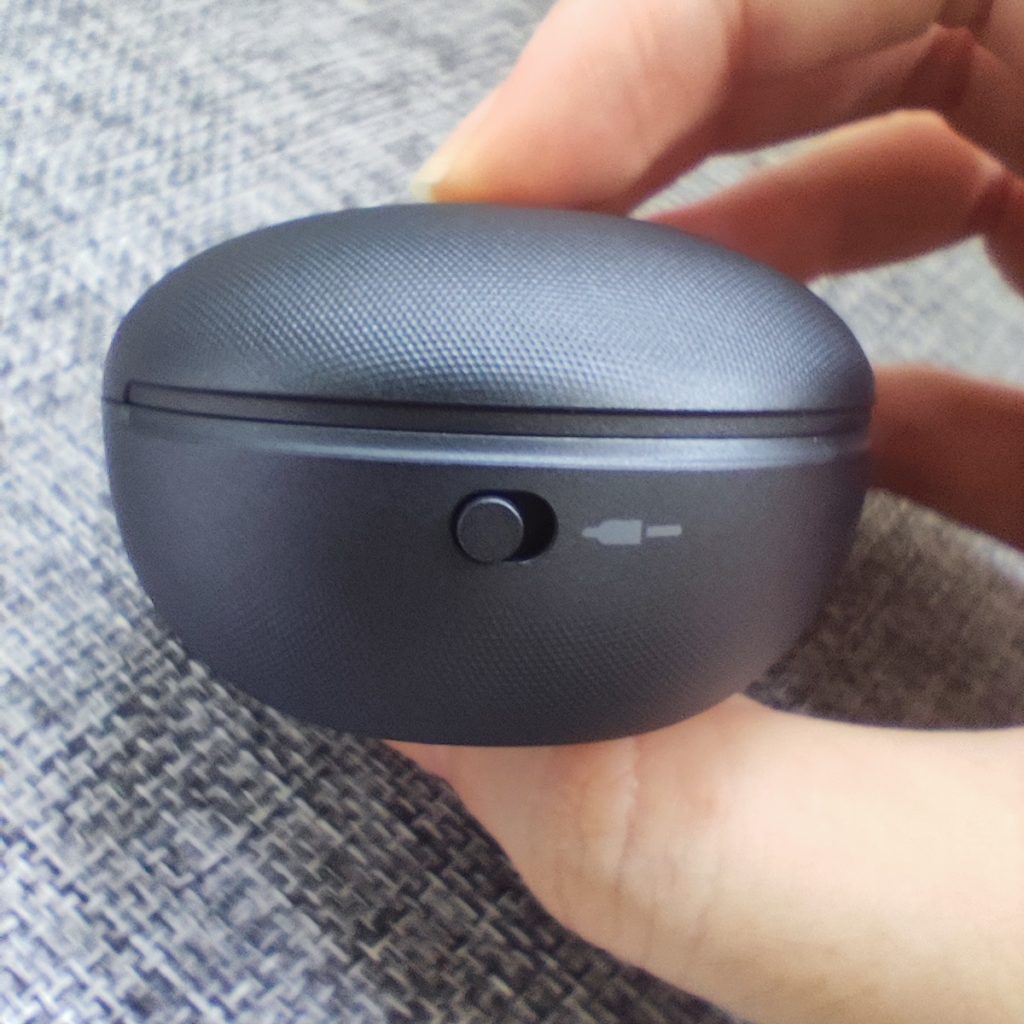 Then, flip the switch on the side and there you go! You can now watch your in-flight entertainment or listen to music while running on the treadmill in wireless comfort for a long period of time.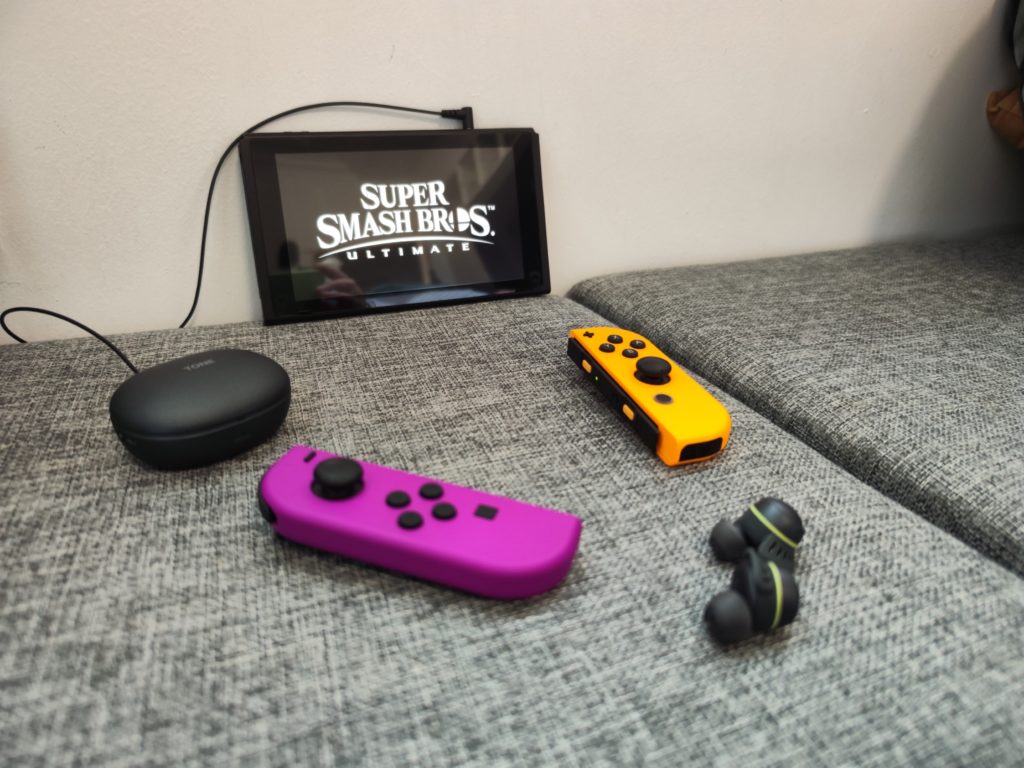 Bid goodbye to tangled wires, tripping over the wires when getting out of your plane seat, and restricted movement. Say hello to true wireless freedom. How amazing is that?
Hybrid Active Noise Cancellation
If you're someone who prefers noise-cancellation when exercising in the gym and non-noise cancellation when running outdoors, the TF8 brings convenience to the forefront by providing two modes in one pair of earbuds. You can select between Active Noise Cancellation (ANC) and Ambient Mode at your convenience.
With a simple touch, you can switch between the different modes.
You can also do so via the LG TONE Free app, available on both Android and IOS smartphones.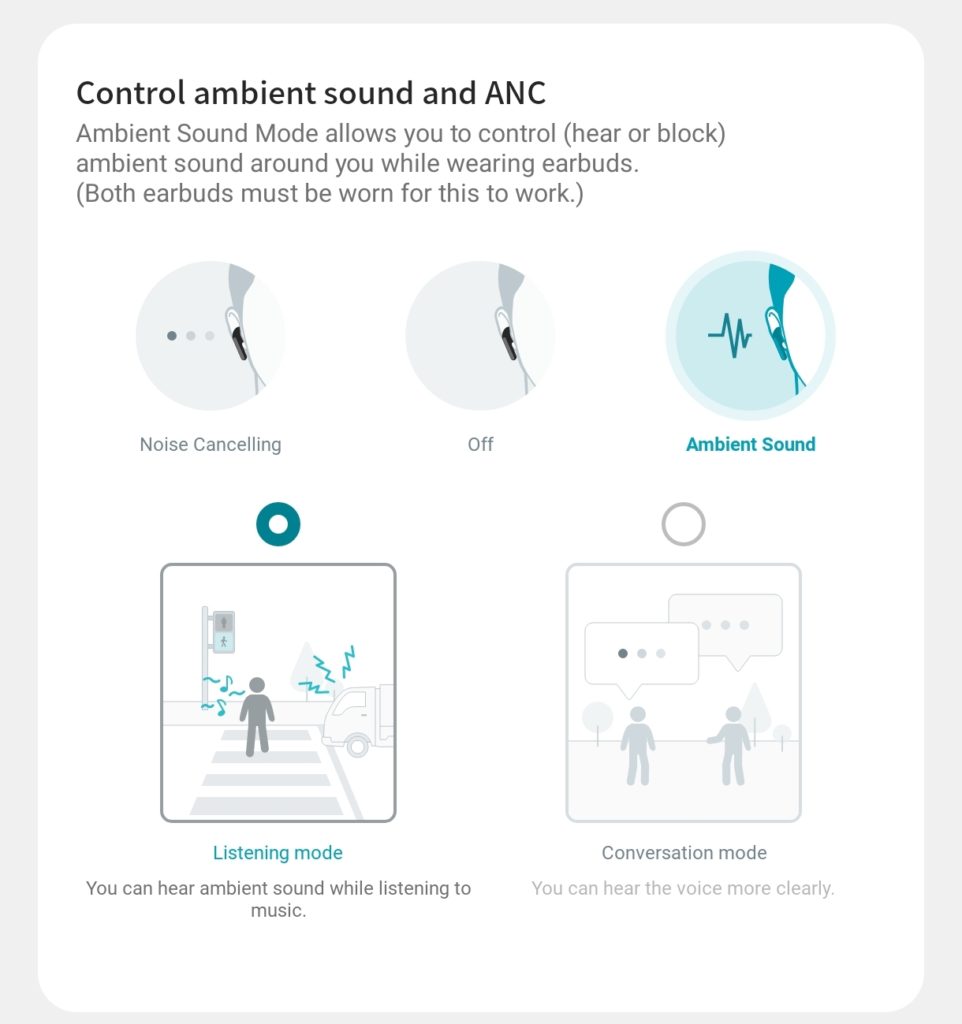 The Listening mode lets you be aware of your environment such as cars or other pedestrians in the vicinity as it lets in more background sound. You can enjoy your music without worrying about your safety being compromised.
Simply touch again to activate the Noise Cancelling mode. And you can immediately immerse yourself in music while you're at the gym.
The TF8 is equipped with an upgraded Active Noise Cancellation system: it has a sophisticated noise removal filter that cancels external noise effectively.
This is paired with an advanced howling detection algorithm that serves to eliminate the noise made when the microphones and speakers are close together.
In addition to that, you'll be pleased to know that the TF8 offers a third mode called Conversation mode.
The main mic amplifies people's voices so you can hear conversations more easily.
At the same time, the high-performance mic delivers amazing call quality as the inner ANC mic removes unwanted noise, bringing you a better voice-calling experience.
Long-Battery Life
With just one full charge, the TF8 delivers 10 hours of tunes when the active noise cancelling function is off.
Tapping on the plug-in wireless feature, you can enjoy 20 more hours when used with the UVnano charging cradle.
On top of that, the TF8 also comes with fast charging.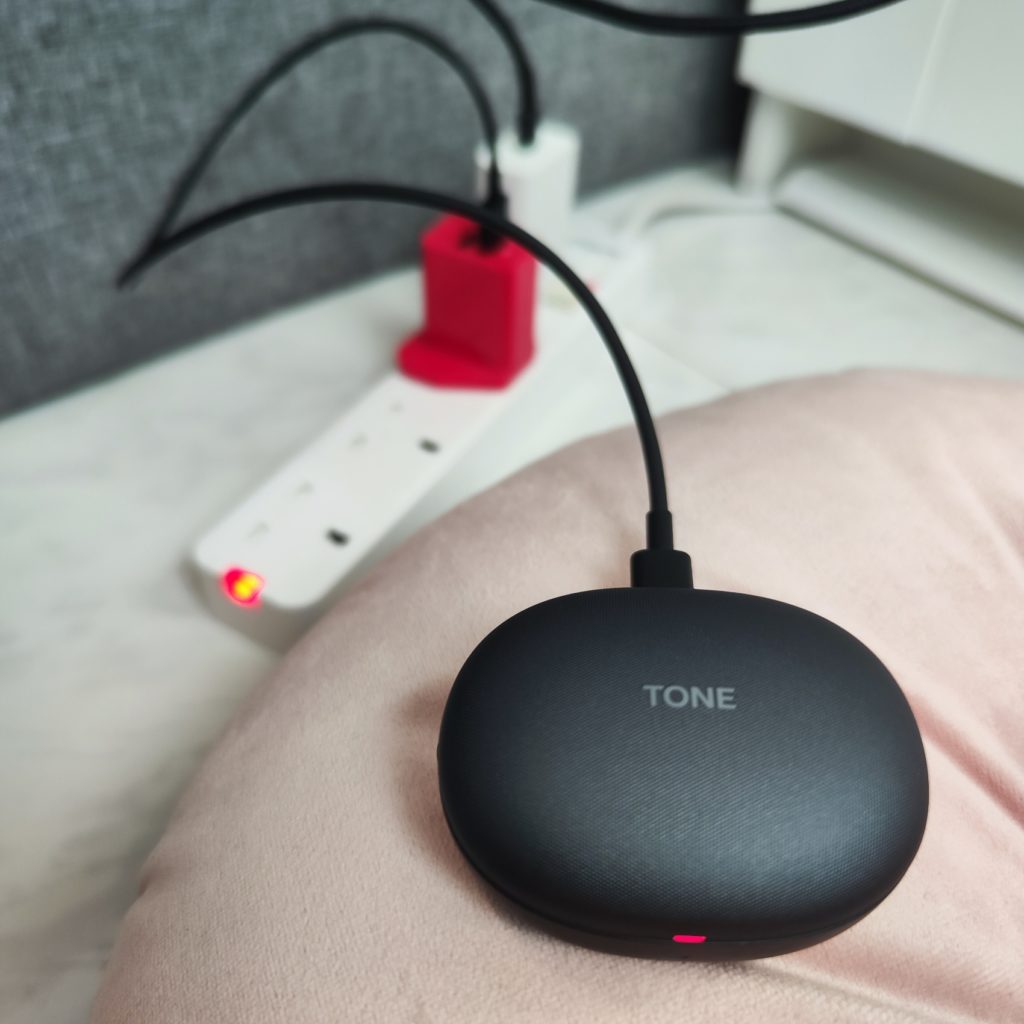 When our TF8 ran out of juice, we simply placed the earbuds inside the case for five minutes and we got an extra hour of playing power. Just enough for an effective gym session.
With a total of 30 hours of battery life, you can now work out for however long you want – no more excuses!
Immersive Music: Customise your audio experience
Besides the excellent ergonomic design and sport-friendly features, LG has also worked extensively with British Audio icon Meridian Audio to provide you with professional Hi-Fi sound quality.
Meridian Audio's Headphone Spatial Processing (HSP) technology takes you to the centre of the stage as you experience audio that seems like it surrounds you.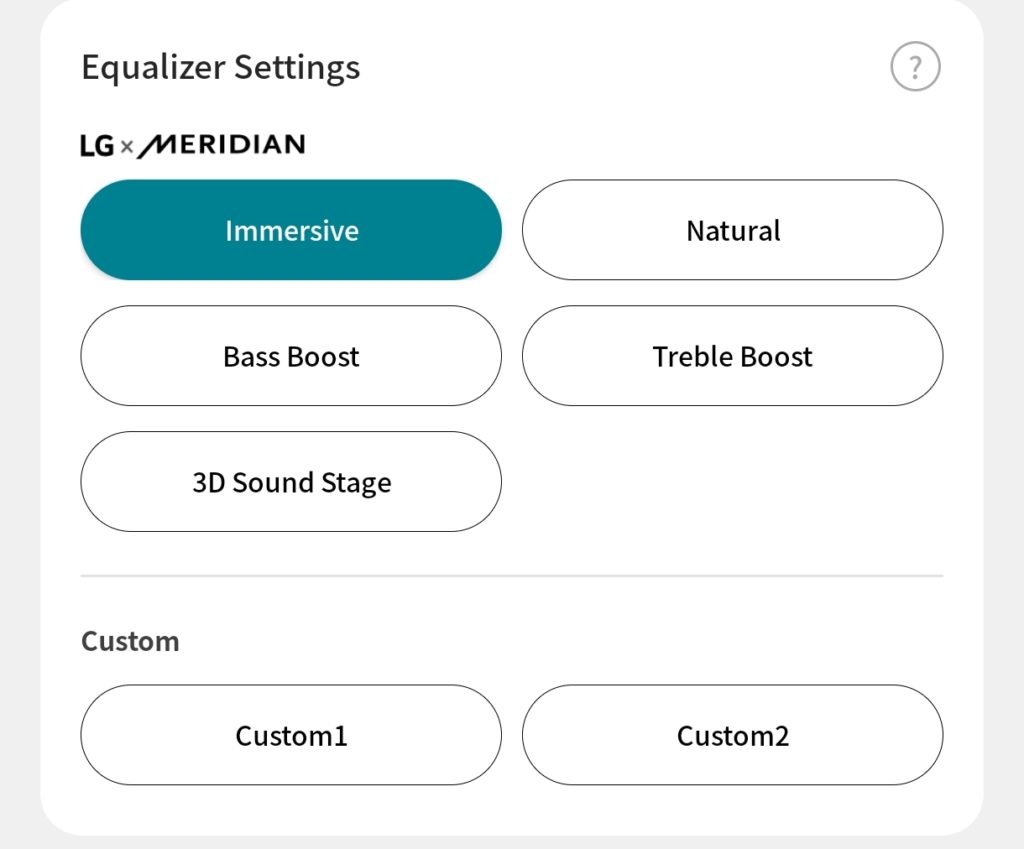 The app defaults to the Meridian Bass Boost EQ preset, but you can choose between Immersive, Natural, Bass Boost, Treble Boost, or 3D Sound Stage presets, too.
As a lover for life-like audio, the earbud's 3D Sound Stage preset was a breath of fresh air. Listening to Blackpink's latest album, you can hear instruments that used to just blend into the background noise. You can clearly visualize the music, and it almost felt like I was listening to them live.
Each earbud is also equipped with a 6mm Driver Unit that delivers high-quality sound. Out of the box, the earbuds amazingly stimulate the experience of listening to real loudspeakers with Hi-Fi sound and deliver vocals with pristine clarity. Music is effectively reproduced and the earbuds bring the stage to you by offering immaculate clarity and punchy bass.
And if you want to further customise your experience, the TONE Free app provides EQ customization so you are in control of your audio experience.
LG TONE Free fit TF8: Pricing and Availability
The LG TONE Free fit TF8 is available for S$299 at:
LG official brand stores on KrisShop, Lazada, Shopee, as well as authorised retailers and distributors, including Audio House, Best Denki, ConnectIT, COURTS, Gain City, Goh Joo Hin, Harvey Norman, iStudio, Mega Discount Store, Parisilk, Stereo Electronics, Sprint-Cass, and X Gear.
LG TONE Free fit TF8: Setting the tone for every workout
The LG TONE Free TF8 earbuds are truly where ergonomics and sports meet.
Its smart design brings comfort and security while its highly water-resistant property fears no weather.
The hybrid active noise-cancellation function and hands-free features will greatly transform your workout experience.
It also delivers excellent sound quality and transports you through immersive music. So why wait? Get that missing piece in your gym life now and let the TF8 deliver convenience to you.
*Detailed disclaimers relating to product features apply. Please refer here for more details.