Cooler Master's monitors have earned a reputation for their strong build quality, accurate colors, and high performance. The Cooler Master GM27-FQS is a 27-inch QHD screen with a refresh rate of 165 Hz, Adaptive-Sync technology, HDR10 support, and extended color capabilities. It's also rare in that it allows users to switch between different color gamuts, and it has a striking lighting feature that sets it apart from other gaming monitors.
Let's take a closer look at this monitor in this review.
Specifications
Panel Type / Backlight
IPS / W-LED, edge array
Screen Size / Aspect Ratio
27 inches / 16:9
Max Resolution & Refresh Rate
2560×1440 @ 165 Hz
Native Color Depth & Gamut
8-bit / DCI-P3
Response Time (MPRT)
1ms
Brightness (mfr)
300 nits
Contrast (mfr)
1,000:1
Speakers
None
Video Inputs
1x DisplayPort 1.2
2x HDMI 2.0
1x USB-C
Audio
3.5mm headphone output
USB 3.0
1x up, 2x down
Power Consumption
29.7w, brightness @ 200 nits
Panel Dimensions WxHxD w/base
24.2 x 18.8-23.2 x 10.8 inches (615 x 478-588 x 274mm)
Panel Thickness
Upper: 0.3 inch (7 mm)
Lower: 1.7 inches (43 mm)
Bezel Width
Top/sides: 0.3 inch (7 mm)
Bottom: 0.5 inch (13 mm)
Weight
5.1 kg
Unboxing and Assembly
The GM27-FQS arrives in a box filled with foam to ensure its protection during delivery. In the box, you'll find:
Cooler Master GM27-FQS Gaming Monitor
Monitor stand
Screwdriver
USB-C lighting cable
Power supply
HDMI cable
DisplayPort cable
The base of the monitor connects to the upright using a bolt that is secured in place. To assemble the monitor, you'll need to locate the four fasteners and use the included screwdriver to attach the panel to the stand.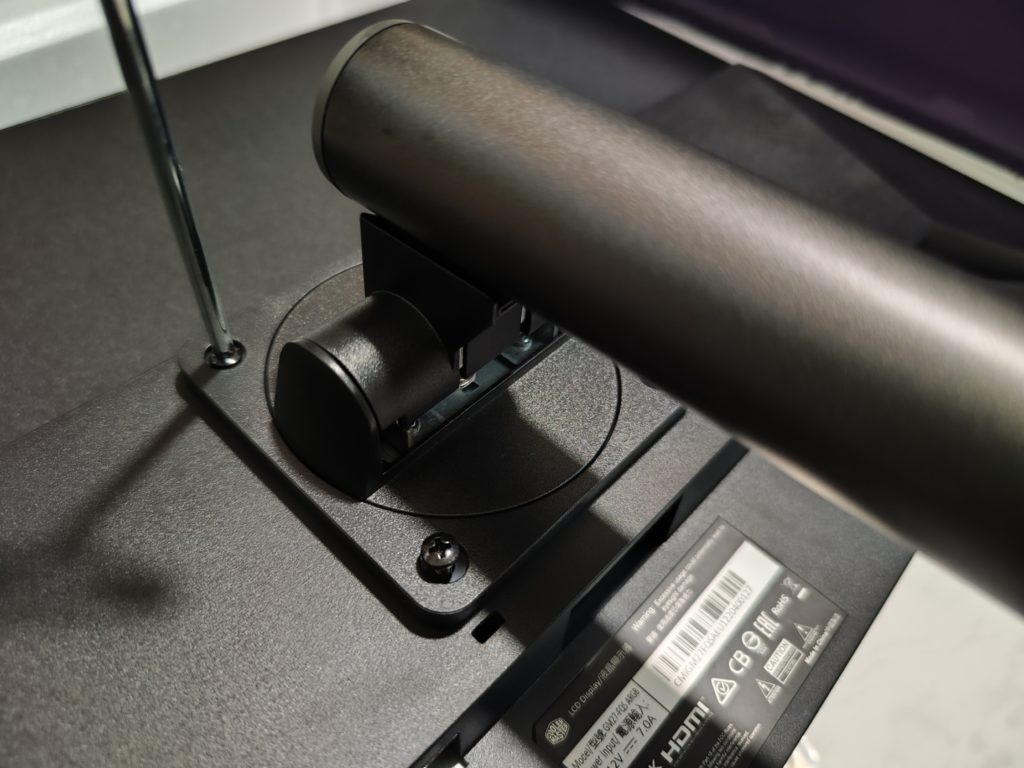 Once assembled, the monitor is relatively lightweight but sturdy. The package includes an external power supply, a USB-C lighting cable for the base, and both DisplayPort and HDMI cables.
Design and build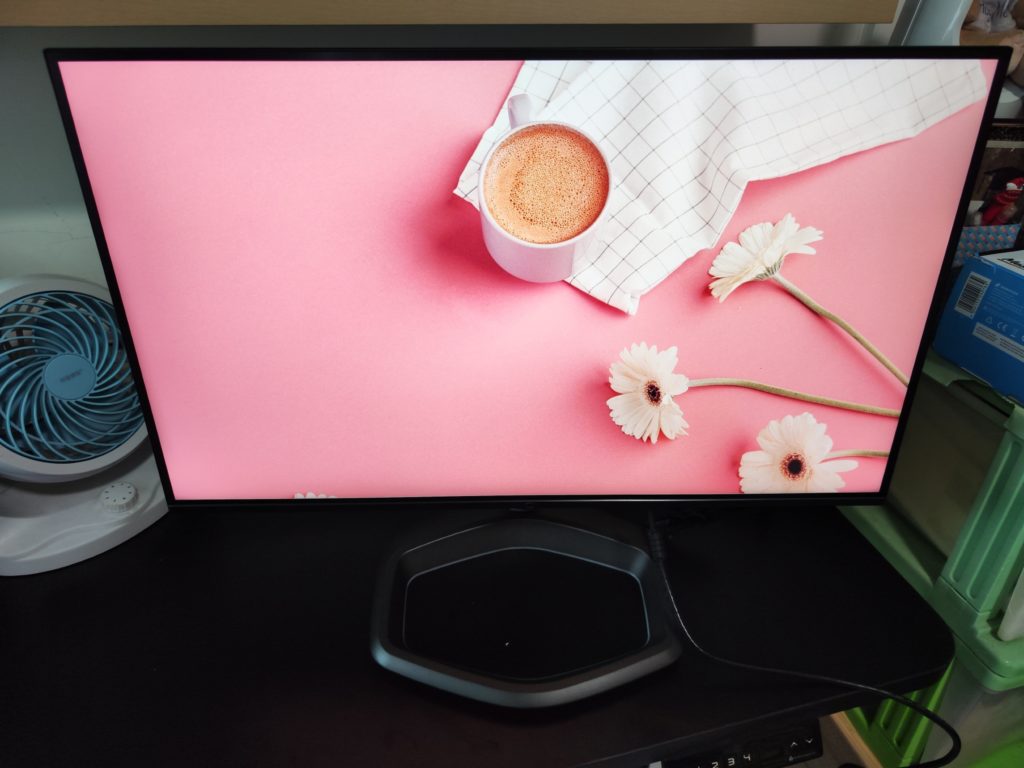 The GM27-FQS is a thin and stylish monitor, with a panel that is only 7 mm thick at the top and a bezel that is 7 mm wide and flush along the top and sides. The bottom trim is slightly wider at 13 mm, but it is barely noticeable, with only a small Cooler Master logo molded into it.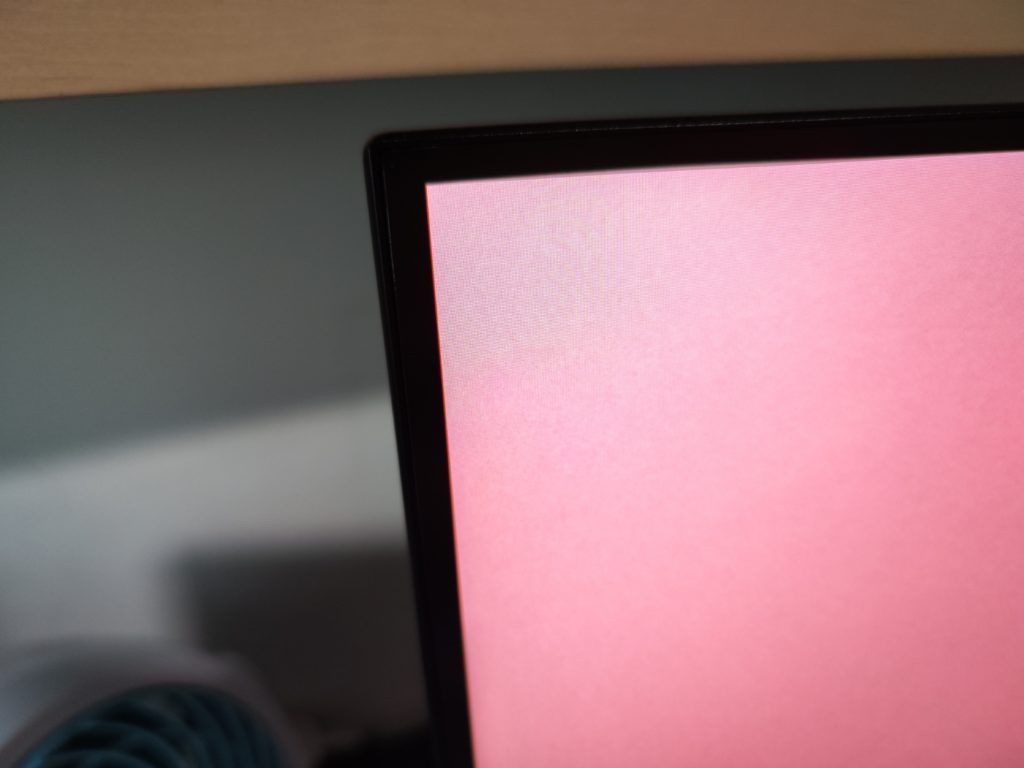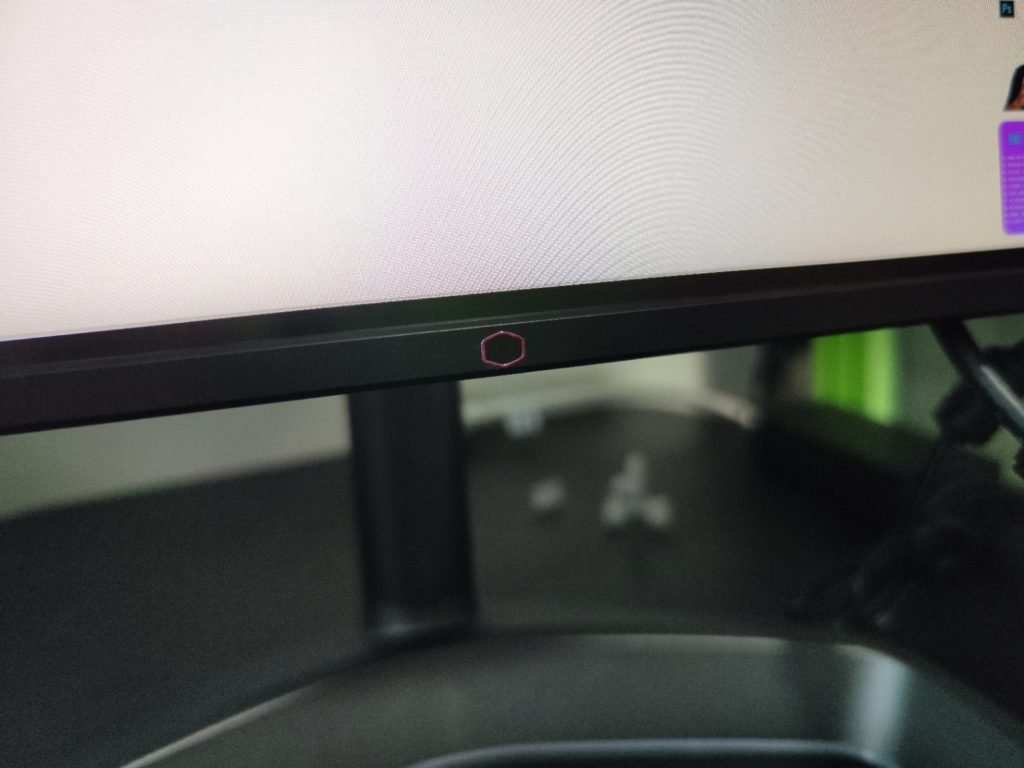 The screen's anti-glare layer provides a clear and grain-free image without any glare. The Halo LED lighting, which can be customized using the MasterPlus app, comes from the base and requires a USB-C cable to power it, which is included in the box.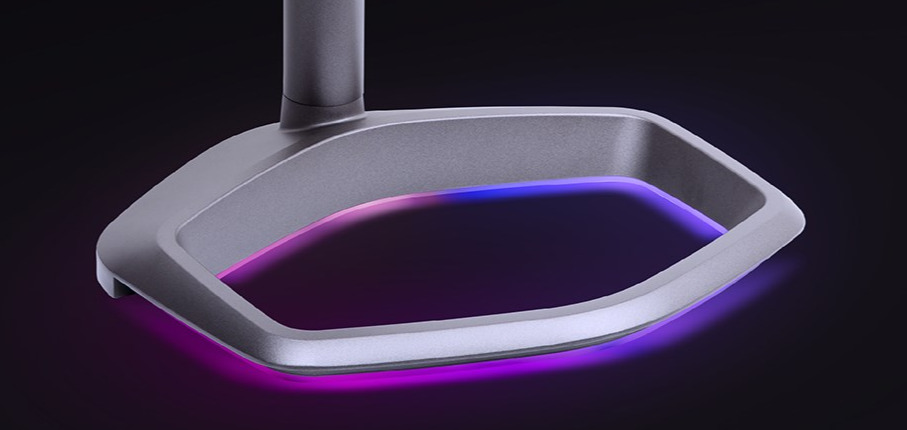 The input panel is located at the back of the monitor and includes two HDMI 2.0 ports, one DisplayPort 1.2 port, one USB-C port, and a 3.5 mm headphone jack. Unfortunately, this monitor does not come with built-in speakers, so you will need to purchase a separate desktop speaker set or headphones.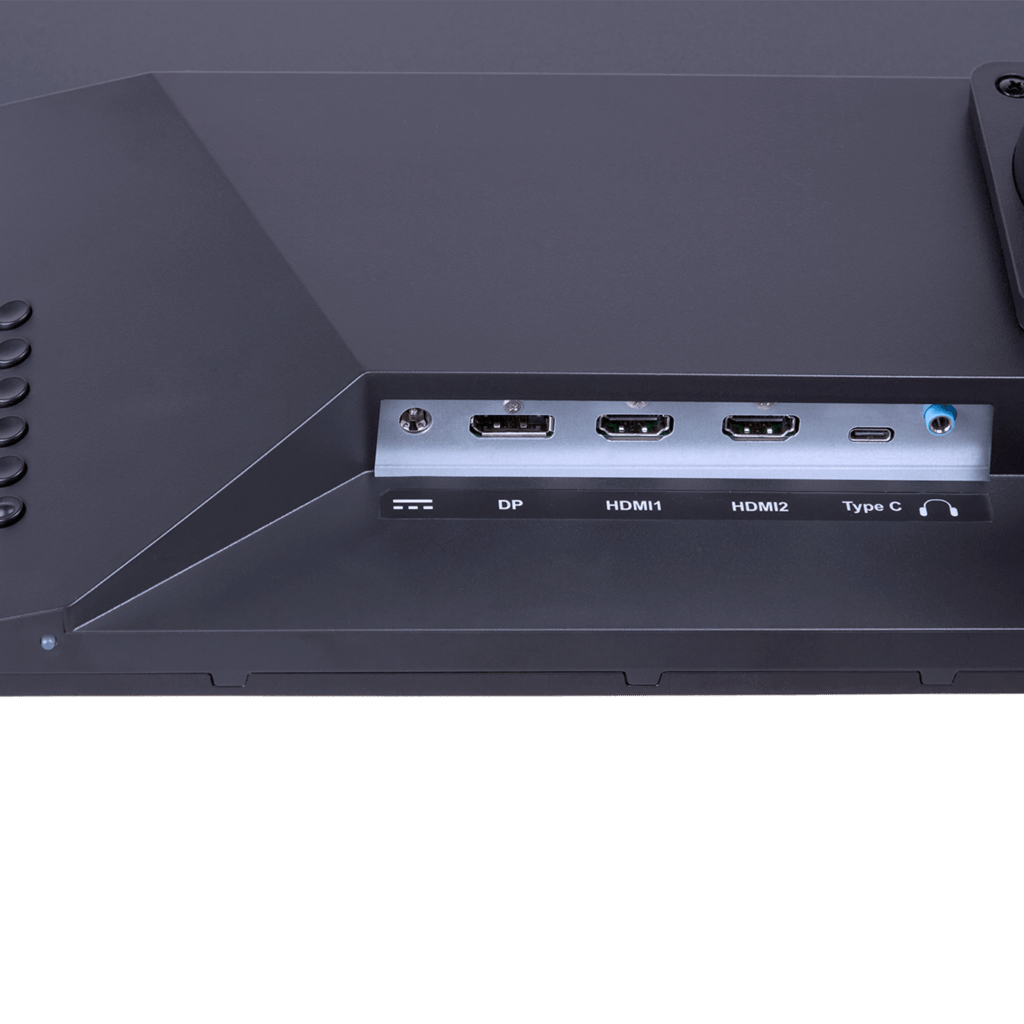 The stand for the panel is attached to the lower side of the panel, which raises the screen to a higher position. The stand can also be adjusted in height and tilted, swivelled, and rotated 90 degrees to change the orientation to portrait mode. Despite having many adjustable features, the stand feels stable and secure.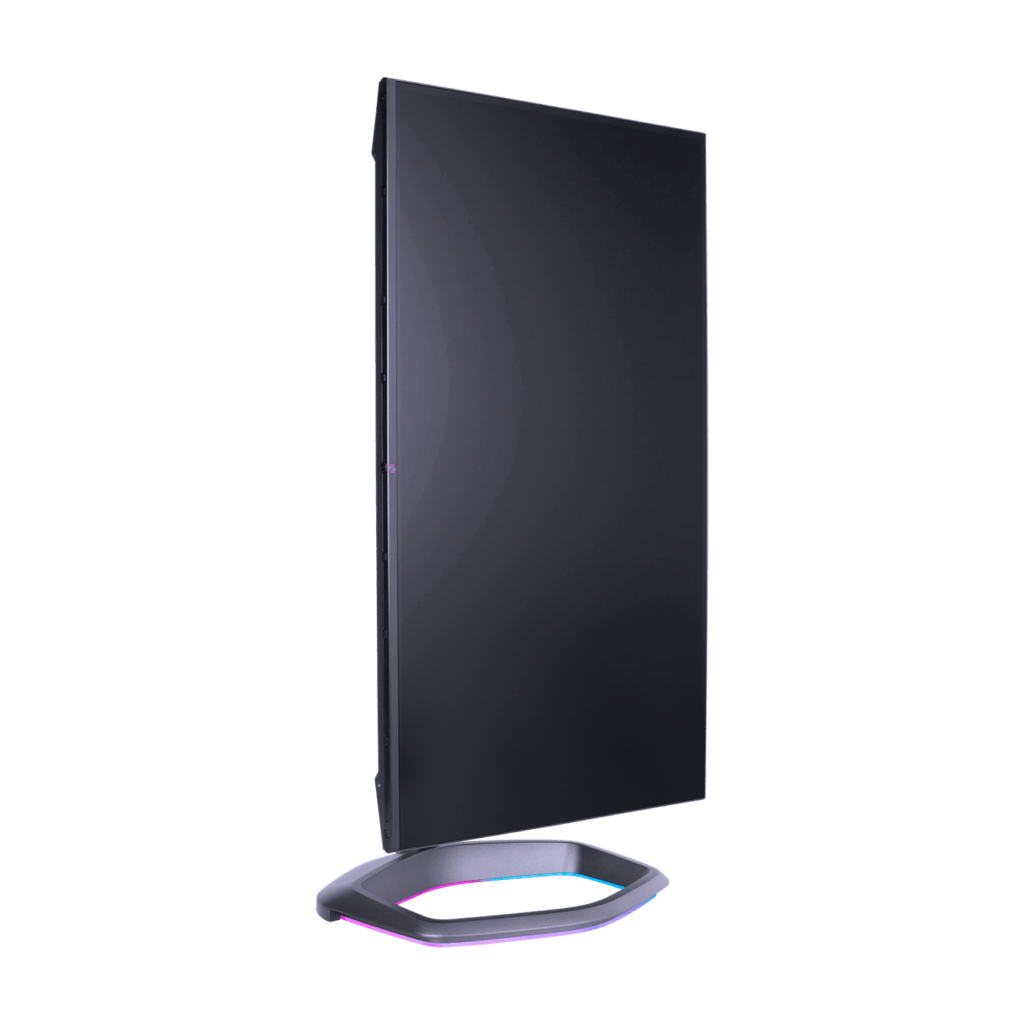 OSD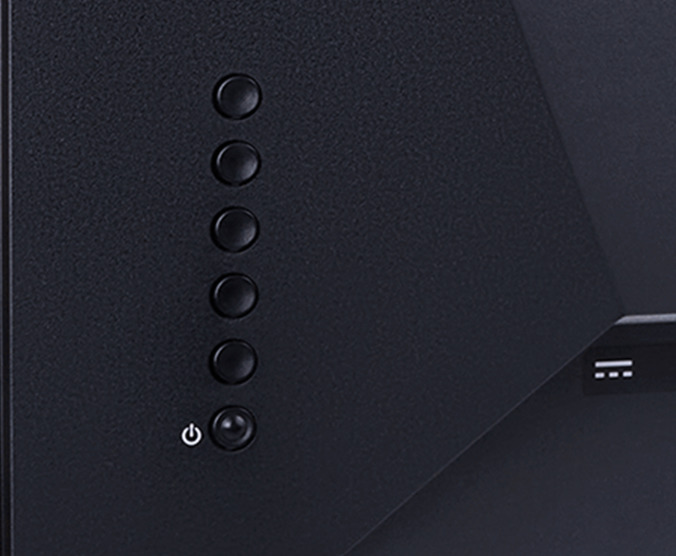 The GM27-FQS's OSD is controlled using five buttons located on the back right side of the monitor. The lowest button is a power toggle. The buttons have a high-quality feel, but because it's located at the back, you're gonna have to get used to what each button represents. For that reason, some users may miss having a joystick.
The OSD has a lot of options packed into a few sub-menus, including eight task-specific picture modes, each with different options such as a black stabilizer to control the black level and a blue light filter.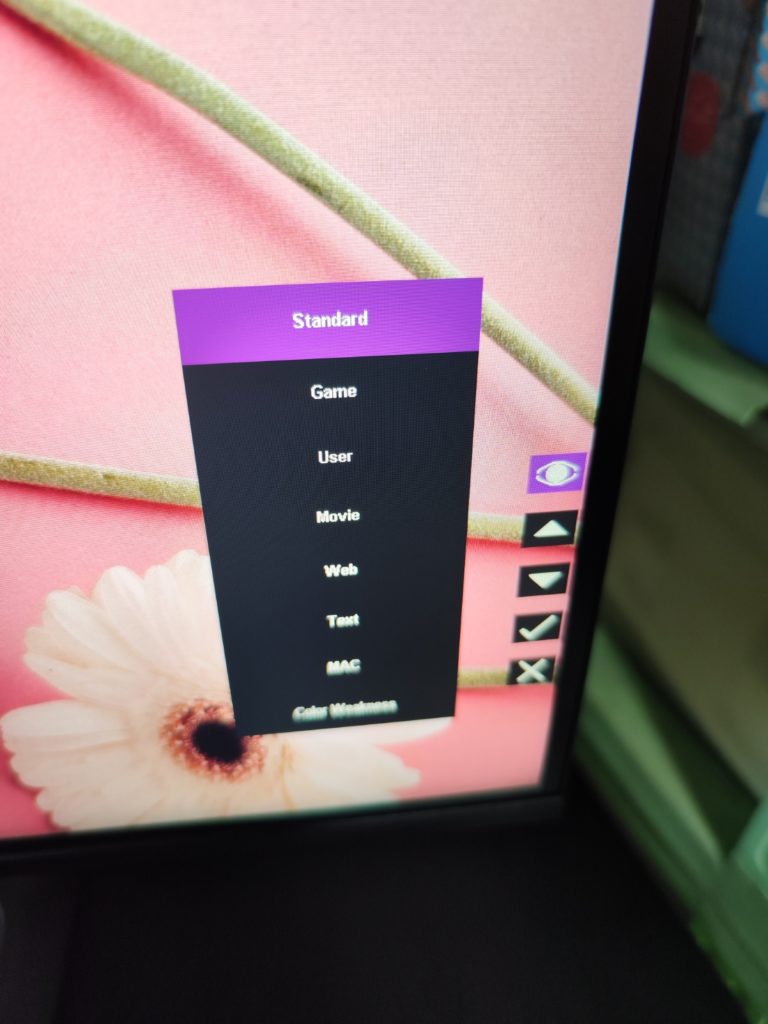 The "Color Adjust" menu has many options that are usually only found in professional monitors, including color temperature and gamma presets, and the ability to select the color gamut. The gaming options are located in the "Setup" menu and include a four-level overdrive and a backlight strobe called "Motion Clearness" with three levels. The highest level of "Motion Clearness" reduces light output by about 30% and provides the smoothest motion, but it requires turning off Adaptive-Sync.
Display and performance
The Cooler Master GM27-FQS is a 27-inch IPS monitor with a 2560 x 1440 resolution, a 165Hz refresh rate, and a 1ms boosted response time. It has a backlight of 300 cd/m2 and a contrast ratio of 1000:1, which is typical for an IPS panel. The device also provides excellent viewing angles with minimal distortion.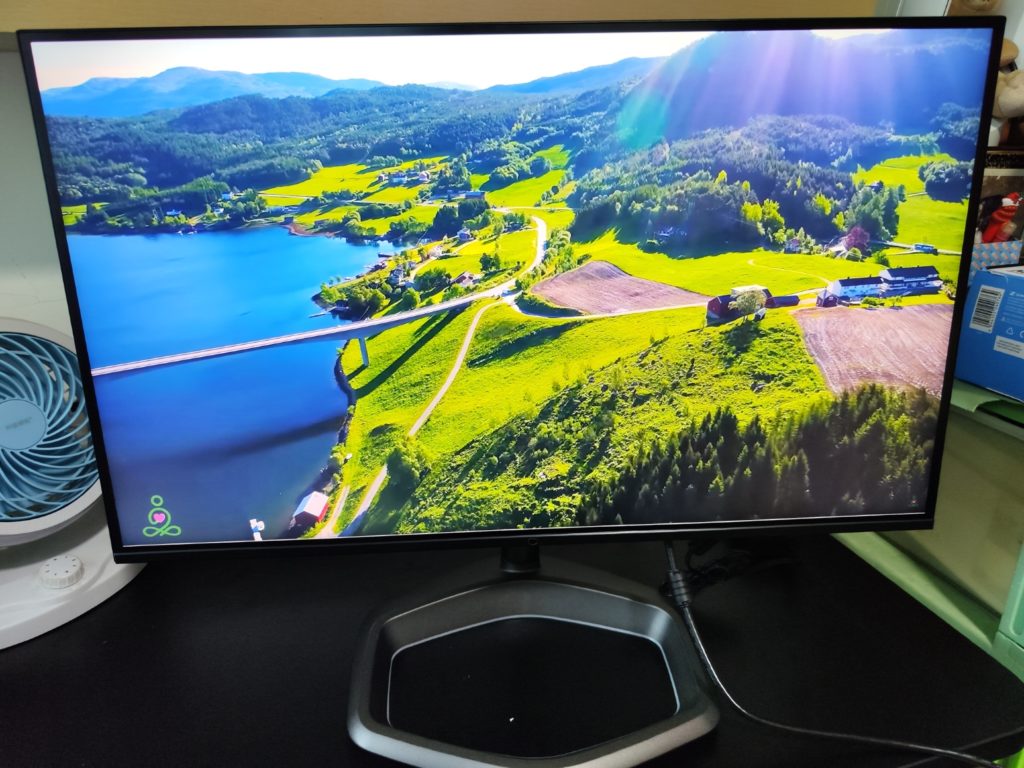 The Cooler Master GM27-FQS monitor has an excellent and accurate display right out of the box. For even better accuracy, it is recommended to select the DCI-P3 color gamut rather than sRGB. No additional calibration is needed to achieve the best possible image quality.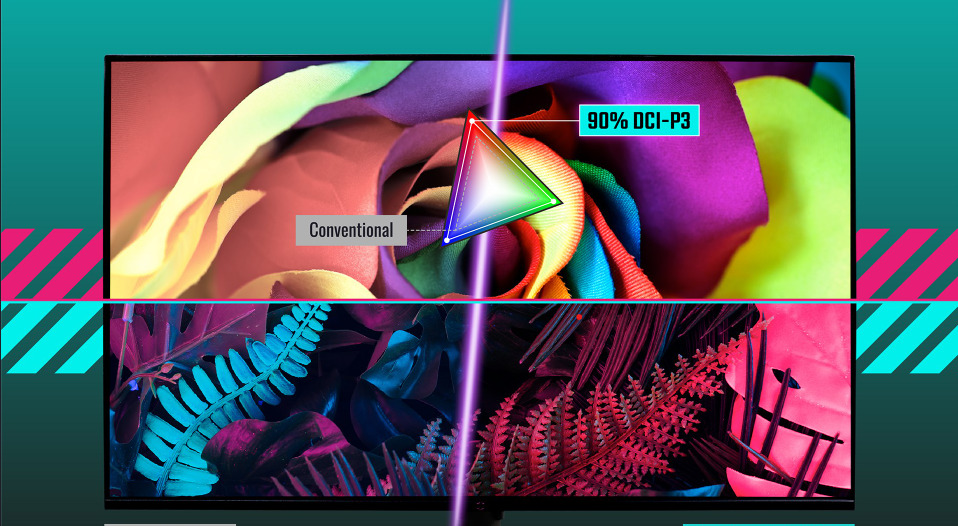 The monitor strikes a good balance between sharpness and legibility, with games appearing crisper and more detailed even at lower graphics settings. The monitor also has good color accuracy, with 99% sRGB and 92% DCI-P3 coverage, and excellent factory calibration with deltaE averages of 2.09 and 1.89 for sRGB and DCI-P3 filters, respectively.
It is compatible with both FreeSync and G-Sync, so you won't have to worry about tearing or stuttering, and has a low input lag of 4ms at 165Hz, making it suitable for competitive play.
In addition, the Cooler Master GM27-FQS has a pixel density of 109ppi, making it suitable for a wide range of tasks, including text and graphics-based work. It has a bright and vibrant image that is not overly saturated or harsh. The anti-glare layer results in a sharp and detailed picture.
Overall, the GM27-FQS is a well-rounded monitor that is suitable for both gaming and other tasks.
Pricing and availability
The Cooler Master GM27-FQS is available here at Cooler Master's official Lazada stall at S$499.
Conclusion
With a sub $500 price tag, the Cooler Master GM27-FQS offers affordability and performance for a wide range of audiences. Content creators may find this monitor to be a good choice due to the accurate colors it produces right out of the box, which is useful when color grading is required. As for gamers, the equipped technology offers a gaming experience with no noticeable screen tearing or ghosting.