As you start adulting, you'll come to realise that there are just too many things to do. And too little time. With work, friendships, and relationships taking up most of our time in the day, who has got the time to deal with household chores? And even if we do have the time to do it, do we really want to spend our precious time with a broom or a mop?
Well, if your answer is no, you're at the right place. With the power of technology, there is always a solution to be found.
Today's solution? The new Roborock G10. This robot vacuum cleaner deploys the dual function of sweeping and mopping, a feature that has come to be a regular on modern vacuum cleaners these days.
While the Roborock G10 can save you a few precious hours per day by not having to mop or sweep the floor, the big question still remains: Can it truly replace manual labor?
Find out in this Roborock G10 review.
Specifications
| | |
| --- | --- |
| Suction Power | 2,500 Pa |
| Sonic Mopping | 3,000 vibrations per minute |
| Water Tank Capacity | 200 ml |
| Dust Bin Capacity | 470 ml |
| Battery Capacity | 5,200 mAh |
| Mop Lifting Height | 5 mm |
| Base Station's Clean Water Tank | 2.9 L |
| Base Station's Dirty Water Tank | 2.5 L |
| Base Station's Cleaning Module | 600 rpm |
Unboxing the Roborock G10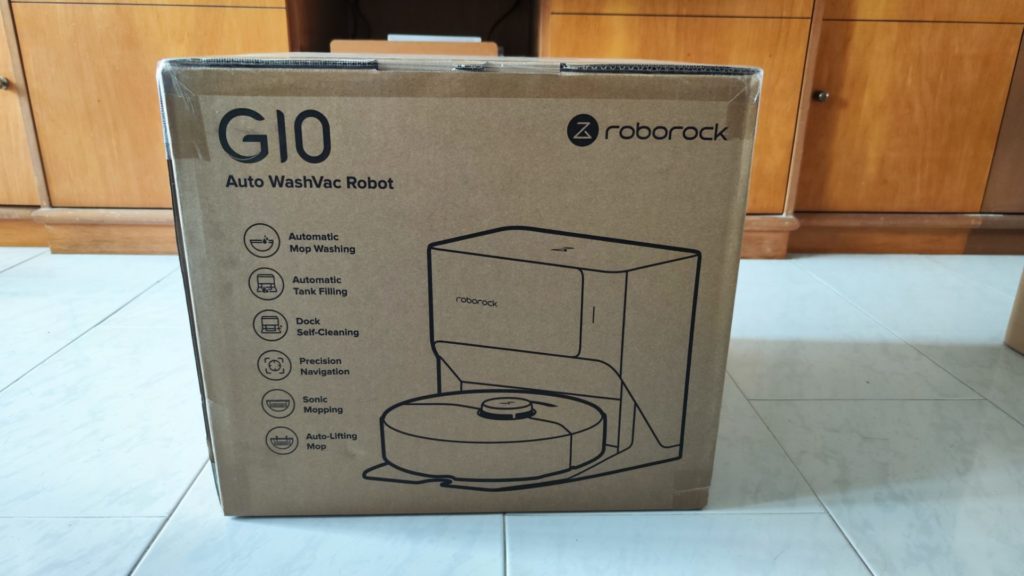 Unbox the Roborock G10 and you will see a quick start guide that nicely explains what you can expect in each layer of the packaging. You won't have to worry about missing out on some components and accidentally throwing it away with the box.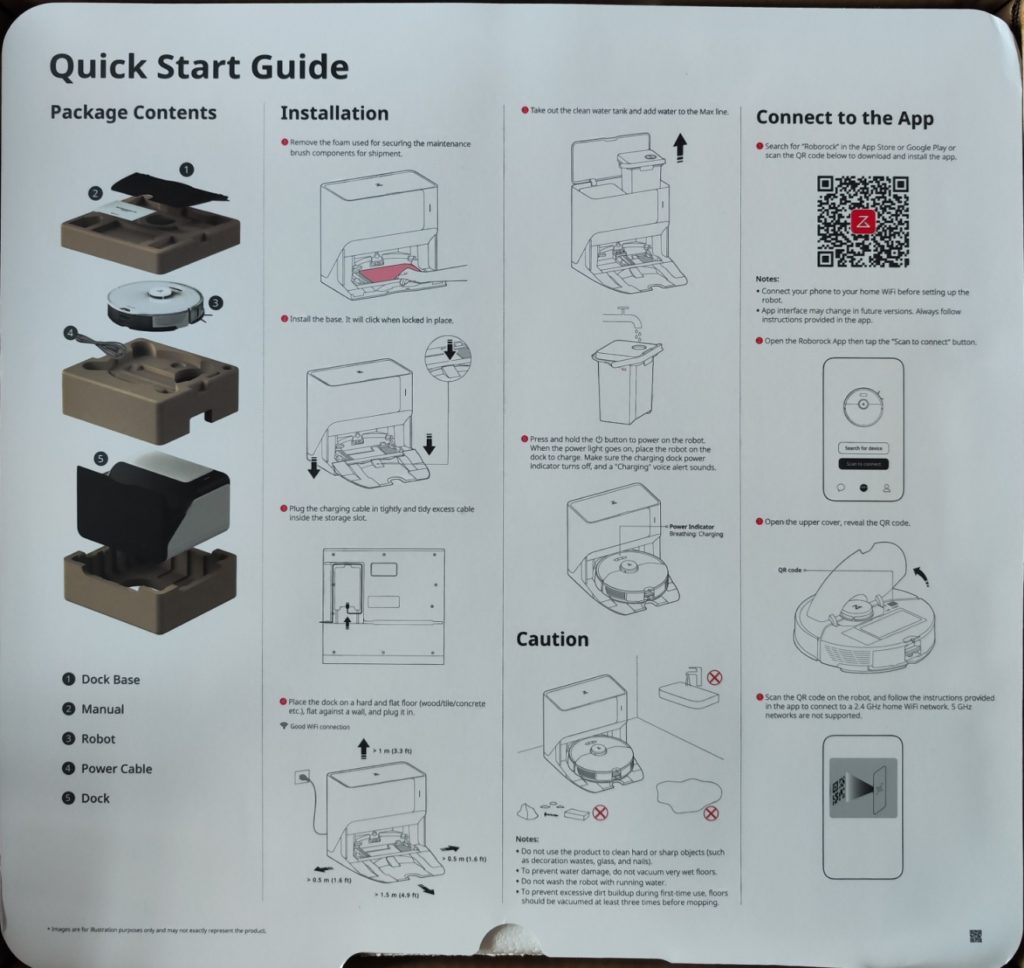 The Roborock G10 and the charging dock are the two main components of the kit. There's nothing out of the blue when it comes to the contents and packaging of the Roborock G10 – you get exactly what you need.
Roborock G10: Design and build quality
The Roborock G10 did not disappoint in this department. We really like how it looks. The vacuum cleaner and the charging dock are mostly composed of polycarbonate, but it is high-quality polycarbonate with a thick, solid build, which is also why the entire thing weighs more than a dozen kilograms.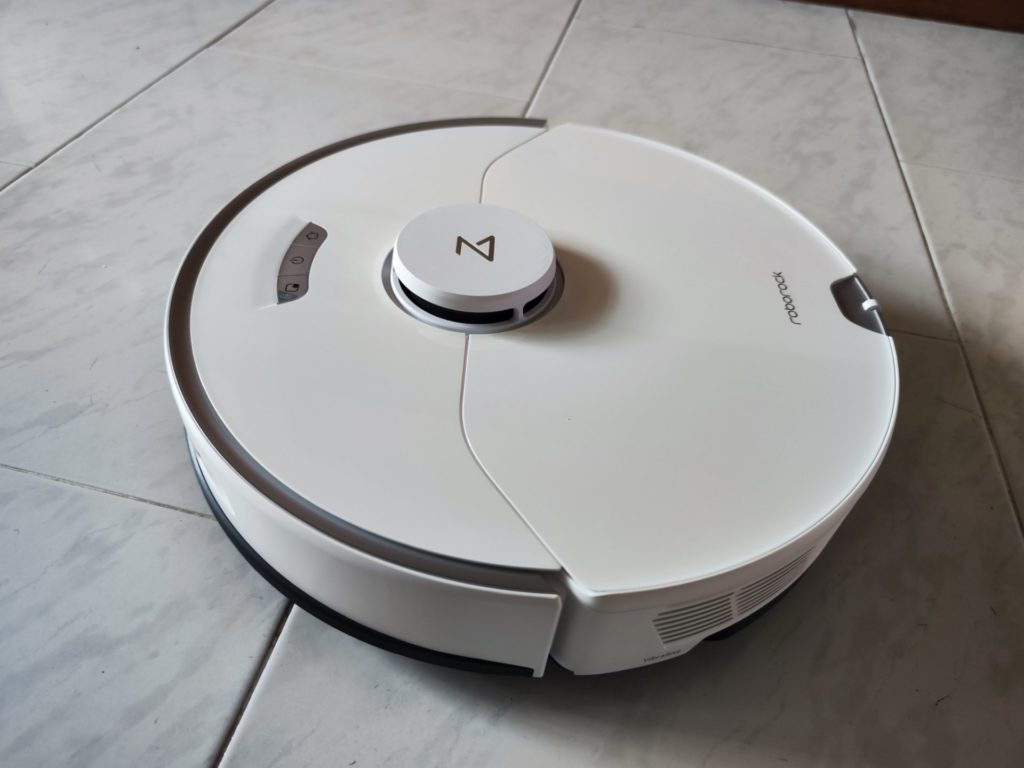 By itself, the vacuum cleaner weights 5kg. Which isn't crazy heavy. It looks sleek and comes with black accented lines.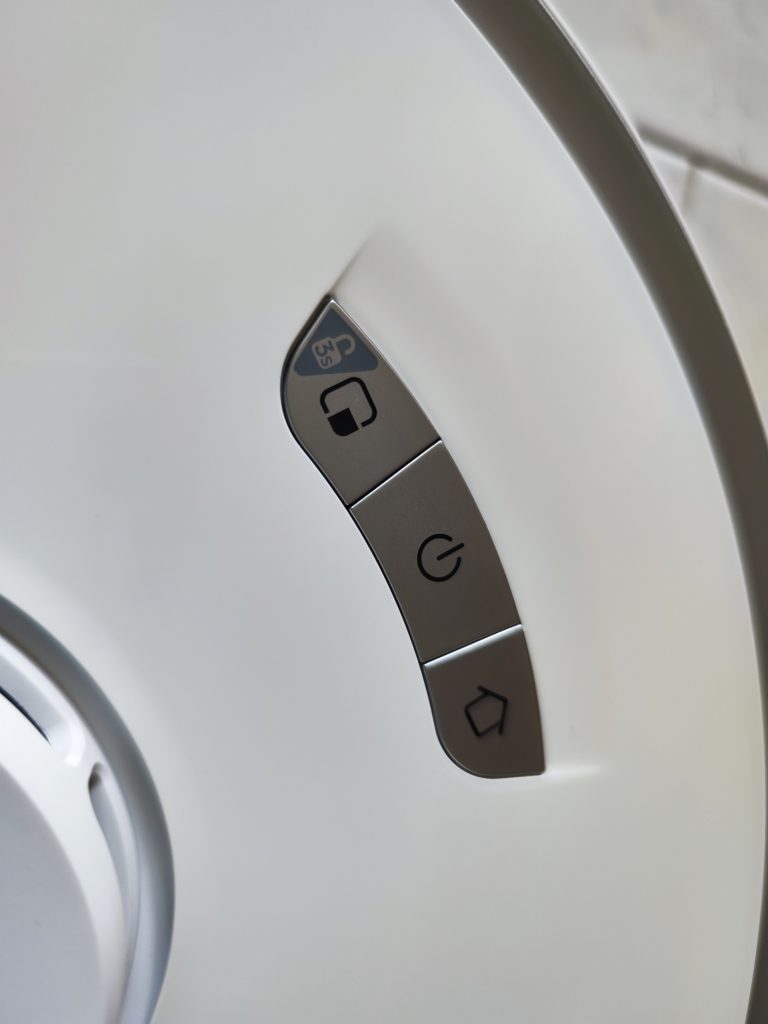 There are three buttons at the top that allow you to access functions like power on, power indications, child lock, spot cleaning, and docking. In addition to the buttons, you'll find the Roborock G10's LiDAR array.
At the bottom of the vacuum cleaner, you'll find the stuff that does the heavy lifting – main and side brushes, as well as wheels and sensors.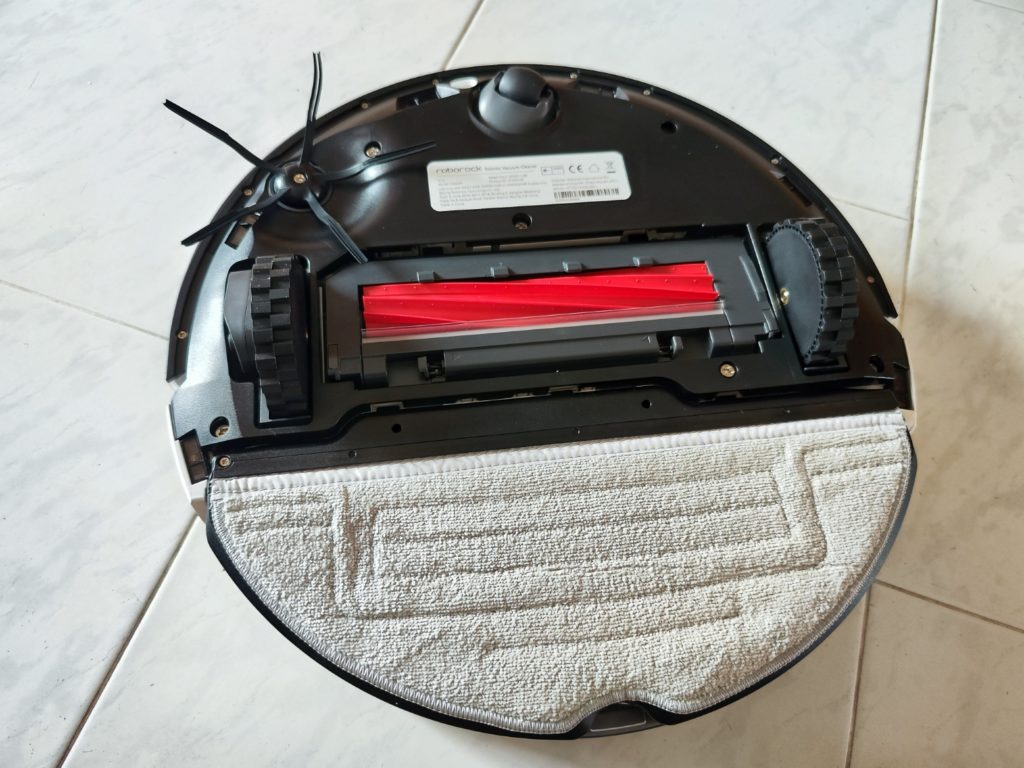 The vacuum also has a removable dustbin and a 300ml built-in slide-out water tray.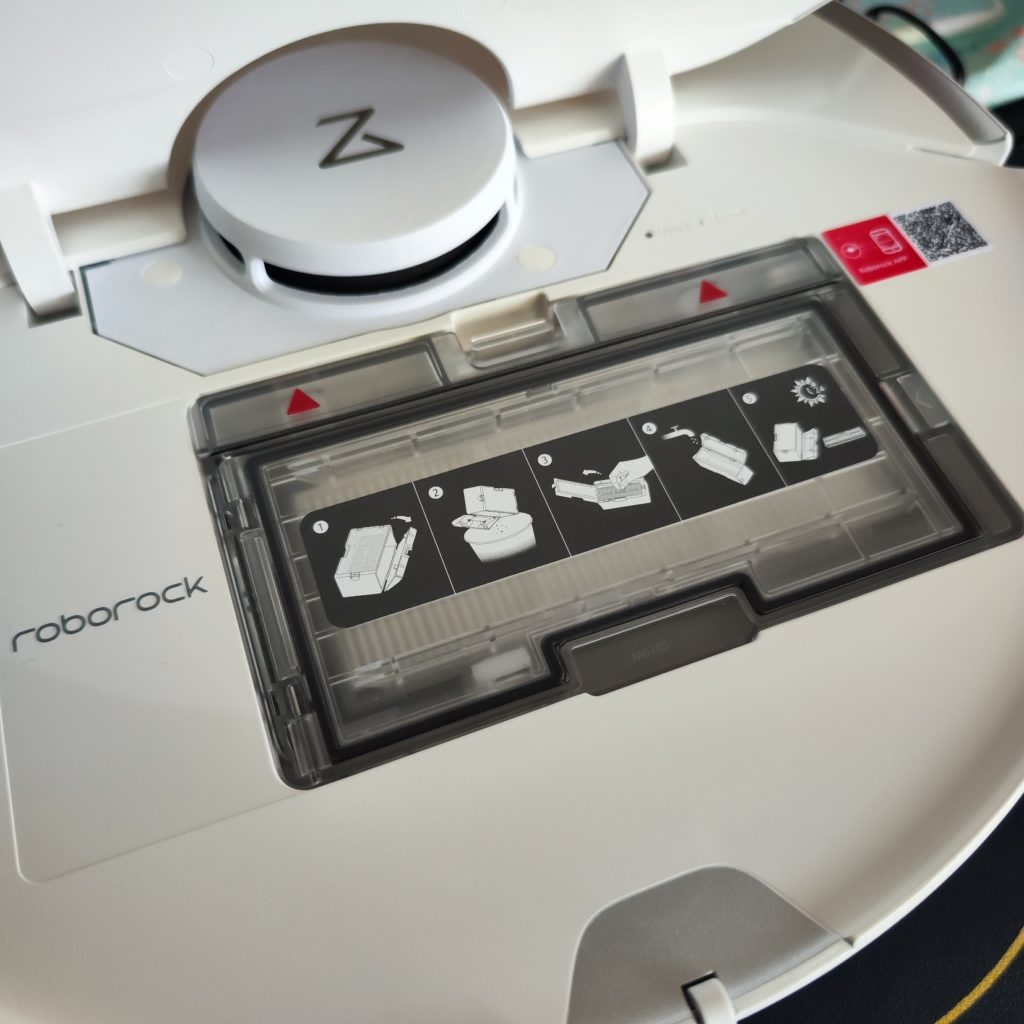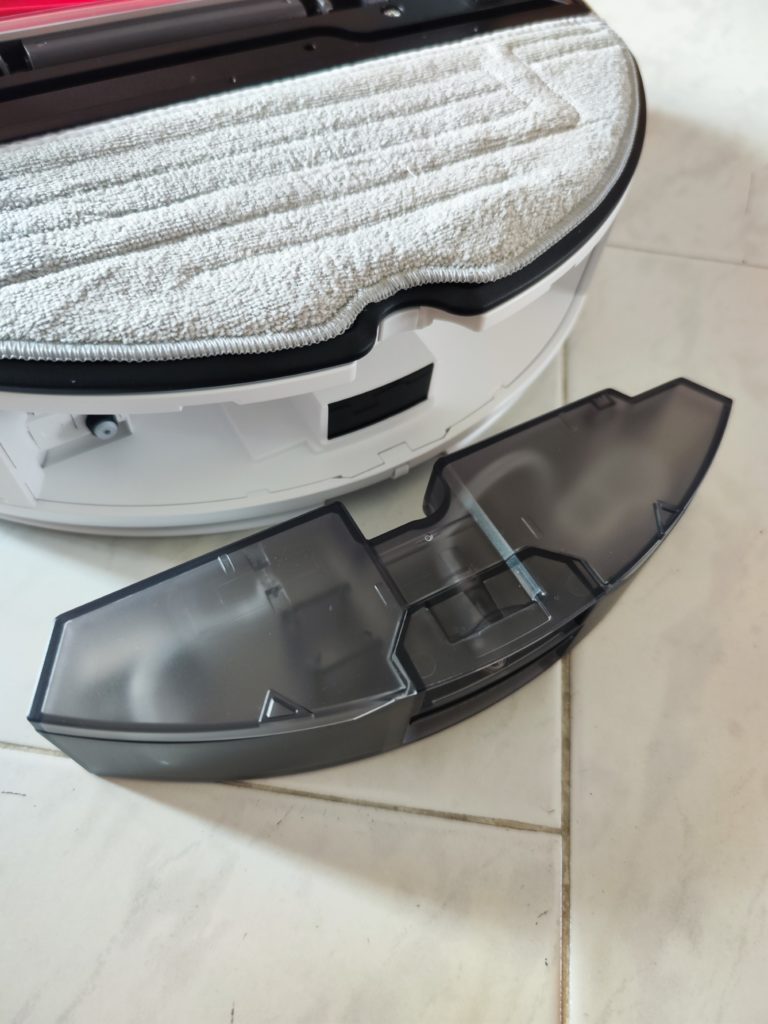 Now, for the dock. Having tested quite a few robot vacuum cleaners, we were pretty impressed with how the Roborock G10's dock looks. Its monochromatic look is stylish, and more importantly, it isn't too big and bulky. Because it is primarily matte black, fingerprints and dust don't appear obvious on the dock.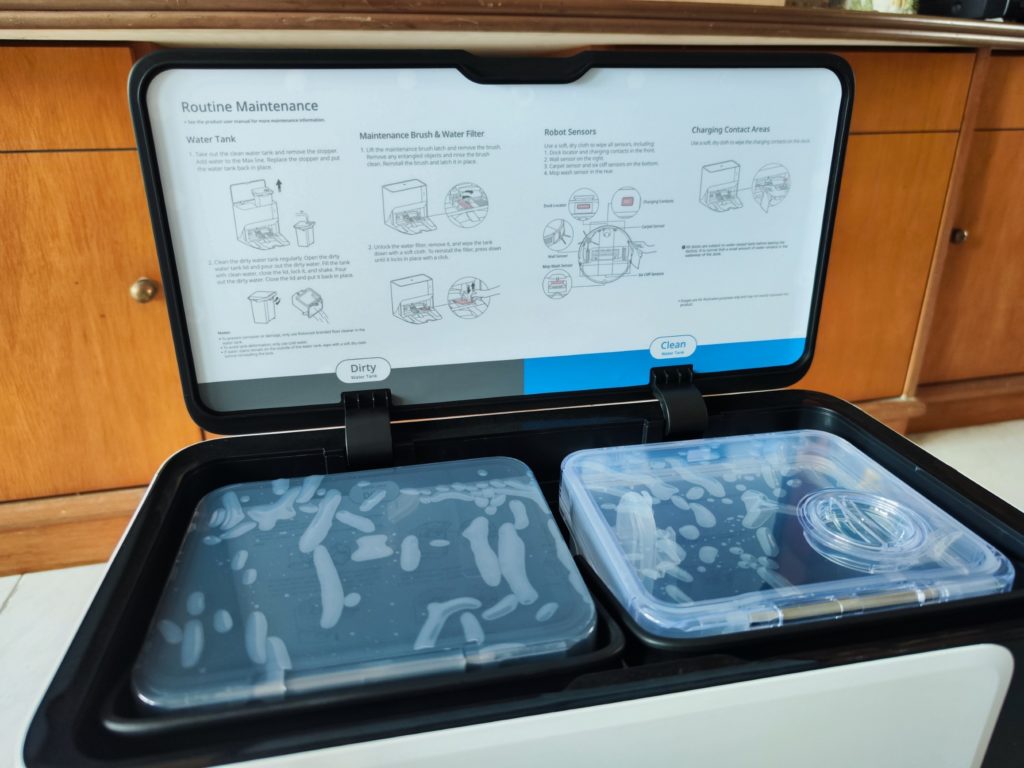 Two water containers are on the top. All of the filthy water left over after washing the mop and the dock is stored in the 2.5L translucent black water container. The 2.9L transparent container of clean water is used to fill the robot's water tank, wash your mop, and clean the dock.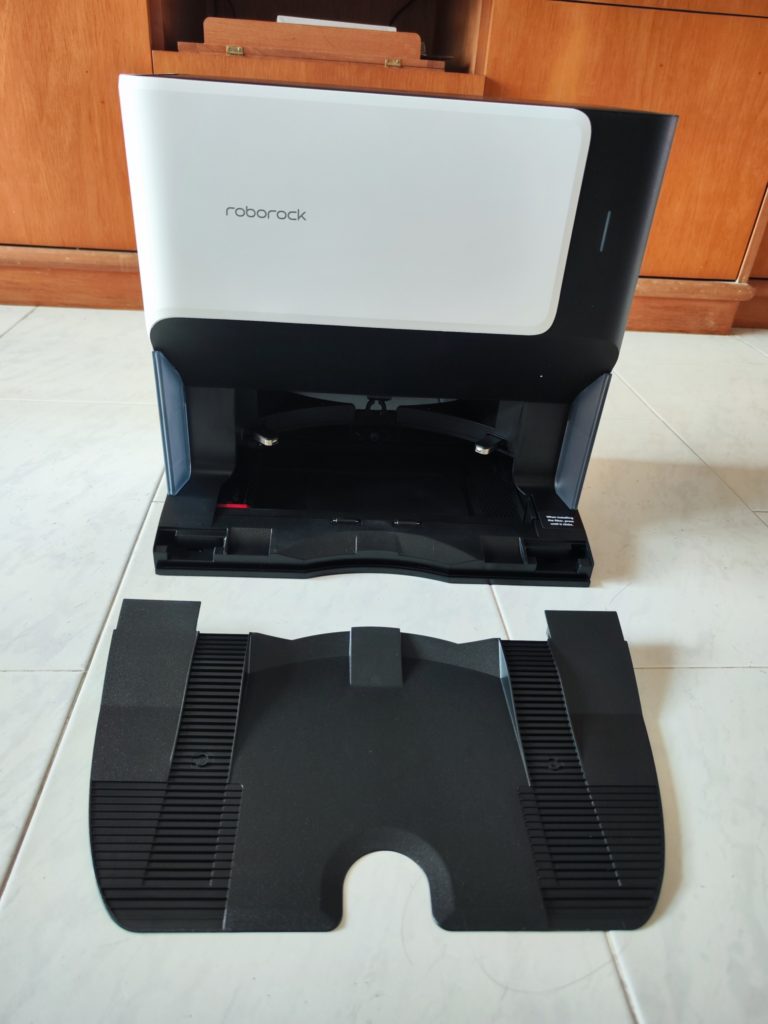 The best part? There was practically no set-up needed. You merely have to place pieces together and they fit perfectly – no allen keys, screws, whatsoever. Roborock also included some pretty nifty design elements, like a cable organizer and an illustration to guide you in plugging in the device. These were much appreciated.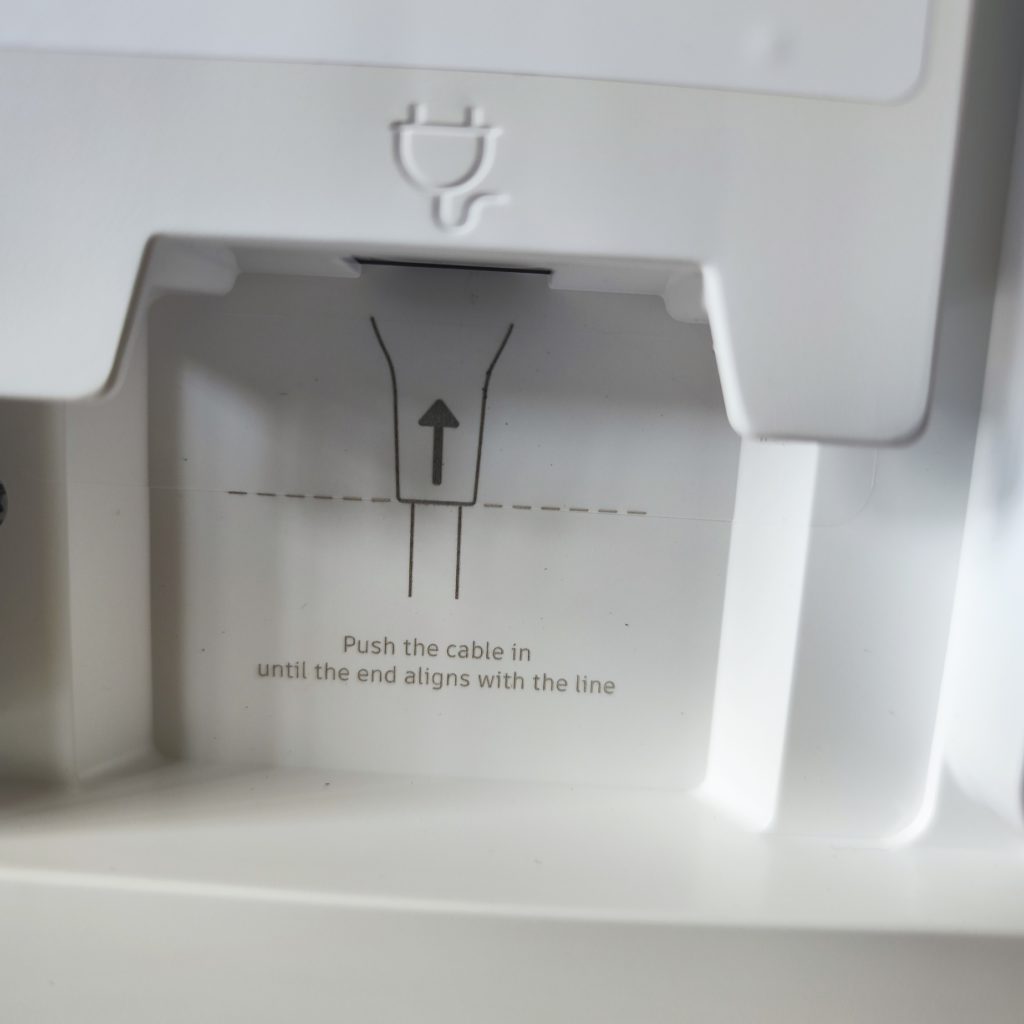 Roborock G10: Performance and features
Now that the details are out of the way, let's examine the Roborock Q7 Max+'s features and capabilities.
Auto Mop Washing
If you've ever mopped the floors in your home, you'll know how annoying and difficult it is to clean a mop. Mopping the floors with a dirty mop is a nightmare.
Roborock G10 understands this. The dock automatically engages its mop cleaning mechanism when it first starts up, washing the G10's mop to make sure it is clean before beginning work.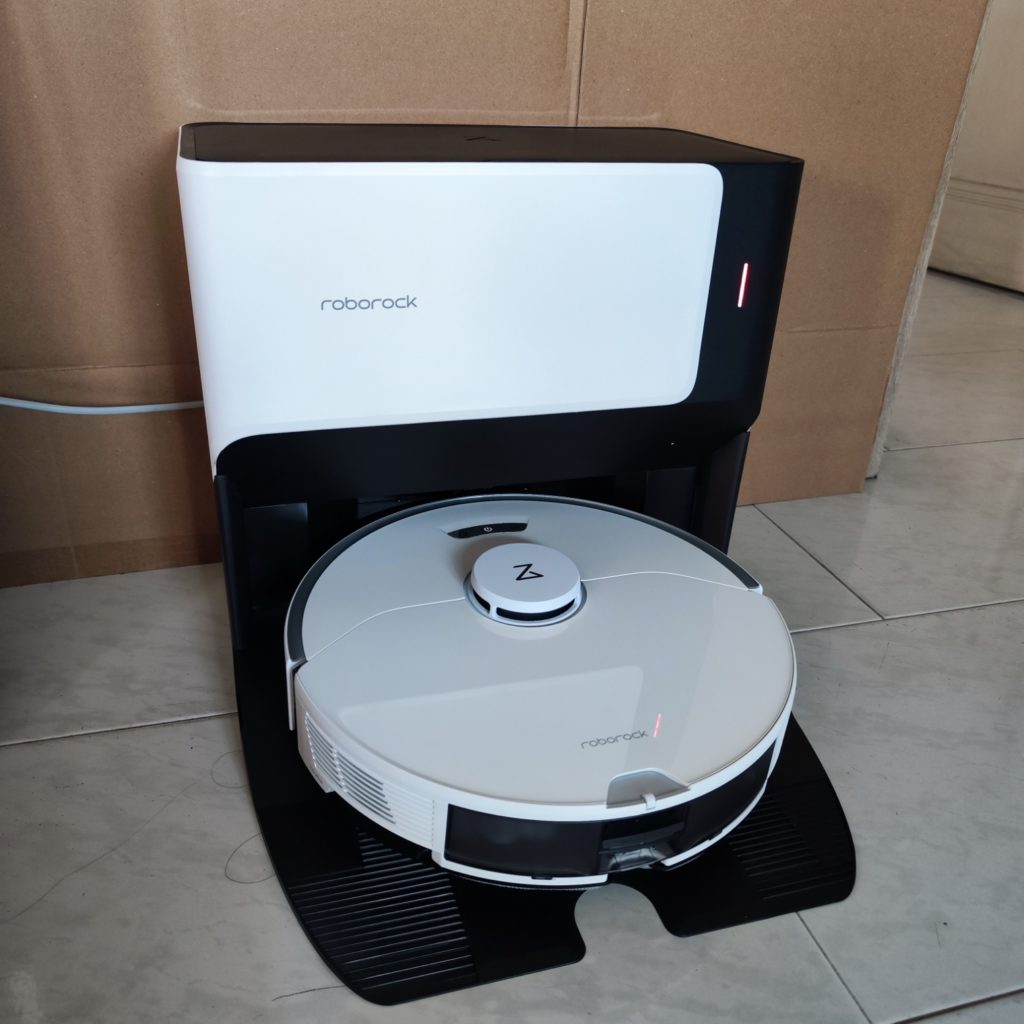 The dock is also responsible for giving the mops a thorough cleaning when the vacuum returns from a hard day's work. Every time it starts mopping and stops, this happens again.
According to Roborock, the cleaning module vigorously removes the dirt by brushing the mop cloth at a speed of 600rpm. We don't know about the speed – but the mop cloth is completely clean each time we start cleaning with the Roborock G10.
Self-cleaning and Self-refilling
In addition to auto mop washing, the Roborock G10 can clean up after itself.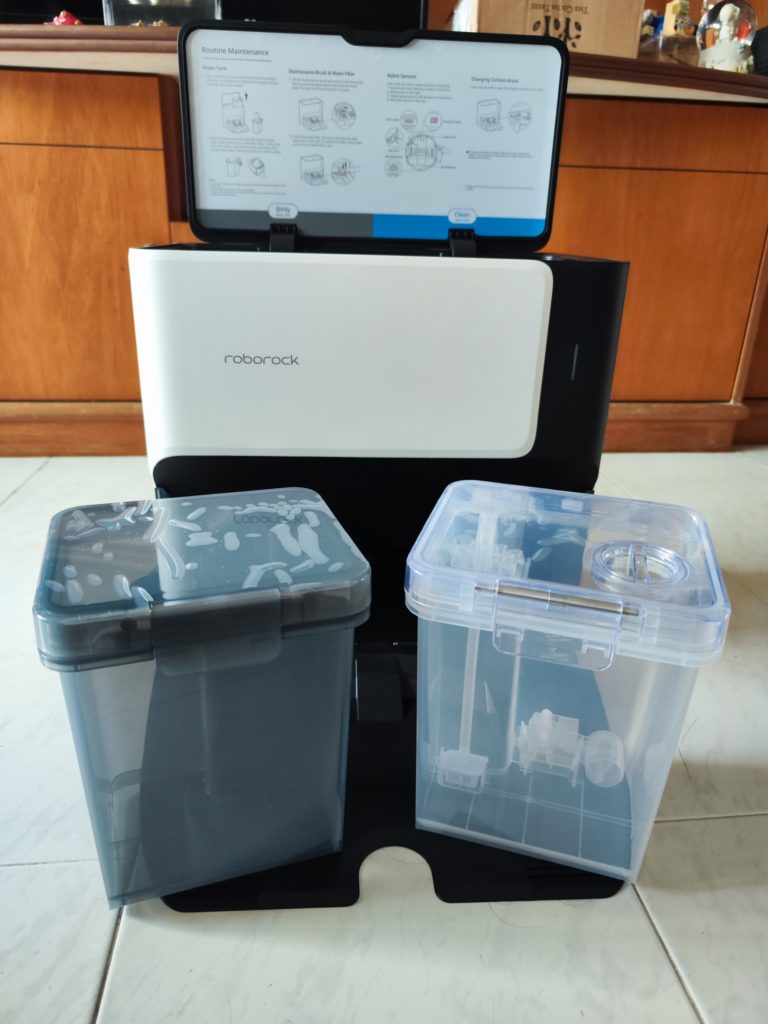 After cleaning up the dirt from the mop, filthy water is stored in a container in the dock. Next to that container, another container stores clean water that will automatically refill the Roborock G10 so that clean water accompanies a clean mop all the time.
We love that the water containers come with large handles. You don't have to risk touching filthy water when taking out the containers.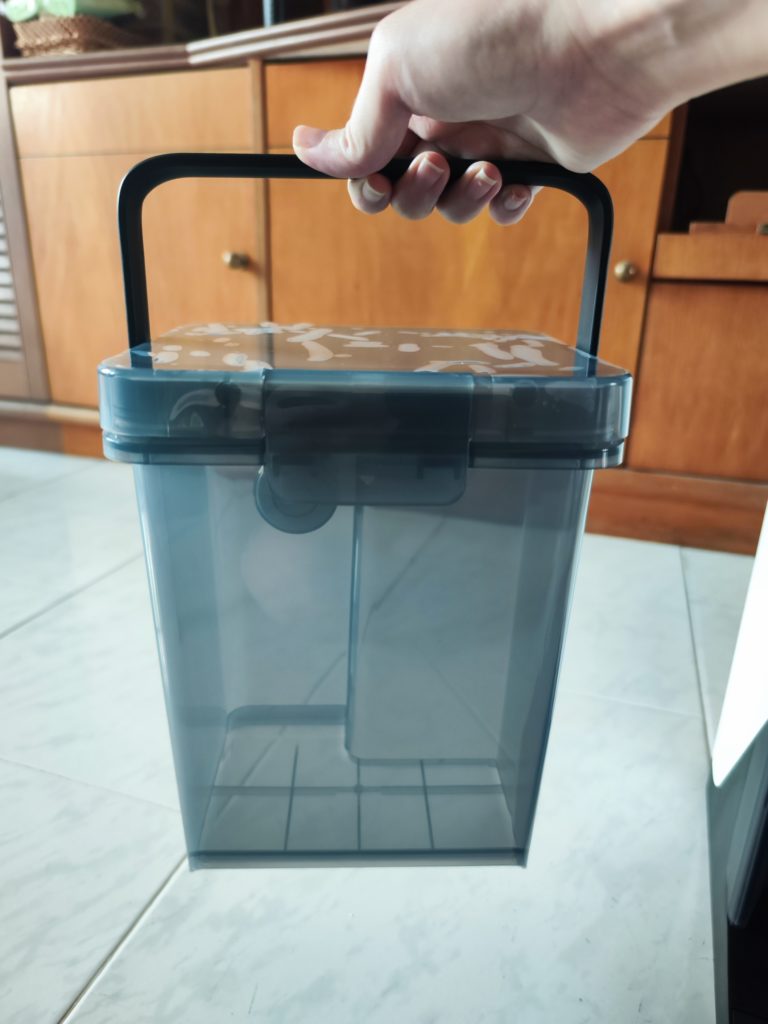 On our test, the self-cleaning and self-refilling functions work great. Although, we wish there would have been a self-emptying function like the Roborock Q7 Max+ did.
Strong HyperForce suction
A good vacuum cleaner should suck. The Roborock G10, with a 2,500Pa HyperForce stormer, truly sucks.
Roborock claims that the G10 is 25% more powerful than the Roborock S6. What this means that this vacuum cleaner is better able to capture fine dust from floors and reach deeper into carpets.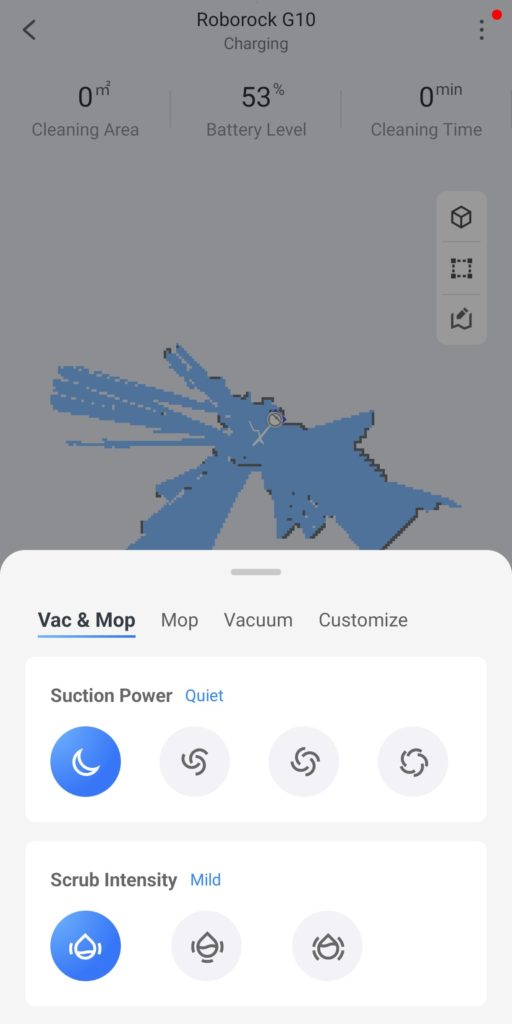 Debris is swept into the main underneath roller of the Roborock G10 by the side brush. They are then suctioned up with 2,500Pa of suction power into a tiny dust container.
It is powerful enough to effectively clean common home surfaces like carpet, thick mats, and more. Some hard-to-reach corners, however, will still require some manual cleaning.
There are two techniques to boost the suction's strength. One is accomplished through your app, and the other is accomplished by letting the Roborock G10 roam and recognize surfaces while applying the appropriate suction.
Sonic Mopping
On floorings like marble, parquet, and vinyl, the Roborock G10 glides easily to provide a thorough clean. But the mop on the Roborock G10 does more than merely wiping up spills.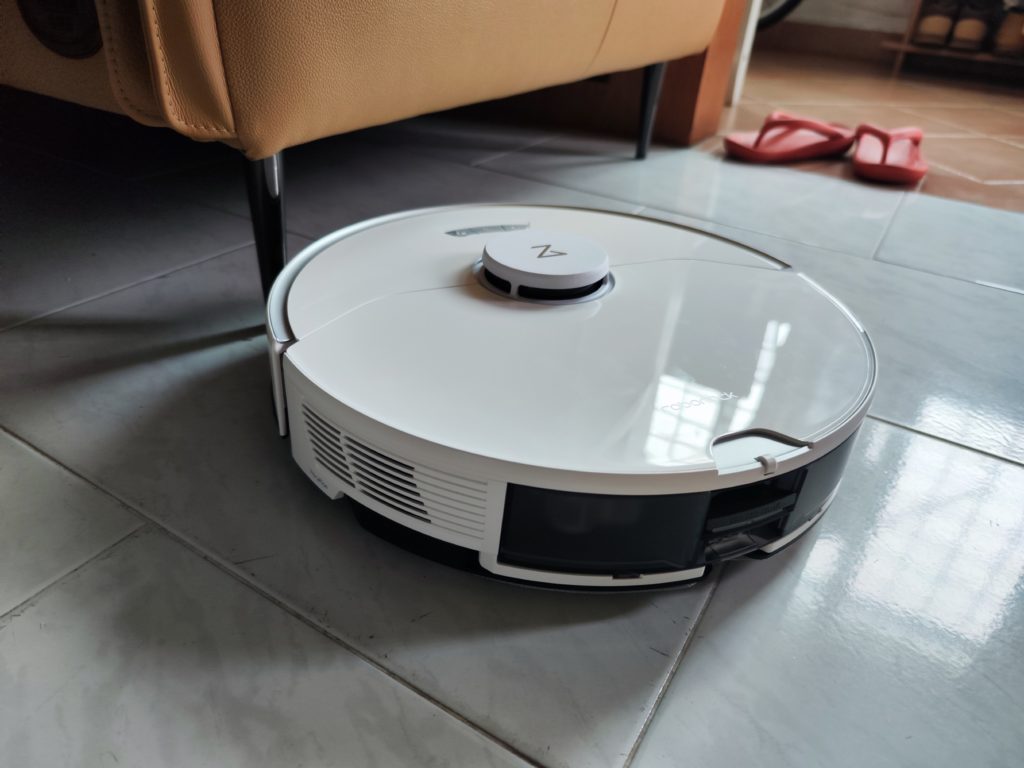 It contains an ultrasonic motor that causes the mop attachment's bottom to shake off tough stains at a rate of hundreds of vibrations per second. So, if you've got some stubborn stains on your carpet from a Christmas party a decade ago, the Roborock G10 might just help.
Furthermore, because the vacuum cleaner makes use of a combination of floating mopping module and high-frequency vibration, specks of dirt and stains can be removed and cleared off of even if the surface is rough and uneven.
Auto-lifting technology
If you've used the Roborock S7, you'll be familiar with VibraRise – an amazing technology that is set to rise by default when the vacuum cleaner encounters a carpet. Coupled with an ultrasonic sensor, carpets are quickly and accurately recognized.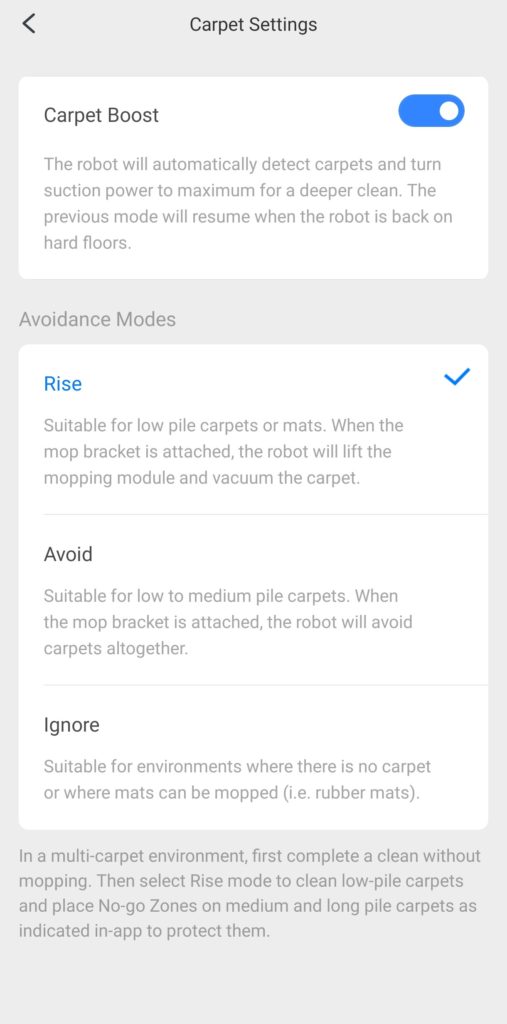 This function worked perfectly well. The floor mat that used to get stuck under other vacuum cleaners remained in its position. And the G10 made its way above it without stopping its cleaning routine.
All-rubber brush fins
The Roborock G10 sports Roborock's brand-new all-rubber brush. While that doesn't sound all that exciting, its effects are pretty amazing. The new design of the fins prevent oddly-shaped and long objects like hair from tangling with other debris.
The Roborock G10's cleaning passage thus remains unhindered, even if the floor is filled with strands of hair. And true enough, the G10 is able to take in debris and hair without annoying jam ups. We didn't have to head over to "rescue" the vacuum cleaner during any cleaning routine.
3D mapping and efficient navigation
Through the Roborock app, you'll be able to map your home. You can view three different layout formats on the app: 2D, 3D, and Matrix. These perspectives enable the Roborock G10 to have a better understanding of your home and perform a more thorough clean.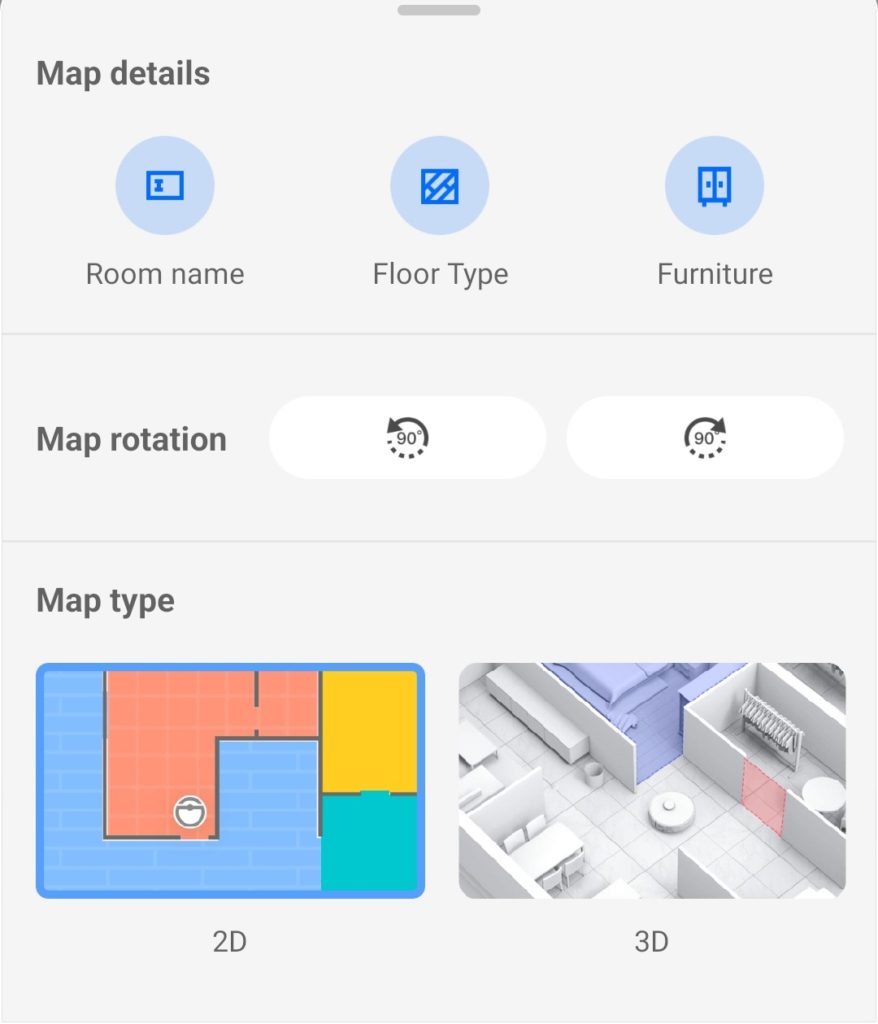 You can set barriers on your map or add no-go zones that are off limits to the robot. You can even add furniture and floor materials to create a more accurate 3D representation of your home.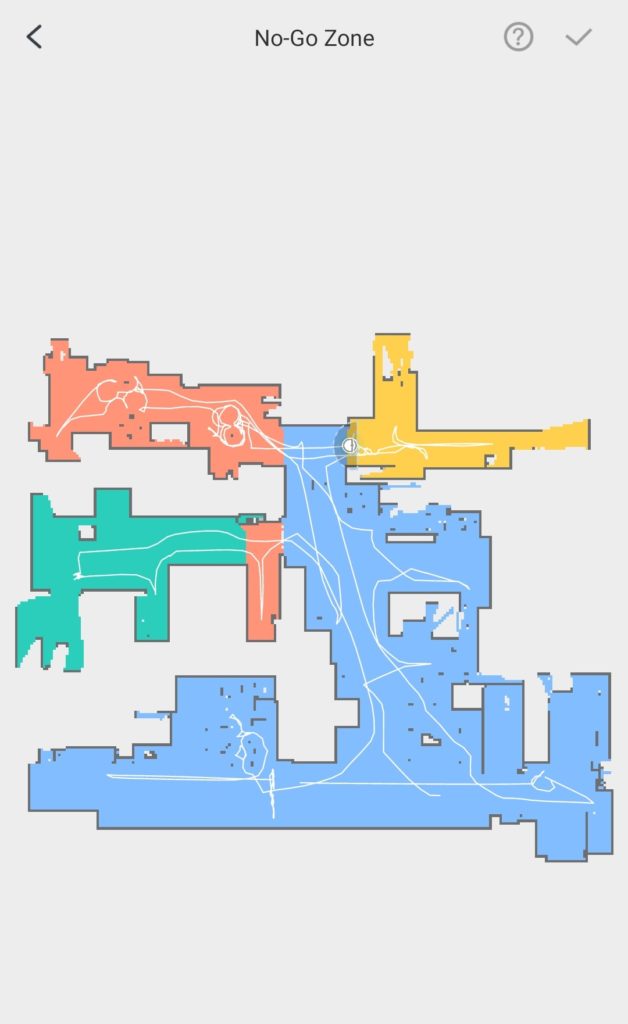 You can then program the robot to vacuum specific rooms at a higher power or to consume more water or power in some dirtier areas.
It is also possible to track the G10's location to make sure it is not trapped somewhere.
The Roborock G10 can securely maneuver the furnishings in your home and avoid your pets thanks to its sensors and omnidirectional wheel.
The Roborock app
There's really nothing much to complain about the Roborock app. In fact, it is one of the best robot vacuum cleaner apps we've come across. Everything you need is within reach, and everything works as it should.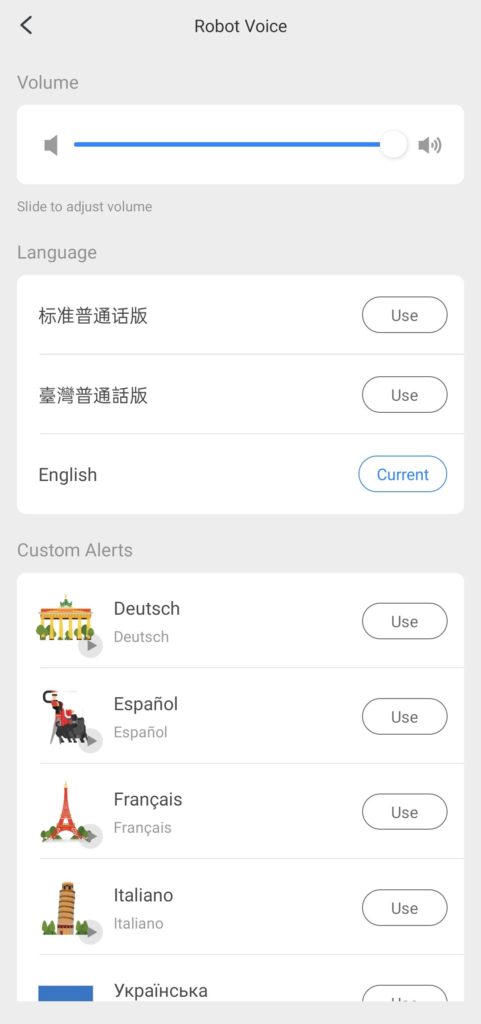 The scheduling option is a lifesaver, and the UI is simple to use. At a glance, you see information about the cleaning area covered, current battery level and cleaning time.
If you value peace and quiet, you may set the Roborock G10 to operate while you're away from home or turn on the Quiet mode in the app to allow it to operate at a considerably lower noise level in the background.
You could use the vacuum cleaner without the app, but the app truly elevates the entire experience.
Roborock G10: Price and availability
The Roborock G10 is available here at S$1049. But Roborock runs promotions on double digit dates. So mark your calendars this 11.11!
Roborock G10: Verdict
Although you will still need to manually touch up corners and some areas that are more difficult to clean, the Roborock G10 is an efficient floor sweeping and mopping robot. It not only cleans after itself but refills itself.
Its effective and intelligent 3D mapping and pathing capabilities, along with an incredible app can help save you significant hours of time and effort so you can truly relax after a long day of work.