With the launch of the latest 13th Generation Intel Core Raptor Lake processors, Intel has also released the new Z790 chipset. Supporting the LGA1700 socket, the Z790 chipset-based motherboards are more of an upgrade to the Z690, rather than to replace them.
The 13th Generation Intel Core processors can still run on the Z690 motherboards, but if you want the best of the best, Z790 is the way to go, as it boasts more PCIe lanes, USB bandwidth, and higher DDR5 clock speed.
Now that you've decided to move on with a new Z790 chipset-based motherboard, which one should you choose? In this article, we will look at the MSI MPG Z790 Carbon WiFi motherboard and look at all its features to see if it can meet the requirements of what we want in a modern-day PC.
The MSI MPG Z790 Carbon WiFI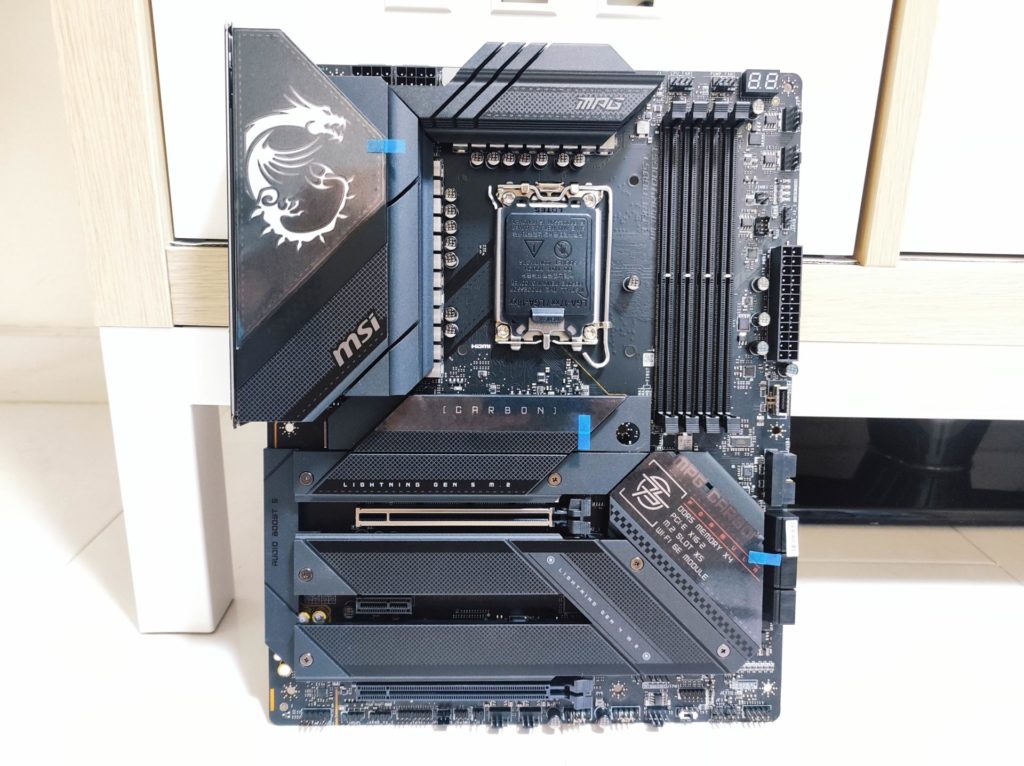 The MSI MPG Z790 Carbon WiFi comes with a  rather interesting (some may find it messy) design. It utilizes a monotone theme, where black is featured throughout the whole motherboard. The board also tries to make itself cool with a "carbon fibre material" like style on the heatsinks.
The main idea is to let the RGB lighting on the motherboard be the highlight of the whole design, while the actual motherboard takes a back seat. It could be nice if you are someone who cares about the design of your new desktop PC if you added uniquely designed components to this motherboard.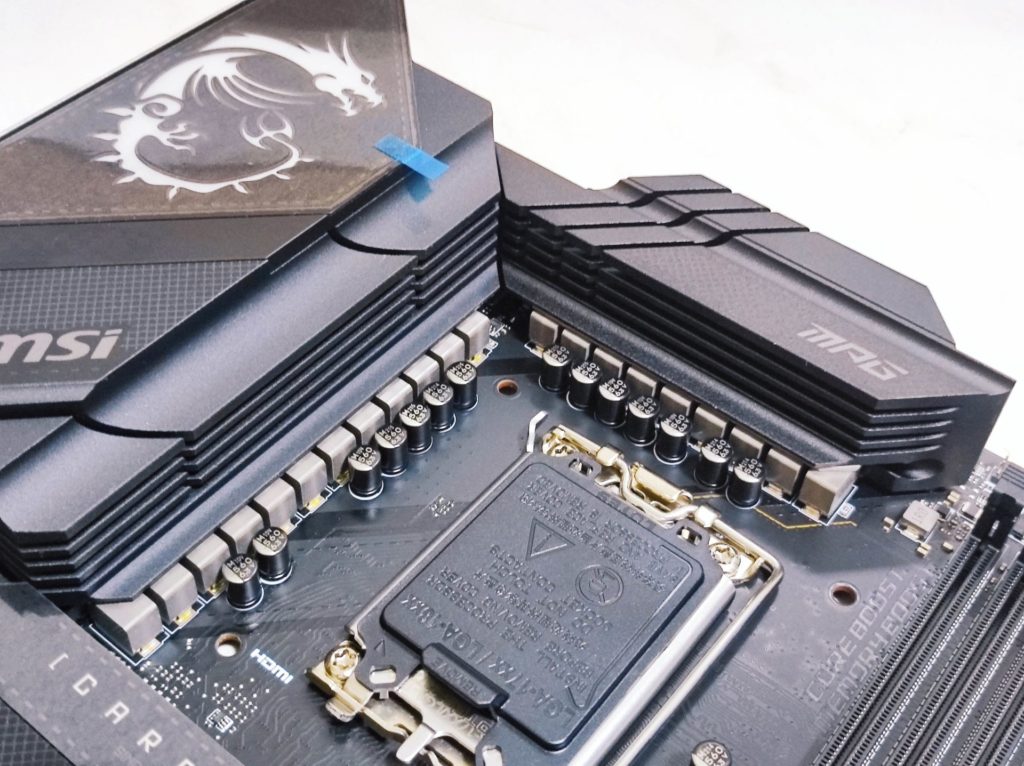 The MSI MPG Z790 Carbon WiFi is equipped with what MSI calls its "flagship" VRM design. It utilizes a Direct 19+1+1 power phase, which gives the whole motherboard a 105A power stage. With such a well-equipped power delivery circuitry, the motherboard is expected to support the most power-hungry and high-performance processors from Intel.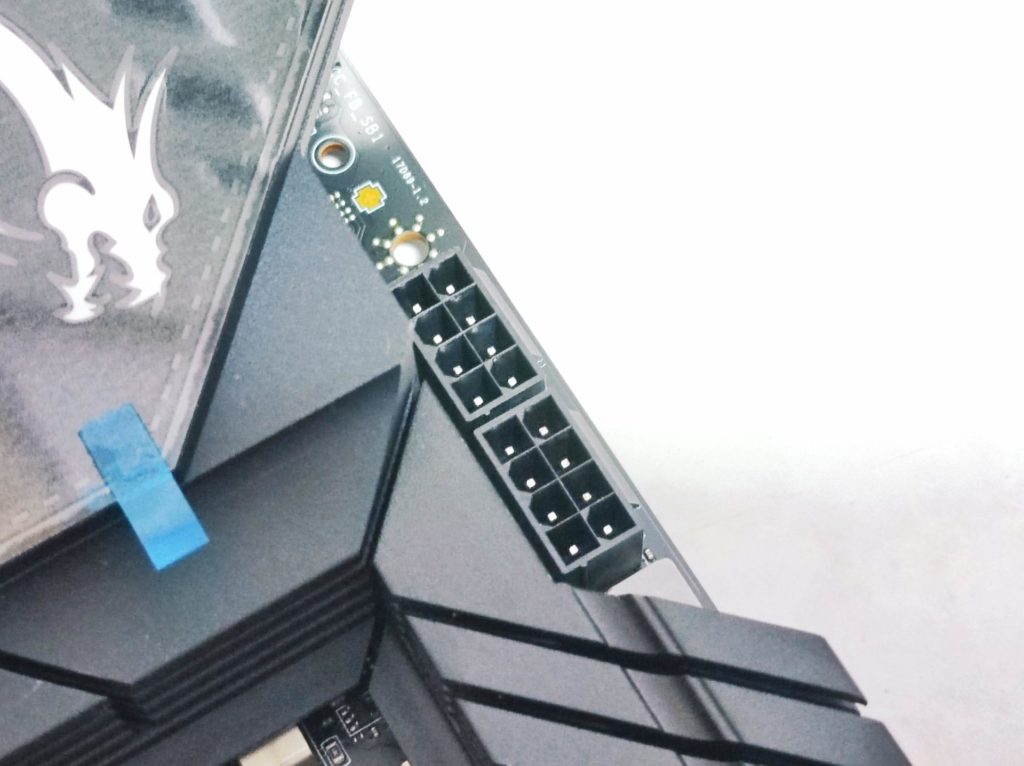 Of course, to properly power it, the MSI MPG Z790 Carbon WiFi requires 2 x EPS 8 pin connectors to power it.
On this motherboard, we also spotted the iconic MSI dragon icon, which is RGB-lighted. You can change the colour of the dragon to your liking via the MSI Mystic Light system. The board also comes with a useful POST Code indicator for easy debug and troubleshooting, which is much appreciated by enthusiasts and system builders. Also, with the Z790 chipset, you can now run DDR5 7200 (OC) speeds right out of the box with XMP support.
PCI Expansion Slots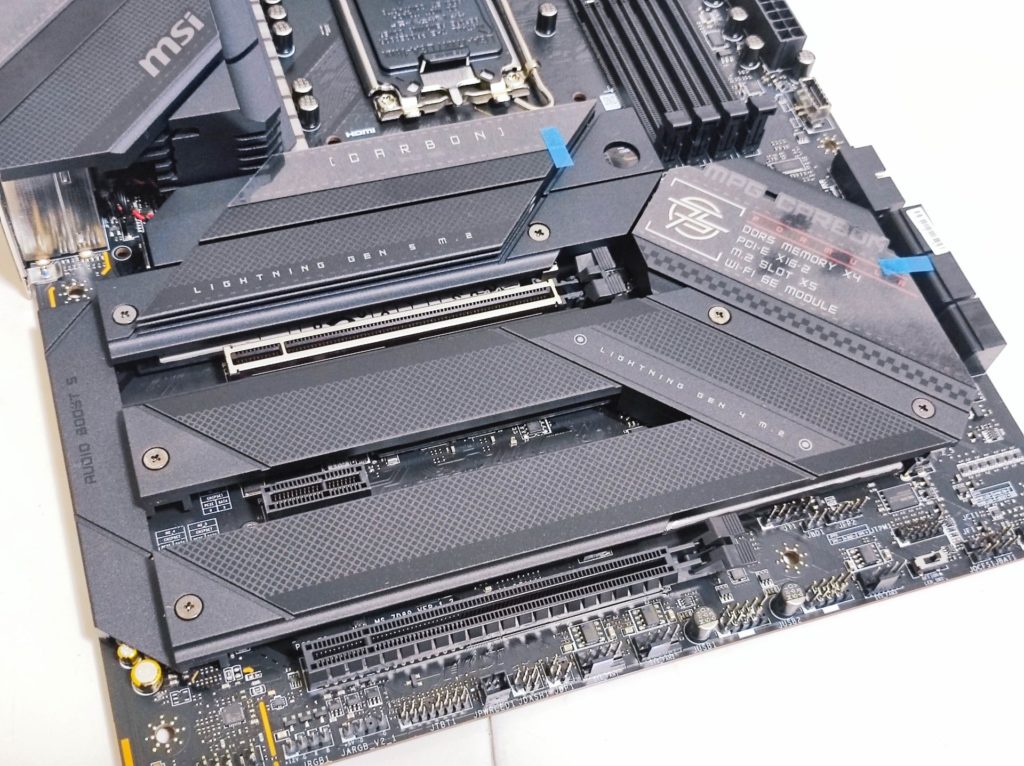 This motherboard also comes with 3 x PCIe Slots. The first slot is a full PCIe Gen 5 x16 slot, followed by a PCIe 3.0 x1 slot, and lastly a PCIe 4.0 x4 slot.
I/O Backplate Area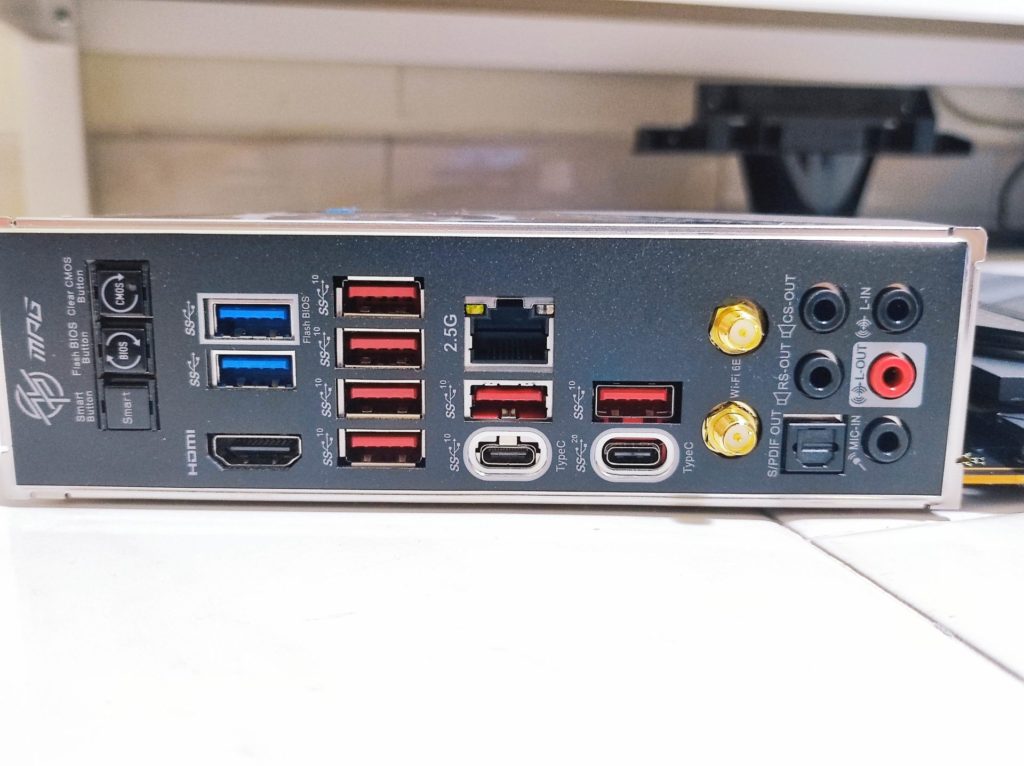 The motherboard also comes with a comprehensive set of expansion ports in the I/O area. First up, there are three buttons for easy function access to the motherboard. You can easily clear CMOS, do a BIOS flash or even utilize the Smart Button. The Smart Button can be configured as a reset button, safe boot, turbofan or EZ LED control function as customized within the motherboard's BIOS settings.
Next to the quick access buttons are 2 x USB 3.2 Gen 1 Gbps Type A ports and a HDMI port. This is followed by the 6 x USB 3.2 Gen 2 10Gbps Type A ports. There is also a USB 3.2 Gen 2 10 Gbps Type-C port and a 2×2 20Gbps Type-C port as well. The motherboard also comes with a 2.5Gbit LAN port, which is suitable for most Multi-Gigabit network setups at home today.
The MSI MPG Z790 Carbon WiFi is also equipped with the latest WiFi 6E setup, enabling Multi-Gigabit WiFi a reality.
Lastly, there is an audio input/output ports and an optical SPDIF out. This is powered by the Realtek ALC4080 codec. MSI has specially designed the audio circuitry to be separated from the main electrical circuitry to minimize electrical noise. They have also utilized high-quality audio capacitors, high-quality audio jacks to make sure that you get the best audio experience from the codec. There is also a built-in headphone amp to support high-capacitance headphones connected via the front panel audio jacks.
Storage Expansion
The MSI MPG Z790 Carbon WiFi also comes with 6 x SATA 6Gbps ports for connection to your hard drives or SATA based SSDs. As for M.2 slots, the motherboard has got you covered. It has 5 x M.2 slots (one of the heatsinks was not removed on the photo above), which is more than what a typical motherboard is equipped with. 3 of these slots are PCIe 4.0 x4 M.2 slots, 1 of them is a PCIe 5.0 x4 slot, and the last one is a PCIe 4.0 x4 / SATA combo M.2 slot.
Conclusion
Just based on our first look, it seems that the MSI MPG Z790 Carbon WiFi is a very comprehensive motherboard. It has got all the expansion capabilities required for a modern-day PC and looks to be well-cooled with heatsinks covering the whole motherboard. Without the considerations for performance, we would say that this motherboard would be a good choice to pair with your new Raptor Lake Intel Core processors for your next new Gaming PC or workstation.