Today, AMD announced a new naming system to support its 2023 mobile processor family. AMD has seen incredible growth of its mobile business—notebook shipments with Ryzen processors have grown 49 percent in just two years—and in turn, has reinvested in all-new processor categories for 2023, including "Mendocino" for feature-rich mainstream notebooks and "Dragon Range" for top-tier gaming.
Portfolio Year: Gives you a sense of what model year the processor lives in.
Segment: "At-a-glance" performance to customers browsing in the store. For example, Ryzen 9 are always the fastest and most feature-rich processors. This helps customers cross-shop at a glance, and is the most common way customers compare CPUs.
Architecture: The version of "Zen" that's inside the chip.
Feature Isolation: A concession to architectures like "Zen 3" versus "Zen 3+," which cannot be fully articulated in the architecture digit alone. Flipping this digit between 0 or 5 ensures that two different architectures don't end up in the same Ryzen 70xx family.
Form Factor/TDP: Shows the power design of the processor equipped, which could range from high performance HX processors found on gaming notebooks to low power e processors that powers Chromebooks.
This system is foundational to how AMD will be naming and numbering its mobile processors for years to come, from mainstream thin and light notebooks to the latest SOC for gaming and content creation.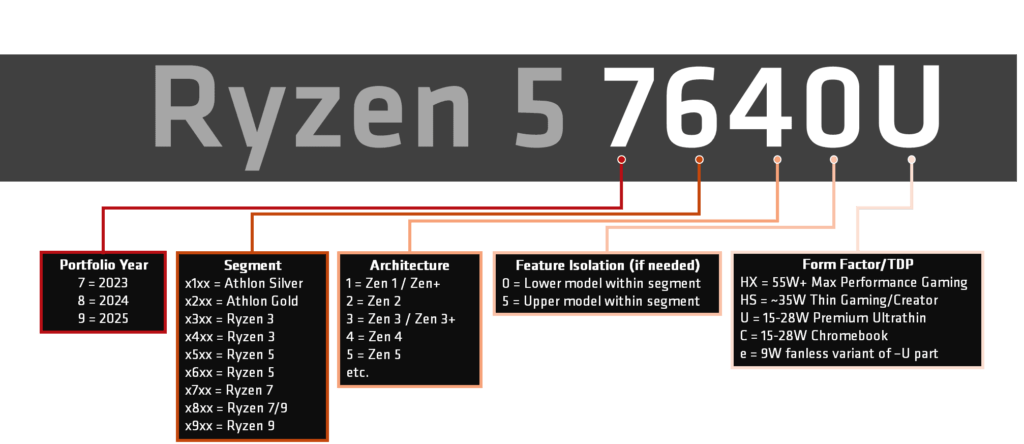 In 2023, there will be offerings from Zen 2, Zen 3 and Zen 4 processors found throughout all new notebooks launched. This could be confusing for some as it shifts away from the traditional naming conventions. An understanding of what these numbers mean will allow consumers to make a more informed choice of what processor each notebooks is equipped with.