We know SonicGear as a brand that produces a wide variety of audio products, so, we were naturally excited when greeted with the opportunity to test out their newest product – the SonicGear StudioBox 2-HD Hi-Fidelity Home Bluetooth Speaker. 
Check out our review to find out if this SGD $279 bookshelf speaker and all of its features will sit well in your home.
Specifications
| | |
| --- | --- |
| Speaker Unit | 1 x 50W Full-range 4" |
| Driver | 2 x 10W 1.25" Tweeters |
| Input | Bluetooth 5.0, Line1 (RCA), Line2 (RCA), Optical |
| Channel | 2.0 |
| DSP | Built-in DSP for Movie | Music | Voice Enhancement |
| Bass Port | Bass Reflex Tubes x1 |
| Power | DC19V / 1.89A (Adapter) |
| SNR | ≥85dB – Adjustable Volume | Bass | Treble – Distortion: <1% |
| Frequency Range | 40Hz-20KHz |
| Product Dimension | 28.7 x 17.8 x 15.6cm |
| Product Weight | 2.43kg |
What's in the box?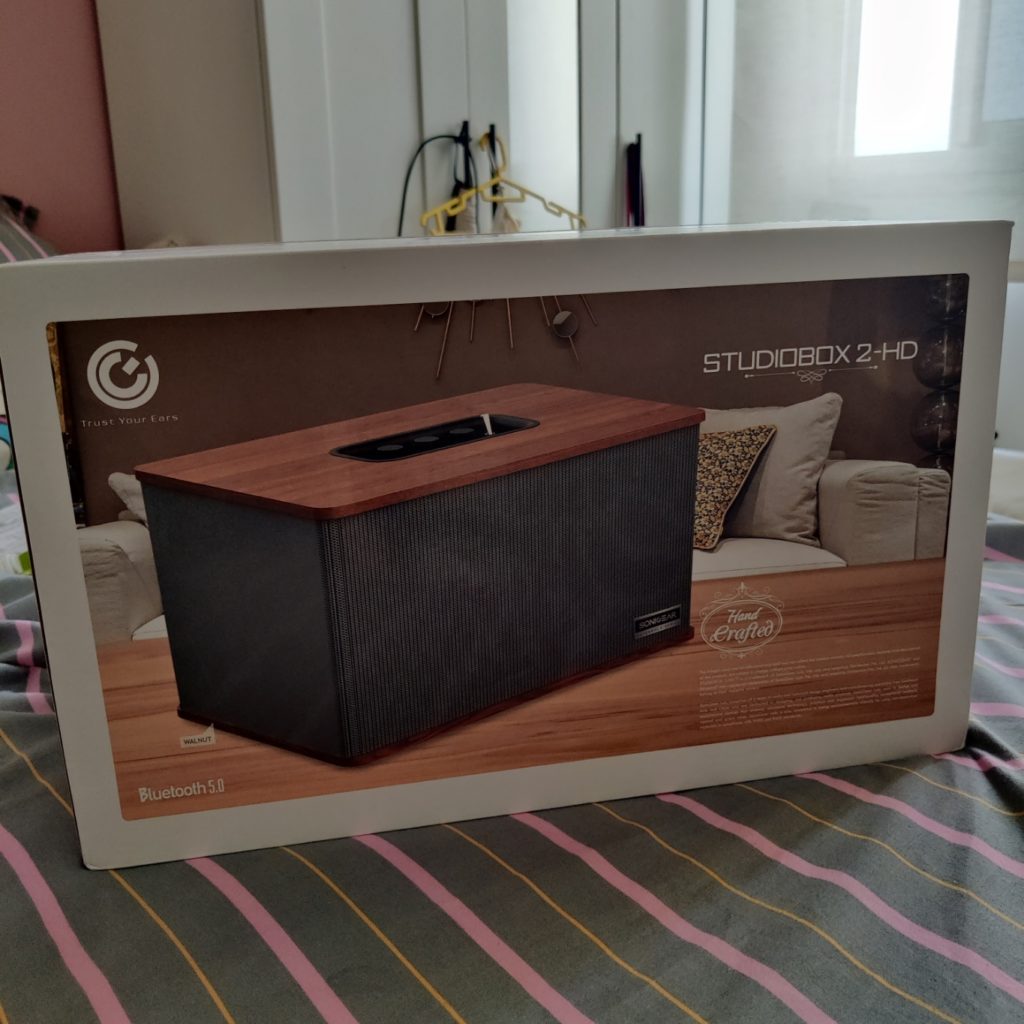 In the box, you'll find:
StudioBox 2-HD x1
User Manual
3.5mm RCA Audio Cable (1.5m)
Fiber Optic Input Cable (1.8m)
Power Adapter
Warranty Instructions
SonicGear 1 Year Limited Hardware Warranty
Design and look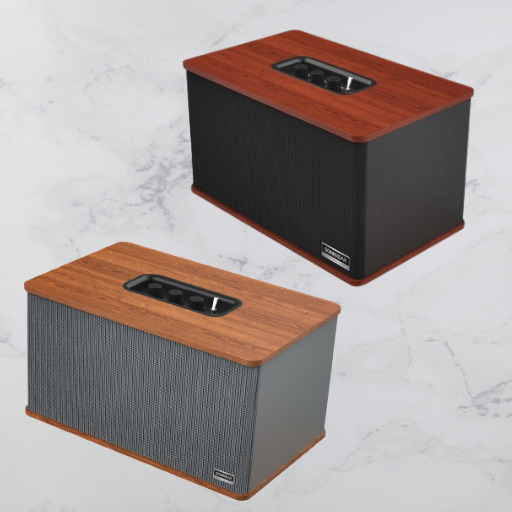 The SonicGear StudioBox 2-HD is made of Medium-density fibreboard, ABS plastic, and fabric cloth. It is available in two color options: Mahogany and Walnut. We were sent the latter, which sees a lighter shade of brown and is wrapped with grey fabric.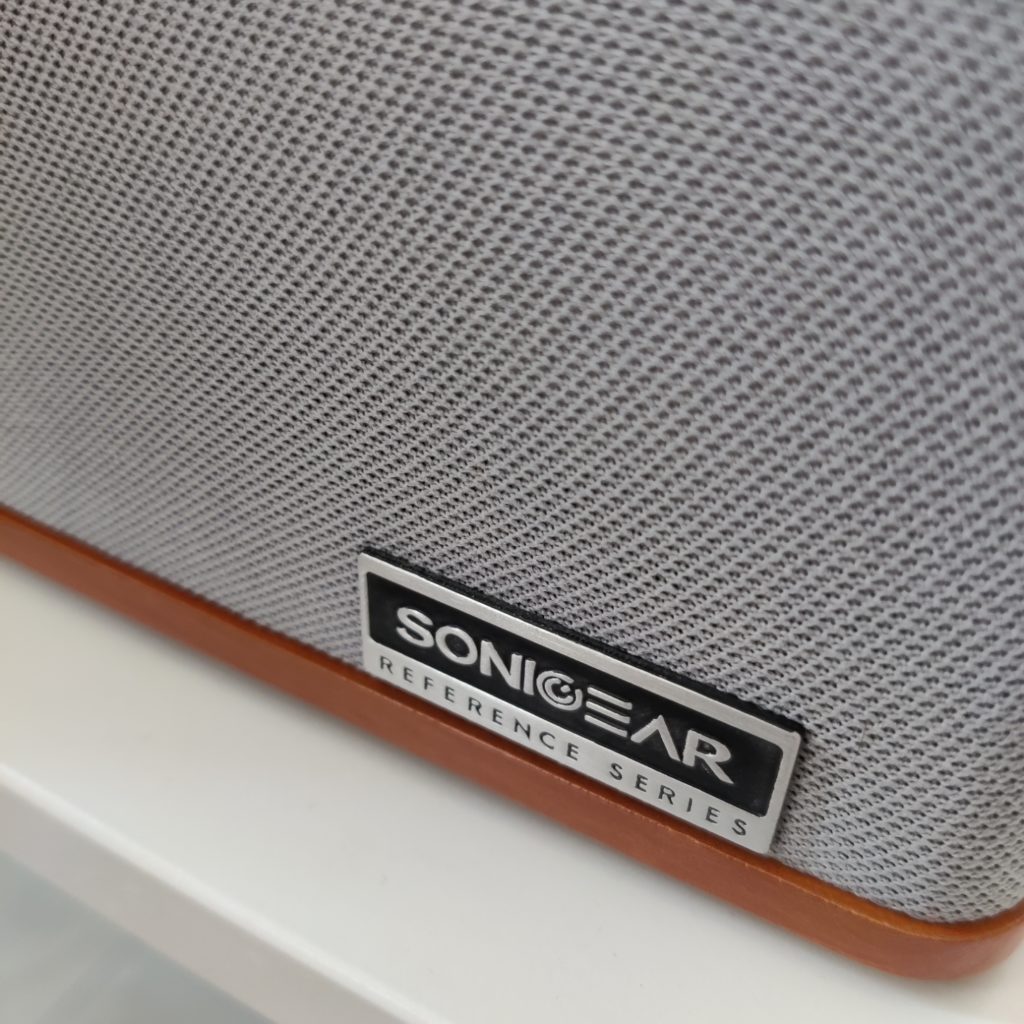 We really like the way the speaker looks. It's not overly branded in that there is only a small SonicGear logo at the bottom right-hand corner of the speaker. The materials also make the speaker feel premium and well-built. Overall, the speaker's contemporary and sleek design will fit right into any modern home. 
Buttons and control
The controls of the StudioBox 2-HD are pretty straightforward – everything is labelled accordingly.
At the top, you'll find the: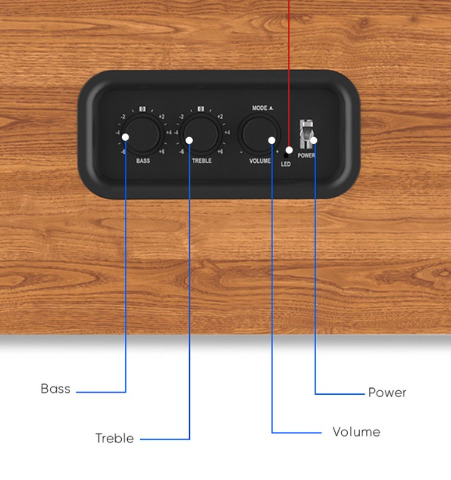 Bass dial
Treble dial
Master volume control / input selection
LED indicator
Power switch
At the back, you'll find ports to support the speaker's multiple connection modes: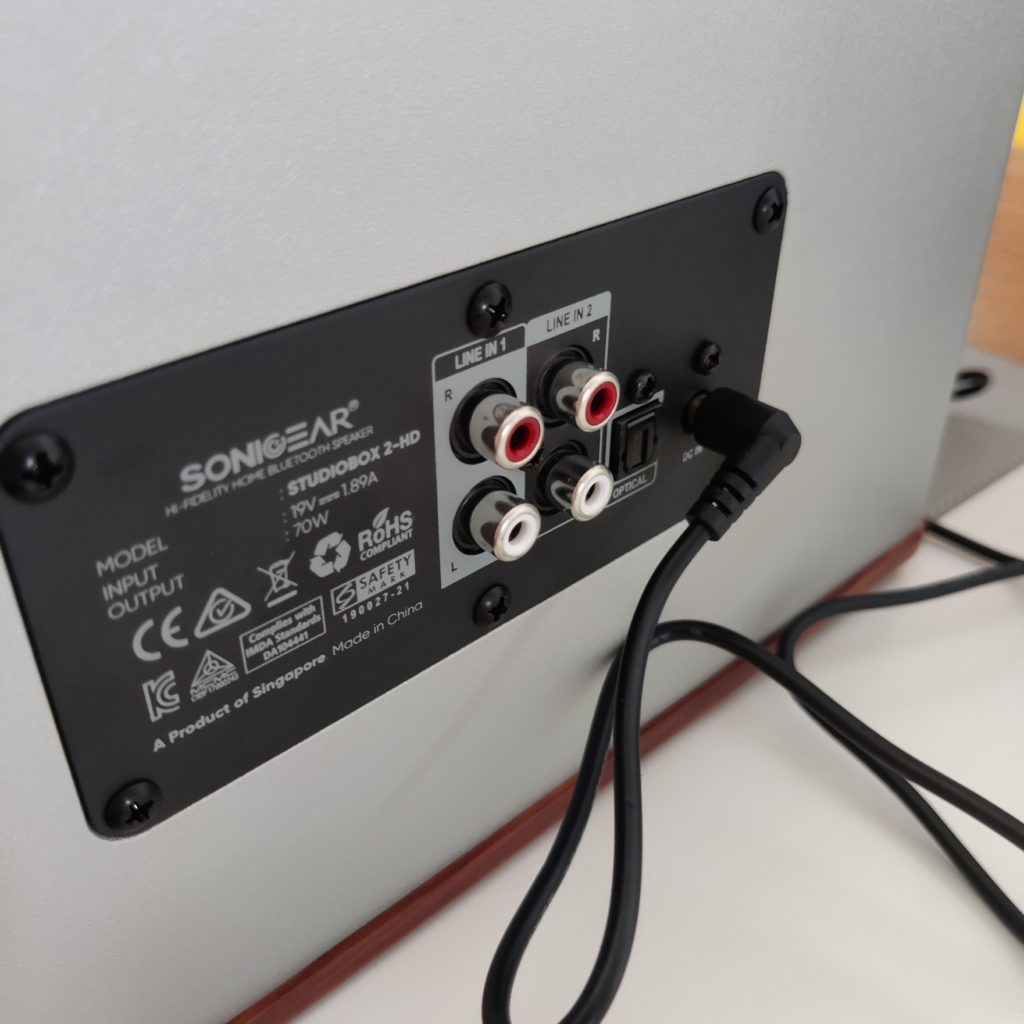 Line in 1 input port
Line in 2 input port
Optical input port
Power cord
All the buttons and dials on the speaker worked great and are very responsive. We particularly loved the look of the power button. It's a vintage switch that is really clicky and fun to play around with. 
It is regrettable, however, that the speaker does not come with a compatible app or remote control. It'd be great if we could've controlled the speaker remotely – but that's just us being lazy. 
Audio quality
The SonicGear StudioBox 2-HD is driven by 3 powerful speakers that come together to deliver 85dB and 70W RMS audio. It is also equipped with high-performance Digital Signal Processing (DSP). Put simply, DSP refers to the "brain" of a speaker – it takes in audio information to manipulate and optimize it for improved audio quality. 
How does that translate in reality? Well, out of the box, the SonicGear StudioBox 2-HD emphasizes mids and highs. Bass is present, but it feels pretty weak and thin on most songs. But before you write this speaker off, you've got to know that this speaker comes with dials for the audiophile in you to manually adjust treble and bass to your preference. 
And boy, did that make a world of difference. When adjusted, the SonicGear StudioBox 2-HD jumps from being a speaker with barely-present bass to one that is great for bassy jams and for action films with guns and explosions. If you turn bass on to the maximum, certain songs can sound overly "boomy". This is especially so for those in smaller rooms. 
We've got to say though, the difference was starker with bass adjustments than with treble adjustments – treble responses were less full-bodied when adjusted to the maximum.  
As a bookshelf speaker, the SonicGear StudioBox 2-HD is specifically designed to maximize sound in small to medium-sized spaces. True enough, the speaker can get plenty loud. In a small bedroom, turning it on to maximum volume can almost be deafening. More importantly, even when handling high volumes, the speaker doesn't sound too harsh, crackly, or muddy. 
In terms of its Bluetooth connection, the speaker's Bluetooth 5.0 connection was smooth and without interruptions even when using streaming services like Spotify and Netflix. 
Price and availability
The SonicGear StudioBox 2-HD is available here at SGD $279. 
Verdict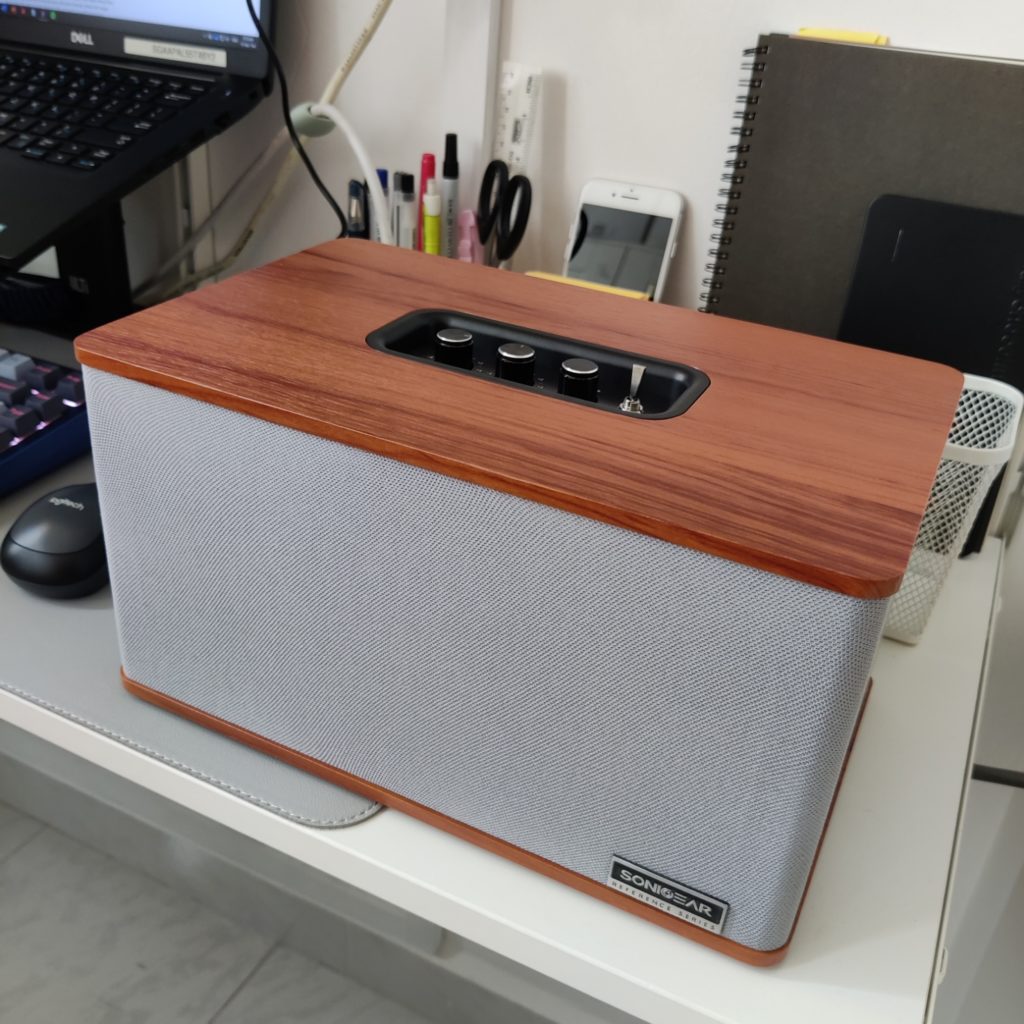 At SGD $279, the SonicGear StudioBox 2-HD is a fairly-priced and stylish bookshelf speaker that is suitable for small to medium-sized rooms. Sound is good and reasonably balanced, and if you're all about that bass or are an avid lover of action films, this speaker is definitely worth considering. It would be the cherry on top if SonicGear had created an app that allowed users to control the speaker remotely.