From now to 24 March 2022, consumers can put their digital, artistic skills to test at Samsung Paint the Town pop up at CHAMBER, Wisma Atria.
To Mark the launch of the Galaxy S22 Series, Samsung Singapore is inviting consumers and fans to Paint the Town with the Galaxy S22 Ultra 5G at leading multi-brand streetwear retailer CHAMBER. The limited-time only pop up will feature a commissioned artwork, done with the S Pen, by local graphic designer and illustrator Moon Malek.
Samsung Paint the Town pop-up is open to public from 10 March to 24 March 2022, between 11am to 9pm. Guests will be able to Paint the Town and give colour to the digital mural with the Galaxy S22 Ultra 5G in store. Other happenings include:
Spot the Mural Contest: From 11 to 24 March, guest who spot the icon in the mural based on cues on Instagram (@samsungsg) will stand to win a free 365 days Viu premium subscription. Limited to first 22 per day.
Weekday Lunchtime Special: From 14 to 24 March exclusively at 12-2pm, be the first 22 to join us at the Paint the Town pop-up and receive coffee vouchers when you participate.
Graphologist: Enjoy a session and learn about your personality through your handwriting with our handwriting expert, Siti Sulianah. Find out what lies beyond your lines. Available only on 12, 13, 19 and 20 Mar from 2pm – 6pm.
Guest can also find out more about Samsung's latest Galaxy S22 Series 5G smartphones and Galaxy Tab S8 Series 5G tablets at CHAMBER during this period.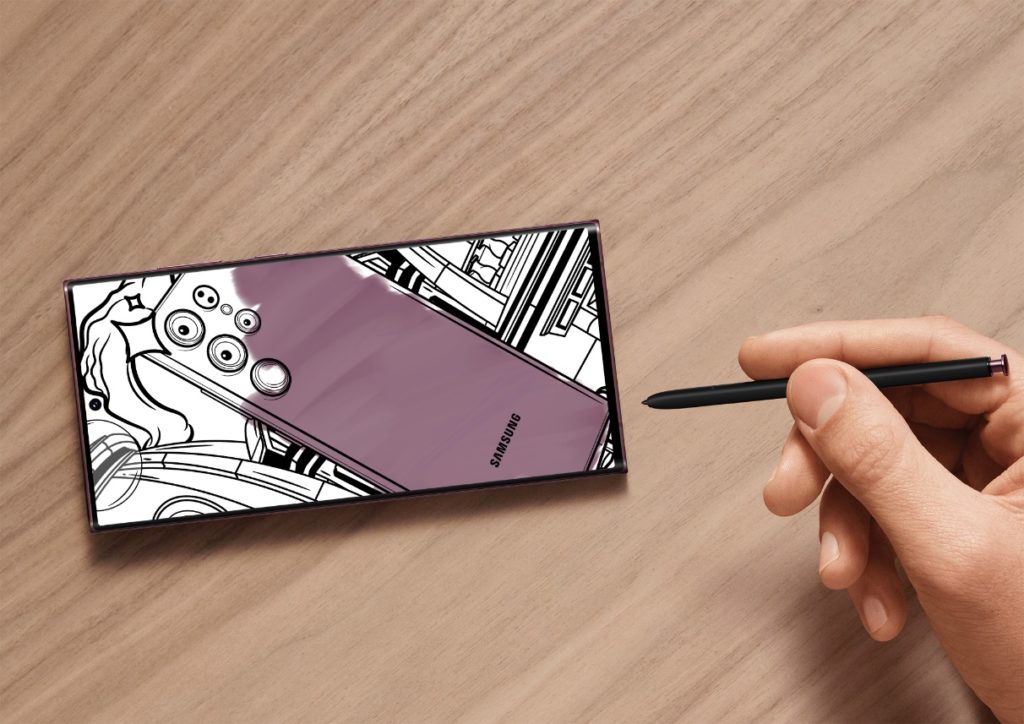 About Moon Malek
Muneera Malek, also known as Moon Malek, is a graphic designer and an illustrator. D'ana of COVL, CJ Hendry, Joshua Vides and Walt Disney, to name a few, play an essential role and are mainly responsible for moulding her love for illustrations and mixed media. Her background of working for both local and international brands such as Zouk Club Singapore to Fred Perry enable her to expand and widen her creativity.
Moon's most recent work was a mural installation for Adidas Singapore's Headquarters and one of their local store at Pan Pacific Plaza in 2020. In 2019, she participated in Art Box Singapore which she was invited to paint and curate a horse statue. She also had a mural installation at Just Co, Singapore and Taiwan. In 2017, she participated in -ING Creative Festival in Dubai, representing Singapore with fellow photographer Nidia Marissa. She was also featured at Singapore Fashion Awards 2016 with mural illustrations displayed as part of the catwalk. She had participated in various local exhibitions curated by local creatives such as Kult, Projector and worked on an illustration collaboration with a local designer for Met Gala 2016.
About the Mural
Where do we create new realities, challenge gravity or spur fantastical manipulations? In our minds, where rules are bent and at best, broken.
This mural captures the playground of the mind. It blurs the lines between imagination and reality with elements that interact and break all the rules. Just as the Galaxy S22 Series 5G does. With its lenses, S Pen and ability to shoot at any angle, the Galaxy S22 Series 5G welcomes you to Break the Rules of Innovation and experience the world as your mind sees it, blending together what's possible and unbelievable.