The highly-anticipated Huawei flagship P50 Pro and P50 Pocket will be arriving in Singapore starting from $1,548
The HUAWEI P50 Pro and P50 Pocket are equipped with the latest imaging technology for users to enjoy unrivalled camera performance
The new foldable HUAWEI P50 Pocket represents the company's first-ever collaboration with haute couture designer, Iris van Herpen
SINGAPORE, 13 JANUARY 2022 – Huawei today announced the launch of its highly-anticipated flagship mobile devices HUAWEI P50 Pro and foldable masterpiece HUAWEI P50 Pocket designed in collaboration with haute couture designer, Iris van Herpen. The HUAWEI P50 Pro will be available from 22 January 2022, while customers can look forward to the HUAWEI P50 Pocket launching from 14 February 2022. From tomorrow, customers are welcome to experience the new mobile devices at all Huawei Authorised Stores, including the newly opened store located at 313@Somerset, #02-25 – 27.
The HUAWEI P50 Pro and P50 Pocket both introduce a new True-Form Dual-Matrix camera system which offers a perfect combination of form and function. The unique double ring set up is visually striking and stands out from the crowd, while incorporating an advanced smartphone camera hardware. Both devices are equipped with advanced imaging processors, HUAWEI XD Optics and XD Fusion Pro Image Engine for users to enjoy improved image clarity, high dynamic range and intelligent computational photography.
HUAWEI P50 Pro: Delivering flagship photography experience
A new chapter in Huawei's history of camera excellence, housed in a lightweight form factor with a sleek, geometric Dual-Matrix camera design.
The HUAWEI P50 Pro is gracefully lightweight, packing a large display and battery encased in a slim body that is comfortable to hold on hand. The HUAWEI P50 Pro has a 6.6-inch[1] display, an overall thickness of 8.5mm, 4360mAh battery and a weight of about 195g[2]. With up to 120Hz refresh rate and 300Hz touch sampling rate, users can enjoy a smooth and responsive experience.

The HUAWEI P50 Pro comes in two elegant colourways: Cocoa Gold (left) and Golden Black (right).
Revolutionary imaging technology delivering true-to-life camera experience
The HUAWEI P50 Pro's Dual-Matrix Camera system delivers True to Life imagery with greater clarity and high dynamic supported by the all-new computational imaging solutions, HUAWEI XD Optics and XD Fusion Pro Image Engine.
HUAWEI XD Optics enables the smartphone to rectify optical errors and reproduce fine details. On the other hand, the XD Fusion Pro Image Engine significantly improves detail, colour and dynamic range while the True-Chroma Image Engine delivers the highest possible colour accuracy, creating images that reflect what is seen by the human eye.
Thanks to its XD Fusion Pro solution, the HUAWEI P50 Pro delivers true-to-life imagery with extreme clarity and adaptability, supporting an unprecedented 200x zoom range3. It also supports 4K video recording across the full focal range and all-new AIS Pro image stabilisation solution.

(a) Low light portrait (b) Telephoto of 1x, 3.5x and 10x, pictures taken on a HUAWEI P50 Pro.
HUAWEI P50 Pocket: A one of a kind foldable smartphone with exquisite details
Bringing fashion into the fold with Huawei's latest flagship foldable smartphone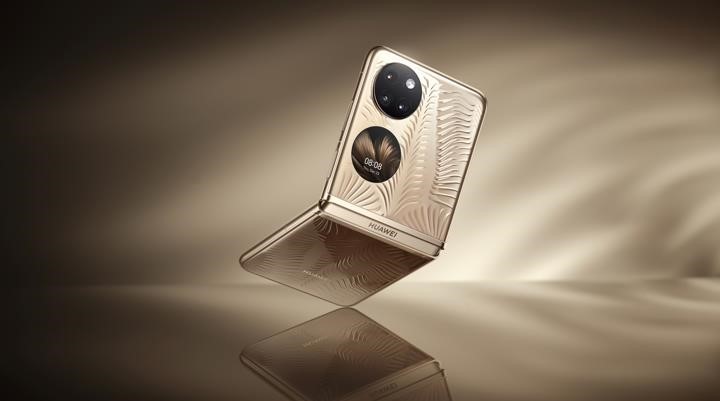 The HUAWEI P50 Pocket in Premium Gold is a masterpiece created alongside world-renowned haute couture designer, Iris Van Herpen. 
Breakthrough in smartphone haute couture design
Huawei joined forces with prominent haute couture designer, Iris van Herpen, in a cross-industry collaboration to create the HUAWEI P50 Pocket Premium Edition. Guided by the principle of "symbiosis", the device captures the shadows and textures of the earth, brought to life through an advanced 3D micro-sculpture design.
Style and substance
The incredibly tactile and intricate design brings together the worlds of art and technology to create a stunning one-of-a-kind foldable smartphone. Thanks to the inclusion of the industry's only new-generation HUAWEI Multi-Dimensional Hinge and exclusive Multi-Dimensional Lifting design, the HUAWEI P50 Pocket is able to fold seamlessly, and unfold to produce a smooth screen. The use of innovative materials such as Zirconium-based liquid metal and 2,100MPa Ultra-high Strength Steel improve the reliability and durability of the folding mechanism.
The HUAWEI P50 Pocket folds seamlessly into an ultra-slim, lightweight body that is comfortable to hold and fits easily in a purse. Unfolded, it offers a generous 6.9-inch, 21:9 display, which delivers an extraordinary experience when watching videos or movies. It also has a pixel density of 442ppi, and supports 1.07 billion colours and the P3 wide colour gamut – providing incredible colour authenticity and pristine picture quality.
The HUAWEI P50 Pocket packs a 40MP True-Chroma Camera, a 13MP Ultra-Wide Angle Camera with a 120-degree wide field of view and a 32MP Ultra Spectrum Camera. It features rear camera portrait selfie algorithms and uses the big camera sensor to boost low light performance, allowing for more atmospheric selfies with great detail, even in backlit or low-light environments.

Innovative and intuitive features
The HUAWEI P50 Pocket introduces an all-new Sunscreen detection function. Accessible via the Mirror app, this handy feature visualises the spread of sunscreen on the skin to help users check for uncovered spots and avoid getting sunburnt.

The smartphone's Cover Screen supports the display of notifications, schedule, calendar, music, weather, and control of other features. A range of vibrant themes are available, so users can customise their Cover Screen interaction experience.
It also supports maximum privacy when the device is folded, automatically disabling its cameras, microphone and location, and re-enables them upon unfolding.
Powered by EMUI 12
The HUAWEI P50 Pro and P50 Pocket are powered by EMUI 12 designed with minimalism and realism in mind. It comes with an improved Control Panel which users can access through a swipe, offering an easier and more intuitive way to connect multiple devices together. Its distributed security features enable password and facial recognition across multiple devices, ensuring safe and verified access to data.
The HUAWEI P50 Pro and P50 Pocket also come pre-installed with AppGallery, the official app store for Huawei devices. Users can download from a growing selection of apps and enjoy exclusive giveaways, rebates and coupons from seasonal campaigns on AppGallery. As of date, a majority of popular and local apps are available in AppGallery including ComfortDelGro, TADA, Grab, RYDE, TraceTogether, Singpass, OneMap, and many more.
Local availability and pricing
The new HUAWEI P50 Pro will be available in Singapore from 22 January 2022 in two elegant finishes – Cocoa Gold and Golden Black at a recommended retail price of $1,548. Customers can get their hands on the HUAWEI P50 Pro at all Huawei Authorised Stores, major telecommunication operators M1, Singtel, Starhub, authorised retailers* and Huawei official online stores in Lazada and Shopee.
The HUAWEI P50 Pocket Premium Edition will be available from 14 February 2022 in Premium Gold, local pricing to be advised on a closer date to launch. Both devices are powered by Snapdragon 888 4G.
Customers who purchase the HUAWEI P50 Pro or P50 Pocket will be entitled to a complimentary HUAWEI WATCH 3 Active Edition worth $448, while stocks last.
What's more, those who purchase the HUAWEI P50 Pro will be entitled to a 2-year warranty and enjoy extra care for their device with a dedicated after sales service which include:
One year door-to-door repair pickup and delivery service
VIP hotline for technical assistance
One-time screen replacement within first 3-months of purchase
Terms and conditions apply
Customers can enjoy a first look of the both the Huawei P50 Pro and P50 Pocket at the new
Huawei Authorised Store at 313@Somerset, from 14 January 2022. The store is open from Monday – Sunday from 11am to 9pm. From 14 – 21 January 2022, customers will also receive a voucher during their visit at any Huawei Authorised Store to redeem a free HUAWEI SuperCharge Wireless Car Charger worth $98 valid with every purchase of the HUAWEI P50 Pro, terms and conditions apply.
For more information, visit https://consumer.huawei.com/sg/.
*Authorised retailers include:
Best Denki
COURTS
Challenger
Gain City
Sprint-Cass
[1] With a rounded corners design on the display, the diagonal length of the screen is 6.6 inches when measured according to the standard rectangle (the actual viewable area is slightly smaller).
[2] Actual measurements between individual products may vary by configuration, manufacturing process and measurement method. 3 Range includes from ultra-wide to an up-close of 100x.