If working from home has been a literal pain in the neck for you, perhaps it is time to invest in a decent laptop stand. The Cooler Master Ergostand Air does away with any LEDs, USB ports, fans, or other extras that users who prioritise minimalism will appreciate. Without any other fancy features to distract you, the Cooler Master Ergostand Air is a laptop stand that does one job and does it well.
Here's our review of the laptop stand – with everything from what we love to what we didn't quite like about it.
Product information
| | |
| --- | --- |
| Color Options | Black or Silver |
| Materials | Aluminum and rubber feet |
| Weight | 0.63 kg |
| Dimensions | 298 x 215 x 17 mm |
| Laptop Compatibility | Supports up to 15-inch laptops |
| Max Loading Weight | 20 kg |
What we loved
Despite its simple design there's much that we loved about the Cooler Master Ergostand Air.
It's highly portable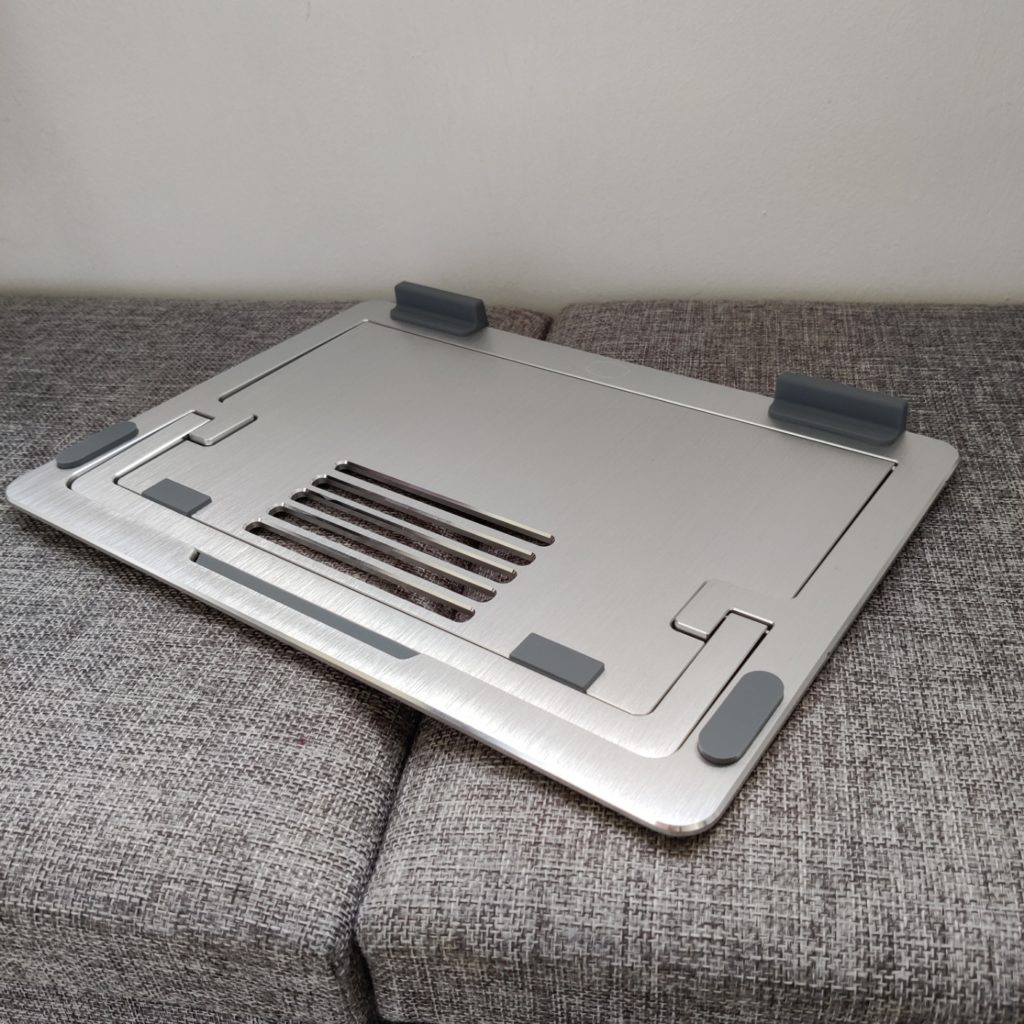 When not in use, you can fold the laptop stand into a flat piece of metal. Not only does this minimise visual clutter – you can easily slot it into your backpack for easy carrying. If you'd like, the stand can even be placed with your laptop into a laptop case.
Owing to its aluminum alloy construction, the Cooler Master Ergostand Air is pretty lightweight. The laptop stand weight 0.63 kg. It's lightweight without feeling to "cheap" and flimsy. It's also amazing that the 0.63 kg tool can hold up to a weight of 20 kg.
It offers multiple viewing angles
Upon unfolding the laptop stand, you'll realise that there are five ways you could angle the stand (Check out the carousel of photos above). Use the dedicated slots on one of the three aluminum panels to choose your preferred viewing angle.
It's fitted with soft rubber paddings
You wouldn't want your laptop stand to scratch or damage your laptop. To prevent that, Cooler Master fitted this laptop stand with rubber anti-slip pads that not only hold your laptop in place – it's designed to prevent any hard knocks or scratches on your laptop.
It allows for thermal dissipation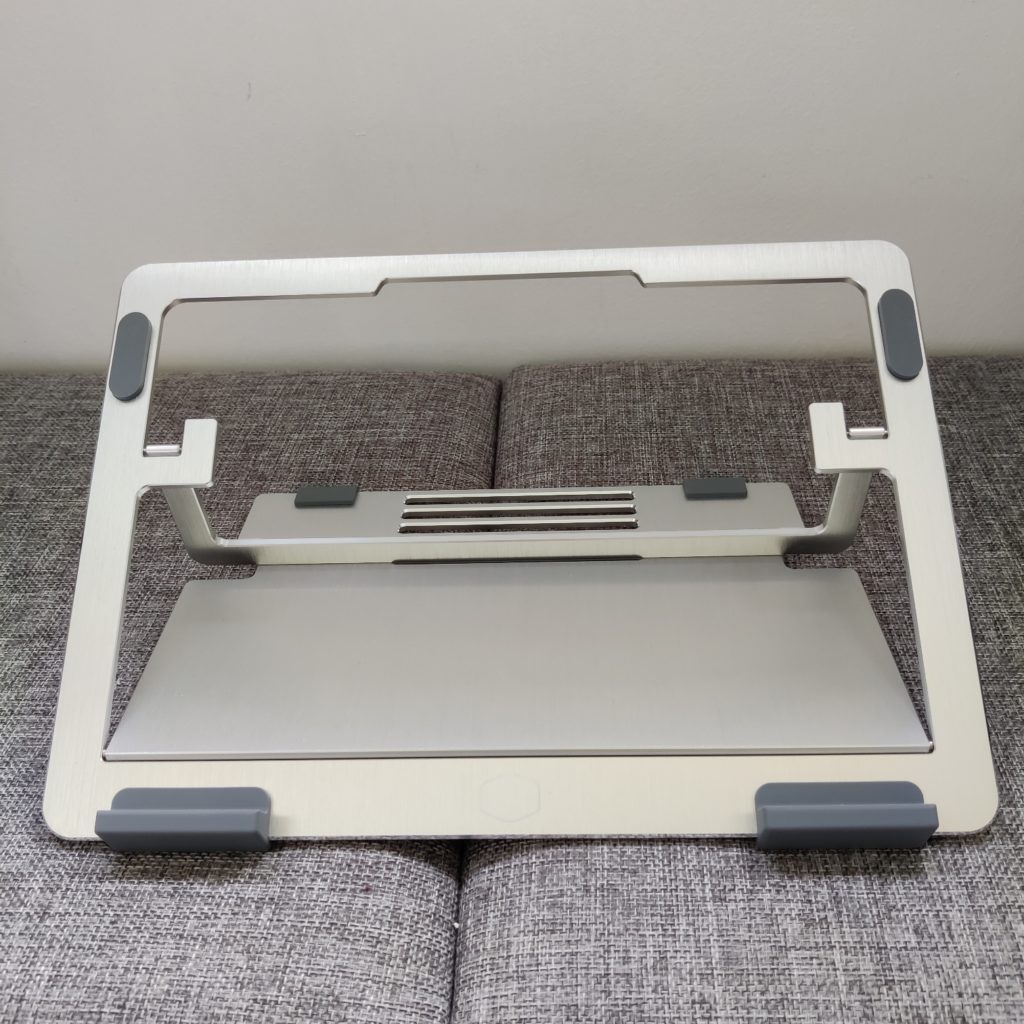 Propping up ErgoStand Air will leave your laptop with a hollow frame on which to rest. This should pave the way for quite a bit of airflow and ventilation, contributing to thermal dissipation.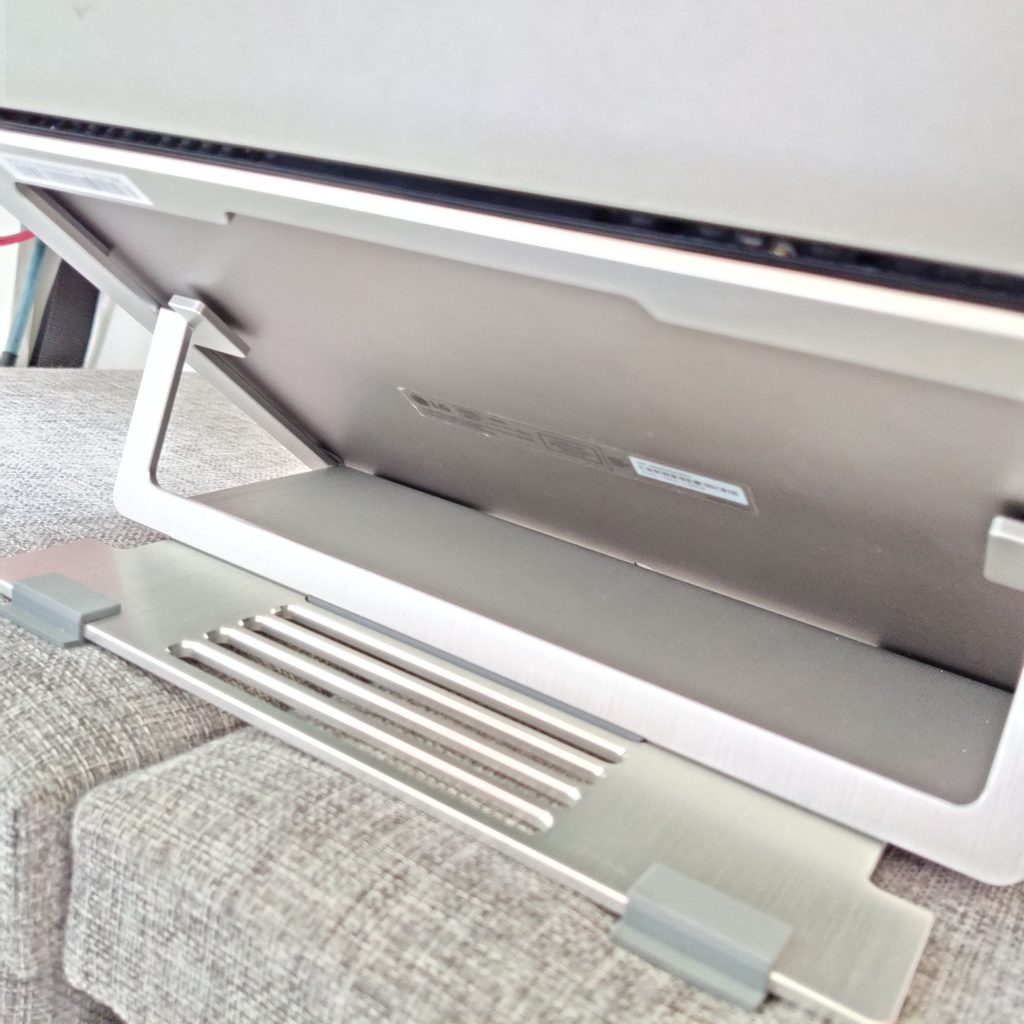 What we didn't love
There isn't much to fault about the Cooler Master Ergostand Air. But here are some things we wished could've been done better.
Some extra adjustable angles would be nice
Five viewing angles? Great – but more would be greater. In particular, it would have been nice if Cooler Master added in one or two more viewing angles that are closer to 90 degrees. This could have had made the stand that much more versatile to accommodate tablets or even convertible laptops.
Movable rubber stands would be nice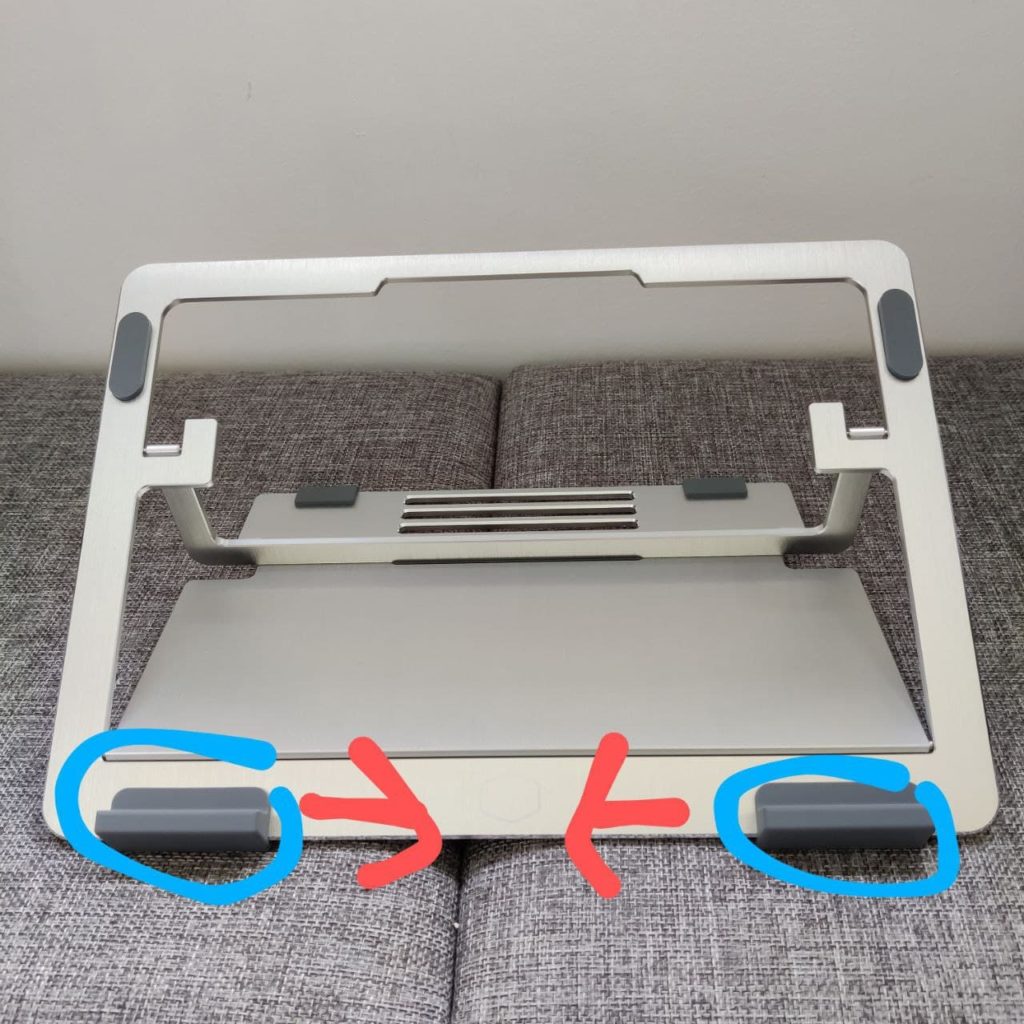 As mentioned, the Cooler Master Ergostand Air is equipped with rubber fittings throughout. Two rubber stands (one on each side) can be found at the bottom of the stand supporting the weight of the laptop. Should these rubber fittings be movable, the laptop stand could easily and conveniently be used to hold up a smaller tablet or even a phone, which, again, would have been nice.
It isn't exactly affordable
Here's why we nitpicked on the above two points – at $69 the Cooler Master Ergostand Air isn't exactly wallet-friendly. It isn't difficult to find a laptop stand that is half or even a quarter of its price. That said, you get what you pay for. Cheaper laptop stands out there may not offer the same durability and sturdiness as the Ergostand Air.
Our stand on the Cooler Master Ergostand Air
With a slim, fold-flat design, the Cooler Master Ergostand Air is an excellent choice for those who are constantly on the go. While $69 for a laptop stand may feel a little extravagant, we feel that the Ergostand Air is for those who are looking for a solid and long-lasting laptop stand that does away with all the bells and whistles.
At the end of the day, the Cooler Master Ergostand Air does one job and does it well.
To learn more about the laptop stand, check this out.
To read what we have to say about other products from the brand, click here.