NVIDIA GeForce Game Ready driver includes day-0 optimisations for God of War, widely regarded as one of the best action games of all time, and only GeForce RTX gamers get launch day support for NVIDIA DLSS and NVIDIA Reflex.
NVIDIA Game Ready drivers are often used as a delivery mechanism to add new features for GeForce users. This Game Ready driver adds support for NVIDIA DLDSR, an enhancement to Dynamic Super Resolution (DSR) with AI, plus several new Freestyle filters that combine to enhance the image quality of your favourite classics.
NVIDIA DLSS and Reflex Deliver The Definitive God of War PC Experience
God of War is the latest blockbuster to ship with NVIDIA RTX technology, and both NVIDIA DLSS and NVIDIA Reflex are supported at launch.
Boost Performance in God of War By Up To 45% With NVIDIA DLSS
Powered by AI rendering technology and dedicated Tensor Core processors found exclusively on GeForce RTX GPUs, DLSS speeds up frame rates in God of War while preserving the games' stunning graphic detail to provide image quality similar to native resolution.
When enabled, performance is boosted by up to 45% at 4K, allowing gamers to play God of War with phenomenal graphics, higher frame rates, and uncompromised image quality.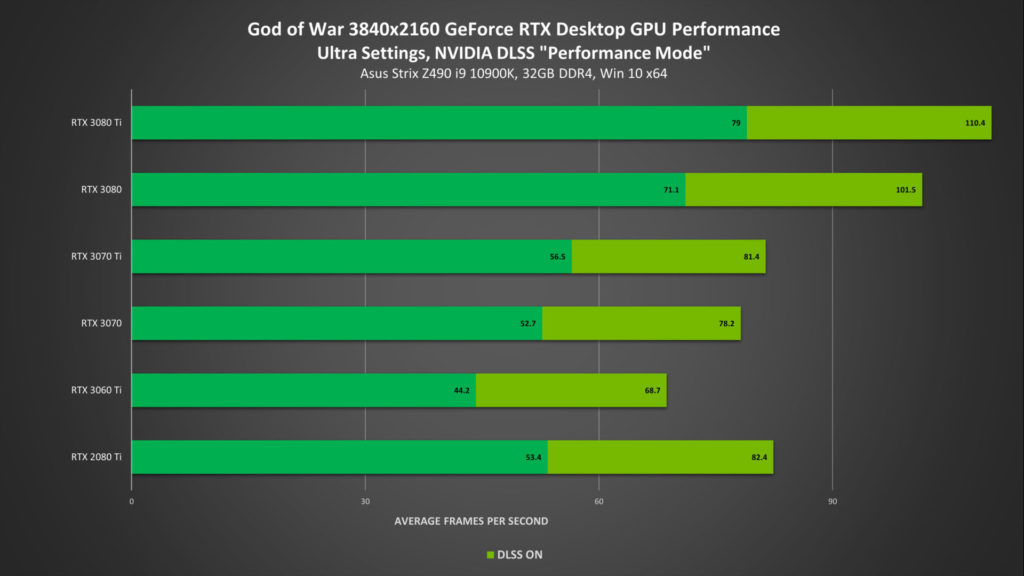 God of War is 22% More Responsive with NVIDIA Reflex
Responsive games are more immersive and less frustrating, and enable players to be more precise with their inputs. God of War's fast action and spectacular combos are key to overcoming the game's most difficult challenges. If a PC's system latency is high, gameplay feels sluggish and controls are unresponsive. Combos are harder to chain, tricky jumps are mistimed and the experience feels slow.
NVIDIA Reflex can quickly and easily reduce system latency by up to 22% for GeForce 900 Series and newer GPUs, making gameplay snappy, and more responsive with tighter dodges and combos.
DLDSR – Use Your Spare GPU Cycles to Raise IQ 
Gamers that are playing games that do not tax the GPU (like classic games such as Prey, Starcraft 2, Diablo III, etc.) can enable DLDSR to use their spare GPU cycles to boost fidelity. DLDSR is especially beneficial for gamers on 1080p or 1440p monitors with excess GPU headroom as it can improve the visuals in  their favourite games with less noticeable performance impact.
DLDSR improves upon DSR by employing a Tensor core-accelerated AI network that has been trained to recognise lines and edges to discriminate between aliasing and texture detail. Due to the enhanced accuracy of this AI-based approach, DLDSR is able to improve image quality while requiring less pixels to be rendered than non-DL super sampling.
For example, DLDSR set to 2.25x factor provides visually similar results (i.e. improved clarity and temporal stability) as DSR provides when set to 4x, but with much higher FPS.
DLDSR is available from the NVIDIA Control Panel and works in most games.
New FreeStyle Filters
The latest Game Ready Driver also offers three new advanced Freestyle filters – -SSRTGI, SSAO, and Dynamic DOF — that are accessible by pressing Alt+F3 during gameplay when GeForce Experience's in-game overlay is enabled in the app's settings menu.
SSRTGI (Screen Space Ray Traced Global Illumination), commonly known as the "Ray Tracing ReShade Filter", enhances lighting and shadows of your favourite titles to create a greater sense of depth and realism.
SSAO (Screen Space Ambient Occlusion) emphasises the appearance of shadows near the intersections of 3D objects, especially within dimly lit/indoor environments.
Dynamic DOF (Depth of Field) applies bokeh-style blur based on the proximity of objects within the scene giving your game a more cinematic suspenseful feel.
Related links