This January, NVIDIA announced its newest Game Ready driver that's packed with exciting new updates and improvements. One of the key announcements is the introduction of Deep Learning Dynamic Super Resolution (DLDSR) technology. With DLDSR, you can now run games with enhanced image quality without the performance loss often associated with traditional DSR.
Read on to find out more about DLDSR and the improvements that the method will bring to the table. 
DLDSR: What is it? 
Avid gamers out there will be familiar with NVIDIA's DSR, a downsampling method that increases image quality by rendering at higher resolution and downscaling to the monitor resolution. Often compared to AMD's Virtual Super Resolution spatial downscaler, this driver-level spatial downscaler is compatible with most games and impressively grants displays access to 4K resolution.
As a step up from DSR, DLDSR employs a Tensor core-accelerated AI network that has been trained to recognize lines and edges to discriminate between aliasing and texture detail. This AI-powered approach improves image quality while requiring fewer pixels to be rendered than non-deep-learning DSR. 
Resultantly, this enhances the quality of your favorite game titles without sacrificing too much on frame rates. Particularly, gamers could enable DLDSR to use their spare GPU cycles to boost fidelity if they are playing games that do not tax the GPU. Users can therefore upscale less – and in turn, lose less performance while still enjoying enhanced image quality.  
Owing to their Tensor Cores, DLDSR will work in most games on GeForce RTX GPUs.
DLDSR: Improving visuals with minimal performance dip
At its core, DLDSR promises enhanced visuals sans the performance hits. To put things into perspective, take a look at the comparison among DLDSR, DSR, and the monitor's native resolution below, with Prey: Digital Deluxe running on a 1080p monitor.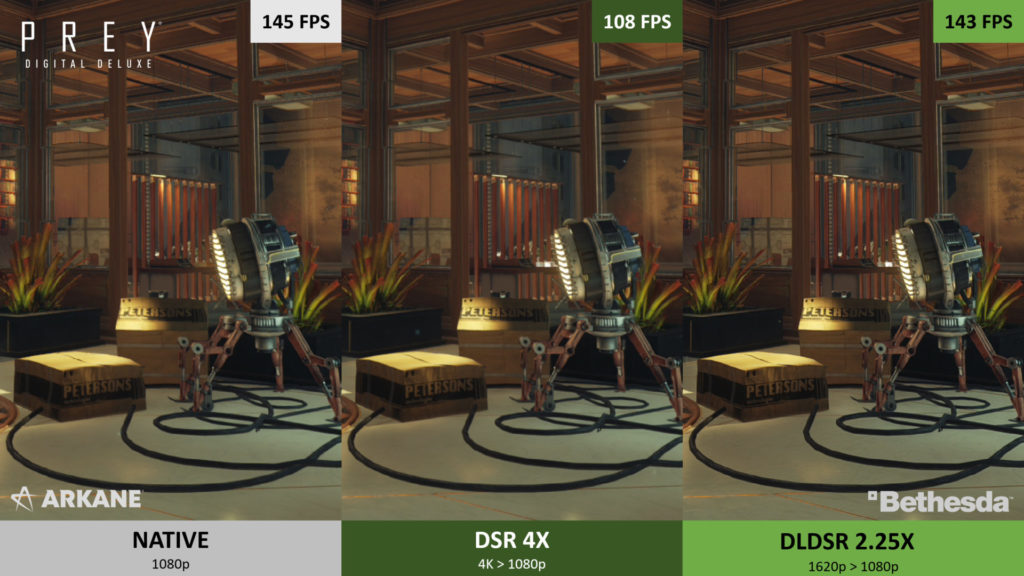 The previous DSR technology would upscale the game to a 4K resolution before downsampling it to 1080p. This results, however, in a loss of 37 FPS as compared to running at native 1080p. Comparatively, with DLDSR, the same 4K resolution is achieved with a loss of only 2 FPS.
Furthermore, NVIDIA claims that DLDSR offers similar levels of visual enhancements with half the upscaling needed as compared to DSR. More specifically, the GPU will only need to render graphics at 2.25 times the resolution for a game to enjoy the same outcome as rendering at four times the resolution with DSR. Users will hence enjoy greater performance along with improved visuals. 
The same improvements in image quality and gaming experience can be seen with DLDSR on classic AAA titles like Bioshock Infinite and Diablo III, as shown in the tables below:


The AI Advantage
At the forefront of AI technologies, NVIDIA has contributed many AI implementations to the improvement of graphics rendering methods. Thanks to the dedicated AI processing units known as Tensor cores on the RTX GPUs, NVIDIA is able to take advantage of accelerated AI compute to bring real-time improvements to traditional graphics rendering. 
The invention of DLDSR has shown what NVIDIA, as a company, can do. 
Traditional downsampling methods, such as the AMD Virtual Super Resolution technology and NVIDIA DSR, simply render games at a higher resolution and then scale it down to enable improved Anti-Aliasing effects. However, this method is extremely taxing on the GPU, as games are indeed rendered at a much higher resolution than required. This has also caused a significant loss in performance. 
NVIDIA's AI-Enabled DLDSR, on the other hand, brings intelligence to the Anti-Aliasing method. By inferencing a trained Anti-Aliasing AI model with the assistance of NVIDIA RTX GPU's Tensor Cores. GPUs can now do less work for improved graphics quality without the expense of performance and gaming experience.
DLDSR: How to turn it on?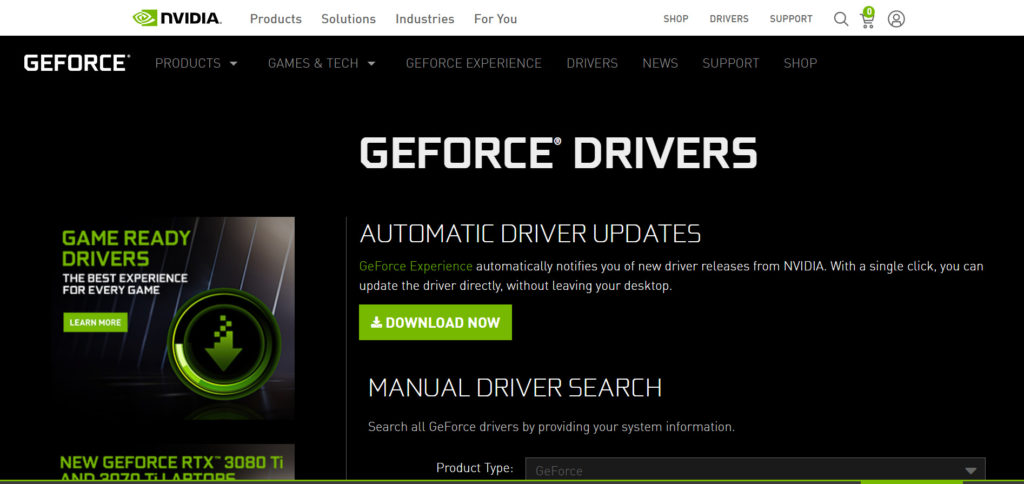 To enable DLDSR, you'll first have to make sure to update your NVIDIA driver to driver version 511.23. After that, open the NVIDIA control panel either by right-clicking the NVIDIA icon in the tray or by doing so on your desktop.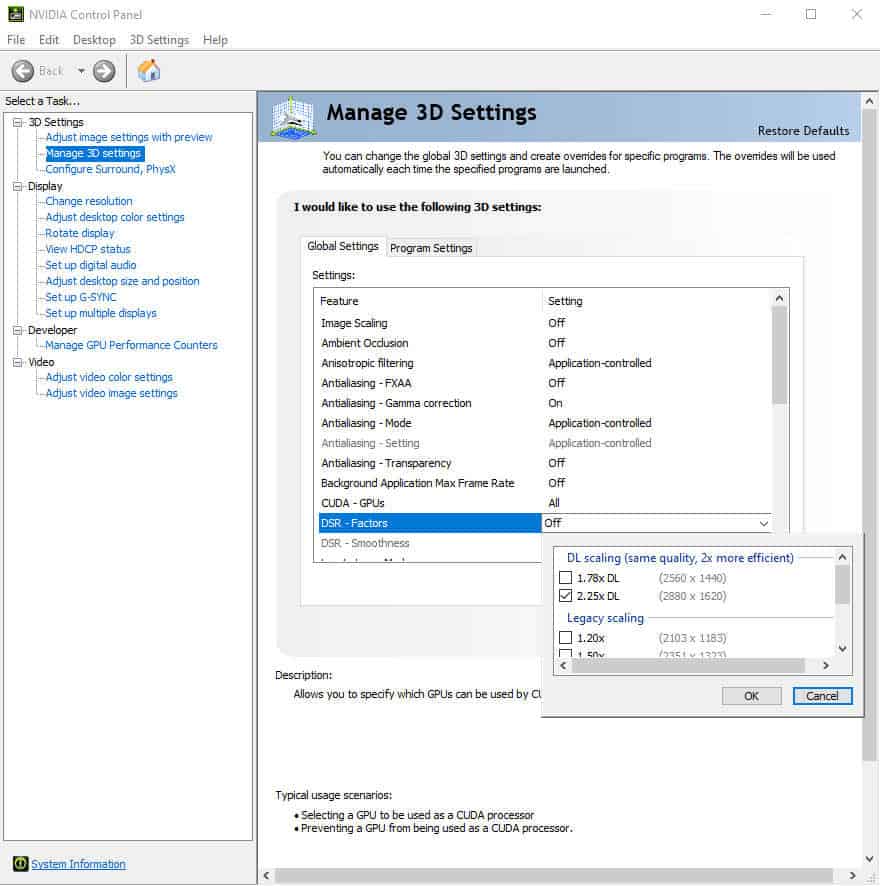 Once you're on the control panel, look at the left-hand side under the 3D settings tab and select "Manage 3D settings". Scroll down to find the option for "DSR-Factors" and select either (or both) of the DL-based DSR factors (1.78x, 2.25x). 
Finally, click "OK" and "Apply". The new DLDSR resolutions will now be added to the system and available for your selection within the NVIDIA Control Panel, Windows Display settings, and in-game resolution settings.
NVIDIA's latest Game Ready Driver: Beyond DLDSR
Alongside DLDSR, NVIDIA's latest Game Ready Driver will bring along plenty of other features including enhanced support for NVIDIA Deep Learning Super Sampling (DLSS) and NVIDIA Reflex, as well as optimization for all the hottest and newest gaming titles. 
Users will also be graced with three new advanced Freestyle filters – Screen Space Ray Traced Global Illumination (SSRTGI), Screen Space Ambient Occlusion (SSAO), and Dynamic Depth of Field (DOF). These filters are accessible by pressing Alt+F3 during gameplay when GeForce Experience's in-game overlay is enabled in the app's settings menu.
Be Game Ready with NVIDIA
Can't wait to get your hands on these latest features? 
You can download the new GeForce Game Ready 511.23 WHQL driver through GeForce Experience.
Click here to learn more about GeForce Game Ready Drivers.