With the launch of the new Intel Alder Lake processors and the introduction of the new Z690 chipset, motherboard manufacturers have been introducing an excessive number of products for the market. By trying to tackle every single user group with various kinds of budget requirements, there is a wide range of prices and features to choose from.
Likewise, GIGABYTE has also launched 25 new motherboards for the new Intel CPUs. Typically, under the AORUS branding, we can expect products that are designed and catered for gamers. We've got our hands on the new GIGABYTE Z690 AORUS PRO motherboard for review. The focus of this review is to understand how well this motherboard performs, and if this motherboard has features that's good enough for gamers who are seeking to build a new system or upgrading their system today.
GIGABYTE Z690 AORUS PRO
The AORUS lineup of motherboard consists of the best products from GIGABYTE. The GIGABYTE Z690 AORUS PRO motherboard, being one of the mid-tier offerings within the whole high-end AORUS lineup, aims to provide you with everything you need for a gaming setup, featuring all the latest features you can get, without going overboard.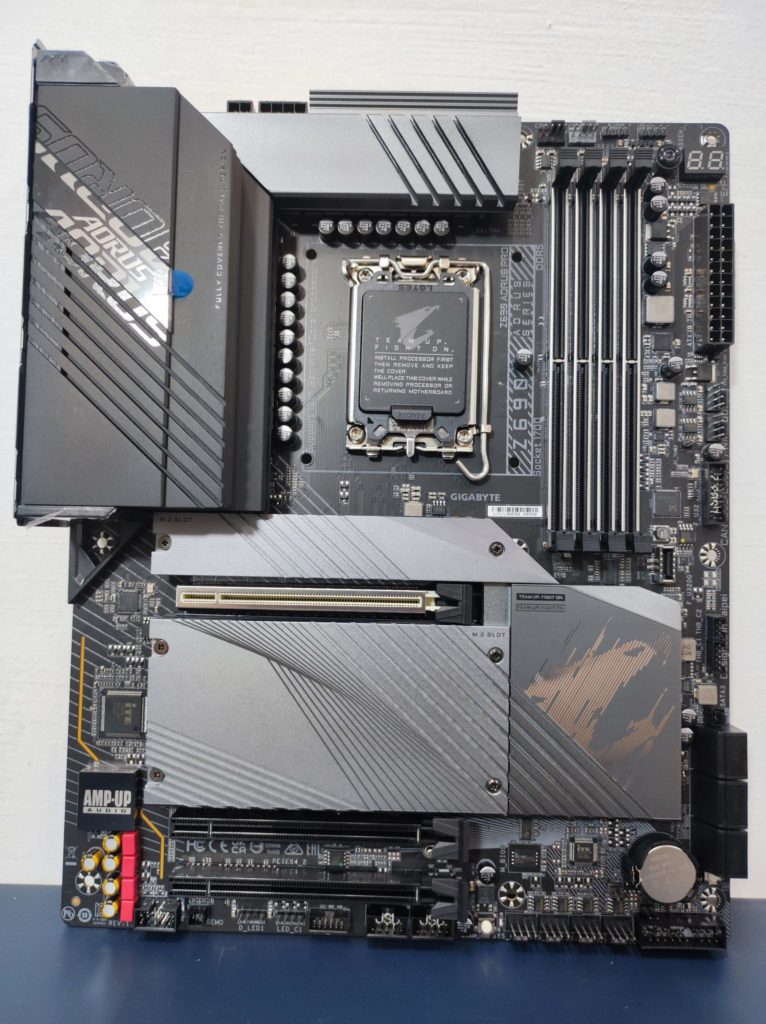 Generally, GIGABYTE has decided to go with a more toned down design on GIGABYTE Z690 AORUS PRO. Rather than having too many fancy design patterns that could be out of place, they have their efforts focused on practicality and usability. This is why the components which requires proper cooling were equipped with a decent heatsink – the VRM area, M.2 SSD slots and the Z690 chipset.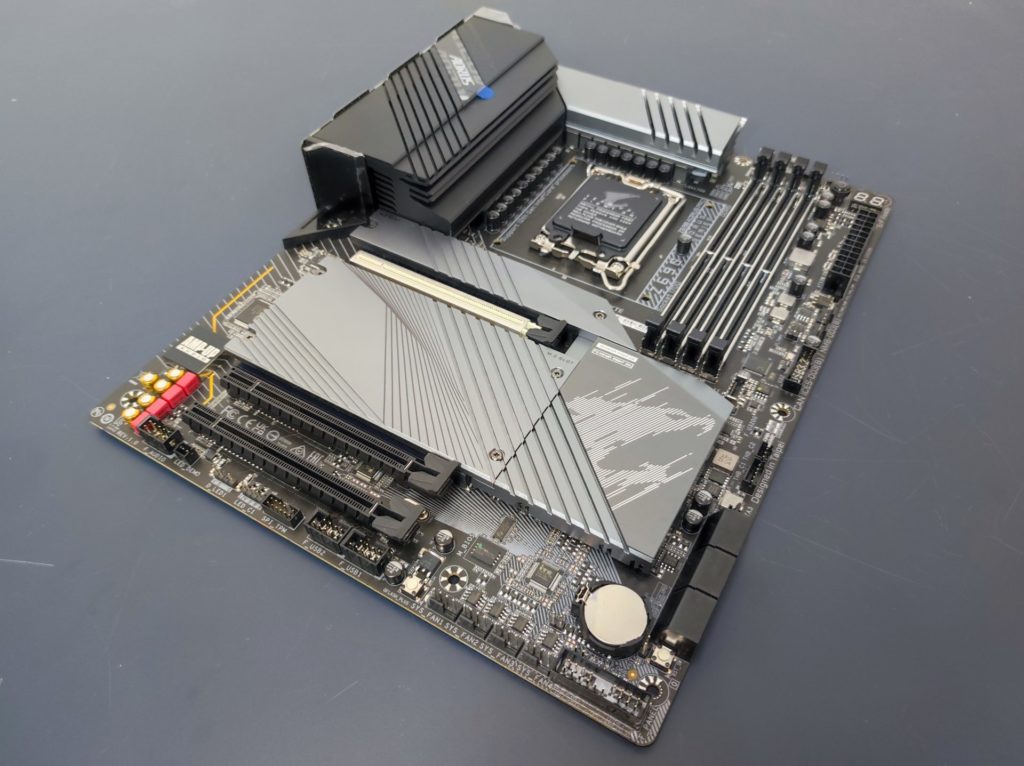 The GIGABYTE Z690 AORUS PRO is designed with a monochrome color theme, accented with sophisticated lines that gives it a certain flair. For some, it could be too boring, but we'd rather focus on its performance.
It seems like the new AORUS design for the Z690 is all about the lines. Even the AORUS logo on the chipset heatsink is made purely with lines.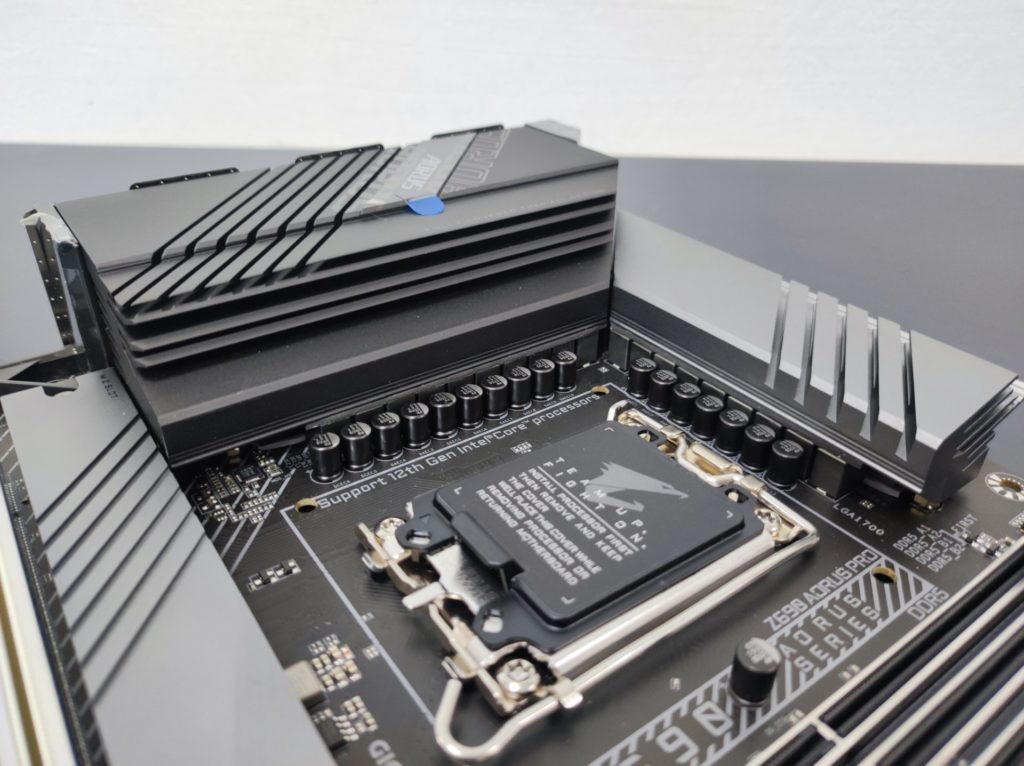 The GIGABYTE Z690 AORUS PRO is equipped with a 16+1+2 Direct Digital VRM design which offers a 90A power stage. This is more than sufficient to power even the top of the line Intel Core i9 12900K processor, with lots of headroom for overclocking.
Particularly, to ensure that the system remains stable and reliable, GIGABYTE has chosen to use a 6-layer PCB and also make use of premium chokes and capacitors for this motherboard.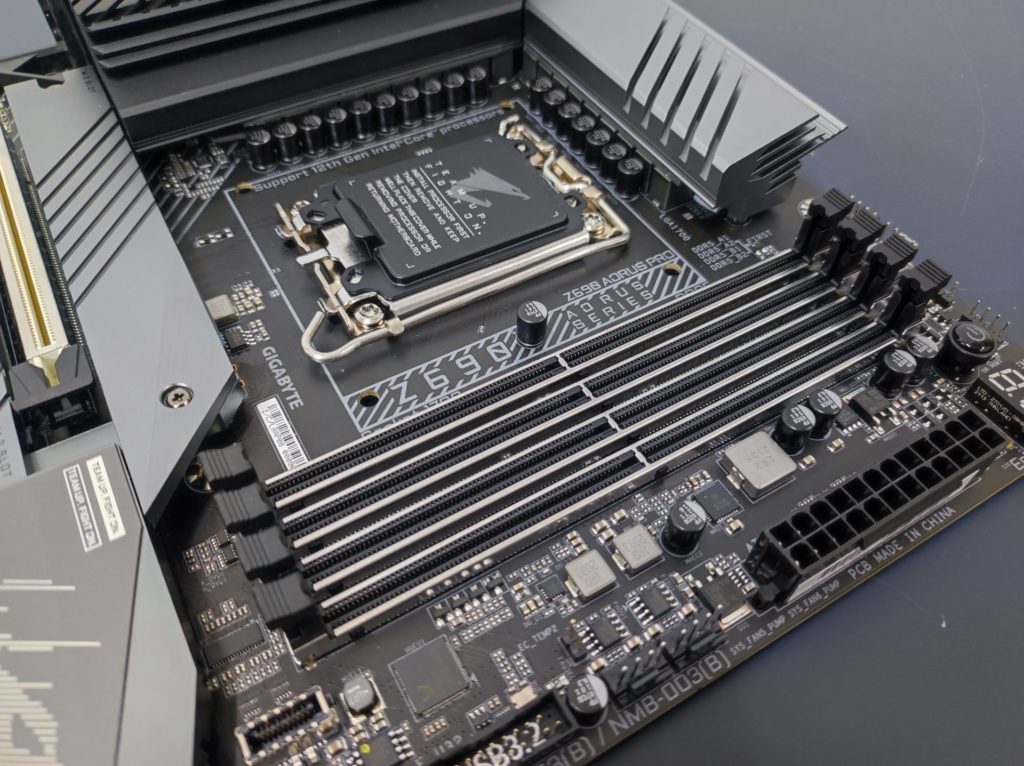 For this motherboard, it supports the latest DDR5 memory. Each DIMM slot has also been strengthened with what GIGABYTE calls "Ultra Durable SMD Memory Armor".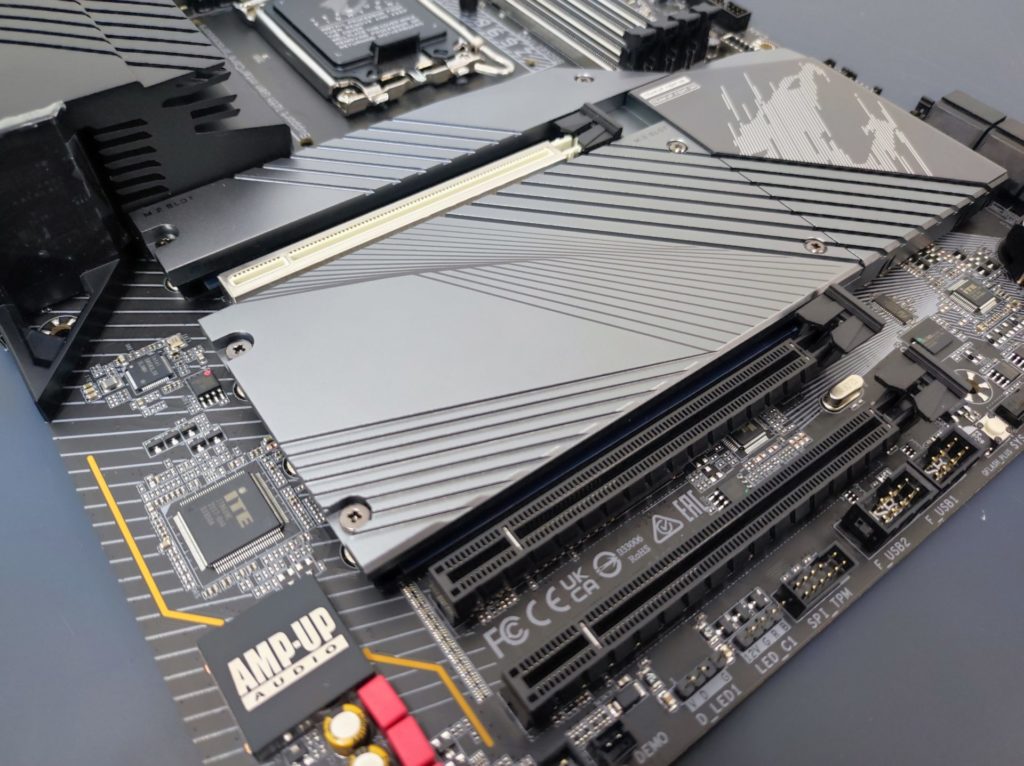 There are three PCIe expansion slots on this motherboard. This first on in white conforms to PCIe 5.0, and has the full x16 lane.  This means that it's going to have twice the bandwidth of the PCIe 4.0, and ready for high performance add-on cards in the future.
The other two slots are based on the PCIe 3.0 standard, and are running in with x4 lanes.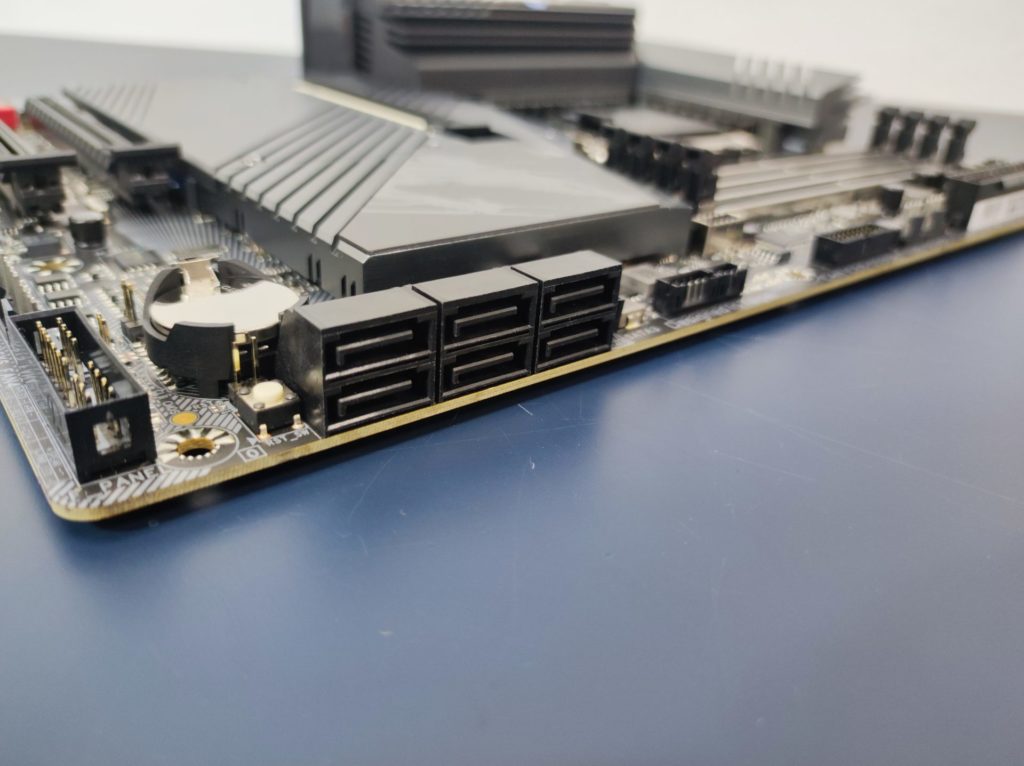 For storage, the motherboard still has 6 x SATA 6Gbps ports.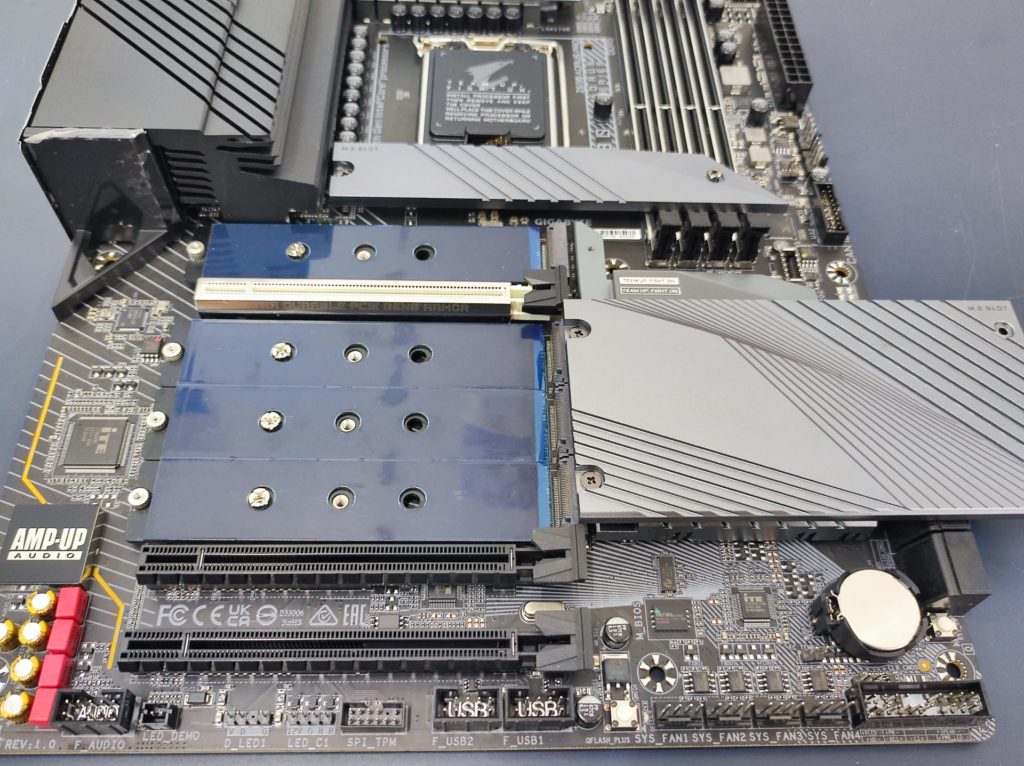 Additionally, the Z690 AORUS PRO also comes with 4 x M.2 slots right on the motherboard. This abundant number of M.2 slot can certainly target gamers and enthusiasts who wishes to run RAID configurations on the NVMe SSDs for the best possible storage performance on their system.
All the slots can run at PCIe 4.0 x4 bandwidth. Only the 2nd M.2 slot from the top supports SATA M.2 SSDs.
To power the motherboard adequately, other than the typical 24-pin motherboard connector, it still requires an additional 4-pin connector on top of the 8-pin connector. This ensures that the motherboard is able to get a sufficient amount of power from the power supply to its peripherals, especially when the system is on load or in an overclocked state.
Furthermore, we also spotted a onboard POST LED and power button that makes it so much easier for system troubleshooting. These are two features which are really appreciated by enthusiasts and system testers like us.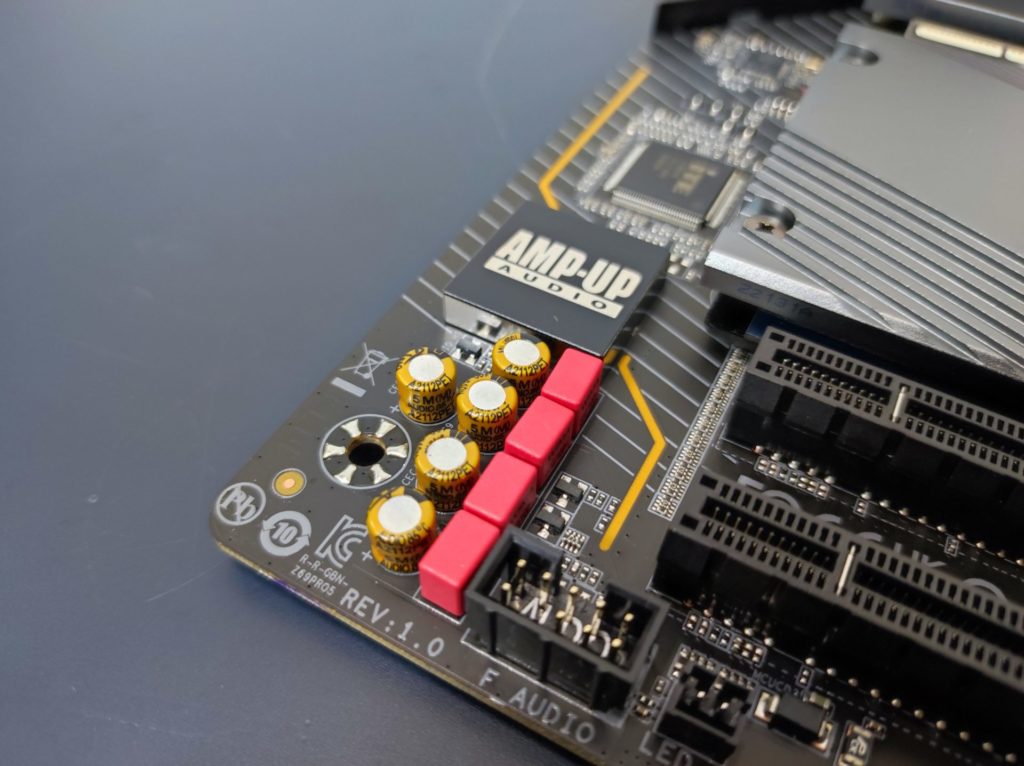 Of course, being a gamer's motherboard, audio output from the motherboard must be specially taken care of. The ALC4080 Audio IC used on the GIGABYTE Z690 AORUS PRO has been Hi-Res audio certified, meaning that it is capable of reproducing frequencies of up to 40KHz or above. This setup also allows an excellent SNR at 110dB and 120 dB for the front and rear audio respectively.
There is also a smart headphone amp that automatically detects the impedance on your headphones and adapts its amplification accordingly.
To ensure that the sounds going through the motherboard is of its highest quality, high end audio components such as WIMA audio capacitors are used.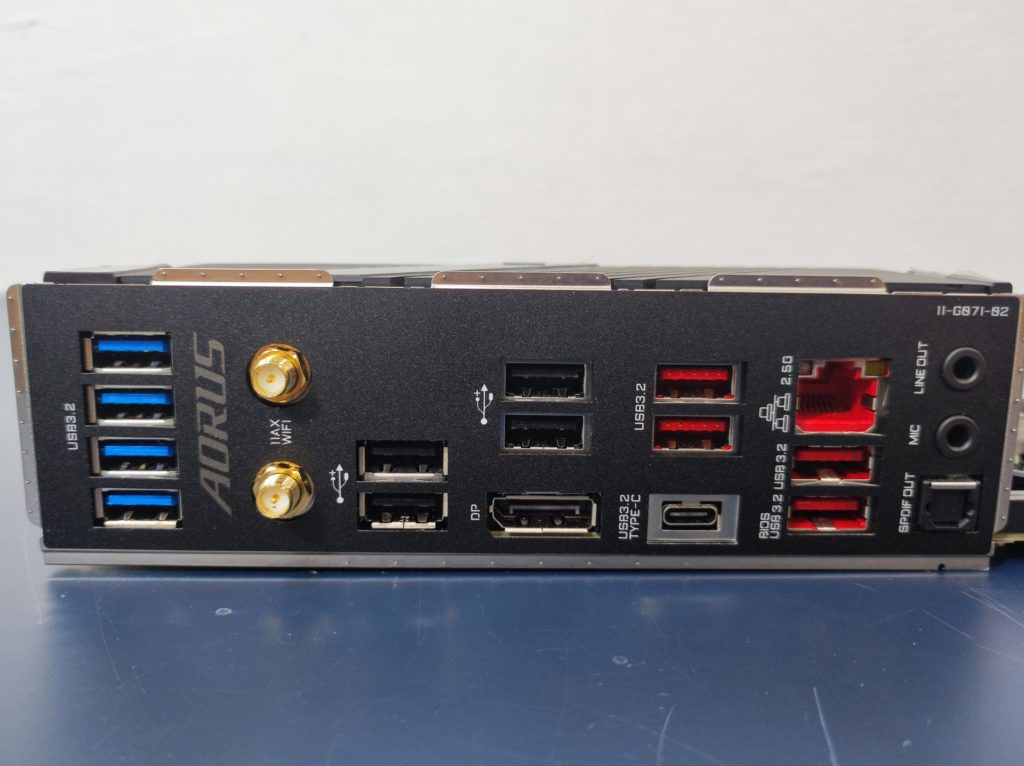 There's a great number of USB ports on this motherboard – 13 in fact. Out of the 13 ports, there are 4 x USB 3.2 Gen1 ports, 4 x USB 3.2 Gen2 Type A ports, 1 x USB 3.2 Gen2 Type C port and 4 x USB 2.0 ports. It's probably more than what you require for your computer system.
The motherboard also comes with Intel Wi-Fi 6 AX200 support, providing both Dual band WiFi (2.4GHz and 5GHz) as well as Bluetooth 5.2 for the motherboard.
Preparing for the future, the motherboard is also equipped with a 2.5Gbps Ethernet port, rather than the usual 1Gbps port.
What's interesting is that the Z690 AORUS PRO only comes with 2 audio jacks, one for line out and the other for mic. It's probably more than enough for anyone, unless you are the small percentage of user who runs a 5.1/7.1 setup. Regardless, the SPDIF out still supports that.
Test Setup and Performance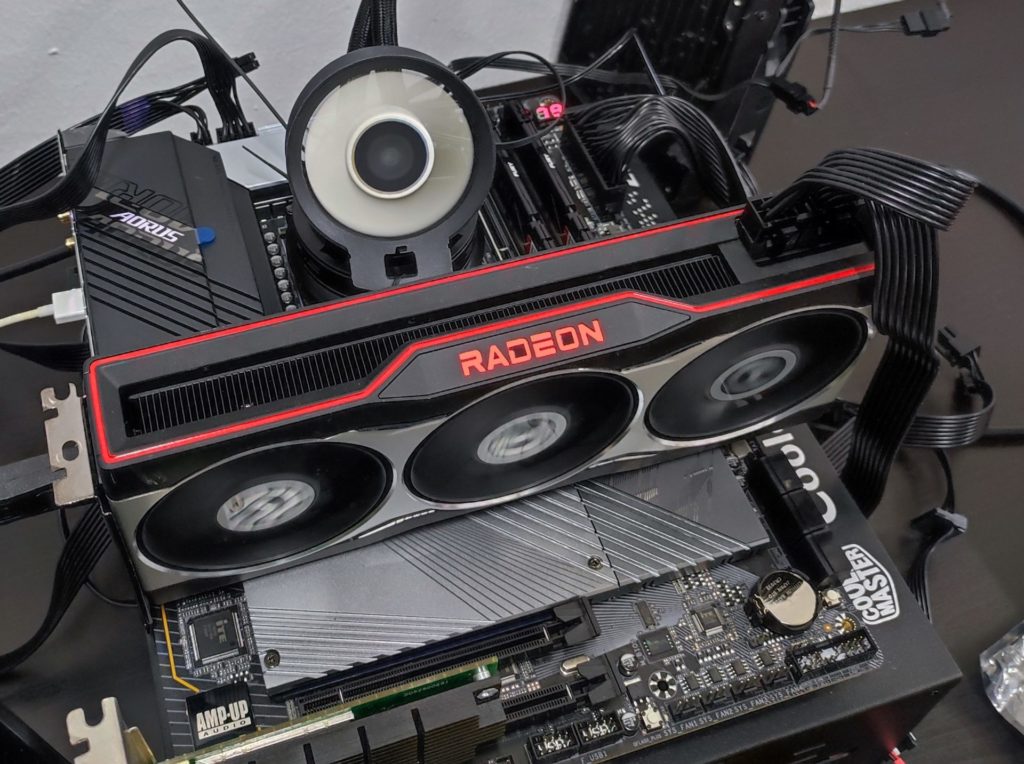 | | | |
| --- | --- | --- |
| Specs | Comparison System | Main System |
| CPU | Intel Core i9 12900K |  Intel Core i9 12900K |
| RAM | Kingston FURY Beast DDR5 | Kingston FURY Beast DDR5 |
| Main Storage | Kioxia Experia M.2 500GB | Kioxia Experia M.2 500GB |
| GPU | AMD Radeon RX 6800 (Reference) | AMD Radeon RX 6800 (Reference) |
| Motherboard | ASUS ROG Maximus Z690 Hero | GIGABYTE Z690 AORUS MASTER |
| CPU Cooler | Cryorig A80 | Cryorig A80 |
| PSU | Cooler Master V850 V2 850W | Cooler Master V850 V2 850W |
| OS | Windows 10 Pro 64 bit | Windows 10 Pro 64 bit |
We will equip our Gigabyte Z690 AORUS Master motherboard with an Intel Core i9 12900K CPU. For comparison, we will put this board up against the ASUS ROG Maximus Z690 Hero which we've reviewed previously.
| | | |
| --- | --- | --- |
| Test | Configuration | Settings |
| PC Mark 10 Extended | Default | Default |
| 7-ZIP Benchmark | Default | Default |
| Cinebench R20 | Default | Default |
| HEVC h.265 Decoding | Default | Default |
| Blender BMW27 | CPU blend | Default |
| Far Cry New Dawn | 1080p | High Settings |
| Deus Ex Mankind Divided | 1080p | High Settings, DX12 |
| Tom Clancy Ghost Recon Breakpoint | 1080p | High Settings, Vulkan |
| DOTA 2 | 1080p | As per Benchmark Guide |
| Shadow of the Tomb Raider | 1080p | High Settings, DX12 |
| World War Z | 1080p | Ultra Settings, Vulkan |
| wPrime 1024M | Default | Default |
| AIDA64 Memory benchmark | Default | Default |








Judging between the benchmark results between the two motherboard, there isn't too much of a difference. There are times when the GIGABYTE Z690 AORUS performs faster, and others slightly slower. They are still within the reasonable performance margins.
However, there are two tests which shown significant performance difference. In multithreaded CPU application tests, the GIGABYTE Z690 AORUS usually performs better. We attribute this due to slight thermal throttling. The competing ASUS ROG Maximus Z690 Hero runs at a higher voltage across the CPU, resulting in higher temperatures. Unintentionally, this has caused temperatures to be too high than expected, resulting in thermal throttling which set its performance levels back by a bit.
Another note was that the memory read speed on the competing ASUS ROG Maximus Z690 was also faster than the GIGABYTE Z690 AORUS.
Temperature and Power Consumption

When comparing between a minimal motherboard that simply serves practical purposes, the overall power consumption of the GIGABYTE Z690 AORUS PRO was lower than the ASUS ROG Maximus Z690 Hero in both idle and load situations. This is resulted from two possibilities, namely the additional power used by motherboard peripherals, such as RGB lighting, and also a higher default voltage applied across the CPU.

The GIGABYTE Z690 AORUS PRO comes in slightly behind when maintaining the temperature of its power delivery components. It was seen that it had a higher idle and load VRM temperature. Regardless, the higher temperature on the VRM doesn't really mean anything as such temperature is still considered an acceptable range.
Conclusion
The GIGABYTE Z690 AORUS PRO motherboard delivers to its expectations. It is equipped with the latest technologies which are enabled by the new Intel Z690 chipset, pathing the road for a decent future-proofed, yet sensible choice for anyone building a new system. With gamers in mind, features such as dedicated audio technologies and premium LAN and WiFi connection will make the whole gaming experience a much more pleasant one.
Honestly, there is really nothing much we can complain about this motherboard. It is well targeted for its audience, and we can see how this product can be a good choice for those who wants great features without going for the top of the line offerings.